Paved backyard ideas – 10 inspiring looks that combine practicality with style
From patterns to integrated planting, these are our favorite backyard paver designs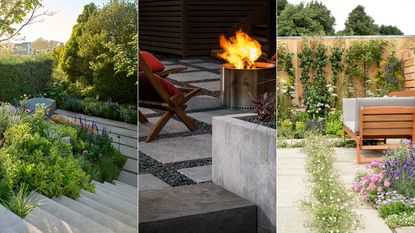 (Image credit: (From left to right) Marion Brenner / Design: Sufacedesign – Belgard – Jacky Hobbs / Design: Sue Kent)
Backyard paving is a go-to hardscaping choice for outdoor living spaces and the pathways between them. Long-lasting and, in most cases, easy to maintain, it's the perfect solution for a gorgeous grill area, a sunbathing space near your pool, or as a sturdy base beneath an entertaining zone.
It's not just the functional benefits that make paving so popular for backyard ideas, though: it can also add serious style points to your yard. From sleek porcelain to natural stone, there's a wide variety of styles to pick from, so whatever your scheme you can be sure there's a paver that will slot in seamlessly.
Of course, there is always the bolder option to make your paving a design element in itself. Think interesting layouts, eye-catching contrasts, or contemporary patterns, for instance. With a bit of creativity, all sorts of looks can be achieved, and our guide will provide plenty of inspiration.
10 ideas that will inspire your backyard paving
Whether you're going for modern patio ideas or something soft, romantic, and full of flowers, you'll find a paving idea to suit in this roundup.
1. Use pavers to create a geometric pattern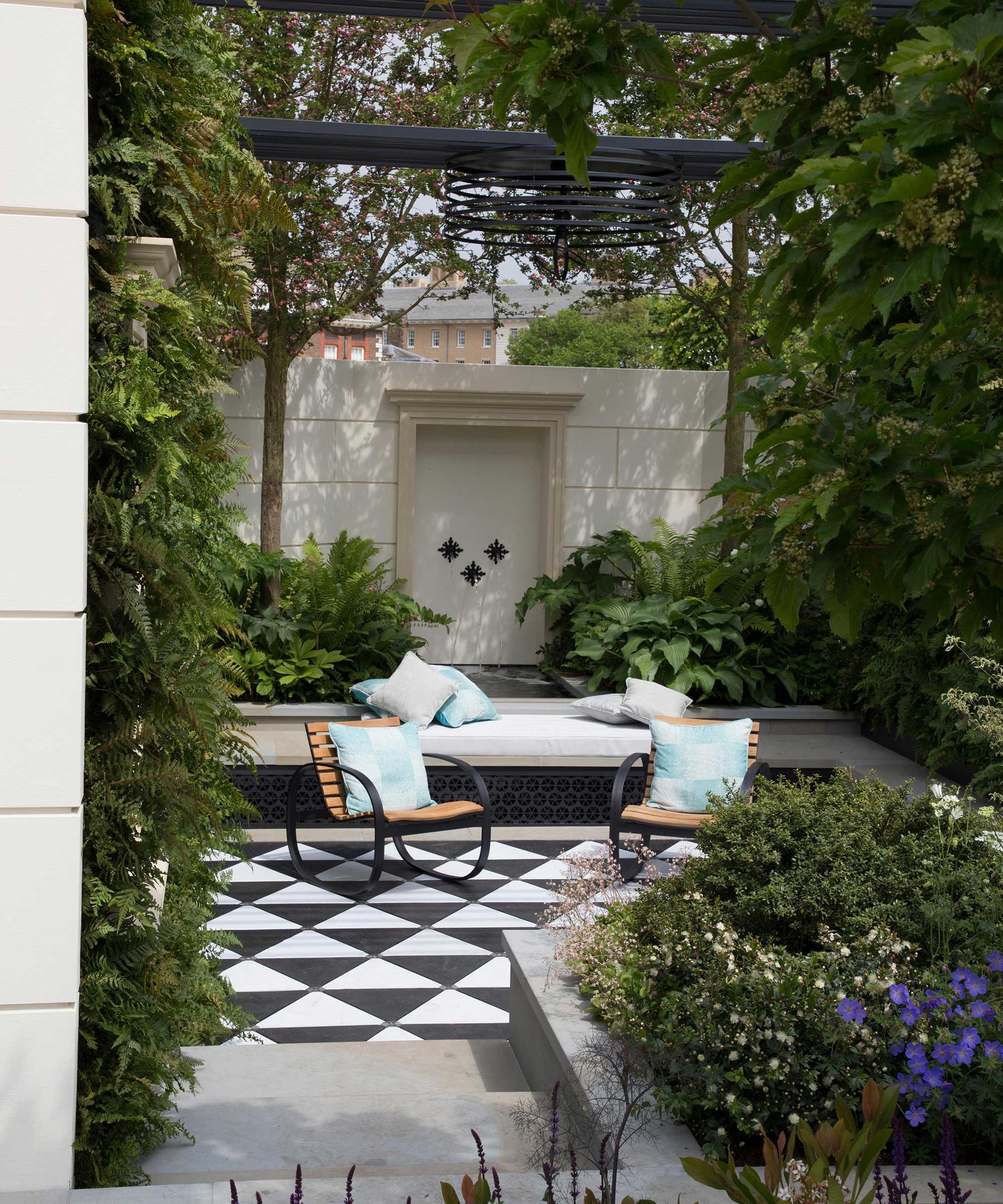 Paving can be used to give a compact courtyard a contemporary edge. Simply combine a two-tone color palette (black and white has timeless appeal) with a bold geometric pattern. The finished look will feel on-trend as well as playful.
Pair with sleek wraparound benches and raised beds to create a sunken seating area that feels cozy. By keeping textiles and other materials subdued, the space won't feel overwhelmed by the flooring.
Plenty of foliage plants – even a living wall on one or more sides – will soften the hard lines and give it a botanical boost, turning the area into your own urban oasis.
An overhead shelter can make a fabulous finishing touch as it will keep you protected from the midday rays as well as upping the sense of privacy.
2. Link levels with sleek pavers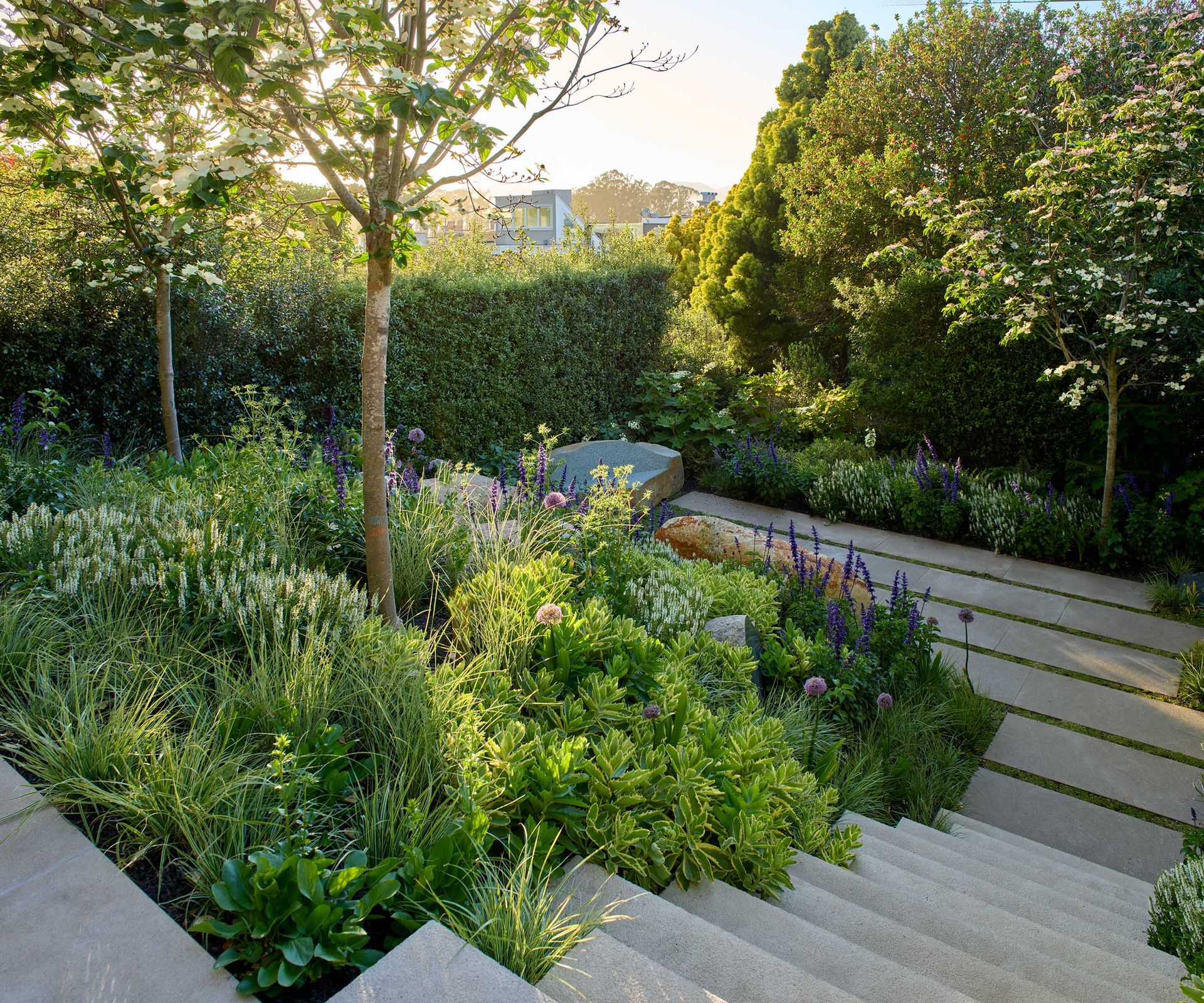 Surfacedesign, Inc. is an award-winning landscape architecture and urban design firm based in San Francisco, California. Michal has contributed to the firm's growing portfolio of diverse projects. Her interest in horticulture and the potential didactic qualities of the landscape inform her design process. Michal has managed multiple complex projects at Surfacedesign, ranging from residential to campuses and public open space networks incorporating salvaged elements that contribute to built environments' sustainability.
This backyard design in San Francisco marries together a soft tapestry of planting with strips of sleek limestone pavers. Ground-cover planting breaks the hardscaping up, helping it to sit comfortably within its verdant surroundings.
The staircase uses limestone pavers, too, tying the levels together. Its slightly staggered layout lends a touch of informal playfulness.
'Boulders are split and carved to create sculptural stone benches that nestle into the planting and frame a secluded seating area at the lower terrace,' explains Michal Kapitulnik, Principal of Surfacedesign. They are the perfect way to emphasize the naturalistic tone of the space.
3. Soften hardscaping with flowers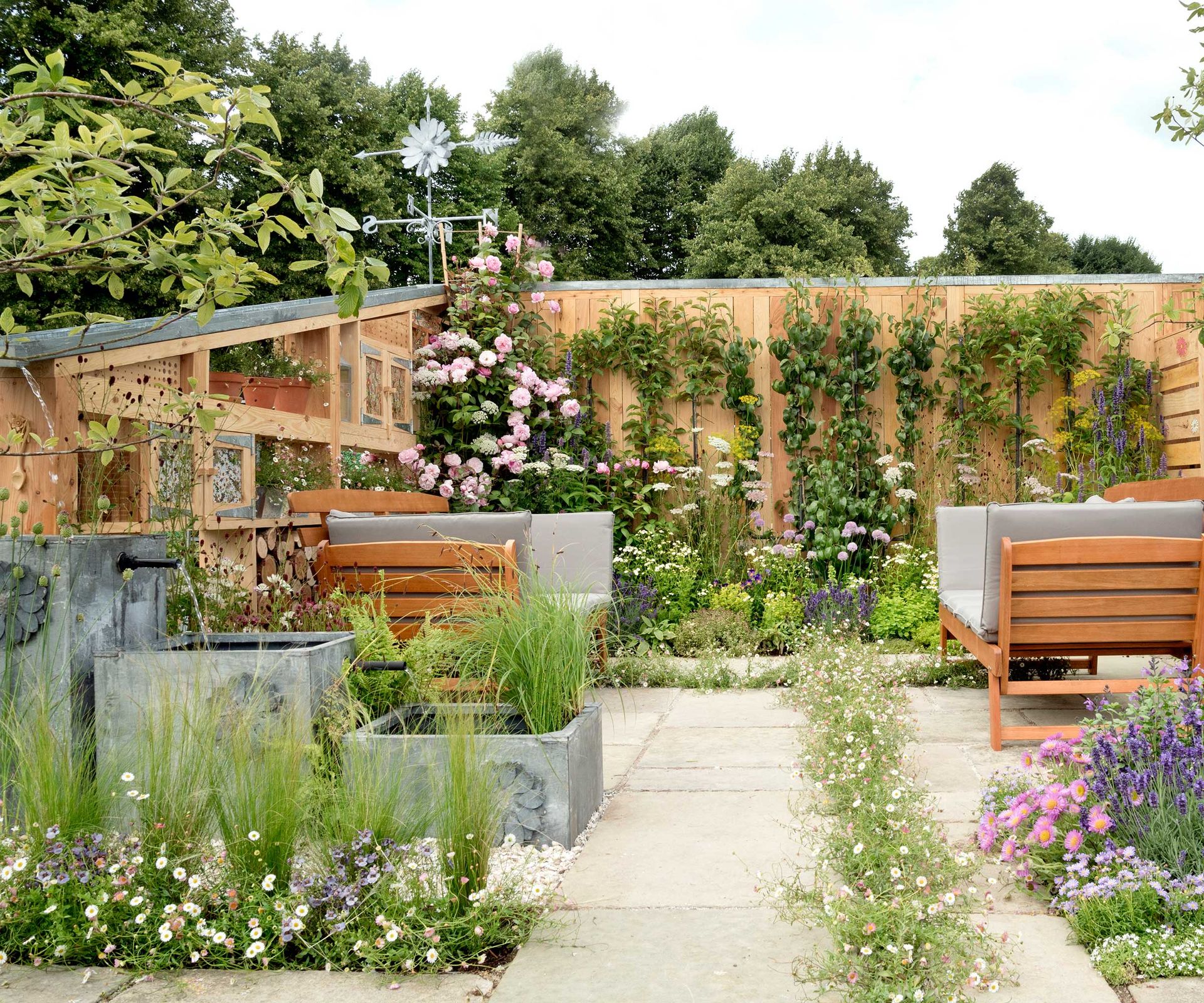 A former professional gardener and allotment grower, Holly now spends her time writing all about gardens, plants, and outdoor living for Homes & Gardens. She has a particular interest in contemporary backyards that combine sculptural features, interesting materials, and bold color schemes with soft tapestries of planting.
I visited Hampton Court Garden Festival in 2022 and thought this was one of the stand-out plots. I loved the way it brought together accessibility and modern design with a touch of cottage garden charm.
The layout of the reclaimed pavers made way for a row of erigeron – a self-sowing perennial that offers froths of tiny pinkish-white flowers. They looked beautiful as they softened the surrounding hardscaping, and tied in well with the pretty pastel color scheme.
As another bonus, interspersing pavers with low-growing blooms in this way will attract butterflies and bees, bringing extra life and color to a space.
4. Use pared-back paving to show off your planting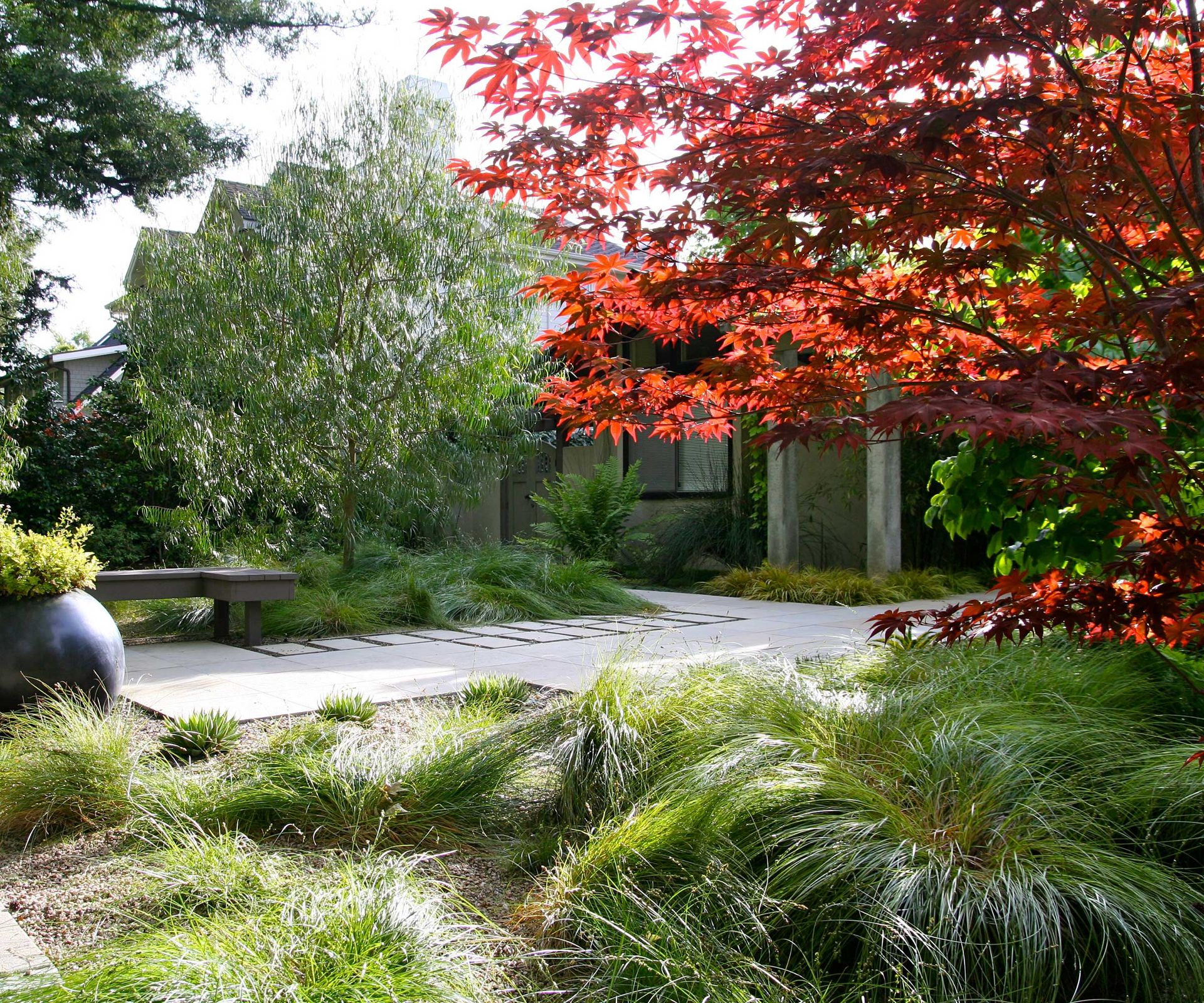 Pavers are ideal for creating a pared-back look that allows planting to do the talking. In this scheme by GardenArt Group, the slabs are positioned to create a pathway and seating space beneath a pergola, and they contrast pleasingly with large beds filled with ornamental grasses.
Meanwhile, the Japanese maple brings impressive color to the scene with its bright red tones. Round planters and a stepping-stone detail finish the look with their sculptural impact.
5. Create a functional base for a family yard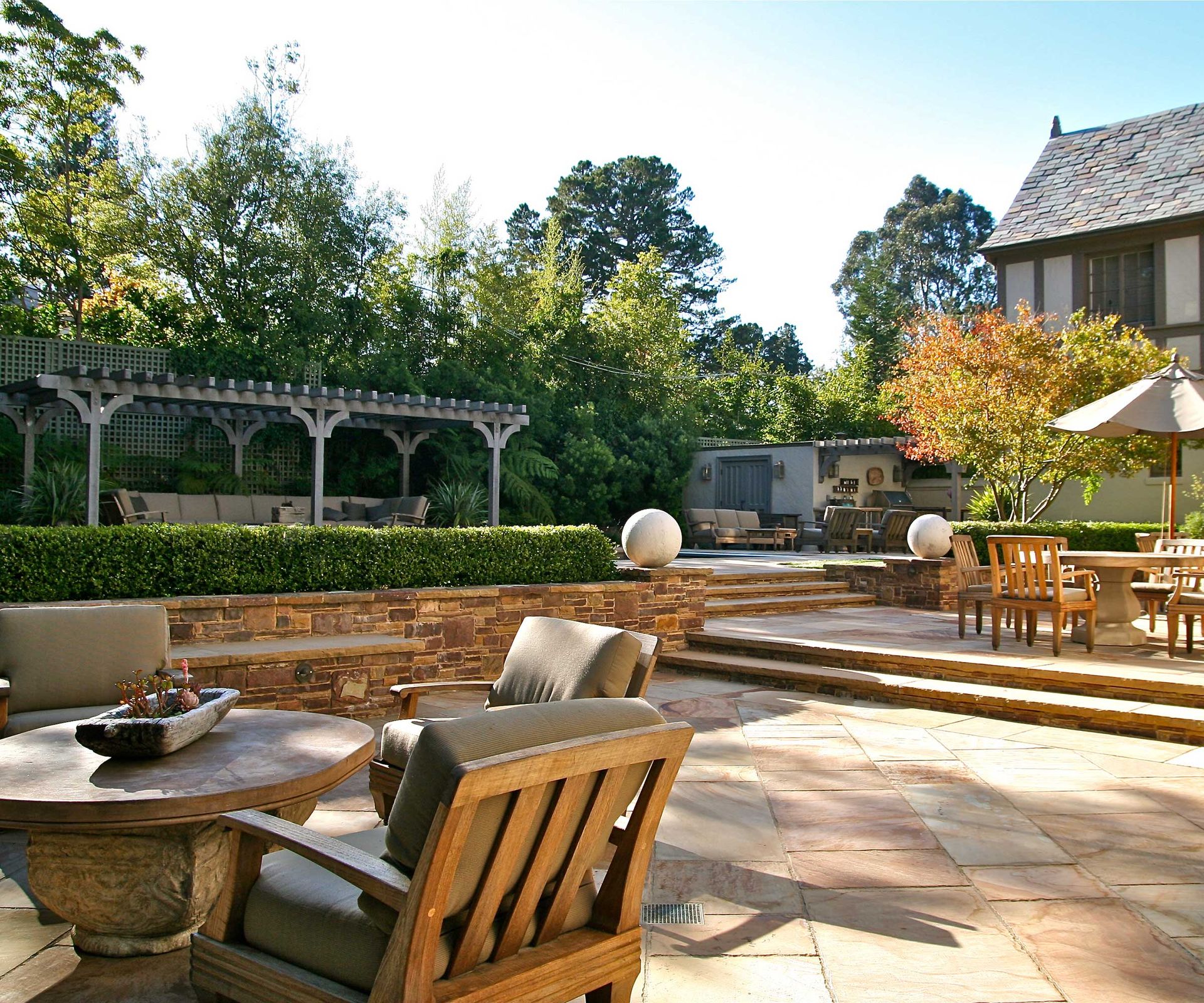 Creating subtle levels connected by shallow steps is a good way to break up a larger plot and make the most of the space – particularly if it's gently sloped.
Installing the same type of backyard paving throughout the design will give the whole yard a sense of flow as you go from zone to zone. By using a range of slightly different-sized slabs in a few soft, complementary tones, the overall look will feel informal, friendly, and warm.
Half walls will create more distinctive divides between areas, and matching the brickwork with the rises on the steps will create an instant feeling of harmony.
6. Add a design element underfoot in a contemporary courtyard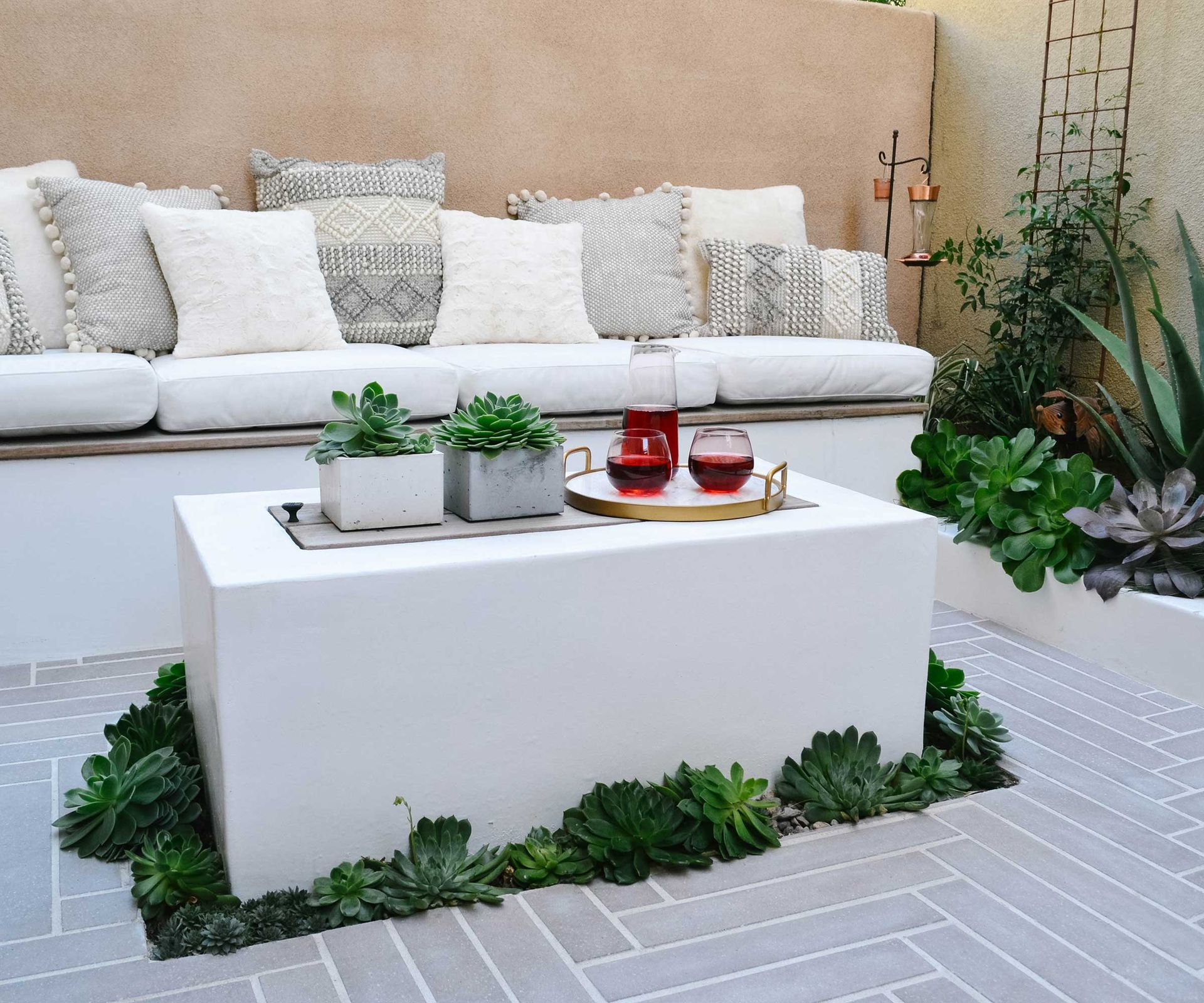 A great way to get creative with backyard pavers is to experiment with patterns. It may not be the first thing that comes to mind when planning your paving ideas, but it can play a key role in the overall look.
There are some classic options, including a stretcher bond design, which creates a clean and uniform aesthetic. Basketweave is ideal for more informal, romantic plots and works well with clay bricks, while herringbone is a durable design that looks great on contemporary and traditional plots alike.
This modern backyard by Living Gardens uses the latter – and coupled with the small gray pavers and bright white grouting, it makes a real statement. It's an effective way to draw the eye without drowning out the surroundings. I particularly love how the succulents have been used to blur the line between the slabs and the central coffee table and bring in a pop of fresh green.
7. Combine pavers with woodland planting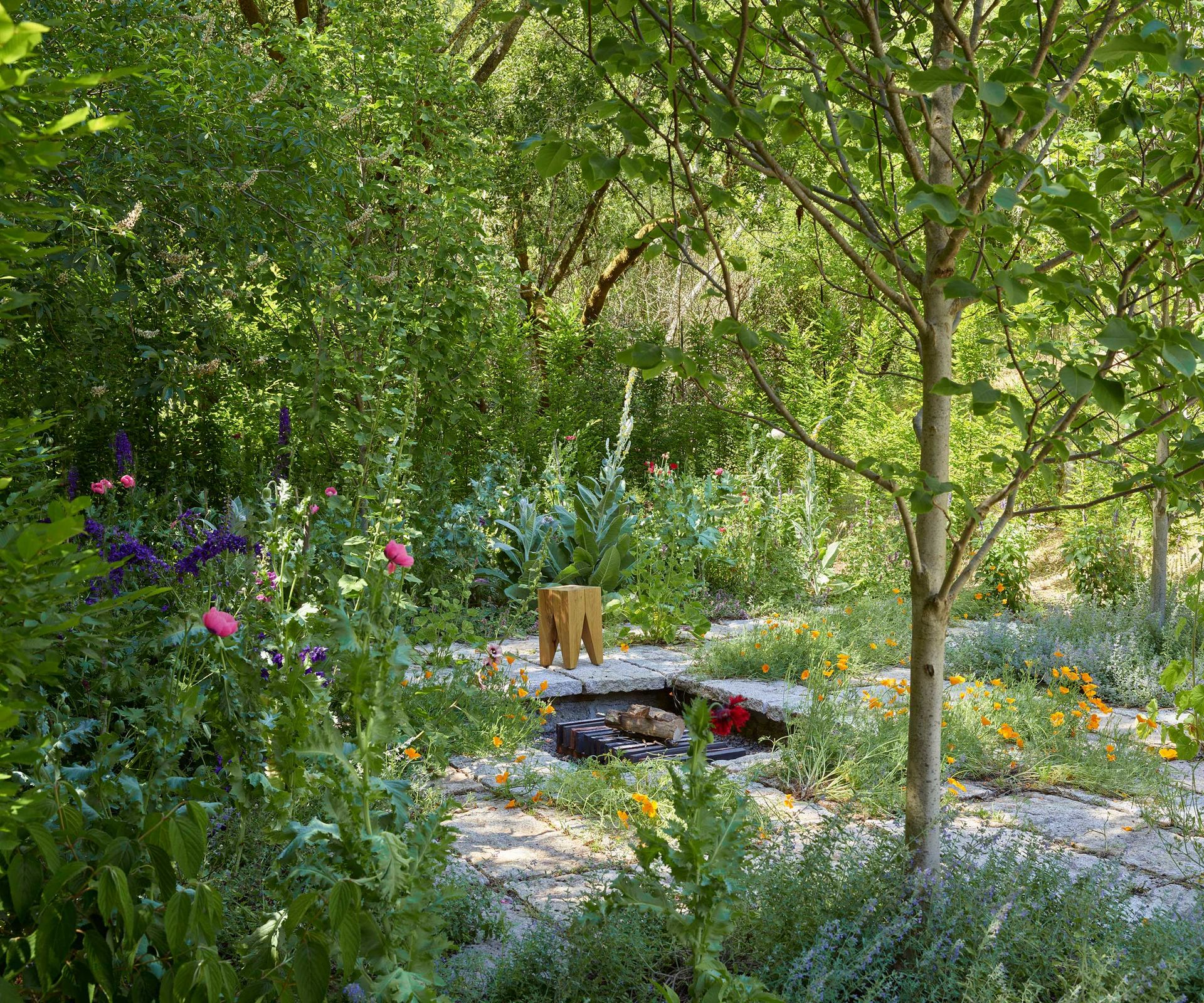 If you thought pavers didn't suit more organic landscaping, this design may encourage you to think otherwise.
The wild and overgrown nature is all part of its charm. 'Reclaimed granite pavers are seeded with local wildflowers to create a lush and seasonally vibrant garden that feels like it is emerging from the patio itself,' explains Michal Kapitulnik of Surfacedesign, the company who designed this space.
Surrounding trees create a cooling canopy for shade, adding to the woodland garden feel.
8. Mix up the textures around a paved patio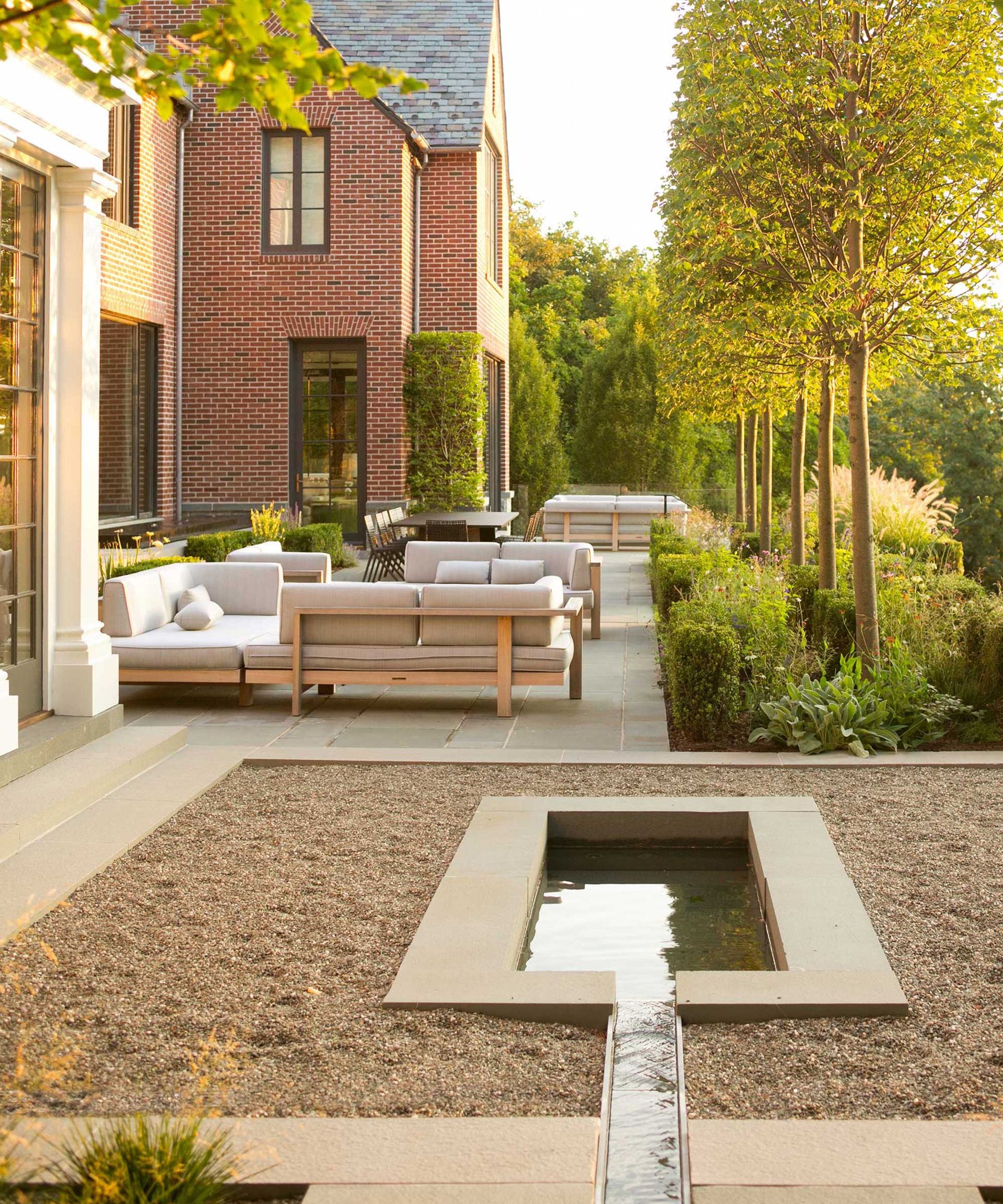 JDDA was founded in 1993 and James has developed an award-winning design business with residential projects in the United States and Europe. Prior to 1993, James was Head Horticulturalist of a Russell Page garden in Ireland and has combined his horticultural experience and strong design philosophy to bring to life unique and innovative landscapes.
Consider breaking up a large expanse of paving with gravel, water features, and other textural materials underfoot.
'The goal at JDDA is not to overwhelm outdoor spaces with hardscape and this is a perfect example of combining different landscape elements together,' says James Doyle, Principal of James Doyle Design Associates (JDDA), who designed the space shown above. 'A variety of materials and a dramatic water feature were designed to clearly divide the expansive terrace into several entertaining areas. The planting forms of perennials and architectural trees add visual interest, texture and color. These inviting arrangements create intimacy and make clever use of the space.'
'We worked closely with interior designer Victoria Hagan and architect Joeb Moore to strengthen the indoor-outdoor connection and compose interior views,' adds Justin Quinn, Partner at James Doyle Design Associates. 'Water features bookend the terrace and drown out road noise from a busy highway. A row of clipped linden trees cast shade, frame views, and help define the space.'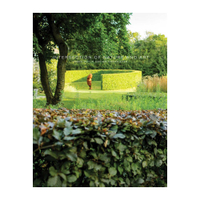 'Intersection of nature and art' – James Doyle Design Associates | $55.99 at Amazon
This new joint project, with both James Doyle and his JDDA partner and book co-author Justin Quinn, provides insight into a range of JDDA's work. Alongside the detailed studies, there are plenty of beautiful photographs as well as diagrams and plans.
9. Elevate a series of steps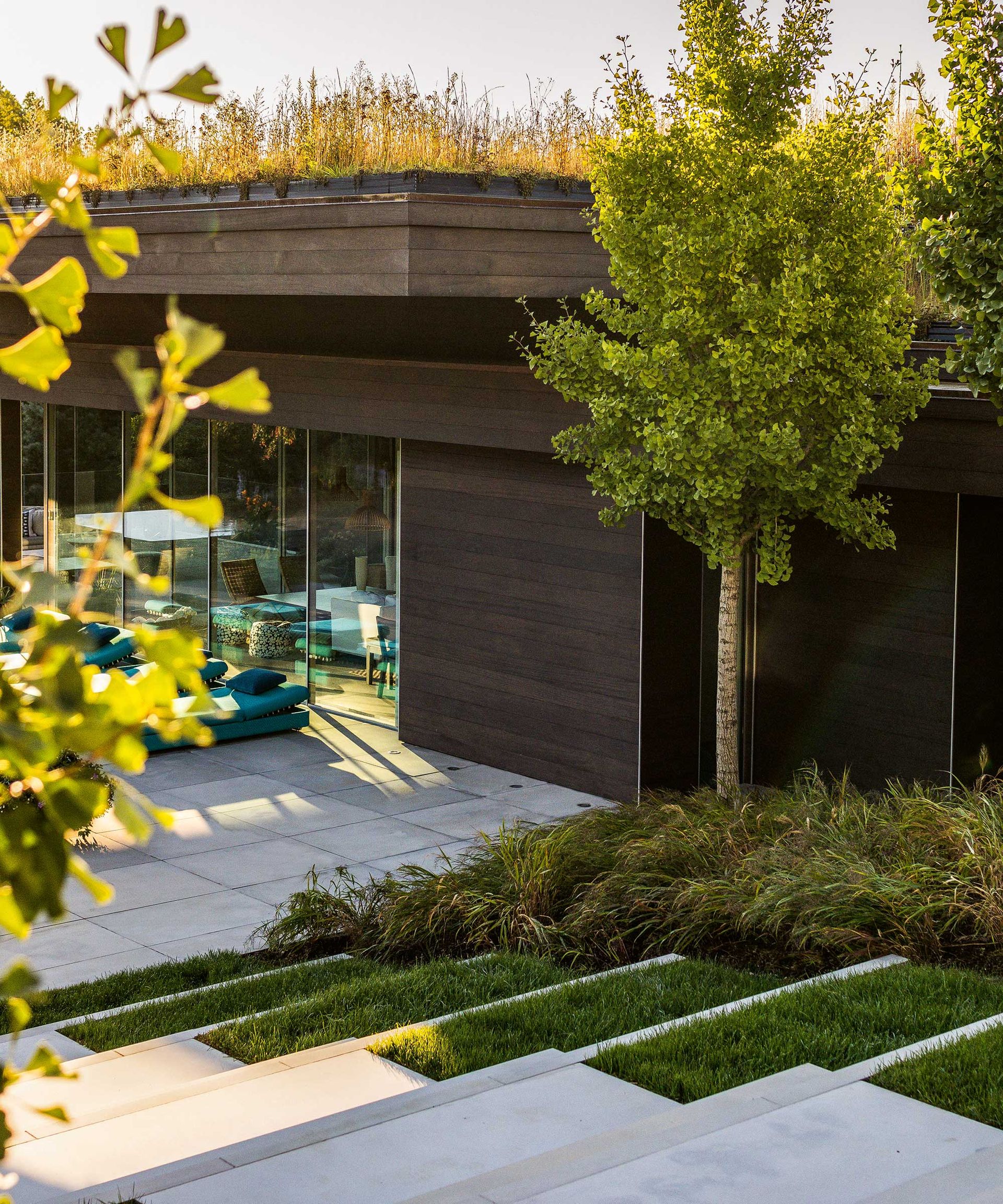 'A terrace or paved space and their configurations often depend on site conditions and convenience,' says Justin Quinn. 'We analyze attributes like topography, vegetation, noise, views, and architecture to find just the right spot. We frequently add elements like water features or plantings to create a sensory experience and reinforce a strong perception of space.'
Commenting on the contemporary design shown above, Justin says, 'A combination of stone, grasses and ginkgo trees traverse the grade connecting the lower pool garden to the main house. The inviting solution breaks up an otherwise boring staircase and takes advantage of the site's topography.' It's a wonderful way to turn garden steps into a feature in themselves.
10. Go for an urban look with cool concrete and gray tones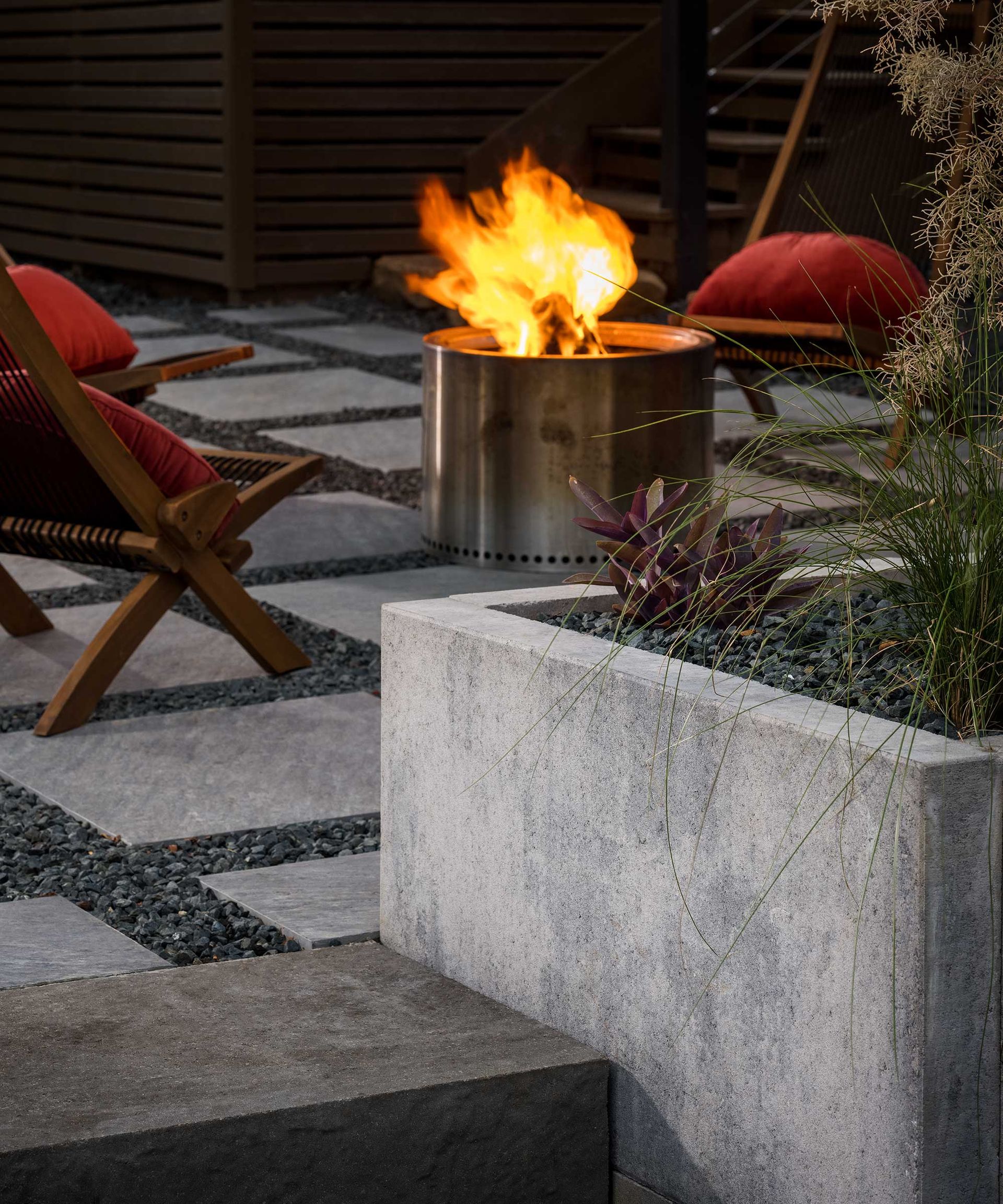 This design oozes a contemporary-cool vibe with its urban materials in a gray color palette. The flickering flames of the fire pit and the bold red tones of the furnishings add warmth.
'My favorite material is poured concrete pads with space between for gravel and
permeability,' says Morgan Feilmeier, a landscape designer at Argia Designs, who often works with contemporary schemes. 'I find the clean, linear elements tend to complement the natural movement of the plants and help to center the overall feel of the space.'
How do you choose the best backyard paving for your plot?
Choosing a type of backyard paver that complements your existing scheme is important for creating a sense of harmony. Look for colors and materials that match other hardscaping in your plot, such as walls or water features. Looking to the exterior of the house itself and the colors, style, and materials used there is also a good way to get design cues for your paving.
Scott Gilmore, the owner of Landscape Creations, says that safety should be a top priority when it comes to choosing your backyard paving. Some pavers can be more slippery than others, particularly when it's wet, so do your research before you buy.
You'll also want to consider your budget, as the costs of different paving can vary. 'Natural stone is a durable and attractive option but can be more expensive,' says Scott. 'However, if you really want to achieve the "natural" stone look, you can also use stamped concrete which can mimic the look, color, and texture of natural stones.'
How can you make your paved backyard more eco-friendly?
'To keep with the trend of reducing water usage, permeable pavers can be installed with layers of varying-sized stone or aggregate underneath that filter and direct stormwater to underground aquifers,' explains Joe Raboine, Director of Residential Hardscapes at Belgard.
'With permeable concrete pavers, any rain that falls on the patio seeps back into the ground, reducing the burden on storm drains. A permeable paver system can even be designed to harvest and recycle rainwater.'
It's also a good idea to source your pavers locally, if possible, particularly if they're made from stone. This will help cut down on air miles, and is often more affordable, too.
Adding greenery to gaps between pavers – whether ground-cover plants or flowers – is another way to help the environment as it will encourage beneficial insects to your space. It's a great option for wildlife-friendly gardens that don't sacrifice on style.
Sign up to the Homes & Gardens newsletter
Decor Ideas. Project Inspiration. Expert Advice. Delivered to your inbox.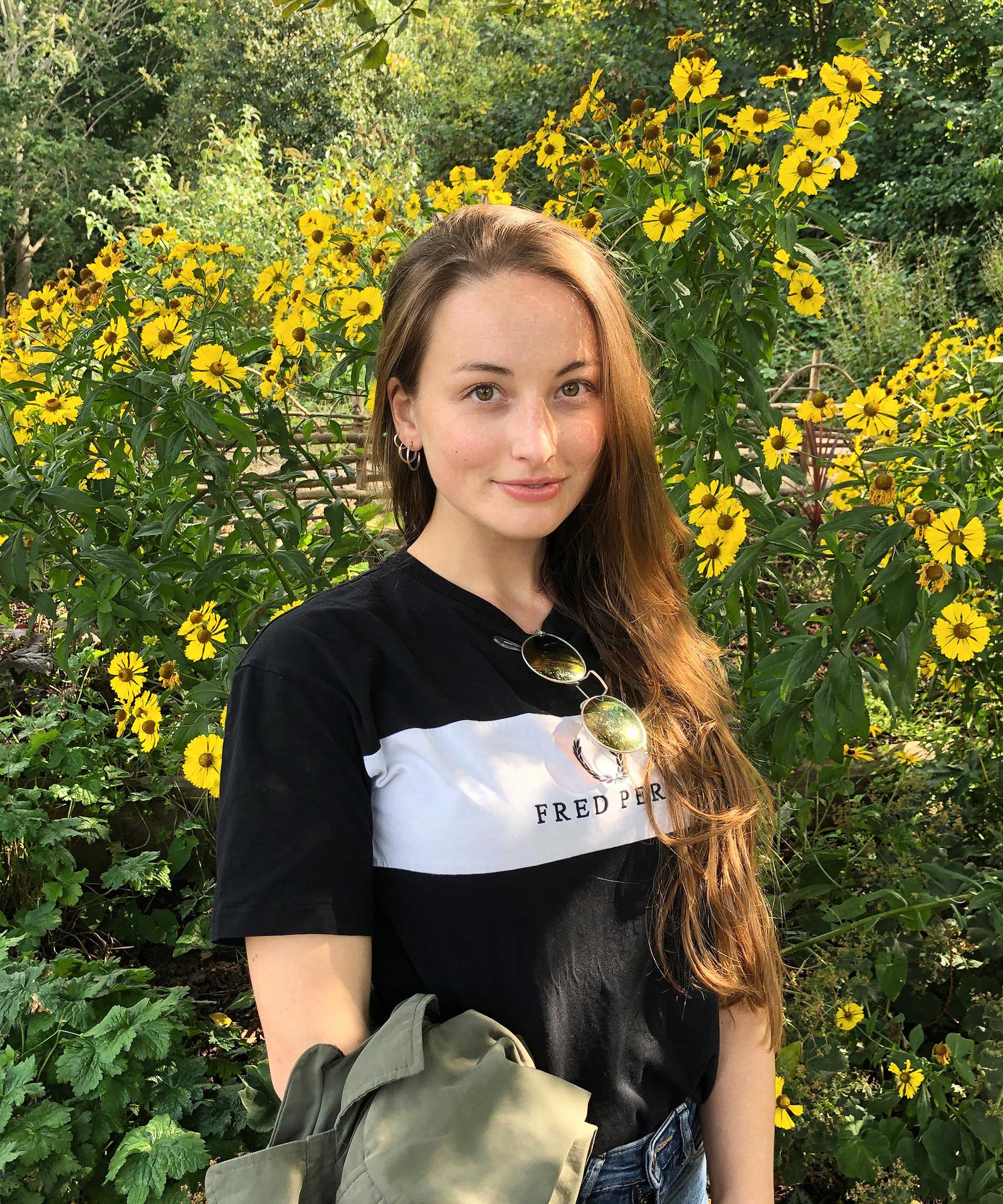 Freelance Gardening Writer
The garden was always a big part of Holly's life growing up, as was the surrounding New Forest where she lived. Her appreciation for the great outdoors has only grown since then; over the years, she's been an allotment keeper, a professional gardener, and a botanical illustrator. Having worked for Gardeningetc.com for two years, Holly now regularly writes about plants and outdoor living for Homes & Gardens.