Townhouse backyard ideas – 10 designer-approved schemes to max out your space
Get the most out of your townhouse backyard with these inspirational looks and layouts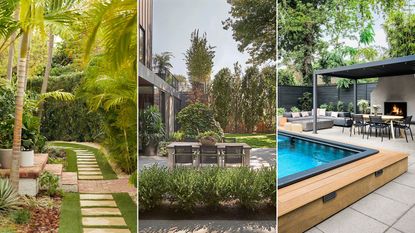 (Image credit: Yardzen/dSpace Studio/Yardzen)
Space is usually limited for townhouse backyards, so finding unique ways to make the most of the room you have is a top priority whether you're planning a quick refresh or more of a redesign project.
Alternatively you could be looking for an easy one-off idea for making your urban space more private or have decided it's time to get rid of the lawn. Either way, we have some ingenious townhouse backyard ideas that will help you make up your mind what works best for you.
If you live in a townhouse the key to successful backyard ideas is clever use of space. You can still come up with a concept that works for you, and there's no need to miss out on the latest ideas for dining and entertaining spaces too, as well as bigger projects like outdoor kitchens, covered decks and even plunge pools.
10 design ideas for townhouse backyards
First decide what townhouse backyard ideas are on your wish list. 'This year homeowners are investing in outdoor projects that increase their enjoyment at home,' says Allison Messner, CEO of landscape architects Yardzen. 'With high interest rates, many homeowners are delaying an imminent move and instead investing in creating landscaping that makes them feel happy.'
So, are you looking for a fire pit with casual seating, covered outdoor living room, swish dining area and outdoor kitchen, or stylish pool and pergola combo? Or maybe you're after quick backyard ideas on a budget such as easy screening, upgrading furniture or adding a fire pit.
Either way, we've found our favorite designer solutions for small backyards that will work whatever your space or budget.
1. Introduce relaxed, natural style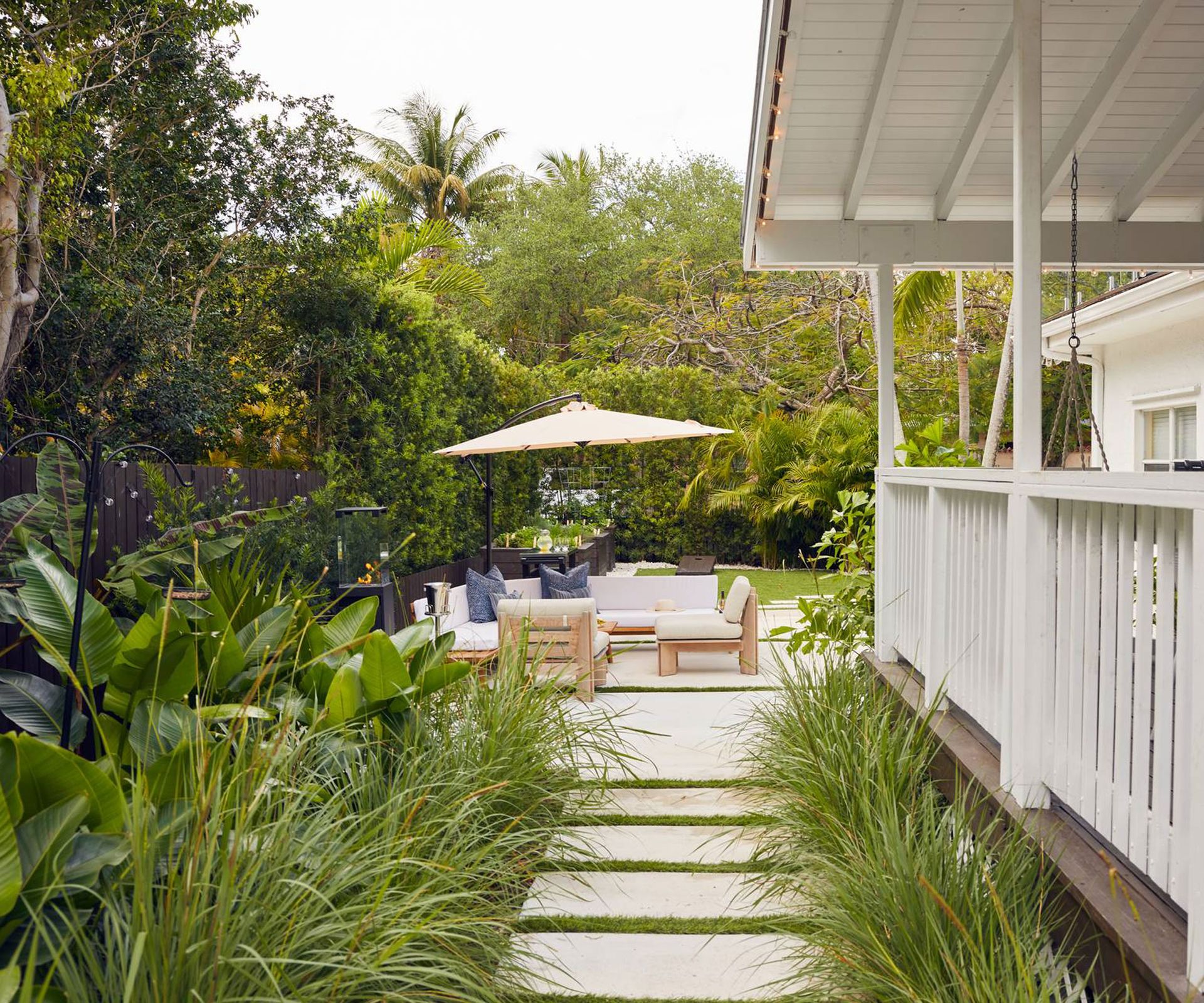 One of the big trends in townhouse backyard design is a move away from the rigidity of modernism, with its clean lines, stark contrasts and orderly plantings, to a renewed appreciation for the joy of organic shapes and textures.
'Organic style draws on English cottage garden ideas with abundant shrubs and flowers, gravel paths, stone, and antique-inspired decor,' says Allison Messner. The naturalness of these spaces transports you, beckoning you to indulge in the simple pleasure of being outside. And, the great news is that organic style is inherently low-maintenance and habitat-supporting.
It embraces the wildness of the natural world by introducing the fluid movement of flowers, grasses and plants for pollinators, as well as offering the opportunity to include plenty of trees in your backyard design.
Allison Messner is on a mission to help people live better lives outside. She is co-founder and CEO of Yardzen, a leading online landscape design and build platform. In 2021, Allison launched the American Rewilding Project, an initiative to offset climate change in every Yardzen design through the use of habitat-supporting plants, water conservation and sustainable materials.
2. Rework a townhouse deck into a calming space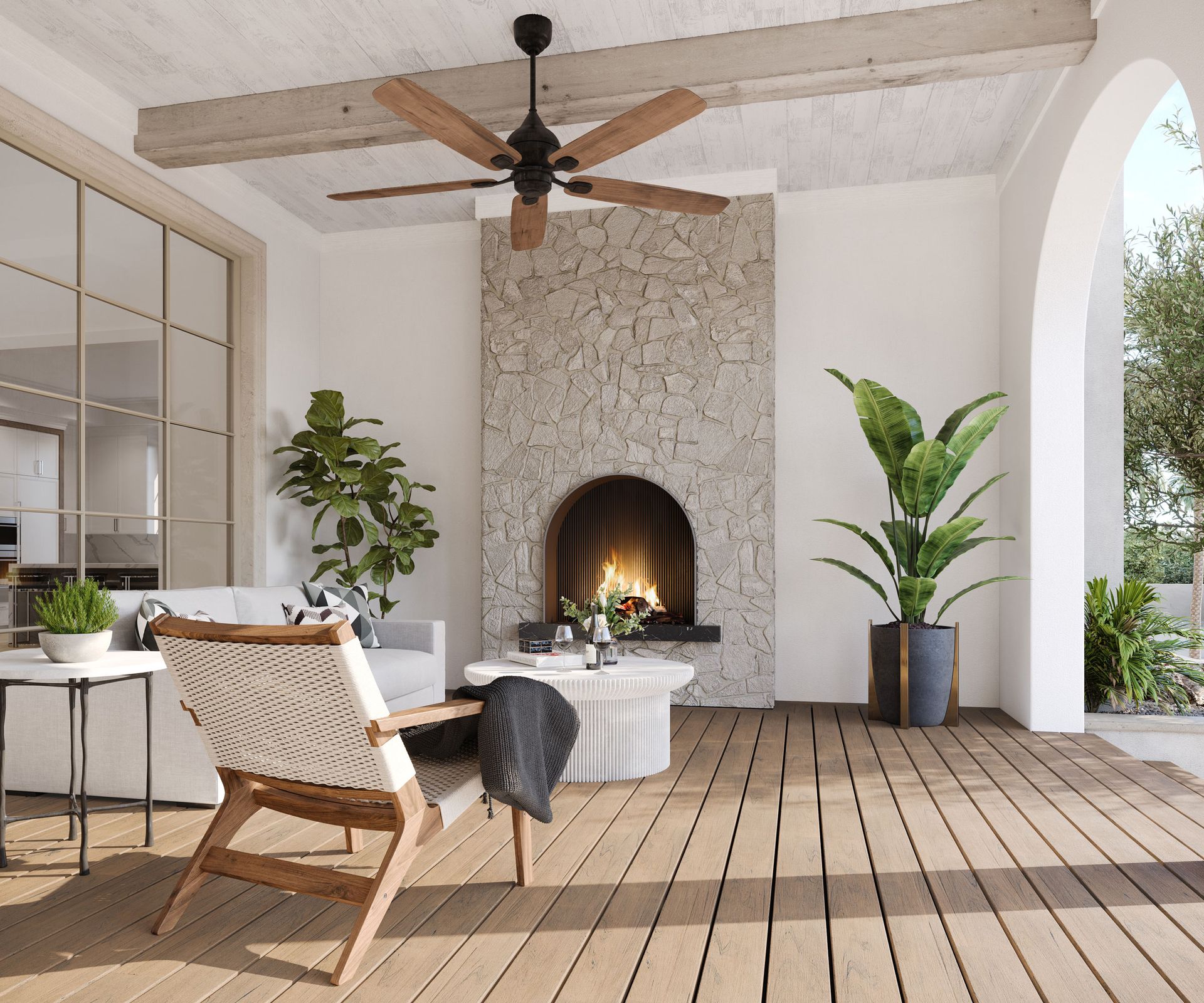 Muted colors like beiges, tans, and whites are perfect for creating a calming and soothing atmosphere in your backyard. They are a great choice for an outdoor living room if you're also looking for on-trend deck ideas too.
'The biophilic influence of nature on home design – both indoors and out – will be evident in everything from material choices to colors in 2023,' says Trex VP Leslie Adkins. 'Light neutral hues are expected to permeate home exteriors due to their ability to create a sense of calm and serenity.'
To enhance a timeless and tranquil space consider investing in a deck full of neutral hues like sandy beige, creamy taupe or cinnamon brown. Trex has just launched Carmel, a soft creamy taupe board that integrates toasty brown with grey undertones that's perfect for this look.
There has been a notable spike in requests for outdoor fireplace ideas too this year (a 40% increase according to design experts Yardzen) as more and more homeowners translate their favorite interior amenities to their outdoor rooms.
3. Make the most of a townhouse patio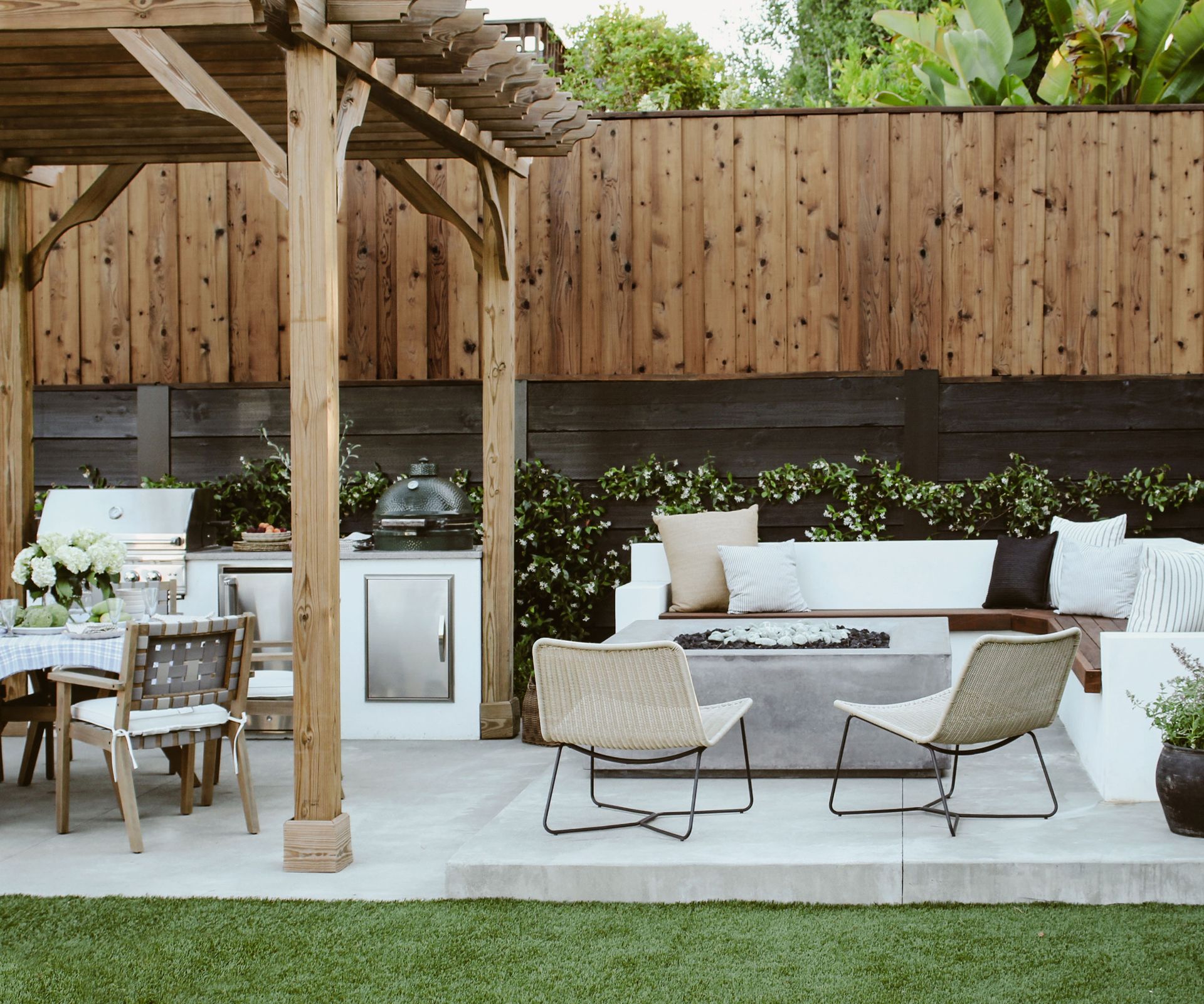 When it comes your patio area, no matter how limited your space is, with careful and creative planning you can work out a way to include a separate outdoor kitchen and dining area, as well as a relaxation zone, as part of your townhouse backyard ideas.
First it's a good idea to map out your plan for an outdoor kitchen and outdoor dining area as this will be key to your space-stretching plans. Then take a look at space-efficient patio furniture ideas that will enhance your relaxation area.
'This yard in Burlingame, California, features a beautiful built-in kitchen from RTA Outdoor Living, a Big Green Egg (the owner loves to grill) and a quaint, round dining table beneath a traditional-style pergola that gives them dappled shade,' says Allison Messner. 'A conversation nook and modern, concrete fireplace provide a place for the homeowners to entertain past dark.'
If you want to include a similar contemporary fire pit in your own design, this propane outdoor fire pit table from Wayfair with easy push-button ignition and adjustable flames, fits the bill.
4. Get creative with privacy screening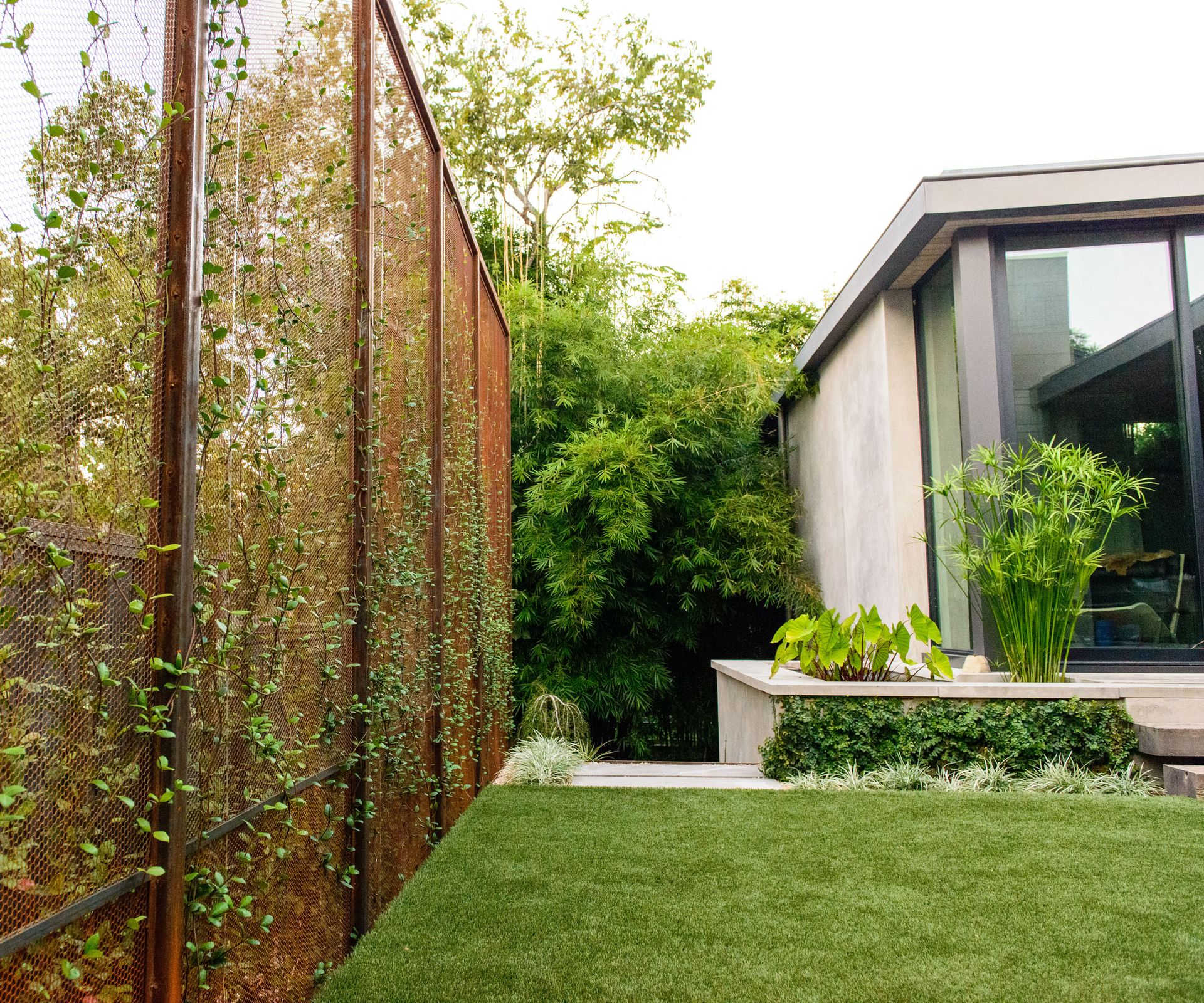 One of the biggest concerns for owners of townhouse backyards is privacy. If your neighbor's outdoor space is only a stone's throw from your own, it can be difficult to feel like your space is your own.
Luckily there are plenty of innovative garden privacy ideas to consider. They are a great option for screening overlooked city spaces as well as dividing up a space into zones. This project is located on Indian Trail in the Tarrytown Neighborhood of Austin, Texas. In such an urban setting, it's a surprisingly private residence.
'We constructed a tall steel perforated screen wall with vines planted to grow up and eventually cover it, blocking the neighbor's very tall home,' explains Eden Garden Design Principal Amy Hovis. 'The much-needed privacy lets the owners use their yard freely as well as the interior of their home, without the need for window coverings over all their glass.' Lush bamboo planting along the boundaries adds to the secluded effect.
You can get a similar look with a lazer-cut galvinized steel metal privacy screen from Wayfair. The hollow metal pattern is great for plants to scramble up.
5. Create a day-to-night entertaining space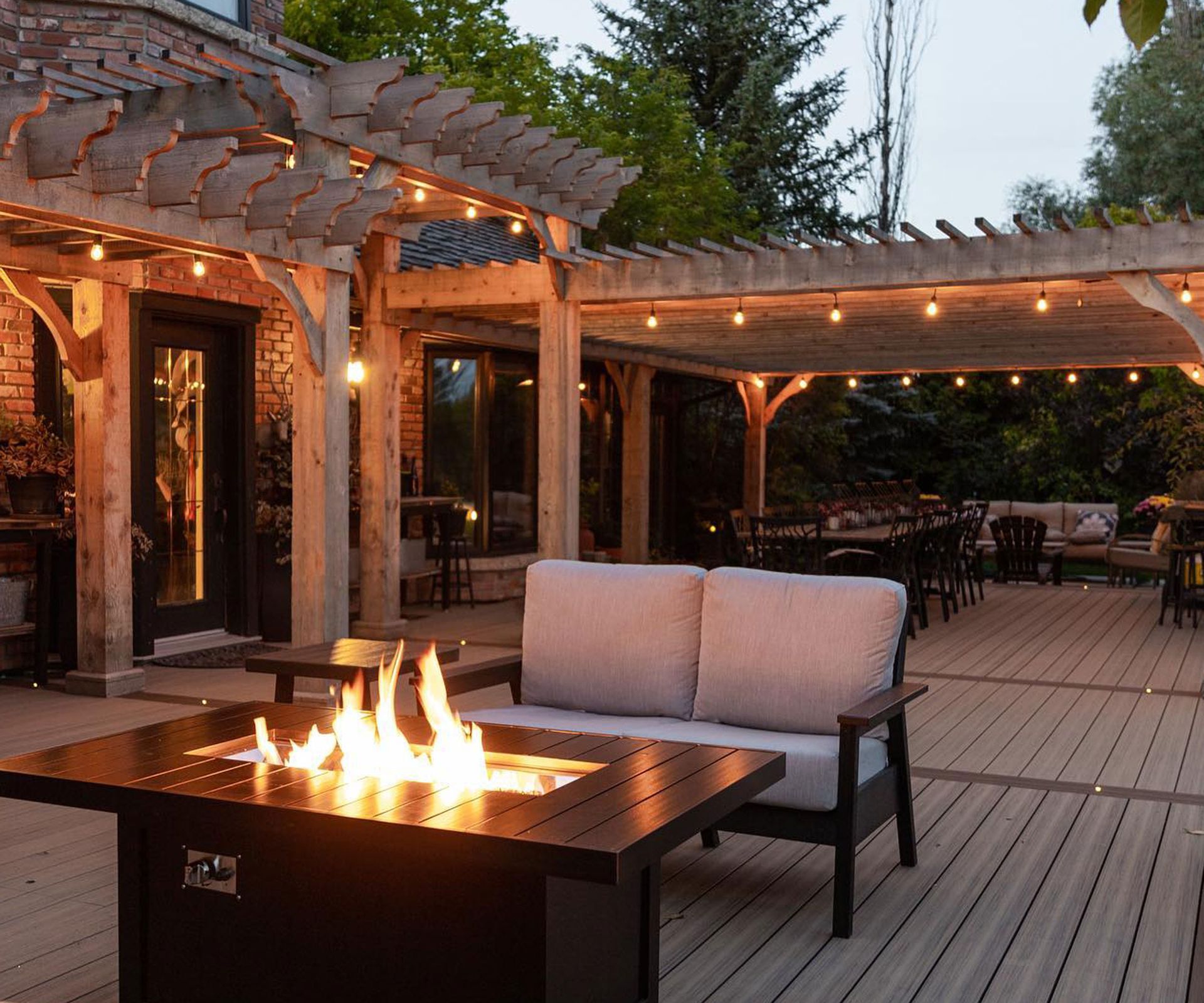 'One of the top requests for townhouse backyards amongst our clients is room to entertain,' says Yardzen's Allison Messner. 'They want amenities in their yard that transition their outdoor spaces from day to night. This includes long dining tables for large groups, outdoor bars, pizza ovens, and heaters.' Plus of course a fire pit to gather round.
Choose your backyard lighting ideas carefully and you can really enhance your townhouse yard by making the space feel bigger as it draws the eye to different areas.
'Use string lights overhead to create a cozy ambiance, or install lanterns to provide soft lighting that extends the use of the space into the evening,' suggests Keith Melanson, interior designer and founder of Renos Group.
But be careful not to go overboard. 'Lighting should always be used to create a mood rather than feeling you're at a stadium,' says Max Guidon, founder of Guidon Studio, an award-winning boutique interior design firm in Miami, Florida.
6. Attach a pergola to your townhouse for outdoor dining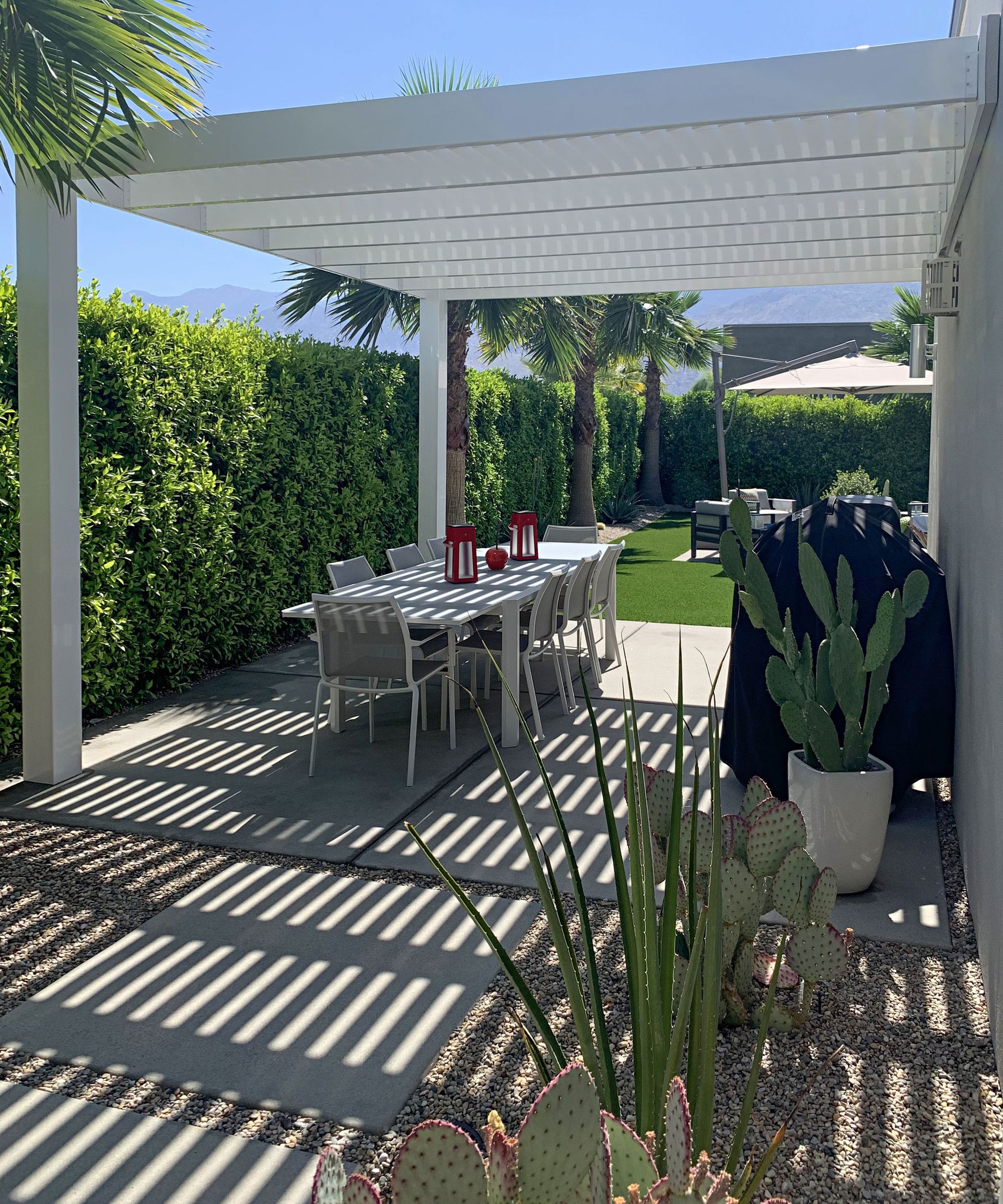 One of the most important ideas to get right is setting up a pleasant outdoor dining area. If your townhouse backyard is a little on the snug side or alternatively sunbaked to the degree it can often be too hot for dining outside consider reconfiguring a previously under-utilized space with a simple pergola idea.
You can redefine the space to suit your purpose, such as adding cover from the heat during daytime. 'The outdoor dining at this home in southern California is instantly elevated into a beautiful entertaining space that is separate from additional grass and seating areas in the yard,' says Melanie McCalley of Heartland Pergolas. Alternatively use a pergola to switch up the vibe at night by customizing it with lights.
7. Keep your townhouse backyard lawn-free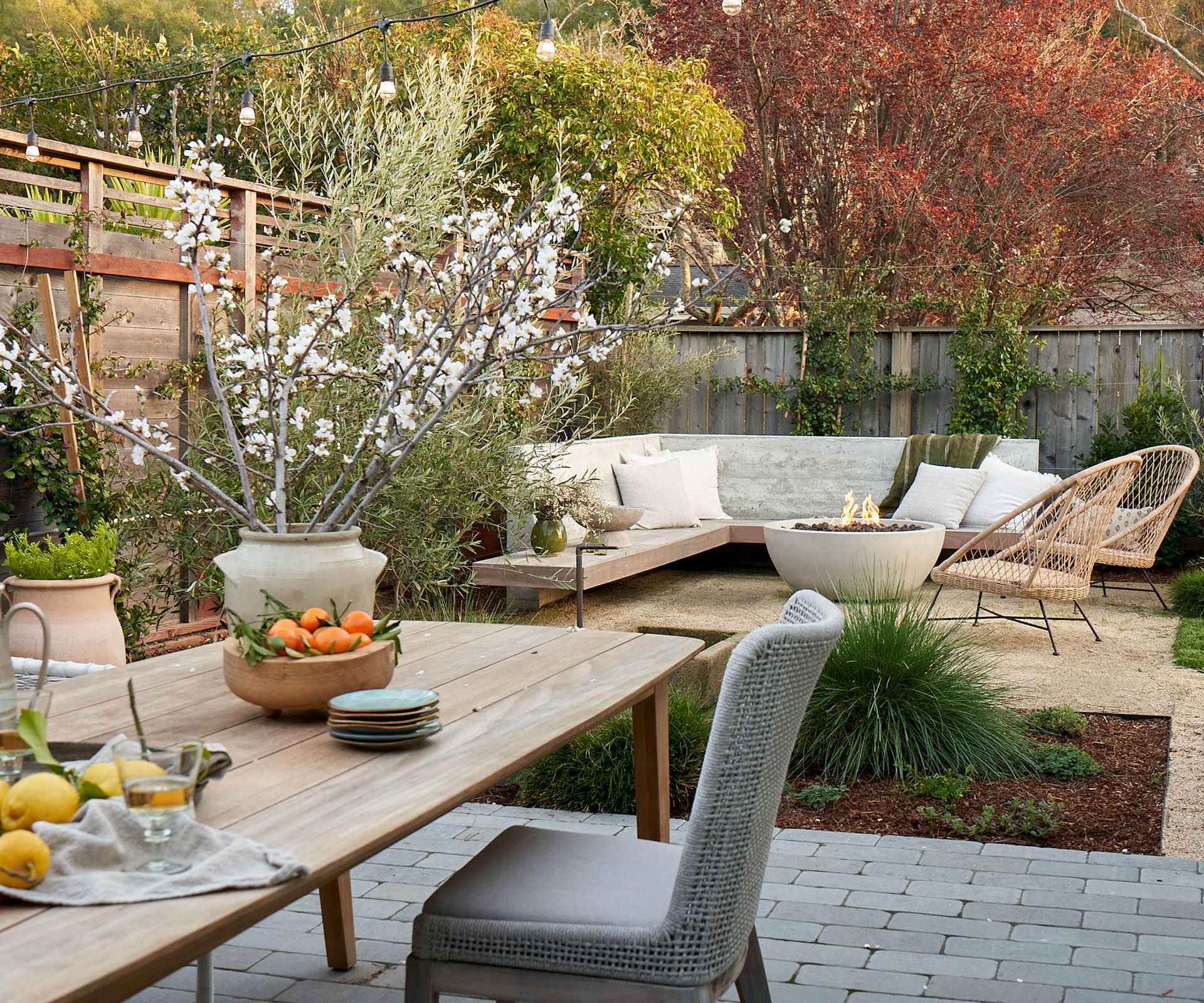 Clipped lawns are being replaced more and more by sustainable garden ideas like no-mow wildflower meadows, massed planting beds and textured hard landscaping that can add a smart touch to a paved backyard. A no-grass backyard is also ideal if you're looking for a low-maintenance design, especially when combined with drought-tolerant planting ideas.
Landscape designers Yardzen feel we should reduce as much lawn in our yard as we can. 'There is no denying that lawns are a net-negative for the environment,' says Alison Messner. 'The inputs required – water, fertilizer, gas-powered blowers and mowers – and the scant benefits to pollinators and habitat means that our design team is on a mission to reduce as much lawn as possible.'
It seems we're all rethinking water usage in our yards. According to Yardzen, in the last year, 13% more clients requested to remove their lawn altogether (many cities have great rebates for lawn removal). Even in areas with high rainfall, the idea of watering a lawn is becoming increasingly unpalatable as we focus on climate change.
8. Green up the exterior of a townhouse with planting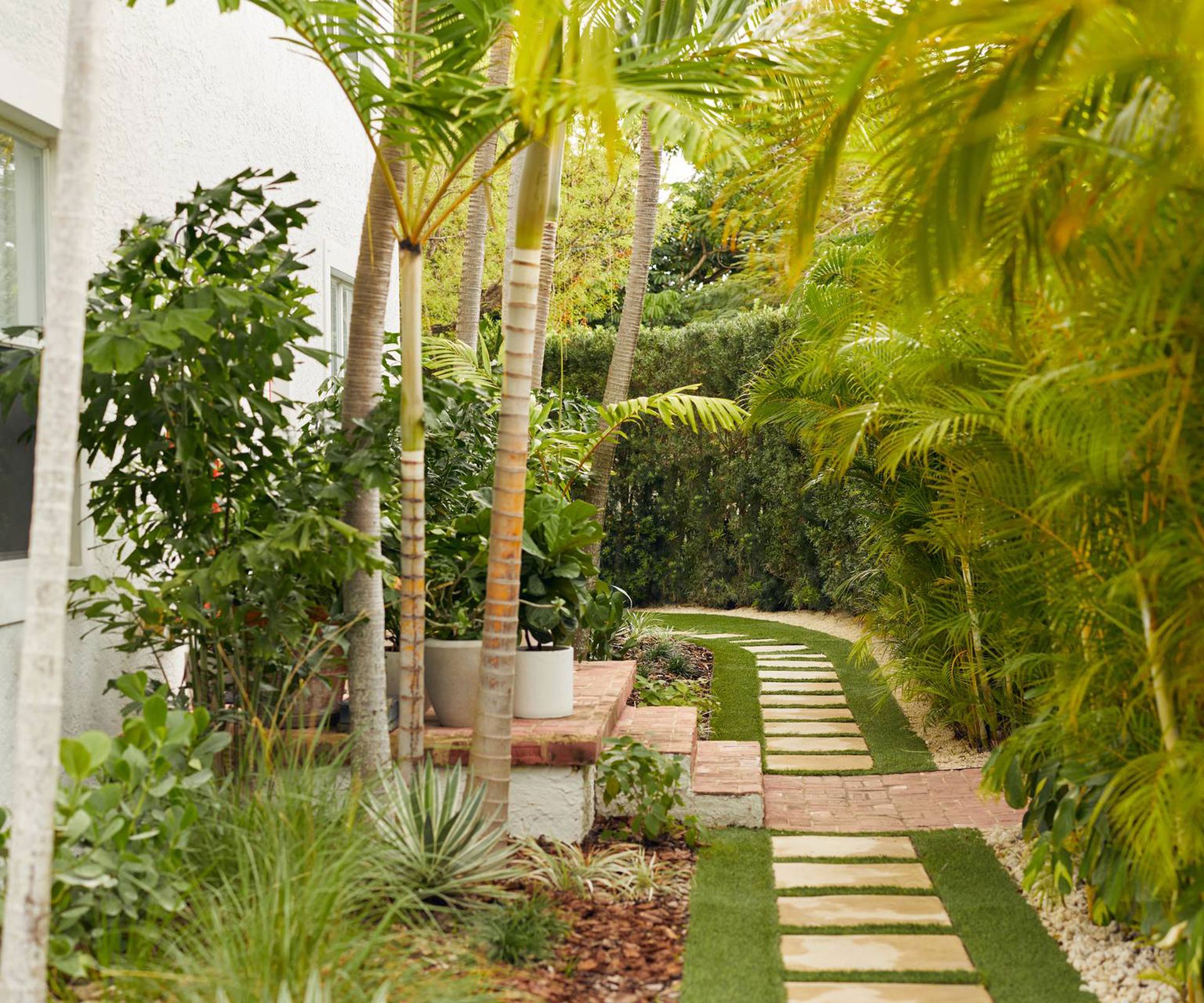 You really can never have enough plants in your townhouse backyard. The good news is that the trend for minimal and clipped planting designs is at last being superseded by a more relaxed and natural approach to greening up your space and turning it into an oasis.
This year 'full and lush' planting is increasingly replacing sparse softscaping. A style that can translate across looks as diverse as tropical gardens to traditional, and cottage garden to modern backyards, this mode of planting creates a calm and relaxing oasis for your townhouse backyard.
The good news is the more native and climate adapted plants you choose, the better it is for the environment too.
9. Use landscaping creatively to maximize space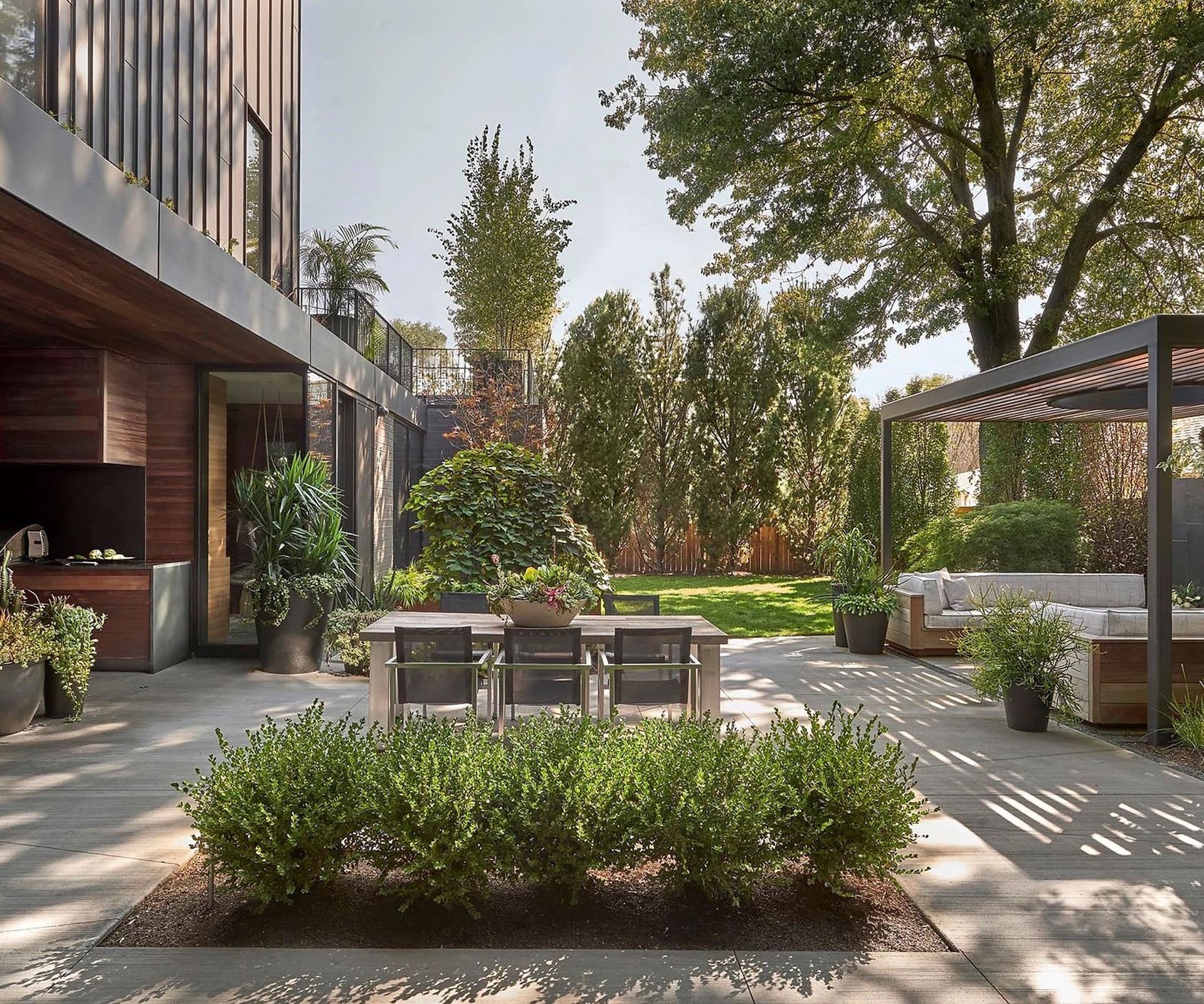 Designers often pull together a look by blurring the lines that separate indoor and outdoor spaces to ensure flow. This is even more important in urban courtyard designs where everything is in closer proximity so has to work much harder.
This enclosed courtyard garden by Chicago-based landscape architects dSpace Studio makes clever use of segmented space, featuring a sleek dining patio, with a neat grill and outdoor kitchen area tucked away into an alcove, as well as a separate covered patio area. Indoor-outdoor living is made easy by locating interior and exterior spaces at the same level, amplifying the indoor-outdoor connection.
Although this backyard is in the city it feels very private, the sense of seclusion further enhanced by the trees that were kept as part of the redesign. The owners wanted to repurpose existing planting into their new design, even moving backyard trees around rather than lose them.
10. Squeeze in a plunge pool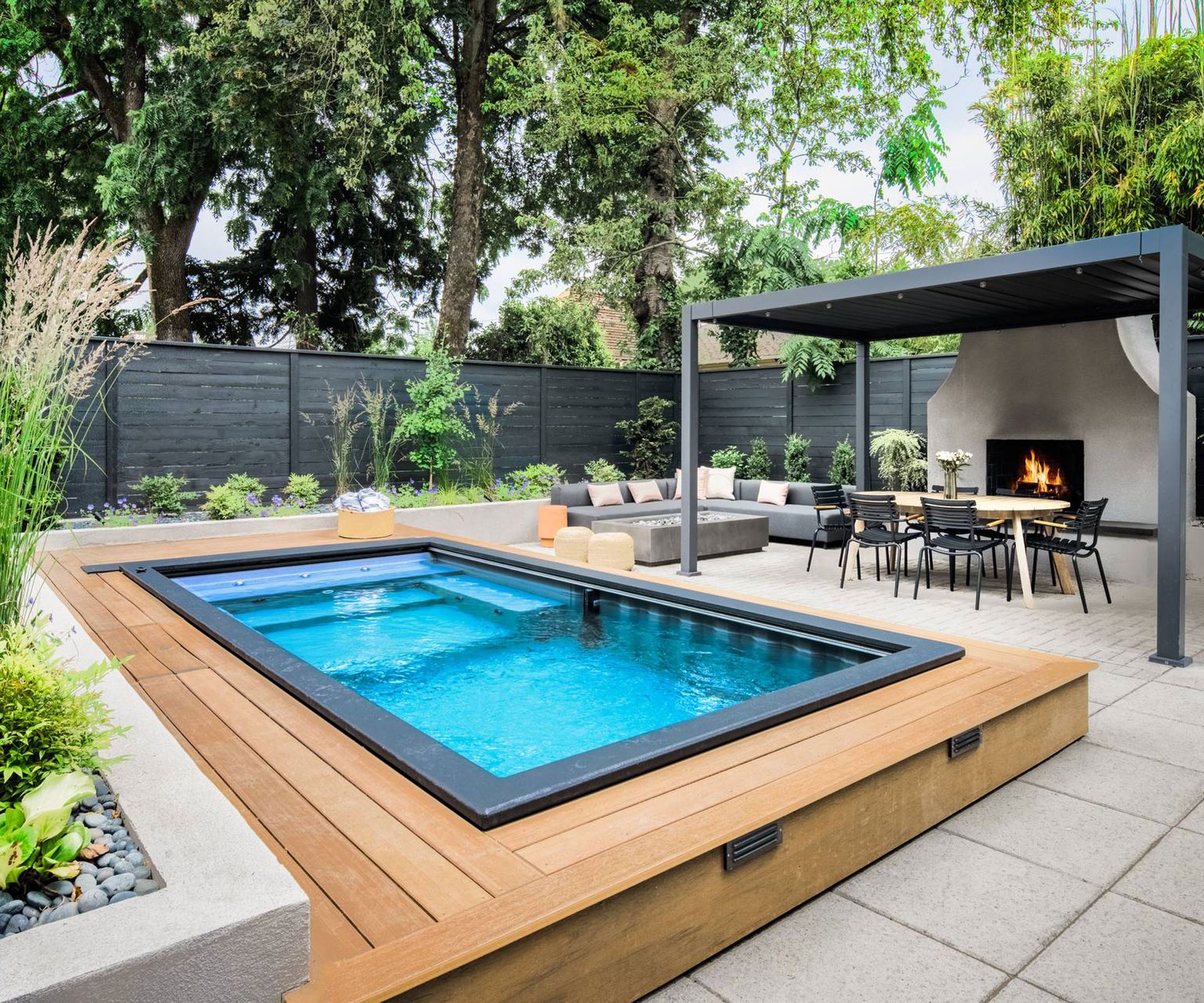 When it comes to townhouse backyards, the dream is, of course, all about adding a pool to your design. If space is tight it's not a problem with a plunge design, which takes up less space than more traditional pool ideas, and they can also help to make a backyard look more expensive.
'The plunge pool emerged as a top trend among our clients last year, and the trend looks set to continue with a 15% increase in plunge pools in our designs in 2023,' says Yardzen's Allison Messner. 'Plunge pools are less expensive, require less maintenance, and take up less space, which means they're a top choice for clients who are eager for a contained water feature that looks beautiful in any yard.'
If you have room, why not consider combining it with a small pool house too? If not, combining an outdoor shower with your plunge pool is a great idea too.
---
No one knows their own backyard space quite like you do. Sometimes it's a good idea simply to sit and reconsider your space, maybe sketching out a rough plan of any backyard landscaping ideas you feel might work to make your townhouse backyard more unique.
Sign up to the Homes & Gardens newsletter
Decor Ideas. Project Inspiration. Expert Advice. Delivered to your inbox.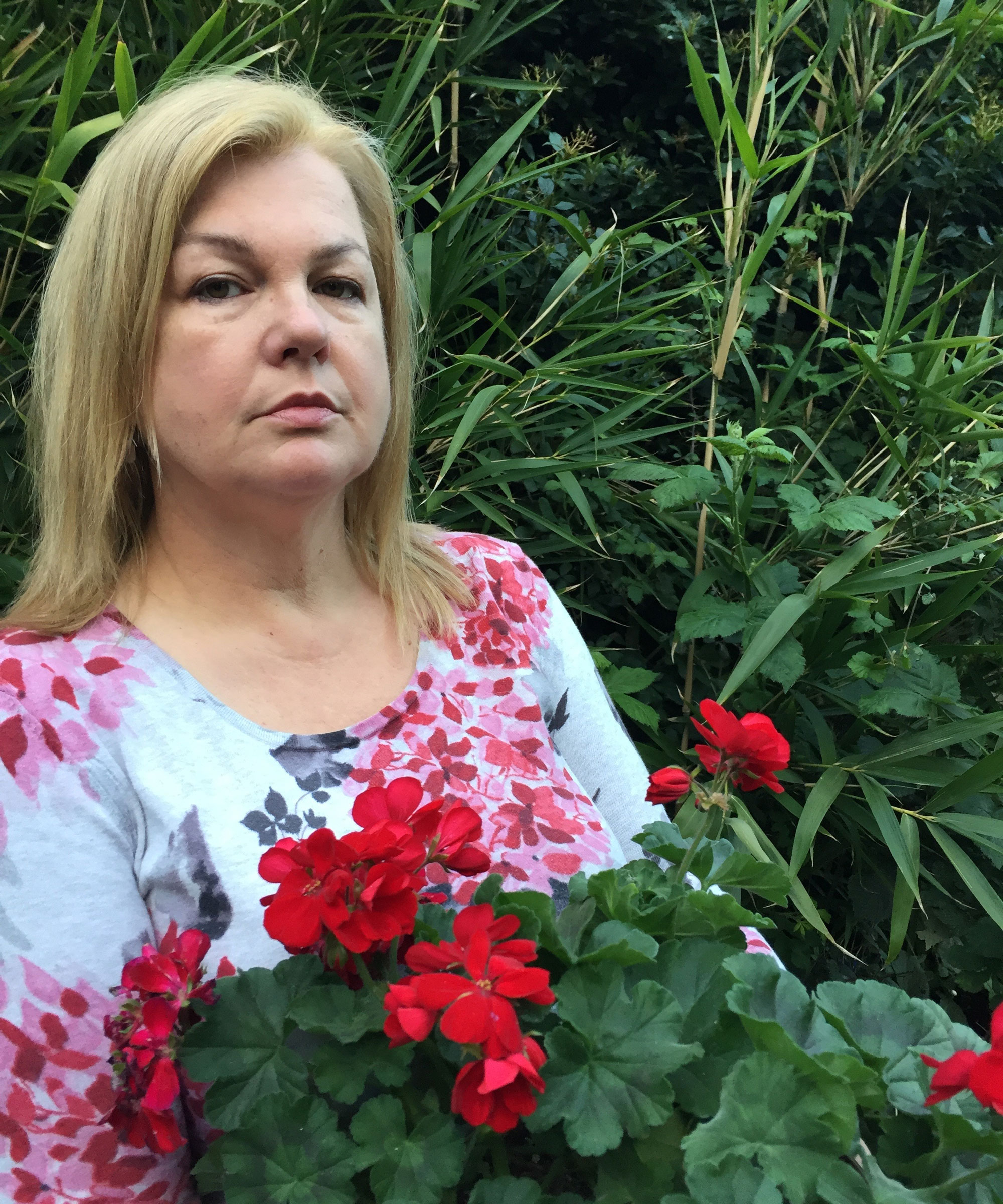 Lifestyle journalist Sarah Wilson has been writing about flowers, plants, and garden design and trends since 2015. Having already studied introductory garden and landscape design as well as a course in floristry she is currently adding to her list of qualifications with an RHS Level 2 course in the Principles of Plant Growth and Development. In addition to homesandgardens.com and livingetc.com she's written for gardeningetc.com, Modern Gardens and Country Homes & Interiors magazines.