No-grass backyard ideas – 7 ways to switch out lawns for stylish and easy-care alternatives
You don't have to stick to traditional turf – these looks will inspire you to embrace other ground-cover options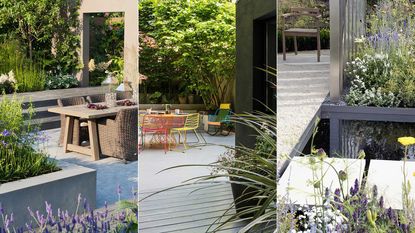 (Image credit: (From left to right) Mabo / Alamy Stock Photo – Andreas von Einsiedel / Alamy Stock Photo – Jacky Hobbs)
A luscious lawn has been a classic backyard feature for decades, but there are lots of reasons to opt out and choose an alternative. True, a verdant stretch of green can look impressive and inviting. But, it takes a lot of work to maintain such an immaculate aesthetic, with hours spent on mowing, watering, aerating, and all the other necessary tasks.
By choosing backyard ideas without lawns, you can create a space that's easier to look after. Plus, you'll be cutting back on water usage and pesticides, which will make your space more eco-friendly.
And if you're worried that taking out turf will reduce your yard's good looks, don't be. In many cases, opting for lawn alternatives actually improves the aesthetics, points out Rhys Charles, CEO and Founder of Mower On The Lawn. Materials such as pavers and pebbles can add color, texture and pattern to the landscape, which would otherwise be limited to the green of grass, he says. Taking out a lawn frees up space for extra planting potential, too.
7 backyard looks without lawns that will inspire you to ditch the turf
Whether you love the look of a modern backyard, or prefer something softer and traditional, you don't have to rely on a lawn to fill space if you don't want to. These looks are fuss-free, practical, and look fabulous, too.
1. Incorporate decking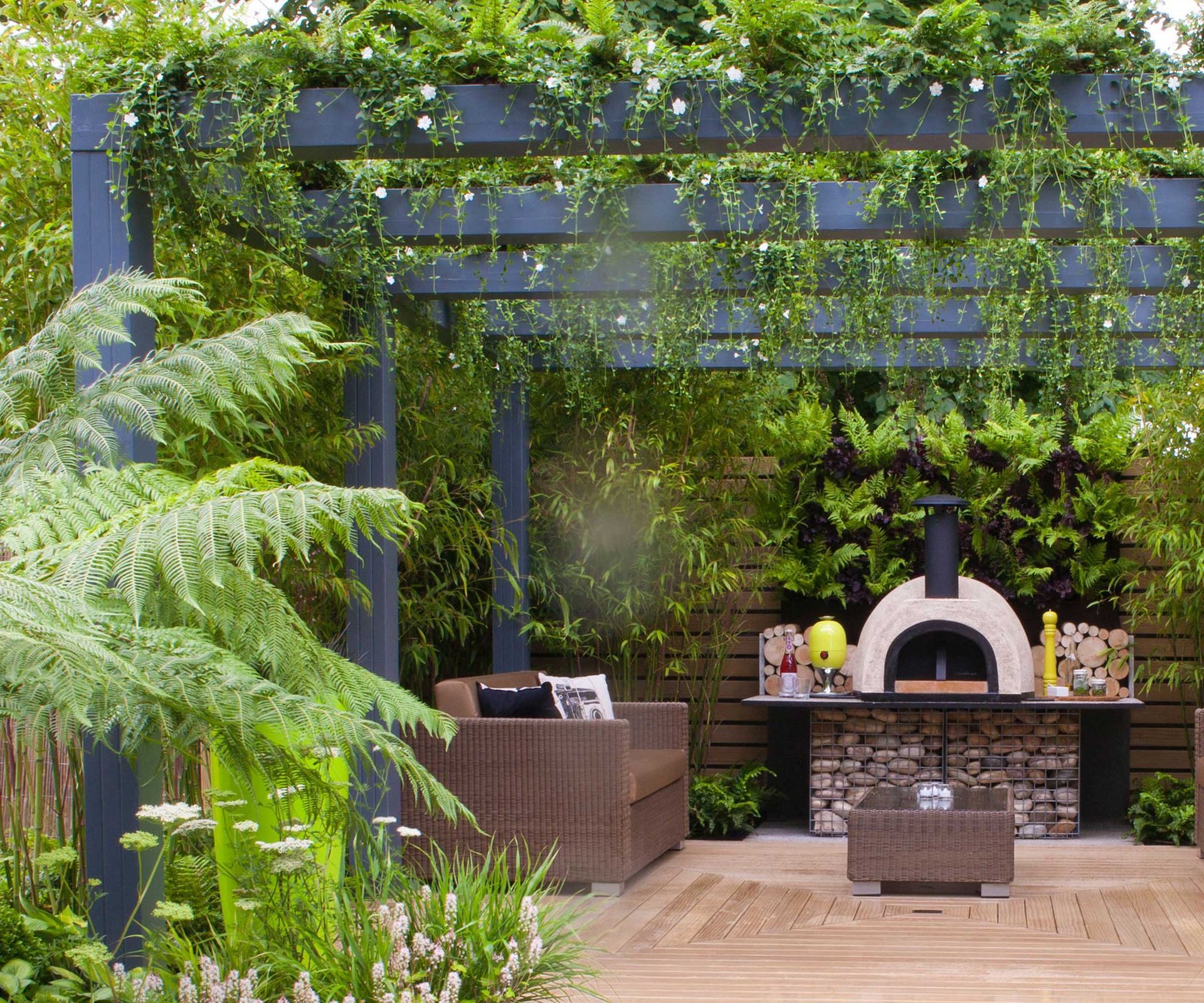 'A wooden or composite deck is the perfect solution for creating a cozy outdoor
living space,' says Riley Luo from East Oak. Decking provides a sturdy base for your furniture and is useful for breaking a plot up into levels or making the most of a sloping plot.
'Choose from a variety of shapes and sizes to fit your backyard and make it truly your own with a stain or paint color that matches your home's color scheme,' Riley says. Don't forget you could always add an outdoor rug for an extra layer of pattern and color – we like this indoor/outdoor design from Anthropologie.
Wooden decking has a rustic appeal that many homeowners love, but it does need a bit of TLC each year to keep it in good condition and combat damp and rot. Composite decks – although more expensive upfront – tend to last much longer so can save you money in the long run. Plus nowadays, they can look just as realistic as timber.
Composite decking is often designed to be non-slip, too, which is practical for regions that see lots of rainfall, or if you're installing a pool deck.
2. Swap in paving
'Paved patios and walkways made from natural stone or concrete pavers are a low-maintenance dream come true,' says Riley. 'Not only do they offer a durable surface for outdoor entertaining and dining, but they can also be designed in an array of patterns and colors to perfectly complement your home's exterior.' In fact, carefully-chosen backyard paving can play a key role in enhancing a plot's overall aesthetic.
Porcelain pavers are another option to consider, which, although on the more expensive end of the spectrum, are well-loved for their tough and easy-care nature. They work especially well in modern backyard landscaping, especially if you opt for large format styles.
For a more rustic look, consider clay bricks or cobbles, laid out as meandering paths and secret seating areas surrounded by cottage garden planting.
Hardscaping often calls for elements of softness within the surroundings for a sense of balance. These two designs shown above demonstrate this perfectly with bountiful borders and raised beds – they bring a plethora of texture and tone to the scene while attracting beneficial pollinators, too.
Remember to consider drainage when installing paving. 'Permeable pavers are a wonderful option for those looking to make their outdoor space grass-free,' says Joe Raboine, the Director of Residential Hardscapes at Belgard. 'These can be installed with layers of varying-sized aggregate or stone underneath that filter and direct stormwater to underground aquifers. With these permeable pavers, rainfall seeps back into the ground, reducing the burden on storm drains.'
3. Go for gravel
'Decorative gravel is a great option for those who prefer a low-maintenance, modern look,' says Tom Monson, the Owner of Monson Lawn & Landscaping. 'It is generally less expensive than other options and can be used to create pathways or simply as a base for potted plants.'
Gravel gardens are also great for drainage, and can be planted straight into, as shown in the designs above. In fact, it's a popular ground-cover material for xeriscapes. This is a technique that uses native and drought-tolerant plants to create a low-maintenance landscape, explains Naveed Anjum Hashmi, Author of GreenryEnthusiast. Their popularity has been increasing lately in an effort to reduce water usage and create more sustainable spaces – particularly in warmer climates.
Incorporating larger stones and even boulders alongside gravel is an effective way to enhance the naturalistic look.
4. Make more space for plants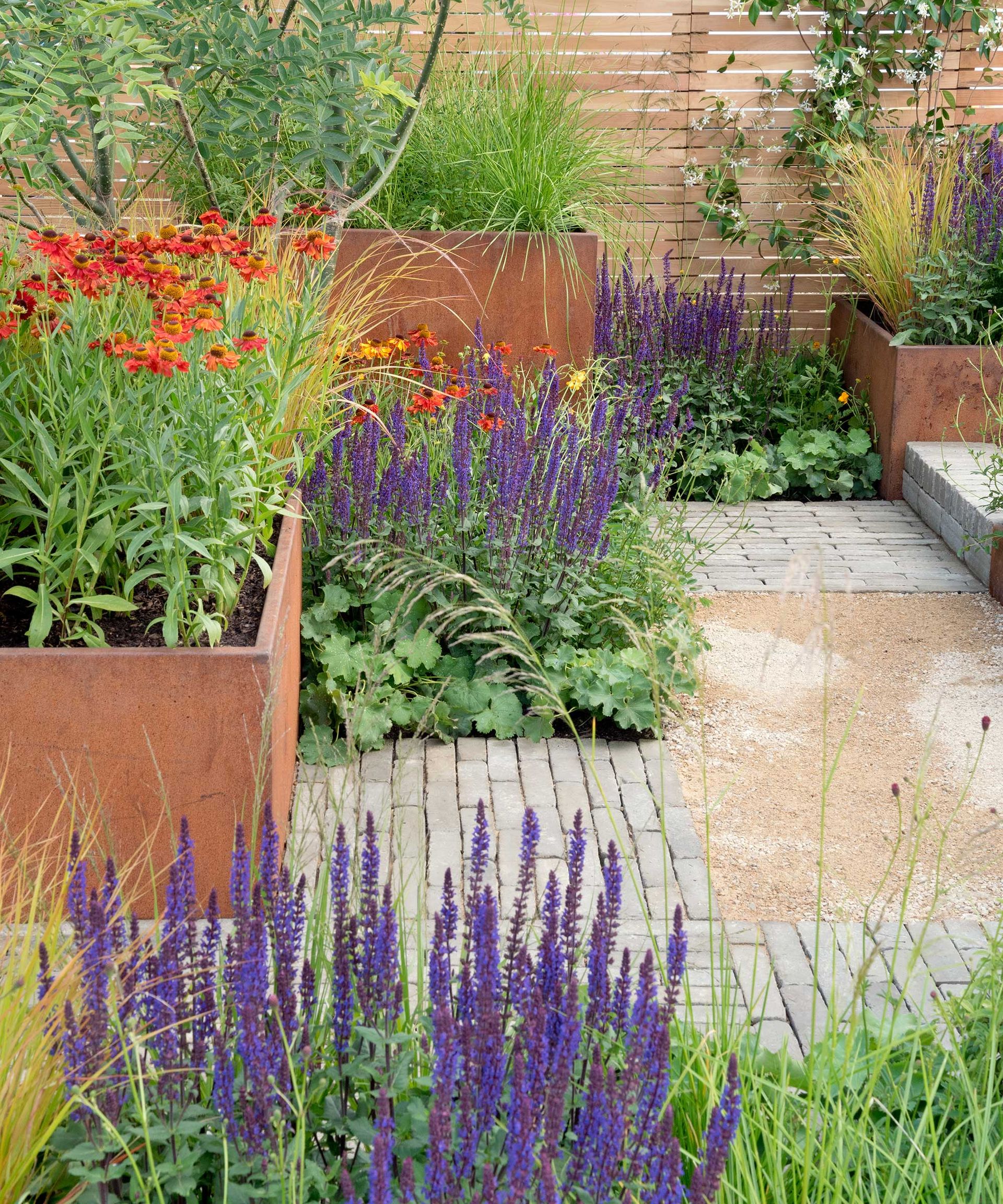 By taking a lawn out of the equation, you'll have lots more room for growing your favorite flowers and more. 'Adding plants such as ornamental grasses, succulents or a vegetable garden provides life, beauty and practicality,' says Jeremy Yamaguchi, CEO of Lawn Love.
There are so many options for including more plants in your plot. You could add large raised beds, try container gardening, or create deep and billowing flower beds. Just ensure you install garden paths, too, so you can water and weed them easily.
For a variety of low-growing color and texture, you could also consider a tapestry lawn. And if you still want a space for lounging and picnics, perhaps swap turf for clover. It's low-maintenance and stays green year-round with minimal water necessary, Jeremy adds. Plus, it's great for wildlife.
Alternatively, you can follow a more organic approach to planting. Benjamin Vogt shares his advice on the matter.
'It's important for homeowners to consider how much lawn they really need or frequently use, and how they use that space. If the goal is to reduce water and chemical inputs while providing habitat for wildlife (and more beauty for us), then the more lawn you can eventually replace the better.'
'Our firm's gardens use a base layer of sedge (Carex spp) in shady spaces, and Bouteloua spp in sun. From that base layer, we drift and mass flower species that provide a succession of blooms. The massing and repetition of those species is critical in order to show design intent as well as provide a bigger beacon to pollinators flying overhead. Plus, these plants look good in winter – far more dynamic and wildlife-supporting than a clipped lawn monoculture.
'Density and layers is paramount as well,' he continues. 'This practice will greatly reduce weed pressure after the first year while shading the soil to increase soil moisture and help rebuild soils (for instance, after construction). Matching plants to one another and the site – behavior, method of spread, soil, light – is important to reduce management over time.'
5. Bring in a water feature
Bringing water into a plot adds a multitude of benefits – the soothing sound and cooling touch elevates any outdoor space, creates a focal point, and welcomes visiting birds and insects. It's a great way to mix up the materials in a backyard without turning to turf.
The classic garden pond isn't your only option. Water channels can add a sense of sophistication while breaking up paved or graveled backyard zones – straight, sleek lines are perfect for modern spaces while meandering streams can create a woodland feel. Wider stretches of water can be combined with stepping stones for a playful touch.
Water bowls, fountains, and water walls are other simple ways to create impact and can enhance a seating area. Choose shapes and finishes that complement other features in your backyard for a sense of harmony.
6. Make a splash with a pool
Bringing pool ideas to your backyard will instantly enhance your outdoor living experience.
A focal feature of any yard, they provide a place to cool off from the summer sun. And, they're great if you're looking for ways to incorporate more exercise into your day-to-day routine, too.
Combine a pool with paving and potted plants for a clean and contemporary scheme. Bear in mind that pools still require maintenance, though, to stay in top condition.
7. Embrace bark chippings for a woodland vibe
For an affordable and natural alternative to grass, opt for wood chips. A type of mulch, they'll help to suppress weeds and can be used directly around planting or to create paths. Many local councils offer them for free, and it's worth checking out if arborists in your area can supply them, too, at a reduced cost in comparison to bags bought at the garden center.
'Wood chips offer a more natural feel, but may need to be replenished every few years,' says Tom Monson. This is because they will deteriorate over time. Nevertheless, they're quick and easy to install, and look lovely in informal outdoor spaces.
Sign up to the Homes & Gardens newsletter
Decor Ideas. Project Inspiration. Expert Advice. Delivered to your inbox.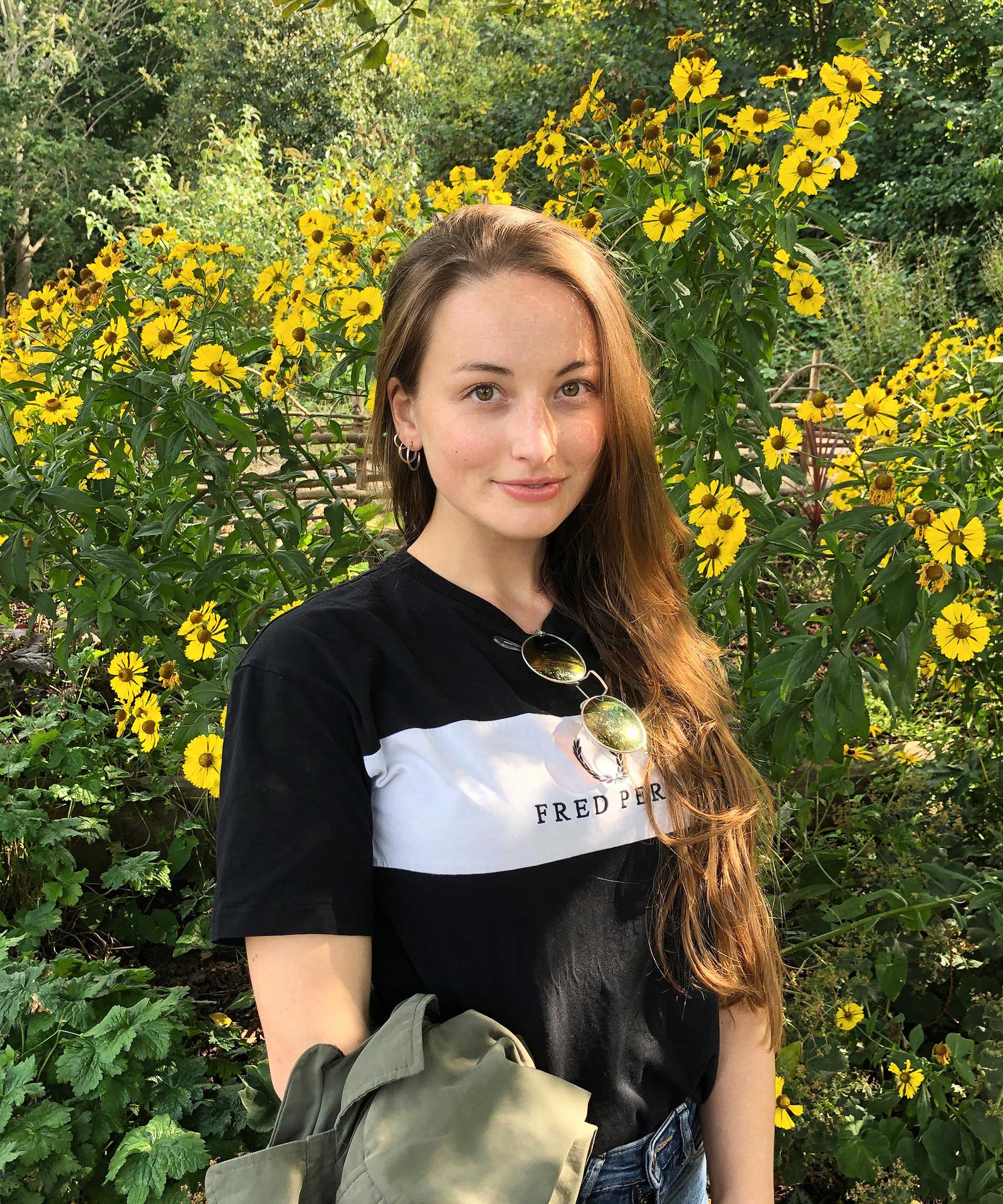 Freelance Gardening Writer
The garden was always a big part of Holly's life growing up, as was the surrounding New Forest where she lived. Her appreciation for the great outdoors has only grown since then; over the years, she's been an allotment keeper, a professional gardener, and a botanical illustrator. Having worked for Gardeningetc.com for two years, Holly now regularly writes about plants and outdoor living for Homes & Gardens.