Patio privacy ideas – 11 ways to turn your outdoor living space into a private oasis
Create a relaxing hideaway in your plot with this advice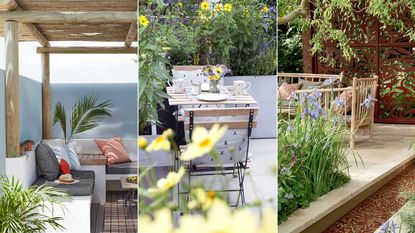 (Image credit: (From left to right) Little Greene / Jacky Hobbs / Jacky Hobbs)
Our patios are extensions of our indoor living space, so they need to be as relaxing and as comfortable as possible. And a big aspect of this is making them feel private, so we can enjoy them uninterrupted by prying eyes from nosy neighbors.
No matter your budget or the size of your patio, there are lots of ways you can turn it into your own private slice of paradise. What's more, most options offer other benefits alongside an enhanced sense of exclusivity, such as protection from rain or the midday sun, or even a storage solution. And all can add to the aesthetic of your space, too.
11 ways to make your outdoor living space more private
Apply these garden privacy ideas to your paved space for a greater sense of relaxation.
1. Add a curtain to your pergola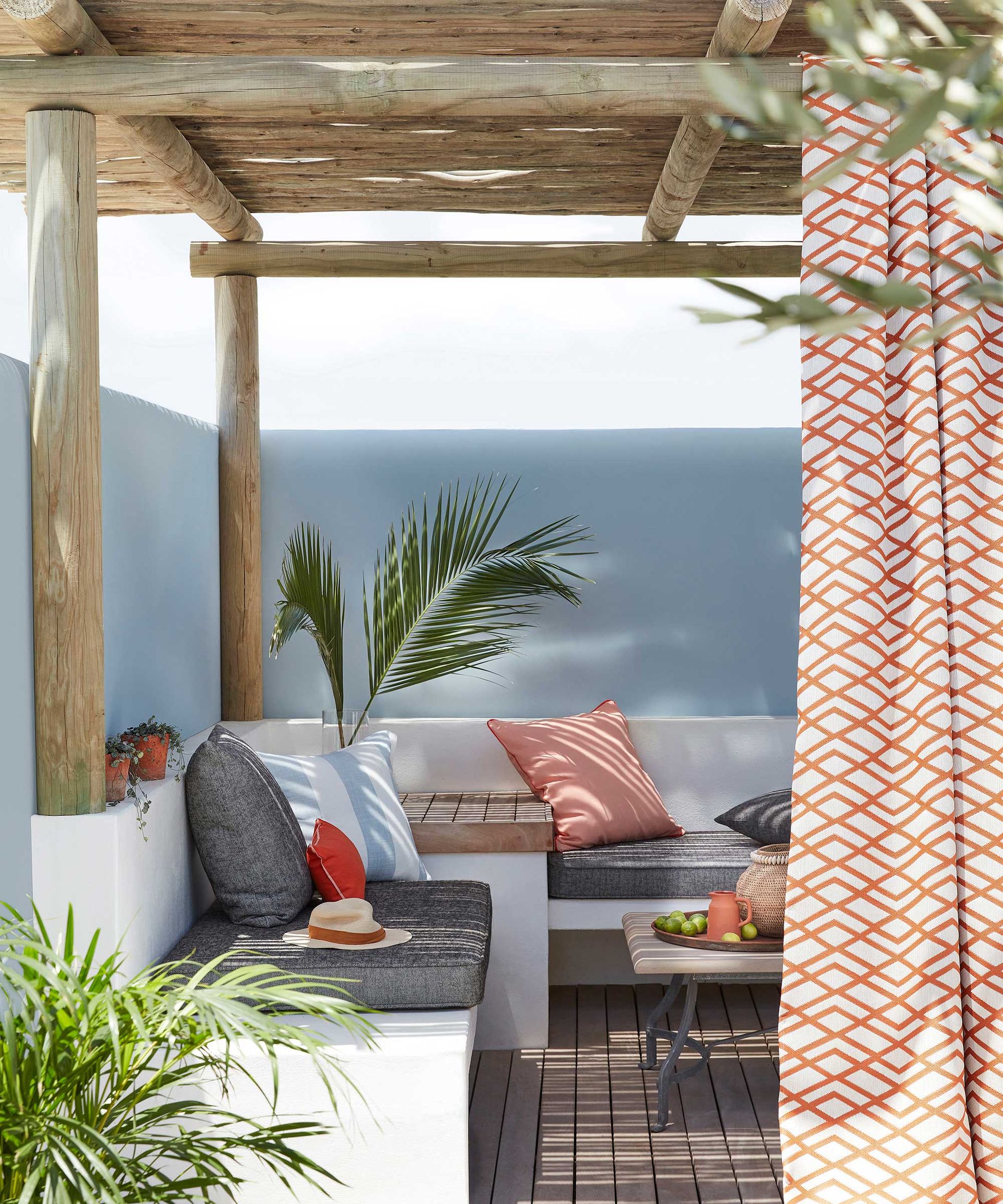 Joe Raboine, Vice President of Design at Belgard, suggests considering a pergola to add privacy to your patio, which can be coupled with outdoor drapes.
'This can help with the design while also adding warmth to a patio, which allows you to extend the time and seasonality of using the space,' he says. Personally, I love the patterned example shown above which adds a touch of flair and color to the zone.
Dress the 'outdoor room' as you would a room indoors to give it a cozy vibe: think plenty of pillows, hanging plants, and string lights for a peaceful retreat that delivers comfort both day and night.
Joe Raboine is the Vice President of Design at Oldcastle APG, the parent company of Belgard. He collaborates with both sales and marketing to ensure that Belgard's contractors and dealers are receiving best-in-class service, products and experiences. To that end, he often hosts webinars, assists with training events and trade shows, and presents at Belgard Universities and other industry events on current topics such as design trends, product innovations and industry best practices. As part of his role, he also oversees the Belgard Design Studio team. Belgard Design Studio is a resource to create customizable, 3D designs for Belgard contractors, dealers and design professionals.
2. Install a patio privacy screen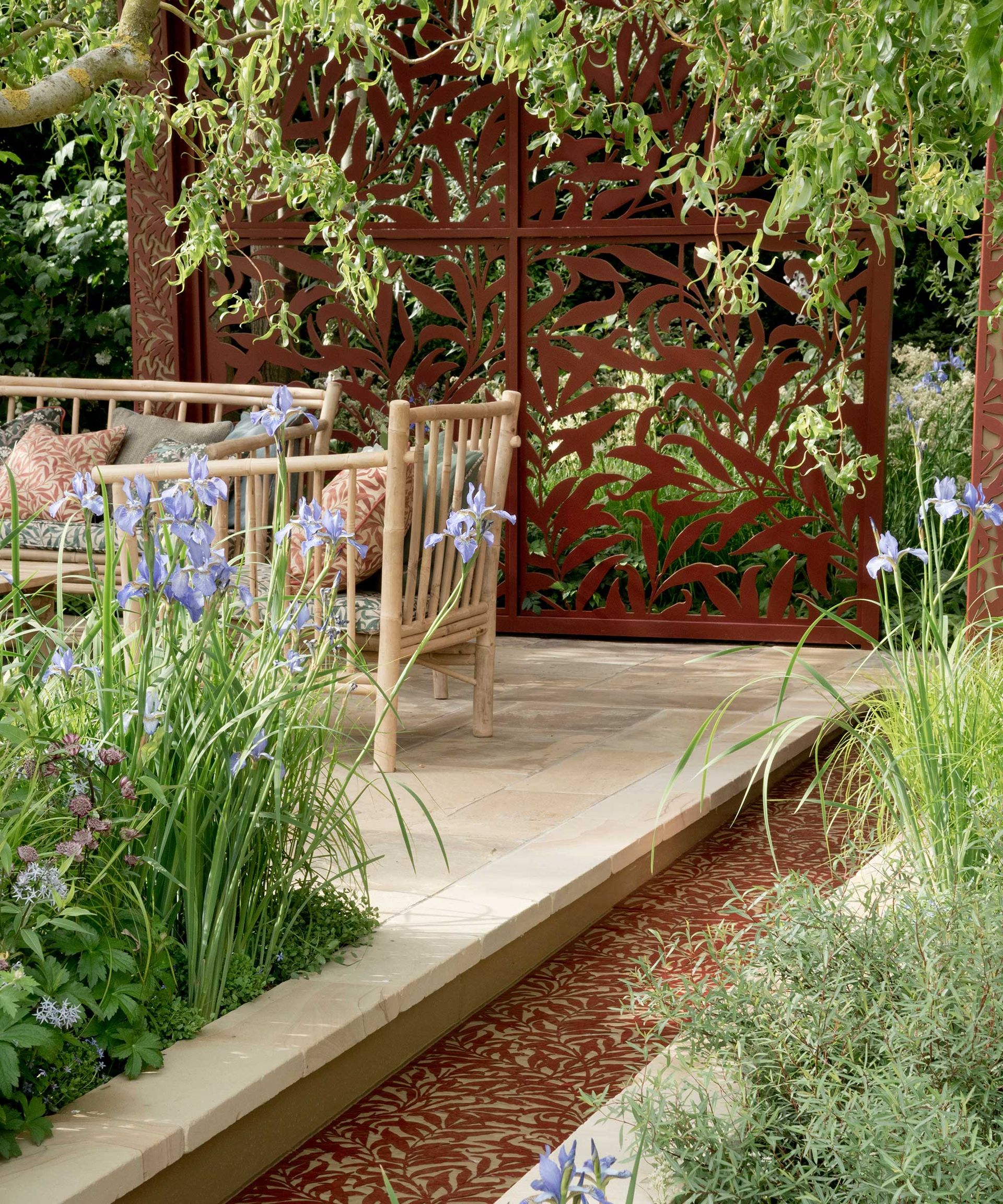 Joe also suggests privacy screens as a solution, both as part of a pergola or simply as a divider wall. They're an 'easy and attractive way to create a private oasis, while still allowing light and air to pass through,' adds Joel Comino, Founder & CEO of Next Modular, a company that builds custom modular homes.
'You can use a variety of materials as a screen, including wood and vinyl lattice, pre-made panels, fabric screens, and more,' Joel continues. 'They can be used to create a full wall along the perimeter of your patio, or they can be used to divide up different areas of the space.'
'Bamboo screens in particular can create a natural and inviting feel, while metal or plastic screens offer a more contemporary look,' says Tom Monson, the Owner of Monson Lawn & Landscaping. The ornate design shown above is actually part of a larger structure, but something similar would be beautiful as a standalone screen in a smaller space.
'Screens with a standard fabric (openness value ranging from 5% to 12%) block out prying eyes during the day, however, any illumination from within during the night will allow a patio's content to be visible again,' says Dustin Konrad from Rollac Shutters. 'That being said, this is much more private than no screen at all,' he adds. He also comments on the benefit of being able to look out from your patio and admire the view while enjoying daytime privacy.
'Most fabric and screen companies have a black-out and bug screen option as well,' Dustin adds. The black-out screen blocks all incoming light. So, while you do have complete visual privacy, you cannot view and enjoy your yard at the same time. 'On occasion, this fabric is used only on the most sun-facing side of the patio for the sole purpose of blocking heat.'
Joel has been in the construction industry since he was 16. He gained relevant experience in home remodeling and improvement before shifting to the modular home industry. Next Modular provides an affordable, full turn-key solution for residential customers looking to build a new home.
Dustin Konrad works at Texas-based company Rollac Shutters, who provide high-quality awnings, shutters, shades, and outdoor structures, and have been established for 40 years. He grew up with this family business and has been around rolling screens and shutters his whole life.
3. Surround your patio seating with tall planters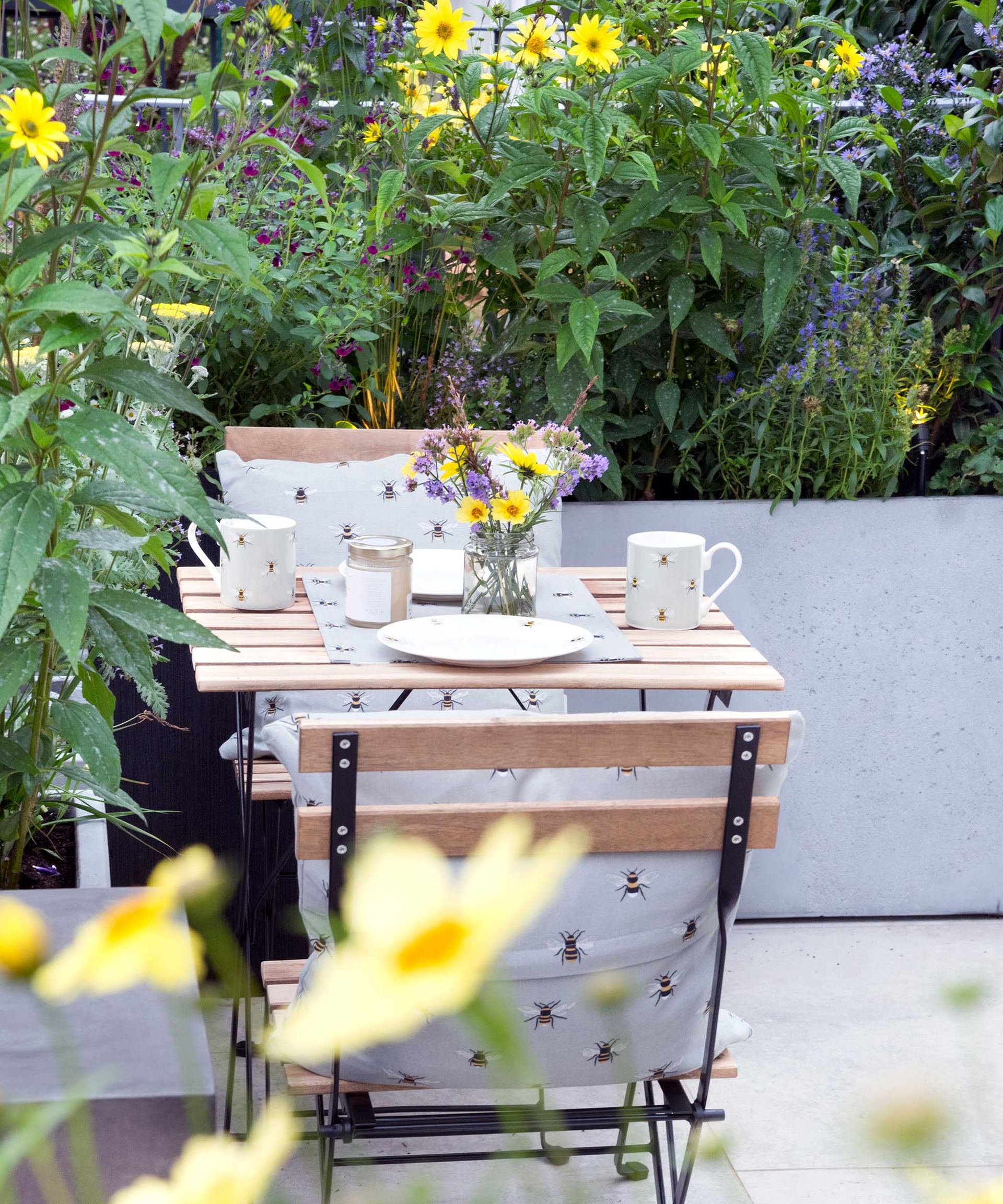 'Plants can also be used to provide privacy and create a beautiful atmosphere on your patio,' says Joel. 'Tall hedges are an excellent choice, as they will help to block out noise and unwanted visitors while also providing a lush, green backdrop for your outdoor getaway.
'If you're looking for something more versatile, shrubs, trees and vines are all great choices for privacy plants. When planted strategically, they can provide a nice balance of privacy and openness on your patio,' he adds.
And if you're working with a smaller space – even a compact balcony – don't forget about container gardening. Bamboos, ornamental grasses and lofty flowering perennials can help to cocoon a space while obscuring the neighbors' view of the area.
To avoid a common patio planting mistake, remember that plants grown in containers will require more watering than those growing in the ground.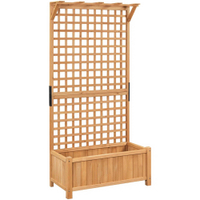 Getraer Wood Planter Box with Trellis | $183.99 from Wayfair
This weather-resistant trellis and planter duo, made from sustainable fir, will provide an ideal base for a botanical screen. Simply add compost and your favorite climbing plant.
4. Increase audio privacy with a water feature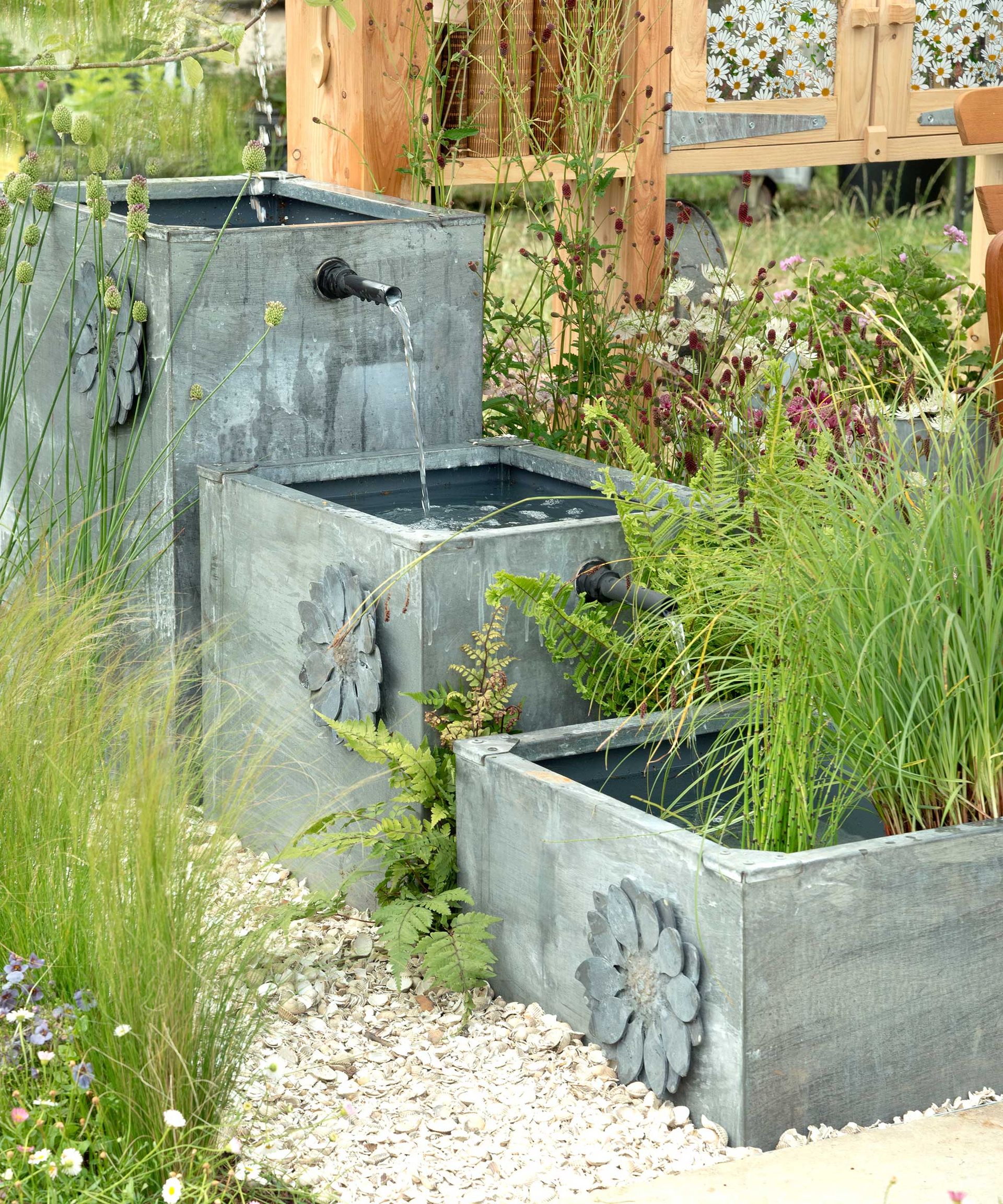 'Visual privacy is typically the first thing that homeowners would consider, but they should also consider audio privacy in their outdoor areas,' says Joe Raboine.
'Water features are a creative way to drown out the sound of neighbors and create a cozy environment to have your own conversations. The water sounds are also pleasing and can create a relaxing experience.' They can be particularly effective in a townhouse backyard where you may be surrounded by multiple neighbors.
This three-tiered design can also be used to fill up a watering can, while the surrounding gravel soaks up any spills.
5. Opt for a parasol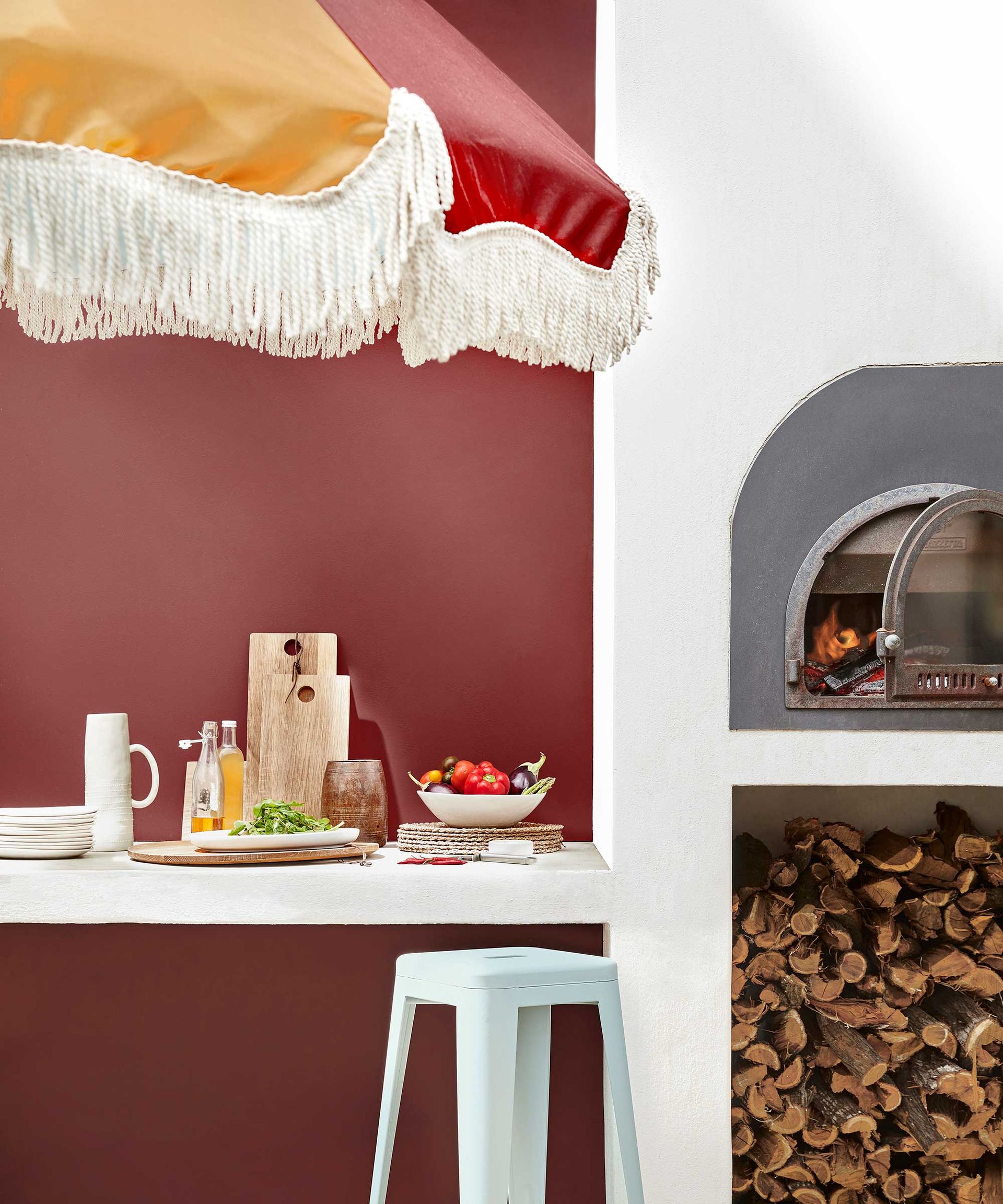 Patio umbrellas are generally less expensive than luxe pergolas and are super useful for providing a cool spot of shade from the midday sun. But they're also great for upping the privacy levels on a patio in built-up areas with upstairs neighbors' windows.
There are plenty of designs to choose between, from bold and vibrant styles with fringes to pared-back options in neutral tones. Opt for a cantilever design for extra versatility – they sit neatly to one side of your patio space and you can adjust them easily to follow the sun.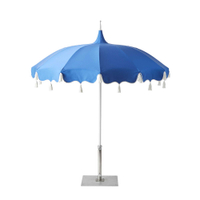 Alicante Tassel Umbrella | $1,598 from Serena & Lily
I love this luxurious parasol with tassels and a scalloped edge. The wide canopy provides plenty of shelter, and there are three colorways to choose from: coastal blue (which is a pretty pastel shade), Mediterranean blue, and white.
6. Use levels in your backyard's layout to create tucked-away patios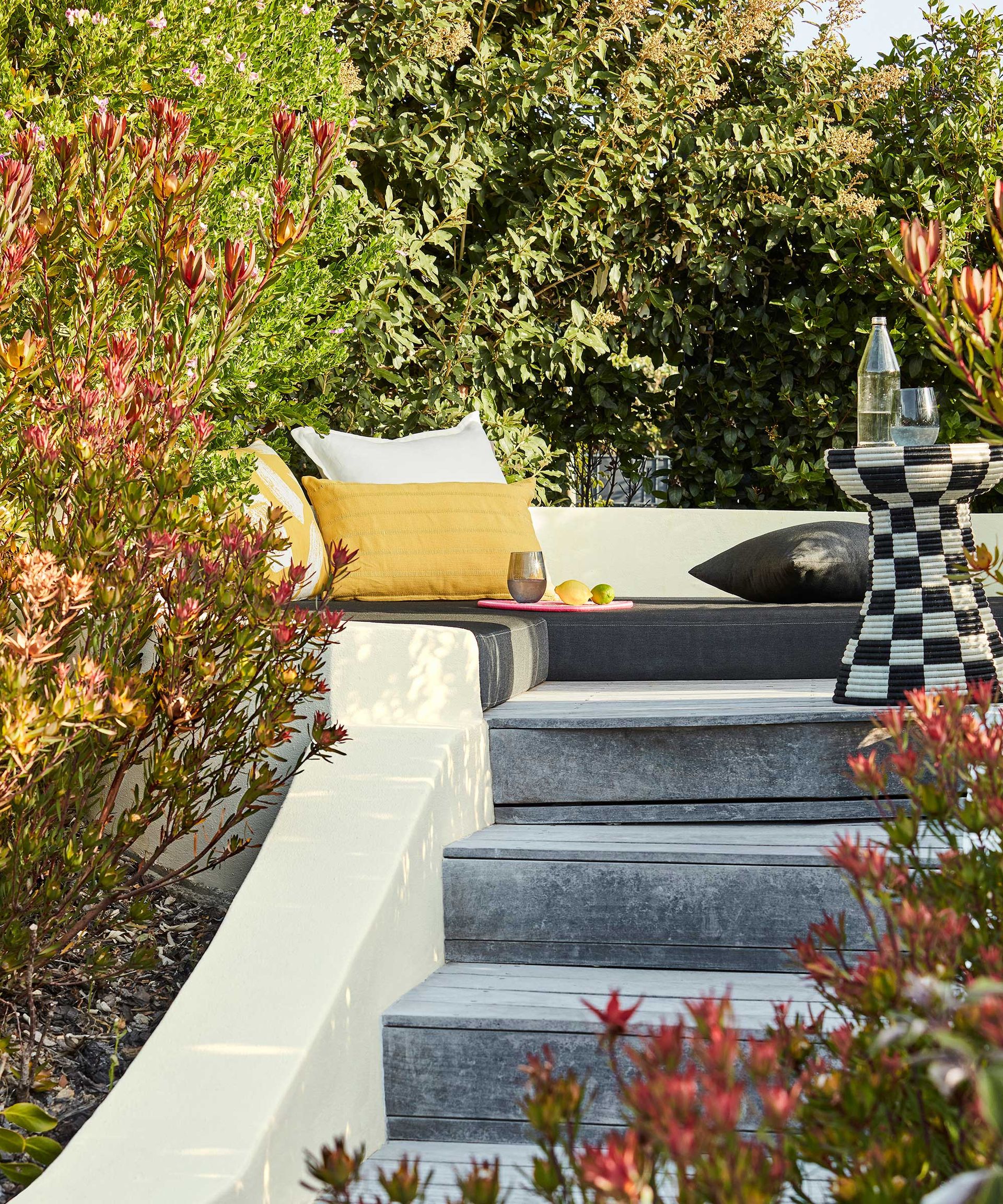 With careful planning, your backyard ideas can be designed in a way that incorporates tucked-away seating areas. So, if you're planning a major landscaping transformation, bear this in mind.
Sunken or raised levels, half walls, and curved walkways or steps can all be used to create such zones in your plot and deliver a sense of intrigue and exploration. Bring in plenty of billowing borders and perhaps some hedging plants, too, to help define the patio and provide extra screening.
7. Build a permanent structure to block the view from above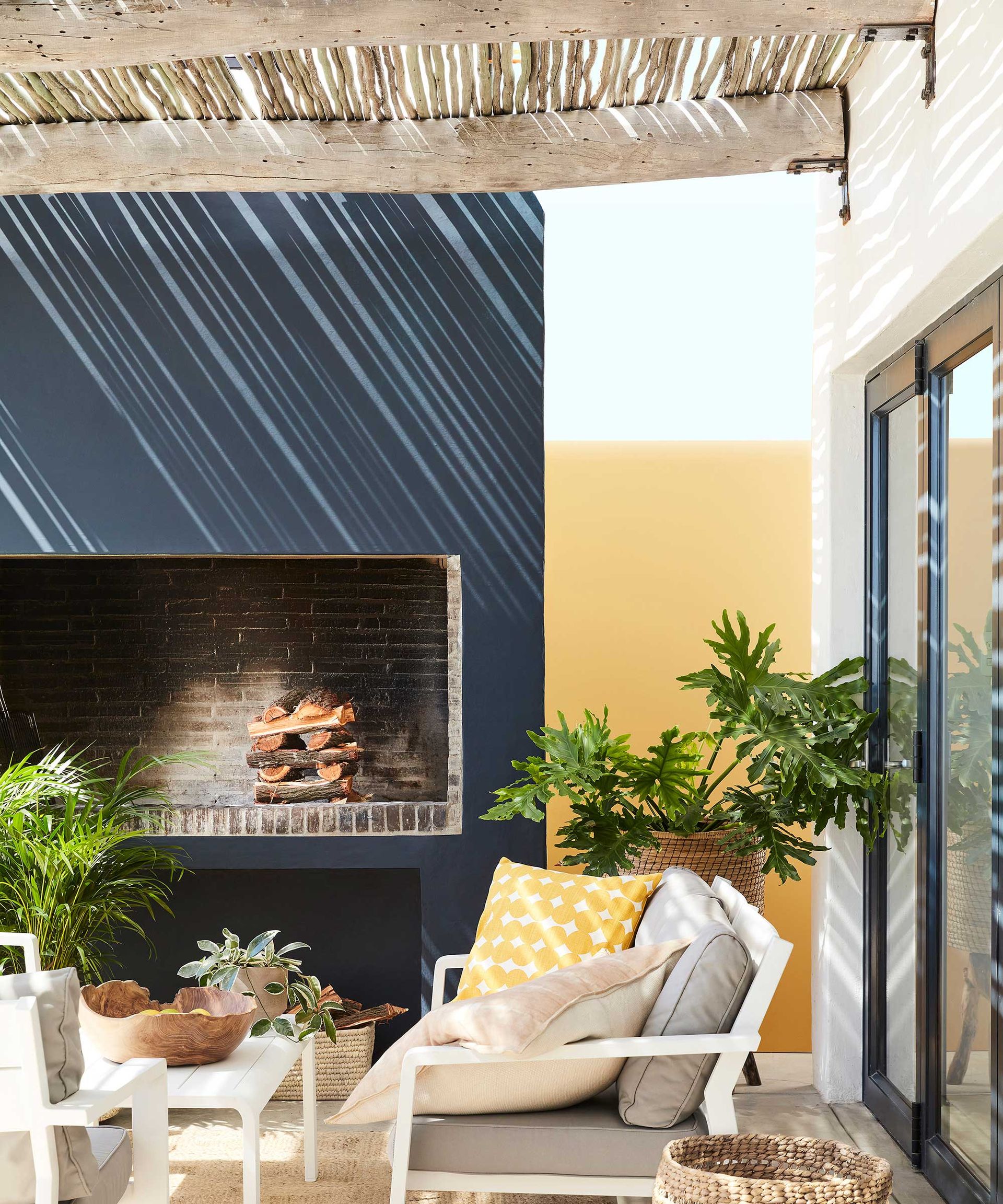 'If you don't have the space for plants or screens, you can also create a private atmosphere with overhead covers,' says Joel. 'There are many styles of covers available that can offer protection from the sun, rain, and wind.'
A structure like this allows dappled light to fall onto the space while maintaining a sense of privacy year-round (and I love the organic aesthetic). Retractable awnings and louvered shelters offer a little more versatility and protection from the elements when needed.
8. Retreat to a garden building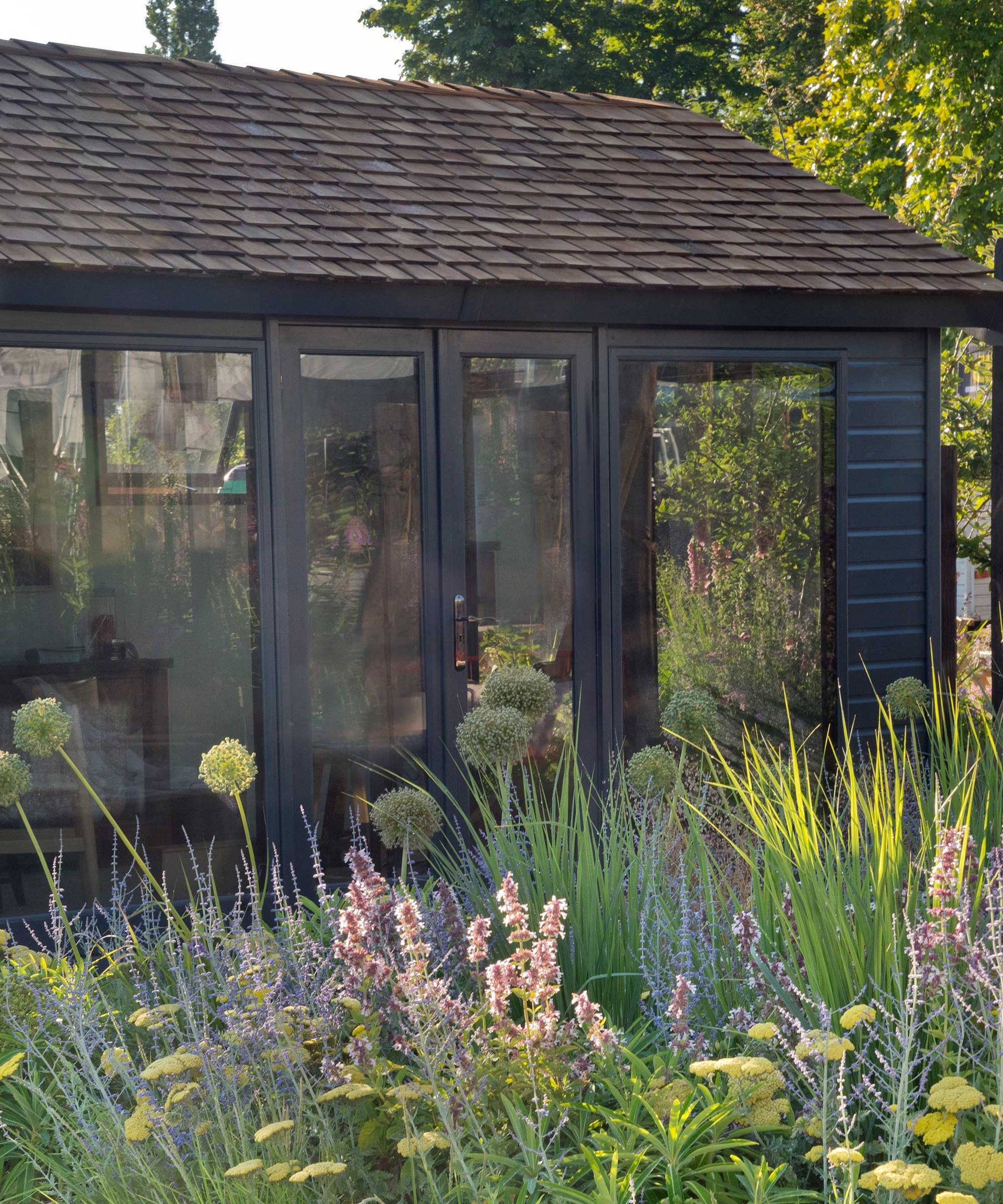 For large spaces, consider installing a garden room alongside your patio. That way, you'll always have a calming retreat to escape to if you want to enjoy a little more privacy, or simply a bit more shade or shelter, while looking out onto the rest of your yard. What's more, it can come in handy for storing pillows, outdoor games, and other backyard accessories.
Paint or stain the exterior so that it complements the rest of your patio features for a sense of cohesion. This dark-hued design is the perfect match to a modern backyard, and contrasts beautifully with the colorful tapestry of plants.
9. Divide your patio while upping privacy with shelving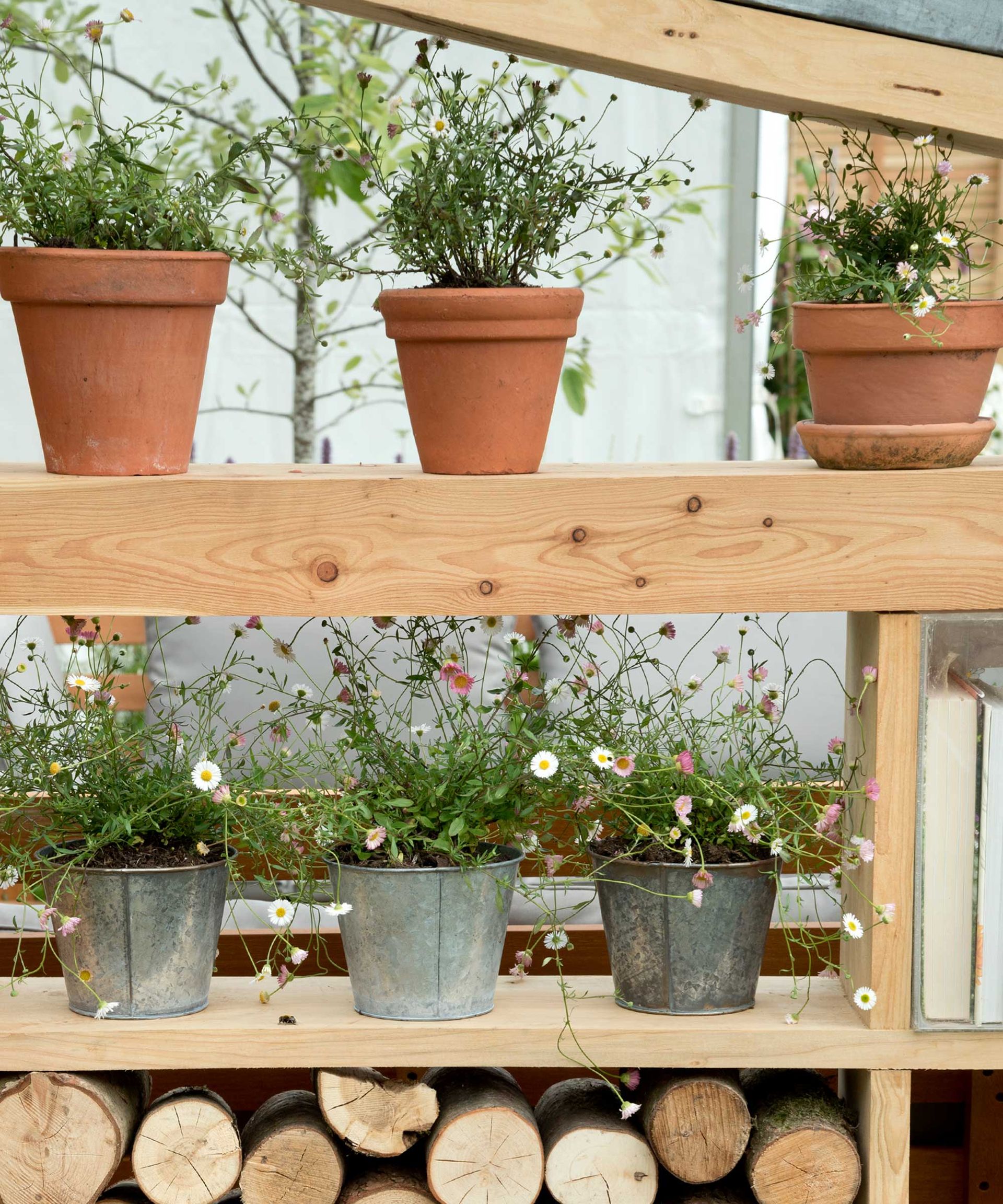 This is a great alternative to a garden screen. Not only does it divide a space and increase the sense of privacy, but it also doubles up as practical shelving for potted plants, meaning you can bring more greenery into your patio with ease.
You could switch out some of the pots for LED lanterns, too, to boost the ambiance of the space. And, if you have a patio fire pit, use some of the sections as a stylish way to store logs.
10. Create a patio screen with a slatted fence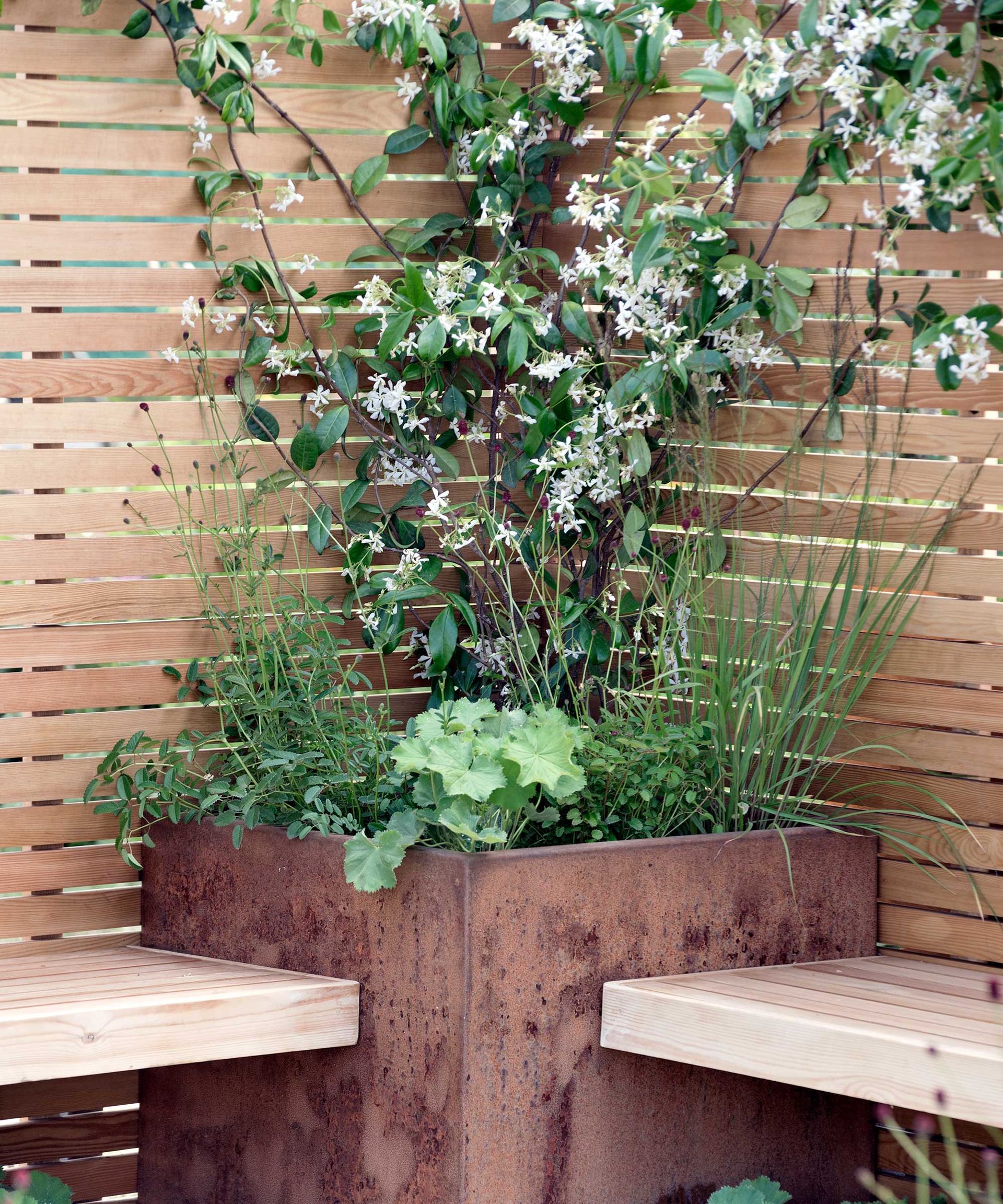 A garden fence is a classic option for marking the boundaries of a space, and a slatted version will still allow plenty of light and air through, without sacrificing a feeling of privacy.
Wooden designs can be painted to suit your color scheme – whether that's a modern gray, a chic white, a bold tone or a soft, pastel hue. What's more, you can accessorize them with hanging lanterns or festoons, or use them to support climbing plants.
11. Grow a leafy green canopy overhead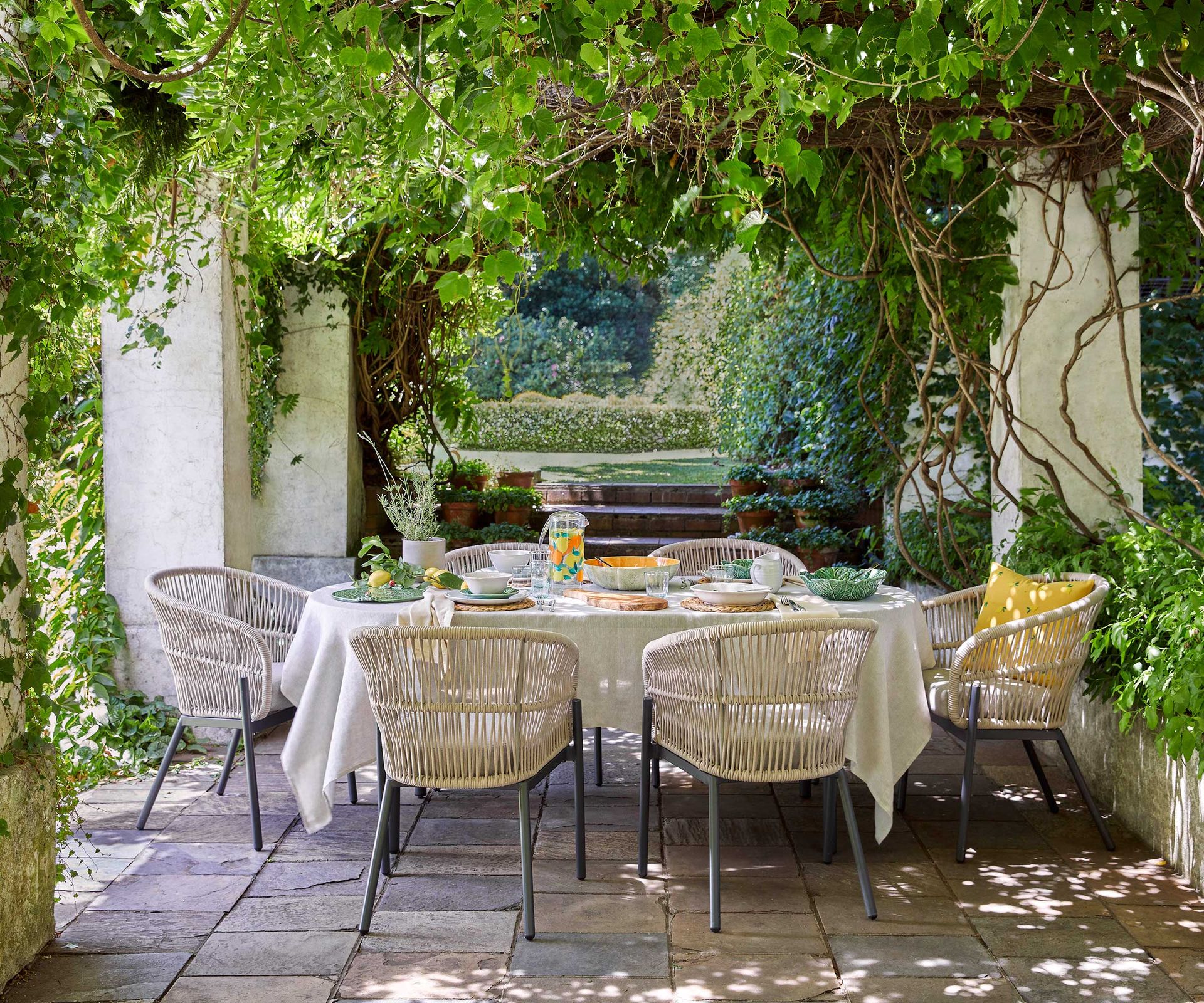 Climbing plants aren't just for living walls. With the help of a pergola, they can create leafy canopies, too – a beautiful and natural way to screen a space and shelter it from the sun.
Top picks include honeysuckle, roses, potato vine, and wisteria with its stunning purple flowers. Or, try your hand at growing grapevines and enjoy picking the fruits as they hang from above.
What is the most budget-friendly way to make a patio more private?
Draping natural cloths and fabrics, like loose linen and cotton sheets, over your seating area can create a sheltered space with some much-needed privacy, while also creating a cozy nook that can feel more intimate, says Shelley Cochrane, Accessories Buyer at Furniture Village. It may not be a permanent solution, but it's super affordable and can give your patio a pretty, oceanside feel.
'In summer, these natural fabrics will still allow light to come through while also providing UV protection,' Shelley adds.
Climbing plants can be very affordable too, and when combined with a simple wooden trellis, will provide a beautiful, botanical screen. Try jasmine for its evergreen foliage and fragrant flowers, or for a quick fix, annual sweet peas grown from seed.
---
When it comes to enjoying your patio, privacy is a must, whether you're sunbathing, entertaining, or working from home. And, hopefully, you'll now have the inspiration you need to create your own hidden-away hub that provides a sense of escapism from the outside world.
Sign up to the Homes & Gardens newsletter
Decor Ideas. Project Inspiration. Expert Advice. Delivered to your inbox.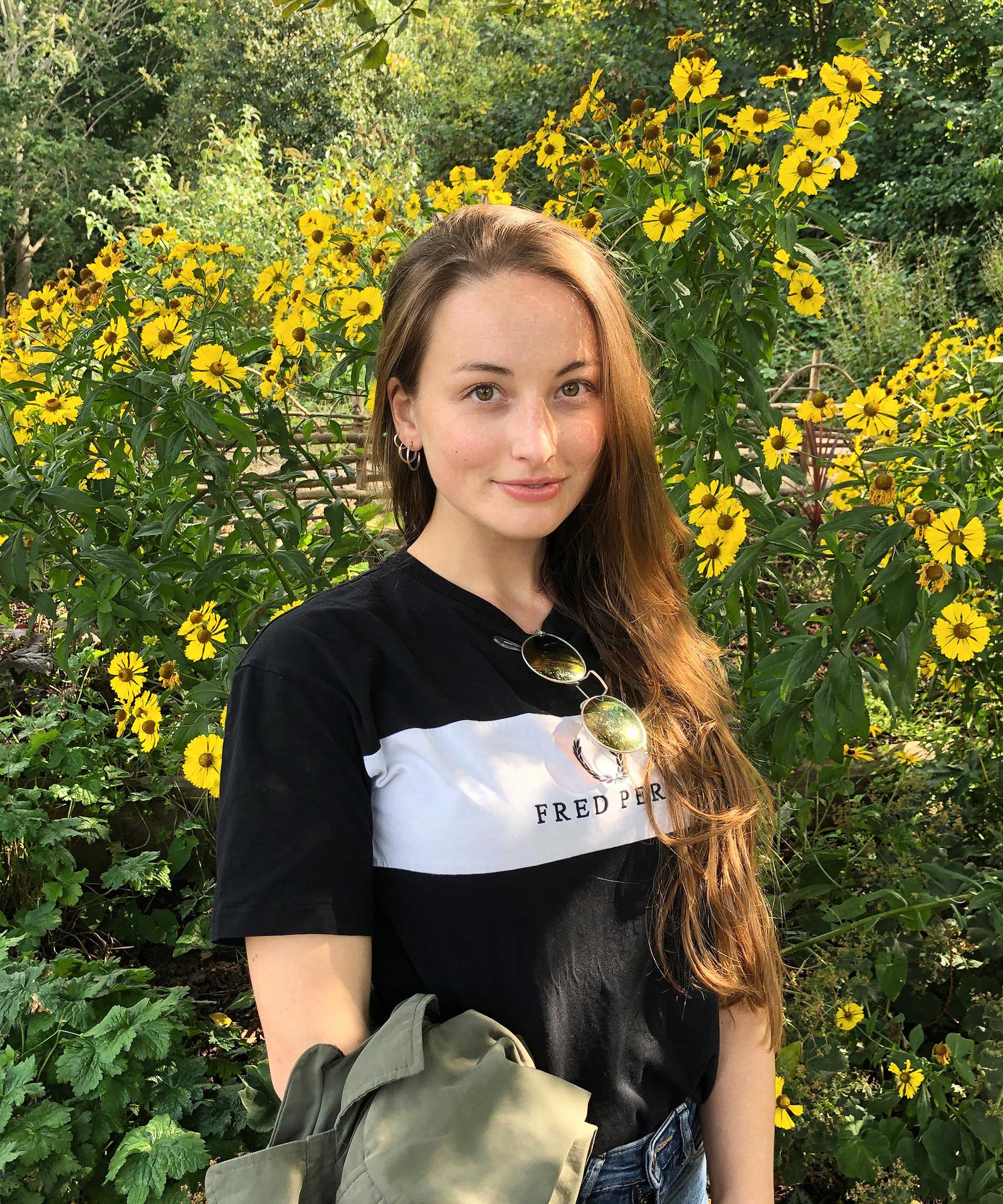 Freelance Gardening Writer
The garden was always a big part of Holly's life growing up, as was the surrounding New Forest where she lived. Her appreciation for the great outdoors has only grown since then; over the years, she's been an allotment keeper, a professional gardener, and a botanical illustrator. Having worked for Gardeningetc.com for two years, Holly now regularly writes about plants and outdoor living for Homes & Gardens.