Patio planting mistakes – 6 errors to avoid for a gorgeous display in your outdoor living space
These are the mistakes to steer clear of when adding flowers and foliage to your patio – whether you're planting them in pots or in the ground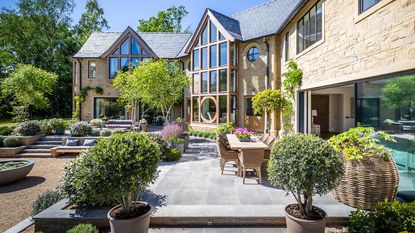 (Image credit: Artisans of Devizes)
Adding plants to a patio can instantly make it feel more inviting. But, before you get started, there are some common mistakes you'll want to avoid.
The varieties you choose can really make or break a space, whether you're dotting a few containers around your seating setup or creating an adjacent flower bed for a beautiful, botanical backdrop. With a well-considered plan, you can create a thriving display that complements your existing patio ideas – and not just for a few weeks of the year.
6 errors to steer clear of with patio planting
These tips will help you choose the best patio plants for your space, whatever style you're going for.
1. Selecting plants that don't suit your patio's conditions
'Make note of what direction your patio is facing and how the sun moves across the space,' advises Jake Steward, a landscape architect at Ventures Design. 'Will your patio garden be in full sun most of the time? Or does your house cast a shadow, giving the plants a few hours of shade each day?
'Knowing how much sun different areas of your patio get is absolutely crucial to a successful garden,' he explains. There's no point filling a shady patio with potted flowers that do best in full sun, for instance, as it's unlikely they will thrive.
Instead, fill gloomier spots with hostas in pots, ferns, and other shade-loving plants, or you could plant a hydrangea on one side of your outdoor seating space. For sunny areas, on the other hand, consider drought-tolerant plants that won't need constant watering.
There are other environmental factors to consider, too. For instance, if you live oceanside, you may want to focus on coastal plants that are more tolerant to salty air and higher winds. And if you're planting into the ground around your patio as opposed to using pots, remember to check the soil type, too, and choose plants that are suited to it.
2. Going overboard with plants
Ample room is needed on a patio for furniture, grills, and chairs, highlights Tammy Sons, the CEO of TN Nursery. After all, these are outdoor living spaces – and although greenery will up the aesthetics, adding too many plants, or ones that are too large, can take up valuable floor space and make the zone feel cramped.
'It's easy to get carried away when planting on a patio and try to fit too many plants into a small space,' says Miguel Palma, a professional gardener and owner of JardinTienda. 'Overcrowding can stunt the growth of plants and create an environment where pests and diseases can thrive.' They can also become damaged (not to mention, a nuisance) if they're constantly being knocked into as you move around.
It's also crucial to check plant labels to know the mature sizes. For instance, a small tree or shrub might seem suitable for the side of your patio now, but in a few year's time, it might plunge the space into deep shade with its leafy canopy, or cause damage to pavers with its hefty root system.
Top tip: Vertical gardening methods, such as living walls and hanging baskets, are good ways to add more flowers, foliage, and even crops to your patio without taking up too much room.
3. Overlooking maintenance
Your patio is probably the most-used area of your backyard – a space for socializing, relaxing, and dining outdoors. So you'll want the planting in and around it to always look its best, which means staying on top of a maintenance routine. Choosing fuss-free varieties can make life easier, but all plants are likely to need some sort of care.
If you're adding lots of potted plants to the space, ensure you avoid any common container gardening mistakes. Expect to water frequently – even during the colder months – as the top growth can deflect rain and prevent it from reaching the compost. 'I check my winter containers on a weekly basis because if they dry out this can result in poor performance or even failure,' says gardening expert John Negus.
'Most plants require good drainage to prevent root rot and other issues,' adds Miguel. 'Make sure that your patio pots have drainage holes and that the pots are elevated slightly off the ground.' These UFelice pot risers from Amazon are perfect for the job.
'Neglecting to fertilize your plants is another common mistake, as fertilization can help your plants grow and thrive,' adds Master Gardener Jeena Lugo of Gardeners Basics. 'When shopping for a balanced feed look for one described as "all-purpose" 
or "general", either granular or liquid, as these are designed to suit plants at all stages of growth throughout the season,' says John.
Deadheading, pruning, mulching, and – for less hardy plants – winterizing, can also be necessary, so check what plants need before bringing them into your space so that you're prepared.
John has been a garden journalist for over 50 years and regularly answers readers' questions in Amateur Gardening magazine. He has also written four books and has delivered many talks over the years on horticulture.
Jeena is a seasoned gardener with over 30 years of experience in the field. Her passion for gardening has led her to become a Master Gardener, who shares her knowledge and skills with others. She strives to promote sustainable gardening practices in her community.
4. Not providing year-round interest
Patios aren't just for the warmer months, especially if yours features a shelter, such as a louvered pergola, or a cozy fire pit. So, to keep it looking its best throughout the year, ensure you plant for winter interest, too.
There are plenty of winter plants for pots that can replace summer bedding once it's gone over. Evergreen shrubs, such as holly or bay, will provide greenery all year long, while a dogwood (also known as cornus, and available on Nature Hills) will add a striking feature with its colorful winter stems. Early spring bulbs, such as snowdrops and crocuses, are pretty choices, too. And, if you plant them in a bordering flower bed, they can simply be left in the ground where they should flower year after year.
There are lots of plants that will bring your patio to life in the fall, too. Think dahlias, rudbeckia, shrubs with berries, and trees in pots with colorful foliage, such as acers.
5. Choosing varieties that don't complement your scheme
Styling is also an important factor to consider when creating a patio garden, notes Jeena. 'While it can be tempting to choose many different plants, it's essential to maintain a cohesive look by choosing plants that complement each other in terms of color and texture.' Defining a color palette and sticking to it is a great way to start building a harmonious display.
Think about the overall aesthetic of your patio space, too, to choose plants that will enhance the theme. For instance, maybe you've gone for a beachy vibe (perhaps with striped sun loungers, natural finishes, and lots of white and blue) that would look even better with some breezy ornamental grasses. A modern backyard may suit more structural foliage plants, such as Fatsia japonica (available at Nature Hills), while roses, nepeta, and scrambling sweet peas in a planter box with trellis would fit a cottage-garden scheme perfectly.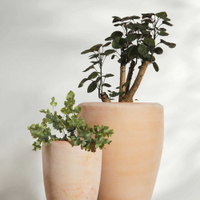 Abrielle Planters | $244 from Lulu & Georgia
These handcrafted terracotta planters are ideal for bringing a dose of Mediterranean charm to a patio. You get two in the set – one larger, one smaller – for a pleasing display.
6. Picking plants that don't earn their keep
As mentioned, space is often limited on a patio for plants, so it's worth choosing varieties that are more than just pretty.
For instance, you could choose ones that are great for creating a natural screen, which will boost the sense of privacy for your patio. Alternatively, perhaps you want to make the most of your patio's vicinity to an indoor or outdoor kitchen and get plenty of herbs potted up for easy access, or grow vegetables in containers.
Fragrance is another factor to think about, as choosing plants with sweetly-scented blooms will boost the sensory appeal of your space on more levels than one. Lavender is a go-to option, and is a good plant for bees, too, while roses, jasmine, and honeysuckle are ideal for training up a trellis or pergola.
---
Choosing patio plants can feel a little overwhelming – but it doesn't have to be.
Start with a small selection – repeat-planting often creates more impact, anyway. Choosing a few stalwart perennials that offer interest for more than one season is a great place to begin, such as compact, evergreen, flowering shrubs.
Spend time researching each one's care requirements to ensure they flourish and continue to perform for years. And if you want a bit more color and creativity, you can fill in gaps with annuals as the year progresses.
Sign up to the Homes & Gardens newsletter
Decor Ideas. Project Inspiration. Expert Advice. Delivered to your inbox.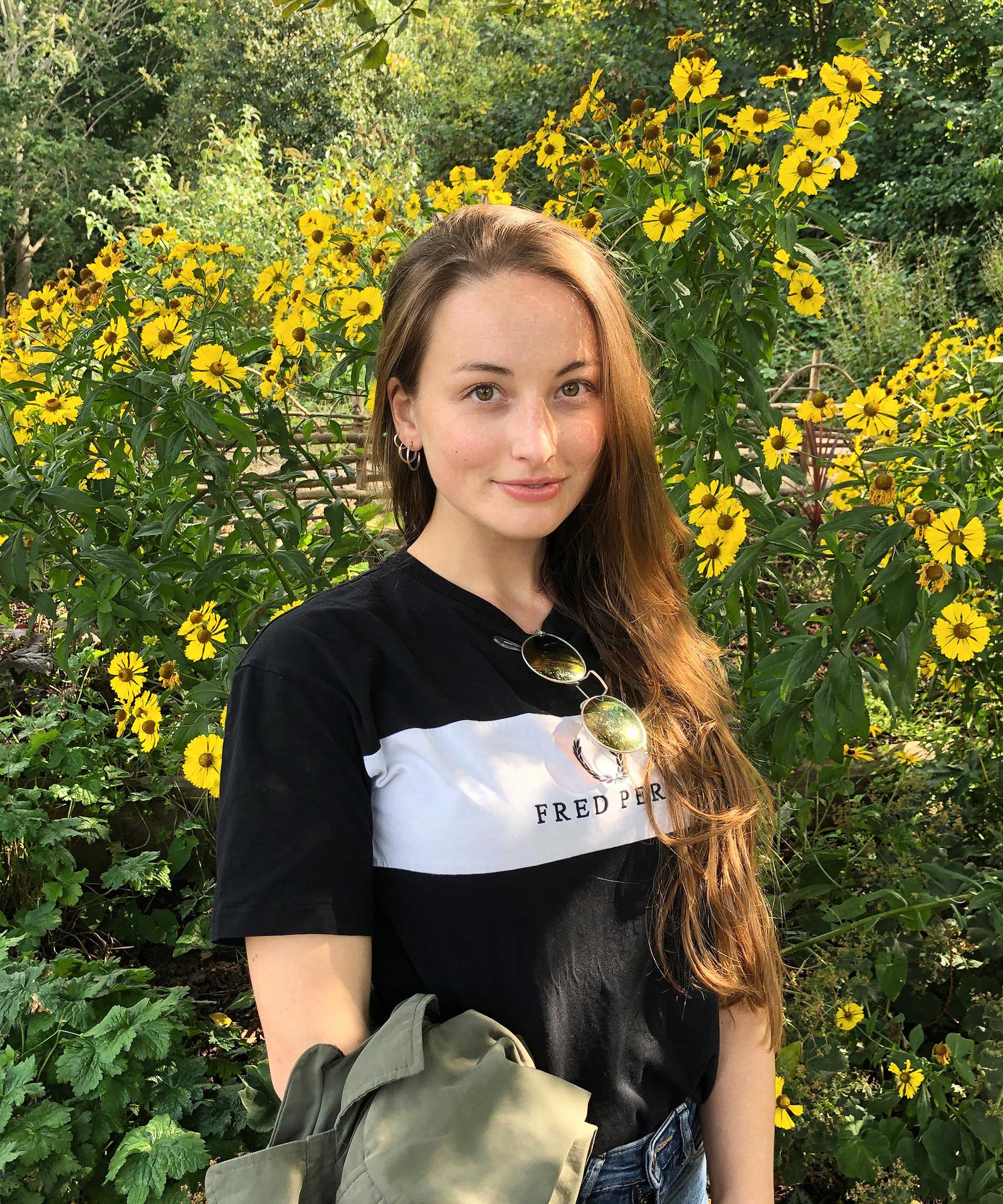 Freelance Gardening Writer
The garden was always a big part of Holly's life growing up, as was the surrounding New Forest where she lived. Her appreciation for the great outdoors has only grown since then; over the years, she's been an allotment keeper, a professional gardener, and a botanical illustrator. Having worked for Gardeningetc.com for two years, Holly now regularly writes about plants and outdoor living for Homes & Gardens.