How to grow dahlias – a step by step guide to growing dahlias from tubers
Learn how to grow dahlias successfully by following advice from the experts on when, where and how to plant them, plus recommended varieties to include in your garden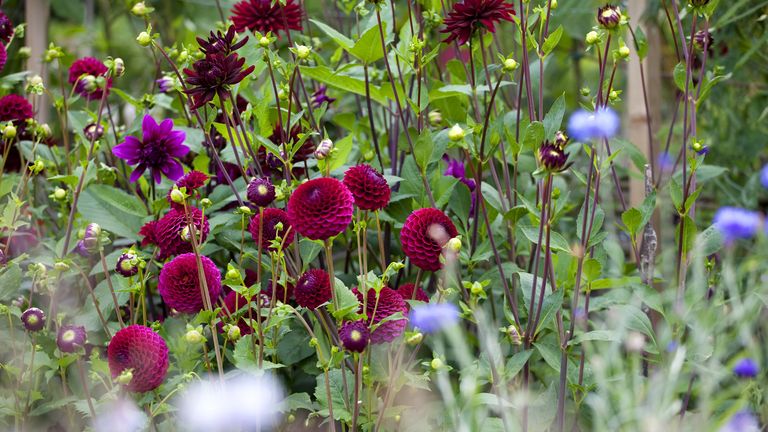 (Image credit: Leigh Clapp)
Showy and flamboyant dahlias have made quite a comeback in the popularity stakes with gardeners. The beautiful blooms, available in a dazzling array of colours, sizes and forms, suit any style of garden and put on a colorful show in the late summer and autumn. They make an invaluable addition to any garden and now is an ideal time to start preparing for when and how to grow dahlias.
You would be missing a floral trick if you didn't include these wonders in your planting plans. Dahlias are marvelous multipliers: from a single tuber you could get up to ten 'baby plants' by the end of the growing season. Plus, dahlias make prolific cut flowers – the more you cut them, the more flowers they produce.
Read on to find advice from the experts on how to successfully grow these beautiful blooms from tubers, whether planted en masse for an impressive display, as part of a mixed planting scheme, in stunning containers, or for cutting.
See: How to grow tomatoes – the best ways to grow your own tomato plants
What month do you plant dahlias?
You can buy dormant dahlia tubers to plant in spring, or pre-order them earlier from a specialist nursery for delivery in spring. You may even be able to take some from a kind friend who has divided their clump of tubers.
Tubers are the roots of mature plants and look like a cluster of brown, potato-like roots joined together on a dried stem. All tubers will be different sizes. Ensure that each tuber has some stem and at least one of the buds or 'eyes'.
Dahlias are cold sensitive so only plant out tubers once the danger of frosts has passed, allowing about eight weeks to the start of flowering.
If you have the space, you are best starting to grow dahlias in the greenhouse or conservatory. 'You can pot them up in March or early April, in a generous pot (at least 2 litres) filled with multi-purpose potting compost. Place them in a light, frost-free place and keep the compost moist. They will have formed bushy plants by the time the frosts have ended and will be in flower by the beginning of July,' advises plantswoman Sarah Raven.
Where is the best place to plant dahlias?
To grow dahlias you need a sunny spot, protected from strong winds, in rich, moist, well drained loamy soil but not wet, waterlogged soils.
'Dahlias thrive in warm, sunny weather. Plant them in a spot that gets at least six hours of direct sunlight each day. Otherwise your plants will get leggy reaching for the light, and they won't bloom as abundantly as possible,' advises flower farmer and dahlia expert Erin Benzaken, whose new book, Discovering Dahlias (£18.99, Abrams & Chronicle), is released in March.
Prepare the soil well for the hungry plants. Improve it by adding in organic matter, such as home-made compost or well-rotted manure, over the area where you're planning to grow dahlias.
What is the best way to grow dahlias?
The best way to grow dahlias is to start them in pots. Once no more frosts are forecast – usually mid to late May – the potted dahlias can be planted out into the garden. Harden off the plants and acclimatize them to the outdoors before planting them outside – do this by putting the dahlias outside during the day but bringing them back inside at night for a week or so.
You can plant dormant dahlia tubers direct in the ground once the frosts have passed.
Dig a hole about 30cm deep, add in some compost or manure and wet with a watering can of water.
If planting dahlia tubers with shoots or potted tubers with shoots, don't divide the roots prior to planting.
Position the dahlia tubers about 10 to 15 cm deep with the crowns pointing up.
Space them around 75cm apart, depending on the variety.
When planting out dormant dahlia tubers, ensure that the joint where the roots meet the stem is facing upwards.
If the flower heads of the dahlia variety you are planting are large, you will need a stout stake to support each plant.
Tie them in every couple of weeks to the stake that was positioned to support them.
You will need to remove all but five shoots sprouting from the dahlia tuber as this will encourage bushy plants and strong, vigorous growth that will produce lots of flowers.
Unless the soil is very dry, don't water until the dahlia plants have grown about 15 cm, to avoid the tuber rotting.
How do you care for dahlias?
Pinch: As the dahlias grow, pinch out the growing tips to promote bushy growth.
Feed, feed, feed: Once a fortnight, between July and September, feed dahlia plants with a liquid balanced feed to boost flowering, such as a good tomato feed.
Water: You will need to water your dahlias once a week in dry weather by giving them a good soaking down to the roots.
Protect: Protect the dahlias from slugs and snails by adding nematodes to the soil, or add barriers, such as rough or sharply textured mulches
This feature was created by H&G's sister brand, Period Living magazine
Subscribe to Period Living for more inspiration
Period Living is the UK's best-selling period homes magazine. A subscription provides you with all you need to know about caring for and improving a traditional house and garden.
Do you deadhead dahlias?
Dahlias need deadheading regularly, ideally weekly, to keep the plant flowering for as long as possible and well into autumn for late season color and joy. The more flowers you take off, the more they will produce.
What do you do with dahlias when they've finished flowering?
When the dahlias have finished flowering and where you. have poorly-drained or clay soil, cut down the stems and lift the dahlia tubers. 'I recommend that you wait at least 10 to 14 days after your first hard frost before digging,' says flower farmer Erin Benzaken, as this allows the skin on the tubers time to toughen, making them less susceptible to rot.
Knock off as much of the soil as possible, leave them to dry and then wrap in newspaper or in wood shavings and store somewhere frost and damp free. They can then be replanted the following spring.
Can you leave dahlia tubers in the ground over winter?
You can leave dahlia tubers in the ground over winter in mild areas and in very free-draining soil.
After the dahlia flowering season is finished, leave the stems to go black from the first frost for approximately a fortnight to allow the sugars to go back down the stems to feed the tuber. Then cut the stems off just below ground level, mound up the soil or add compost and mulch with straw or bracken to protect the tubers over winter.
How many dahlia varieties are there?
A member of the asteraceae family, there are around 36 species of dahlias, with thousands of various cultivars and hybrids.
Skilled breeders across the world have produced a wide range of dahlia sizes and colours practically unmatched in the world of flowers. Sizes range from the smallest lilliput to dinnerplate-sized blooms and there is every colour except for that most elusive colour for breeders – blue.
Dahlias can be described as:
Decorative
Cactus
Anemone
Waterlily
Pompon
Balls
Collarette
Dwarf
Peony
Orchid
Select varieties for your weather conditions and by the shape, size and colour.
Open–centred single and semi-double varieties that produce an array of simple flowers are the best choice for pollinators as they can see where to land and feed on the nectar, and look charming mingling with asters and other daisy shaped flowers.
In a cutting garden, decorative and cactus dahlias, in particular, are the ideal cut-and-come-again flower because they flower for months on end. Picking them regularly encourages more to flower right up to the first frosts. Recut the stems under water and they last in a vase for four to six days.
There are some lovely more diminutive varieties perfect for pots, such as dwarf colarettes, lilyputs and the low-growing Topmix series.

12 of the best dahlia varieties to plant in your garden
(Above left) Bishop of Llandaff started the resurgence of dahlias, the stalwart now of hot borders. This peony-flowered dahlia has vermilion flowers on dark foliage. It dies back in autumn, with fresh, new growth in spring.
(Above middle) Moonfire is a low-growing single-flowered variety, ideal for containers or the front of beds. It lights up the garden with its distinctive bi-color blooms contrasting with dark foliage.
(Above right) David Howard is an impressive, decorative dahlia that is lovely in borders with its profuse burnished orange blooms on chocolate foliage. It has more flowers over a longer period than many dahlias, making it one of the most popular.
(Above left) Totally Tangerine, is an anemone type, blending orange and pink tones with outer petals and inner tubular florets. It is great for containers, in borders and as a cut flower.
(Above middle) Honka Surprise is an orchid type with unique star-shaped pink petals and yellow centre. Its compact size works at the front of borders and in containers.
(Above right) Fashion Monger looks lovely in a vase, the border and in containers with its splash of color on a white base. Originally introduced in 1955, this colarette variety has a charming retro feel.
(Above left) Engelhardt's Matador, a decorative variety, as the name suggests, really makes a dramatic presence in the border with its double magenta flowers. Partner it with contrasting colors for a real statement.
(Above middle) Blackberry Ripple sounds delicious and looks delicious with splashes and drizzles of crimson and purple. Position this semi-cactus variety in the border with similar colors.
(Above right) Chilson's Pride, an informal decorative dahlia, has softly pretty pink petals around a pale cream centre that blends in an harmonious border scheme, and is an equally lovely cut flower.
(Above left) Chat Noir is loved by many for its rather sumptuous garnet to near black semi-cactus form, in the garden and in the vase. It looks dramatic in blocks in an exotic border scheme.
(Above middle) Crossfield Ebony, a pompon variety, has a steady stream of delightful, darkly maroon spheres ideal for the vase and in a mixed border. The small size of flowers works attractively mingling with a cottage-styled border.
(Above right) Babylon Purple, with its purple and red dinner-plate blooms held on long stems, is stunning en masse with dark leafed plants and also makes an exceptional cutting flower.