Cozy small balcony ideas – 10 tiny yet stylish outdoor spaces
Create the perfect outdoor living space no matter the size with these cozy small balcony ideas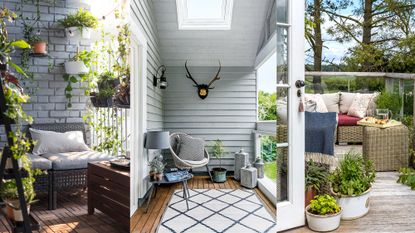 (Image credit: Ikea / Future / Polly Eltes)
These cozy small balcony ideas prove you don't need a large backyard to embrace outdoor living.
With more of us discovering the benefits of nature for health and well-being, we're seeing an increasing number of homeowners making the most of their outdoor areas, no matter the size.
Balcony garden ideas can be a challenge to design, but when they are extra small it is even trickier, plus, balconies can be very exposed to the weather, which brings added complications. Luckily there are plenty of clever ways to transform small backyards and even the tiniest of balconies into functional and beautiful spaces.
To open your eyes to the possibilities, we've rounded up a host of inspiring cozy small balcony ideas along with some tips from the experts.
Cozy small balcony ideas
There are so many ways to achieve cozy small balcony ideas, from lightweight and multifunctional outdoor seating ideas to easy garden decorating ideas. When we asked the experts how to make a balcony feel cozy and welcoming many agreed that the key was to treat it as you would an indoor space and to use outdoor living room ideas.
'Making the most of small balcony space is all about creating comfort and visual appeal. The balcony should be an extension of the indoor space to continue your indoor design and decor choices into your outdoor area. If you make it inviting and comfortable you are more likely to use it,' says Megan Dufresne, principal designer at MC Design (opens in new tab).
Interior designer Shanade McAllister Fisher (opens in new tab) agrees, adding that 'a balcony should be an extension of your home so using complementary colors and furnishings will help to bring that cozy feel from the inside out. Layering textures such as outdoor rugs, comfy cushions, chunky throws and warm flickering tea light lanterns will help to cement this idea.'
1. Choose comfortable modular seating
No cozy small balcony or roof garden ideas should be without comfortable seating. If space allows, a weatherproof couch with water-resistant cushions makes the perfect space to relax with a good book, enjoy coffee with friends or simply relax and take in the view.
This modular design is a great idea for a small balcony as it can be easily reconfigured should the balcony layout need to change, plus the faux rattan material brings a warm, cozy feel to the space.
When choosing furniture for a small balcony consider low-profile designs. 'Comfortable, low-profile furniture makes the most of the beautiful views and also retains a feeling of spaciousness,' says interior designer Sarah Barnard (opens in new tab).
2. Add a rug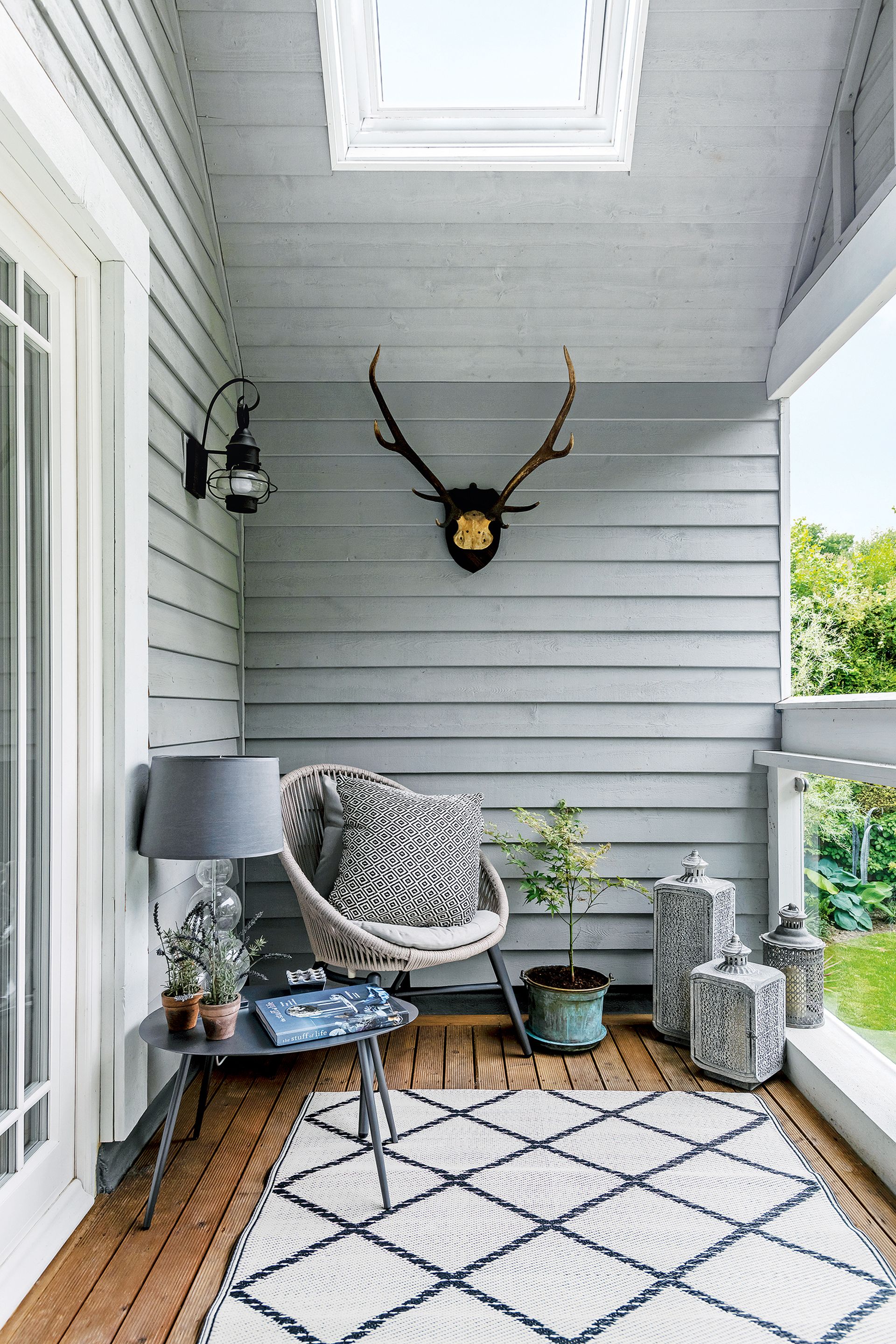 Adding an outdoor rug to a balcony space is a quick and easy way to make it feel like an extension of the home but it can also elevate the space with color and pattern. Be sure to use a weatherproof design specifically made for outdoor areas.
'Made entirely from recycled plastic, Weaver Green rugs are hard wearing, easy to maintain, and even machine washable making them suitable for both indoor and outdoor use,' says Tasha Green, founder at Weaver Green (opens in new tab).
3. Choose flexible furniture
When furnishing a small balcony, 'choose items that can extend, stack or fold to save space when not in use,' advises Kimberly Kronberger, Ikea (opens in new tab) US business leader. Folding or stackable chairs are great space-saving solutions that can be easily stored away in winter to make way for extra pots to brighten the balcony on grey days.
While folding furniture has benefits, it is also worth thinking about fixed options too, suggests Laurice Constantine, founder of online marketplace Casadar (opens in new tab).
'Utilize the bench seating that is integrated into your walls, this means you won't ever have to be concerned about strong winds toppling your furniture or, even worse, sending it flying.'
4. Choose seating with an airy open frame
Seating is a vital part of creating a cozy, comfortable balcony space, but when space is at a premium it's important to select style wisely, particularly if you're looking to make a small garden look bigger.
'Create a focal point, choose the largest furniture the space can accommodate, and add some greenery to finish the look,' advises Megan Dufresne, principal designer at MC Design (opens in new tab). 'Some people make the mistake of trying to go small in their decor choices in order to take up as little room as possible. But, in actuality, doing this makes the space look and feel even smaller.'
While it is a large piece, this corner seat boasts a clever open-frame design and no back which helps keep the view visible and makes the balcony appear more spacious.
6. Create a vertical garden
'One of the best ways to make a small balcony feel cozy is with the best balcony plants. Even a few small potted plants can warm up the space and make it feel more peaceful and lived-in,' says interior designer Sarah Barnard.
However, when floor space is tight too many potted plants can clutter up the space – instead, why not immerse yourself in nature and free up floor space by utilizing the height of your balcony to display plants?
Ikea has a host of vertical garden ideas to help, from garden wall ideas like plant shelving units to hanging planters and over-rail balcony planters. Not only will these raise plants up and make a balcony more pleasing to look out on, they can also make caring for plants easier too, preventing the need for constant bending down.
6. Go for lightweight indoor/outdoor furniture
If you have a really small balcony connected to a living space then consider choosing lightweight interior furniture that can easily be moved from inside to out such as these from Garden Trading (opens in new tab).
Tiling the floor, as pictured above, is another excellent way to add personality to a small balcony.
7. Add mood lighting
Having outdoor lighting ideas wired into a balcony wall is a handy addition, but it can be costly. For an easier way to create a magical, cozy atmosphere after dark, display plenty of candles in lanterns such as these from The White Company (opens in new tab)and solar garden lighting ideas such as solar festoon lighting overhead.
8. Create an intimate outdoor dining space
Enjoying lunch al fresco is one of the highlights of the summer season but if you have a small balcony it can be tricky to find a garden table set that works in the space.
Opting for a circular table is often the most efficient use of a small space, plus they will make outdoor dining ideas more sociable and intimate. As well as being lightweight and easy to move, this string-style garden set makes a beautiful contemporary design statement while keeping the space feeling open.
9. Add an awning
Awnings are a great addition to a small balcony as they provide privacy and shelter whilst also protecting furniture from weathering explains interior designer Sarah Barnard (opens in new tab). 'Lighter-colored fabrics may let in some light to the balcony while offering protection from more direct sunlight. Overhead garden shade ideas can also provide a more intimate and contained outdoor experience while welcoming plenty of fresh air,' she adds.
Here the fencing also brings privacy and shelter from the wind and is painted in an uplifting pale blue which helps make the space feel larger. Sarah also made maximum use of the width of the space by fitting a large outdoor loveseat.
10. Hang a mirror
Decorating with mirrors is a quick and easy way to make a balcony space feel instantly more spacious. Here garden wall lights have been strategically placed above the mirror to help reflect the light after dark.
How do you make a small balcony cozy?
To make a small balcony feel cozy treat it as an extension of the home by factoring in comfortable seating ideas, ambient lighting, weatherproof cushions and plenty of cozy throws.
'Using textiles and furnishings that appeal as much as indoor options can also contribute to a cozy space. There are many beautiful options for stylish outdoor furniture. Selecting items that are both suitable for outdoor use and appeal to personal aesthetics can help make a balcony space feel more welcoming and usable,' says interior designer Sarah Barnard.
How do you make a small balcony look bigger?
There are many ways to make a balcony look bigger from clever furniture ideas to quick updates like simply adding a garden mirror and raised planters. Rather than opting for heavy, chunky furniture choose lightweight, open-frame garden seating that will keep sightlines clear and open up the view. To prevent plant pots from taking up valuable floor space think about utilizing the height of the balcony and by fitting shelving for plants, having plants from the ceiling or using over-rail balcony planters.
'I like to bring in greenery to blur the lines to give the appearance of space. Packing the balcony with planters and pots of varying heights and proportions will distract the eye and give the illusion of whimsical depth and interest,' says interior designer Shanade McAllister-Fisher (opens in new tab).
'Folding furniture or a small café table are always great compact solutions for small balconies but where possible I prefer a compact outdoor sofa with lots of plump cushions to create the perfect lounging space.'
Pippa is Content Editor on Homes & Gardens online contributing to Period Living and Country Homes & Interiors print issues. A graduate of Art History and formerly Style Editor at Period Living, she is passionate about architecture, creating decorating content, interior styling and writing about craft and historic homes. She enjoys searching out beautiful images and the latest trends to share with the Homes & Gardens audience. A keen gardener, when she's not writing you'll find her growing flowers on her village allotment for styling projects.