Cozy small balcony ideas – 21 tiny yet stylish outdoor spaces
Your compact balcony has more potential than you might think...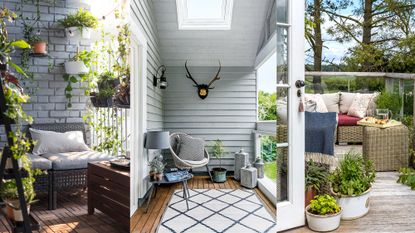 (Image credit: Ikea / Future / Polly Eltes)
Sign up to the Homes & Gardens newsletter
Decor Ideas. Project Inspiration. Expert Advice. Delivered to your inbox.
Thank you for signing up to Homes & Gardens. You will receive a verification email shortly.
There was a problem. Please refresh the page and try again.
Clever design and space-saving solutions are key when you're looking for ways to cozy up a small balcony. We all know from recent years how valuable having an outside space is – no matter what its shape and size – so investing some thought and energy into how you wish to use, and organize it, is definitely time well spent.
Balcony gardens can often be a challenge to design, but when they are short on space they can be even trickier. Luckily, there are plenty of clever ways to transform even the tiniest of balconies into a functional, beautiful and cozy space.
'Making the most of a small balcony space is all about creating comfort and visual appeal. The balcony should be an extension of the indoor space to continue your indoor design and decor choices into your outdoor area. If you make it inviting and comfortable you are more likely to use it,' says Megan Dufresne, principal designer at MC Design.
Get creative with these cozy small balcony ideas
There are so many ways to turn a small balcony into a cozy, welcoming space, from introducing lightweight and multifunctional outdoor seating to using a few easy-to-achieve garden decorating ideas.
Interior designer Shanade McAllister Fisher says that 'a balcony should be an extension of your home. Layering textures such as outdoor rugs, comfy cushions, chunky throws and warm flickering tea light lanterns will help to cement this idea.'
Whether you are looking to cozy up a tiny outdoor area, create a multi-tasking space for entertaining, or a quiet and leafy retreat, these expert tips will equip you with everything you need to know so you can make your small balcony work that little bit harder.
1. Green up your balcony railings
Fed up with looking out on bare metal railings when enjoying time on your small balcony? Well invest in some clever outdoor planters and let a mix of colorful balcony plants transform your space.
'Select pots that hook onto the top of railings or vertically hang onto your balcony and let nature flourish in even the smallest of spaces,' says Patty Wiliems, PR Manager at Elho. 'These types of plant pots also offer a simple way to create a sea of flourishing plants on balconies, that disguise urban surroundings and let nature take center stage.'
2.
Made from high-quality iron in a classic black finish, this stylish balcony railing planter is a smart way to introduce your favorite flowers to your space. It comes as a set of two, and each planter has a pre-drilled drainage hole and plug in the bottom.
3.
With a built-in water reservoir, this railing planter makes it easy to give your plants all the moisture they need. The indicator will even show you when it needs to be refilled. Comes with two hanging brackets for attaching it to your balcony railings.
4.
This metal railing planter is ideal for injecting some vibrant color into your space. There's no need to permanently attach it to your balcony either as the curved hooks simply slot over your railings. The hooks can also be removed if you want to use it as a floorstanding planter in the future.
5. Combine storage and display to maximize space
Having space outside to stash gardening paraphernalia, lanterns and seasonal accessories out of sight can be hugely important, particularly in a small area that is used in many different ways.
Rather than a traditional wooden tool tidy or plastic storage box look for durable and robust backyard storage such as shelving units and cabinets to bring that inside feel outside. A much smarter option in a small area where everything is up close and personal, they will help extend your living space style outside.
One handy design tip is to opt for a series of low-level units rather one tall cabinet, as this can feel overwhelming on a small balcony. Another bonus is that the surface can double as handy display, food prep and serving area.
6. Create a compact yet cozy dining space
Adding a table to a tiny balcony can seem counterintuitive, as they take up so much space, but choose wisely and it will soon win you over. It all comes down to clever design and with careful positioning it can become a display feature as well as a work space or casual outdoor dining spot. Look for tables with a compact footprint and the option of foldout side or front leaves. These often have a gateleg style support so altering the surface area is quick and easy, but extendable arms and gas strut supports are also used.
Table designs that also offer a raised storage ledge or recess that stretches across the back width are super useful. Providing a storage, display and planting opportunity, it's a practical and effective small space solution.
7. Encourage wildlife to visit
Even the smallest balconies can attract birds and wildlife if they offer the right plants and habitat. Boosting wellbeing and lowering stress-levels, these compact spaces can become hugely beneficial and a soothing retreat.
'When it comes to connecting with nature, many assume that you need access to a large backyard or outdoor space to create a wildlife garden, however, this simply isn't the case,' says Eric Michels, Head of Pro at CJ Wildlife. 'If you have a small outdoor area, you can still reap the benefits of nature and make your outdoor area a haven for wildlife and plants with a few clever choices.'
Nectar-rich flowers that attract bees are a definite whether they are planted in several pots or one giant container. 'Lavender will not only be a huge hit with both bees and butterflies, but it will also add a beautiful scent to your space and will thrive with little maintenance in a pot,' adds Eric.
Watching birds is another pleasure you can still enjoy with a balcony. 'Just because you don't have a garden or trees, it doesn't mean you can still enjoy the company of birds. They will be drawn to your balcony if you have a food source on offer and adding a window feeder is an easy solution,' he adds. 'Simply select your preferred feeder, fill it with a high-quality bird food, and attach it to your window or balcony in a quiet corner.'
8. Choose space-saving modular seating
No small balcony or roof garden should be without comfortable seating, particularly if you are looking to ramp up the cozy factor. If space allows, a weatherproof couch with water-resistant cushions makes the perfect space to relax with a good book, enjoy coffee with friends or simply take in the view.
This modular design is a great idea for a small balcony as it can be easily reconfigured should the balcony layout need to change, plus the faux rattan material brings a warm, cozy feel to the space.
When choosing furniture for a small balcony consider low-profile designs. 'Comfortable, low-profile furniture makes the most of the beautiful views and also retains a feeling of spaciousness,' says interior designer Sarah Barnard.
9. Add a rug to cozy up underfoot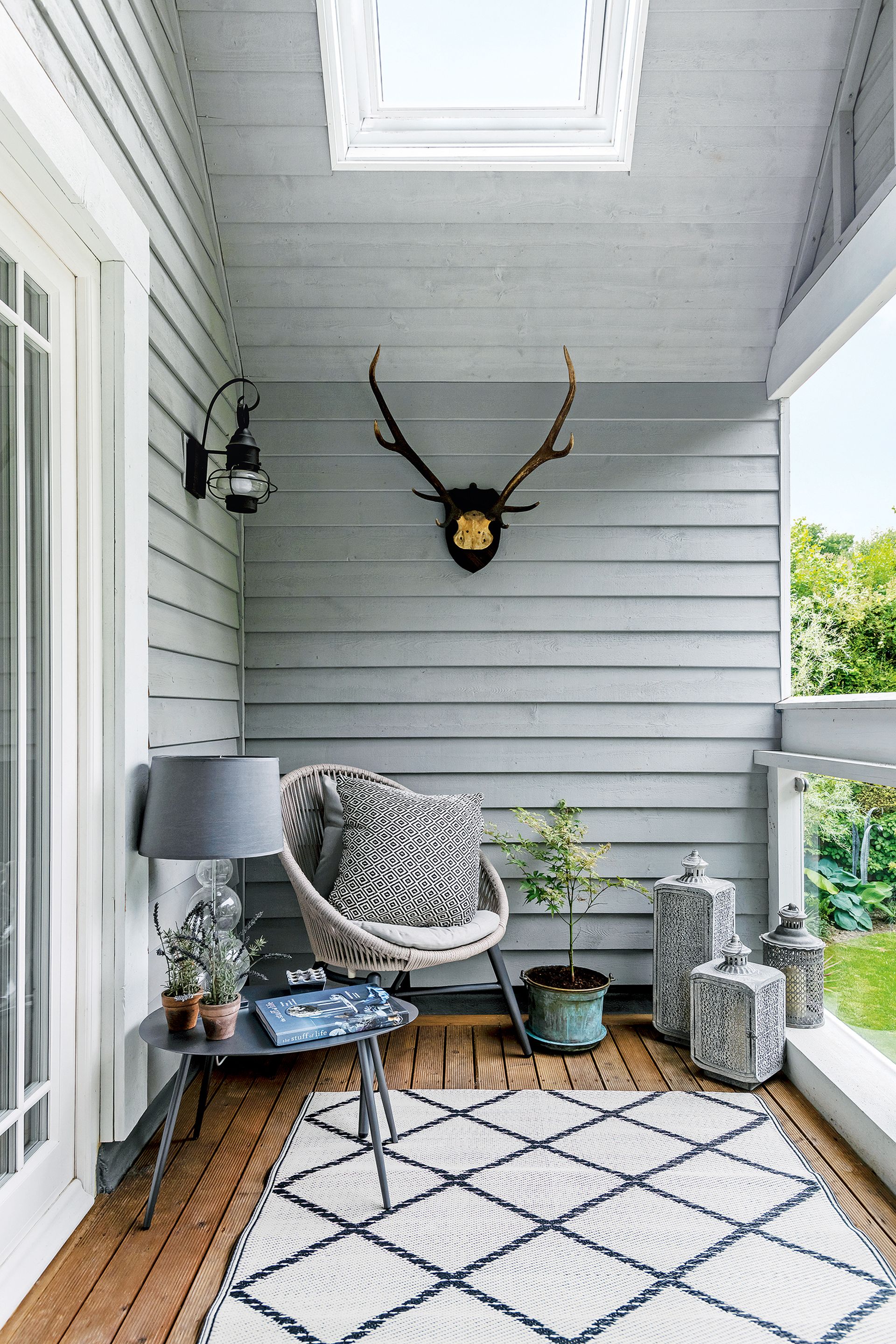 Adding an outdoor rug to a balcony space is a quick and easy way to make it feel like an extension of the home, but it can also elevate the space with color and pattern. Be sure to use a weatherproof design specifically made for outdoor areas. This way, you can simply wipe it down with a mild cleaning solution if it gets dirty, making it easy to keep your small balcony space looking its best.
'Using outdoor rugs can definitely be a great alternative if you want to hide flooring that is an eyesore, without having to go the expense of updating it entirely,' says Vivien Albrecht, writer of Posh Pennies blog.
10.
Safavieh Naomi Aztec outdoor rug
Made from polypropylene, this black and white design is fully waterproof for outdoor use. Easy to clean, it can be vacuumed or spot cleaned to remove any dirt. Available in a range of sizes and colors – price is for a 2ft 7in x 5ft design.
11.
Safavieh Martha Stewart outdoor rug
It's hard to beat the classic appeal of a blue and white color scheme, and this hardwearing buy would make the perfect finishing touch to your space. It's available in five different sizes (price shown is for an 8 x 10ft design) and you can spot clean it with mild detergent.
12.
Super durable and easy to clean thanks to its tightly woven plastic design, this bold geometric pattern will add some instant coziness to your space. It has a UV coating to protect it from sun damage, and can be entirely recycled at the end of its life too.
13. Choose flexible folding furniture
When furnishing a small balcony, 'choose items that can extend, stack or fold to save space when not in use,' advises Kimberly Kronberger, Ikea US business leader. Folding or stackable chairs are great space-saving solutions that can be easily stored away in winter to make way for extra pots to brighten the balcony on grey days.
While folding furniture has benefits, it is also worth thinking about fixed options too, suggests Laurice Constantine, founder of online marketplace Casadar.
'Bench seating can often be integrated into your balcony walls, which means you won't have to be concerned about strong winds toppling your furniture or, even worse, sending it flying.'
14. Go for seating with an airy open frame
Seating is a vital part of creating a cozy, comfortable balcony space, but when space is at a premium it's important to select a style wisely, particularly if you're hoping to make a small garden look bigger.
'Create a focal point, choose the largest furniture the space can accommodate, and add some greenery to finish the look,' advises Megan Dufresne, principal designer at MC Design. 'Some people make the mistake of trying to go small in their decor choices in order to take up as little room as possible. But, in reality, doing this makes the space look and feel even smaller.'
While it is a large piece, this corner seat boasts a clever open-frame design and no back which helps keep the view visible and makes the balcony appear more spacious.
15. Use the balcony walls as extra planting space
'One of the best ways to make a small balcony feel cozy is with plants. Even a few small potted plants can warm up the space and make it feel more peaceful and lived-in,' says interior designer Sarah Barnard.
However, when floor space is tight too many potted plants can clutter up the space. Instead, why not immerse yourself in nature and free up floor space by utilizing the height of your balcony to display plants?
Ikea has a host of vertical garden solutions to help, from garden wall ideas like plant shelving units to hanging planters and over-rail balcony planters. Not only will these raise plants up and make a balcony more pleasing to look out on, they can also make caring for plants easier too, preventing the need for constant bending down.
16. Make a feature of the floor on a small balcony
Tiling the floor is another excellent way to add personality to a small balcony. Large format porcelain tiles are hard to beat when it comes to good looks and practicality. Not only does the generous tile size mean fewer joins and grout lines, but they visually help to expand the space too.
Your choice of laying pattern – even in a small space – will also affect the visual end result. Lay tiles with staggered joins running across the width of the balcony to make it appear wider or stretching away from the building for the illusion of extra length.
17. Include a mix of cozy mood lighting
Whether it's a string of solar fairy lights, a floorstanding light or table lamp, introducing ambient outdoor lighting to a small balcony will instantly transform it.
Having your lighting wired into a balcony wall is a handy addition, but it can be costly to achieve. Instead, consider less permanent solutions such as LED candles in lanterns and solar garden lighting overhead.
Look to highlight attractive features such as intricate ironwork, tactile brickwork or sculptural foliage and leave less-than-lovely areas to fade into the darkness. Double the effect by introducing mirrors and other reflective surfaces and accessories.
18.
Suitable for use on a covered balcony, this set of 21 LED bulbs features tiny lights glowing inside each bulb to create a magical effect at night. The price is for the bulbs only as the light strand is sold separately.
19.
Make it easy to move your lighting to where you need it most on your balcony with this LED candle lantern. Solar powered, it will provide 6-7 hours of lighting on a single charge. The hanging hook means it can be attached to the wall or railings.
20.
Once fully charged, these solar lights will give you up to 8 hours of light each night. With a smart pewter finish, they are ideal for hanging along a railing or against a balcony wall. As long as the solar panel is in the sun, your lights can be placed in the shade.
21. Add an awning
Awnings are a great addition to a small balcony as they provide privacy and shelter whilst also protecting furniture from weathering explains interior designer Sarah Barnard. 'Lighter-colored fabrics may let in some light to the balcony while offering protection from more direct sunlight.
'Overhead garden shade can also provide a more intimate and contained outdoor experience while welcoming plenty of fresh air,' she adds.
Here the fencing also brings privacy and shelter from the wind and is painted in an uplifting pale blue which helps make the space feel larger. Sarah also made maximum use of the width of the space by fitting a large outdoor loveseat.
How do you make a small balcony look bigger?
There are many ways to make a balcony look bigger from clever furniture to quick updates like simply adding a garden mirror and raised planters. Rather than opting for heavy, chunky furniture choose lightweight, open-frame garden seating that will keep sightlines clear and open up the view.
To prevent plant pots from taking up valuable floor space think about utilizing the height of the balcony and by fitting shelving for plants, having plants from the ceiling or using over-rail balcony planters.
'I like to bring in greenery to blur the lines to give the appearance of space. Packing the balcony with planters and pots of varying heights and proportions will distract the eye and give the illusion of whimsical depth and interest,' says interior designer Shanade McAllister-Fisher.
'Folding furniture or a small café table are always great compact solutions for small balconies but where possible I prefer a compact outdoor sofa with lots of plump cushions to create the perfect lounging space.'
Sign up to the Homes & Gardens newsletter
Decor Ideas. Project Inspiration. Expert Advice. Delivered to your inbox.
Pippa is Content Editor on Homes & Gardens online contributing to Period Living and Country Homes & Interiors print issues. A graduate of Art History and formerly Style Editor at Period Living, she is passionate about architecture, creating decorating content, interior styling and writing about craft and historic homes. She enjoys searching out beautiful images and the latest trends to share with the Homes & Gardens audience. A keen gardener, when she's not writing you'll find her growing flowers on her village allotment for styling projects.