Country curtain ideas for kitchens – dress your windows in beautiful and practical ways
Are you looking for ways to dress your windows? Take inspiration from these beautiful rustic interiors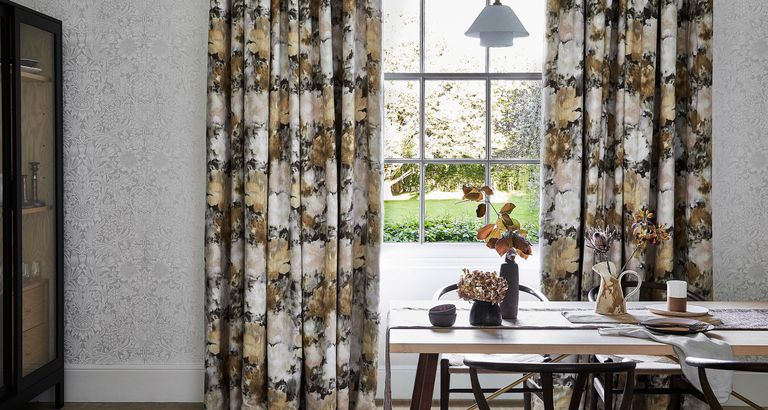 (Image credit: Hillarys)
Your country kitchen may have beautiful painted cabinetry, wood worktops and a traditional range cooker, but if you haven't dressed your windows then you're likely lacking that finishing touch. Curtains aren't always a priority when it comes to a kitchen, but in a room that's often the hub of the home, using country-style fabrics can add a homeliness and character that truly completes a scheme.
Whether you choose printed or plain, modern or traditional, you can use curtains to add colour and pattern, set the colour scheme for your accessories, along with helping to keep the heat in and add privacy. Use these ideas to create a welcoming space, where your soft furnishings steal the show.
1. Mix Patterns
Can't decide between different designs? Why not include more than one? Your curtains don't necessarily have to match your blinds and cushion fabrics – in fact, mixing it up can add interest to your room.
Inspired by woodlands and nature, this Forever Spring Delft fabric collection from ILIV is ideal for creating a relaxed interior and has used been used on the curtains, blind, bench seat and cushions to create a cohesive and attractive scheme.
2. Keep it neat
Curtains aren't only for windows and you'll often find country kitchens where fabric has been used instead of a door on open cabinetry or shelves. Not only does it help hide away the contents for a tidy appearance, but because it's a small amount of fabric, you can afford to be brave with your pattern.
Here, a quirky kitchen-themed print from Vanessa Arbuthnott adds a playful touch.
3. Bring the countryside In
For a traditional country-style look, you can't beat curtains with a nature-inspired print, such as florals, leaves and watercolour designs that all translate your country views into your interior.
They don't have to be bright florals or pastel colours either – these Aurora Ember curtains, from £194, Hillarys, offer a much more sophisticated take.
4. Frame doors
Are you lucky enough to have a kitchen-diner with doors leading out to the garden? If so, treat them to a window dressing that will add a softness to the room, while creating privacy if and when you need it.
These designs from Susie Watson feature a pretty trim and although they're floor length, keeping the length shorter, so as not to pool on the floor, avoids them becoming a trip hazard for anyone going outside.
5. Coordinate your curtains with table linen
Kitchen are notorious for having lots of hard surfaces and straight lines, but soft furnishings help combat that, and when it comes to country designs it's all about the fabrics.
From the curtains to your dining chair cushions, tablecloths to blinds, you have the opportunity to play around with materials and either coordinate them or mix and match as you choose.
Here, curtains from Vanessa Arbuthnott match a lining on the tablecloth, while the blinds and tea towels are all in fabrics from the same collection for a cohesive feel.
6. Use a single curtain
If your country abode isn't blessed with the largest of windows and doors, opt for a single curtain panel instead of two. Less fabric means less obstruction to a door or window opening, leaving you with uninterrupted views when open.
'As country homes can often have smaller windows, another trick is to hang your curtain pole wider, so your curtains won't block the window when open to maximise the light,' says Yvonne Keal, senior product manager, Hillarys.
Inspired by the countryside and English gardens, this Henley collection from ILIV adds a strong punch of blue to an otherwise neutral scheme.
7. Help them blend in
If you want your curtains to add privacy and exclude draughts, but don't necessarily want them to add pattern or colour, then choose fabric in a similar colour to your walls.
Not only will it create a harmonious feel, but it means you can change the colours of your accessories and other soft furnishings as often as you like, without having to replace your curtains. The stripe on this design by Susie Watson Designs is subtle enough to create interest without becoming the focus of attention.
8. Show off the pole
Tie in wooden details by matching the wood of your curtain pole to other aspects in the room, such as your worktops or dining table and chairs.
These Emily curtains in Fuchsia feature a simple eyelet detail and are ready-made from Terrys Fabrics – plus, you can buy the cushion to match.
9. Use as decoration
In a kitchen with a double height aspect such as this, use curtains to break up the expanse of glass and add a softness to the otherwise industrial setting with its reclaimed materials.
As privacy is less important in this room, due to its location at the back of the house, use the curtains more for decoration and leave some of the windows free of fabric.
Hand-painted kitchen from Neptune.
10. Use sheer fabrics
Sheer curtains are ideal if you want to transition between your indoor and outdoor spaces, and work especially well at small windows behind the sink – where you're likely to be looking out as you do the washing-up.
Another benefit is that they can offer a good amount of UV protection while also filtering in natural light – great for protecting other soft furnishings or furniture from fading in the sunlight.
Consider whether you want white or coloured curtains, and keep them free from your windowsill to keep them clean.
What are the classic ways to dress country kitchen windows?
Traditionally, curtains in a country kitchen were used to block out draughts and often appeared at windows of all sizes, along with internal doors. These days, they are used for so much more – to add a softness to your scheme, or colour and pattern, and to cover often wonky windows!
'If you have several windows in your kitchen, I would recommend trying to include at least one pair of curtains to soften the look and also to absorb sound,' says Vanessa Arbuthnott.
'Too many blinds will create a less cosy feel, especially in the winter when the action of drawing the curtains is enough to make you feel warm! I would suggest giving kitchen curtains a cottage pleat or a double pleat heading as well, as they are less formal.
Choose a window where you can have long curtains without blocking a radiator or getting too close to the cooking action!'
What patterns are on trend for country kitchen curtains?
Country style never dates – it's totally timeless, and patterns such as stripes and checks are ever popular. 'Stripes work well in kitchens as they are very simple yet elegant,' says Susie of Susie Watson Designs. 'I think the key here is natural fabrics like linen prints that reflect the environment of the country.'
What about the size of your window – does that determine which print you should choose? 'If you are graced with traditional, large-paned windows then opt for curtains with a statement pattern, such as a large scale floral print,' says Debbie Leigh, design manager at ILIV. 'If you want to create the ultimate cosy country interior, then a fabric with a dark background will add further depth and drama.'
'For smaller windows, it's best to stick to smaller scale floral designs or plains for the window and use cushions to introduce a feature pattern,' Debbie continues. 'Checks are often a great way to introduce a simple pattern to create a cosy country feel for a more minimalistic style.'
How do I choose curtains for my kitchen window?
Start by looking at the window you want to dress and where it's located. Is it behind a sink, where you'll want to look out at views? Would it be tricky to have curtains there – would a blind work better? Do you want your curtains for privacy, to help with draughts, or purely for decoration?
Once you've answered those questions you can better decide on what materials, length and design will work best for you. 'I often use blinds in the functional areas and then curtains in the kitchen's "living" area, either in the same fabric, or a similar fabric,' says Susie of Susie Watson Designs.
However, rural properties can be prone to wonky walls and ceilings, so if buying off the peg isn't for you, invest in some tailor-made cushions instead. 'Opting for bespoke curtains lets you tailor the material, pattern, colour and style to your own requirements,' says Laura O'Connell, product designer at Thomas Sanderson.
'Ready-made curtains come in standard sizes, while windows don't – especially in country homes, where they can be a variety of shapes and sizes.'