French door ideas - choose classic exterior doors with stylish, timeless appeal
Use these beautiful French door ideas to inspire you to recreate the look in your home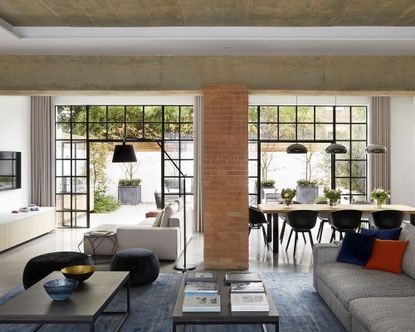 (Image credit: MorenoMasey)
If you're looking for inspiring French door ideas, you've come to the right place. As well as plenty of visual inspiration and the low down on what materials and glazing to use, we've spoken to a host of industry experts to get their take on what to look for when installing French doors to your own property.
For more exterior door inspiration, take a look at these patio door ideas
What are French doors?
Traditionally, French doors are the first and original patio door: a classic glazed door that opens out to a garden, backyard, balcony or terrace.
Thought to date back to the 16th Century and Renaissance architecture, the French adopted the look widely in the following century and from then on, the name stuck.
Unlike sliding, bi-fold or pivot doors, French doors are the traditional choice as they don't require complicated mechanisms to work and provide simple access to your home's exterior.
French doors can open inwards or outwards depending on what hinge you choose, it's worth bearing in mind what space you have both inside and out beforehand you decide.
What is the best material for French doors?
Much like bi-fold doors, French doors can be made in a wide choice of materials like timber, aluminum, alu-clad (aluminum on the exterior, timber on the interior), steel or uPVC.
As Matt Higgs, Director and co-owner of Kloeber UK Ltd (opens in new tab) says: 'Timber is very strong, secure, thermally efficient and cost effective, whilst aluminum is low maintenance and has slim sightlines (frames). UPVC is the option for people with a lower budget whilst alu clad offers all the benefits of both timber and aluminium but tends to be expensive. We're seeing that lots of people are looking to go with a more heritage, steel window look with slim black frames and glazing bars to give that industrial or art deco feel.'
While the decision between which style of door you choose - from bi-folds to French - is purely down to esthetics, the material you choose for the frame can have a large impact on the performance of the doors. 'Whilst aluminum is always very good for airtightness and many systems are good insulators, not all are and aluminum can often be the chunkiest framing material, or at least appear so in real life,' says Rodrigo Moreno Masey, Director at Moreno Masey (opens in new tab). Timber sometimes is chunkier, though its traditional connotations make the size feel more acceptable.'
French door ideas
These stylish French door ideas will hopefully help inspire you to introduce the look to your home
1. Stick with tradition
In a traditional setting like this, with the architectural moulding creating an elegant frame and finish to the room, there could be no better access to the exterior than via a row of matching French doors.
Separated by lengths of pale coloured drapes hidden at the top by the cornicing, the uniformity and symmetry created by the doors, the curtains and matching coloured couch and lampshades, create a beautifully calming scheme.
2. Choose steel for a traditional, yet modern vibe
Dating back to the 1880's, Crittal (opens in new tab) steel windows and doors were first developed by English ironmonger Francis Henry Crittal. Fast forward to this century and the brand is still going strong, helped in part by people's love of heritage designs and of all things industrial.
While Crittal is a trademark and refers only to windows and doors made by the brand, the look is often replicated by a variety of companies using steel and even alumimum. Regardless of the source, this style of French door works beautifully in traditional as well as modern homes, flanked by a host of coordinating window panels.
3. Brighten a dark room
By choosing simple white painted timber framed French doors, this allows light to flood into a north facing room, making the most of the little daylight the space would normally receive. The large panels of glass also ensure a clear view out into the backyard.
4. Add instant access to a terrace
If a bedroom in your home overlooks a flat roof, look to developing the roof into a terrace space. While bi-folds and sliding doors usually look best on the ground floor, French doors are the ideal choice when installing upper floor bedroom access to a terrace.
5. Go for double height doors
Instead of installing smaller doors with glazed surrounds, consider double height doors for a striking finish. As well as filling the space with daylight, the larger the opening when the doors are ajar, the easier it is for fresh air to circulate while enjoying wide open views outdoors.
6. Soften the look with an arched door
Prefer a traditional feel? Arched doors, with their obvious feminine appeal, can lend a more delicate edge to a scheme. Painted white, these timber doors keep the look light and bright.
7. Team with plenty of adjacent glazing
'French doors look great with fixed panels of glazing either side or above,' advises Matt Higgs, Director and co-owner of Kloeber UK Ltd (opens in new tab). 'This is often a great alternative for a large space that sometimes becomes more cost effective than a sliding or bi-folding door.'
8. Use as an alternative to windows
French doors aren't just for ground floors either. They're perfectly paired with Juliet balconies as they allow the entire door to open, allowing both light and air to flow into the room with the added safety of the balcony balustrade.
9. Choose them for unusual spaces
In the case of unusually shaped opening like this project by Kloeber (opens in new tab), these aluminum French doors fit the pitched opening perfectly, while allowing surrounding panels of glass to encourage more light into the space.
10. Opt for wide width doors
This project by HollandGreen (opens in new tab) used glazing systems by IQ Glass (opens in new tab) helped achieve the homeowner's much-wanted connection to their outdoor living space. The doors are echoed by similar glazing at the front of the property. In warmer weather, these can be opened wide to enjoy the views into the garden.
Like what you see? Hopefully these French door ideas have given you the encouragement to make a start on your own project.
Ginevra Benedetti is Associate Editor on the Homes Content Team at Future. She has been writing about interiors for the past 16 years on the majority of Britain's monthly interiors titles, such as Ideal Home, Country Homes & Interiors and Style at Home, as well as Livingetc and of course, Homes & Gardens. This naturally lead her into writing for websites like HomesandGardens.com.