Bi-fold door ideas – blur the boundaries between indoors and out
Linking your home to your outdoor space effortlessly, these bi-fold door ideas are guaranteed to give you inspiration for your next project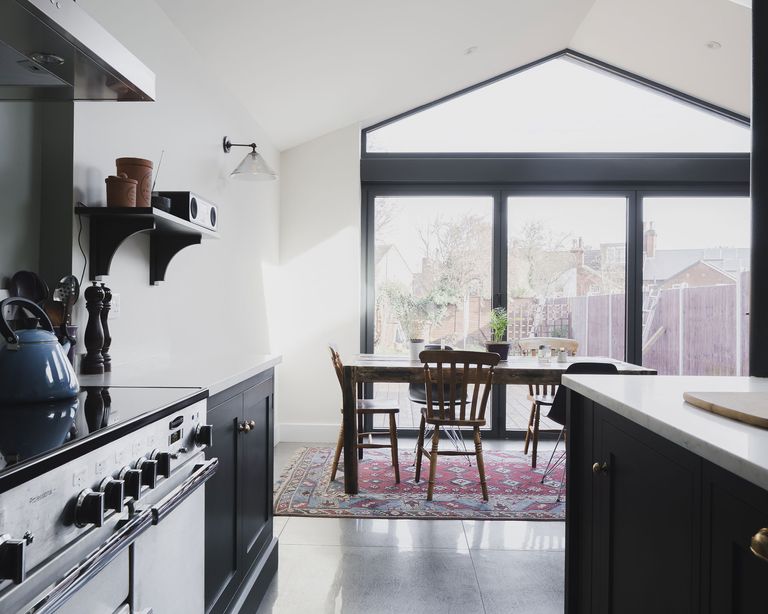 (Image credit: Kloeber)
Planning a new patio door project? Need some bi-fold door ideas for inspiration? Take a look at these inspiring homes and read on for expert advice from our industry experts...
What are bi-fold doors?
With sliding, pivot or French doors, a panel or section of frame will inevitably obstruct your view to the outside when open. In contrast, bi-fold doors concertina back upon each other to one side, opening your entire home to your outdoor space.
Because bi-folds are made of folding panels, each one requires a sturdy frame and it is this that can make bi-folds a less attractive prospect in colder weather. While in summer, the seemless, fluid transition between indoors and out is a welcome addition to any home, when the doors are closed, the sightlines (or amount of frame that obstructs your view to the exterior) can be disappointing.
For more exterior door inspiration, take a look at these patio door ideas
The obvious solution is to choose the thinnest frames available, but as a rule, the thinner they are the costlier they become. Rebecca Clayton from IQGlass says: 'You can now get bi-fold doors with sightlines of 74mm across both bits of frame (compared to a typical 120mm frame). This creates a better connection with the outdoors even when the doors are closed.'
'Typically, there is a correlation between how much you spend and how much frame you get in your doors, the more expensive systems can have very thin frames,' says architect Rodrigo Moreno Masey, Director, MorenoMasey. But bi-fold will always have a double frame compared to sliding. One pet hate I have of bi-folds is how hard it is to open them "just a bit" to let some air in. Many systems don't lend themselves to ventilating a room easily so it is worth checking for a kitchen or if you have a dog.'
One straightforward way around this issue is to install a traffic or master door. This is a single traditional hinged door that sits alongside the bi-folds that can be opened independently.
What is the best material for bi-fold doors?
As Matt Higgs, Director and co-owner, Kloeber UK Ltd says: 'The main materials for bi folds are aluminum, timber or uPVC. Timber is very strong, secure, thermally efficient and cost effective, whilst aluminium is low maintenance and has slim sightlines. UPVC is the option for people on a lower budget.'
Steel and Crittall are also options and are growing in popularity. 'Crittal glazing adds a crisp industrial aesthetic to a design without being too modern and hard,' says Rodrigo Moreno Masey.
Timber will require regular maintenance as wood naturally warps when left untreated. If you prefer to look of aluminum, it's always advisable to choose a frame with a thermal break to reduce any heat loss between the inner and outer frame.
While uPVC often conjours up images of clunky, ugly white frames, you can chooser a wide array of colours and timber-look finishes and they're conveniently maintenance free.
As most bifolds add large expanse of glass to a property, heat loss is a consideration. 'Go for glass that has a good U-Value,' Matt Higgs from Kloeber continues. 'It's also important to consider solar gain and controlling the amount of UV light and heat that comes in to the house - there are various different glass types that can manage this issue.'
Bi-fold door ideas
These stylish bi-fold door ideas will hopefully help inspire you to introduce the look to your home
1. Double up
If you're fortunate enough to have a large, wide garden, make the most of the space by installing numerous bi-folds. This property installed two seats of bi-folds, each one folding back to the outer edge, keeping the sightlines clear while opening out the majority of their ground floor to the outdoors.
2. Keep a balanced connection
Not everyone is keen to have an entire length of their home open out to their garden, particularly if you live in a colder climate.
Combining full length, fixed glazing with a relatively small set of bi-folds, has given this property a strong connection with the outdoors while allowing ample access to the yard when required.
3. Retain a (country) classic look
Bi-folds are often thought of as a very contemporary choice and aren't best suited for traditional schemes. A classic, multi-paned French door look can be easily recreated using either timber or uPVC framing, for a more traditional look.
4. Choose timber for a softer finish
Wood frames are an excellent choice if you wish to create a natural link between the indoors and out. Rodrigo Moreno Masey agrees. 'While timber sometimes is chunkier, its traditional connotations make the size feel more acceptable.'
While sun rooms or conservatories are traditionally fitted with French doors, installing bi-folds can make the space feel as transparent as possible and completely at one with the exterior.
5. Go for a wraparound effect
Bi-folds aren't just for flat fronted properties, either. They can be installed at angles joined together via a mullion (a rigid section of frame) to create an almost uninterrupted view out into your back yard or garden.
Choosing the same flooring for indoors and out echoes the connection between both spaces, too.
6. Pick coloured frames
Aluminum framed bi-folds are available in a wide range of colours, not just black. These subtle coloured frames coordinate well with the is property's exterior decor, echoing the soft green shade on the wooden bench and the warm coloured stone paving.
7. Use the width
Larger kitchens can afford to sacrifice an entire outer wall to glazing as there's ample space in the rest of the room to house cabinetry, appliances and furniture.
Bi-folds, like this black framed aluminum set, are an excellent choice for modern kitchens. Their clean and simple design blends well with the contemporary handleless kitchen and sleek tiled flooring.
8. Invest in extra wide panels
In this project by MorenoMasey, a stretch of wide panelled bi-folds have been combined with a similarly sized pivot door. The extra wide panels of glass will naturally be more a expensive choice than standard sizes but will ensure reduced sightlines when the doors are closed.
9. Open up a small space
In this project by IQ Glass, aluminum bi-folds are an excellent choice because of the smaller opening, as they extend the inside living space.
The three-panel door set up - odd numbers usually work best - slides and folds back away opening almost the entire rear of the property. The flush threshold also provides an easier transition between the interior and exterior living spaces.
10. Frame your view
In a linear, ultra modern scheme like this, bi-folds create a stunning frame to the outdoor space, which is almost certainly the main the focus due to the uniform simplicity of the kitchen design.
Thanks to this gallery of bi-fold door ideas, we've given you the inspiration you need to help you with your next project.
Hello there, I'm Ginevra Benedetti,
Associate Editor on the Homes Content Team at Future.
I've been fortunate enough to have been writing about interiors for the past 16 years on the majority of Britain's monthly interiors titles, such as Ideal Home, Country Homes & Interiors and Style at Home, as well as Livingetc and of course, Homes & Gardens.
This naturally feeds into writing for wonderful websites like HomesandGardens.com and IdealHome.co.uk.
Over the years, I've interviewed some of the most talented designers in the business and I've pretty much written about every area of the home, from shopping and decorating, appliances and home tech, wallpaper and fabric, kitchens and bathrooms, even extensions and conversions.
I never tire about reading or writing about interiors, from classic timeless designs to innovative smart tech - the subject is always evolving, just as our homes do, year after year.