Curtain ideas for French and patio doors – 10 ways to dress them successfully
If you're lucky enough to have French or patio doors, show them some love with curtain prints and patterns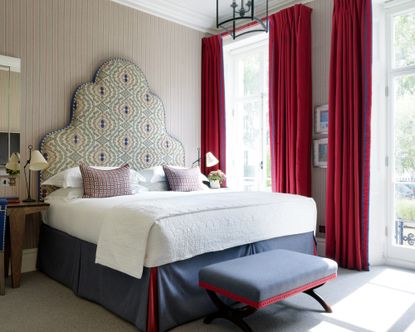 (Image credit: Kit Kemp)
Curtain ideas for French and patio doors can be the icing on the cake of a room, perfect for opening up your space. However, left undressed, they can leave a room feeling cold, especially when the weather is chilly or wet. And, if neighbors can see into your home, they are a must.
Patio door ideas – often sliding doors found in more modern rooms, and French door ideas, which are usually double doors that open outwards, are both known for flooding spaces with light.
But practicalities aside, curtain ideas for French and patio doors also allow you to add layering, color, pattern and texture to your rooms, creating an elegant, finished feel that really appeals to us at H&G.
Curtain ideas for French and patio doors
Having a raft of stylish window treatment ideas for every room is essential so you can block out harsh light in the summer and keep rooms warm and cozy in winter.
We've put together 10 beautiful curtain ideas for French and patio doors to give you all the inspiration you need.
1. Create a feature by using both paint and curtains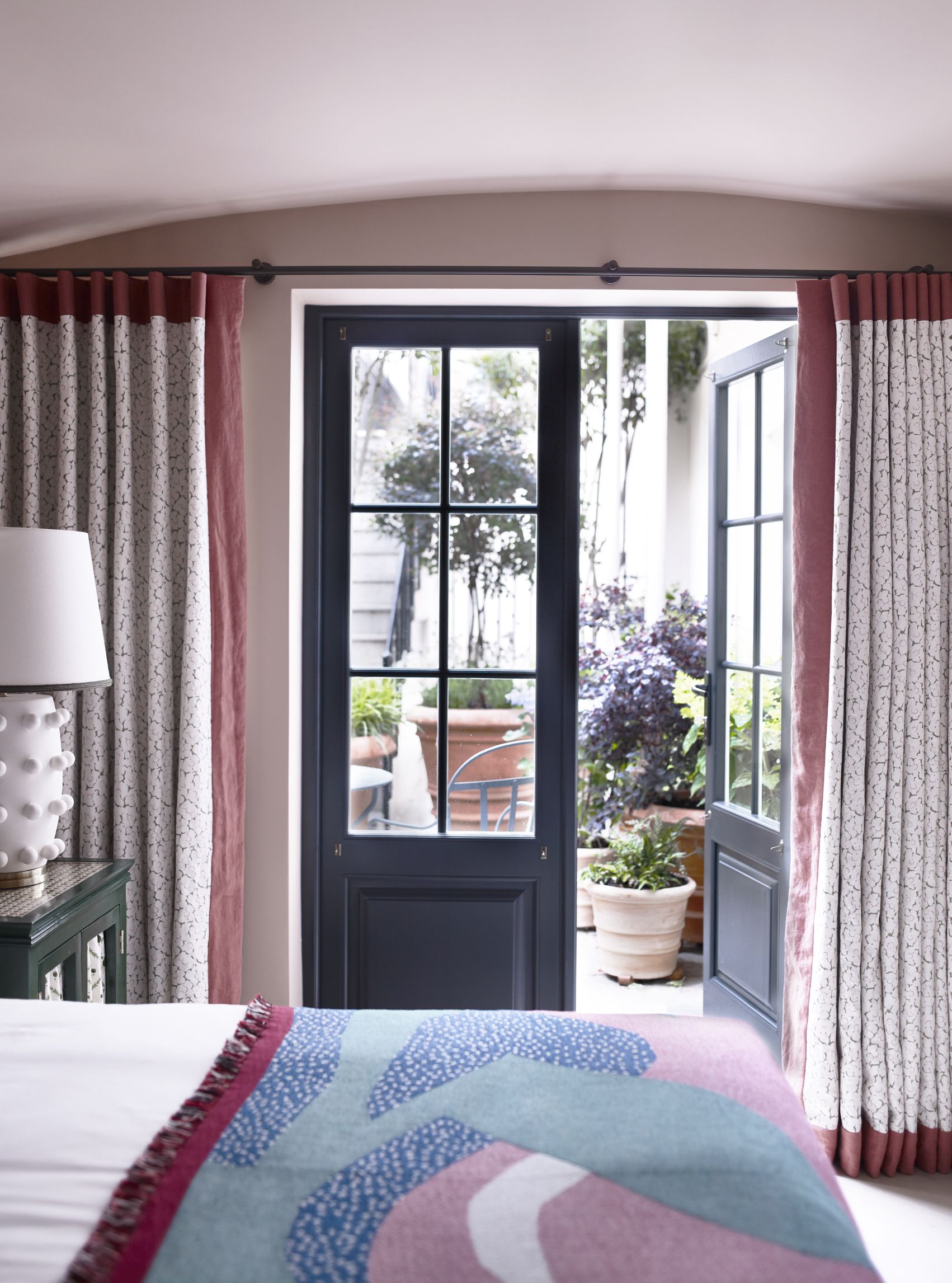 If you are looking for curtain ideas generally, this is a clever idea for all your window frames, whatever their shape or scale. Here, these French doors are fully part of the design process and stand out in their own right. It's worth noting that this design would work equally well as a curtain idea for patio doors that slide, too.
We asked interior designer Irene Gunter, Founder of Gunter & Co how she put together this stylish scheme:
'In this Belgravia maisonette design, the bedroom has French double doors which lead out onto a patio. Wall-to-wall curtains were added in front to help block out light and sound when the room is occupied, but by using heavy fabric floor-to-ceiling, the curtains will also help keep out any drafts. As well as these practical elements, the rich textures and deep folds of the Christopher Farr cloth fabric in the curtains help to create a cozy atmosphere in the bedroom when drawn.'
2. Frame your French doors with bountiful florals
For an all encompassing look, check out this curtain idea for French and patios doors by Warner House.
The key is to frame your doors, allowing the fabric to be pulled right back from the woodwork, and the entire width of the doors to be shown. Hanging the curtains a little above the top of the doors' frames will also make them look taller, while the bottom hem should skim the floor for a smart finish. If you're not sure how to measure for curtains, our step-by-step guide can help you get this right.
3. Add a trim to create an interesting view
French doors that step out onto a balcony? Yes please! When you have a view like this, you want to enhance it, not detract from it.
Again, it's worth considering how you want to frame it, and this is where trims and tie-backs can come into their own, gently changing the overall shape of the drapes when pulled back.
4. Match curtain ideas for French doors to the rest of your decor
Although this seems obvious, it's a design feature that can be overlooked, and the other aspect worth remembering is to match your curtain ideas for French doors to your windows too.
'In terms of colors and pattern, this is really a case of personal preference, however I always opt for neutral curtains if there's a lot of color and pattern in the room already,' says Emma Deterding, Founder and Creative Director at Kelling Designs.
'Not only does this help to balance the scheme, but if you have spectacular views out the window or through patio doors, then this will allow them to flow into the room making the room feel a lot larger. If you have a neutral design scheme, then introducing some color and pattern through curtains will not only make a statement, but will automatically draw the eye to the window, again making the room feel more spacious.'
5. Ensure curtain ideas for patio doors are practical
Curtain ideas for patio doors need to tick a few practical boxes. Wispy ethereal fabric looks great in some settings, in the warmer summer months for example, but in the winter when the wind is howling, the wafting drapes will not be wafting for the right reasons!
Instead, the best option is a pair of fully lined curtains that completely cover the entire patio door frame so they capture all the pesky drafts, as Penny Morrison, interior designer at Penny Morrison Studio explains:
'French doors and patio curtains always make a room feel more cozy! Due to their size, particularly height, it is a great opportunity to use a larger scale pattern. Curtains hung on poles tend to work best. If using a pelmet you need to hang them quite high above the lintel so that the door still functions and that you don't block too much light.'
6. Curtain ideas for French and patio doors can work with architectural elements
Sometimes you need to consider the original features of your space, for example, in this charming bedroom with patio doors leading out onto a balcony, drapes wouldn't work. It has beautiful shutters that were restored so in this case a simple blind will suffice instead of curtains.
'In this project we often had furniture or radiators below the windows, so having full height curtains was not an option,' explains Irene Gunter, Founder of Gunter & Co.
'We used double Roman blinds, whereby the sheer was positioned as close as possible to the window panes. A blackout Roman blind was positioned at the front of the window so you could fully appreciate the beautiful architrave wrapping around the window.'
7. Coordinate blinds with French and patio door curtains
'Different shapes and sizes of doors and windows may call for different window dressing solutions and using the same fabric for both curtains and blinds is a great way to tie a room together, creating a sense of warmth and depth,' advised Emma Clarke, Director of Warner House.
'As shown on the above image, we have used Balmoral as both a curtain and a blind to great effect in the same room. With both curtains and blinds we recommend the use of beautiful linings. Blackout could be a consideration or interlined for an elegant finish. Adding tape or bullion trims to the bottom edge creates interest bringing individuality to your scheme.'
8. Use your French door curtains to add pattern to a dramatic scheme
If you're a fan of dark and dramatic, then you can use your French door drapes to soften the look and add pattern. It works really well in this dining room and you can of course match to your seat cushions, table runner and napkins.
It's all about balance and the finer details, note the chrome pendants match the chrome curtain rails, it's these small elements that make a scheme work.
9. Choose a curtain print that blends with your outside view
When you're searching for curtain ideas for French and patio doors and the view beyond is perfect, then it really is worth choosing a fabric that features the colors you can see outside.
This Norrland print from VillaNova captures the stillness of forest landscapes and shows you how well it can work – the darker tones match the table top, the taupes pick up the foliage and tree bark and the painterly marks mimic the movement of nature when there's a light breeze.
10. You don't always need a matching pair…
Make a sweeping statement with one single drape held by a holdback. It's really striking without taking away from the beautiful period detailing above the French doors and coving.
The chosen Zafaro fabric from Black Edition fits perfectly with the wall color and even though this house is old, the fabric teamed with the retro furniture gives it a contemporary edge.
What curtains go with French and patio doors?
The best way to treat French doors in terms of curtains is exactly how you would treat windows. You can chose fabrics that suit your color scheme – this applies to both French and patio doors – and you should consider the weight of the fabric, with lightweights ideal for the summer months, and heavier weight fabrics a better choice for warmth in winter. Lastly, ensure that curtains for French and patio doors reach to just above the floor – any fabric that drapes on to the floor across a thoroughfare will quickly become grubby.
How do you hang curtains on French and patio doors?
You can hang curtains on French and patio doors the same way as you do with curtains hung at windows, outside of the frame, so that the curtains can be pulled right back from the frame to reveal the entire width of the doors.
Our guide on how to hang curtains will be a useful read if you need more guidance.
Sign up to the Homes & Gardens newsletter
Decor Ideas. Project Inspiration. Expert Advice. Delivered to your inbox.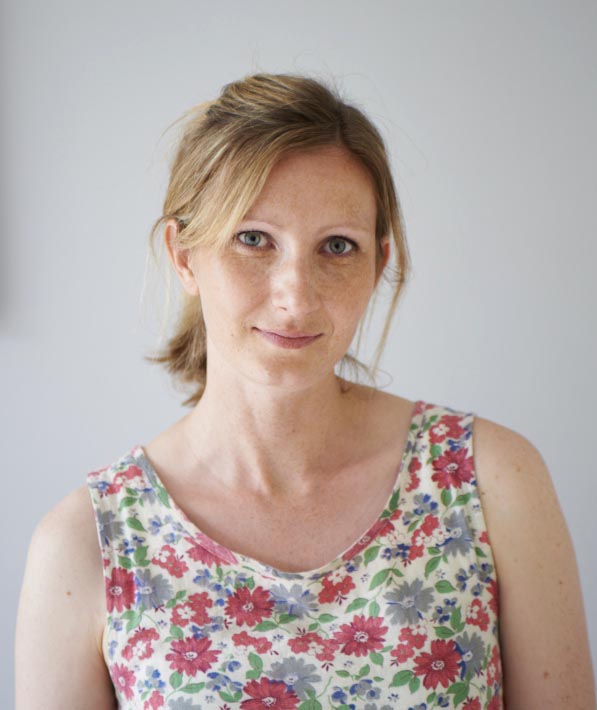 Sophie has been an interior stylist and journalist for over 20 years and has worked for many of the main interior magazines during that time, both in-house and as a freelancer. On the side, as well as being the News Editor for indie magazine, 91, she trained to be a florist in 2019 and launched The Prettiest Posy where she curates beautiful flowers for modern weddings and events. For H&G, she writes features about interior design – and is known for having an eye for a beautiful room.