Bathroom curtain ideas – 15 elegant designs to elevate your space
Adding softness to a functional space, bathroom curtain ideas are one step on the way to creating a relaxing sanctuary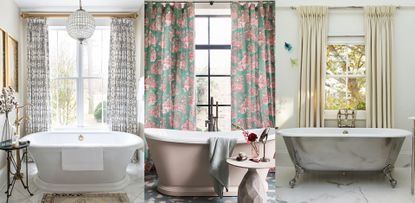 (Image credit: JL Design/Polly Wreford & Claudia Bryant/Drummonds)
Bathroom curtain ideas might seem like an unusual addition to your washroom, however, they can be an elegant and sophisticated window dressing that will elevate your space. Bathroom curtain ideas are the kind of finishing touch that can turn your functional wash space into a restful sanctuary.
Curtains provide a soft antidote to the hard surfaces that define most bathroom ideas, bringing a gentle softness back into your design scheme. Of course, the considerations required for bathroom curtain ideas are a little more nuanced than for other rooms in the home, as you have to factor in the high moisture levels that is inherent to the bathroom.
'A bathroom is a humid environment, so be conscious of this when choosing the curtain material. Consider a lightweight, washable fabric so that you can clean regularly. Man-made fibres are better at resisting mold and mildew, though natural materials such as linens and cottons will provide a more natural look,' explains Emma Joyce, Brand Manager at House of Rohl. However, with a vast variety of different materials, styles and colorways available, you can easily find the right bathroom curtain ideas to complement your space.
Bathroom curtain ideas
While blinds and shutters are the traditional choice for bathroom window treatment ideas, curtains should not be overlooked. Bathroom curtain ideas can bring elegance to a scheme as well as offering the opportunity to introduce color, pattern and texture to your bathroom design.
Bathroom curtain ideas do not need to be waterproof or splashproof but they do need to be easy to clean and maintain. Your choice of material will also depend on how you use your bathroom. Powder rooms or cloakroom ideas that simply have a WC and sink, can have nearly any style of bathroom curtain ideas as there will not be much moisture in the room. However, bathrooms with a bath or shower will need to be more measured in their choice. In most cases a quick-drying, machine washable material such as linen, cotton or voile will be the best options, though for large bathroom ideas, that have baths rather than showers, heavier materials can be used, so long as the moisture and humidity levels in the room are kept to a minimum.
Curtain ideas will not work in every bathroom. If you're looking for family bathroom ideas, then curtains might not be the best option, instead opt for something that is highly-waterproof such as blinds or shutters that can withstand the wear and tear of daily family life. Equally, curtains should be avoided as part of wet room ideas. Their open plan design increases the amount of moisture and humidity in the room and will lead to the curtains becoming damp.
1. Pair sheer bathroom curtains ideas with wooden paneling to evoke spa-like quality
Sheer curtains are a great choice for traditional bathroom ideas. Not only do they offer a level of privacy but they still let softly filtered light flood into the space, setting a soothing scene for a relaxing soak. Linen provides a spa-like feel that lends itself to the bathroom environment. Quick-drying and durable, most linen curtains are also machine washable making them easy to keep looking luxurious. It also brings with it seasonal benefits, linen's natural weave enables it to let in plenty of fresh summer air when the windows are open while in winter its insulating properties will help to keep your bathroom feeling cozy and intimate.
Complete the spa bathroom aesthetic by pairing full-length linen curtains with exposed wooden bathroom paneling ideas and elegant stone flooring – there are plenty of stone flooring types to choose from – to create a space that celebrates the beauty and restorative qualities of the natural world.
2. Use bathroom curtain ideas to inject pattern
Your bathroom is a private space, and as such gives you the opportunity to create a truly personal scheme. If you prefer to play it safe in the main rooms of your home, then use the bathroom as a place to experiment with color and texture.
The injection of pattern can completely reinvent a tired space and bathroom curtain ideas offer the perfect canvas. Choose a pastel background illustrated with a bold floral print to bring a serene feel to the space – there are plenty of floral room decor ideas that would add interest and character to your bathroom design. Combine floral patterned bathroom curtain ideas with plain walls and terrazzo flooring for a modern update on this classic look.
3. Use full length bathroom curtain ideas to frame your space
Not every window in the bathroom needs a curtain. An open skylight increases the natural light in the room and is perfectly paired with a dressed window to combine privacy and light in perfect balance.
When open, these luxuriously thick, full-length curtains frame the window, emphasize the height of the room and draw the eye to the elegant silver roll-top bath – the focal paint of the bathroom's design. However, when closed, these bathroom curtains provide ultimate privacy, curating a serene atmosphere that is perfect for a candlelit bath under the stars.
4. Opt for long linen curtains for a long with linen
Being able to shut off from the world is essential in creating a soapy sanctuary; so for large windows, full-length curtains are a must.
'When looking at bathroom curtain ideas, it is important to consider first and foremost what sort of aesthetic you wish to achieve in this space. Typically, a bathroom is a place for relaxation. With this in mind, a long linen design is a great option when choosing curtain material. This, paired with a soft color scheme and a freestanding bath gives you the ingredients for a luxurious bathroom space,' says Louise Wicksteed, design director for Sims Hilditch interior design.
5. Opt for pleated bathroom curtains ideas to channel vintage vibes
Curtain ideas are one of the best window dressings for powder room ideas. Powder rooms don't have the same challenges as large bathrooms, since they don't have the baths or showers that lead to the high humidity environment.
In a cottage or vintage-style bathroom softness opt for pretty pinched pleat cafe-style curtains that will bring a delicate detail to your bathroom scheme. However, adding a curtain to your window brings a gentle softness that will instantly channel both vintage bathroom ideas and cottage bathroom ideas in equal measure.
6. Choose minimal palette for a calming effect
In our increasingly busy day-to-day lives, the modern bathroom has become an ever-important sanctuary, providing us with the space to escape from the world and have a little time to ourselves. This bathroom opts for a simple palette of grey, white and black to induce a calming atmosphere, that will provide the perfect space for switching off at the end of a busy day.
Black and white bathroom ideas can have a sharp, clinical feel and don't always lend themselves to creating a warm and welcoming atmosphere. However, adding bathroom curtain ideas in a monochromatic palette offers the perfect way to soften the look while still keeping the sophisticated scheme in tact.
7. Select cafe-style bathroom curtains ideas for small ideas
If your bathroom window is on the smaller side then full-length curtains will dwarf the space. Instead keep your window treatment simple and opt for cafe-style curtains. These minimal curtains strike the perfect balance between providing privacy while bathing while also letting light to continue to flood into the space, making your bathroom feel brighter and more welcoming.
'Try to keep window coverings in your bathroom almost like a wisp of a design element. Your bathroom is one of the most utilitarian rooms in the house, and you want it to feel functional yet relaxing,' advises Georgia Zikas of Georgia Zikas Design. 'Using very light, gauzy or transparent coverings, like a cafe curtain or simple fabric covering, gives you that sense of privacy and serenity you crave in a bathroom. Also think about bathroom color ideas as you'll want it to blend seamlessly with your walls.'
8. Inject color into your design with bathroom curtain ideas
Recent years have seen bathrooms become more playful spaces, where homeowners are looking to explore their personal style. 'Curtains in the bathroom are a great way to introduce color and pattern into a traditionally plain space,' says Rebecca Craig, lead designer at Sanderson.
In this bathroom, bay window ideas come in the form of pink and white patterned drapes, which feel suitably quirky alongside the egg-shaped bath and geometric rug.
9. Color co-ordinate your bath with your bathroom curtain ideas
Freestanding tubs are increasingly becoming the star of the show in bathroom design – so use your curtains to help show off your statement piece. In this example, the vibrant green-blue of this metal bath is reflected in a slightly tamer shade on the billowing curtains which pool elegantly on the floor.
10. Get the best of both worlds with a half curtain
A key element of getting window treatments right in your bathroom is ensuring your sense of privacy is protected. One conundrum you may find when choosing curtains is that while you want to create a barrier between yourself and the outside world, increasing natural light into this small room is crucial to your enjoyment of the space.
One of the types of curtain you can consider in this instance is a half curtain, or cafe curtain, like the one in this bathroom by designer Windsor Smith. Covering just the lower half keeps the bathroom out of sight from passers-by, but allows light to flood in through the top half of the window, and keep the elegant arch visible at all times.
11. Double up with blinds and bathroom curtain ideas
For a luxury bathroom idea, consider teaming your bathroom curtains with window blind ideas. In this design, white, semi-sheer fabric is used for both layers to create a versatile but ultimately ethereal look.
Harry Cole, founder of Loom & Last, points out that blinds on their own can often be the better choice for smaller bathrooms. 'Windows can vary from room to room and in some cases, blinds will be a better fit for your space than a pair of curtains,' he says. 'Assess how much room you have either side of your window, if there is little to no space, or if it is situated within a recess then a blind is a more suitable choice.'
12. Create harmony by co-ordinating your bathroom curtain ideas with a basin skirt
For vintage bathroom ideas florals are a must, so opting for floral bathroom curtain ideas is a no-brainer. In this elegant vintage bathroom, nature defines the scheme, from the blousy floral prints and wooden flooring through to the watery blue tones of the bath – it is a space in which you can't help but relax.
Create harmony through your design by echoing the soft look of your bathroom curtain ideas around your basin. Adding a basin skirt in a complementary fabric will add further depth to your space without overwhelming it with floral prints. Pair with neutral walls and flooring to let the fabric define the overall look.
13. Layer sheer curtains to balance privacy and light
'Balancing the need for light and privacy can make curtains in the bathroom tricky,' says Craig. 'Light, washable curtains work well in the room, and layering them with blinds or shutters will provide ample privacy.'
Just as with blinds, layering a sheer curtain under an opaque curtain can create versatility for your privacy and light levels, as well as adding a touch of elegance to a room. This is also a great call for bedroom curtain ideas, where the evenings call for darkness and the mornings call for gentle light.
14. Bathroom curtain ideas aren't just limited to window dressings
Curtains in the bathroom are not just limited to your windows. For a luxury bathroom idea that will add a touch of vintage elegance to your freestanding tub, install a curtain encircling your bath. A step up from the shower curtain, this arrangement ties in with the whole-home interior trend for cocooning furniture and spaces, and will add drama to the higher levels of your bathroom decor.
15. Use a curtain to created a sophisticated ensuite door
Working in harmony with your adjoining bedroom, ensuite bathroom ideas won't require quite the same level of privacy as your main bathroom. Instead of shutting a beautiful bathroom off entirely from your sleep space, consider blending them together in a more relaxed fashion by using a curtain to cover the doorway. In this example, curtains by Sanderson with tie tops and a slight puddle at the bottom create a sense of relaxed luxury as well as adding a hit of pattern to the bedroom design.
What length should bathroom curtains be?
The length of your bathroom curtains will be determined by the size of your window. For small cottage-style windows, cill-length curtains will look more in proportion while full length windows will benefit from longer curtains that puddle on the floor.
If you're unsure how to measure for curtains, then its fairly straightforward: simply measure the total length of the curtain rod between finials, then measure from the top of the rod to the floor. From here you can add between 1 and 12 inches for a puddle of varying decadence. If you are looking for shorter curtains, then add one to three inches below the cill.
How do I make my bathroom window not see through?
Bathroom curtains are a great way to make your bathroom window not see through. From semi-sheer linens that allow daylight to trickle but will still provide that all important privacy to thick full-length curtains, which when closed, will provide total privacy, there are plenty of different bathroom curtain ideas to help.
Alternatively, consider opting for frosted glass as this will almost totally obscure the window without compromising the light-levels.
What kind of curtains go in a bathroom?
For your bathroom, you can choose any curtains you like – but in terms of what types work best, be sure to work out what you need in terms of light and privacy. If you want to ensure lots of daylight floods into your small bathroom space, consider sheer or semi-sheer fabrics in lighter colors, or choose a half curtain to allow light to come through at a higher level.
If your bathroom is not overlooked and you plan to keep your curtains open most of the time, you can choose heavier fabrics and more elaborate patterns that act as a frame to your window.
Can you hang regular curtains in a bathroom?
Yes, you can hang regular curtain fabrics in your bathroom. They don't need to be water or splashproof, but you may want to consider curtain fabrics and styles that are easy to clean. In a frequently humid space where water and soap is splashing about regularly, you will likely want to wash your bathroom curtains more regularly than others in your home. Therefore, consider choosing curtains that are lightweight and machine washable.
Sign up to the Homes & Gardens newsletter
Decor Ideas. Project Inspiration. Expert Advice. Delivered to your inbox.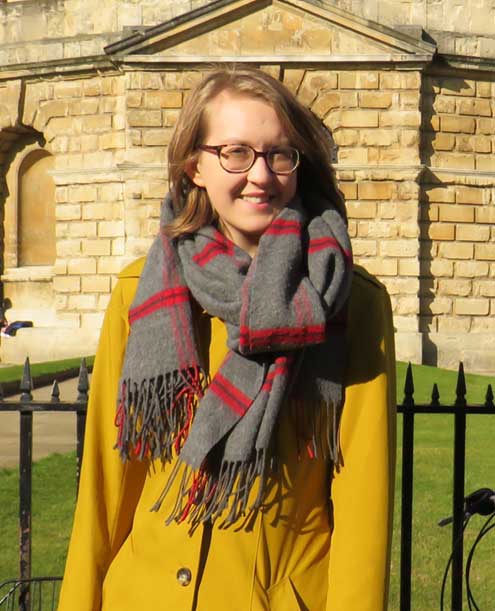 Content Editor and Sub-editor
Having graduated with a first class degree in English Literature, Holly started her career as a features writer and sub-editor at Period Living magazine, Homes & Gardens' sister title. Working on Period Living brought with it insight into the complexities of owning and caring for period homes, from interior decorating through to choosing the right windows and the challenges of extending. This has led to a passion for traditional interiors, particularly the country-look. Writing for the Homes & Gardens website as a content editor, alongside regular features for Period Living and Country Homes & Interiors magazines, has enabled her to broaden her writing to incorporate her interests in gardening, wildlife and nature.