Decorating with books – 13 stylish ways to store and display your collection
Bring character to your interiors with these creative ways for decorating with books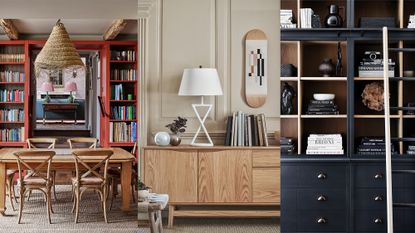 (Image credit: Brent Darby / Davide Lovatti / Neptune)
Decorating with books is a lovely way bring character to a living space as well as a welcoming and timeless feel. Ubiquitous features of the home, books can easily be forgotten about and are too often crammed into a bookcase with little thought, but with the right styling and treatment books can really elevate an interior.
Whether you're looking for ways to organize your bookshelf ideas or to showcase your favorite book covers, we've rounded up a host of creative decorating ideas for arranging books to help get you inspired.
Decorating with books – 12 ways to display a book collection in style
When it comes to decorating with books there are an array of approaches to take, so before you look to arranging your collection it's worth first thinking about what look you're trying to achieve.
Are you a book lover seeking ways to bring harmony to your book storage ideas, or looking for inspiration for your reading nook? Storing books traditionally on bookshelves and arranged by genre is a good way to keep books organized, especially if you have a home library, but it doesn't necessarily make for a visually pleasing display. However, if you're willing to forgo convention, there are so many ways books can be arranged to enrich a space other than lining bookshelves.
1. Create a wall of books
When it comes to how to style a bookcase and book storage, dedicating an entire wall to a bookcase can make a wonderful traditional decorating idea, giving rooms a textured backdrop and a timeless feel. Having a bespoke bookcase fitted around your architecture is the best way to make the most of the space and achieve the look.
'A big advantage of getting a bookcase specially made is that the size of the shelves can suit the collection,' says Simon Tcherniak, senior designer at Neville Johnson. 'A bespoke bookcase can also fit the room perfectly, meaning no gaps around the bookcase, no dust-traps and no wasted space.'
If your collection is likely to change over the years, 'adjustable shelving might be worth considering, but adjustable shelf holes don't look great in light finishes so if you want shelves to be adjustable that might affect your choice of finish,' he adds.
Why not make a feature of your shelving with a two-tone paint idea as demonstrated in the bookcase here with its brown backboards and terracotta frame.
2. Decorate with books by color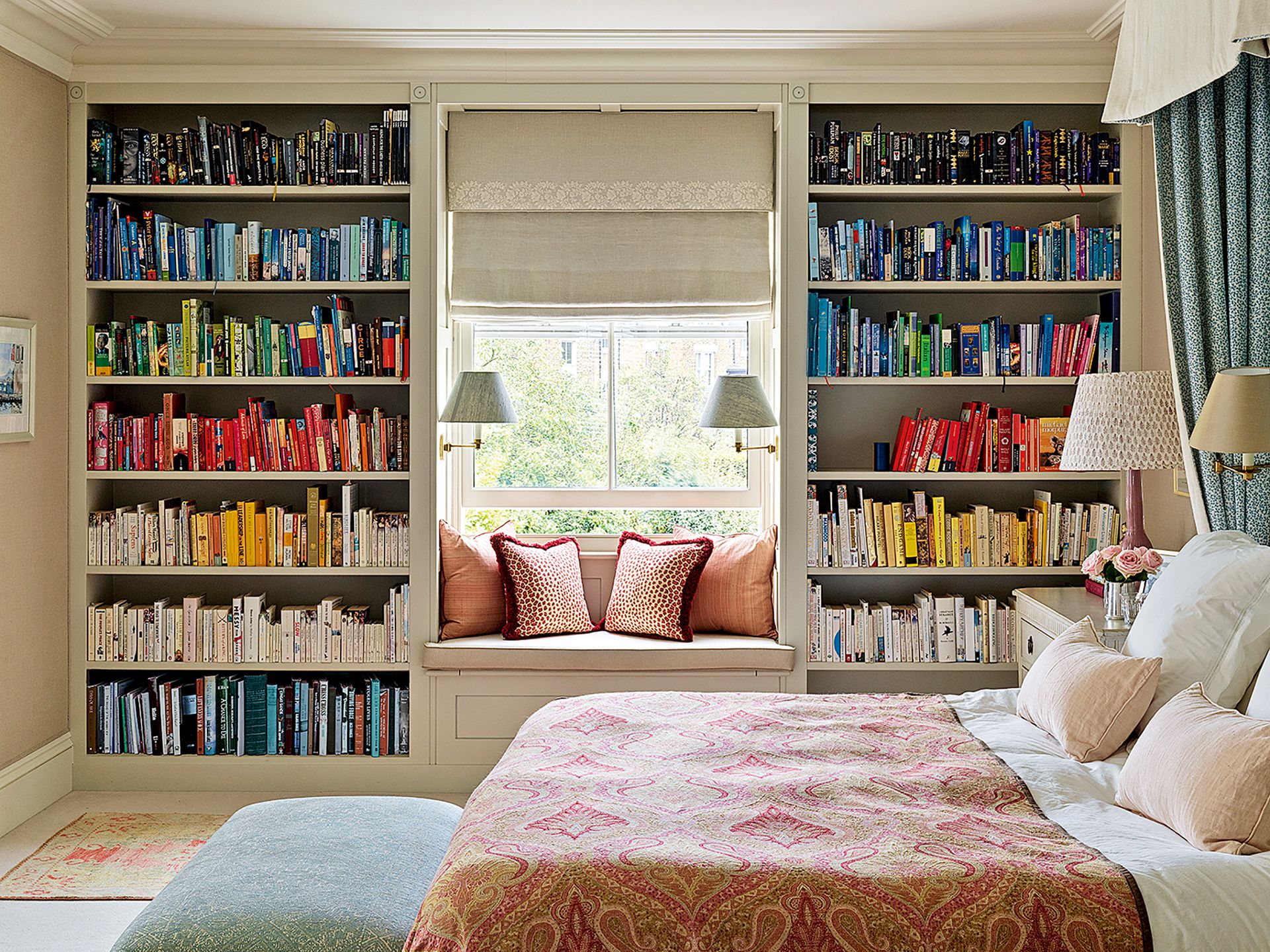 Bring visual harmony and an element of fun to a large book collection by arranging books in color order to create an ombre effect. As well as being decorative, the look is easier on the eye than a mixed hotch-potch of books, which can help spaces feel more soothing – perfect if you are looking for bedroom bookshelf ideas.
'We love to use clients' objects to create playful, decorative elements around their homes. Books are a brilliant way to add interest and whether color co-ordinating them or using a more natural organisation method they always manage to add a wide variety of tones to a space,' says Nicole Salvesen, co-founder of Salvesen Graham.
3. Style books alongside decorative objects
Elevate bookshelves into eye-catching displays by incorporating decorative objects and playing with how books are arranged. While vertical books are easier to retrieve, decorating with stacks of books is a great way to create mini display podiums.
When it comes to styling bookshelves Simon Temprell, interior design manager at Neptune suggests to 'start with the books... then layer in small pieces of artwork and decorative objects at different heights, remembering that groups of odd numbers always work better than even.'
'Create a traditional row of books that takes up one third of the shelf and then prop them up with a small stack of books lying flat, topped with a small ornament or plant,' he adds. 'It is important to consider the spaces you leave empty just as much as the spaces you fill.'
4. Decorate a coffee table with books
Perfect casual reading for guests, large books with beautiful images are lovely coffee table styling idea, plus those with eye-catching covers can help brighten up a living space. Choose subjects that reflect your personal taste and be sure not to make your stacks too large – piles of just one or two of the similar size work well.
5. Showcase your favorite book covers
Many book covers are true works of art, so why not showcase them as you would a favorite painting?
Whether displayed on shelves or on a narrow picture rail behind the sofa, books with striking covers can make a beautiful focal point in a living room, plus the display can easily be restyled for a fresh new look unlike a fixed gallery wall.
6. Display sculptures on books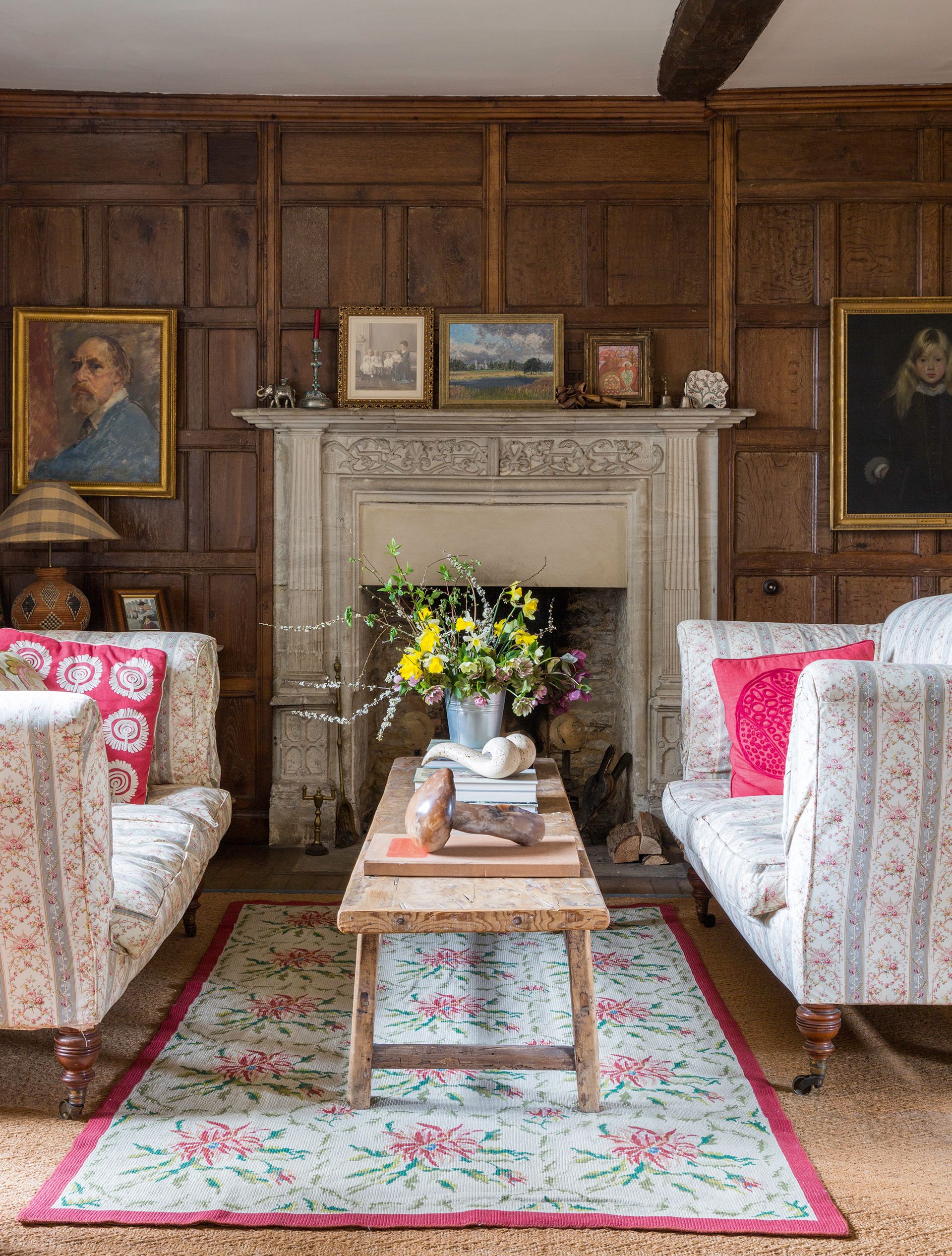 Stacking books on a coffee table can be a useful way to showcase decorative items, especially in rooms where wall shelving is limited.
In this living room, books stacked at different heights serve as podiums for stone sculptures as part of an artistic coffee table display.
7. Decorate with books and plants
Nothing elevates a room like decorating with plants, and when it comes to styling shelves many interior designers and stylists see them as a must have. Not only do they help us to reconnect with nature and bring a host of benefits for our health, plants can be a beautiful decorating tool, too.
'Plants will bring an element of softness and freshness to any shelf, especially those that trail. Succulents have architectural style and demand very little attention, so they can be useful for filling the gaps where objects feel a little too rigid,' adds Simon Temprell, interior design manager at Neptune.
8. Match the books to your color scheme
Having too many books on display in a living room can leave a room feeling cluttered. If you're looking to keep spaces feeling calm and restful, consider limiting books to a small number of carefully selected spines in colors that complement your space.
A lovely sideboard decor idea, these books with muted spines bring delicate texture and interest to this neutral living room.
9. Choose a book wallpaper
If you love color and print why not bring an element of fun to a living room with a Trompe-l'œil book wallpaper idea?
A design from the Fornasetti Senza Tempo collection at Cole & Son, this Libreria paper looks great above living room paneling, but would also work well in a study, or, alternatively you could use it to create a playful talking point in a cloakroom.
10. Turn books for a minimalist look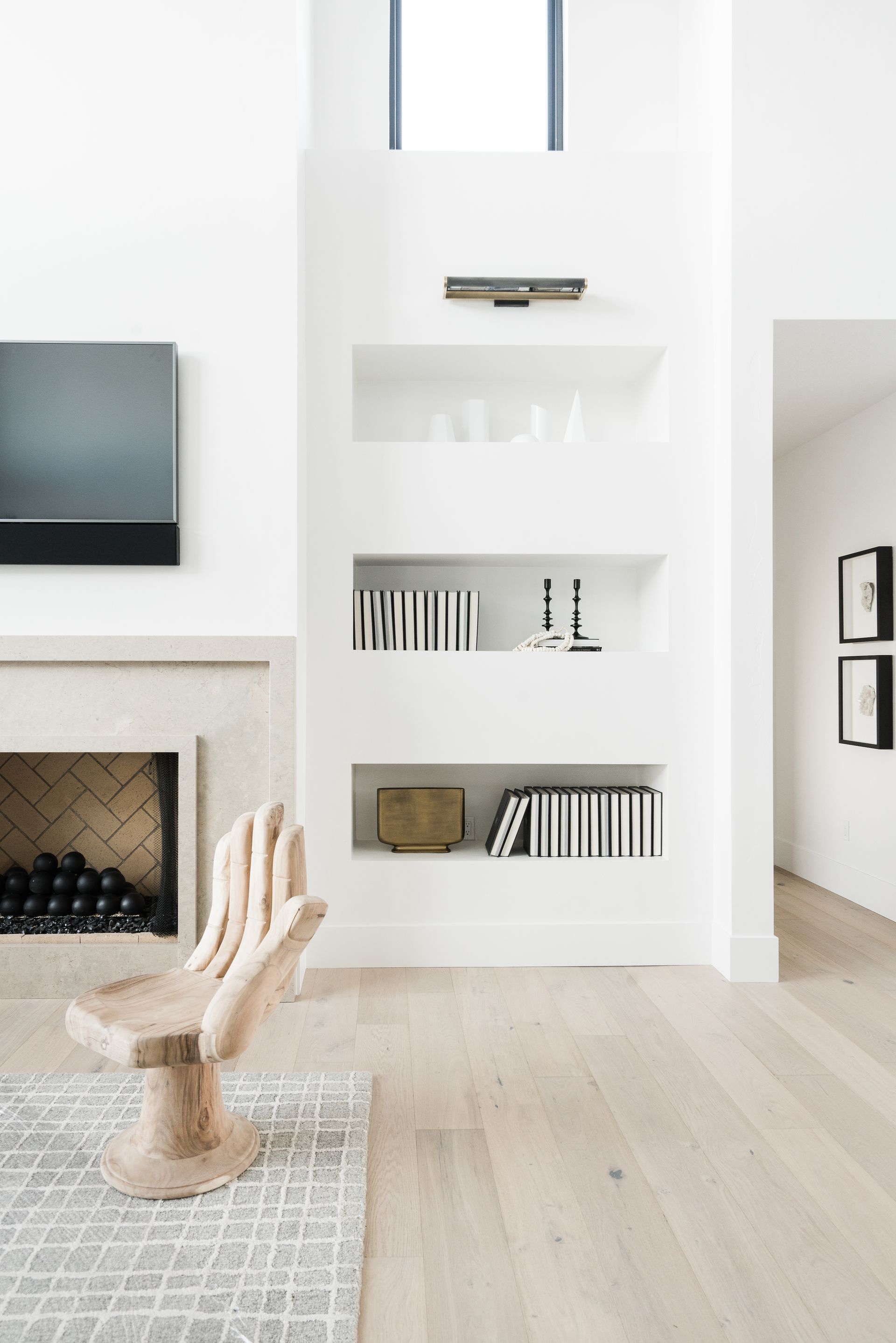 Storing books can be a challenge when it comes to minimalist living rooms, but there are some tricks you can use to keep spaces feeling neat and streamlined.
'In a contemporary interior, consider arranging your books in blocks of color for an abstract effect. Alternatively, turn your books around, putting the spines to the back, to create a textural effect that works best with books you don't need to find in a hurry!' suggests Simon Temprell. 'If you are looking for something sleek and modernistic, you can cover your books with white craft paper and create a stylish antidote to the traditional library.'
11. Add texture with vintage books
Vintage books are perfect for bringing a traditional feel and decorative interest to any room. With their leather-bound and faded canvas covers, complete with foiled lettering and timeworn patinas, vintage books have beautiful texture that can really enrich a space.
12. Use books to add color
When thinking about using books for styling, select colors that work with your existing decor and paint choices – tones that sit opposite each other on the color wheel can work particularly well together, as demonstrated in this project by Sims Hilditch.
'Books are a great opportunity to help personalise a space. A selection of favourite coffee table books styled on an ottoman, or old classics slotted into a wooden bookshelf work well,' says design director Louise Wicksteed.
'You might also be able to use books to inject notes of color into a space. We used books with a terracotta spine in the north facing study of our regency townhouse project. These sit in nice contrast with the smoky blue paint that we used on the joinery.'
13. Get creative with bookshelf ideas
Why not. bring an element of fun to your book storage ideas by trading in the traditional bookcase for out-of-the-box repurposed shelving?
An old ladder can make for a characterful long bookshelf perfect for a farmhouse kitchen as demonstrated here. Alternatively, fitting vintage wooden apple crates to the wall would also bring a rustic feel.
How do you stack books as decorations?
Stacked books are a brilliant decorative tool for styling shelves and make a good starting point for a display as they help bring structure and provide mini podiums on which to showcase decorative objects. For best results arrange piles in odd numbers and in size order from largest to smallest.
'I love stacking books in different directions, horizontally and vertically. I first fill the shelf or shelves with all books, in different directions, organized in a few different ways, in a few groupings,' says New York based interior designer Tina Ramchandani, 'I then fill in with all the fun stuff – accessories, picture frames, art and plants.'
'After styling I always step away, and come back after some time to evaluate my work. I tend to remove a few things before it's complete. Less is always more!' she adds.
How do you decorate with a lot of books?
If you have a lot of books then making them look visually pleasing can be a challenge. A bespoke floor-to-ceiling bookcase is a good way to keep books organized, but can also make a decorative accent wall, too bringing texture and a welcoming feel to interiors. Consider arranging the books order of size and color to make the shelves look easier on the eye.
Alternatively, 'mixing decorative objects and plants in with your books will help to create a more casual feel and will bring a lot of interest to the shelves,' says Simon Temprell. Or, 'if you are short on space and your shelves are already crammed full, try adding artwork that can hang in front of the books, treating the bookshelves as wallpaper,' he adds.
Making large book collections look visually appealing can be tricky – to make them look easier on the eye try covering the books, suggests interior designer Joanna Wood.
'I have been known to cover books with cartridge paper so they all match, but it does require a lot of organisation about what goes where and you need a very good memory! Whenever I've done it I've color coded novels, reference books and historical books in different colors.'
Sign up to the Homes & Gardens newsletter
Decor Ideas. Project Inspiration. Expert Advice. Delivered to your inbox.
Pippa is Content Editor on Homes & Gardens online contributing to Period Living and Country Homes & Interiors print issues. A graduate of Art History and formerly Style Editor at Period Living, she is passionate about architecture, creating decorating content, interior styling and writing about craft and historic homes. She enjoys searching out beautiful images and the latest trends to share with the Homes & Gardens audience. A keen gardener, when she's not writing you'll find her growing flowers on her village allotment for styling projects.