Farmhouse curtain ideas – 10 beautiful yet rustic window treatments
Dress windows beautifully with these inspiring farmhouse curtain ideas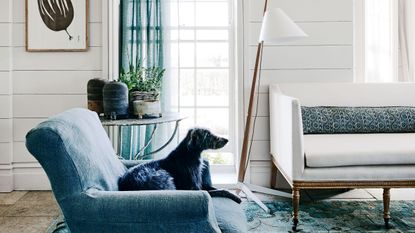 (Image credit: Michael Sinclair / Future)
The window treatment is a major element of the soft furnishings in any room. And, as our farmhouse curtain ideas reveal, there are a whole host of ways you might dress the windows around a home of this style.
The modern take on the farmhouse look creates schemes slick enough to suit contemporary lifestyles and uses a controlled palette of colors, but it incorporates the comfort, coziness and natural elements drawn from traditional country style in a happy marriage.
Likewise, the window treatments in a farmhouse style home should deliver in terms of functionality but be part of a well thought-out range of fabrics, colors and patterns, and aficionados of modern farmhouse ideas will be inspired by our choices.
Farmhouse curtain ideas
Let our favorite farmhouse curtain ideas inspire your window drapery design whatever the proportions and location of your window.
1. Frame the view with curtains
The farmhouse decor ideas you opt for should take into account the assets of the property, and if the view from the window is fabulous, use curtains that frame the outlook.
Make sure the curtain rod is long enough for the curtains to hang either side of the window when they're open rather than obscuring any of the glass. Opting for a simple neutral fabric, meanwhile, fits the fuss-free nature of modern farmhouse style, and keeps the focus on the outside. If you want to boost the luxe of the window treatment, let them break on the floor whether they're hung in a bedroom, living or dining space.
2. Opt for embroidered curtain fabric
Don't shy away from creating contrast with other fabrics and materials when you're considering farmhouse curtain ideas. Pattern and color as part of a considered palette will make a space cozy, but keep it looking modern.
'The Cowtan & Tout embroidered drapery fabric sets the tone for this master bedroom,' says Sarah Eilers of Lucas Eilers Design Associates (opens in new tab). 'The draperies are constructed with a soft pleat at the top sewn to a 2 inch ring that glides smoothly over the iron rod operated by an acrylic wand that's attached to the ring on the leading edge. They are lined and interlined with a layer of black chintz added to darken the room. The design of the curtains adds contrast and depth to the ambience and when open, you have a great view of the client's ranch property.'
3. Add a pop of color
Many modern farmhouse living room ideas include sheer curtains, but consider versions with color as well as white and off-white drapes. The fabric will still allow light through to keep the space daylight filled while preventing glare and helping protect furnishings from the sun.
Hues repeated from nature are great choices whether as rustic curtain ideas or to bring that ambience to city homes. Here, the blue of the curtain echoes the shade of the armchair and the area rug, and it is set against a white wall for an effect that's fresh.
4. Fall for linen
A natural fabric with great drape, linen is a favorite for farmhouse curtains. If you like the idea of using it, take a lead from founder and lead designer of Maggie Griffin Design (opens in new tab) Maggie Griffin who chose a shade of the fabric close to that of the walls that results in a subtle layering of neutrals.
'With a client's desire to have an elevated farmhouse interior, we chose a great, lightweight but textural oatmeal linen to complement her space against the crisp white walls,' she says. 'I chose this particular drapery to add a sense of softness and balance in the large living room.'
5. Keep curtain heights consistent
In a room with more than one window and where they're not all set at the same height, position the curtain rods at the same level. In this scheme by Creative Tonic (opens in new tab) each rod is aligned with the one above the room's tallest window. Taking this approach avoids the choppy effect that would otherwise be created by the various starting points.
Even if there's only one window in a room, hanging a curtain rod closer to the ceiling than the window will make the window seem taller. And in a farmhouse with a vaulted ceiling, it will draw the eye upwards to appreciate the room's loftiness.
6. Pick a nature-inspired pattern
Farmhouse curtain ideas can be employed to dress even dramatically large windows like the double-height version in this living space, and the treatment accentuates its grand proportions.
'We custom-made drapery from printed Thibaut fabric with this beautiful nature-inspired pattern that brought the elements of nature throughout the home together into this textile,' explains interior designer Nancy Charbonneau of Charbonneau Interiors (opens in new tab). 'To me, "farmhouse" is all about being inspired by nature and the organic.'
7. Bring in interesting curtain detail
While rustic curtain ideas may often be simple, consider adding detail that makes an impression. One way to do so is to opt for a leading edge – a border for the middle of the curtains, as in this room by Creative Tonic (opens in new tab).
Choosing a green patterned fabric makes the link with the outdoors typical of farmhouse style, and links the window treatment to the upholstery of the armchair, too.
8. Dial up on detail
Creating a restful scheme is one of our favorite farmhouse bedroom ideas but be inspired by this room which dials up the detail with the choice of curtain fabric.
'I loved how the pattern on the drapes turned up the style in this space,' says Elizabeth Krueger of Elizabeth Krueger Design (opens in new tab). 'It was a little unexpected given how serene the rest of the finishings are, but I thought it showed off how cool the clients are. It elevated the room while still creating a calm atmosphere for the space.'
9. Let historic detail shine out
Look for farmhouse curtain ideas sympathetic to the features of the property as well as those that are both beautiful and functional in their own right.
'I love these sheer linen panels in a variety of settings, but they are especially effective in this historic home,' says Lauren Ramirez of Lauren Ramirez Interiors (opens in new tab). 'They provide a little privacy and light blocking, but still allow you to see and appreciate the original wood window trim and turn of the century leaded glass panel imported from Switzerland.'
10. Choose a contrasting curtain lining
One of our favorite farmhouse curtain ideas that's wonderfully simple yet adds a decorative surprise is to line them with a second fabric. It's an ideal strategy for curtains that are required to maximize privacy – perhaps in bedrooms or living spaces that are overlooked.
A plain for the interior of the room along with organic pattern as the second fabric is perfect for farmhouse style schemes, and the curtains can be held back to show the contrasting fabric when they're open during the day. Meanwhile, when they're closed, it can be seen from outside the home, adding decorative detail.
What are farmhouse style curtains?
Farmhouse style curtains are often simple in style, showcasing the wonderful drape of the natural materials from which they are frequently made. Linens are a favorite and can be contrasted with velvets elsewhere in the room to add interest to the scheme. Sheers are also popular to gently diffuse light that comes into the room.
However, patterned fabrics can also complement farmhouse style homes, adding elegant detail to a room scheme. Look for natural motifs, or those with soft organic patterns.
Farmhouse curtains look best finishing elegantly at floor level, or you could add to the drop so that they break on to the floor for an extra lavish look.
What color curtains go with farmhouse style?
Neutral colors are often preferred in farmhouse style schemes. Sheer white curtains are classic, along with drapes in white, beige and gray. However, nature-inspired shades can also add a colorful accent to neutral room schemes. Patterned fabrics aren't off the agenda with their shades echoed in other soft furnishings, artwork or decorative accessories.
As an alternative to all-over pattern or color consider adding extra detail to plain neutral curtains with a patterned leading edge or lining that contrasts with the curtain.