I'm a shopping writer − here's where to buy the best curtains
Forget the specialist stores. These top home retailers stock the prettiest panels and the most dramatic drapes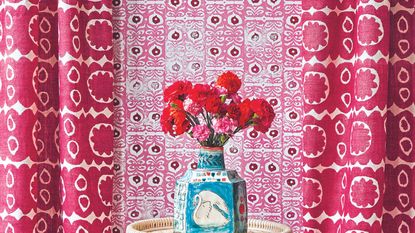 (Image credit: Homes & Gardens)
Curtains create a shield between your room and the rest of the world. When they're closed, they can filter out light, heat, noise, and prying eyes to keep you cool and comfortable. The best curtains are pretty but practical, and look just as good tied back as pulled shut.
There are sheer curtains to let the light in and blackout drapes to block it. Cotton curtains are durable and breathable, while velvet curtains have theatrical flair. There are so many types of curtains, sold in so many home stores, that it can be hard to know what is and isn't quality.
That's where I come in. As a shopping writer and an interiors enthusiast, I'm paid to follow curtain ideas and keep track of where they're coming from. I've spent hours scouring the sites of the top home retailers to assess their curtain selections. Here are a few of my favorites from each store to make your search that much easier.
Whether you want something light-filtering or room-darkening, cool and classic or ultra-modern, you'll find it at one of these stores.
Best places to buy curtains 2023
1. West Elm
A simple search for 'curtains' on the West Elm website yields over 130 results, including listings for curtain rods and hanging hardware. Luckily, there are some highly specialist filters to help narrow the search. You can shop for curtains by material, ranging from breathable cotton to plush velvet. There's also an option to set your preferred opacity and pattern. Best of all, you can fix your budget down to the dollar with a sliding scale, so that you only see the products within your price range.
Worn Velvet Blackout Curtain
+Great for nurseries and bedrooms
-Less suitable for smaller windows
These lush curtains are lined with black-out fabric to block out light and noise.
European Flax Linen Curtain
+Made from natural materials
-Limited size options
Each curtain panel is woven from premium flax, which is renowned for its thermoregulating properties.
2. Ashley HomeStore
Ashley should be your first port of call for patterned curtains. Where most stores only distinguish between 'plain' and 'patterned', Ashley offers curtains that are floral, damask, geometric, striped: the list goes on. You can even sort by star rating, so that you only see the curtains that have been bought and loved before. Ashley's curtains are pretty reasonably priced, with the vast majority costing less than $200, though it isn't possible to set and stick to your own budget. The biggest downside is the limited selection of sizes: most of these curtains are exactly 84 inches long and 50 inches wide.
Lauren Room Darkening Curtain
+Room-darkening
-Limited size options
Decorated with dainty florals, these curtains make a sweet statement. They're great for kids' bedrooms.
+Fully lined
-Dry clean only
These richly patterned curtains are straight off the stage and offer a dramatic drape.
3. Wayfair
Wayfair has one of the widest ranges of any home store on the market. There are over 50,000 results for 'curtains' alone. There's breadth to their selection, for sure, but there's depth and specificity, too. Wayfair offers no fewer than five light-filtration options and four hanging styles for their curtains. You can shop for curtains with special features, such as thermal insulation and water-resistance. While these curtains aren't made to measure, Wayfair's precise length and width filters get you pretty close.
Signature Velvet Curtains
+Blackout
-Curtain hooks not included
You can hang these curtains from their back tabs for a fixed ripple look, or from a rod using the pocket.
Atlantic Ombre Curtain Panel
+Machine-washable
-Sheer
These sheer curtains filter light beautifully without bringing total darkness.
4. Pottery Barn
If you're dressing French doors - or any type of larger windows - you'll appreciate the length of the curtains at Pottery Barn. Some of these drapes are over 180 inches long. That's more than fifteen feet of material. Pottery Barn stocks all styles of curtain in all kinds of opacity, from total blackout to sheer and shimmering. Anyone who knows how to hang curtains can shop by specific hanging styles, including rod-pocket, ring-top, and ultra-modern grommet curtains. All that's missing is a bit of color: most of these curtains have a cool blue or neutral base.
+Three hanging options
-Iron for best results
These blackout curtains are designed to filter light, mute sound, and save energy.
+Three hanging options
-Dry clean only
Sheer curtains never go out of style. They're light, airy, and best placed in solariums and sunrooms.
5. Anthropologie
Of all the curtain retailers on this list, Anthropologie has by far the best selection of colors. There are bright yellows, hot pinks, and sunny oranges to choose from, in addition to the ordinary ivory and cool blue shades. With plenty of panels under $100, and only a few creeping over the $200 mark, Anthropologie's offering is fashion-forward and relatively budget-friendly. However, it helps to know what you're looking for. Anthropologie's search filters aren't the most specific. If you're prepared to sift, you can find some great pieces.
+Chic semi-sheer opacity
-Hand wash only
These blush pink curtains are decorated with tassels for a fun texture and color contrast.
Embroidered Flemming Curtain
+Machine-washable
-Light-filtering rather than room-darkening
Since these curtains come in navy, ochre, and fuchsia, they can blend into the background or stand out from the wall, as suits you.
6. Lulu & Georgia
Lulu & Georgia's curtains are on the more expensive side. Most of their pieces sit somewhere between $100 and $300, with a few inching towards the $500 mark. However, many of these curtains are made from expensive materials like plush velvet or smooth silk, and all in a range of warm neutral tones. Lulu & Georgia combine delicate materials with durable design: these curtains are breathable, absorbent, and a few are even fade-resistant.
+Hanging hardware included
-Dry clean only
Decorated with subtle stripes, these curtains should blend beautifully with neutral color palettes.
Taylor Light Filtering Panel
+Fade-resistant
-Hanging hardware required
These curtains are lined with fade-resistant fabric, so they'll look good for longer.