How to wash and care for curtains and drapes – the right way
Fabrics can be fragile – so avoid damage with these expert techniques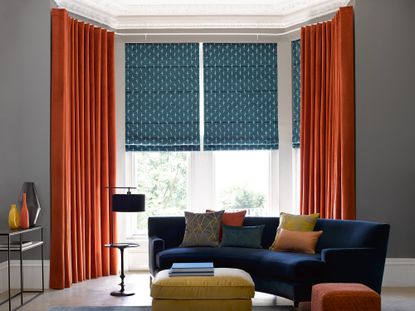 (Image credit: Thomas Sanderson)
Wash and care for curtains and drapes the wrong way and you can ruin them. No exaggeration. And while you may wash curtains much less often than upholstery or flooring, they do need doing at least once a year, because they gather dust and greasy finger marks. And, if you share you home with animals, fur can stick to them, too.
Of course, you might spot clean curtains and drapes throughout the year, but how do you wash them without damaging or shrinking the fabrics?
Sadly, there isn't a single answer to this question, because different fabrics require different treatments. Here, we explain how to wash and care for both curtains and drapes, what you should and shouldn't do, as well as advice on the regular care you should undertake. We also explain the supplies you might need to make room for in your laundry room.
How to wash curtains
Curtains are often unlined flat panels, which make them less complicated to wash. These are the steps to take.
Check the care label
Before addressing the issue of how to wash curtains, it's important to point out that not all curtains can be washed. Always check the laundry symbols on the care label for guidance, and don't risk straying from them. If yours can't be machine washed, they will need to go to professional cleaners for laundering.
Vacuum your curtains and drapes
This should be part of your regular curtain care routine anyway, and a must if you can't machine wash yours, but should always be part of the preparation for washing the, too.
'If you can wash the curtains, vacuum off any dust and grime beforehand,' advises Kelly Simpson, senior director of design and innovation at Budget Blinds, experts in blinds, shades, shutters, and drapes.
Remove the fixings
If the curtains can be machine washed, remove hooks and weights and loosen tapes so they are flat before putting them into the washing machine.
Select the right wash cycle
'Use a moderate cycle with a light detergent and cold water for machine-washable curtains,' says interior designer Artem Kropovinsky, founder of New York-based interior design studio Arsight. 'Avoid using bleach or fabric softener, since they might harm or fade the fabric.'
The label might stipulate that the curtains can be washed but that this should be done by hand. 'Curtains that must be hand-washed can be cleaned the same way you wash delicate clothing,' says Kelly.
Hang to dry to avoid creasing
Kelly recommends hanging curtains to dry after washing. 'Once dry, lightly iron or steam to remove wrinkles.'
How to care for curtains
Vacuum regularly
To care for curtains, make sure to vacuum them regularly as this will rid them of the dust that naturally accumulates in any room, along with any pet hair in homes with animal companions resident. A vacuum for pet hair is always going to make the best job of that.
To vacuum the curtains use the upholstery tool and low suction. 'Start by closing your curtains fully, then gently brush the attachment over the front of the curtains,' says Yvonne. 'You'll get the best results by moving from the top to the bottom, paying special attention to the edges. Then repeat on the linings or reverse side of your curtains.'
Pay attention to the hemline
'The bottom edges of your curtains are the first to show the dirt as they rest on the windowsill or floor, which collect dust,' says Yvonne Keal, senior product manager at Hillarys. 'By regularly dusting and vacuum cleaning your windowsills and floor coverings, you'll help keep your curtains and curtain linings free from dust and dirt.'
How to wash drapes
It's likely that your drapes are of thicker material than your curtains, and they may be lined, too. This makes washing more complicated.
Check the care label
It's not the rule that you can wash drapes. 'If fabric is washable, follow manufacturer's care instructions or use cool water, gentle cycle with a mild detergent and hang to dry; iron while still damp,' says Kelly Simpson. 'If drapery is lined, be sure both face fabric and lining are washable.'
Consider dry cleaning
It's an issue on which experts are divided. 'Some recommend dry cleaning; others, like Budget Blinds, do not,' explains Kelly. 'The exotic and luscious fabrics that make up many custom drapery treatments can shrink if dry cleaned.
'Ultrasonic or injection/extraction cleaning with a reputable, professional blind and drapery cleaner is an option. Professional cleaners use a variety of methods to clean window coverings and can vary in their capabilities. (Recommendations from friends is a good place to start, as well as online reviews.) Before you trust your window coverings to any cleaner, know the fabric content you're dealing with and how it will react to cleaning.'
How to care for drapes
Vacuum regularly
Like curtains, drapes will benefit from regular vacuuming which, says Kelly Simpson, is usually sufficient to keep them in beautiful condition.
Watch for dust hot spots
'Pay close attention to the top of the drapery, front and back since dust and dirt tend to settle in the pleats and gathers,' says Kelly. And if they're not hard to detach, 'you can take them outside and shake them for a good dusting'.
Pay attention to the hemline
Again, the bottom of a drape, and the areas you touch when you pull them back and forwards, or where you brush past them, are subject to the most wear, and therefore dirt. Spot cleaning regularly will help maintain them.
Should curtains be washed or dry cleaned?
Whether curtains should be washed or dry cleaned depends on the care label. It may specify that the curtains can be machine washed, or that they should be handwashed, so be sure to follow these instructions to keep the curtains in good condition.
If the manufacturer specifies, curtains can be dry cleaned. But experts recommend letting the dry cleaner know if they have a blackout or thermal lining as these need a special treatment.
Bear in mind that you could clean with a steamer, which will get rid of wrinkles, too. 'Start at the top and work in large sweeping movements to the bottom of the curtains,' says Yvonne Keal, senior product manager at Hillarys. 'While your curtain is still slightly damp, you can finish off the look by smoothing out any creases and creating neat folds in line with how the curtain hangs.'
What happens if you don't wash curtains?
If you don't wash curtains, dust and dander accumulate, aggravating the symptoms of allergies. The fabric might also absorb odors.
'As an interior designer, I would recommend washing or having your curtains professionally cleaned at least once a year, or more regularly if they are in a space that gets a lot of use or gets a lot of natural light,' says Artem Kropovinsky, founder of New York-based interior design studio Arsight.
Be mindful that you should keep on top of dust and dander by regularly vacuuming curtains, and the best steam cleaner can freshen them up periodically, too.
Sarah is a freelance journalist and editor. Previously executive editor of Ideal Home, she's specialized in interiors, property and gardens for over 20 years, and covers interior design, house design, gardens, and cleaning and organizing a home for H&G. She's written for websites, including Houzz, Channel 4's flagship website, 4Homes, and Future's T3; national newspapers, including The Guardian; and magazines including Future's Country Homes & Interiors, Homebuilding & Renovating, Period Living, and Style at Home, as well as House Beautiful, Good Homes, Grand Designs, Homes & Antiques, LandLove and The English Home among others. It's no big surprise that she likes to put what she writes about into practice, and is a serial house renovator.