Best steam cleaners and steam mops – 5 buys for a spotless home
Steam cleaners and steam mops make cleaning your surfaces chemical-free easy and convenient. These are the top buys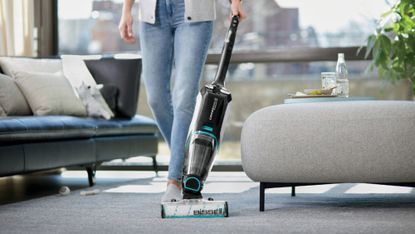 (Image credit: Bissell)
Cleaning your surfaces has never been easier with these convenient and chemical-free steam mops and mopping alternatives. It's one of our favorite ways to clean and sanitize our homes.
Long gone are the days of mopping on your hands and knees, and rightfully so. Cleaning your floors with a mop and bucket isn't only time-consuming, it can also be unsanitary. Thankfully, there are great alternatives: steam cleaning and powerful mop substitutes. Using ultra-high heat, steam mops lift tough grime without the use of chemicals – perfect for households with children and pets.
If you prefer a mop that doesn't require preheating, we've also included two equally impressive steam mop alternatives. With thoughtfully designed mop heads that attract dirt (and no rinsing required), these gadgets offer a far less labor-intensive option than traditional mopping. While sparkling floors are the ultimate goal, we've taken other factors into consideration. Are the floors left wet and streaky? Can the steam mop tackle set-in stains?
After reading hundreds of reviews, and testing steam mops and cleaners of all shapes and styles, we're ready to share our results. Below you'll find our list of the five best steam cleaners, picked just for you.
Top off your cleaning routine with the very best cordless vacuums for one supremely clean home.
1. Black+Decker 7-in-1 Steam-Mop
Best steam cleaner, overall
Specifications
Cord Length: 20ft.
Water tank: 19.6oz.
Heat up time: 20 seconds
Weight: 6lb.
Reasons to buy
+
Quickly preheats
+
Great attachments
+
Wide range of uses
Not only does this Black+Decker steam mop tackle floors and most surfaces, it also preheats within seconds. Wondering why it's called the "7-in-1" mop? Equipped with a team of practical accessories, it can do a lot more than leave your floors sparkling.
Other notable uses of this Black+Decker steam mop include cleaning grout, steaming kitchen cabinets and cleaning small spaces such as faucets. Built-up mildew in the shower disappears in seconds, no bleach necessary. Sanitizing dirty spaces has never been easier, or faster. Also included in the accessory pack is a fabric steamer. We tested this ourselves, and can confirm that it releases wrinkles in no time. Did we mention this steam mop transforms into a handheld device? Perfect for countertops and stairs, this compact attachment is easy to remove and just as tough on dirt.
Thanks to its myriad of uses, this Black+Decker steam cleaner easily takes home first place for 'Best Overall'.
2. Bissell CrossWave Cordless Max
Best all-purpose steam cleaner
Specifications
Cord Length: Cordless
Battery Runtime: 30 minutes
Water tank: 28 oz.
Dust bin: 18.6 oz
Heat up time: N/A
Weight: 11.5 lb.
Reasons to buy
+
Simultaneously mop and vacuum
+
Great for corners and crevices
+
Effectively picks up hair
+
Self-cleaning function
Reasons to avoid
-
Mild mildew odor even after self-clean cycle
This self-cleaning Bissell CrossWave model is top-rated, and for good reason. With cordless capabilities and an impressive battery life, it cleans exceptionally well. Built with Bissell's 'Two Tank Technology,' the CrossWave separates dirty water from clean, eliminating concern for cross-contamination. Not only does this model mop floors, it's also suitable for area rugs. While several competitors struggled to reach corners and tight spaces, the Bissell's high-strength vacuum cleaned every crevice. Noted in countless reviews, this is a great option for pet owners, as it effectively picks up pet hair and dander. The brush's unique material prevents hair from getting tangled, helping maintain the integrity of the mop and vacuum.
Floors dry almost instantly with the ultra-absorbent brush roll, preventing any annoying streaks. For quick cleanups, you can conveniently run the vacuum without using the mopping feature. When it's time to put the Bissell away, the self-cleaning cycle assures your appliance is ready for the next clean by separating dirt and debris to an easily removable tank.
3. Hoover FloorMate Deluxe Hard Floor Cleaner
Best steam cleaner for hard floors
Specifications
Cord Length: 20 ft.
Water tank: 48 oz.
Heat up time: N/A
Weight: 13.8 lb.
Reasons to buy
+
Streak cleaning
+
Washes and dries floors
Reasons to avoid
-
Not suitable for deep cleaning
-
Limited Uses
Nothing is worse than streaky floors, which is why this Hoover FloorMate left us super impressed with this steam mop's ability to wash and dry floors, while separating the dirty water from the clean. So often, floors are left cloudy and dull, but not this time. Particularly noteworthy was the shine the FloorMate Deluxe steam mop left without any use of polish.
If time is limited, the Hoover FloorMate Deluxe is a solid choice. Equipped with a large mop head, this steam mop covers a large area quickly and efficiently. The dual water tanks do a brilliant job separating the dirty water from clean, and are notably easier to remove and clean than alternatives.
Hoover's distinctive SpinScrub technology was designed to rotate, gently cleaning stuck on messes. Unfortunately, gentle may be the key word there. A recurring complaint amongst reviewers is weak scrubbing power. If pre-treating isn't an option, it may be best to opt for an alternative for heavy messes. As a reminder, the Hoover FloorMate is intended for use only on sealed floor surfaces.
4. McCulloch MC1275 Canister Steam Cleaner
Best steam cleaner for deep cleaning
Specifications
Cord Length: 15'
Water tank: 48 oz.
Heat up time: 8 minutes
Weight: 9.95 lb
Reasons to buy
+
Industrial strength deep-cleaning
+
Effectively cleans grout
+
Up to 45 minutes of uninterrupted cleaning
Reasons to avoid
-
Takes nearly 10 minutes to heat
-
Attachments tricky to connect
-
Requires adequate storage space
The McCulloch MC1275 comes in hot. Heating to 200°F (a whopping 80°F above most other steam mops), the MC1275 effectively sanitizes all surfaces, from hardwood floors to barbecue grills. Equipped with 18 accessories, this McCulloch steam cleaner was built to tackle tough jobs. The long list of cleaning capabilities includes: sealed floors, granite, grout, grills, car interior and exterior.
Weighing in under 10 pounds, the McCulloch steam cleaner is lightweight and portable, too. Concerned about reach? Don't be. The power cord measures nearly 16 feet, allowing you to keep cleaning without worrying about finding a new outlet. Because the cords are not removable, this McCulloch steam mop does require slightly more storage space than upright appliances.
5. Shark Genius Steam Mop Pocket Mop System
Easiest to use steam mop
Specifications
Cord Length: 22.4ft
Water tank: 7.4oz.
Heat up time: 8 minutes
Weight: 5.96lb
Reasons to buy
+
Steam blaster tackles tough messes
+
Fast heat up
+
No frills, easy to use
Reasons to avoid
-
Swivel head is hard to control
-
Steam mop can't stand on its own
We're confident Shark named this the 'Pocket Mop' thanks to its impressively lightweight and portable design. Ready to plug in and go, we found this Shark Genius Steam Mop pretty much self-explanatory. After testing a handful of times, it's safe to say sometimes simplicity reigns supreme.
Although simple, she's mighty. With three steam settings, the Pocket Mop is perfect for everyday use, or large clean-ups. One particularly useful feature is Sharks' trademarked Steam Blaster technology. Stuck on grime stands no chance against the concentrated blast of steam, designed to lift even the toughest of messes. After just one pass of the steam mop, no evidence remained of the muddy footprints in the laundry room. Made with ultra-absorbent fibers, the mop pads did a great job picking up dust in addition to mopping.
Included with the Shark Genius Pocket Mop are two machine washable mop heads, and a triangle scrubber head perfect for corners. Both are easily removed with the touch of a button, minimizing contact with the dirty pads. Boasting a slim and sleek design, you can clean your whole house without breaking your back.
How to choose the best steam cleaner or mop for your needs
You can trust Homes & Gardens. Our expert reviewers spend hours testing and comparing the latest products, helping you choose the best for you. Find out more about how we test.
Steam mops come in varying styles and sizes, with a wide array of uses. Depending on how often and where you'll be using your new appliance, we recommend taking the following into consideration:
Cord length: How large is your space you'll be cleaning? There is a big difference between 16' and cordless. If you're planning on cleaning your entire home, we recommend going cordless to avoid interruption. Searching for outlets can be a time-consuming task, but cordless options are usually more costly.
Water tank: If you're cleaning a large space, this determines how often you'll have to replace the water. If you have a large home, you will undoubtedly find a larger water tank is better suited for your needs. Living in a studio apartment? This shouldn't be much of a concern.
Weight: The weight of a mop is especially important if you'll be lugging it upstairs or around your home. There are many lightweight options, such as the Shark Pocket Mop, which are great for those who prefer portability.
Attachments: Mops such as the McCulloch MC1275 come standard with an array of attachments. Many of the mops above include add-ons designed to tackle virtually anything, ranging from cleaning BBQ grills to steaming clothes. If you're looking for an all-purpose cleaner, this is the way to go. If, however, you prefer simplicity, don't fret. There are loads of options prepared to clean just as thoroughly.
A few tips for steam cleaning
It's always a great idea to vacuum prior to mopping
Never leave a steam mop unattended, this can lead to permanent damage on surfaces
Assure floors are dry as excess water can cause swelling, particularly in laminate
Do not use high heat and water on unsealed surfaces
Using a steam mop improperly can cause discoloration and warping
Sign up to the Homes & Gardens newsletter
Decor Ideas. Project Inspiration. Expert Advice. Delivered to your inbox.
Midwestern product tester and writer Courtney Irwin is a working mom of three who loves nothing more than a good deal. Equal parts entrepreneur and family-gal, she believes hard work deserves to be celebrated. Oftentimes in the form of a new gadget or sun-filled vacation! When she's not on the hunt for the next big trend, you can catch her in her kitchen, cooking and testing appliances.