Vaulted ceiling ideas – 11 dramatic design ideas for your ceiling
Add space, grandeur and beautiful architectural detail to your home with our vaulted ceiling ideas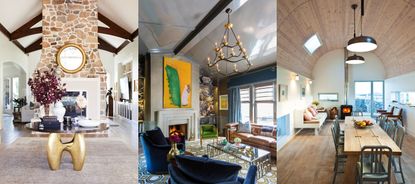 (Image credit: Jessica Bennett of Alice Lane Interior Design, photography by Nicole Gerulat | Creative Tonic Design | Future )
Our vaulted ceiling ideas explore the magnificent design opportunities and varied vaulted styles that stem from this historic construction technique.
A vaulted ceiling is where a ceiling angles upwards towards the roof, creating a self-supporting arch above the walls. A dramatic design feature for ceiling ideas that can add height and space to a room, vaulted ceilings have been used in architecture for centuries, with many original designs used on grand buildings such as cathedrals.
As styles and engineering techniques have developed over time, there are a range of looks for vaulted ceiling ideas. Many traditional designs showcase the beautiful bones and materials of the house, defined by exposed woodwork and beams. However, more modern designs are often enhanced by paneling, paint or skylights.
Vaulted ceiling ideas
Whether you are exploring vaulted ceiling ideas for a new build, or want to refresh your existing vaulted ceiling design, we have curated a collection of different looks, from the classic to the contemporary, to provide you with some beautiful inspiration.
1. Make a grand first impression
A vaulted ceiling can make for a beautiful and striking first impression as people step foot into your home.
As shown in this entryway by Kara Childress, the beamed, vaulted ceiling enhances the rustic, cabin-decor style. This vaulted ceiling greets you with the warmth and texture of wood, instantly showing you as you enter into this home the rustic style and materials that will be used throughout.
The beams on this vaulted ceiling also add shape and structure to the space, helping to lead and guide you through the entryway through a stylish, symmetrical design - a great look for beamed ceiling ideas.
2. Unite a vaulted ceiling with a feature fireplace
With the space and height that many vaulted ceilings provide, why not make the most out of this and incorporate a large, feature fireplace and chimney design.
In this beautiful, open-plan living area, designed by Jessica Bennett of Alice Lane Interior Design, the grand vaulted ceiling, finished with eye-catching, dark wooden beams, has been connected to a stunning stone fireplace.
'Thinking carefully about scale in interior design and ensuring that certain furniture pieces and design elements complement the size of your space is key for creating a balanced and harmonious design,' says Homes & Gardens' editor in chief Lucy Searle.
As shown here, the fireplace has been sized up to coordinate with the size of the room, with the design adding beautiful texture, shape and visual interest to this large open space.
3. Wow with white
Painting your vaulted ceiling white can not only create a clean and contemporary look, but it can enhance the feeling of openness and space in a room.
In this calming white bedroom by Elizabeth Krueger Design, a simple, white and gray color palette has been used throughout to create a tranquil and relaxing sleep space, great for neutral bedroom ideas. The vaulted ceiling, defined by sleek, wooden ceiling paneling and exposed beams, uplifts the space with added texture and depth, with the dark gray suspended ceiling fan adding an element of contrast.
A uncomplicated design that feels modern and luxurious, the vaulted ceiling in this bedroom adds welcoming character and an enduring design feature to the minimalist space.
4. Let the light in
The slanted design of a vaulted ceiling makes it the perfect place to house a skylight, allowing for you to maximize on the amount of natural light that comes into a room.
'Skylights can not only transform the look of your vaulted ceiling, creating eye-catching windows to the outdoors, they can transform how a room feels, as ensuring your home is filled with natural light is essential for creating a comfortable, relaxing space,' says Jennifer Ebert, Homes & Gardens' digital editor.
In terms of placement and quantities of skylights on your vaulted ceiling, groups of windows often look best. As shown in this contemporary kitchen by Lucie Ayres from 22 Interiors, the vaulted ceiling benefits from two sleek skylights, beautifully brightening up the kitchen space.
5. Get creative with your lighting
As we have discussed, a vaulted ceiling can really open up a room, creating space for dramatic, larger scale designs for your lighting and furniture.
Getting creative with your living room lighting ideas can not only create a unique, artistic display, but it can help draw the eye upwards to your vaulted ceiling, establishing an impactful and impressionable look.
In this room, designed by Creative Tonic Design, the hanging pendant display, beautifully suspended from the dark vaulted ceiling, shares the same color palette as the bright furniture, artwork and accessories, creating an elegant connection between the ceiling and the designs found in the rest of the room.
Whether you think cleverly about color and connection like in this room, or choose a modern, sculptural pendant to hang from a rustic vaulted ceiling, creative lighting designs can make for an intriguing and eye-catching design statement.
6. Make an impact with a barrel vaulted ceiling
We have explored many similar, angled vaulted ceiling designs, but for a real show-stopping look, a barrel vaulted ceiling can create a unique arched effect, with it's smooth, rounded construction creating a mesmerizing focal point.
The barrel vaulted ceiling in this open-plan new build has been cladded in whitewashed timber, creating a calming, Scandi-inspired look that feels relaxed, organic and inviting. With the wood adding warmth to the space, as well as the texture enhancing the shape and look of the barrel shape, this vaulted ceiling combines traditional construction techniques with a modern, minimalist style.
7. Make a statement with your ceiling
Many of us associate vaulted ceilings with more traditional, classic interior spaces, however, there is no reason why this striking architectural design feature cannot be brought into more modern spaces.
In this luxurious, eclectic living room by Creative Tonic Design, the vaulted ceiling has been finished in a striking, gray gloss paint, creating a metallic like shine and polished effect. Making a true statement of the ceiling for ceiling paint ideas, this gloss paint's high-sheen finish has a beautiful reflective quality, allowing for light to bounce around the surface.
Transforming the vaulted ceiling to create a unique feeling of interest and dimension om the ceiling, this contemporary room design unites a collection of contrasting materials, colors, styles and shapes to establish a one of a kind space.
8. Enhance a vaulted ceiling in a bathroom
For the vaulted ceiling in this bathroom, a large mirrored design beautifully frames the window and gable end wall, celebrating the beautifully arched shape in the space.
Making a beautiful design feature in this bathroom, the mirrored wall also increases the feeling of light and space in a room, perfectly complemented by the white paint on the ceiling, a great option for bathroom ideas.
Thinking about the space below your vaulted ceiling and how you can further enhance the unique arched design can create an eye-catching impact.
9. Benefit from the beauty and the warmth of wood
The timeless versatility, beauty and durability of wood make it an enduring feature and focus in interior design. Suited to both traditional and modern spaces, wooden ceiling cladding can bring in warmth, texture and color to a space, as well as beautifully highlight and show off your vaulted ceiling.
In this dining room from a project in Northern California by Kimberley Harrison Interiors, she says the overall goal for the space was to create, 'a modern and masculine design with textural elements to add warmth and visual interest.'
As shown in the space, an elegant juxtaposition is created between the wooden vaulted ceiling and modern furniture designs. The wooden panels lift the space with warmth and inviting texture, contrasting with the dark color palette and materials used throughout the rest of the room. The contrasting elements in this dining room work together to establish an elegant mix of the old and the new, united through sleek, simple shapes and an overall clean finish.
10. Use a mix of materials and finishes on your ceiling
In this traditional, rustic style kitchen by Lucas Eilers, the vaulted ceiling is defined by beautiful exposed beams and sleek white wooden paneling.
A simple yet stylish mix of wood finishes, the two-toned design complements the colors found in the brickwork on the walls and floor perfectly, creating a cohesive and united design that celebrates the beauty of exposed materials.
Finished with an elegant, black metal chandelier, this kitchen space feels cozy, welcoming and rich with material and tradition.
11. Create a low vaulted ceiling
Throughout this piece we have shown a range of beautiful, double-height vaulted ceilings, however, you can still create the same, stunning vaulted effect on a low ceiling.
As shown in this elegant, country cottage kitchen diner extension, the vaulted ceiling adds character and charm to the space, with the low ceiling height still in keeping with the cottage's original construction. With the white paint helping to make the room feel larger and brighter, benefiting also from the added skylights, this design shows how vaulted ceiling design can work wonderfully in smaller spaces too.
Are vaulted ceilings a good idea?
As we have explored, a vaulted ceiling can add drama, decadent visual interest and height to a space.
A great way to make the most out of wasted roof space, make a room feel bigger, or enhance the natural light coming into your home, they can also make for an impressive, architectural design feature.
Whether you're planning an extension or newbuild, or want to refresh a traditional design in a period property, vaulted ceilings can integrate into interiors of all ages and styles.
However, some view vaulted ceilings as an outdated due to their lack of energy efficiency and cost to build, so carefully consider your vaulted ceiling design and whether it can perfectly integrate into your home.
How do I get the most out of my vaulted ceiling?
There are many ways to make the most out of your vaulted ceiling. From refreshing a traditional design with uplifting paint or fresh wooden cladding, to incorporating statement lighting designs and skylights, your vaulted ceiling can provide a range of creative design options.
You want you vaulted ceiling to feel successfully unified with your overall design for a room, as after all, remembering to include this 'fifth wall' into your scheme will ensure for a well thought out, cohesive and successful design.
Sign up to the Homes & Gardens newsletter
Decor Ideas. Project Inspiration. Expert Advice. Delivered to your inbox.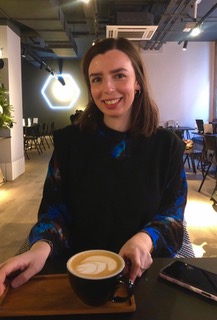 Zara joined Homes & Gardens in February 2022 as a Content Editor. After studying English Literature at University, she worked as an Ecommerce Website Editor, Content Writer and Buying Intern at multiple independent businesses within the luxury retail and lifestyle sectors. Her role at Homes & Gardens unites her love, experience and passion for the world of design and desire to create inspiring written content. She enjoys nothing more than discovering new trends, brands and products, whether that be in fashion, interior design or lifestyle.