Small bathroom lighting ideas
Clever small bathroom lighting ideas will boost the sense of space and add atmosphere in compact rooms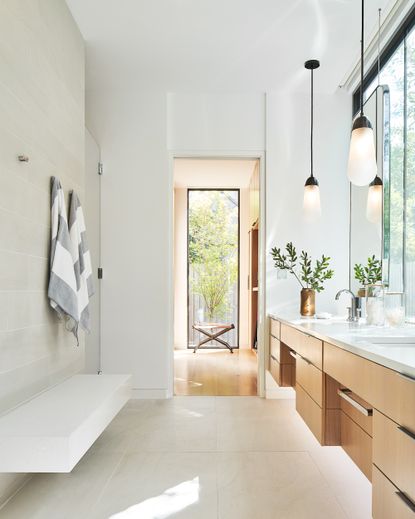 (Image credit: Jean Liu Design. Photography: Stephen Karlisch)
Sign up to the Homes & Gardens newsletter
Decor Ideas. Project Inspiration. Expert Advice. Delivered to your inbox.
Thank you for signing up to Homes & Gardens. You will receive a verification email shortly.
There was a problem. Please refresh the page and try again.
Really good small bathroom lighting ideas will make all the difference in a compact space, increasing the sense of volume and helping to make it feel larger. It will also help make the most of the room available by allowing you to adjust the mood according to the time of day – from bright light when you want an invigorating shower or to clean the room, to a soft glow for a relaxing mood as the day draws to a close.
There are many ways to introduce lighting into a small bathroom, from downlights in the ceiling to pendants, wall lights and low-level lights. A mix of lighting is always going to give you more options for your bathroom ideas – even an off the shelf mirror with built-in illumination can help reflect light and create a more spacious feel in the room.
Below we showcase the best small bathroom lighting ideas so that you can enhance your space.
Small bathroom lighting ideas
For small bathroom ideas that really tackle ways to make the space feel bigger, layered bathroom lighting is key:
'Try combining ceiling lights with indirect lighting in recesses and at floor level to open up the space and make the room feel as bright as possible,' suggests Jo Sangster, senior designer at Ripples. Use dimmer switches and different circuits, if you can, to allow you to control the brightness, softening the level to a gentle glow in the evening.
As with all small bathroom lighting ideas, for safety reasons it is important to use waterproof fittings that are specified as suitable for bathroom use– and use a licensed (qualified) electrician to carry out the installation work.
1. Add decorative detail with lighting
Decorative small bathroom lighting can add a touch of glamor, and it is particularly valuable in smaller spaces where it can add impact and personality to even the most streamlined of designs.
And, just because a space is small, you needn't think there's no room for bathroom ceiling lighting ideas – quite the opposite can be true, as in the room above, where beautiful teardrop-shaped pendant lights catch the eye in a bathroom by Jean Liu Design.
2. Borrow natural light in a small bathroom
An internal bathroom without windows can be made to seem larger and brighter by 'stealing' natural light from an adjacent room. In this ensuite bathroom designed by Gunter & Co, a glass screen separates the spaces, allowing light to flow from the bedroom into the ensuite.
The fluted glazing provides privacy as well as textural detail and design interest: note the contrasting vertical and horizontal fluted panels.
3. Layer the lighting in a small bathroom
If you want to make a small bathroom look bigger, layering of lighting – just as you would in a living space or bedroom – is a must.
In this room by SGS Design, LED bathroom lighting in the form of ceiling spots has been used to draw the eye to the perimeter of the room, enhancing the sense of space, as well as providing practical task lighting. Lights fixed on both sides of a wall mirror cast an even light across the face, ideal for applying makeup or shaving, while the mirror itself provides a reflective surface which also boosts a roomy feel.
4. Reflect light off of wall treatments
Textural materials can ramp up the level of interest in the smallest of bathrooms, especially if their surface is thoughtfully illuminated.
'A well-designed lighting scheme is key in a small bathroom,' says Sally Storey, creative director of John Cullen Lighting. 'Use directional downlights to bounce light off the mirror and on to your face and make simple tiles look expensive by skimming light down them in shafts,' she adds.
The same can be achieved with bathroom wallpaper, tiles and other textural wall treatments.
5. Highlight the features
In a compact space, it is especially important to plan bathroom lighting to make the most of its key features – and this is something you can highlight using clever small bathroom lighting ideas.
Waterproof LED spotlights in the floor can be used to highlight a focal point, such as a pretty bath, as shown in this design by West One Bathrooms. The subtle lighting provides a gentle glow, ideal for a relaxing bath in the evening.
6. Pair low level lighting with wall-hung furniture to enhance space
'By wall mounting vanity units and other furniture items, you open up the floor space and create a less cluttered look,' explains Jo Sangster, senior designer at Ripples. 'Pair wall hung fittings with low level lighting to maximize the effect.'
Low level lighting can also be used as an unobtrusive night light. Note, too, the subtle lighting behind the mirror in this bathroom – it's a practical addition but a subtle one that will create a welcoming glow, rather than the harsh light cast by an overhead bulb.
7. Light storage in a small bathroom
One of the latest bathroom lighting trends is to illuminate storage – and it's not just for practicality. Small bathroom storage ideas can include integrated lighting in drawers, which is convenient and practical, helping you see contents easily and quickly, especially important in smaller spaces with less natural light. This vanity is from the Edition Lignatur collection by Keuco, which features integrated lighting in all drawers as standard.
8. Light up a niche to create depth
A simple niche, cut into the wall of the shower, makes an ideal place to store soap and shampoo in easy reach. In this design from Lusso Stone, an LED strip, fixed at the top back of the niche, has been used to create a warm glow, which is both atmospheric and practical for illuminating the shower in the evening.
9. Add personality with small bathroom lighting
Smaller bathrooms need character to move focus away from the room size (or lack of it). 'All the hard surfaces in a bathroom can create quite a clinical feel, so I like to bring in fabric and color where I can to add softness and warmth,' says interior designer Sarah Vanrenen of Vanrenen GW Designs, who used pretty wall lights with fabric shades to complete this charming room.
10. Create even light to boost the feeling of space
In this bathroom by Pappas Miron Design, ceiling pendant lights echo the vintage style of the mid-century chest, re-purposed as a vanity. While the pendants add ambient light, they only light the top of the head of anyone looking in the mirror, so slender tube lights have been added to provide even facial illumination.
How do you light a small bathroom?
To light a small bathroom, ceiling downlights and wall lights can be used to draw the eye upwards and to the perimeter of the room, enhancing the sense of space, while reflective surfaces such as mirrors will help bounce light around to achieve the same effect.
A combination of lights on different controls will not only allow you to adjust the mood of the room according to the time of day, but will also allow you to show off specific features, such as a beautiful bath or vanity, which can make the space feel larger.
Love the idea of bathroom chandeliers? Only the subtlest of these designs will work in a small space.
How many lights does a small bathroom need?
When working out how many lights a small bathroom needs, consider both general lighting for tasks such as cleaning the bathroom and mood lighting on dimmer switches that can be softened when you want a relaxing soak in the tub. Ceiling downlights are a good option for general lighting or a ceiling pendant light can work well. Wall lights by the mirror, recessed lighting in a shower niche and low level lighting for night time are practical additions that can also draw attention to beautiful features in the room and boost the sense of space.
Sign up to the Homes & Gardens newsletter
Decor Ideas. Project Inspiration. Expert Advice. Delivered to your inbox.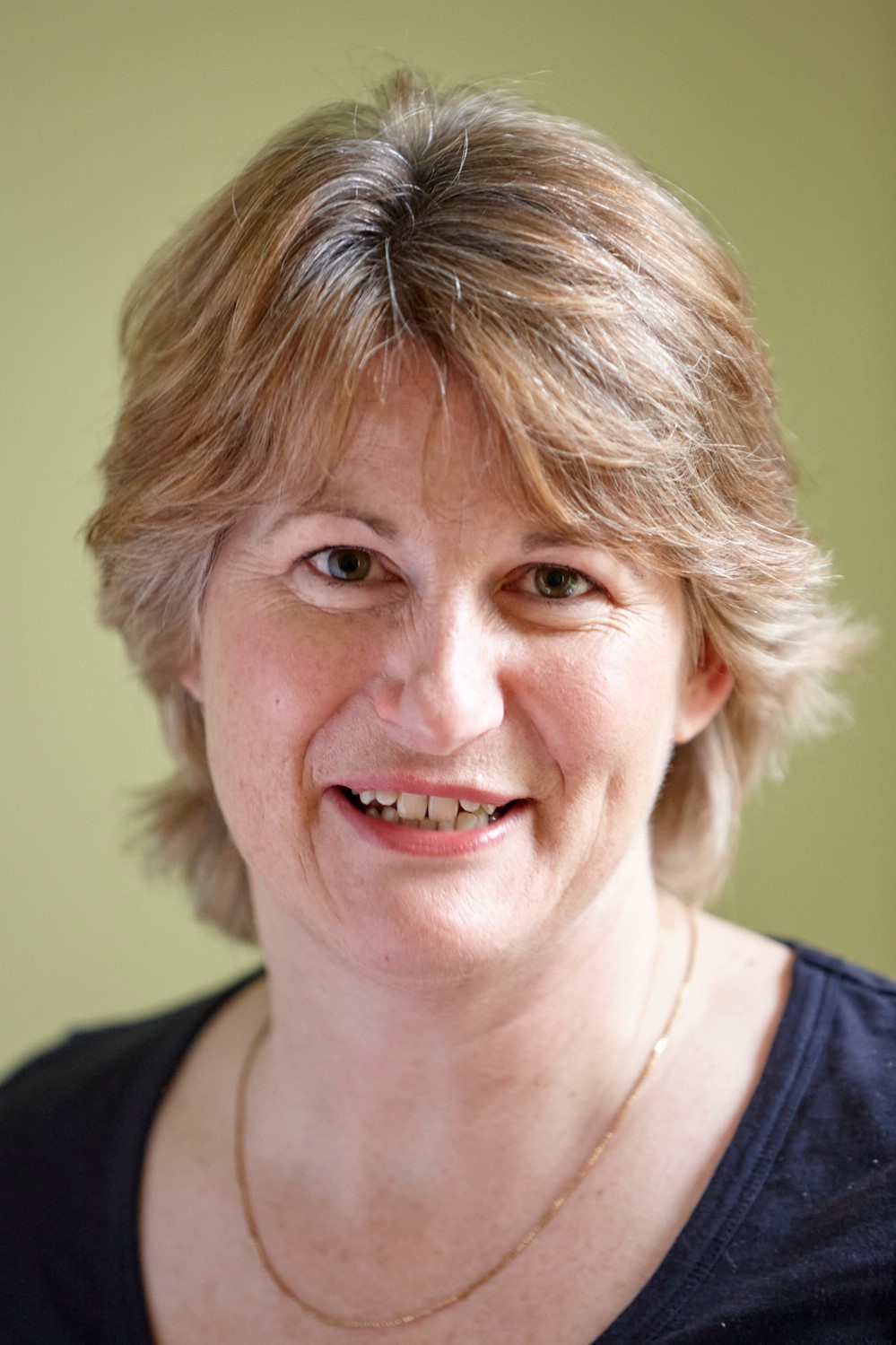 Amelia Thorpe is a specialist interiors and design journalist, covering every topic to do with homes from fabrics, furniture and lighting to surfaces, kitchens and bathrooms.
As the daughter of an antique dealer and a lifelong collector of old cookery books and vintage graphics herself, she also has a particular expertise in antiques, mid-century and decorative arts of all kinds.
Drawn to homes because of their importance in the happiness of our lives and the enjoyment they can bring, Amelia has been writing about the topic for more than fifteen years. She has interviewed some of the most influential designers of our time, from Piero Lissoni, Antonio Citterio, Jaime Hayon and Arik Levy to Nina Campbell and Robert Kime.