Small mudroom ideas – carve out a functional space anywhere
These small mudroom ideas will help you create a smart drop zone for coats and shoes, no matter what size space you're working with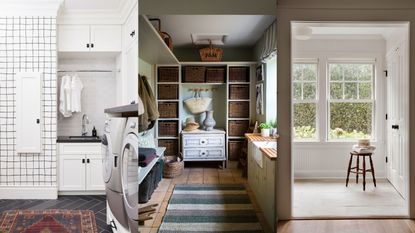 (Image credit: Alice Lane Interiors / Future / Becca Interiors)
A pint-size space shouldn't stand in the way of bringing to life the small mudroom ideas of your dreams.
A mudroom is one of the most functional spaces in the house, serving as a drop zone for coats and backpacks, a place to put on shoes and a storage spot for umbrellas and cold-weather gear.
But not every home has a dedicated mudroom space, especially older homes that were built before mudrooms became a must-have, or small urban condos without excess square footage.
To help you figure out how to carve out a functional mudroom idea for your home, we've rounded up 10 creative layouts, clever cabinets, and smart storage solutions for designing a mudroom of any size.
Small mudroom ideas
These expert ideas cover freestanding spaces you can put together in a few hours, custom mudrooms that'll maximize every inch of your space, and everything in between.
1. Create a freestanding mudroom
In a seriously small space, a large bench and built-in cabinetry may not be an option. In that case, distill your mudroom down into its essential functions, and find freestanding pieces that meet those needs. Most of the time, a wall-mounted coat rack (or two), and a bench where you can sit to put on your shoes can create a perfectly functional mudroom space.
2. Choose the right flooring
'Mudroom flooring is our first consideration. When possible, we will always opt for natural materials,' says Julia Miller of Minnesota-based Yond Interiors '.As we hone in on a material, we talk to our clients about their use, needs, durability, and the climate. Lately, we have been specifying quite a bit of limestone, marble, and slate for our mudroom projects. All three of these are hard-working materials that will stand up to muddy boots, show minimal signs of wear, and wipe up in a flash.'
Above, a bold yet timeless marble mudroom tile idea helps turn this functional space into a design highlight of the home.
3. Go for modular storage
Commissioning custom built ins isn't the only way to get closed mudroom storage in a small space. Instead, you'll find lots of off-the-rack options for mudroom and entryway organization from furnishings retailers.
These standard solutions can still come with customization options in the form of modular design, or varying shelving configurations that you can tailor to your home's size and your family's needs.
4. Customize the space
If you have a nook or closet near your entryway, consider turning it into a mudroom with custom built-ins.
'We've been opting for more built-in storage options versus the typical coat closet,' says Miller. 'We find that built-ins allow us to maximize and customize storage for every space. Another reason we love built-ins? They are a great way to incorporate fun cabinetry design, paint color, and wood tone.'
5. Include closed storage
Mudrooms, like all storage areas, are clutter magnets and can quickly become disorganized. If your mudroom has to be a part of your home's main entryway, or is visible from the main living space of your home, closed storage is essential. It'll allow you to tuck away mess and mismatched items behind closed doors to minimize visual clutter.
6. Make a hall tree
Sure, you can go out and buy a ready made hall-tree, but creating your own (or hiring a carpenter to do the job for you) isn't a very big or expensive job.
To do it yourself, start with a sheet of beadboard paneling, cut to size for your hall tree. Mount it to the wall with construction adhesive and a brad nailed. Then, attach a basic wooden bench to the wall with L-brackets, and mount a wooden peg-style coat rack at the top of the paneling. Finish off with a shelf hung above the coat rack, and paint the entire thing in a single shade to make it look like a custom unit.
7. Elevate the cabinetry
In this clever mudroom design, the cabinet is built on top of a bench to allow more room for shoe storage underneath. The unique, modern design also makes a statement in the entryway and sets the tone for the rest of the home.
8. Use a wardrobe
A freestanding wardrobe can make excellent makeshift mudroom storage in a small space. For one, it'll conceal clutter behind its closed doors, and it's certain to be the right size for hanging lots of coats. Plus, the fact that's it's freestanding means you can create a mudroom almost anywhere (so long as the wardrobe fits). Finally, you can paint it to match your walls, helping it recede into the surrounding space.
9. Make use of corners
You don't necessarily need a huge bench in the mudroom - a simple built-in seat or a stool can offer a place to sit while putting on shoes.
Here, a built in mudroom cabinet is built against the longer wall in this L-shaped nook, while the shorter wall serves as a small seat.
'We've been opting for more built-in storage options versus the typical coat closet,' says Miller. 'We find that built-ins allow us to maximize and customize storage for every space. Another reason we love built-ins? They are a great way to incorporate fun cabinetry design, paint color, and wood tone.'
10. Put the mudroom in the garage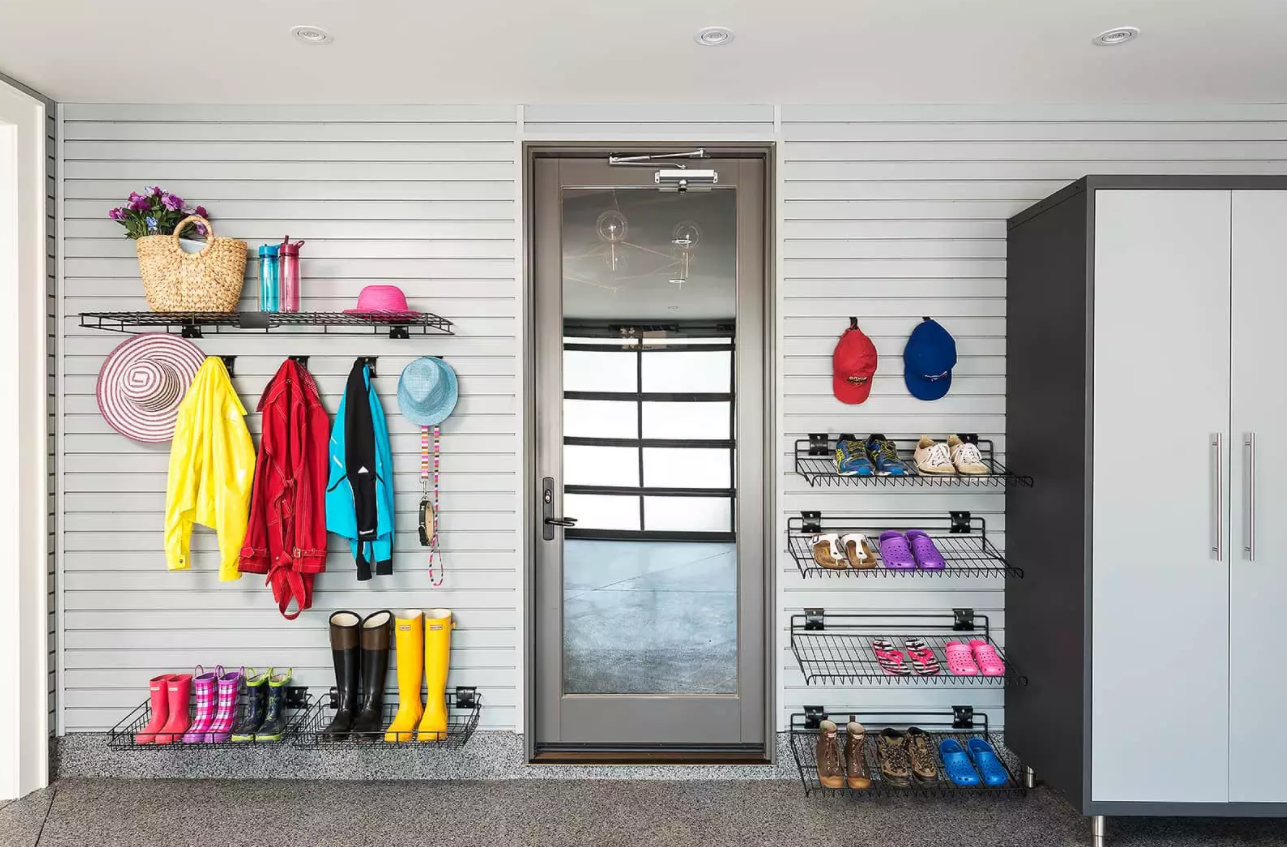 A mudroom needn't be in your home's main living area. If your garage connects directly to your house, you can easily set up a mudroom there instead.
To do so, take cues from the garage mudroom ideas above with wall-mounted coat and bag hooks, and an area for storing shoes. A shoe rack can be an excellent solution that helps maximize vertical space, but if that won't work for your home, try a storage bench that doubles as a spot to sit and put on boots.
How do you make a mudroom in a small space?
There are lots of ways to make a mudroom in a small space, but basically, any place where you can hang a coat rack (or a few coat hooks) with a bench underneath can function as a 'mudroom' in a small space. If you have the room and the budget, you can also incorporate built-in cabinets to offer closed storage, which is an excellent solution in smaller homes where your mudroom might be out in the open.
What is the point of a mudroom?
A mudroom is you home's drop zone: the place where you enter your home and leave all of the stuff that usually comes in with you. There's generally space for hanging coats and bags, as well as storing shoes and inclement weather gear like umbrellas, hats, and gloves. The goal of a mudroom is to keep all of your gear organized, easily accessible, and in one place.
If your space is large enough, a mudroom can also serve as a laundry room or utility room, too.
Sign up to the Homes & Gardens newsletter
Decor Ideas. Project Inspiration. Expert Advice. Delivered to your inbox.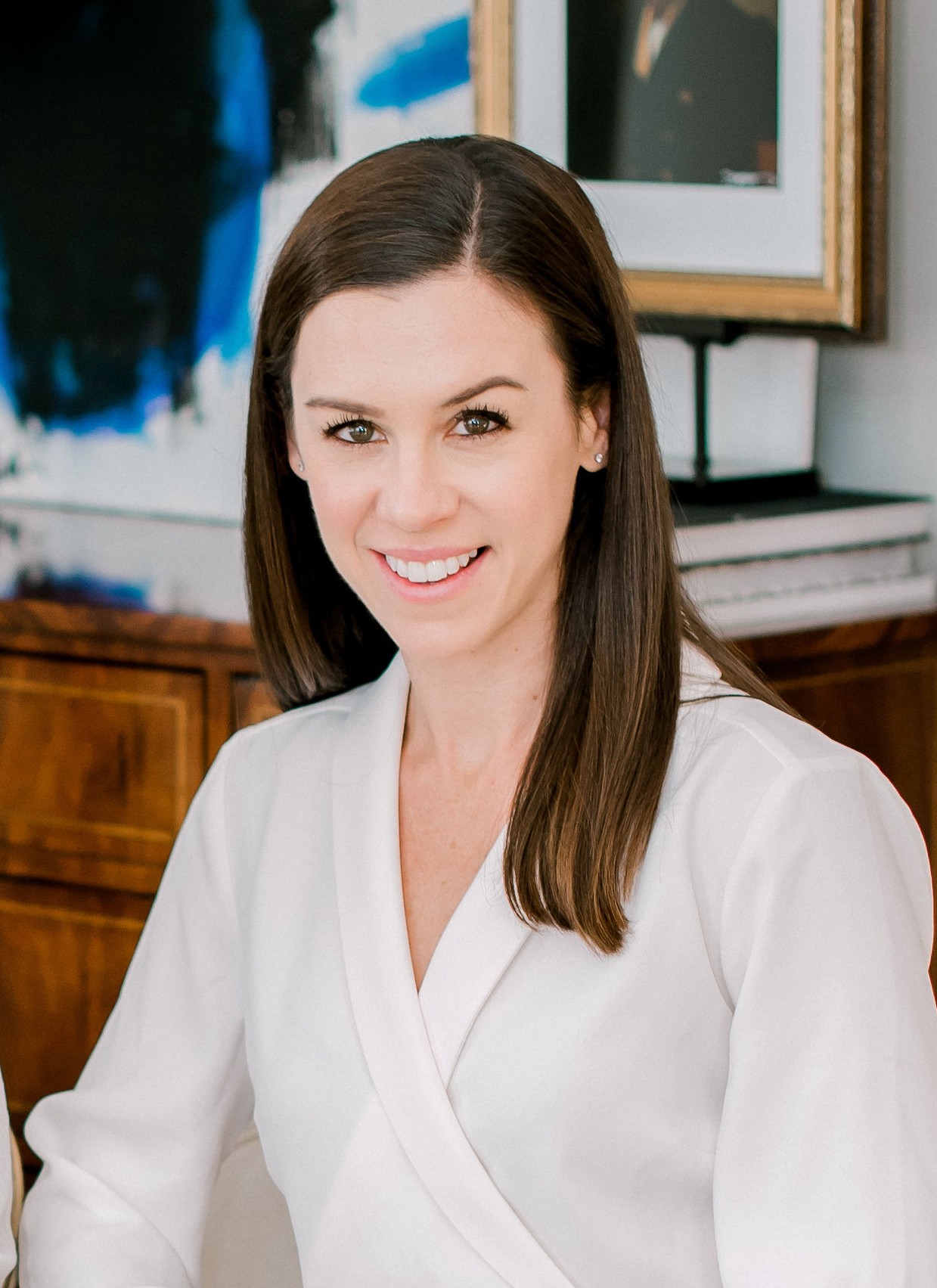 Executive Editor, Homes & Gardens
Kaitlin Madden Armon is a writer and editor covering all things home. Her work has appeared in Real Homes, Architectural Digest, Martha Stewart Living, Refinery29, Modern Luxury Interiors, Wayfair, The Design Network, and lots more. She graduated from Northeastern University with a degree in journalism and currently lives in Connecticut with her husband, three kids, and black lab.