What do you put on a small kitchen window?
From statement blinds to cozy curtains, we explore the question, what do you put on a small kitchen window?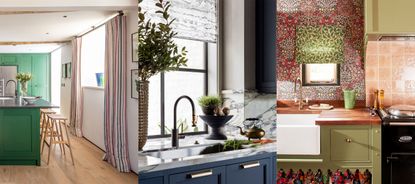 (Image credit: Jonathan Bond Photography)
The windows in a home are an important factor to consider when planning a dream space, so it is unsurprising that one of the many aspects to consider when designing a kitchen are your kitchen windows, and in this article, we address the question, what do you put on a small kitchen window?
Often the heart of the home, a kitchen is a multi-purpose space that needs to find the perfect balance between looking beautiful and operating as a functional workspace.
When planning what to put on a kitchen window, your window treatment ideas need to be be able to practically withstand a kitchen environment as well as add inviting texture and style to the space.
Steve Corcoran, decorating consultancy manager at House of Hackney states, 'a kitchen window can be a tricky situation to address, when designing a kitchen you need to maximize space and light while also trying to soften the space. A window can be one of the only opportunities to introduce soft furnishings to a kitchen space, so it's important to get it right.'
What do you put on a small kitchen window?
From blinds, to shutters and curtains, there are many creative ways you can add style and character to a small kitchen window for your kitchen ideas.
Below we take you through our favorite ideas that explore the question, what do you put on a small kitchen window?
1. Make an impact with a patterned blind
A popular interior design tip used across the home, a small room is often the perfect place to be bold and adventurous with color and pattern, creating a unique and immersive space, a great tip also for making a small room look bigger for your small kitchen ideas.
This same design principle can also be applied to small windows, enhancing these architectural details with vibrant color and pattern can make for a stylish design feature and focal point within the space.
One of the most effective ways to bring in pattern and color for your kitchen window treatments is using a Roman blind. Steve Corcoran says, 'a roman blind is the most efficient and functional way to treat a kitchen window space, the fabric draws up and out of the way and still allows light to flood in when needed.'
More than just a practical window covering, a patterned blind can add inviting texture and colorful pattern to your kitchen. As shown in this colorful kitchen by House of Hackney, the green leaf printed Roman blind creates an elegant contrast with the pink floral wallpaper, whilst working in harmony with the green cabinetry.
Making an eye-catching feature of this small window, the use of pattern and color in this kitchen space create a unique environment rich with texture and style.
2. Use curtains to trick the eye
Kitchen curtain ideas certainly are not for everyone, and depending on where your window is located, are often not the most practical choice.
Steve Corcoran states, 'curtains will help to soften the space and certainly add a bit more drama, however can be a little impractical if the window is overlooking a workspace, so it all depends on the position of the window within the room.'
However, for some small kitchen windows, using curtains can not only add much needed texture and pattern to the room, but they can trick the eye into thinking the window is bigger than it actually is.
As shown in this country kitchen, rather than sitting at the sill, the long striped curtains reach to the floor, beautifully framing the smaller window and making it look bigger. There are a variety of curtain tricks that can be used across the home, and pairing a smaller window with larger drapes can help exaggerate the size of a small kitchen window space.
3. Keep things simple with shutters
Used for centuries to protect windows and keep out the light, shutter ideas can not only add timeless character to a small kitchen window, but can be an effective way to add privacy and easily control the amount of light in the room.
Often crafted from wood or vinyl, shutters can come in a variety of sizes and colorways, so no matter your style or the age of your property, there will be options to suit.
In this kitchen, the bespoke white shutters from Thomas Sanderson are the perfect option for the smaller window that sits above the countertop. A simple way to add subtle texture and an elegant detail to your windows, shutters are perfect for use in a kitchen, and can add a touch of classic style your space.
4. Style with a sheer design
Whether you opt for curtains or blinds, a sheer design can be a versatile and adaptable choice for your small kitchen window. A style that seems to never date, sheer window treatments offer privacy, but also make the most out of the natural light available - ideal for a smaller window.
Hayley McAfee, design director at Villa Nova states, 'a sheer curtain never goes out of style, these designs can work in any type of home, whether traditional or modern. The best way to ensure privacy is to install a pair of sheer curtains, as they can obscure a view into a room whilst allow for you to enjoy the natural light.'
In this kitchen, designed by Benjamin Johnston Design, the beautiful sheer blind design mirrors the colors and patterns on the marble splashback and countertop, establishing a unified and modern design that feels luxurious and thoughtfully considered.
5. Opt for an untreated look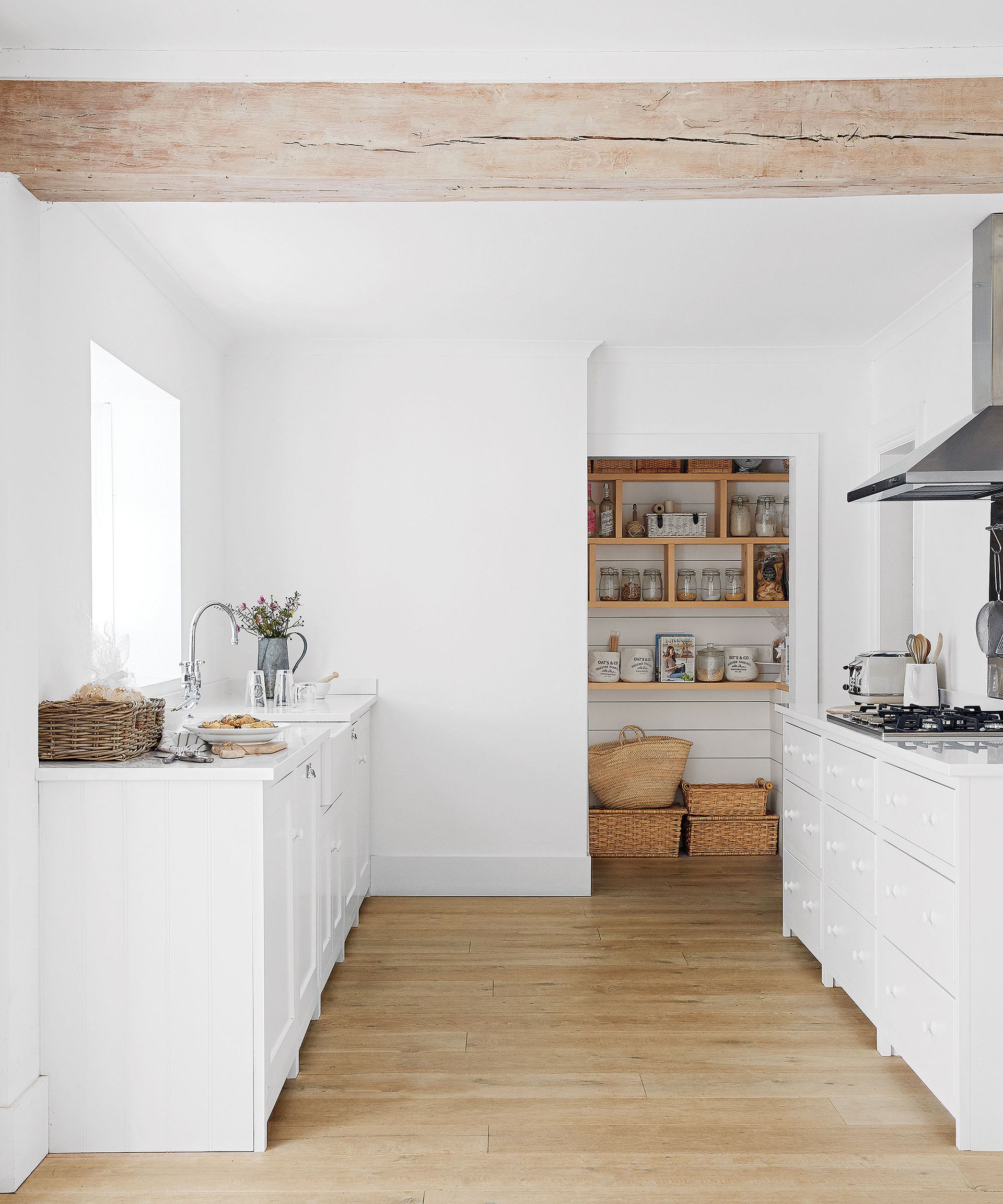 Of course, there is also the option of leaving your small kitchen window untreated, creating a clean and simple look, ideal for a minimalist kitchen design.
As demonstrated in this calming white kitchen, defined by a clean and organic design, the untreated window works well with the overall stripped back and natural look.
Allowing for natural light to truly flood in the space, which is key for many of us with small kitchen windows, this untreated window adds a graphic, modern edge to the rustic kitchen space, establishing a stylish mix of the old and new.
6. Decorate the surrounding space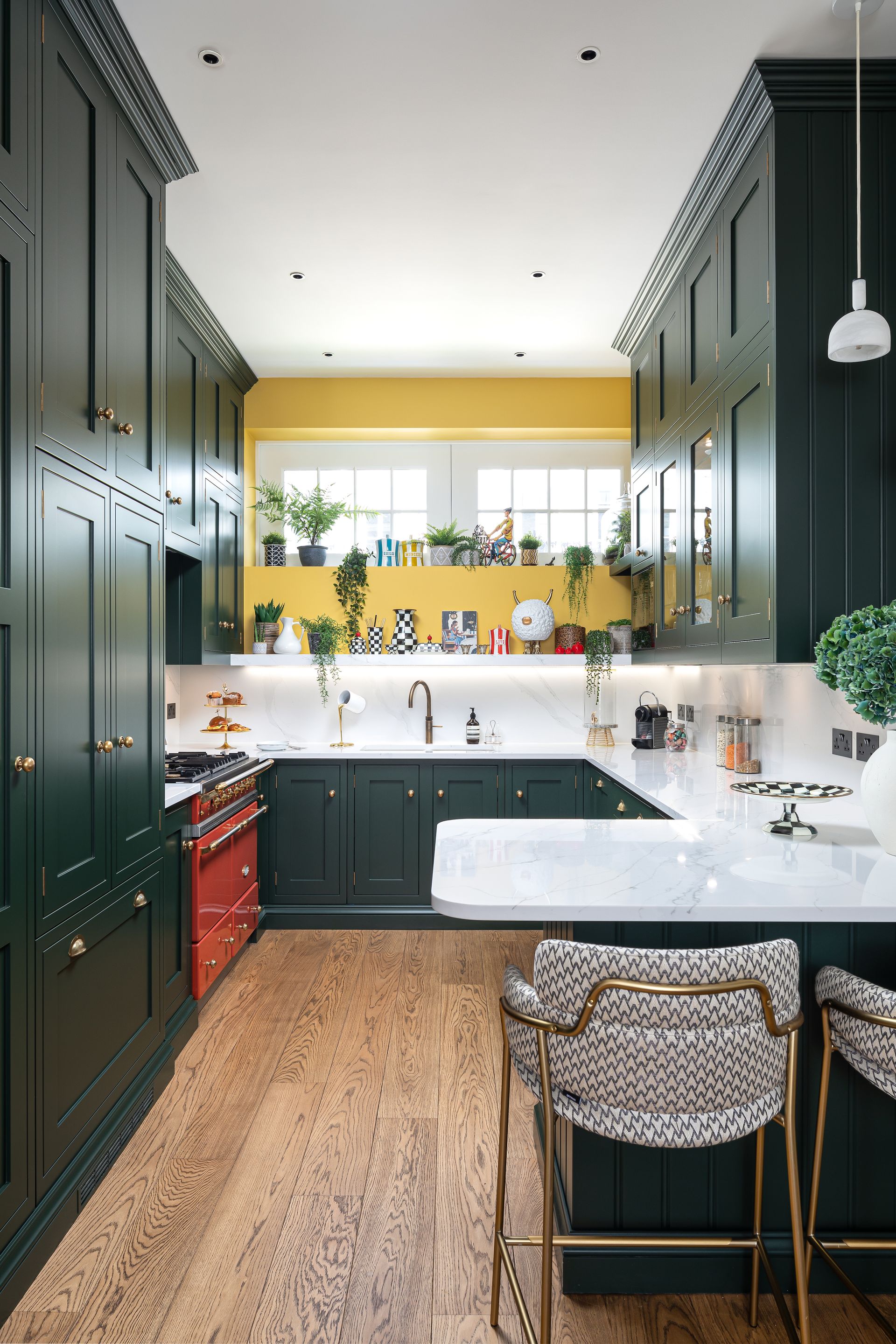 A tip that can help improve the overall look of your small kitchen window, is to cleverly style the surrounding space to add character, texture and visual interest.
Just like styling a shelf, a windowsill provides the perfect platform to get creative and curate a stylish, eye-catching display of personal possessions and decorations.
A simple vase of flowers or a stack of cookery books can make all the difference in adding character to your small kitchen window, with these simple touches often working to bring your whole scheme together.
How can I cover a small kitchen window?
'There are many ways you can cover a small kitchen window. With bespoke options available for blinds, curtains and shutters, you have just the same amount of choice and freedom as you would for a larger window space,' says Lucy Searle, Homes & Gardens' editor in chief.
There are many tips and tricks, like we have explored, that can make your small kitchen window look and feel bigger, as well as enhancing it with vibrant color and pattern to make a stylish and eye-catching design feature.
How do you make a small window look better?
To make your small window look better, consider using this area in your kitchen to add pattern and vibrancy to your scheme.
'There is so much choice when it comes to curtains and blinds, from simple block colors to ornate, detailed designs, and using a small window to bring in inviting texture and eye-catching prints can make your kitchen space feel stylish and beautiful, as well as practical and functional,' says Jennifer Ebert, digital editor at Homes & Gardens.
Decorating the space that surrounds you window, whether that be through plants and ornaments can also enhance a small window with unique personal character, and make it feel fully integrated into your overall design.
Sign up to the Homes & Gardens newsletter
Decor Ideas. Project Inspiration. Expert Advice. Delivered to your inbox.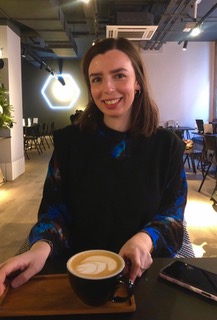 Zara joined Homes & Gardens in February 2022 as a Content Editor. After studying English Literature at University, she worked as an Ecommerce Website Editor, Content Writer and Buying Intern at multiple independent businesses within the luxury retail and lifestyle sectors. Her role at Homes & Gardens unites her love, experience and passion for the world of design and desire to create inspiring written content. She enjoys nothing more than discovering new trends, brands and products, whether that be in fashion, interior design or lifestyle.