Small bathroom shower tile ideas – 10 looks that enhance a compact space
These small bathroom shower tile ideas use all the tricks in the interior design bible to enhance a compact space
(Image credit: Future)
If you are looking for small bathroom shower tile ideas, it's likely that one of your priorities is for the finished effect to be space-enhancing. You can achieve this in various ways: with light colors, reflective finishes, large-scale tiles or a one-tone scheme.
However, tile shapes, textures and the tile layout itself have a role to play, too, when you are looking for small bathroom ideas that are specifically within the shower enclosure. Here, we look at the best small bathroom shower tile ideas that cover all the bases.
Small bathroom shower tile ideas
Well-thought-out bathroom tile ideas for small spaces will do more than be a practical addition. They should make the space feel luxurious and welcoming, add decorative details, and even set the tone for the color scheme. This is what these small bathroom shower ideas do – and our interiors experts explain which one might be best for you.
1. Pack a punch with all-over color and patterned tiles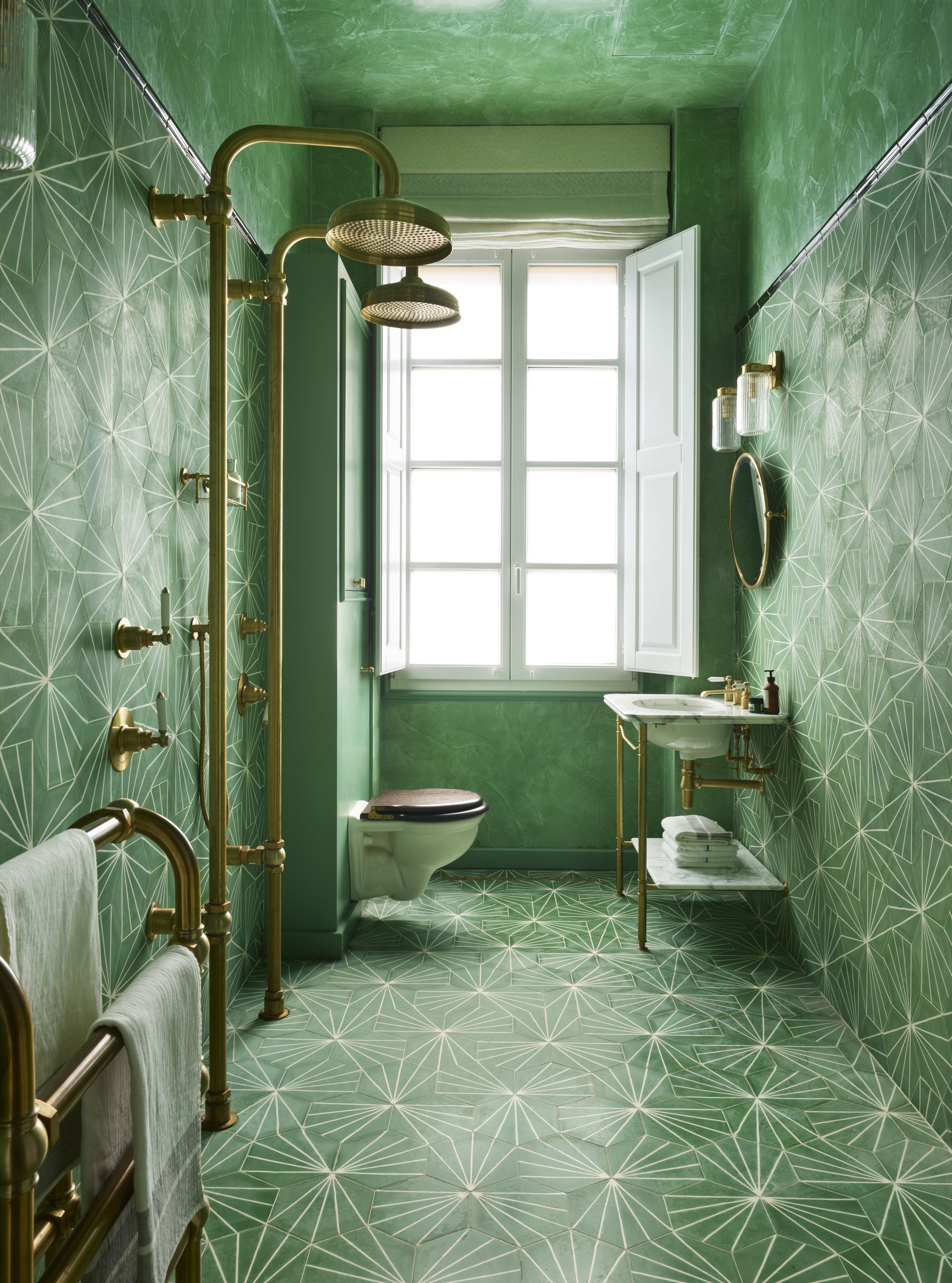 A one-color scheme can make any space feel cohesive and larger, and matching small bathroom shower tile ideas to the finish on the walls and ceiling, as in this walk-in shower, is one way to achieve this.
'Bathrooms are one of the few places in the house where you can get away with strong, vivid tones which might be over-the-top in other rooms. Maximalism is very much on-trend with more and more people experimenting with bold patterns and bright colors,' says James Lentaigne, creative director at Drummonds.
Ensure lighting is good – and layered – with a combination of ceiling spotlights and wall lights, and lay out the space so that the basin is nearest the source of natural light.
2. Use interior design tricks to give the illusion of space
'Using large format shower tiles in a compact bathroom makes the most of the space as there are fewer joins between the tiles which create a clean and seamless look. Smaller tiles or tiles with bold combinations of colors and patterns can make the space feel busy and smaller.
'The muted pattern on the large format tiles in this bathroom brings in a textured look. Focus on beautiful brassware, such as these antique bronze fixtures, to add an extra considered design element to the space.
'Use large mirrors to increase the light in the space. To make the most of compact space use mirrors on cupboard doors. If you can, build a cupboard above the WC cistern to add storage and keep the wall surfaces in line. Keeping the surfaces aligned will create a clean and sharp look,' says Shalini Misra, interior designer and founder, Shalini Misra Ltd.
3. Mix it up with different tile shapes and sizes
For wet rooms or, for walk-in shower tile ideas, you can afford to be a little more adventurous with mixing up tile shapes and sizes, purely because there's very little other architecture in the room.
'Create interest with small bathroom shower tile ideas by using a mixture of different floor, ceiling and wall tiles. Use larger designs on the walls and mini tiles on the rest of the surfaces; doing so will add a fabulously textured look and, if you use white, will will make the space feel light and airy,' says Lucy Searle, Editor in Chief at Homes & Gardens.
4. Go for a bold wall tile in a modern shape
Looking for shower room ideas that have a splash of bold color? You can achieve this by tiling one wall; choosing an eye-catching design like this creates both horizontal and vertical lines across the wall, which can make the bathroom feel wider and taller.
'This tub and shower combination saves space and creates a stunning focal point in the bathroom. We love how this Bedrosians Reine dark teal picket tile turned out. Just the right mix of color and pattern,' says Stephanie Lindsey, principal designer at Etch Interior Design.
5. Large hexagonal floor tiles help to trick the eye
Of course, small bathroom shower tile ideas needn't be limited to the walls: you can affect the proportions of your space with floor tiles, too.
'Go for a high impact floor tile in a small bathroom/shower room as it will be stunning visually and distract from the compact space. Shades of grey teamed with black work well with white wall tiles; keep the color scheme simple as it will be effective that way,' says Jennifer Ebert, digital editor at Homes & Gardens.
6. Choose all encompassing tiled walls in a long and narrow bathroom
A hotel-bathroom approach is often a great solution to transforming a narrow corridor-shaped space into one that feels luxurious.
'A tricky space like this narrow bathroom can still look fabulous with some clever design features. All over tiles in a dramatic tone and with a subtle texture will help to bounce the light around – but add in some paler colors on the ceiling and floor for contrast, and keep fixtures and fittings sleek and modern to enhance the space as much as possible,' says Lucy Searle, Editor in Chief at Homes & Gardens.
7. Reflect the light with marble effect floor and wall tiles
For really luxurious small bathroom shower tile ideas, go for marble – or a porcelain lookalike.
'Pale colored tiles can make a small shower space look bigger as they reflect more light than darker colors, creating a light and airy feel. Using the same tiles on the walls and the floor in a bathroom will enhance the feeling of space by creating a continuous look.
'We've seen a huge increase in the popularity of slab or large format porcelain tiles in recent years. Slab tiles are ideal for creating a striking, high-end look, and can often make smaller rooms appear larger thanks to their seamless appearance,' says Jo Oliver, director at The Stone & Ceramic Warehouse.
8. Create a one-tone bathroom with tiles and fittings
While the advice is to avoid small tiles in a compact shower area, you can sucessfully do so if you combine them with larger tiles elsewhere in the bathroom – and keep all your tiles to one tone, if not one color, as in the small bathroom shower tile idea above.
'We choose a small scale tile for this mid century home. By pairing the small scale with the large format slab the room is both warm but still modern,' says Lisa Staton, principal designer at Lisa Staton Interior Design.
9. Use rectangular tiles vertically in a small bathroom
In a bathroom that's got awkward proportions, you can use tiles for correction. For example, in a narrow bathroom, long, wide tiles fixed horizontally on a wall will make the space feel wider; in a small bathroom, floor tiles laid diagonally rather than square on, can make the space look larger all-round. Here, the ceiling height is exaggerated by rectangular wall tiles fixed vertically.
'Small shower rooms can have low ceilings. To combat this, opt for large-sized rectangular tiles fixed vertically to give the illusion of height in the room, and keep the smaller, more decorative tiles for the floor,' says Jennifer Ebert, digital editor at Homes & Gardens.
10. Fix tiles in stripes to exaggerate a shower's size
'Charming and with a timeless appeal, this bathroom was designed for two active, athletic teenagers. By using penny tiles, we were able to create a space that is modern, fresh and full of personality but budget friendly as well,' says Kriste Michelini, owner and founder of Kriste Michelini Interiors.
However, the cleverest trick this shower space achieves is with the stripes – fixed at eye-height, the make the small shower area feel wider and deeper.
What size tiles are best for small bathroom showers?
The best size tiles for small bathroom showers are large format because, with fewer grout-lines, they look sleeker, and there's less texture to interrupt the line of vision. However, smaller tiles can work in a small bathroom shower, as long as they are laid in a way that best enhances the proportions of the shower area: a low-ceilinged space can be made to feel taller with rectangular tiles fixed vertically; a narrow shower area can be made to feel wider with rectangular tiles fixed horizontally.
What color tiles are best for small bathroom showers?
Light-colored tiles are best for small bathroom showers as they will make the space feel larger and lighter. However, you can have darker colors, as long as natural light is good, and that the space is well-lit at night. Busy patterns should be avoided – instead choose subtle patterns or textures for interest.
Sign up to the Homes & Gardens newsletter
Decor Ideas. Project Inspiration. Expert Advice. Delivered to your inbox.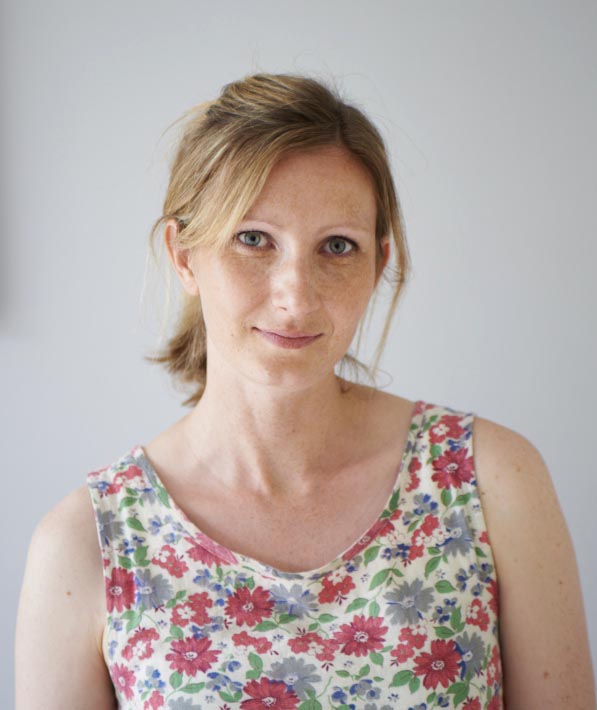 Sophie has been an interior stylist and journalist for over 20 years and has worked for many of the main interior magazines during that time, both in-house and as a freelancer. On the side, as well as being the News Editor for indie magazine, 91, she trained to be a florist in 2019 and launched The Prettiest Posy where she curates beautiful flowers for modern weddings and events. For H&G, she writes features about interior design – and is known for having an eye for a beautiful room.