Decorating with purple – 10 ways to use this versatile shade
Master the art of decorating with purple with these inspiring schemes and expert tips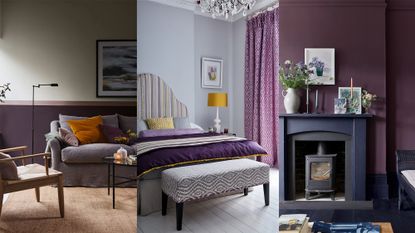 (Image credit: Neptune / james Hare / Annie Sloan)
Decorating with purple is sometimes overlooked but it can make for versatile and impactful interiors. While purple has gone in and out of fashion over the years, the shade is currently witnessing a resurgence, with interior designers, interior brands and homeowners all rediscovering its potential.
With a spectrum stretching from soft lilac and lavender to royal purple through to rich berry shades and deep eggplant, purple offers huge scope for creating all sorts of looks, from tranquil to edgy and dramatic. Used wall-to-wall it can make a lasting impression, but it also works well as an accent color alongside many other shades.
If you're thinking of decorating with purple you're in the right place as we've rounded up an array of beautiful purple room ideas to get you inspired alongside some handy tips from the experts.
Working as an interiors journalist and stylist for over 10 years, Pippa has written hundreds of articles on decorating, many of which focus on the use of color. Here she turns her attention to the on-trend shade of purple and shares expert advice on how to use it in our homes.
Decorating with purple
Decorating with purple offers huge potential for creating all sorts of looks within interior design – the key to using it as a room color idea, say interior designers, is finding the right shade for the atmosphere you want to create as well as thinking about the light levels and orientation of the room. For those looking to make a statement, vibrant jewel tones and rich damson shades are guaranteed to bring a sense of drama to a dining room, or an exciting color pop to a kitchen.
'Often associated with royalty and tradition, purple is perfect for adding drama and character to a room. Saturated shades envelop a room, so consider introducing the rich hue into a space that benefits from natural light to create an intriguing interplay of light and dark,' suggests Helen Shaw, UK director of Benjamin Moore.
Alternatively gentle lavender and heather shades, which conjure the beauty of nature, are perfect for relaxing spaces. Bringing a touch of color without overwhelming a room, these delicate purples make a great backdrop for decorating with colorful furniture, homewares and artwork.
'Purple can be a bold and impactful color to use in your home and as such, it has gone in and out of fashion over the years. Choosing a lighter shade means that the color is much less dominating and allows you to play with other colors in your space,' explains John Dison, founder of Earthborn.
1. Create a cozy atmosphere with dark purple
Decorating with dark purples can be a wonderful choice for a cozy living room or cozy bedroom as the deep tones help bring walls in to create a cocooning feel. However, that doesn't mean rich purples can't be used to create more fresh and uplifting looks explains color expert and creator of Chalk paint, Annie Sloan.
'Despite its richness Tyrian Plum (pictured) is not just for winter months; deep purple pairs beautifully with navy blue and an be lifted depending on the season with cornflower blues, soft pinks and whites for a flattering all-year-round look.'
2. Balance bold purples with softer colors
Using dark purple on all four walls is a bold look – for a purple living room idea that's easier to live with why not pair rich purples with more restful colors? Here Neptune's deep Clove shade, used on the bottom half of the wall, helps to ground the space, while the Sage shade used above keeps it feeling calm.
'Not so brown that it resembles our Walnut or Fine Mahogany, but also not so purple as our Juniper paint, this shade is enveloping and velvety without being overpowering,' says Rebecca Elderfield, product and service creative director at Neptune.
'It can be contrasted with the fresh Silver Birch, or paired with Old Rose and Moss for subtle balance, or even combined with stronger hues like Olive and Mustard for a hint of eccentricity.'
3. Use soft tones for a relaxing feel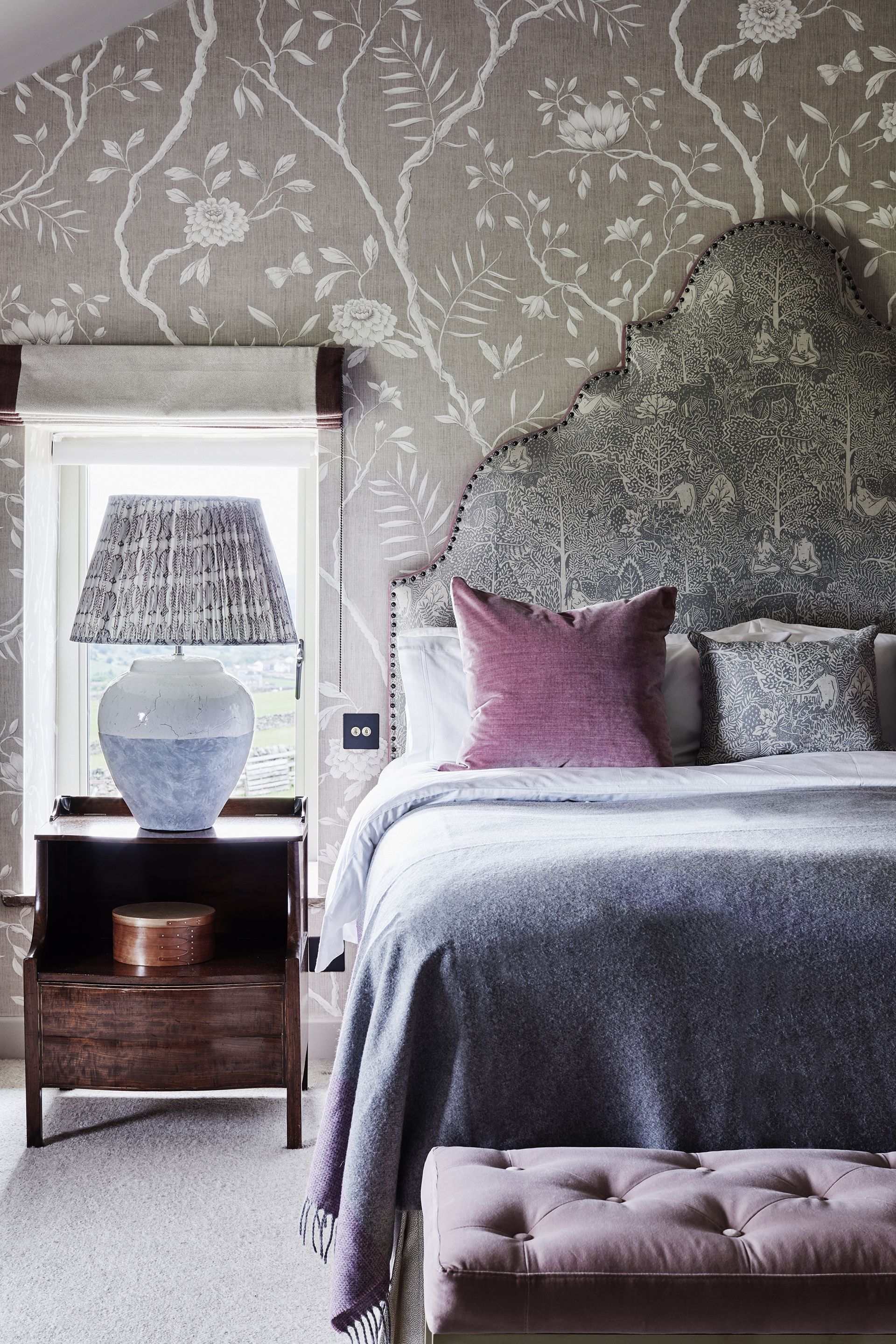 Reminiscent of spring flowers and fields of lavender, lilac is a wonderfully soothing color for decorating with and can make a lovely alternative to the popular blush pinks and pastel blues when it comes to bedroom color ideas.
'Lilac is a relaxing, neutral tone that can work in any room of the home, but due to its calming nature, we think it works especially well in living rooms, bedrooms and even bathrooms – spaces where you want to switch off from the outside world,' says John Dison, founder of Earthborn.
In this pretty purple bedroom idea, myriad soft tones have been paired with sinuous nature-inspired prints to enhance the restful, feminine feel.
4. Choose a warm purple for a welcoming feel
Made from natural earth pigments, this warm Tyrian purple from Edward Bulmer has a wonderful depth of color which brings energy to this home office without overpowering it.
'For his study the owner had requested purple and orange, so we thought let's go bold! Wishing to avoid too much distraction through contrast we used Edward Bulmer's Tyrian paint on the skirtings, walls, cornice, window frames and the fireplace; this has made a daring color choice very easy on the eye,' explains Kate Glaister, founder of K&H Design.
5. Introduce depth by layering different tones
Lilac is a feminine and restful for a bedroom, but without attention to detail it can risk looking bland and washed out. To ensure the scheme has depth and interest layer bolder purples through fabrics and soft furnishings.
'Purple is a calming, comforting color, it makes you want to relax and stay in an interior longer. Shades of purple are deal for bedrooms, they really help you rest,' Saffron Hare, creative director James Hare.
'I would suggest using purple quite boldly especially for curtains and either use the same tone or use different shades for accessories such as cushions and upholstery. You can often add in other quite strong color details with purple too such as yellow.'
6. Create a focal point with bold purples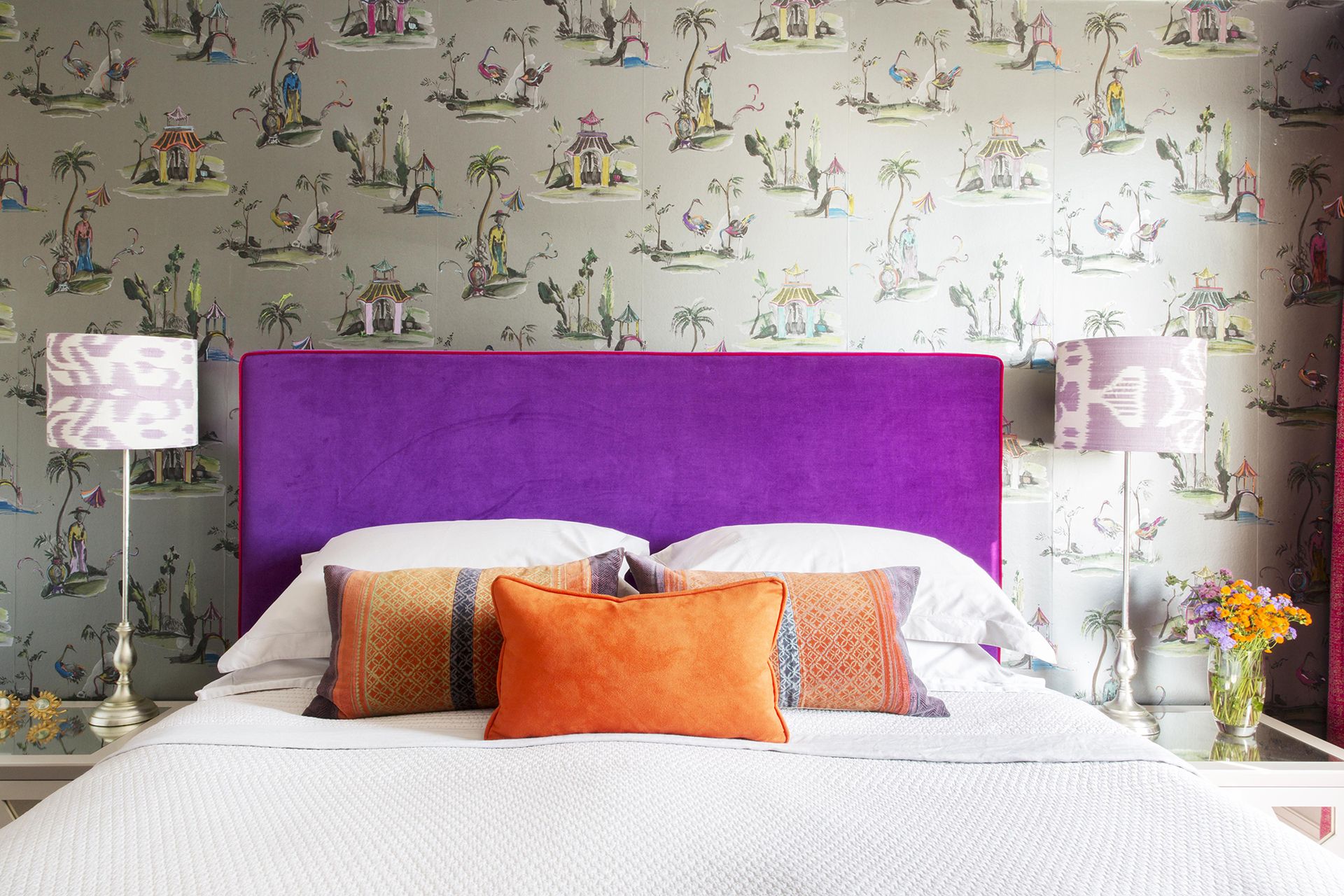 If you love bold purples, but are cautious about decorating them, then start small and introduce them over a piece of furniture or through accessories as done here with this fun velvet headboard idea.
'Deep, rich purples such as damsons and aubergine hues are perfect for creating a dramatic and romantic boudoir, especially when paired with luxurious fabrics such as velvet,' explains Emma Deterding, founder and creative director, Kelling Designs.
'An upholstered headboard in a statement shape and a bold, vivid purple velvet will really act as an anchor to base your design scheme around. Opt for contrasting piping detail to bring in a burst of orange, and use accessories in complementary shades to bring the scheme together.'
7. Liven-up a neutral kitchen with a purple island
As spaces we spend lots of time in kitchens can be great rooms to bring uplifting pops of color, helping to energize us and putting a spring in our step. However, kitchens are also big investment, so it's important to think about longevity.
Painting a kitchen island in a saturated berry tone and keeping base cabinetry neutral can be a great compromise as it injects color while keeping the space feeling timeless. Plus, if you choose a wooden island, then the color can easily be changed with a fresh lick of paint should tastes change.
8. Use purple on woodwork
Painting interior woodwork is a wonderful way to bring color and personality to a space without over powering it. Here woodwork painted in Little Greene's dusky Knightsbridge shade not only brings a playful twist to this traditional bathroom, but also helps highlight the beautiful period details and tempers the ornate wallpaper.
9. Use lilac for a tranquil bathroom
When it comes to bathroom color ideas, white and grey reign supreme, but for a fresh feel with more interest why not give the space a subtle touch of color and a feminine edge with lilac? With blue undertones this Lily Lily Rose shade from Earthborn gives a fresh and bright feel.
'Earthborn's dreamy lilac, Lily Lily Rose, is a soft, pastel color with subtle hues of lilac, pink and grey that creates a surprising depth. Much like the painting it was inspired by; John Singer Sargent's Carnation, Lily, Lily Rose, it evokes feelings of calmness and tranquillity,' says John Dison of Earthborn paints.
10. Pair dark purples with bold accents
Many people shy away of using dark colors in rooms with little light, but according to Dominic Myland, founder of Mylands paints, these colors can work brilliantly.
'Empire Violet™ No. 80 is a deep, nuanced purple with a hint of black that brings drama and intimacy to any space,' says Dominic Myland.
'It can be particularly effective in rooms with little natural light, turning what would otherwise be a dim space into a something characterful, inviting and glamorous.'
When opting for dark living room paint ideas it's important to pair them with the right accent colors to prevent the wall color from dominating.
'Empire Violet™ No. 80 is a great backdrop for so many accent colors and pairs beautifully with warm greys like Ludgate Circus™ No. 89 or lighter purple shades like Pale Lilac™ No. 246,' adds Dominic Myland. Alternatively for a bold contrast try pops of yellow, which sits opposite purple on the color wheel.
What colors go with purple?
Purple pairs wonderfully with many colors on the color wheel. Finding the right complementary colors for purple will depend on the look and atmosphere you are trying to create in a room. For a bold, head-turning scheme try saturated purples with contrasting shades such as yellow.
'Contrasting and complementary colors are those that sit opposite each other on the color wheel, say red and green or yellow and purple, and using these together makes for much stronger and powerful decorative schemes,' says Justyna Korczynska, senior designer at Crown.
Alternatively, for a more restful look, choose lilacs and pair them with an array of gentle tonal purples that work in harmony or try soft neutral colors, pale blues and greens.
'Harmonizing is when we blend similar colors and tones together, in particular using colors that lie next to each other on the color wheel. As the name suggests, this creates harmonious and restful rooms,' adds Justyna Korczynska.
Once known as the color of the nineties, 'lilac is having a bit of a comeback as a natural go-to partner for the ever popular shades of grey,' says interior designer Sarah Vanrenen of Vanrenen GW Designs.
'When considering colors to match with lilac, green is a popular choice which one might think would clash when using stronger shades but paired with paler shades gives a combination very much inspired by nature.'
How do you decorate a living room with purple?
A versatile shade, purple can be used to achieve an array of living room decorating ideas. For a cozy, cocooning feel try walls in dark purples, alternatively choose lilac for a restful scheme, or to provide a delicate backdrop on which to layer up patterned fabrics, colorful furniture and artworks.
'The paler shades of lilac and mauve are surprisingly versatile and when applied correctly, can be undeniably pretty as shown in this sitting room,' says Sarah Vanrenen.
Purple and lilac also work well as accent colors in a neutral living room suggests Saffron Hare of James Hare. 'I would recommend quite soft tones of grey and fabrics with texture then to add a palette of pinks and lilacs – they look fabulous with grey or yellow, all will work in grey living room schemes and give it warmth. You can also introduce metallic tones.'
Sign up to the Homes & Gardens newsletter
Decor Ideas. Project Inspiration. Expert Advice. Delivered to your inbox.
Pippa is Content Editor on Homes & Gardens online contributing to Period Living and Country Homes & Interiors print issues. A graduate of Art History and formerly Style Editor at Period Living, she is passionate about architecture, creating decorating content, interior styling and writing about craft and historic homes. She enjoys searching out beautiful images and the latest trends to share with the Homes & Gardens audience. A keen gardener, when she's not writing you'll find her growing flowers on her village allotment for styling projects.