Happy room ideas – 11 spaces designed to make you smile
Every room should be a happy room, created to make you feel energized, positive and well. These spaces will do just that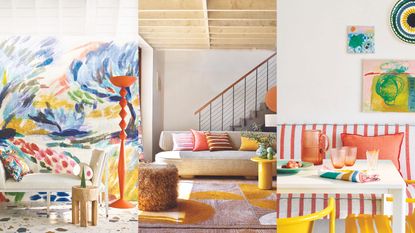 (Image credit: Future / Polly Wreford)
Happy room ideas have never been more needed. With everything going on in the outside world, our homes have become havens like never before, with every room's design able to contribute positively to our mental wellbeing.
Questioning our decorating ideas to ensure they promote happiness isn't a new concept, but it's come to the fore in the past months, with 'happy room ideas' a priority for homeowners and renters alike.
Using everything from color psychology to coziness, our team has curated a collection of rooms guaranteed to make you happier at home.
Happy room ideas
What makes you happy? That's the question you need to ask before considering new home decor ideas because it's utterly subjective. However, some colors, textures and even room layouts are known to promote happiness and wellbeing more than others, which is why you will see lots of yellow room ideas in this selection of happy rooms.
1. Create uplifting scenic beauty with artwork or murals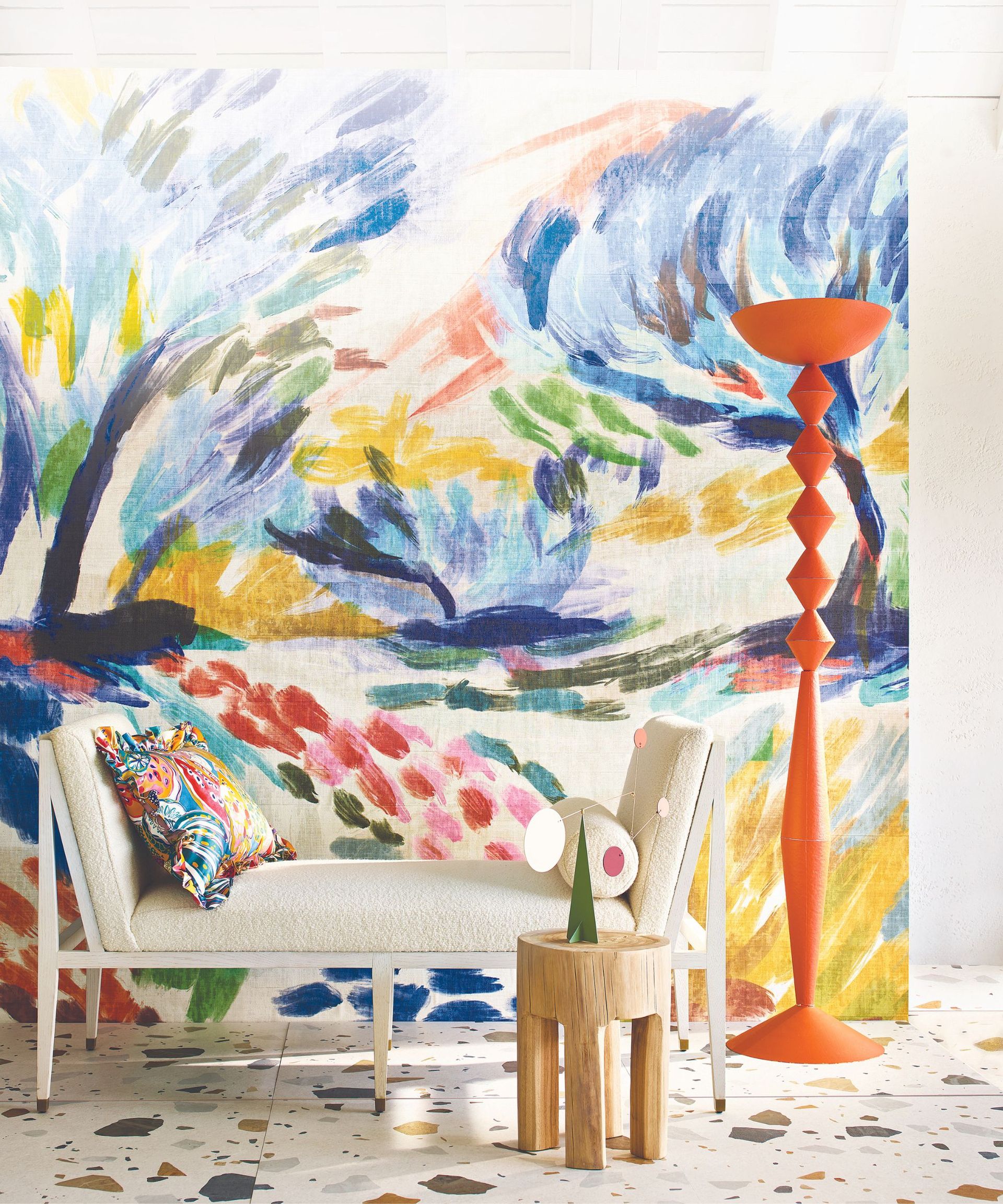 What's your favorite view or place and how could that be incorporated into your interiors? Or perhaps you simply love the beach, the countryside or the city? Whatever, including that view or those colors inspired by it, can take you to a happier place, at home.
Stylist Kate French is inspired by the vibrant colors of the Cote d'Azur in the south of France and created this space with painterly wall mural ideas, uplifting prints, and perky stripes. The uplifting and colorful brushstrokes of this mural transports us to a faraway place, capturing the shapes and colors of the landscape, creating the perfect backdrop for more modernist pieces.
Mural, La Caravane – Au pied du Ventoux, Elitis; Marc's Daybed, Julian Chichester.
2. Add a touch of yellow for positivity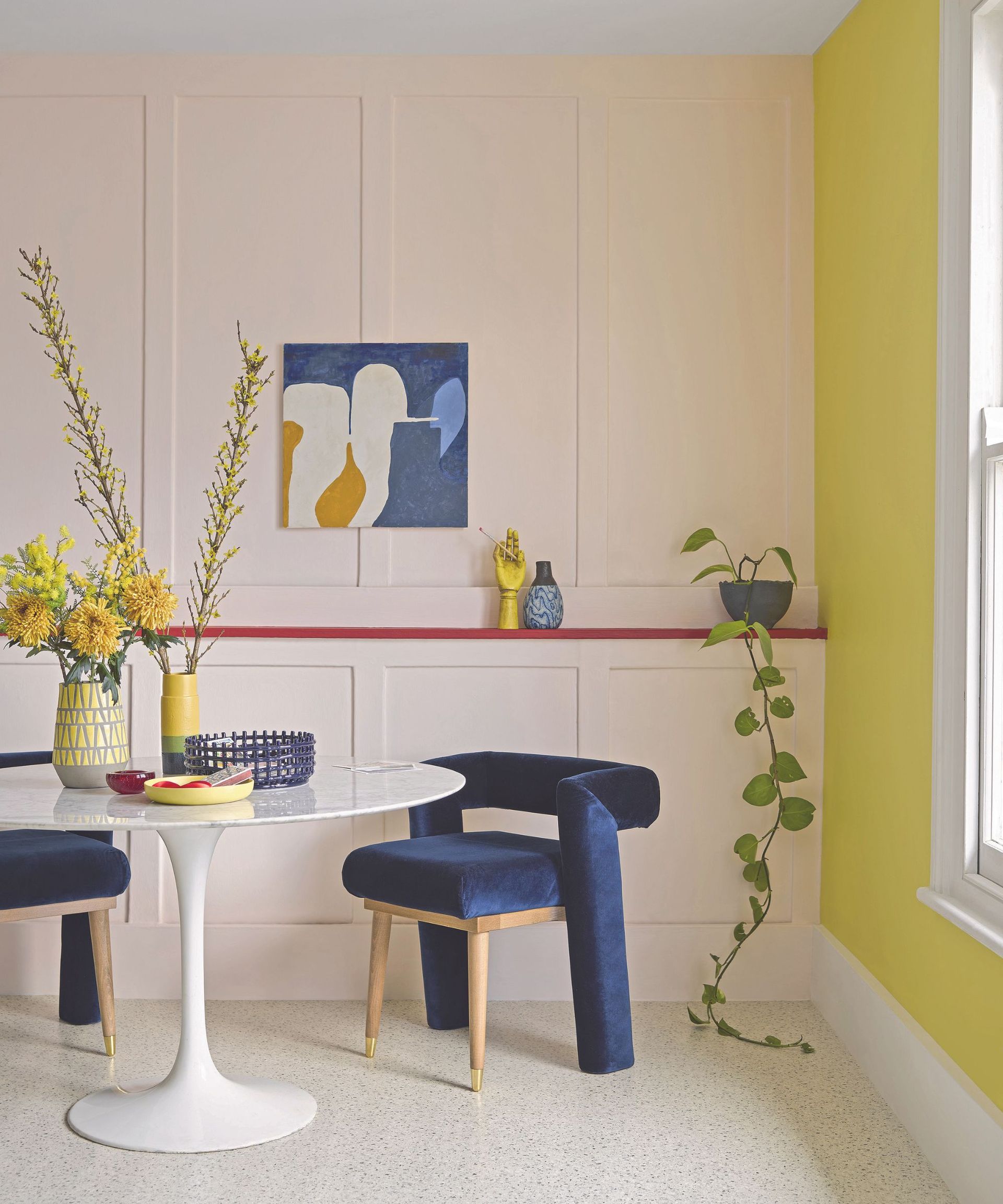 Psychologists will tell you that yellow is the single best color for promoting energy and positivity, so if you feel sluggish, adding it to your interiors may just give you the lift you need. At the very least, yellow can make cold, dark rooms feel brighter and warmer.
You needn't go wall-to-wall yellow to make a space feel friendlier and more welcoming, as Homes & Gardens' Decorating Editor Emma Thomas says: 'An all-white space is brought to life with an injection of Yellow Finch from Benjamin Moore, seen here on an accent wall, adding a vibrant touch without taking over.'
Happy room ideas at the stroke of a paintbrush? Perfect.
3. Add curves for coziness and comfort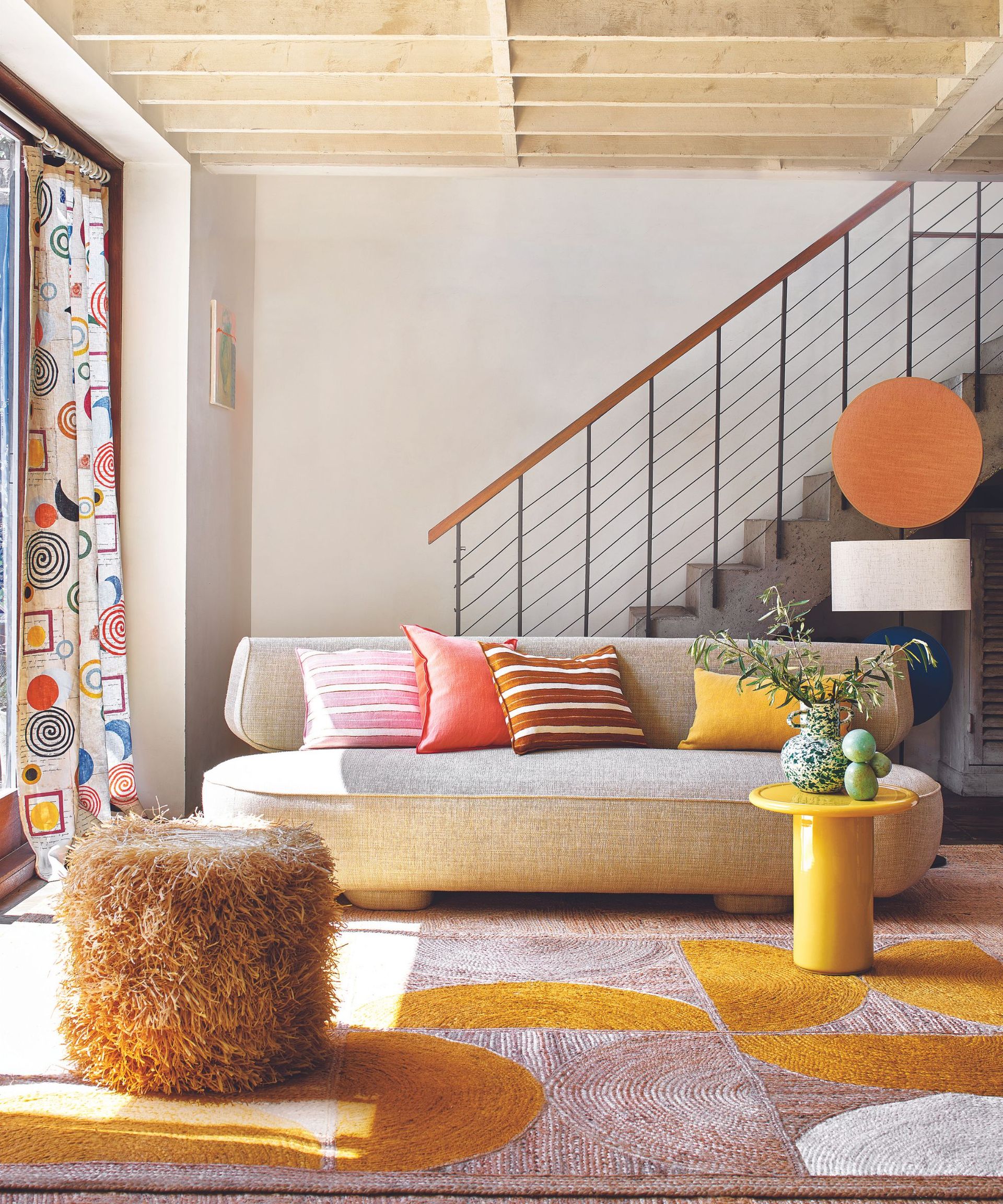 Cozy living room ideas are key to making you feel happy at home, and one way to achieve this happy room ethos is to rely on using curves in interior design, which are known to make a space feel more welcoming, which in turn can only make you want to spend time in it unwinding. This needn't just be in furniture: curves can be added in flooring, lighting and artwork, too.
'Curved lines and rounded pieces soften exposed architectural elements,' says stylist Kate French, who design this space for us. 'While strong yellow accents complement the sun-drenched aspect of the room.'
Litho sofa by Guillaume Delvigne upholstered in Angkor Parchemin, all Pierre Frey. Robertson jute rug, Tate & Darby; Rocky rug in banane, Elitis. Fringed stool; Totem lamp, William Yeoward.
4. Create a touchable space with texture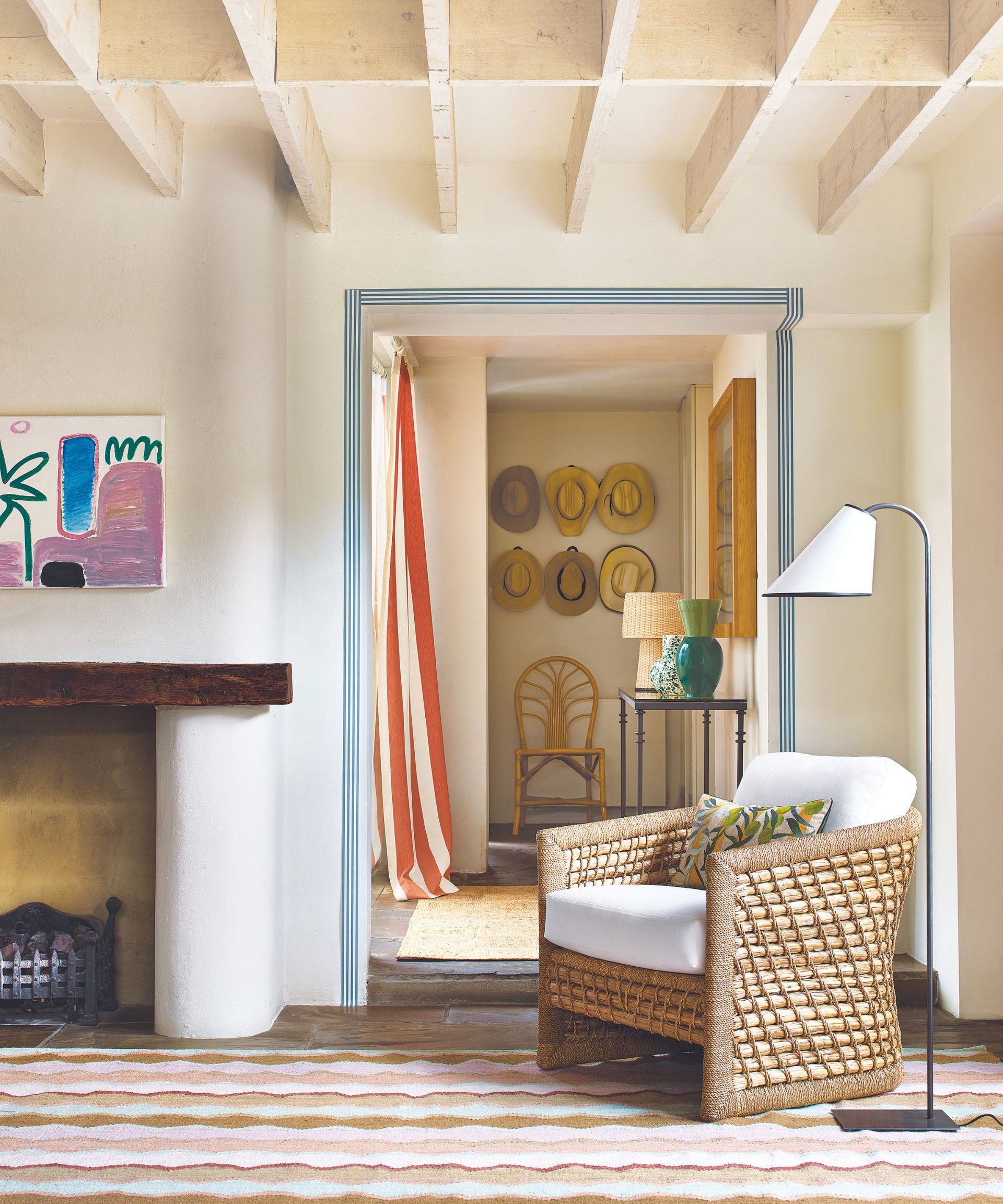 Using texture in interior design is key when creating happy room ideas. Texture makes for a space that cries out to be touched and experienced, and one that, however smart and elegant, is relaxed and relaxing, too.
Texture can be introduced in all kinds of ways, in furniture, flooring and even, as here, in a display of hats. 'A pretty striped wallpaper border around a doorway emphasizes the architectural detail and frames the view of yet more texture beyond,' says Emma Thomas.
Reggie blue border, Susie Atkinson. Capitola Lounge Chair, Paolo Moschino. Rattan table lamp, William Yeoward. Palm chair, Justin Van Breda. Safety Net in Earth Rug, The Kit Kemp Collection for Annie Selke.
5. Set the scene for long lunches and leisurely dinners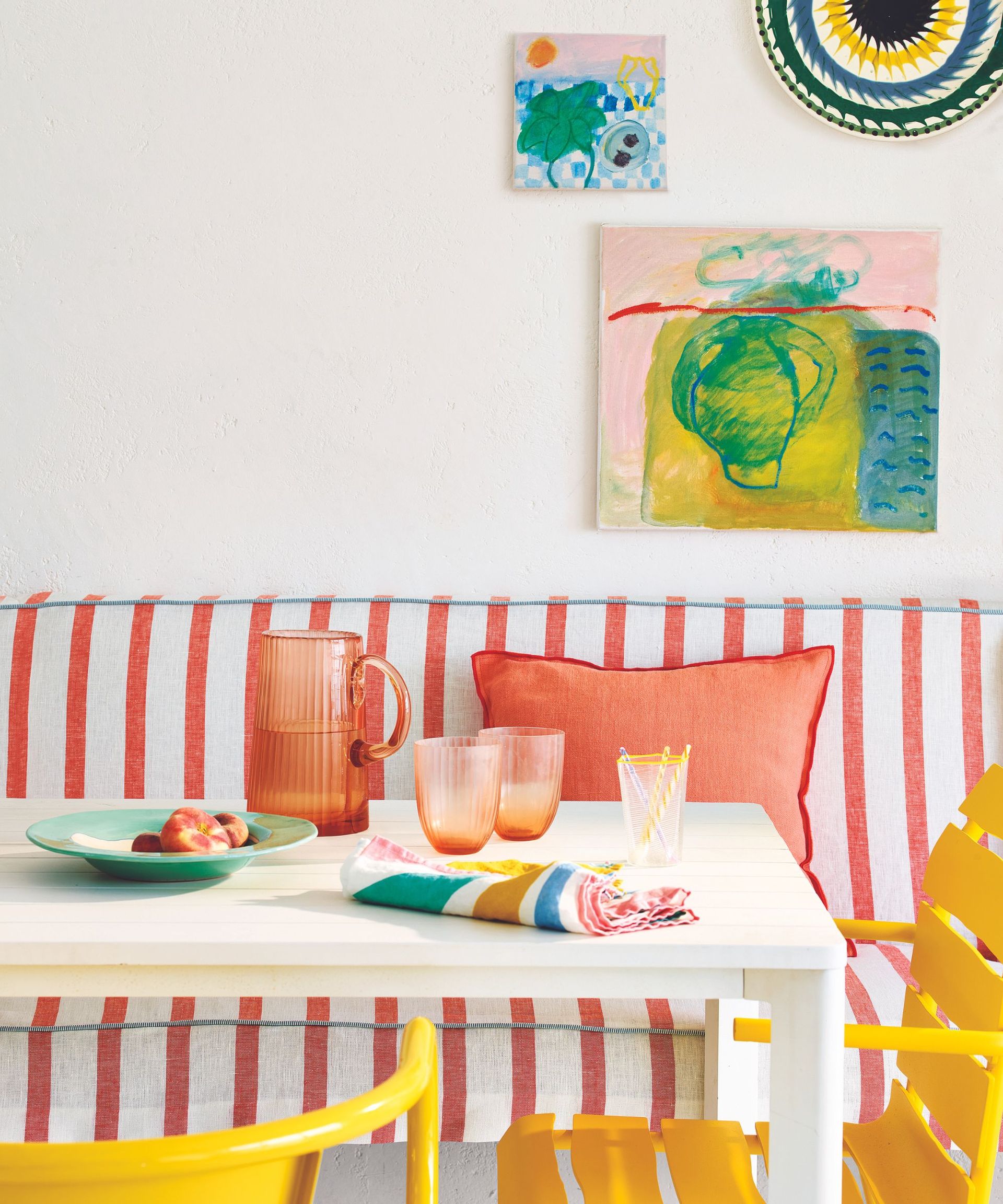 What's one of life's greatest pleasures? Food, of course, which is why your dining area, whether a formal dining room or a breakfast bar, has to be a setup that ticks that happy room box.
It needn't be complicated: it may just be that color and pattern can work its magic through paint tricks, upholstery fabrics and artwork. The goal? A space that stimulates your senses, makes you and your guests want to linger and socialize, and encourages you to repeat the experience over and again. Decorating with primary colors can achieve this, instantly.
'Here, perky lines and peachy hues balanced with abstract artworks set the scene for relaxed dining,' says Kate French, who covered the Padstow dining bench by The Cotswold Company with Stripe coral/white at Volga Linen, trimmed in Keaton cord in Ocean, Thibault. A yellow Aligned dining armchair from SCP adds a splash of block color, along with artwork by Lucy Giles at 155A Gallery.
6. Make the cocktail hour setup permanent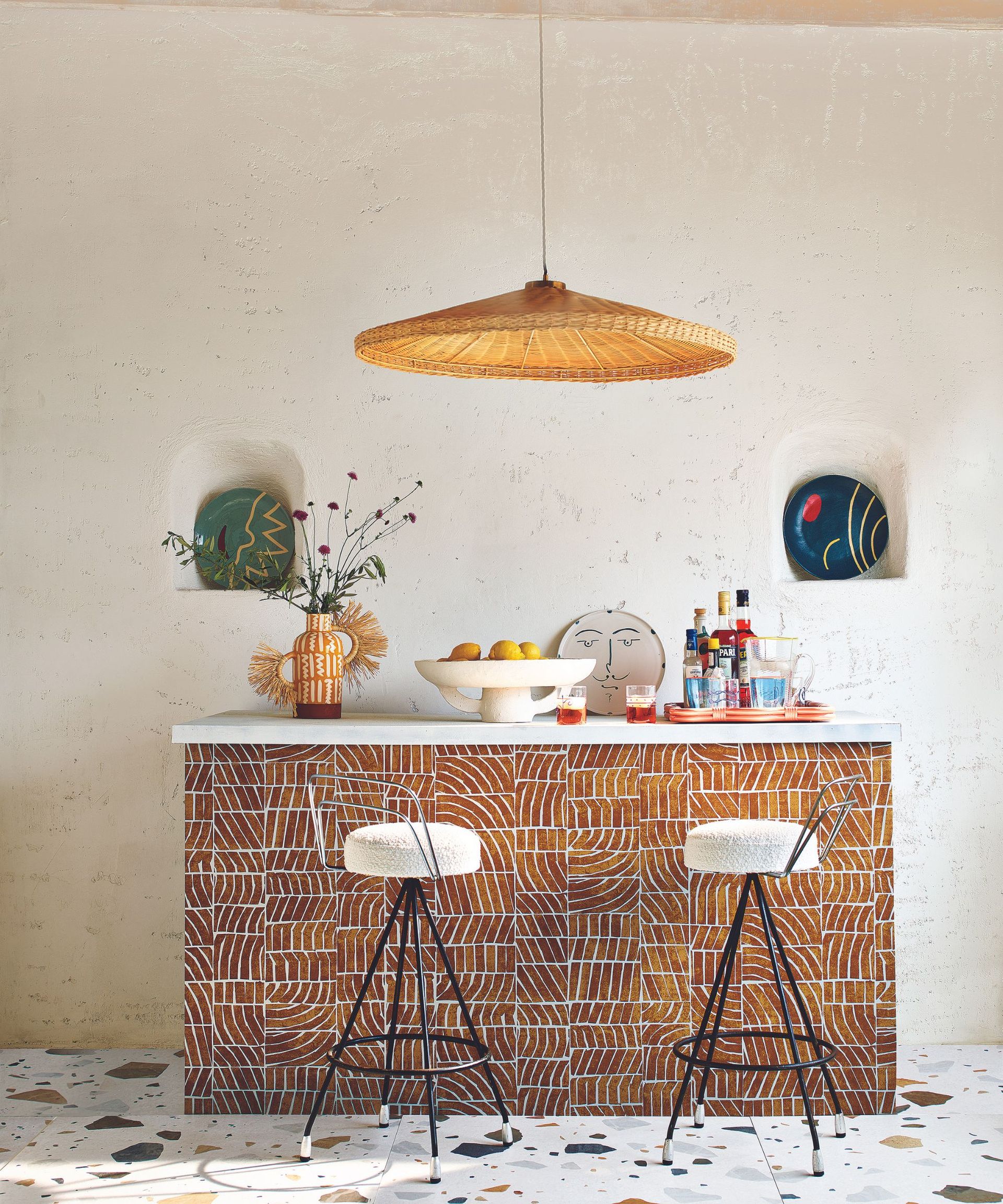 When we thought 'happy room ideas', we did have 'happy hour' in mind all along, too. After a long week at H&G, we have to admit to loving a wind down with the odd cocktail and mocktail to celebrate Friday night.
So why not make space for that cocktail bar in your dining or living space to remind you that the weekend is never that far off? It has a touch of Mad Men about it, which can only be a good thing.
Here, Kate French has created a cocktail bar with a Cote d'Azur appeal. 'Tile effect wallpaper across the front of the bar draws the eye and brings a textural quality to this discretely luxurious area,' says Emma Thomas.
Wallpaper (on bar), Voiles de papier Ondes, Elitis. A pair of 1950s Spanish bar stools by Hermanos Vidal, Brownrigg. Aphrodite Pendant, Pooky.
7. Make your bedroom a happy space with personalized details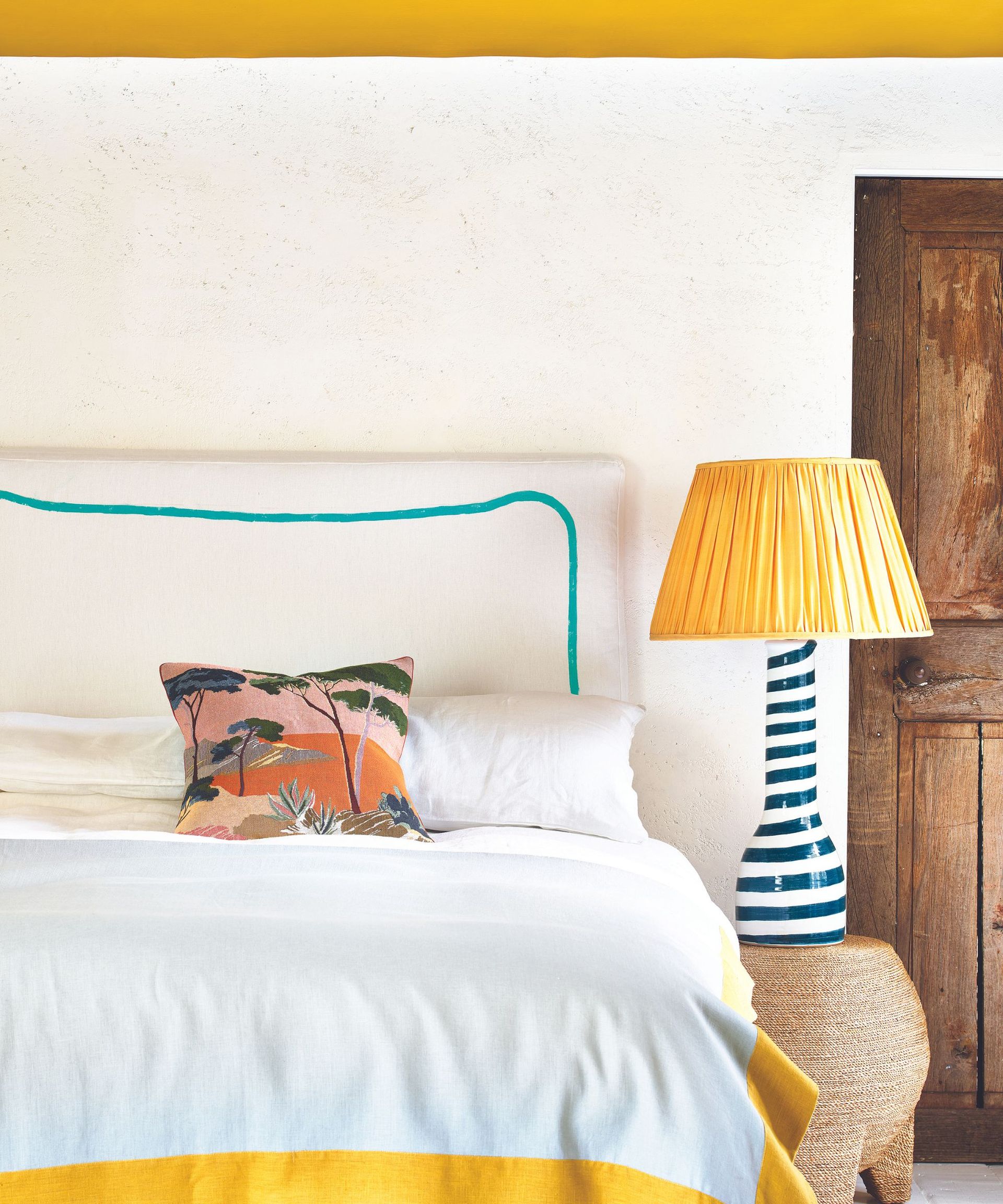 We've talked endlessly recently about the best and worst bedroom colors for sleep, since the subject of how to sleep better is so closely tied to wellbeing. Psychologists agree pretty much unanimously that pale blue is the best shade for inducing sleep, which is obviously key to our happiness.
However, if you spend a ton of time in your bedroom when you're awake – perhaps it's the best place for you to find peace at home – you'll want it to be a happy room that's not just related to sleep.
'For this to work, you have to choose bedroom color ideas you love, and add your own artistic touches – even a simple hand-painted line can elevate a plain headboard,' says Lucy Searle, Editor in Chief, Homes & Gardens.
'I love white bedroom ideas – my own at home is bright white with touches of red and yellow – and I love, love, love how Kate French has designed this happy bedroom for us. Whitewashed walls allow the natural textures to shine – linen, wood, and stone evoke the feel of sunnier climes, enhanced by the band of ochre yellow painted across the top of the wall.'
8. Bring in greenery for a healthy, happy room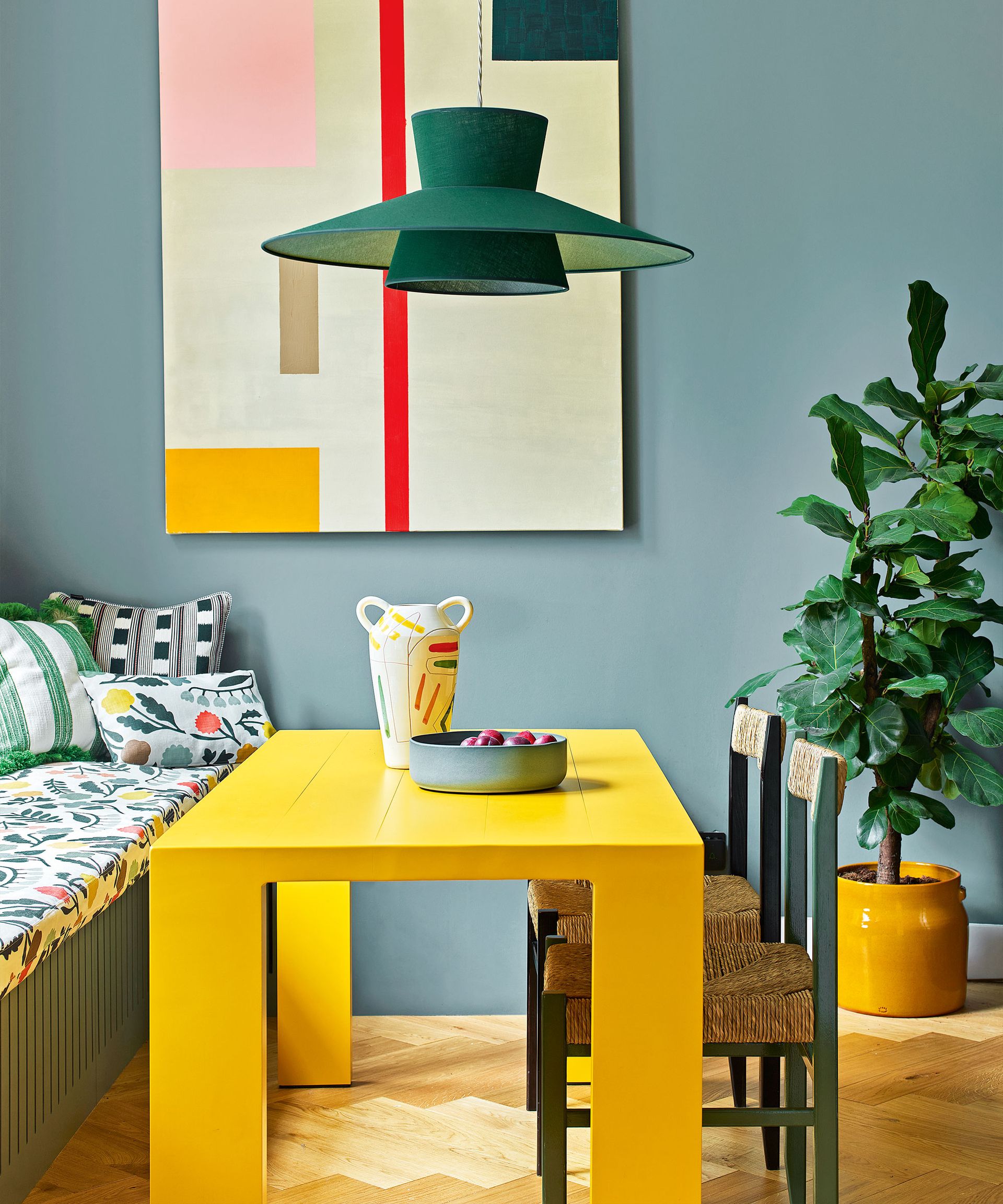 Indoor plants are known to make for a happy room – that connection with nature is so important to our wellbeing and happiness.
'The ideal is to have houseplants and access to a lush backyard, but the presence of plants indoors becomes all the more important if you live in an apartment with no access to a balcony and a foliage-free city view,' says Homes & Gardens' Gardens Editor Rachel Crow.
'Not only do plants look wonderful, tending plants has been proven to improve our mental health – gardening therapy, in fact, is said to be as effective as meditation. Meanwhile air cleaning indoor plants can improve poor air quality inside. It's a win, win, win.'
9. Create a 'self-care space'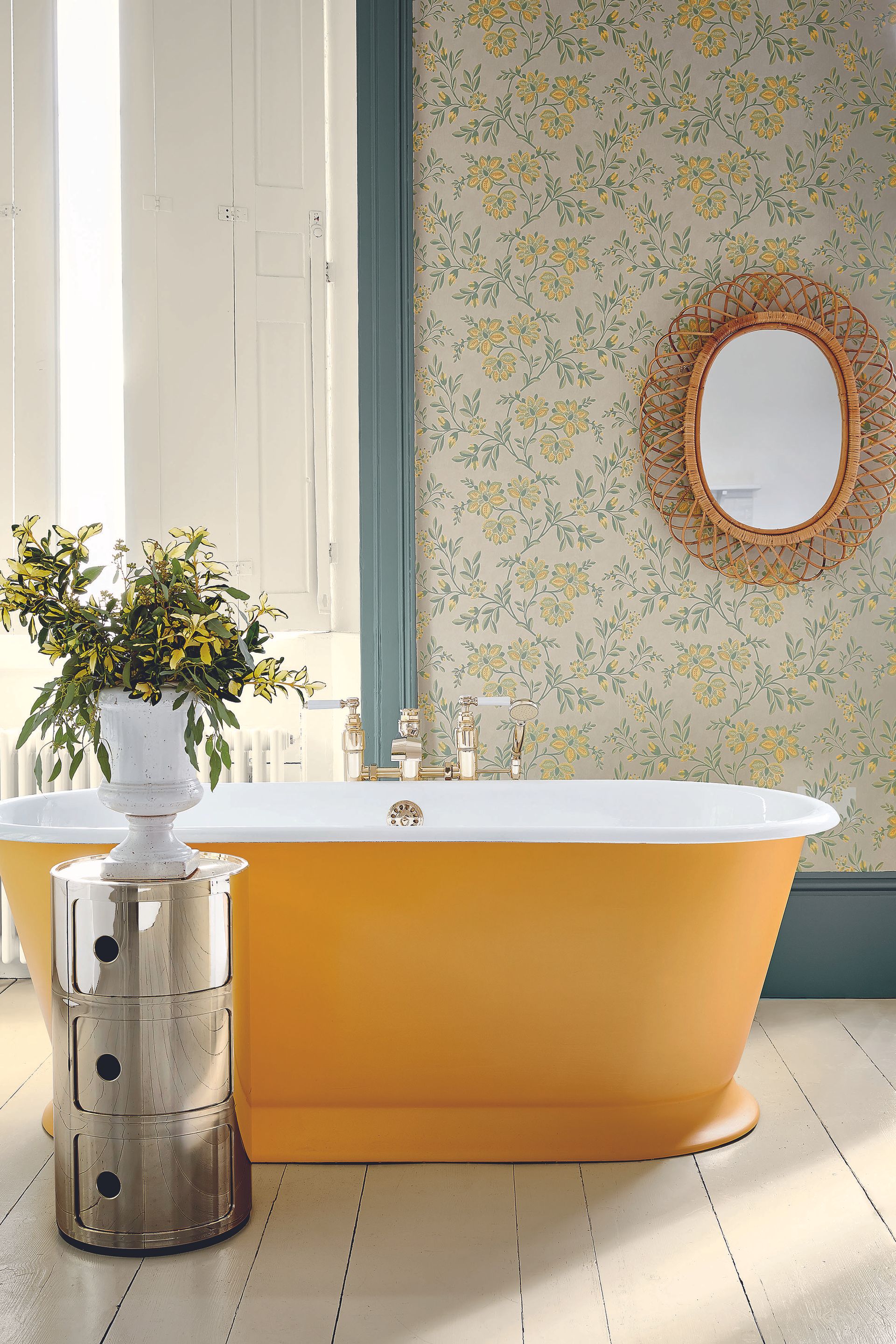 Designing a 'self-care space' is a fairly new concept, but it's a simple one: it should evolve around what you love doing most.
This might be a beautiful spa bathroom like the one above where you can spend time unwinding every night after a hard day at work. It might be a beautifully appointed kitchen where you can focus on making your favorite recipes. It might be a yoga or meditation room – guest bedrooms can double up. It might be a brilliantly-designed family room where you can all gather for movie nights at the weekend. It might be a home gym for exercises at home or yoga – exercise being key to good mental health.
Whatever, think about what makes you happy, and design a room, or a corner of a room, just for that purpose.
10. Make a memory wall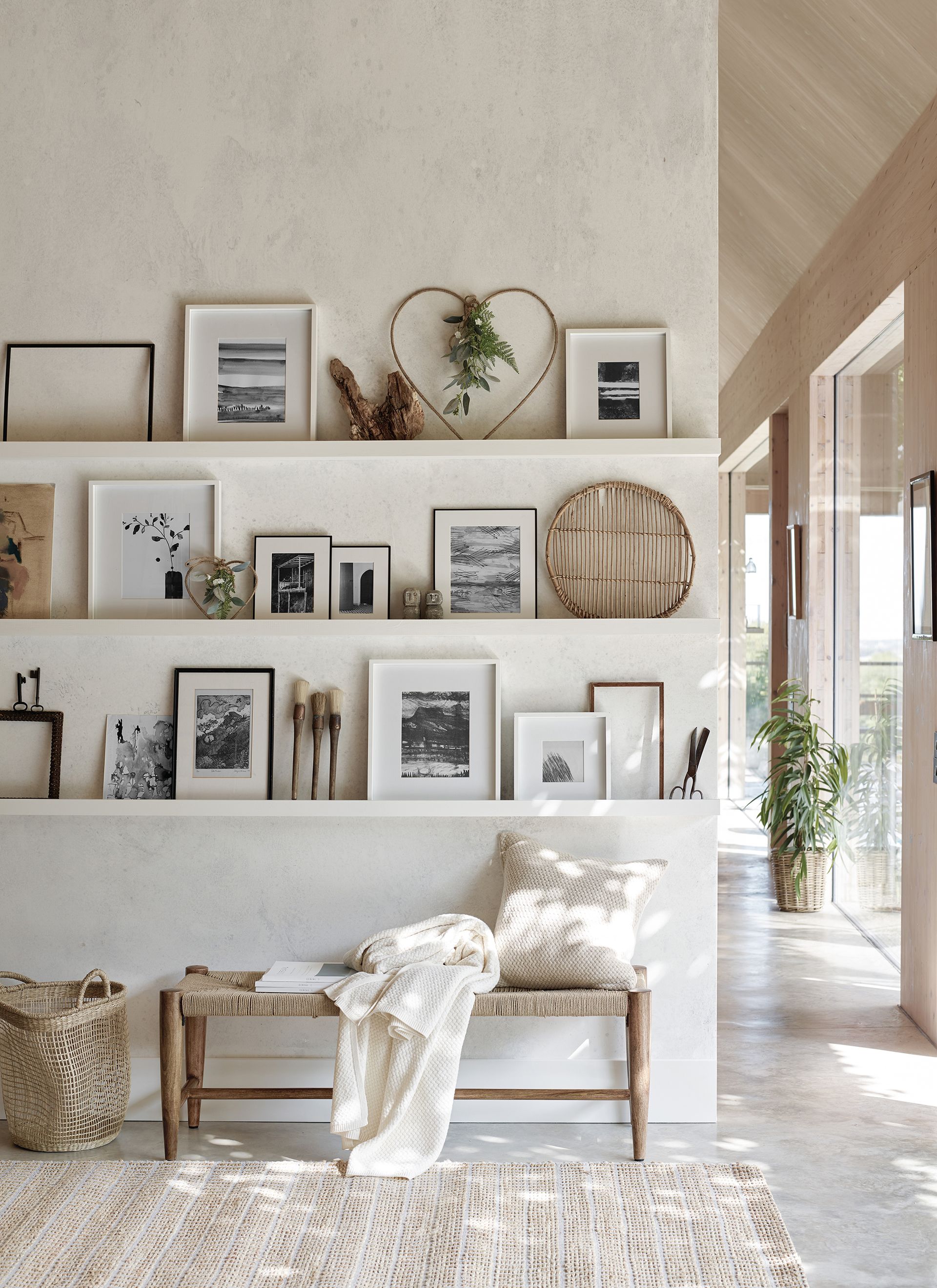 When life feels difficult, seeing or speaking to the people you love can give you a lift. So why not gift yourself a dose of daily happiness by making a memory wall, filled with the people you love and the celebrations you've shared?
Gallery wall ideas are ideal for this, and are so easy to put together. One in each room? Why not.
11. Let the light in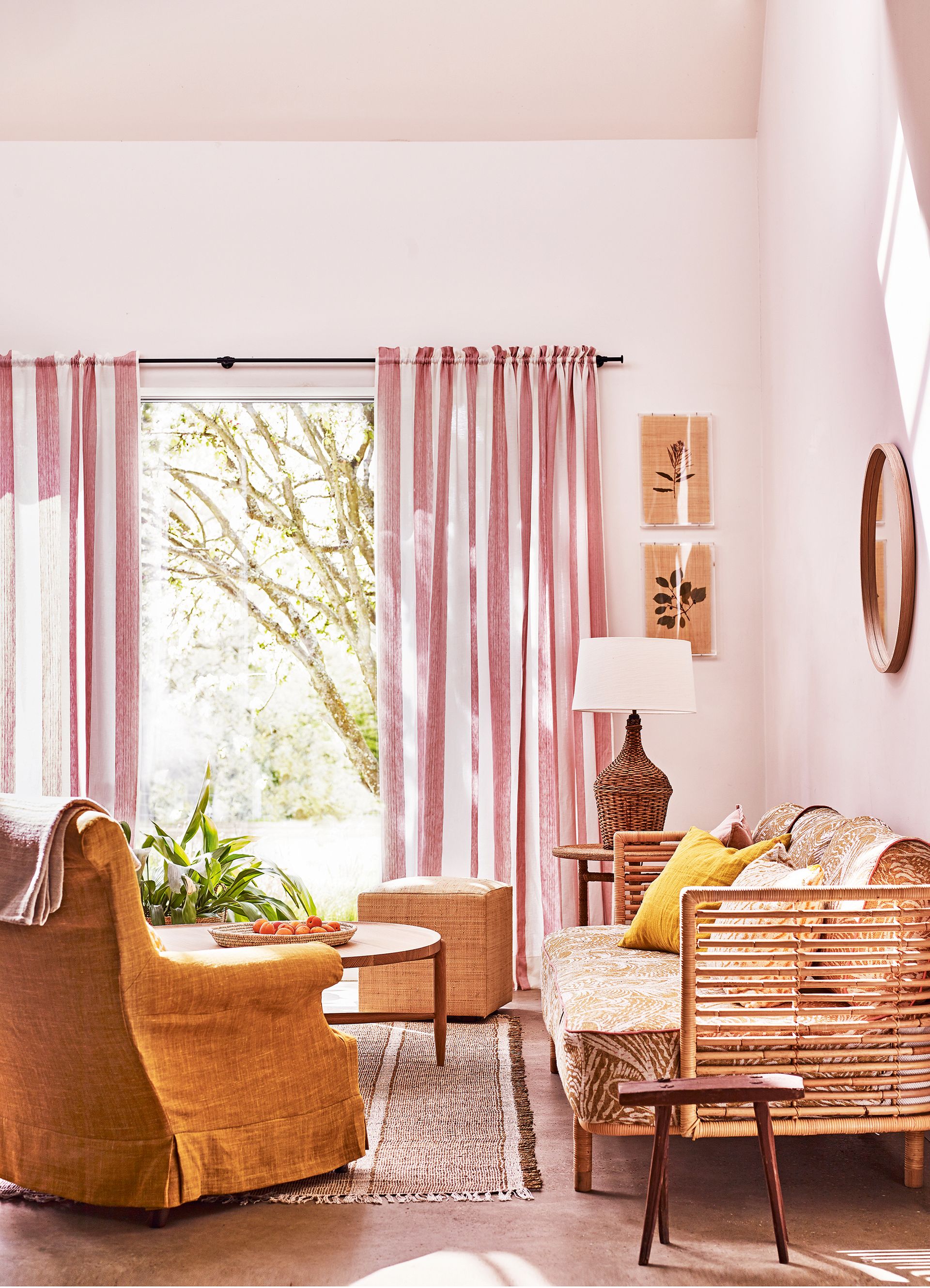 Wondering how to make a room feel happier? One key way to do so is to let light in. Light-flooded, sunny rooms make us feel better than dark, gloomy ones. So, if you are lucky enough to have a bright room, keep it that way with curtain ideas that don't block the light. Use decluttering tips and techniques to keep windows clear, and go for low, light-colored furniture to allow as much daylight to bounce around the room as possible. And if you're not blessed with a bright room, do all you can do improve the light levels in the space, from decorating with mirrors to painting walls light, bright colors.
How can I make my room feel happier
Does a clean house make you happier? Yes, says experts, it does. So if your decor is how you want it but the room still doesn't quite hit the note, it might just be that the room has too much clutter or mess in it, or that it just need a good clean.
'Studies have found that having a clean and tidy house can help you to feel relaxed, accomplished, stress free and this could in turn help with any mental health conditions and allow you to feel better and happier,' says Abbas Kanani, Pharmacist and Health adviser for Chemist Click.
Sign up to the Homes & Gardens newsletter
Decor Ideas. Project Inspiration. Expert Advice. Delivered to your inbox.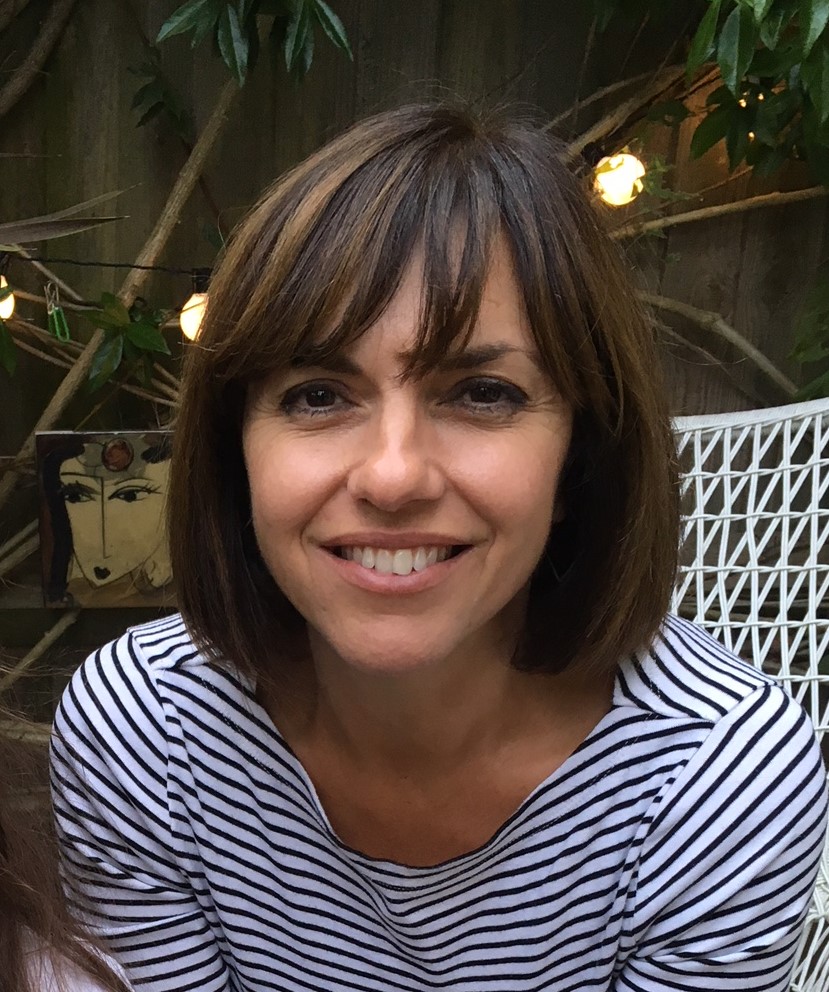 Lucy Searle has written about interiors, property and gardens since 1990, working her way around the interiors departments of women's magazines before switching to interiors-only titles in the mid-nineties. She was Associate Editor on Ideal Home, and Launch Editor of 4Homes magazine, before moving into digital in 2007, launching Channel 4's flagship website, Channel4.com/4homes. In 2018, Lucy took on the role of Global Editor in Chief for Realhomes.com, taking the site from a small magazine add-on to a global success. She was asked to repeat that success at Homes & Gardens, where she has also taken on the editorship of the magazine.