Red bedroom ideas – 11 ways to use this bold color in your sleep sanctuary
Make a rich, sophisticated and bold statement with red bedroom ideas. These spaces are perfect for relaxing and cocooning, too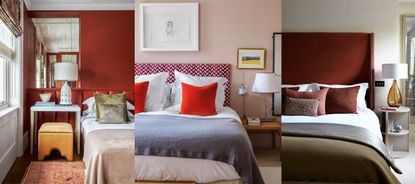 (Image credit: Future)
Contemplating red bedroom ideas? While the color might sound like a dramatic choice, it's actually a hue that's easy to live with, and definitely worth your consideration, especially in a romantic bedroom.
The qualities that make red a great option? Its warmth, the ability to make the bedroom feel cocooning, and its appearance under artificial light. After all, for many of us, the bedroom is a space we frequently occupy after dark.
Be inspired to consider red among your bedroom ideas by these design-led rooms, and draw on the knowledge of the designers who exploit its potential.
Red bedroom ideas
If you're considering bedroom color ideas, red is a versatile shade. Red bedroom decor might be used as an atmospheric backdrop, as a cozy accent, or you might pick a sophisticated tint to play with the attributes of the color. Use these red bedroom ideas as your starting point.
1. Create balance by teaming red with white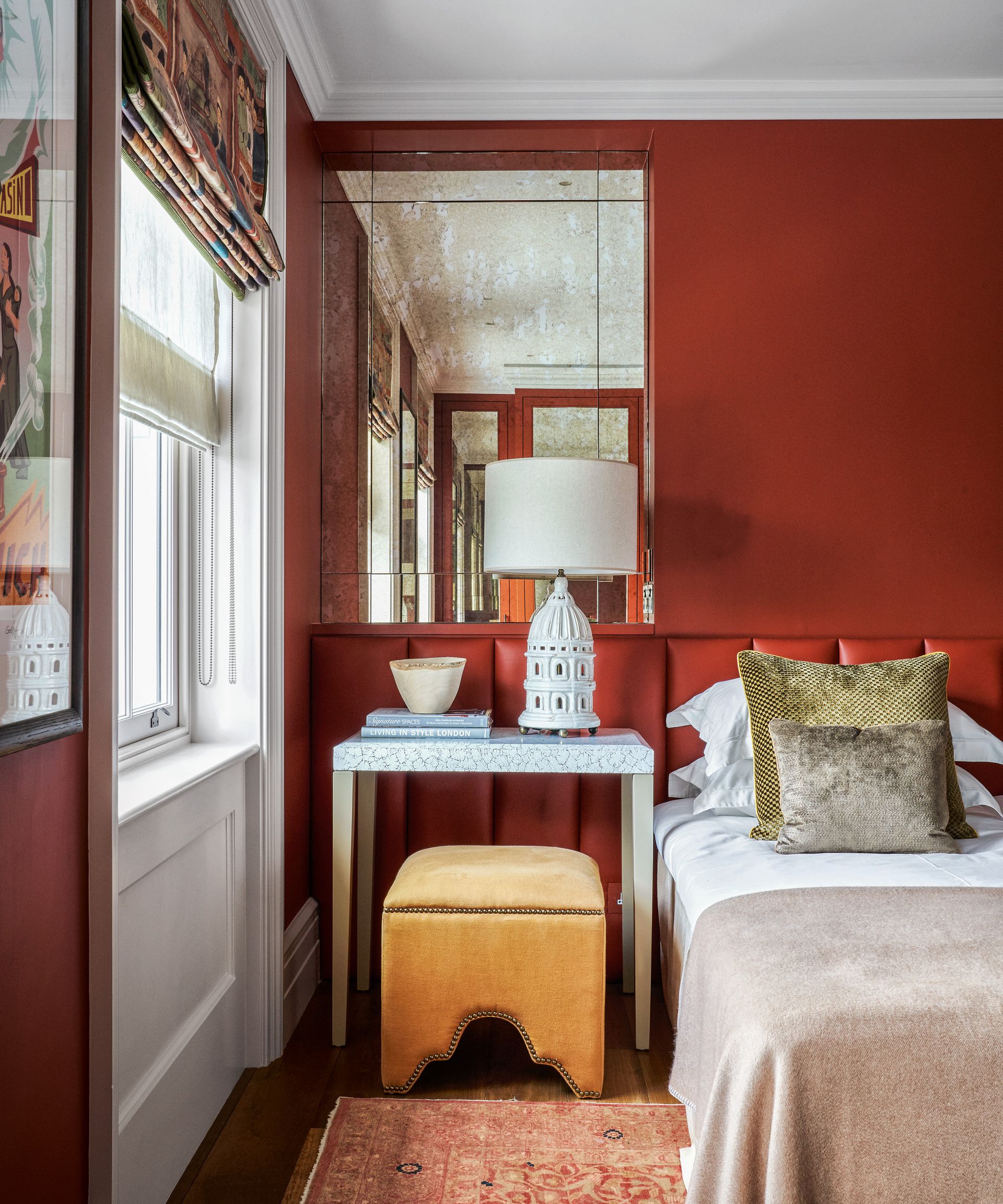 'If the thought of an all red bedroom feels you with a mixture of joy and a little anxiety then use white to balance it out,' says Andrea Childs, editor, Country Homes & Interiors. 'Any shade of red will look fabulous with crisp white bedroom ideas, use it on your ceiling and woodwork – we love how it's extended on this window frame, add in white bedlinen, a architectural lamp and textured accessories, and your red bedroom will feel warm and cozy.'
2. Use red as a backdrop for decorative artefacts and prints
'This small bedroom is full of beautiful decorative aspects that are visually enhanced by the rich shade behind the bed,' says Melanie Griffiths, editor, Period Living. 'It acts as the most perfect blank canvas in this vibrant space that's full of character.'
3. Earthy or lively? There's a shade of red to suit both moods
'Red is a bold color choice, but it's not as intimidating if you know how to choose the right shade,' says Dominic Myland, owner of Mylands. 'Deeper reds like Huguenot™ No. 49 are ideal if you're looking for an earthier tone, while brighter hues like Red Post Hill™ No. 68 are lively, fun and vibrant, and an exciting way to make a statement.
Red is also a great color for accents and features if you're not quite ready to commit to an entire wall or room, and try pairing your choice of red with blues and neutrals for a timeless look.'
4. Add red as an accent shade to transform a neutral scheme
Using an on-trend red color in your home doesn't mean you suddenly need to paint walls, change your carpet and buy tons of accessories. You can simply follow the 'less is more' philosophy and introduce it in small ways.
'A red color palette in the bedroom can seem a little daunting but, if used sparingly, it can be a fun way to make a statement without overwhelming the room,' says Sue Jones, creative director and co-founder at OKA. 'A vibrant red rug is a great way to bring a neutral scheme to life, especially when layered with accessories in similar tones.'
5. Introduce red for warmth
'This color is Edward Bulmers Sang De Boeuf,' says Camilla Clarke, creative director at Albion Nord. 'It's a brown-red tone that is calm but serious and creates a statement. Edward Bulmers paints are made out of natural materials and are much softer and chalkier in tone so the room doesn't appear too harsh. We decided to paint this room red as it could take this bold color with all the natural light that was flooding in from a balcony space on the right.'
'It's important to consider the lighting in a room when painting it a color such as red. This color takes on slightly different tones throughout the day and the seasons. Its vibrant and fresh in the morning, cosy and rich in the evening.'
'When choosing furniture to complement this red scheme, we looked at mixing foraged, pre-loved items and contemporary and bespoke pieces to sit alongside explosions of abstract color, not only does it look elegant and modern, but it feels incredibly comfortable, welcoming and ultimately, liveable.'
6. Red can be applied in both prints and plains
'For this girl's bedroom, we chose this beautiful fuchsia wallpaper from Colefax and Fowler and teamed it with their 'Ticking Stripe' fabric for the custom headboard as we knew she loved red and pink,' says Henriette Von Stockhausen, creative director at VSP Interiors. As much fun as it is, you don't want to have to decorate your daughter's bedroom too many times – so think about leaving room to grow.
7. Allow your personality to shine through
Don't be afraid of dark and rich colors. 'These hues bring intimacy and depth whilst also allowing you to show personality and flair,' says Martin Waller, founder of Andrew Martin.
Instead of choosing a statement wall color, choose one that can be made to feel very different by switching just a few key pieces in the room (the bedlinen, artwork, a ceiling lamp).
8. Pick a shade that has a cocooning feel
'The walls are painted in 'Trilogy' by Paint & Paper Library to give the room depth and create the feeling of being cocooned,' says Henriette Von Stockhausen, creative director at VSP Interiors. 'The antique canopy was found at Lawrences Auctioneers in Somerset and the mirror is Victoria Bain.'
Remember, traditional, country or cottage style bedrooms suit more muted shades of red, or reds that stray towards earthy tones.
9. Go for an all-over red bedroom idea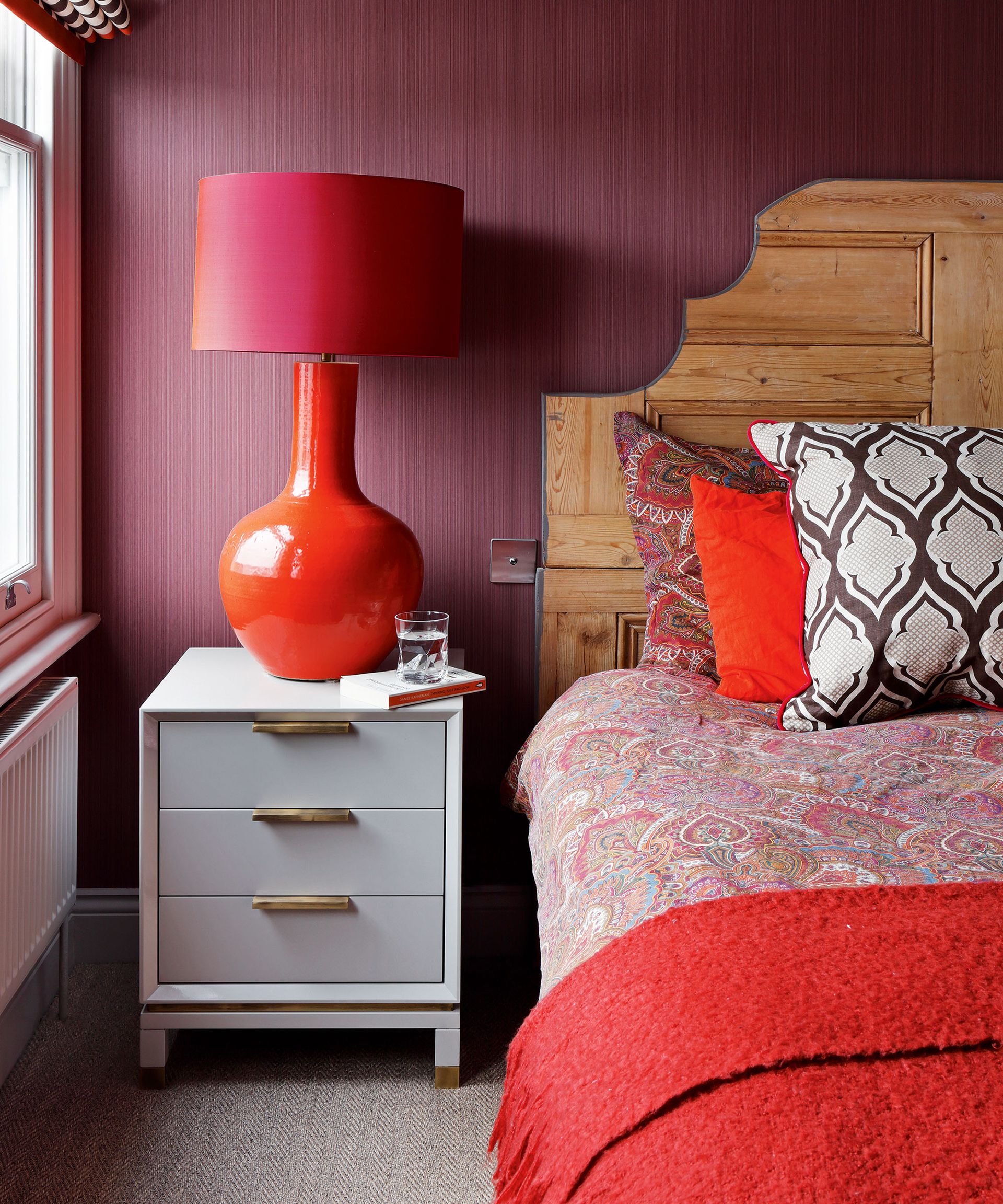 'If you're the type who likes a bit of get-up-and-go in the mornings, consider earthy tones of red,' says Jennifer Ebert, digital editor, Homes & Gardens. 'While not traditionally thought of as one of the best bedroom colors, these reds are at once regal and romantic. Your bedroom scheme needs to not only help you fall asleep, but be a pleasant environment in which to wake up. This shade really lifts this red bedroom and gives is a modern edge.'
10. Create harmony with two colors from the same palette
If it's a timeless appeal you are looking for, return to red and pink.
'Bedrooms are a wonderful room to embrace clever color combinations for rooms to create an intimate and personal design scheme,' says Andy Greenall, head of design at Paint & Paper Library.
'Use tonal hues together, selecting a color palette with the same base tones such as rich 'Beetlenut' combined with soft pink 'Plaster V and deep, warm red 'Grenache' to create a harmonious and calming atmosphere.'
11. Take a maximalist – and memorable – approach to red
Sarah Barker was thinking of her guests when she designed this cherry-red bedroom. She wanted their stay to be memorable and decided her own wallpaper could deliver the desired impression (Dahlia at the Fabric Collective). 'I wanted to make this room unique,' she says, 'something different to the often calm interiors people choose, so that it will be remembered as much as the visit itself.'
'Enhancing a small space with maximalist pattern is the way to go in creating an enveloping bedroom, says interior designer, Flora Soames. 'It capture that jewel-like sense of coziness and comfort.'
Is red a good color for the bedroom?
Red, the color or passion and love, is a great option for the bedroom. If you are looking for colorful bedroom ideas that will never date, red is certainly one to consider. A beautiful red will add instant warmth and a lovely coziness to a dark bedroom or small bedroom – which doesn't have a ton of natural light. A muted orange-red is a shade that works so well in any style of bedroom, be it modern or traditional.
Sign up to the Homes & Gardens newsletter
Decor Ideas. Project Inspiration. Expert Advice. Delivered to your inbox.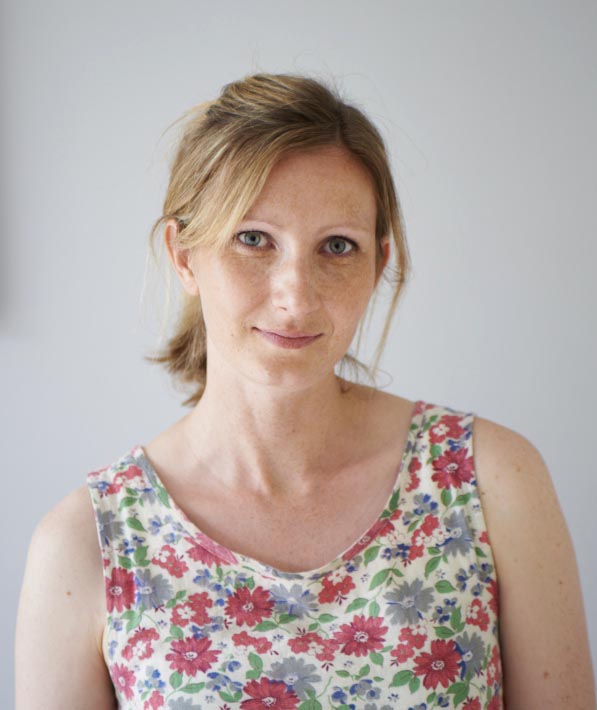 Sophie has been an interior stylist and journalist for over 20 years and has worked for many of the main interior magazines during that time, both in-house and as a freelancer. On the side, as well as being the News Editor for indie magazine, 91, she trained to be a florist in 2019 and launched The Prettiest Posy where she curates beautiful flowers for modern weddings and events. For H&G, she writes features about interior design – and is known for having an eye for a beautiful room.