Bedroom lighting trends – 10 latest looks chosen by interior design experts
These are the top bedroom lighting trends for this year and beyond

(Image credit: Kitesgrove/David Collins Studio/Original BTC)
Following bedroom lighting trends can mean the difference between a sleep space that's so-so and one that's sophisticated and stylish. From sleek wall lamps in new finishes to the newest contemporary design, they can provide inspiration for a bedroom remodel that's beautifully curated.
Below, we look at the very latest bedroom lighting trends, but – don't worry – we are far more interested in stylish bedroom ideas with longevity rather than fashionable fads.
Bedroom lighting trends
Bedroom trends include everything from furniture to flooring. But here, we're interested in the latest bedroom lighting ideas. We spoke to 10 of our favorite interior design experts and asked them which bedroom lighting trends they predict will be big for 2022 – and beyond.
1. Black retro lighting
If you are looking for bedroom wall light ideas, retro, Anglepoise-style reading lamps is a look we've noticed creeping into bedrooms.
'Adding black retro style lights to this earthy bedroom scheme may seem unusual, but it's good to mix up styles to keep things fresh and exciting visually,' explains Irene Gunter, founder of the award winning design studio, Gunter & Co (opens in new tab).
'Black, dark greys and grey-browns are hues often found in nature, so it makes sense to combine these with rich terracotta and olive greens. I find earthy tones combined with ivories and yellows can feel quite old-fashioned, but with black there is an "edge" that makes interiors feel contemporary, and I believe this trend will continue into 2022.'
2. Modern bedside light designs in traditional bedroom
Bedside lighting ideas tend to match the style of the bedroom itself, but you can use contrast to create a focal point that can lift, in particular, traditional bedroom ideas.
'Bedside table lamps that are modern and sculptural in form not only add character to a bedroom, but functionality as well.
'This striking light has a beautiful, clean silhouette that adds visual impact and its modern aesthetic contrasts comfortably with some of the more traditional elements of the room such as the antique bedside tables,' explains Clara Ewart, head of design at Kitesgrove (opens in new tab).
3. Sculptural pendants with a nod to botanical shapes
Joanna Spindler at Graham & Green (opens in new tab) gives us her expert bedroom lighting trend advice:
'If there's anywhere to make the most of eclectic lighting designs, it's in our bedrooms. This is the one room in the house where we really lie back and gaze up.
'We've noticed a trend for sculptural design recently, with a particular focus on botanical shapes. Designs that remind us of nature can be both calming and restorative. Dimmer switches and reading lamps are also a must as these will help you with your wind down routine before sleep.'
4. Personalized bedside lamps
'Lighting is such a simple way to add some immediate color and charm to a room. With a strong bold base as your starting point, you then have the freedom to choose your favorite patterned lampshade, creating your own unique and characterful combination. This way of personalizing your own lamp will be a big trend for 2022,' says renowned textile designer, Molly Mahon.
The Honey Pot ceramic lamp base is a nostalgic, easy to live ceramic base and pairs perfectly with Molly's new 'Flirty Skirt' shade, it's part of her 'Light up your Life' collection.
5. Informal, assymmetric lighting
Although we're fans of symmetry in interior design – and it definitely has its place, mixing it up like Sophie Ashby, founder and creative director at Studio Ashby (opens in new tab) has done with this bedroom ceiling light idea certainly makes for an interesting display, and oh – we love the metallic element!
'Bedroom lighting is important; good lighting can be mood enhancing. I like to do a mismatch of lighting rather than pairs of bedside lights and I feel this is an exciting new trend for 2022,' she says.
'The most important thing with all lighting is that it should absolutely be dimmable. Generally, I prefer low level lighting, it's more ambient, flattering and atmospheric. In a bedroom, I would rely on table lamps, floor lamps and wall lights rather than spot lights; a combination of vertical uplighting and downlighting.'
6. Hand-crafted eye-catching pendants
'Statement lighting will continue to grow in popularity in 2022 with innovation in design encouraging the development of unique and show-stopping lighting pieces,' predicts Simeon Chilvers, managing director at Cameron Design House (opens in new tab), a bespoke sculptural lighting company based in London.
'Light naturally draws our eyes in so I have always been of the opinion that what holds that light should be beautiful, interesting to look at and meticulously crafted. A geometric pendant light suspended effortlessly from the ceiling makes for a wonderful centerpiece in the bedroom.'
7. Low hung bedside pendant lamps
Knowing how to plan bedroom lighting is just about light levels – the fittings you choose can affect the room's proportions, too. There are several advantages to this fabulous new trend, one being that they can visually give the impression of a taller ceiling, as the pendant cord hangs down and can trick the eye.
Jo Plismy, founder of contemporary lighting company Gong adds:
'Hung either side of a bed, the lights make a pleasing symmetrical statement and free up space on bedside furniture. Being hung in this way also gives them the illusion they are serenely floating, further evoking feelings of peacefulness.'
8. Natural materials
With many of us spending an increased amount of time indoors, it's become more important than before to create restful spaces and we've seen this trend grow over the last year with people opting for more natural textures and materials as they yearn for the earthly connection at home.
Louise Lythe, associate director at David Collins Studio explains this trend:
'For the main bedroom of this prestigious family home, we have used symmetry in the layout together with a variety of natural and hand-crafted materials to create an inviting and restful room.
'We selected natural rock crystal bedside table lamps, a material known for its restorative and healing properties, which also works beautifully with light. For the pendant light, the circular and nature inspired forms create a calming rhythm and the burnished silver leaf finish works to create a soothing ambiance.'
9. Wall lights that work in two ways
Of course, a light that's multi-faceted is always going to be a winner in our book, as Charlie Bowes, director at Original BTC explains:
'Good lighting has the power to lift the spirits and make our bedrooms feel like the cozy sanctuary they need to be.
'Thirty years ago, we broke the mould as the first lighting manufacturer to use bone china. Thanks to the material's magical translucency, it combines both task and ambient lighting – strong illumination from the open shade, and a soft, soothing glow through the shade itself, this is a trend that's set to continue in bedrooms through to 2022. The multifaceted Hatton collection is a lovely choice for bedrooms – the wall light glows beautifully, whilst providing sufficient light to read by.'
10. Swivel arm bedside lighting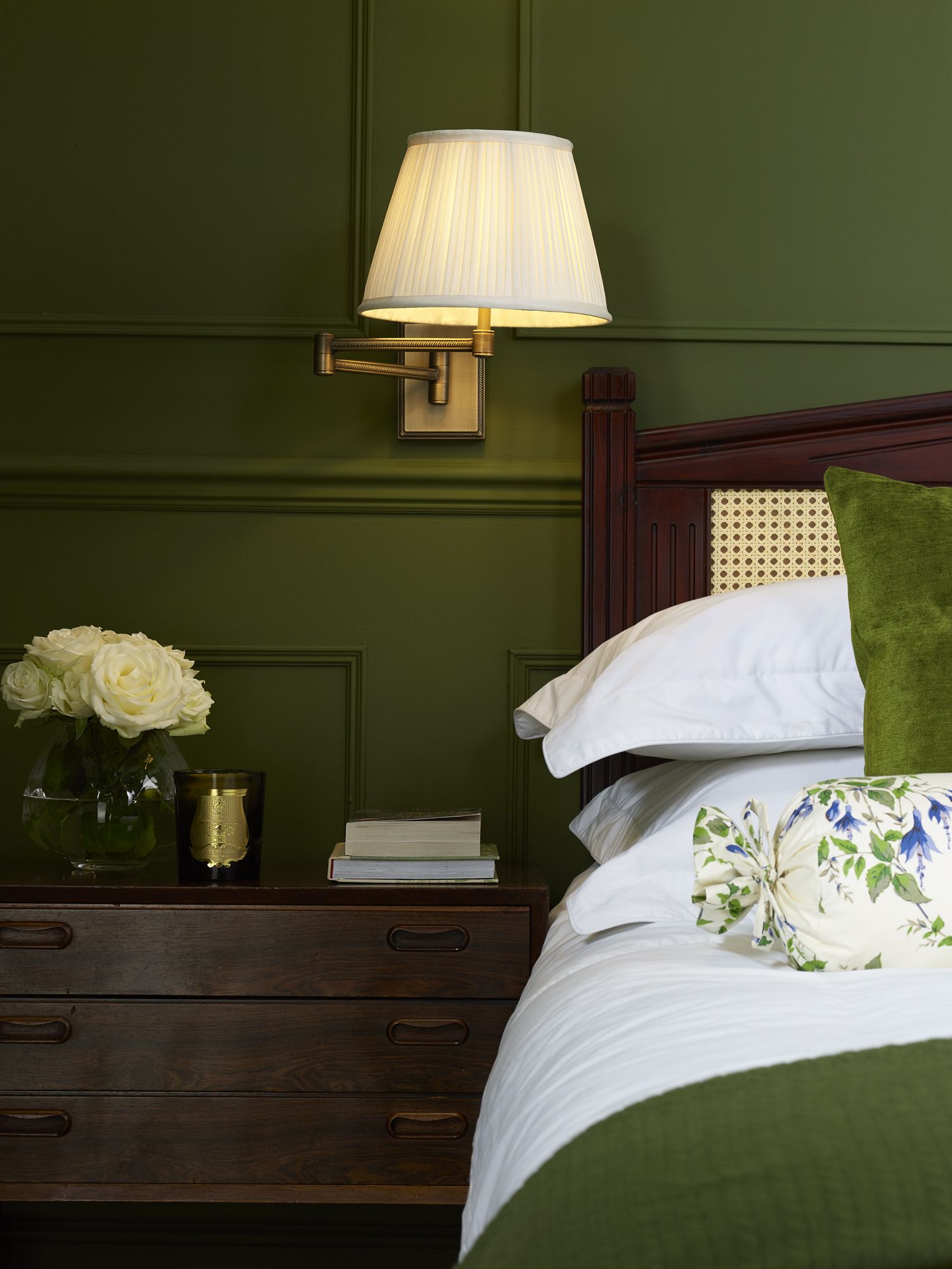 We asked Hollie Moreland, creative director at David Hunt Lighting for her thoughts on key bedroom lighting trends:
'Bedrooms are a space where we want to relax and feel cozy, whilst being comfortable knowing that key areas are lit. I love to unwind with a book, so task lighting is very important for me when it comes to my bedroom.
One of my favorites, and our predicted trend for 2022, is our Neoclassical-traditional Pimlico wall light, which has a swivel arm so you can angle and position the light as you please, making it the perfect bedside lamp for reading, as well as ambience, whether you have it on the side or above your pillow as you read.
'Although I love big table lamps, I think swivel arm wall-mounted lights are particularly useful to have by your bedside, allowing for more space on your bedside table, whilst ensuring the overall look is streamlined and elegant.'
Which bedroom lighting trends are big in 2022?
Bedside lamps embedded in luxury headboards are a big trend in 2022. This bedroom lighting trend is great for small bedrooms where bedside table space is tight – but it also creates a curated look that gives a bedroom remodel and boutique hotel appeal.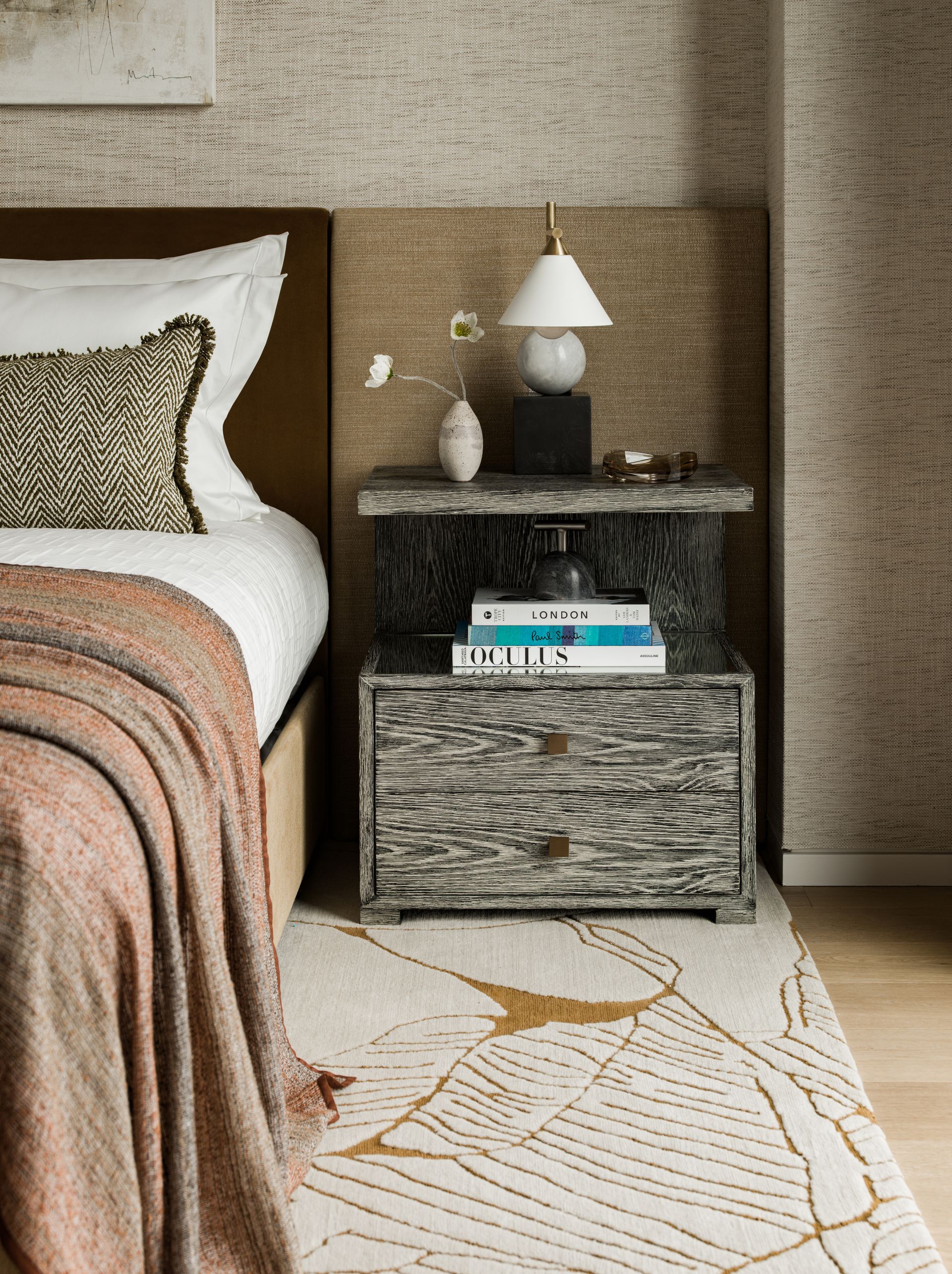 What are the latest bedroom ceiling light trends?
Larger fittings, such as bedroom chandelier ideas, are very much on trend for 2022. The key to choosing the right ceiling light is proportion – it shouldn't be so big that it eclipses the bed. As for how high it should hang, that is largely down to your ceiling's height and the height of your bed – but as a rough guide, the bottom of the fitting should be at around 7ft off the floor.
Sophie has been an interior stylist and journalist for over 20 years and has worked for many of the main interior magazines during that time, both in-house and as a freelancer. On the side, as well as being the News Editor for indie magazine, 91, she trained to be a florist in 2019 and launched The Prettiest Posy where she curates beautiful flowers for modern weddings and events. For H&G, she writes features about interior design – and is known for having an eye for a beautiful room.