15 bedroom lighting trends that will light up our lives in 2023
Experts reveal the latest lighting looks to use in the bedroom, from sculptural pendant lights to statement table lamps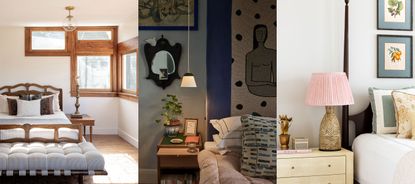 (Image credit: Jamie Haller | Original BTC X Beata Heuman | Margaret Ash)
The 2023 bedroom lighting trends shared by interior and lighting experts in the know prove just how important and influential lighting can be in a bedroom design scheme.
From table lamps with unique, free-flowing forms, to sculptural pendant lights that hang from the ceiling like beautiful works of art, your bedroom lighting ideas are a chance to make a stylish design statement in the space, as well as provide inviting illumination, of course.
We explore the favored designs set to be big in 2023, but – don't worry – we are far more interested in enduring styles that will coexist with your bedroom ideas for years to come – rather than focusing on fashionable fads.
15 bedroom lighting trends to watch out for in 2023
Following bedroom lighting trends can mean the difference between a sleep space that's so-so and one that's sophisticated and stylish.
With help from some of our favorite interior design and lighting experts, we have gathered the 15 top trends that will be big for 2023 and beyond...
1. Colorful, patterned table lamps
A table lamp is one of the most popular bedside lighting options for a bedroom, and it can be a simple way to enhance a space with eye-catching colors and patterns.
From bright, bobbin bases to unique fabric shades, more and more of us are choosing to decorate our homes with eye-catching table lamp designs.
Narchie founder Harriet Pringle says, 'we saw statement lighting becoming more popular in 2022, and it will be a recurring theme in 2023 - but bigger. You get a two-for-one with lighting, the effect of the light itself, and the shape and color of the lamp. A punchy lamp or lampshade makes a statement, and is a piece of art in itself.'
We love the table lamp design in this bedroom, featuring a union of contrasting stripe shapes, colors, and materials, the lamp feels elegant, tactile, and totally unique, and yet, it still perfectly coordinates with the color scheme in the rest of the room.
2. Industrial minimalism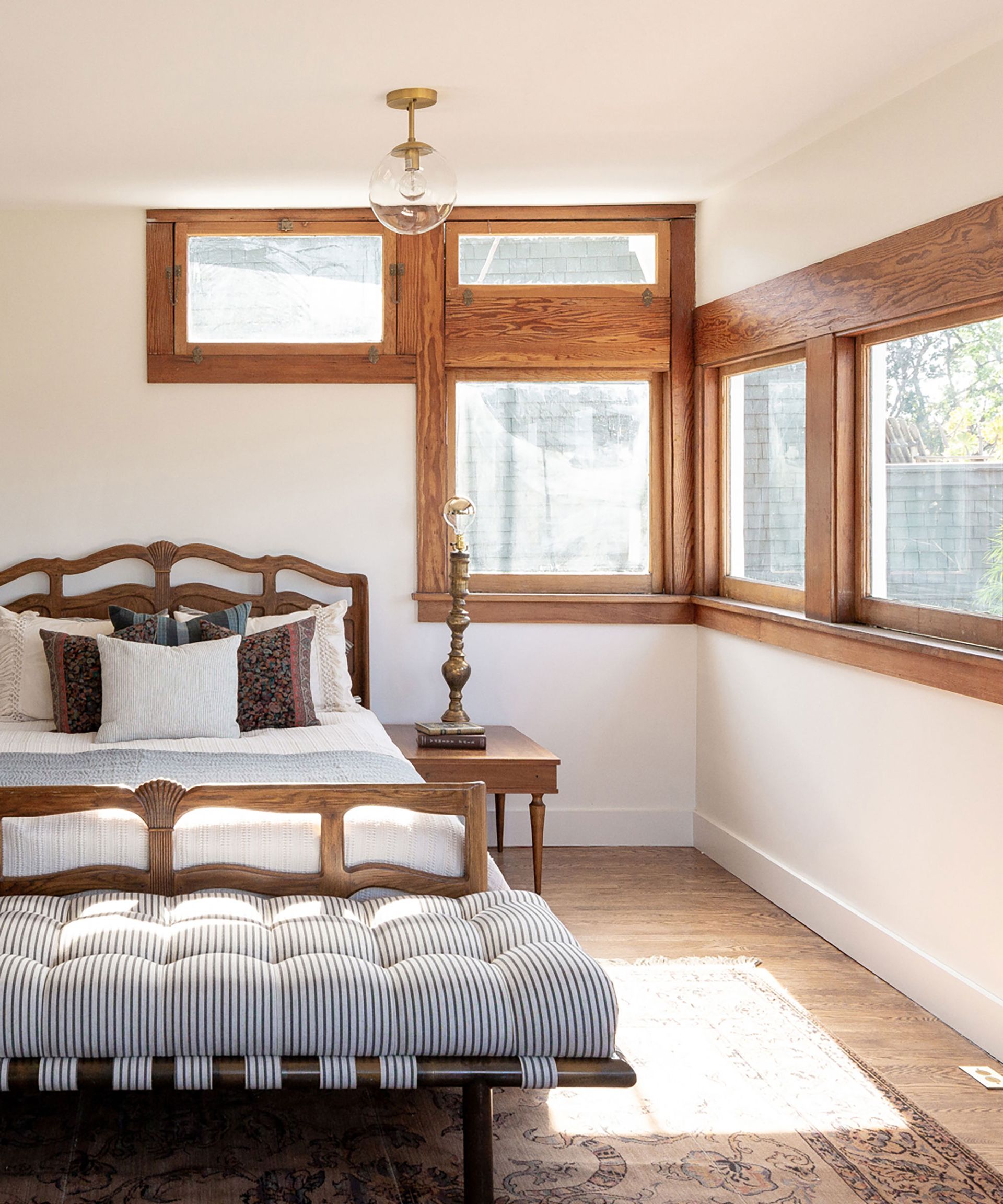 Whether you're a minimalist at heart or want your bedroom lighting to feel more subtle or traditional, opting for an industrial, minimalist lighting scheme can establish a simple, pared-back look.
In this bedroom, part of a project by Jamie Haller, he states that 'antique lighting was often used in the home and sourced through local architectural salvage specializing in the early century.'
We love these antique lighting finds, and think they fit in perfectly with the traditional wooden millwork and overall rustic, classic style of the space. The rounded glass ceiling light and exposed bulb table lamp celebrate the essential components and traditional materials used to make up a light fixture, with this use and style of metal and glass utterly timeless.
If you're thinking about purchasing some vintage lighting for your bedroom, for more inspiration and advice, explore how to decorate with antiques.
3. Wiggles and waves
The use of curves, on everything from furniture shapes to lighting, accessories, and more, is being celebrated as one of the most popular interior design trends of 2023.
The use of free-flowing, soft curves in interior design can make a room feel more gentle, inviting and relaxed, ideal for a bedroom or living room.
As demonstrated above, the iconic Bias Editions Wiggle Lamp makes a playful statement through its curvaceous form. A complete transformation of a standard, straight table lamp base, the design pays homage to similar post-modern designs that were first introduced in the 1980s.
Charlie Bowles, director at Original BTC says, 'nostalgia has been a huge influence in the way people style their interiors. Social media has led to a resurgence of decade-related trends like brass fittings, unexpected pops of color, and creative shapes.'
If you want to embrace the wiggles and waves trend but in a more subtle way, why not choose a scalloped or wavy lampshade, instead, such as this pendant light from Anthropologie, or this table lamp from Serena & Lily.
4. Use lighting to establish a cozy nook
'Don't limit yourself to a single dimmer switch. Good lighting, with a variety of options including ceiling, table, and wall lighting, is imperative to creating an ambiance, a cove of coziness and intimacy,' says Martin Waller, founder of Andrew Martin.
Lighting can not only transform a room with bright illumination and warmth, but it can also alter how we feel, as well as how we use space. As Waller discusses, one of the most important lessons to learn when using lighting in the home is to have a variety of light sources in each room, so you can easily cater to changing atmospheres, tasks, and moods throughout the day.
In this bedroom, a wall light and floor lamp have been used in combination to create a cozy reading nook; a beautiful balance of both decorative and functional lighting in a bedroom.
5. Eclectic contrasts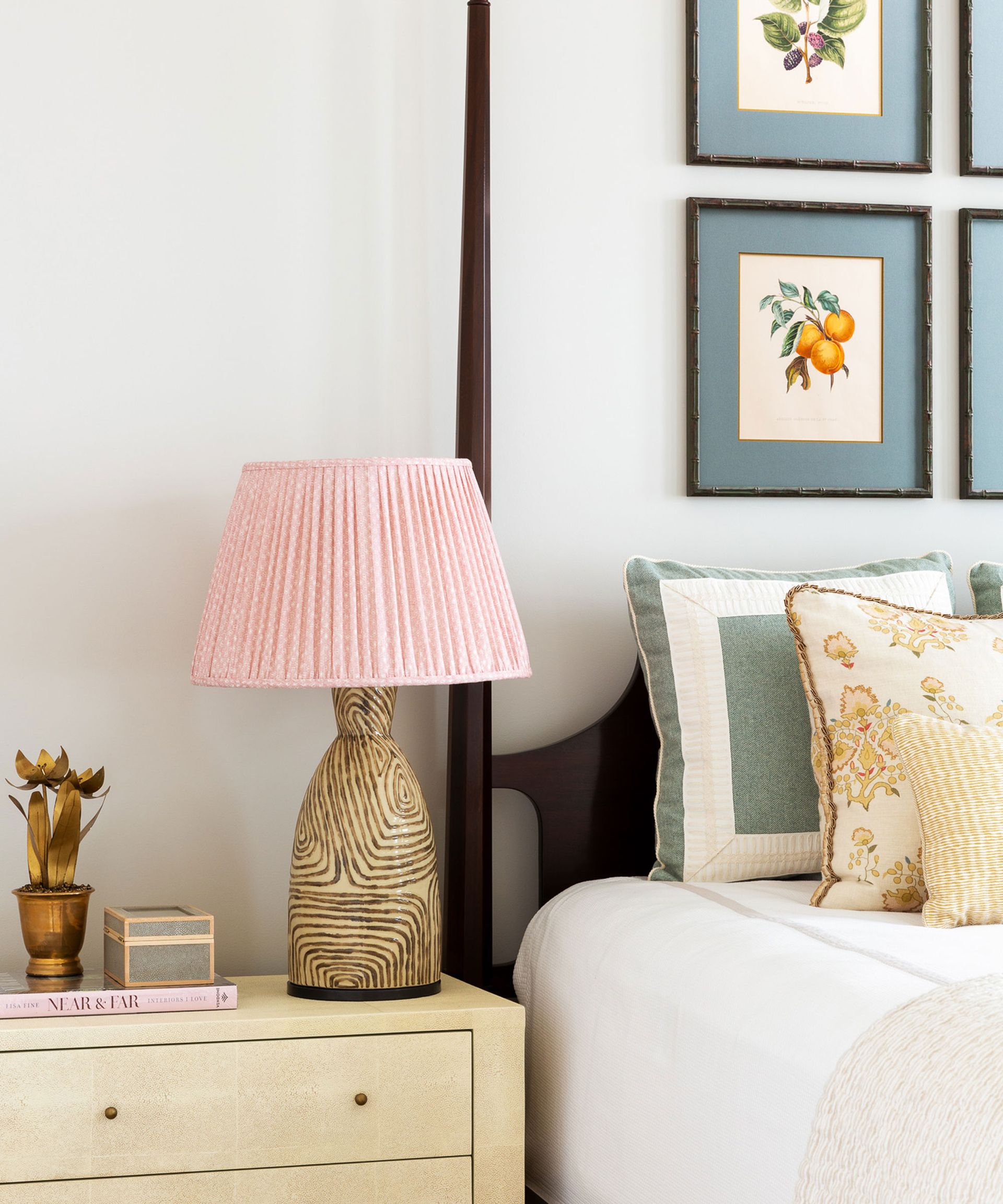 Another key trend to look out for across interior design in 2023 is styling a space with an eclectic mix of the old and the new, and establishing an elegant union of different styles and eras of design.
Creating a space rich in unique character and texture, the overall feel of this 'trend' is a freedom to design a space rich in contrast and character, filled with objects and design ideas collected from various places over time.
Whether you style your bedroom with a collection of different lamps, some old and some new, or choose a unique table lamp design, like in the bedroom above where contrasting materials, textures, and colors sit stylishly together as one, there is much fun and creativity to be had.
6. Black retro lighting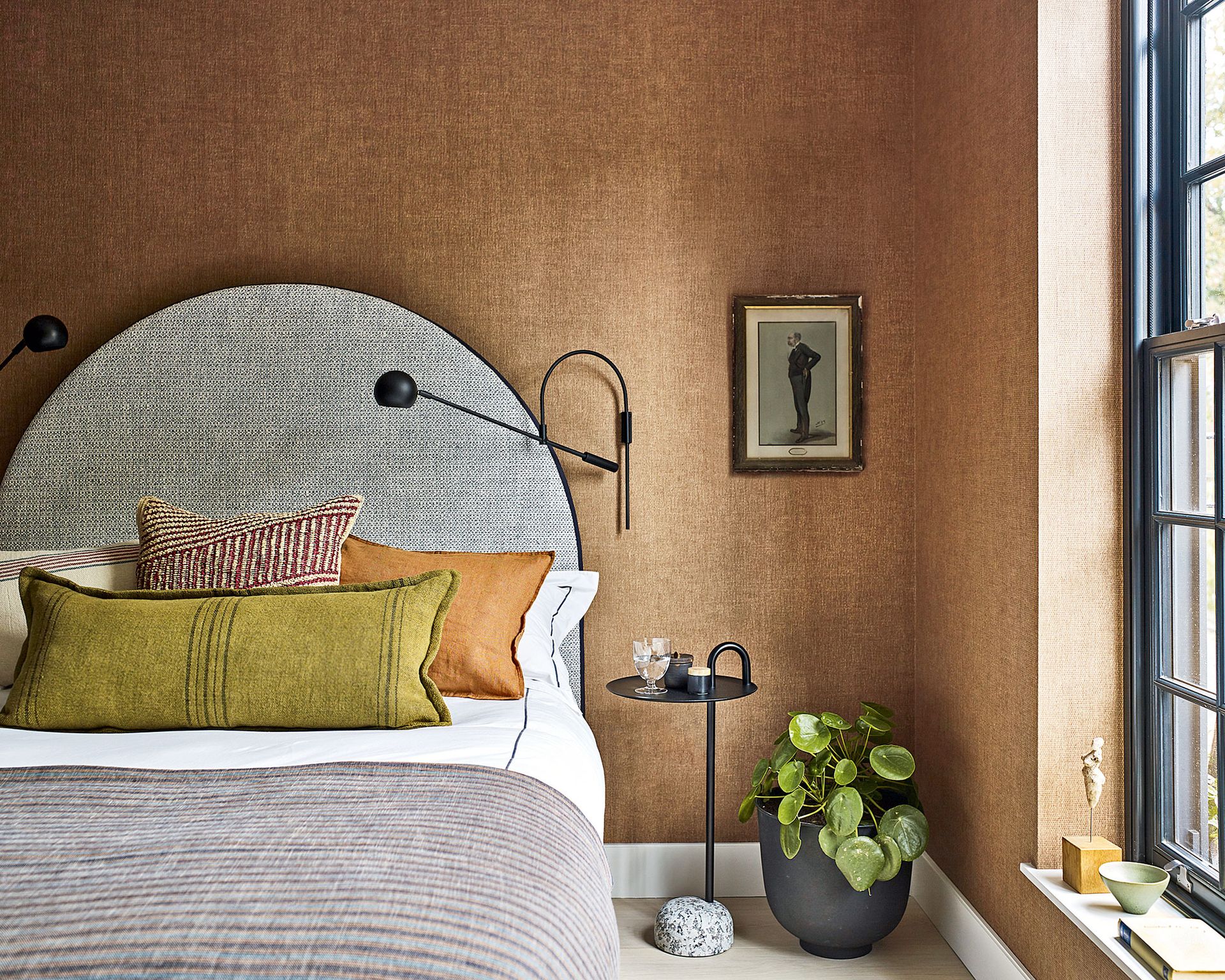 If you are looking for bedroom wall light ideas, retro, Anglepoise-style reading lamps is a look we've noticed creeping into bedrooms.
'Adding black retro style lights to this earthy bedroom scheme may seem unusual, but it's good to mix up styles to keep things fresh and exciting visually,' explains Irene Gunter, founder of the award winning design studio, Gunter & Co.
'Black, dark grays and gray-browns are hues often found in nature, so it makes sense to combine these with rich terracotta and olive greens. I find earthy tones combined with ivories and yellows can feel quite old-fashioned, but with black there is an "edge" that makes interiors feel contemporary, and I believe this trend will continue into 2023.'
7. Unite the classic with the contemporary
Bedside lighting ideas tend to match the style of the bedroom itself, but you can use contrast to create a focal point that can lift, in particular, traditional bedroom ideas.
'Bedside table lamps that are modern and sculptural in form not only add character to a bedroom but functionality as well,' explains Clara Ewart, head of design at Kitesgrove.
'This striking light has a beautiful, clean silhouette that adds visual impact, and its modern aesthetic contrasts comfortably with some of the more traditional elements of the room such as the antique bedside tables.'
8. Striking, sculptural pendants
Joanna Spindler at Graham & Green gives us her expert bedroom lighting trend advice:
'If there's anywhere to make the most of eclectic lighting designs, it's in our bedrooms. This is the one room in the house where we really lie back and gaze up.
'We've noticed a trend for sculptural design recently, with a particular focus on botanical shapes. Designs that remind us of nature can be both calming and restorative. Dimmer switches and reading lamps are also a must as these will help you with your wind-down routine before sleep.'
9. Personalized bedside lamps
'Lighting is such a simple way to add some immediate color and charm to a room. With a strong bold base as your starting point, you then have the freedom to choose your favorite patterned lampshade, creating your own unique and characterful combination. This way of personalizing your own lamp will be a big trend for 2023,' says renowned textile designer, Molly Mahon.
The Honey Pot ceramic lamp base is a nostalgic, easy-to-live ceramic base and pairs perfectly with Molly's 'Flirty Skirt' shade, part of her 'Light up your Life' collection.
10. Informal, asymmetric lighting
Although we're fans of symmetry in interior design – and it definitely has its place, mixing it up like Sophie Ashby, founder and creative director at Studio Ashby has done with this bedroom ceiling light idea certainly makes for an interesting display, and oh – we love the metallic element!
'Bedroom lighting is important; good lighting can be mood enhancing. I like to do a mismatch of lighting rather than pairs of bedside lights and I feel this is an exciting new trend for 2023,' she says.
'The most important thing with all lighting is that it should absolutely be dimmable. Generally, I prefer low-level lighting, it's more ambient, flattering and atmospheric. In a bedroom, I would rely on table lamps, floor lamps and wall lights rather than spotlights; a combination of vertical uplighting and downlighting.'
11. Hand-crafted, statement pendants
'Statement lighting will continue to grow in popularity in 2023 with innovation in design encouraging the development of unique and show-stopping lighting pieces,' predicts Simeon Chilvers, managing director at Cameron Design House, a bespoke sculptural lighting company based in London.
'Light naturally draws our eyes in so I have always been of the opinion that what holds that light should be beautiful, interesting to look at, and meticulously crafted. A geometric pendant light suspended effortlessly from the ceiling makes for a wonderful centerpiece in the bedroom.'
12. Low hung bedside pendant lamps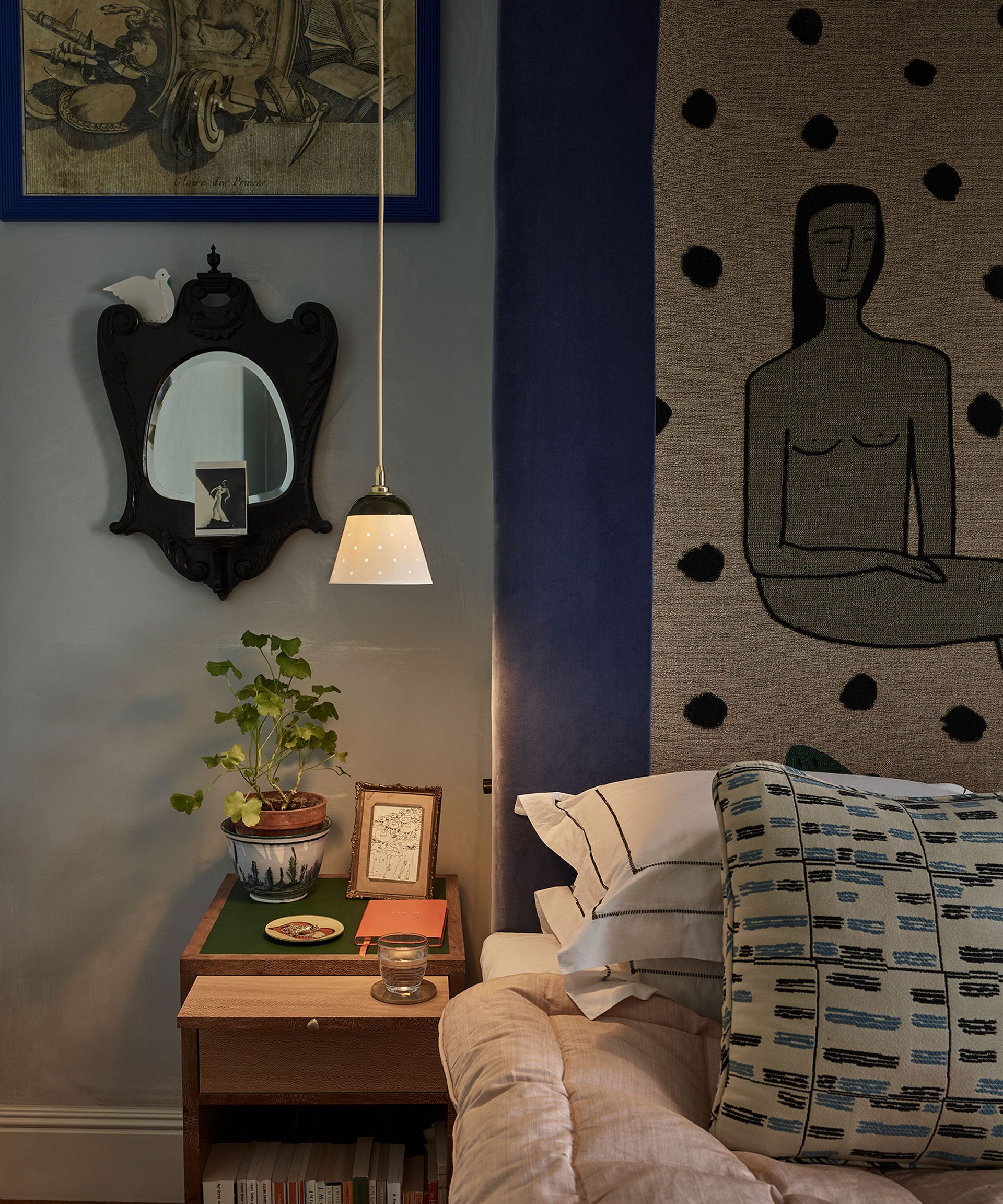 Knowing how to plan bedroom lighting is just about light levels – the fittings you choose can affect the room's proportions, too. There are several advantages to this fabulous new trend, one being that they can visually give the impression of a taller ceiling, as the pendant cord hangs down and can trick the eye.
Jo Plismy, founder of contemporary lighting company Gong adds, 'hung either side of a bed, pendant lights make a pleasing symmetrical statement and free up space on bedside furniture. Being hung in this way also gives them the illusion they are serenely floating, further evoking feelings of peacefulness.'
13. Influences from the natural world
With many of us spending an increased amount of time indoors, it's become more important than before to create restful spaces and we've seen this trend grow over the last year with people opting for more natural textures and materials as they yearn for the earthly connection at home.
Louise Lythe, associate director at David Collins Studio explains this trend, 'for the main bedroom of this prestigious family home, we have used symmetry in the layout together with a variety of natural and hand-crafted materials to create an inviting and restful room.
'We selected natural rock crystal bedside table lamps, a material known for their restorative and healing properties, which also works beautifully with light. For the pendant light, the circular and nature-inspired forms create a calming rhythm and the burnished silver leaf finish works to create a soothing ambiance.'
14. Wall lights that work in two ways
Of course, a light that's multi-faceted is always going to be a winner in our book, as Charlie Bowes, director at Original BTC explains, 'good lighting has the power to lift the spirits and make our bedrooms feel like the cozy sanctuary they need to be.
'Thirty years ago, we broke the mold as the first lighting manufacturer to use bone china. Thanks to the material's magical translucency, it combines both task and ambient lighting – strong illumination from the open shade, and a soft, soothing glow through the shade itself, this is a trend that's set to continue in bedrooms through 2023.
The multifaceted Hatton collection is a lovely choice for bedrooms – the wall light glows beautifully, whilst providing sufficient light to read by.'
15. Swivel arm bedside lighting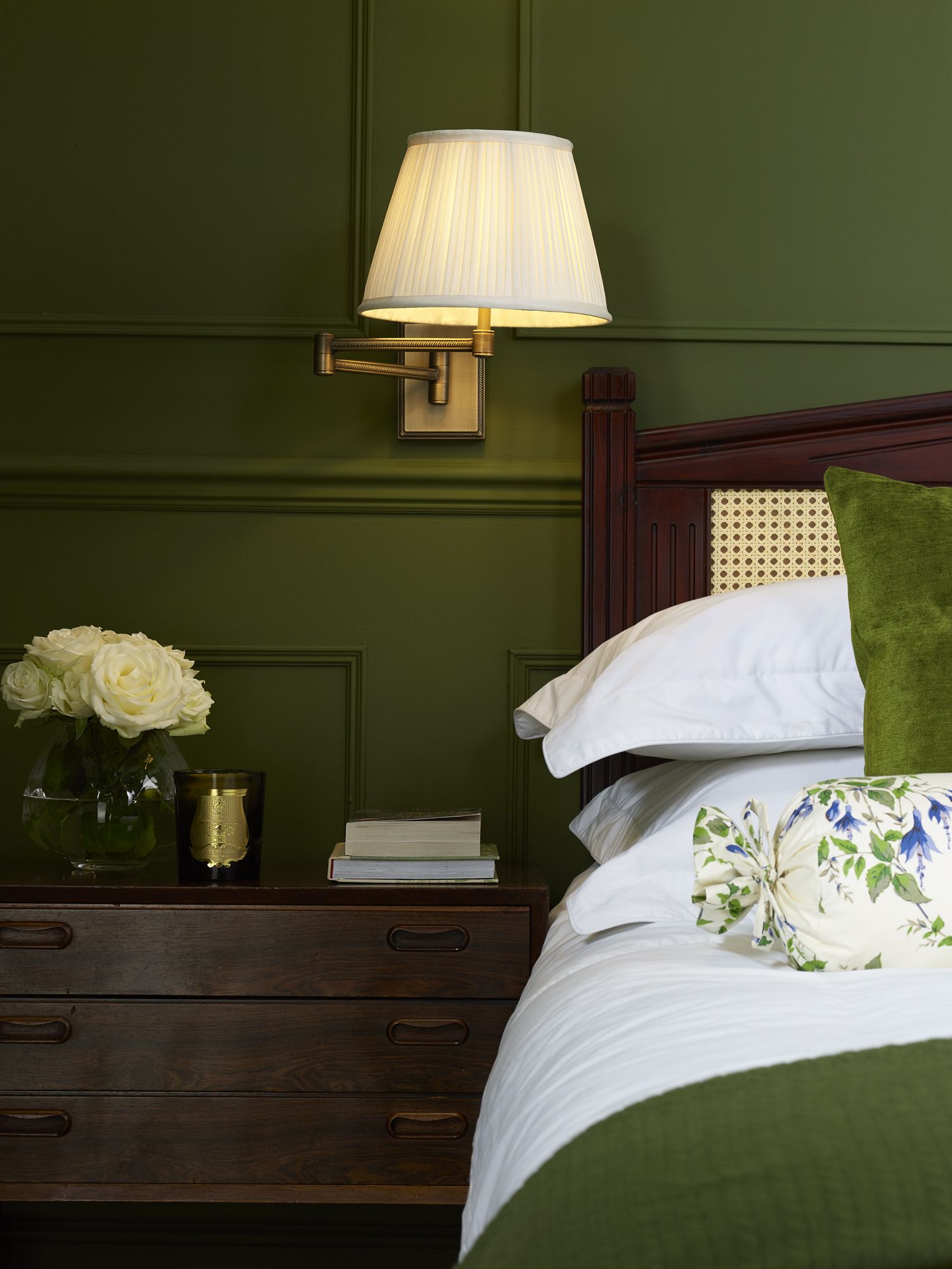 Hollie Moreland, creative director at David Hunt Lighting, shares her thoughts on why task lighting is key for this year's bedroom lighting trends:
'Bedrooms are a space where we want to relax and feel cozy, whilst being comfortable knowing that key areas are lit. I love to unwind with a book, so task lighting is very important for me when it comes to my bedroom.
One of my favorites is our Neoclassical-traditional Pimlico wall light, which has a swivel arm so you can angle and position the light as you please, making it the perfect bedside lamp for reading, as well as ambiance, whether you have it on the side or above your pillow as you read.
'Although I love big table lamps, I think swivel arm wall-mounted lights are particularly useful to have by your bedside, allowing for more space on your bedside table, whilst ensuring the overall look is streamlined and elegant.'
What kind of lighting is best for bedrooms?
From an artistic, statement pendant light hung high above a bed, to a more practical wall lamp positioned beside an armchair, as we have explored with our diverse collection of bedroom lighting trends, your bedroom needs a mix of both beautiful and practical lighting.
Think carefully about how you use your bedroom space day to day in order to work out where lighting will be best placed, then explore how your lighting can be used to enhance your scheme with wonderful texture, color and material.
As our bedroom is a place for rest and relaxation, ensure that some of your chosen light sources emit a warming, cozy glow, rather than harsh white lightings like that found in a kitchen or bathroom.
For further insight and guidance, explore our analysis of what type of lighting is best for bedrooms.
Are table lamps out of style?
Far from it, table lamps are definitely not out of style. One of the easiest lighting fixtures to incorporate into a room, table lamps come in all kinds of shapes, sizes and styles, and are an integral part of illuminating the home.
From producing cozy lighting in a living room to being one of the first and last things we reach to morning and night in our bedrooms, they are incredibly versatile.
Portable table lamps are an extremely popular option to use in the home, with many crafted to be suitable for outdoors too, providing flexible and functional lighting wherever and whenever you may need it.
Sign up to the Homes & Gardens newsletter
Decor Ideas. Project Inspiration. Expert Advice. Delivered to your inbox.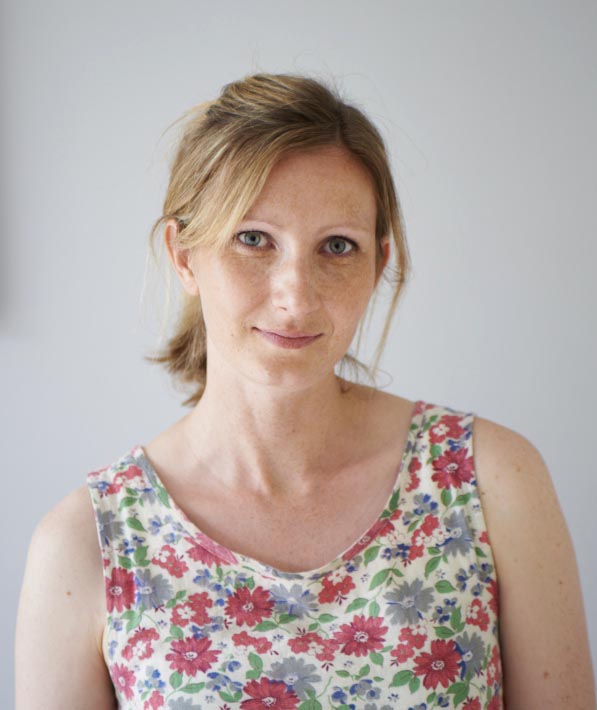 Sophie has been an interior stylist and journalist for over 20 years and has worked for many of the main interior magazines during that time, both in-house and as a freelancer. On the side, as well as being the News Editor for indie magazine, 91, she trained to be a florist in 2019 and launched The Prettiest Posy where she curates beautiful flowers for modern weddings and events. For H&G, she writes features about interior design – and is known for having an eye for a beautiful room.