How to create emphasis in interior design – 6 ways to use this design principle, and why it matters in every space
Experts share with us the importance of using emphasis in interior design and why every room must have a feature focal point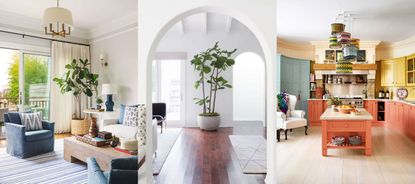 (Image credit: Margaret Ash Interior Design | Genna Margolis, Shapeside | Kit Kemp)
Every room needs a focal point; a place in which the eye is drawn into the beauty and depth of a scheme, and that is where the emphasis in interior design comes in.
An important interior design rule that helps bring attention to specific parts of a room, creating emphasis in interior design can uplift a scheme with eye-catching visual interest and memorable character.
You can create emphasis through furniture, lighting, color, pattern, texture and shape, decorative accents and architecture, and the key is to use these design elements to create a point of focus in a space.
What is emphasis in interior design?
'Using the principle of emphasis creates a focal point within a room for the observer to see first – but it shouldn't overpower the rest of the room. This is important, as if it did overpower, the room would be out of balance. Creating emphasis is the first thing to do when designing a room or space. Once this is decided, the rest of the design can follow,' says California-based interior designer, Jen Dallas.
Bethany Prince, the associate interior designer at London-based design studio, SHH, also supports this and says, 'creating a focal point that draws attention in a room usually creates the base from which the rest of the interior design can be developed.'
Jen Dallas is a California based interior designer, whose studio has its very own line of textiles tiles, rugs and lighting.
How to create emphasis in interior design
Your chosen focal point and area of emphasis will be one of the first things that people notice when they walk into the room, so it's crucial to make the right first impression and carefully consider what kind of emphasis is best for each area of the home.
From a statement sofa in a bright color to a beautiful wallpaper, your area of emphasis will provide the foundation for the rest of your design scheme, so let us take you through the six ways you can create emphasis in interior design so you can achieve decorating success.
How to create emphasis with furniture
Of course, some will say that furniture simply sitting in a room creates a natural focal point in a space, but there are many ways you can elevate your chosen furniture designs to create an enhanced aspect of emphasis in a room.
From an eye-catching armchair in a bright color to a uniquely shaped sofa or sideboard that establishes a striking element of contrast in a scheme, color, shape and material are all factors to consider when using furniture as a focal point.
How you lay out your furniture can also help to establish an area of emphasis. As shown in this living room, designed by Margaret Ash Design, the main areas of seating in the space have been placed around a coffee table, creating a distinct zone and an area of focus that is further enhanced by the use of a unified, blue and white color scheme.
How to create emphasis with lighting
'Whether it's for a hallway, above a dining table, a bedroom or living space, there's no better way to create emphasis in interior design than a statement lighting piece. Whether it be a sculptural chandelier or a series of cascading pendant lights, beautiful lighting is the decoration any home needs to make it feel warm, inviting and luxurious,' says Scott Richler, founder of Canadian lighting brand, Gabriel Scott.
'To create maximum impact, consider materials and finishes that complement the rest of the design aesthetic. Warming metal tones and the soft illumination exuding from blown glass are natural choices.'
Lighting can create emphasis on its own, as explained by Richler, but it can also be used in combination with other design features intended to create emphasis, too, such as wall lighting used to illuminate a beautiful piece of artwork.
Scott Richler founded Gabriel Scott, a contemporary lighting and furniture studio in Montreal, Canada, in 2012. Richler has a background in architecture, fashion and bespoke furniture design.
How to create emphasis with color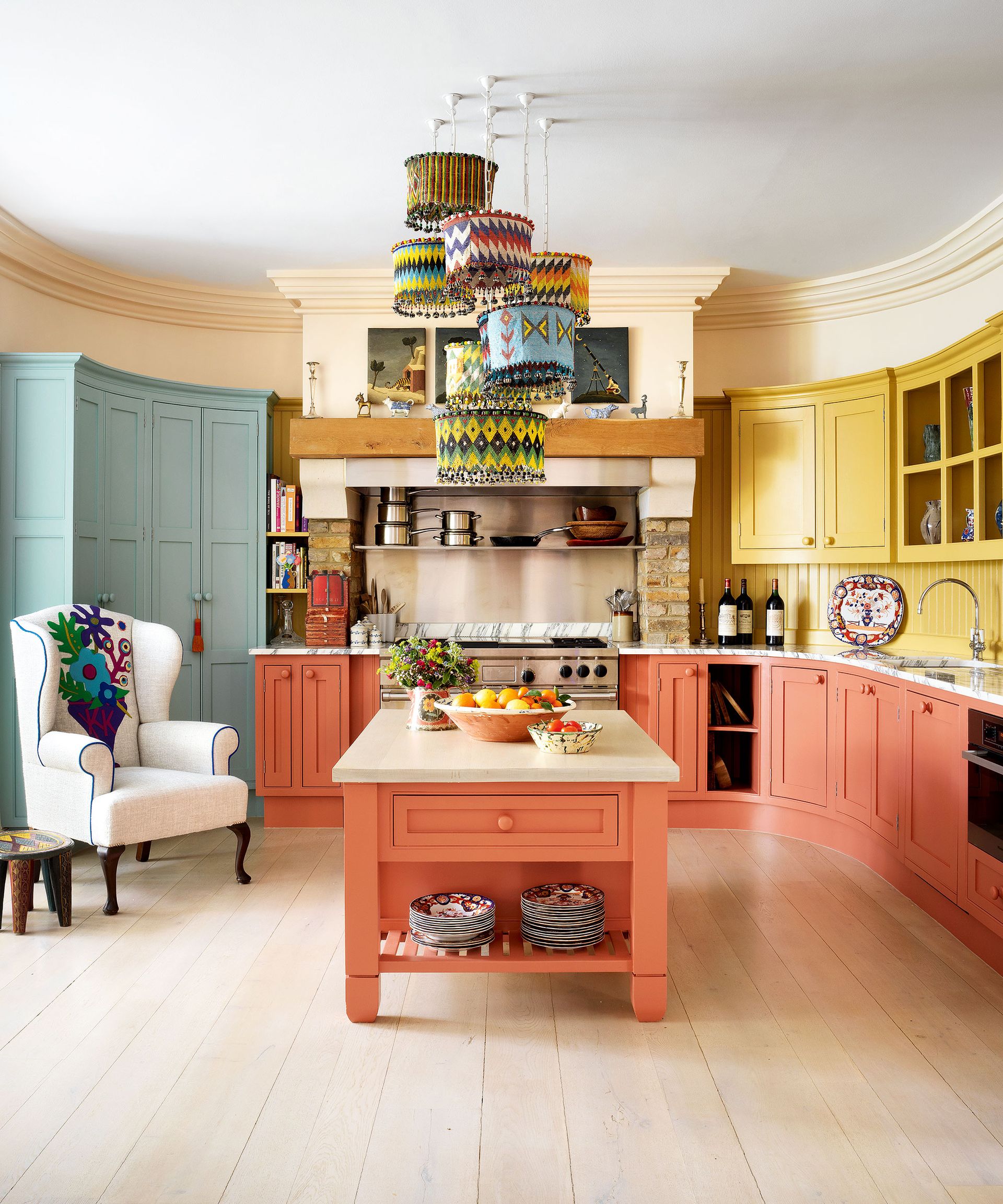 The power of paint will never cease to be transformative for room color ideas in interior design, and creating a colorful accent wall can be an easy way to create emphasis in a room.
Using paint to create emphasis does not mean you have to pick a palette of bright, bold shades, your chosen paint ideas should be united with your sense of style and the overall theme of the room, so there is no need to worry if neutral room ideas are more your thing! No matter what colors you choose for your scheme, the aim to is to use color to create an elegant element of contrast in a space.
Using color to create emphasis does not always have to revolve around paint, color, of course, can cover everything from furniture, lighting, flooring accessories and more.
How to create emphasis with texture, pattern and shape
From wonderful bedroom wallpaper ideas, to tactile bathroom tile ideas, the use of pattern, texture and shape in interior design can enrich and enliven a space with style and personality.
This pink and green small bathroom designed by London-based interior designers, Barlow & Barlow is a real treat for the senses. A luxurious and immersive design that champions what can be achieved in a small space, the bright yellow, rounded sink serves as a striking focal point and provides an area of contrast in the room, and is a brilliant of example of how to create emphasis in a scheme that embraces maximalist decor ideas.
How to create emphasis with decorative accents
If you're looking to create emphasis on a smaller more subtle scale, then getting creative with decorative accents could be the best design method for you.
From decorating with art, to styling a space with vases of flowers and the best indoor plants, small finishing touches through accessories can often bring a whole scheme together, and can help to make a room feel more inviting and personal.
In this white living room, designed by Genna Margolis from Shapeside Interior Design, based in Los Angeles, the tall potted plant, perfectly framed by the arched doorway, creates a beautiful focal point and sense of emphasis that guides you through the open-plan living room design.
How to create emphasis with architectural details
'I love to use an architectural element in a room to create emphasis in my interiors. A fireplace is a good example of this, or by adding a fountain into a garden project,' says interior designer, Jen Dallas.
Making the most of existing architectural features, or creating faux additions where there is none, can create a natural point of emphasis in a room.
From beamed ceiling ideas, to simply enhancing a staircase with a gallery wall or stair paint ideas, celebrate your home's architectural design by making existing features into stand-out focal points.
FAQs
Why is emphasis in interior design important?
Cathrine Dal from London-based design studio, Cat Dal Interiors says, 'emphasis is important in highlighting or minimizing certain elements in a space. It also helps to create hierarchy and define distinctive focal points. Where do you want the eye to go? Some elements are the 'stars' while others are there to support. It can be tempting to make everything in a space a 'star', but rooms can feel contrived if there are too many 'stars'.
Copenhagen born, Cathrine Dal, is the founder of London-based interior design studio, Cat Dal Interiors, who have a design ethos rooted in Scandinavian design.
---
Using emphasis in interior design will not only create a scheme that feels well-balanced and rich with stylish character, it will help to create those all-important, memorable focal points that will set your scheme apart from the rest.
Sign up to the Homes & Gardens newsletter
Decor Ideas. Project Inspiration. Expert Advice. Delivered to your inbox.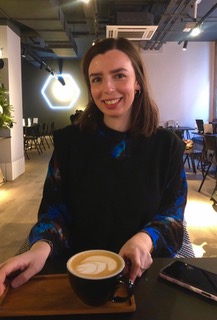 Zara joined Homes & Gardens in February 2022 as a Content Editor. After studying English Literature at University, she worked as an Ecommerce Website Editor, Content Writer and Buying Intern at multiple independent businesses within the luxury retail and lifestyle sectors. Her role at Homes & Gardens unites her love, experience and passion for the world of design and desire to create inspiring written content. She enjoys nothing more than discovering new trends, brands and products, whether that be in fashion, interior design or lifestyle.