Stair paint ideas – 10 ways to make it a focal point with paint
Be inspired by these stair paint ideas and ensure your staircase is a fabulous feature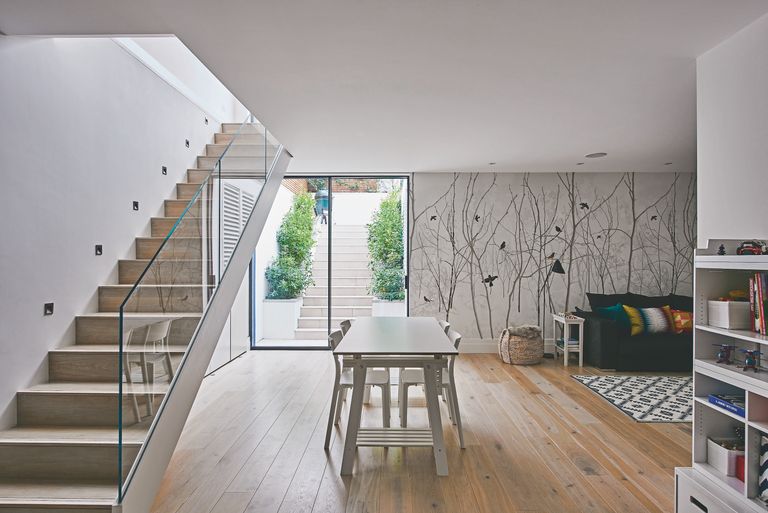 (Image credit: Future Publishing Ltd Photograph: Jonathan Gooch)
Stair paint ideas can transform a functional necessity into an eye-catching feature. Painting the stairs themselves is an opportunity to introduce the color and detail you might otherwise get from a carpet or stair runner, and the balusters, handrail, newel, and stringer, along with the stair wall, all offer a canvas for paint.
Painting the stairs offers the opportunity for creativity as part of your hallway ideas, or can simply give the staircase a sophisticated as well as neat finish, and the right paint can prove a durable finish with lasting good looks.
Set the tone for the rest of your home with the stair paint ideas in our selection.
Stair paint ideas
Stair paint ideas can use paint on areas such as the risers, treads, the newel, baluster and handrail, parts such as the stringers at either side, and on any wall alongside in any combination you prefer for your staircase ideas.
1. Introduce individual detail
Wondering how to decorate a staircase? Fret not, these stair paint ideas can add personality to a functional part of the home.
'As a designer, I absolutely love adding special details to staircases and creating interest to what is usually just a means of egress,' says Jessica Davis, principal designer of JL Design.
'When my two boys were just two and three and learning to count, as well as learning to manage stairs, I decided to add numbers to the stairs to help make the climb fun and educational. This can be easily achieved with a stencil and paint or a decal.'
2. Use paint for a feature staircase wall
Paint can be used to focus attention on a paneled staircase wall to make it even more of a feature whether the paneling extends alongside an entire flight or is part of a landing area. In this home, a dark hue – Smokestack Gray from Benjamin Moore – gives the scheme modern credentials.
The risers of the staircase itself have been painted in soft Distant Gray to lighten its effect while leaving the rich dark wood of treads and landing on show.
3. Go dark for drama
White is a classic hallway paint finish for staircases and the stair wall, but consider making a statement with a dark shade instead.
'We clad this entry hall and staircase (as well as the area under the stairs) in a paneled wood design for durability and style,' says Benjamin Johnston of Benjamin Johnston Design. 'Because the 25 foot voluminous entry hall has a sweep of windows, the area is flooded with natural light which means we could opt for a darker, richer hue.
'We coated the room in Sherwin-Williams Storm Cloud (SW 6249) which transforms from gray to blue gray to blue throughout the day as the light changes. We also continued this color on the risers of the stairs to maintain consistency.'
4. Use paint to create pattern
Using a stair runner or carpet isn't the only way to bring pattern to a staircase; paint can be employed to impressive effect.
'Using stencils, you can paint stripes of different sizes to achieve a simple and playful feature,' says Kathryn Lloyd, Crown color consultant.
'I'd recommend using neutral tones as a base, and injecting a pop of color with versatile shades such as greens or blues. Blue, in particular, will create a relaxing atmosphere in the entrance of the home, thanks to its light and feathered look.'
5. Contrast stairs with a runner
If you're using a runner, think stair paint ideas that can make it pop for an attention-grabbing result. In this hallway both stair treads and risers are painted in black to create contrast with the green runner.
Choosing this shade of paint also links the staircase with the the patterned tile of the hallway floor with the staircase's white spindles, newel and handrail repeating the second shade of the tile.
6. Alternate paint shades
Looking for stair paint ideas that are elegant as well as creative? Be inspired by this design from Benjamin Moore where the two gray shades used above and below the dado in the hall are repeated on alternate risers of the staircase.
White for the treads and the trim provides a crisp finish between the two modern shades which give a fresh twist to a traditional hallway.
7. Add a highlight
Choose stair paint ideas that introduce a decorative surprise. In this hallway, painting a bold orange stripe with authentic 1970s credentials just above the white stringer of the staircase provides a vibrant highlight that draws the eye to the staircase, including the elegant and ornate balusters through which the color appears.
Two shades of gray for the staircase wall and its paneling give the beautiful staircase a contemporary twist.
8. Extend the wall color
Create an impactful surround for a staircase that's enclosed by walls on both sides. On this stairway the golden yellow below-dado color is extended to the stringer to create full-depth color.
The upper part of the staircase wall, meanwhile, is finished in a grown-up shade of pink for an overall impression of warmth and welcome. The hues are complemented by the rich wood of the treads and risers for a chic result.
9. Match stair paint to the front door
Using the same paint shade for the front door and the stair treads and risers creates a pulled-together look for the entrance to a home. A black front door never goes out of style, and the hue is equally handsome on a staircase and teamed with white trim and stair paneling.
Follow the lead of this hall by leaving a newel post and handrail in a rich wood unpainted to appreciate their patina.
10. Bring in an accent shade
Clever stair paint ideas can ensure even a relatively compact staircase can pack a decorative punch. This design teams pale wood treads with the classic combination of black – for spindles, posts, handrail, and wall stringer – and a soft white for the risers. But an accent of gentle yellow repeating that of the hall bench for the riser before the flight turns gives the design bags of personality.
What is a good paint color for stairs?
White is a classic paint color for stairs, and a great starting point for your considerations. 'It's a finish that will command attention and can emphasize the detail of an elegant staircase,' says Homes & Gardens editor in chief Lucy Searle. 'You can also be sure that white stair paint won't fall out of fashion.
'Alternatively, consider on-trend choices such as a rich organic green, deep blue, or gray.'
Of course, you can combine colors with different shades on the treads and risers, or create the look of a runner with white on left and right edges of the steps and a colored painted finish running up from the foot of the staircase to the top.
Consider also an ombre effect on the risers, using different shades of a single color. Begin with the darkest shade on the first step, then make the risers successively lighter as the staircase ascends.
Do painted stairs last?
Painted stairs can last well, but it's vital that the correct paint is used for the project. Stair treads should be painted with floor paint that is designed to stand up to the foot traffic. Select a paint suitable for interior wood for other staircase areas.
Good preparation is crucial before painting. Stairs should be sanded and primed first. More than one coat of paint is required, too.
Sarah is a freelance journalist and editor writing for websites, national newspapers, and magazines. She's spent most of her journalistic career specialising in homes – long enough to see fridges become smart,
decorating fashions embrace both minimalism and maximalism, and interiors that blur the indoor/outdoor link become a must-have. She loves testing the latest home appliances, revealing the trends in
furnishings and fittings for every room, and investigating the benefits, costs and practicalities of home improvement. It's no big surprise that she likes to put what she writes about into practice, and is a serial house revamper. For Realhomes.com, Sarah reviews coffee machines and vacuum cleaners, taking them through their paces at home to give us an honest, real life review and comparison of every model.