Entryway tile ideas – 10 tips for creating a stylish welcome
Step up your entryway tile ideas and create a flooring scheme that sets the tone for your home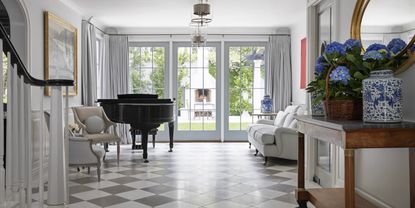 (Image credit: Evens Architects/Windsor Smith/Karyn Millet)
Entryway tile ideas have to work harder than you may think.
All hallway ideas need to be able to keep up with the most high traffic area of the house, yet also give a good first impression to your guests.
Flooring is always where wear and tear is most obvious in busy parts of the home, and it's worth investing in some great entryway tiles to help keep this vital area functioning, while being hardwearing and stylish to make your entryway more inviting.
Tiles will cope well with seasonal moisture and dirt, and are easy to clean – always a bonus in an active household.
Entryway tile ideas
Below we showcase our favorite entryway tile ideas that will transform your space into a welcoming area, whatever its size.
1. Choose a chequerboard design for impact
Opening the front door to this striking entryway will really set the scene – it's dramatic and stylish, yet in keeping with the era of the house, and is great for adding the wow-factor even to small hallway ideas.
'The hall is the first thing visitors see as they cross your threshold, so it is the ideal space for a bold, statement floor,' explains Jason Cherrington, Director of Lapicida.
'Because hallways tend to be such a distinctly defined area, they make the perfect situation for a patterned floor. Chequerboard floors bring geometric drama to both classic and contemporary interiors and are perfect for defining the hallway.'
2. Choose the right stone to suit your entryway
When it comes to natural stone tiles, there is so much choice available, it's difficult to know which to pick. Working well for both grand entrance halls and narrow hallway ideas, you'll need to think largely about usage of the space to find the right fit.
'When selecting a natural stone, it's important to think about how the space is going to be used,' advises Grazziella Wilson, Creative Lead at Artisans of Devizes. 'Is it a slick apartment or a country home? Who will be using the space? And what is the lifestyle of the user?'
'Sometimes a minimalist look is needed for a contemporary space, and a clean and consistent colored stone will be required. On the other hand, if it's a family home and there is a lot of activity with socialising and entertaining, cooking and family, sports and pets, then a more characterful floor with fossil content, texture and tonal variation will withstand the most active of lifestyles.'
3. Limestone can add warmth to a modern scheme
As mentioned above, there are many advantages to using a natural stone tile. Limestone is a durable choice that feels both tactile and sleek. The beauty of it is that it works in both modern and traditional settings, as you can see here in this contemporary farmhouse.
Using the same tile throughout your entryway and into other rooms ensures a visual flow and will make caring for your flooring easier. The color of these tumbled finish tiles creates a warmth too, which builds on the white hallway paint ideas and ties the flooring in with the exposed stone walls.
4. Go for an authentic look in a period property
With a nod to the origins of this space, entryway tiles were chosen by VSP Interiors to be as near to what they would have been centuries ago, explains Henriette Von Stockhausen, Founder and Creative Director.
'This is a view from the entryway through to a large sitting and billiard room,' she says. 'We converted stable blocks on this large estate in Wiltshire to create a home for a large family with dogs and lots of horses. The brief was to add comfort, warmth and character to the property to achieve a lived-in country look with a nod to the horse. As such, all of the items specified are either antique or new but made to look older, and the stones are from Artorius Faber.'
5. Play with pattern to zone your entryway
The grandeur of this entryway, with its sweeping staircase and tall ceilings, lends itself to having a decorative tile design.
Tiles are used to zone the initial entryway and keep it separate from the open-plan living space layout beyond, all designed by Alice Lane Interior Design. The contrast against the wooden floorboards maintains a sense of tradition while making the most of the benefits of modern hallway ideas and open-plan architecture.
This is also a great practical option as you can keep all the general outside debris within the initial entryway, where the hard-wearing tile flooring will be easy to keep clean, while providing a striking look on that first peek through the front door.
6. Dark tiles will create contrast
Consider adding interest to a space by picking floor tiles in a contrasting shade to the rest of your decor. In this entryway by Mary Maloney, designer at Bee's Knees Interior Design Studio, the dark gray tiles do just this against the white shiplap walls.
'The tiles in the photo are porcelain that resembles natural stone, minus the care and maintenance,' says Maloney. 'Porcelain tile is extremely durable and will withstand wear and tear in high traffic areas, making it perfect for this home and the busy family that lives within – and their furry friends too.'
7. Be creative with a graphic layout
Small graphic tiles hold endless possibilities, and you can have a lot of fun deciding what layout to use.
With a rise in the popularity of color across kitchen and bathroom tile ideas, there are shades aplenty on the market – but in this case the black and white creates the most dramatic look in this traditional entryway. Tie the black in by using monochrome accents across the rest of the room, with the artwork above the radiator providing just that in this example.
8. Soften a graphic scheme with gray
While black and white tiling has a long and storied history in hallway design, ranging from the Ancient Romans to the Victorians, it can sometimes feel a little too dramatic a welcome.
Grey hallway ideas are trending right now so, to make a chequerboard pattern feel more contemporary and approachable, choose to swap out the black for softer greys. In this example by interior of a Bel-Air home by designer Windsor Smith, the result is an enhancement of the light and airy feeling given to the hallway by its abundance of natural light.
9. Mimic natural stone and wood with porcelain
'A warm, welcoming hallway really sets the scene for a home, creating a fantastic first impression for visitors,' says Colin Roby-Welford, creative director at Fired Earth. If you love the look of wood and natural stone flooring but don't want to deal with a high maintenance cleaning regimen, porcelain tiles have the ability to create lookalike effects, providing an easier-to-clean doppelganger popular among kitchen floor tile ideas too.
'Opt for resilient, low-maintenance tiles so that you can keep the floor looking its best with minimal effort, an important consideration when people, parcels and pets are likely to be coming and going all day,' he adds. 'Hardwearing porcelain tiles are a particularly robust and easy-to-clean option, and there are designs for every style of home, from timeless geometrics and mosaics, to beautiful replica stones such as Fired Earth's Montpellier and Verdelais 'limestones'.'
10. Opt for jet black tiles in a monochrome scheme
High gloss black marble tiles create an eye-catching entrance in this monochrome entryway. The polished finish creates reflection which allows both natural light and the glow from the hallway lighting ideas to bounce from around the small space and helps to prevent it from feeling closed in.
This example demonstrates that, even when space is at a premium, you can go all out with your entryway tiles and create a space that's exciting and dramatic.
What kind of flooring is best for the entryway?
The best flooring material for an entryway is one that's easy to maintain, practical and robust. It needs to withstand high footfall from family and pets, not to mention the wet, mud and general debris that befalls an entryway on a daily basis. In terms of tile materials, the best options are natural stone, slate and porcelain, with marble being a pricier but striking consideration.
Are tiles good for an entryway?
Unless you have original wooden floorboards, tiles are the next best option. Used widely in the Victorian times, they are a practical but beautiful choice, and much easier to keep clean than hallway carpet ideas. There are, of course, multiple materials to choose from, but tiles are typically long lasting and durable, and can add color and texture to your entryway.
Sign up to the Homes & Gardens newsletter
Decor Ideas. Project Inspiration. Expert Advice. Delivered to your inbox.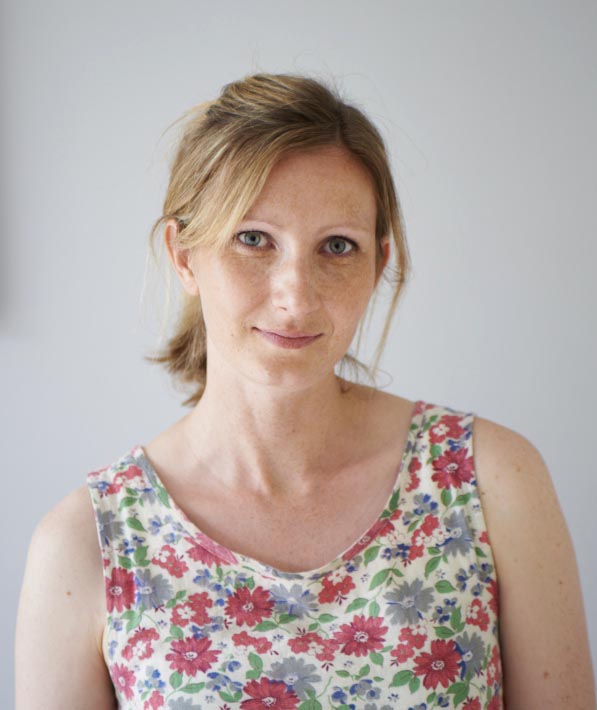 Sophie has been an interior stylist and journalist for over 20 years and has worked for many of the main interior magazines during that time, both in-house and as a freelancer. On the side, as well as being the News Editor for indie magazine, 91, she trained to be a florist in 2019 and launched The Prettiest Posy where she curates beautiful flowers for modern weddings and events. For H&G, she writes features about interior design – and is known for having an eye for a beautiful room.