Bedroom trends 2021 – the latest looks for a beautiful bedroom scheme
We talked to the trend experts to discover the biggest bedroom trends of 2021 and beyond.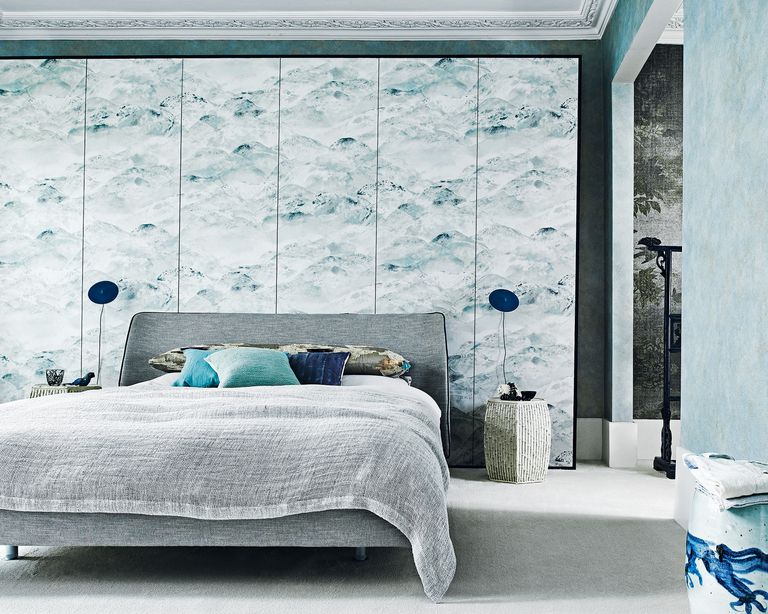 (Image credit: Future / Michael Sinclair)
We talked to the trend experts to find out what bedroom trends will be big in 2021 and beyond. While the classics remain – crisp, quality bedding, good accent lighting, practical clothes' storage – there are some wonderful new looks and bedroom ideas for the year ahead that you'll want to embrace.
What are the bedroom trends for 2021?
'The bedroom should be a relaxing sanctuary in which to rest and recuperate,' advises Emma Deterding, Founder and Creative Director of Kelling Designs and KD Loves.
'Where previously muted, neutral tones have been popular, we are now seeing a huge move away from minimalist interior schemes with clients being more daring with design choices. From statement wallpaper and creative wall finishes such as polished plaster through to bold and colorful fabrics and bed linen, clients want to inject personality into their homes, and this is no different in the bedroom.'
'Headboards are once again becoming popular, with big, bold shapes in bright colors and patterned fabrics being a go-to choice. It's all about creating a focal point and making a real statement and an upholstered headboard will really allow you to show off your personality, whilst being comfortable and practical too.
'We are seeing more and more clients opting for headboards with taller, curved silhouettes pairing them with rich patterns and colors to anchor their interior design scheme,' says Emma. 'This proves once again that bold tones can be just as restful as muted shades.'
'Key colors include rich reds and oranges, mustard yellows and bold greens, with blues continuing to prove popular for a classic, timeless scheme. Nature-inspired prints are also a must-have, with prints inspired by florals and foliage to bring an element of the outdoors in.'
We are also moving towards increased personalisation when it comes to design. Bespoke, fitted bedsides with integrated power points and wireless charging provide storage for the essential items people need within arm's reach.
Bedroom trends
These are the bedroom trends proving popular so far in 2021. 
1. Hang matching wall lights
'We've seen a growing trend for matching bedside wall lights. It's an elegant and tailored approach to styling the lighting in your bedroom, making it both a decorative and functional addition,' says Rohan Blacker, Pooky Founder.
'Bold lampshades are definitely the new trend in lighting, whether it be bold in colour, in pattern or an amalgamation of both. We have seen an uplift in sales of pairs of our brighter, more vibrant shade varieties. Customers are finally finding the confidence to have fun with their bedroom décor.'
Bedroom lighting decor helps to visually maximise the space too. 'For example, try lighting the narrower sides of the room to provide a sense of width, whether with wall lights or tiltable recessed spotlights,' advises Mary Barber-Fray, at MaryBarber-Fray Interior Design. 
'Choose lampshades that allow light to reflect upwards if you need to give some height to a low ceiling too.'
2. Invest in a statement bed
Allow your bed to dominate. Your bed should be the first thing you see as you enter the room. More than one key piece and they'll start competing for attention. Make your focal piece captivating so that it's something to enjoy looking at. Vibrant colours, striking patterns and interesting shapes are all things to consider when thinking about master bedroom ideas and choosing that statement bed.
'Tall statement beds with tufted or fluting detailing are a huge trend for 2021,' says Claire Wilks, Designer at sofa.com.
'Decorative while also comfortable, these pieces are ideal for recreating the ever-popular boutique hotel feel at home. Particularly striking in rich velvets which make for a fantastic feature, these designs ooze luxury and glamor whilst paying homage to the delicate details of the Art Deco era.'
3. Use a boho chic color palette
Bring color and character to your bedroom with a mix of home-made pieces and one-of-a-kind buys. Sometimes in decorating, you need to stop worrying about what goes with what and go with the flow, follow your instincts and choose patterns and pieces that make you happy.
Opt for the warm side of the color wheel, which includes reds, oranges, yellows, and yellow-based greens. This exotic shade of paprika orange adds a boho vibe to this bedroom, especially when teamed with other bohemian bedroom ideas, such as bamboo, rattan and wicker furniture and shots of cinnamon red.
Neutral shades with a red or yellow base bring warm tones to a decorating scheme – layer different tones and colors for added depth. A contrasting color from the cool side of the color wheel can balance out a scheme dominated by warm colors, like a sharp violet with a rich yellow for example.
4. Introduce eclectic glamor
Move away from minimalism, and instead look for decorative statement pieces that chime with the luxe look.
The latest take on luxury living sees lustrous finishes and exquisite patterns. The glamour of the Art Deco era inspired this luxurious bedroom scheme, where shapely curves are teamed with a polished parquet flooring and velvet fabrics. The bedside tables in metallic finishes are an elegant finishing touch.
5. Decorate with regal blues
If you are daring to go dark, navy or royal blue are timeless and classic bedroom color ideas. One texture trend that translates effortlessly into fall and winter is velvet – luxurious to look at and touch.
White is the traditional accent to team with blue but to add more depth to the scheme try pops of chalky greys and taupes or warm things up with metallics.
Do not be afraid to clash textures for extra character. Embrace contrast by adding a sumptuous blue velvet rug against the rich wood flooring or a statement velvet chair.
6. Focus on the headboard
When it comes to buying your bed and headboard, you should really spend the most your budget will allow as this is a long-term investment. Get the largest size the room can take to give the most impact. 'Headboards are an inexpensive way of transforming a bedroom. They are essentially alternative forms of artwork,' advise the experts at Andrew Martin.
'With the rise of the boutique hotel and its trending look in residential design, the headboard has become a brilliant focal point in bedroom decor. Look to the Firmdale Hotels for inspiration on using brave color and pattern, and have fun coordinating your headboard with a wallpaper or throw. Don't be afraid to choose a more outlandish style, as this only adds more character.'
7. Bring the outside in
'During lockdown, many people couldn't access nature as often as they'd like and the ones that could sought more, as it is so valuable to our mental wellbeing,' explains interior designer Emma Green at Emma Green Design.
'The way this can be achieved is by framing, and therefore highlighting, the views out of windows by adding floral wallpaper or introducing greenery. This can be seen in the bedroom above, where the pale green wallpaper behind the bed links so well to the trees outside the window and seems to draw them in.'
8. Clear the clutter with clever storage
Storage has become an integral part of the design process, and we anticipate that it will continue to dominate, as we aim to clear the clutter for a calm and restful bedroom.
'Smart, well-considered bespoke joinery can really improve not only the aesthetics of a room, but create a sense of calm as, if everything has its place and is stored away, so can the working day be stored out of sight and mind,' says Emma Green.
According to Doug Haswell, Furniture Manager, Caple: 'Fitted furniture is becoming more popular for a neater finish in the bedroom. After all, research suggests that people can spend one-third of their lives in bed so it's important to make sure your surroundings are comfortable. With everything hidden behind closed doors, this will certainly improve your sleeping conditions.'
'Choose neutral colors for a more relaxing décor and consider simple door fronts with less detailing. After all, the less busy a bedroom is, the more conducive it will be for a good night's sleep. In fact, bedroom styles have evolved to be sleek for a smarter finish so flush-fronted doors are popular as are more neutral shades. Designs have also altered over the years and some can now feature a built-in finish for a less-cluttered look in a bedroom made for a good night's sleep.'
9. Bring in botanicals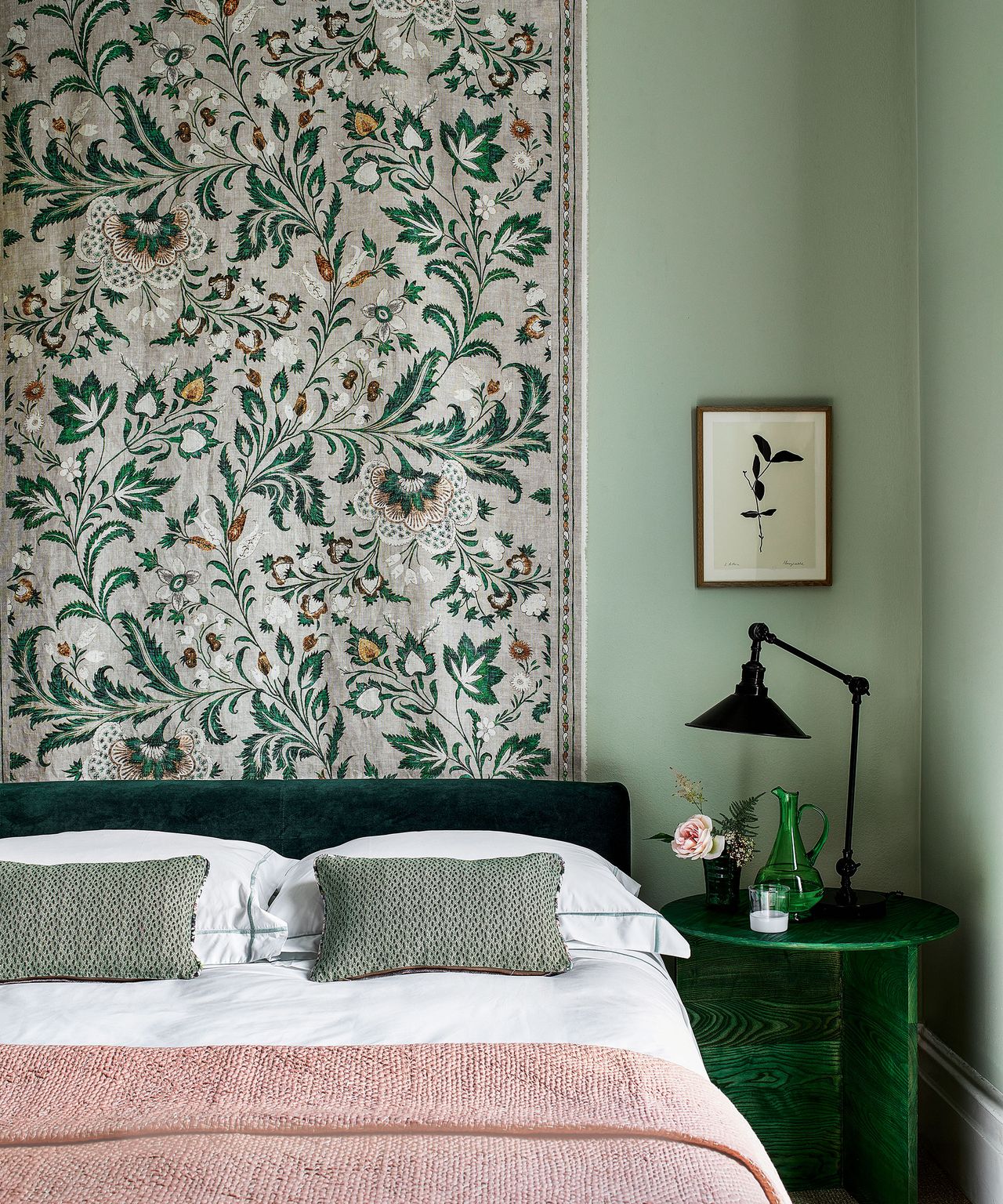 Fresh and inviting, the botanical trend is a simple way to add character and energy to a scheme.
Energising and uplifting, plants and plant motifs have huge decorative potential in the bedroom and enduring appeal. Botanical prints for fabrics and wallpaper are pretty without being over-feminine and they work just as well in modern, country or classic schemes.
An intricate botanical fabric acts as both a decorative bedhead panel and a pleasing focal point.
What is the new bedroom color trend for 2021?
'For 2021 we have moved away from dark charcoals and blues and towards the warmer tones of nature, like deep reddish browns and terracotta, which are strong and subdued but achingly fashionable,' says Color Expert at Farrow & Ball, Joa Studholme. Incredibly chic by day and cozy by night, they bring a grounded but luxurious atmosphere that is thought-provoking as well as soothing, particularly when paired with other hues found in the natural world.'
'In challenging times, we crave warm tones that will enrich our homes and create cozy sanctuaries away from the outside world. Luxurious colors like red can be added to the most neutral of palettes by using them in the rooms we use at the end of the day, when we most want to relax and be comforted.'
According to Natasha Bradley, Lick Home Color and Interiors Expert: 'We have seen a huge trend in colors that make your bedroom a calm and comforting space that you can come to after the working day. As more people look to finding a balance between work and home life.'
Blue is one of the most popular colors for bedrooms. It has a positive effect on the mind and body because of its connection with the sky and ocean, which can make anyone feel immediately relaxed. Painting your ceiling in a dark blue causes the body to produce a chemical that gives you a feeling of tranquillity so don't be afraid to experiment with different hues.
Green is another restful color which is always trending for bedrooms. As it's settling on the eyes, it is known to make people feel refreshed and closer to nature.
What is the latest bedroom trend in bedding?
People are beginning to invest in quality bedding and mattresses, something that I always recommend to my clients,' explains Natasha Bradley. 'It is the most important element in a bedroom – you spend half your life in bed so it's crucial that you invest in these items – or your sleep will suffer!'
'There's definitely a move towards relaxed bedding and comfy sheets,' says Gemma Gordon Duff from Gordon Duff & Linton. 'Linen, organic bedding and chunky wool throws are hugely popular right now and add to that feeling of sanctuary.'
Is grey still in style for bedrooms in 2021?
Grey bedrooms are still incredibly popular, but as we spend more and more time in our home, we have started experimenting with warmer neutrals, especially in the bedroom.
According to Tiffany Duggan, grey has very much been and gone: 'We love color and a fully grey palette has never really been our thing. We do love neutrals too but err towards warmer colors such as soft buttery whites, bones and plaster hued nudes. I think grey based greens and blues are lovely and a perfect foil to brighter more impactful patterns and colors but the cool, commercial greys of the last decade do seem to be fading in popularity.'
On the other hand, grey tones will always be in style because they are easy to work with,' says Natasha Bradley. 'They allow you a base shade that you can then bring other shades such as greens and blues in too. 
However, choosing the right greys for your home is really important as you can end up falling into a trap where the grey hue you have chosen ends up making your home feel dull and lifeless. When in reality the right shade of grey can make a space feel warm and sophisticated. Choosing a grey hue with a warm undertone of soft green can bring character and color into your home.'