Paint trends 2021 – the 17 colors you need for the ultimate wonder walls
From sunshine yellow, to abstract color blocking and unrefined and rustic...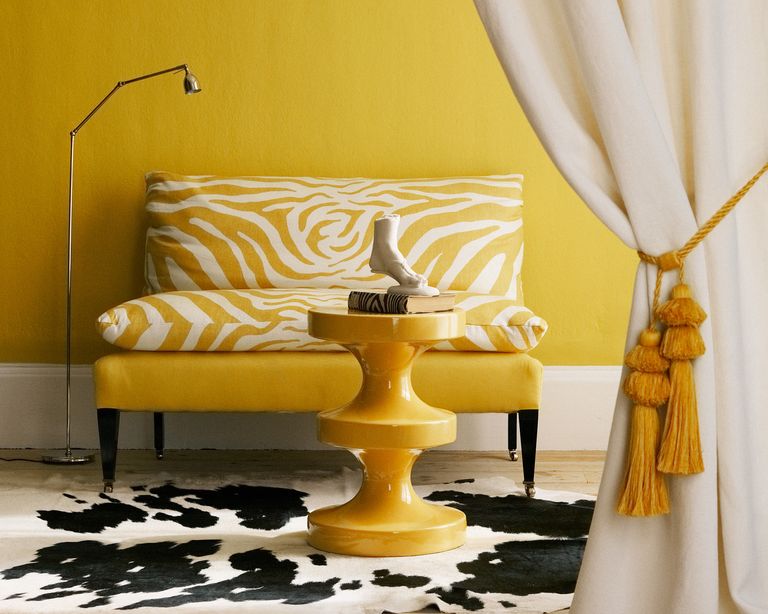 (Image credit: Future / Tom Leighton)
Applying a new lick of paint to your walls is an excellent way to give your interiors a fresh-faced makeover. But which color sample pots should you be buying, and what are the biggest paint trends for 2021?
Global color authority, Pantone, announced their selection for Color of the Year 2021 and it's a combination of two. The shades chosen are Ultimate Gray and Illuminating – a rock gray and a sunshine yellow, respectively.
This clever combination of colors brings the message of strength and reliability paired with the joy of sunshine filled days to come.
This is only the second time ever that Pantone has made the bold move of naming two Colors of the Year.
'Practical and rock solid but at the same time warming and optimistic, this is a color combination that gives us resilience and hope,' says Leatrice Eiseman, Executive Director of the Pantone Color Institute. 'We need to feel encouraged and uplifted, this is essential to the human spirit.'
See: Living room paint ideas – stylish ways with paint, and your questions answered
The Dulux Colour of the Year 2021, called Brave Gound – is a warm neutral that feels both comforting and grounding. It's not a 'wow' shade, but that's the beauty of this neutral hue – it's the understated allure which we are being inspired to draw upon.
As Dulux explains, 'Brave Ground flexes in tone depending on the time of day and setting. Creating a subtly responsive environment that's reflective of our growing desire to align how we live with our planet.'
Over at Benjamin Moore, the Colour of the Year 2021, called Aegean Teal, is a warm blue-green with gray undertones. It has a unique quality wherein it lends a fresh, crisp feel to a scheme, while simultaneously creating a relaxed and soothing atmosphere – exactly what we need in the current challenging climate.
The top paint trends 2021
We've teamed up with a host of colour experts to bring you the most exciting paint trends in the year ahead. Brushes at the ready...
1. Turn up the heat
Grey is the versatile and much-loved neutral and teamed with zingy yellows it can create an energising feel to a room that works with any style.
'The selection of two independent colors highlight how different elements come together to express a message of strength and hopefulness that is both enduring and uplifting, conveying the idea that it's not about one color or one person, it's about more than one,' says Leatrice Eiseman, Executive Director of the Pantone Color Institute.
2. Set the scene with a serene scheme
The cool paint color – Aegean Teal – was selected for its ability to add balance and calm to spaces, whether used on cabinetry, walls or woodwork.
Helen Shaw from Benjamin Moore says: 'As we spend more time at home, it's important to create a space that feels warm and welcoming. This year's Color of the Year is a balanced and soothing hue, softened with a touch of gray to create spaces with a casual elegance.'
Aegean Teal teams beautifully with neutrals, like warm beiges and soft cream hues, while the gray undertones ensure spaces retain a sophisticated and super smart feel. The amount of natural light it receives will change the color, too, switching from a fresh, cool hue in bright light to a richer, muted blue-toned gray in moodier spaces.
3. Introduce a sense of smart sophistication
Earlier this year, Sherwin-Williams announced its 2021 Color of the Year, to be named Urbane Bronze SW 7048.
A warm, sophisticated bronze, the color inspires all of us to find sanctuary in any space. Urbane Bronze is a rich anchor that grounds the mind in calm and stability with its ties to the natural world.
'The home is now the ultimate retreat from the world, and color is an easy and effective way to create a personal haven,' said Sue Wadden, director of color marketing at Sherwin-Williams.
Urbane Bronze encourages you to create a sanctuary space for mindful reflection and renewal – something we all aspire to at present.
4. Choose a heritage color
If Farrow & Ball's Sap Green was food it would be the most delicious pea soup, true to its organic state, with layers of depth and a surprising intensity. In paint form it ticks the same boxes with its earthy appeal. Not surprising, as it was created in collaboration with the Natural History Museum, one of 16 new hues rooted in nature.
The collection is inspired by Werner's Nomenclature of Colors, the breakthrough colour guide published in 1814, which helped Charles Darwin on his voyage aboard HMS Beagle. Balance this green with colors like stone and milky white for freshness or with accents of navy for extra drama.
5. Introduce a warm and inviting look
Sophisticated and inviting, Sorrel from Bauwerk Color brings in warmth and a cocooning feel. Its rich, textured caramel tones elevate it from just another brown, making it surprisingly tranquil, particularly in bedrooms.
The earthy shade sets off the vibrancy in colors such as peony pink and apple green, but also highlights classic stone and white. It's the perfect foil for ceramics, too, as shown here with the new Bayham collection from Neptune.
6. Play with a dark and dramatic palette
For instant grandeur and a nod to heritage, there are few colours that can match the timeless appeal of an inky blue.
Edward Bulmer's Indigo takes on an additional velvety feel, thanks to its natural pigments. This rich hue with its chalky finish provides the perfect backdrop to jewelled colors and print, but for understated chic mix with wood and white accents.
Feeling braver? Add soft green pieces to lift a scheme and create an unexpected, smart look.
7. Paint in a pretty pink
It's inviting, uplifting and effortless to decorate with, so it's no surprise that pink is now seen as an interiors neutral.
But with choices from pastel to bubblegum, the right shade can prove a tricky quest – and that's where Zoffany's Tuscan Pink comes in. As its name implies, there's an earthiness, recalling the natural landscape, that gives the color warmth and depth and makes it a dream companion to other shades.
This versatile hue adds freshness when used alongside classic furniture and impact in a more contemporary setting. Quite simply, it's a pink for grown-ups.
Justyna Korczynska, Crown Trend Consultant, says: 'The roots of this trend sit with the strong desire, in our social media-driven lives, to always present ourselves in the best possible light. The ultimate goal is to achieve a flawless, yet natural look. Makeup gives us confidence and makes us feel better about ourselves. Naturally Perfect presents beauty tips for interior design using a warm colour palette of powders and blushers.'
8. Opt for a sky blue
A shade that's always been popular in the world of interiors, soft blue is set to be spring's color du jour. Powder Blue, the offering from Crown, has the quality of being both soothing and invigorating and offers plenty of design versatility. Used with crisp white, it creates a calming coastal feel, while as one block of color it can be an enveloping breath of fresh air.
Of course, its natural home is with other pastels, such as barely-there lemon and delicate pink, but for a more contemporary edge earthy shades like rust and terracotta will make this color sing.
9. Go for the green factor
Expert tastemakers, color designers, and trend forecasters selected green as it reflects a growing desire to understand what it is to be human at a time when advances in technology are making us feel increasingly disconnected from each other.
Helen Shaw, Director of Benjamin Moore UK, agrees that green is THE color in paint trends 2021, saying: 'Green is a color created organically within nature, it's a color that connects us to the environment, which many find soothing.'This is a shade that works especially well in an urban, technology heavy home to create an earthiness and counteract the feeling of the 'artificial'.
And Ruth Mottershead, of Little Greene, says: 'Green continues to be really popular and we see this trend projecting into the coming year. Green and pink is a natural color pairing that is on trend within the interiors industry. More muted tones such as 'Sir Lutyens' Sage' and 'Blush' combine perfectly for a scheme that both soothes and inspires.'
10. Think (soft) pink
The design experts at Benjamin Moore chose a beautiful dusky pink as the brand's Colour of the Year 2020 – and it is a color that is going to last into 2021 and beyond.
'We selected First Light 2102-70 as our Color of the Year 2020 to represent a new dawn of idealism, design and living,' says Helen Shaw, director of Benjamin Moore UK. 'First Light 2102-70 reflects a new definition of the home – a shift in mind set from the material to satisfying the core needs in life: community, comfort, security, self-expression, authenticity and ultimately, optimism.
'Over the last few seasons, we have gradually seen neutrals with pink and red undertones taking over from our traditionally cooler grey neutrals and the selection of First Light as our Color of the Year takes this evolving trend a step further.
'It's a soft and dusky rose tone that flatters any space and reflects the desire to use blush tones in grown-up spaces and a desire to introduce more color overall into our environment.'
11. Factor in nature and nurture
An extension of the green colors sweeping in, connecting to nature will be a huge in paint trends for 2021. The paint palette reflects the colors of the forest, ranging from midnight oaks to vivid birch. It's about evoking the therapeutic powers of nature, restorative health, wellbeing and self-nurture.
The colours are seen as a remedy for the modern condition, with increasing urbanity and a ubiquitous digital presence, we need our homes to be a space of solace.
Kathryn Lloyd, Crown color specialist. says: 'Originating from the Japanese philosophy of Shinrin-yoku, this trend is all about wellbeing through sensory immersion. Translated as Forest Bathing, shades of green dominate the palette whilst styling is heavily influenced by Japanese design. Low level furniture and an uncomplicated décor further convey a sense of calm.'
'Drawing from nature, the color palette is heavy in greens,' says Justyna Korczynska, from the Crown design studio. 'Never boring, though, with shades ranging from soft mint, through earthy tones of khaki green and mustard yellow, and ending on a deep jade green of Botanical Noir (top) for a statement wall.'
12. Dare to go sustainably stylish
Forward-thinking and sustainable is how paint trends 2021 are set to be. Jemma Saunders, Crown color specialist says: 'Sustainability continues to be key for 2021, and the trend's colour palette has its roots in composite materials made from recycled waste. It brings interesting color combinations to the palette with washed, recycled tones at its centre. Soft mint is undeniably a hero color here. We paired it with glass bottle green and soft pink for a striking look.'
Justyna Korczynska, from the Crown design studio says: 'Green is a prominent color this year and we are showcasing two of them, one vibrant and intense, and one less demanding that sits quietly on the walls. Pops of pink and red accessories contrast and bring the trend to life. A fresh and energetic palette.'
13. Reject tradition with abstract expressionism
Inspired by Lee Krasner, the female artist and wife of Jackson Pollock who became a pioneer in abstract expressionism, this trend is all about breaking preconceived rules, non-conformity and creativity.
Jemma Saunders, Crown color specialist, says: 'Reject traditions and restrictions within the interior space and create new boundaries and divisions with an exciting use of color blocking.'
Use a dynamic color palette and pair bold colors like cobalt blue and vibrant teal with soft mint, pale blue and delicate pink for creative color combinations.
"This trend is all about self-expression through grown up color,' says Kathryn Lloyd, Crown color specialist. 'Energetic and full of life, it breaks away from tradition with architecture emphasised in contrasting colors. Conveyed through a palette of upbeat but sophisticated colors, cool shades dominate whilst complementary hues are shown in the furnishings and furniture and add vitality.'
14. Ease in nostalgic influence
The nostalgia trend is growing for 2021, with brands delving into archived products and vintage styles to create a new twist on a traditional style.
"The rich, regal hues favoured by the Tudor monarchs of the renaissance era have surged in popularity in recent month, including shades such as royal blue, ruby red and emerald green,' says Benjamin Moore's Helen Shaw.
'This style statement has also been taken a step further by fashion forward consumers, being combined with a lustrous, high gloss finish to create a look that oozes luxury and opulence.
'Those working with a space with existing period features, such as high ceilings and panelled walls, can paint these colours from floor to ceiling, to imitate the staple 'more is more' ethos of the Tudor era. Or, those with a space of any size can illustrate the desired imperial effect by accessorising with embellished, metallic decorative pieces and velvet cushions, throws and furnishings.'
The Pantone Color of the Year 2020 was Classic Blue, a regal hue that feeds into the comforting nostalgia trend, and one that continues into 2021.
Joa Studholme, Farrow & Ball's color curator, says deep greens that have an air of nostalgia are perfect for replacing those charcoals we've all been using. She says: 'Duck Green is strong and subdued, but achingly fashionable.
'While having an air of nostalgia, it is the perfect contemporary alternative to charcoal in modern homes and is ideal to create space in which to curl up at the end of the day. Incredibly chic by day, and cosy by night, it brings a grounded but luxurious atmosphere to any room.'
15. Look to an English country garden
Look to the beauty of the outdoors for inner beauty inspiration. Graham & Brown's Color of the Year, Adeline, is a directional shade of rich bottle-green that borrows the first name of Adeline Virginia Woolf, the pioneering author and founding member of the Bloomsbury Group.
The statement hue channels lively country gardens and whimsical interiors favoured by the group. An oxygenating fresh tone, Adeline balances the ever-increasing amount of technology making its way into the home, echoing a wider interiors trend that looks to biophilic design to inspire healthier, happier homes.
16. Flatter with an all-white scheme
'We'll be seeing plenty of neutrals and whites in paint trends for 2021, and for good reason – an all-white interior creates the illusion of a room being lighter, brighter and larger,' says Annie Sloan, color and paint expert. 'As useful as it is, white is not an emotional color, so you'll need layers of texture and tones to bring depth and comfort. Use nuanced shades, from cool to warm, for a softer, more flattering look than a single, pure white.'
17. Evoke artisan living
Inspired by artisan craft and slow living, interiors are embracing the understated beauty of imperfect, timeworn pieces and warm, calming shades.
Judy Smith, Crown color consultant, says: 'Warm tones of clay and terracotta make a palette that is purely natural. Paired with darker accents they create a scheme that champions imperfection and celebrates the handmade. The look is relaxed, simple, fluid colors working in harmony, mixing and blending into each other.'
Aim for an unrefined and rustic aesthetic to nail this trend, which is comforting and enveloping. Simple and versatile, the earthy palette works in any space, whether it's a rustic kitchen or contemporary bedroom, and is particularly effective when combined with an ombre or sponge technique.
Organic materials, including rattan, bamboo and linen, paired with artisanal elements, like pottery, enhance the serene, pared-back feel of the colors and instantly create an inviting space to rest and regenerate.