Cool color schemes – how and when to use color for bright spaces, according to design experts
Want to play it cool with your décor? Interior designers share their advice on cool color schemes to help you get it right
(Image credit: Neptune / Alecia Neo / Future)
There are good reasons to use cool color schemes in your home. Perhaps you are lucky enough to have sun-filled spaces that need tempering? Or you want to create a bright but relaxing atmosphere in a room? Or one that's formal and elegant?
These are all good reasons to use home décor ideas that start with a cool color scheme. However, there are some important things you should know before you start, because if you choose a cool color scheme for the wrong space, you can end up with a room that feels unwelcoming and cold.
We asked interior designers for their tried and tested advice on curating a cool color scheme; they came up with tips for successful combining of cool colors with other shades, and which rooms work best with a cool color scheme.
What is a cool color scheme?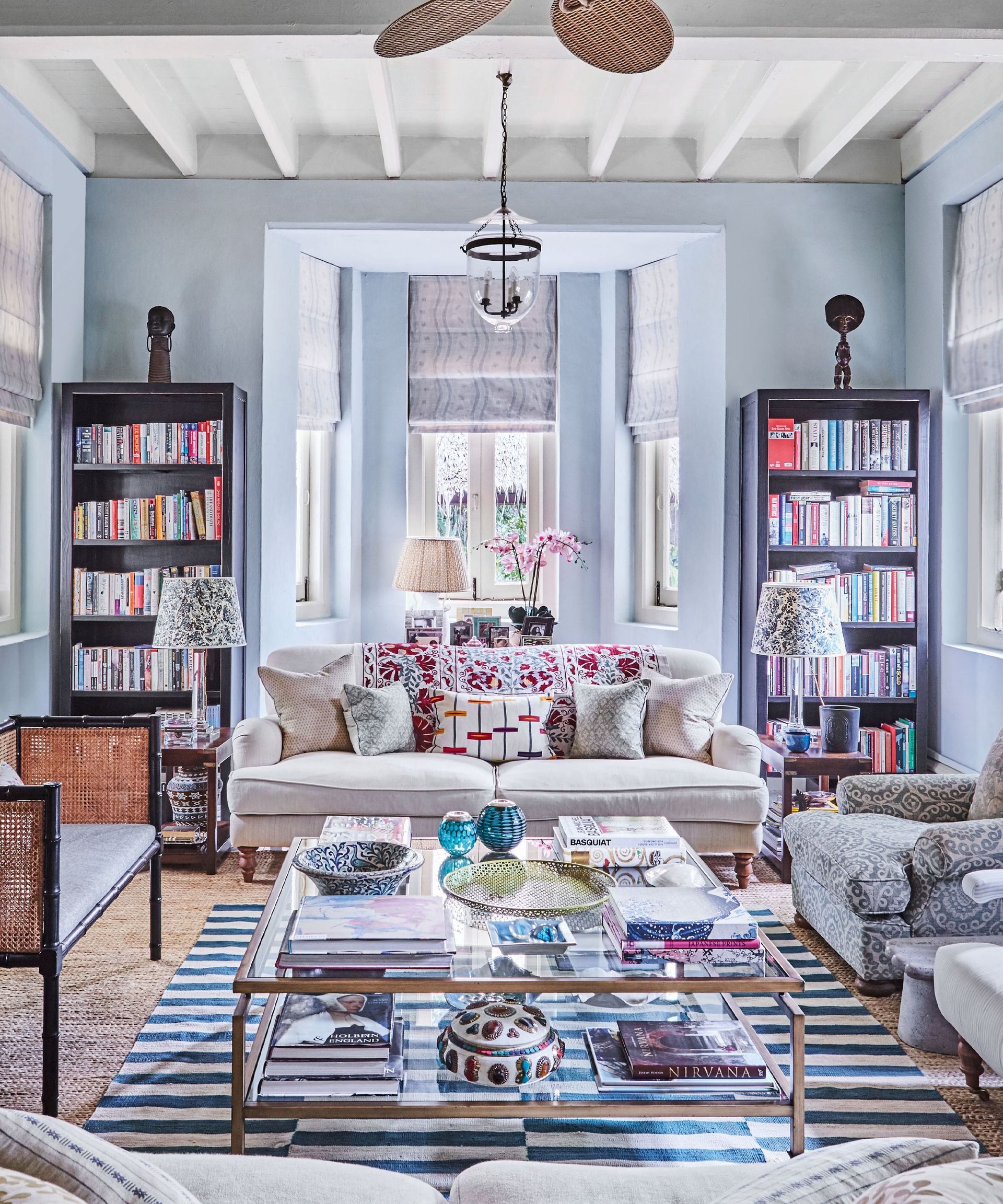 A cool color scheme is any color or combination of colors that create a feeling of crisp, soothing coolness: think wintry green room ideas, pale blue room ideas, icy gray and bluish-lilac purple room ideas, as good examples. Cool colors are tinted with black rather than red or yellow, so their underlying tones are cool, not warm.
When combining cool colors with similar or contrasting shades for your room color ideas, it is helpful to learn how to use a color wheel to ensure you match the tones within the colors correctly.
Know, too, that post-pandemic, search for 'what color is replacing gray?' has soared because we are all looking for cozy room ideas, and are erring towards warmer shades. So, if you are picking a cool color scheme, consider balancing it with warmer accent color ideas – there are plenty of easy-to-introduce accent colors for gray, for example.
What are the best colors for a cool scheme?
What colors make a room look cooler? The simple answer is blues, greens, grays and some bluey purples, all to be found on the cool side of the color wheel.
The essence of these shades can be found in the cooler colors of nature: new green grass and forest leaves, refreshing seas, and cold stone. Interior designer Kristen Fiore says, 'Cool color schemes are blues, gray, light greens and light yellows. Think ocean and airy, crisp environments.'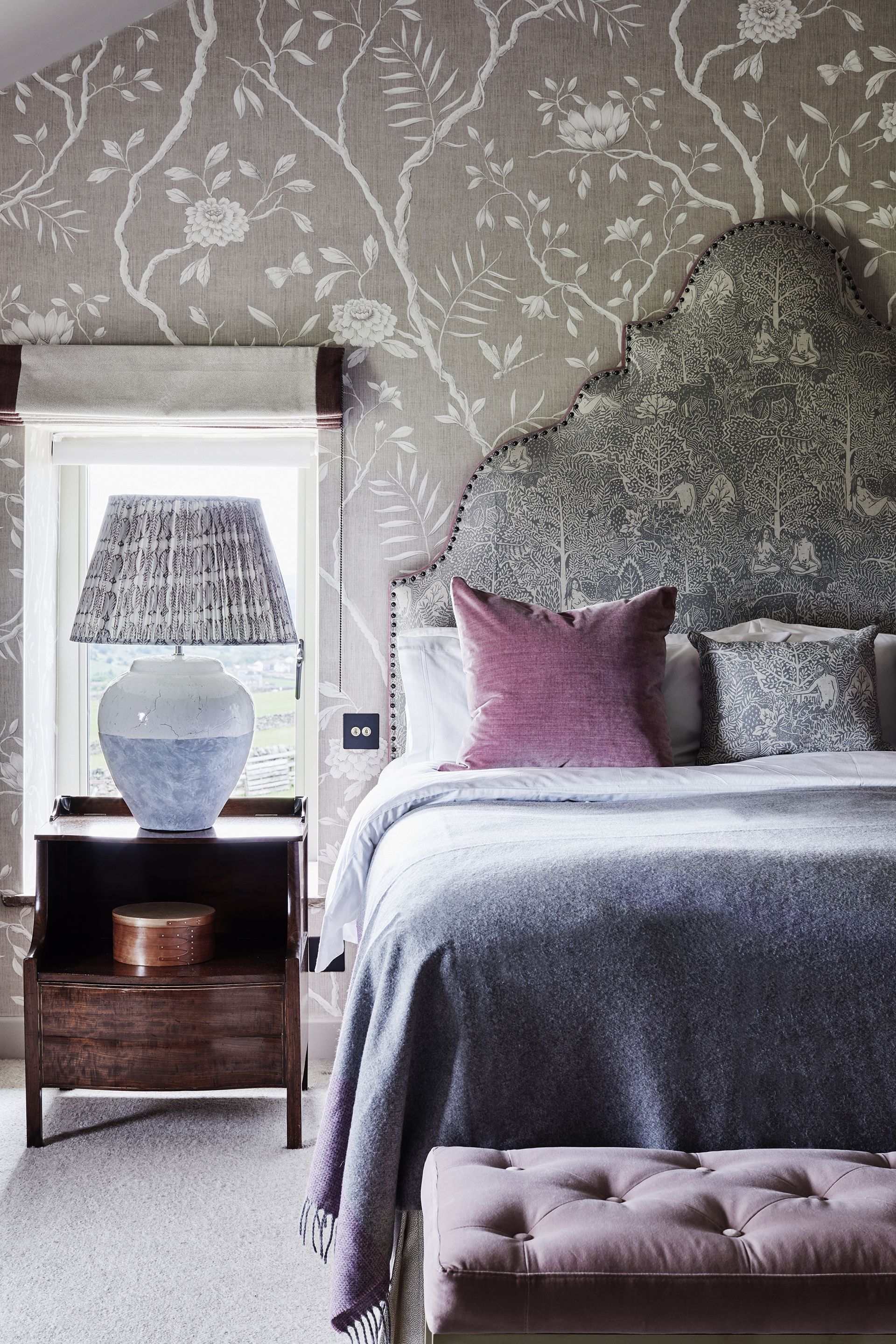 For design studio Rincon Rd's Melinda Trembly, the key cool color combinations are blue-violet, blue, blue-green, and green. 'You can have monochromatic color schemes using any one of these colors varying its value or intensity,' says Melinda. 'Or try what is known as an analogous scheme, where you group three or more colors next to each other on the color wheel, for example blue, blue-green, green, and yellow-green.'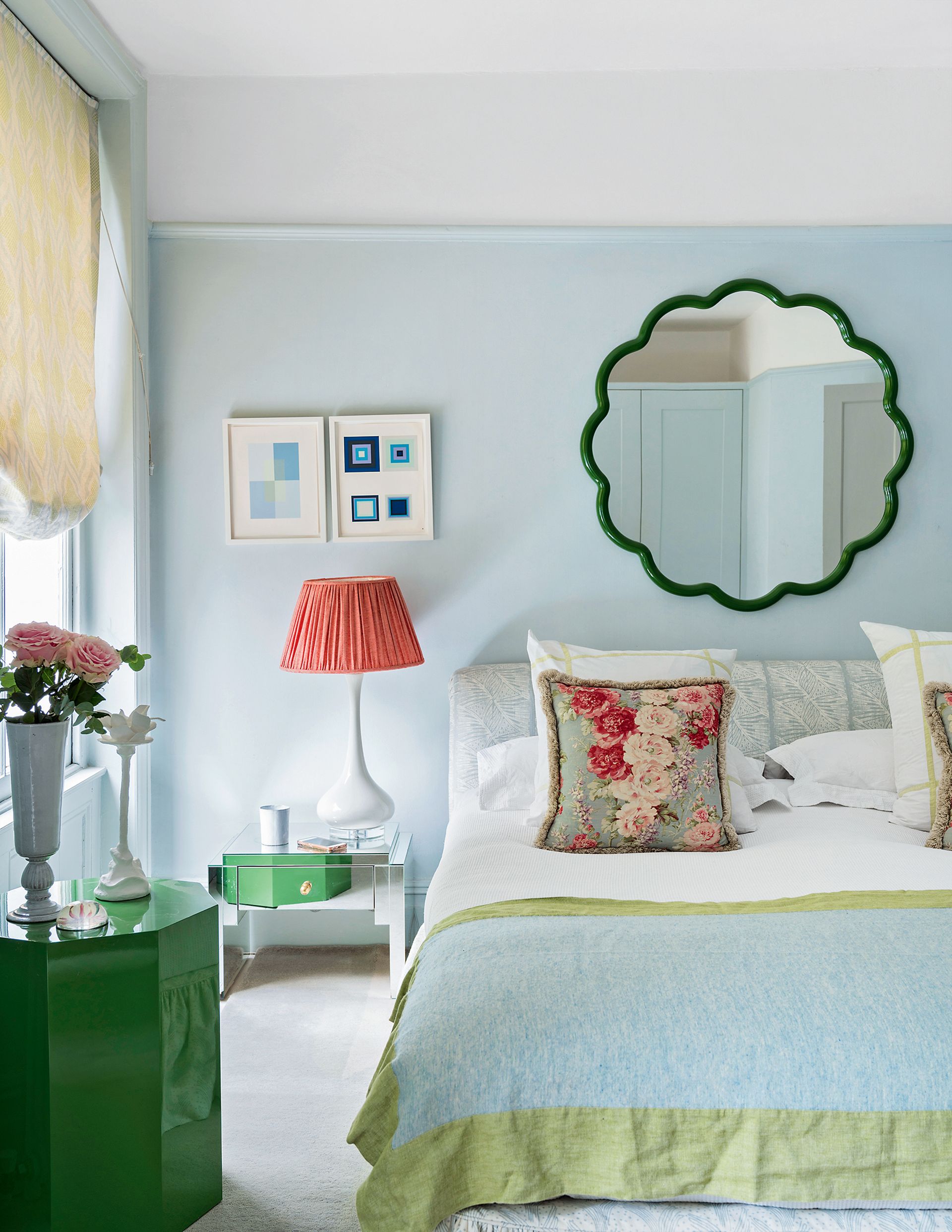 Interestingly, diluting or adding white doesn't lessen the impact of a cool color, quite the reverse, as the bedroom above shows, and our experts are keen to point out. 'When working with paint, the more white that is added to a pigment, creates a cooler tone for the walls,' says Kristen Fiore.
Devika Kanadé, founder of boutique interiors store The Itihāas Company, agrees that it's best to use these colors blended: 'Cool tone rooms work best when they are in their pastel versions or diluted down.'
When to use cool color schemes?
You can make a case for a cool color scheme in any room. It really is down to personal preference and about how you want that space to make you feel (more on this later).
That said, cool color schemes can work particularly well in a south- or west-facing room where the light is warmer.
Interior designer Brittney Ferguson says it's important to consider the location of the property, too. 'A beach home on highway 30A could be entirely done in a cool color scheme. While a home in the midwest may only want a pop of cool colors in a bedroom or master bathroom,' she says.
Since an out and out cool color scheme can have a fresh and clinical feel to it, many people find it works well in a kitchen or bathroom.
Kristen Fiore says: 'We love cooler shades for bathrooms as they naturally emit a clean aesthetic and feel to the room. It helps open the room up and make it feel larger' – a useful tip to remember for smaller bathrooms.
Kendra Nash says 'I personally love a rich, dark, cool-toned dining room, as I find that colorful food pops really well in the space.'
Which rooms best suit cool color schemes?
How do you feel when you gaze at the blue ocean, or when you're in the heart of rolling green countryside? What about when you look up and the sky is a cloudless blue?
Nothing can match the feeling of calm and relaxation we get from nature, but a cool color scheme can still produce some fairly powerful emotional effects, which is why it works in a bedroom, or indeed a busy room, such as a kitchen or living room.
Melinda Trembly says, 'Cool colors are generally known to provoke calm and relaxation, and have even been proven to lower blood pressure.'
Interior designer Seyie has a lot to say on the emotional side of colors: 'Specific colors often evoke certain emotions. For example, green is restful and balancing; blue is calming and clear-thinking; and purple (depending on the shade) is stimulating or cooling.'
'It's important to keep in mind how you want to feel in a room when selecting your colors,' she adds. 'If you want your bedroom to feel like a restful sanctuary, blue or green is always an excellent choice.'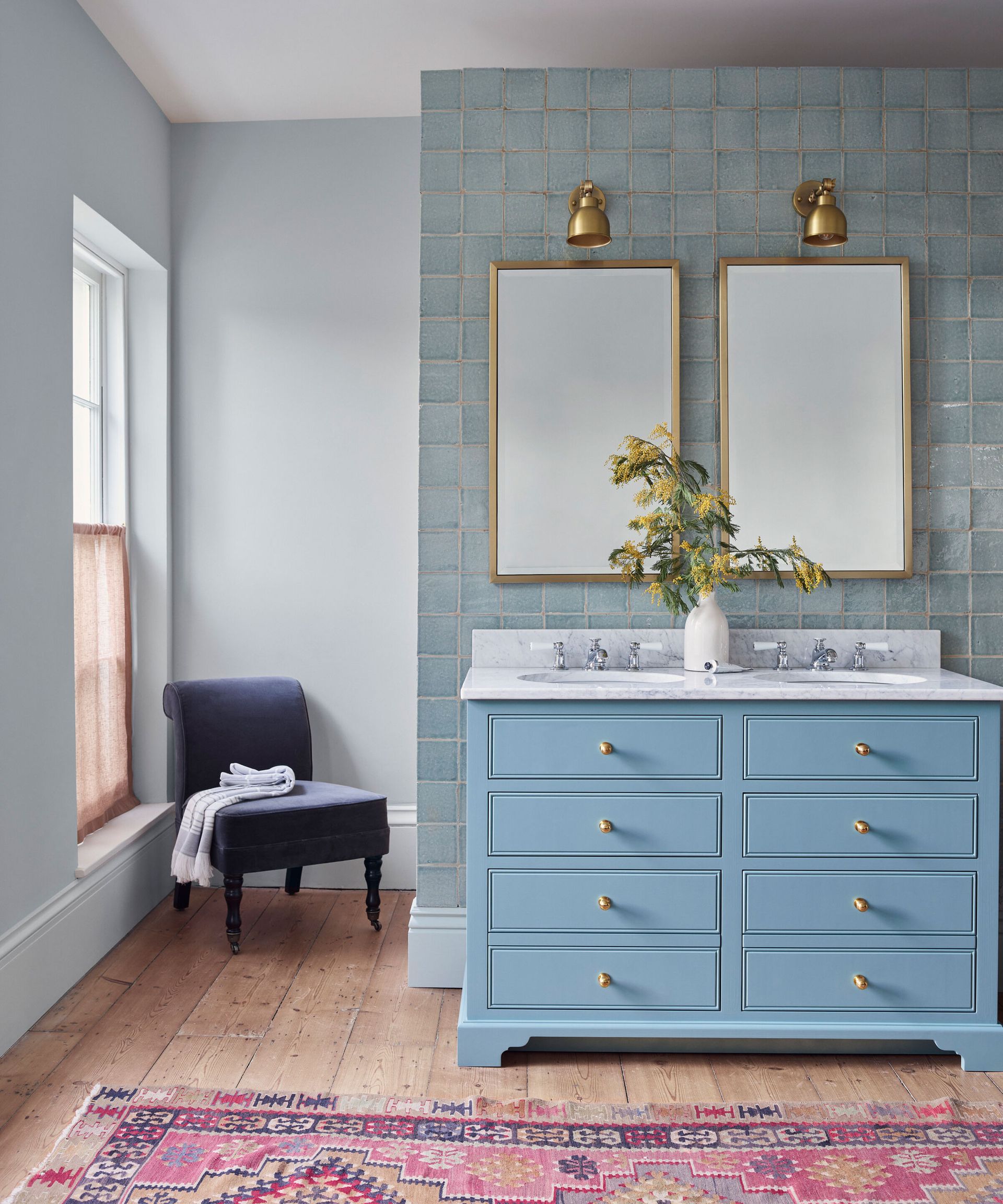 A restful sanctuary is a great vibe for a bedroom or bathroom, but can cooler colors create a more lively feeling? Seyie thinks they can:
'A brighter color option of the same hue mixed with other colors creates a more vibrant and energetic feeling. This is usually a good option for public rooms where you'll entertain and celebrate. It's hard not to feel upbeat and happy when surrounded by a bright palette.'
And isn't that what decorating is about? You can have all the color theory at your fingertips, but we're not going to judge you for choosing a color scheme just because you like it and it makes you feel happy.
'While various color schemes can work well in many different rooms, I believe the best color scheme is the one that resonates with you the most and which makes you happiest living in it,' adds Seyie.
How to maximize the impact of a cool color scheme
To ensure the best results from a cool color scheme, think about the colors you put alongside them as accent colors, the negative space if you will. This will have a bearing on the overall look and help your cool colors to really stand out.
Interior designer Brittney Ferguson describes her finishing touches for cool color schemes: 'To cool off a space I love to use nickel metal finishes paired with soft greens like seafoam and mint tones. Anything light blue can give a cool look. Try Teresa's Green by Farrow & Ball or Niebla Azul by Sherwin Williams.
'Another cool color that finds it's way into almost all of my projects is Light Blue by Farrow & Ball, used for the window seat in the image above.'
Note how the rattan blind and warm wood picture frames add a counterpoint of warmth to the scheme, along with the off-white shades in the wallcovering. These warm elements add sufficient contrast to allow the gray and cool blue scheme to shimmer.
Interior designer Seyie agrees that adding white can help a cool scheme. 'When cool colors are mixed with white or are the dominant color, they can make a room look cooler and calmer. Since wall space is usually the most dominant surface, painting it white is an easy way to make a room look cooler. Other items to consider when selecting color include furniture, rugs and soft accessories.'
The advice from interior designer Kendra Nash is to experiment with different combinations: 'We like to play with different ranges of cool tones to complement one another. For instance using a deep, dark navy paint on walls with rich teal blue dining chairs, and lime green sconces – there is nothing off limits.'
The space below by interior designer Nina Campbell is a good example of this type of cool color scheme.
Don't forget to consider the flooring as part of the overall cool color scheme. 'We find that cooler tones look great in spaces where there is hardwood as the flooring. The hardwood acts as a base of warmth and then adding cooler tones on top with furnishings, accessories, and paint is complementary without the space feeling too sterile and cold,' adds Nash.
Devika Kanadé suggests balancing a pastel Louis Blue color for walls and adding 'darker cool tone accents with throws and cushions in indigo blues and deep purples.'
She likes to dilute blues and greens with cooler whites and silver accents, and says that wooden brown accents, for instance as flooring, can act as a great balancer if the brightness of the cool tones gets overwhelming.
FAQs
Is gray warm or cool?
The answer to this is key to understanding the difference between cool and warm color schemes. Even traditionally cool colors, like gray, can be warm if it has a warm, yellow undertone. However, pick a gray witha blue undertone and it will be cool. The same can be applied to green, blue, purple, and so on.
---
Often we are guided away from cool color schemes because they can, if not applied properly, make a room feel cold and unwelcoming. The key is to pick them for sunny rooms, or to balance the icier elements of the scheme with warm color scheme picks, such as spice shades, yellows and browns.
Sign up to the Homes & Gardens newsletter
Decor Ideas. Project Inspiration. Expert Advice. Delivered to your inbox.
Karen is the houses editor for homesandgardens.com and homes editor for the brand's sister titles, Period Living and Country Homes & Interiors, and an experienced writer on interiors and gardens. She loves visiting historic houses for Period Living and writing about rural properties for Country Homes & Interiors, and working with photographers to capture all shapes and sizes of properties. Karen began her career as a sub editor at Hi-Fi News and Record Review magazine. Her move to women's magazines came soon after, in the shape of Living magazine, which covered cookery, fashion, beauty, homes and gardening. From Living Karen moved to Ideal Home magazine, where as deputy chief sub, then chief sub, she started to really take an interest in properties, architecture, interior design and gardening.