Master bedroom ideas with bath – 13 designs for a luxurious master suite
Transform your bedroom into a relaxing and tranquil retreat with our master bedroom ideas with bath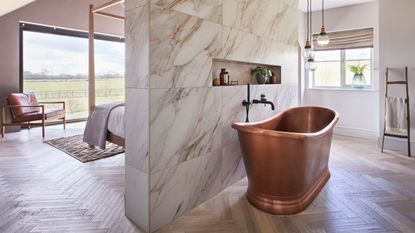 (Image credit: Ripples)
Master bedroom ideas with bath are often associated with trips away from home in beautiful boutique hotels and holiday homes, however, this luxurious design feature is proving popular for master bedroom ideas in the home.
Blurring the boundaries for what is traditionally expected for bedroom ideas or ensuite ideas, a statement bath in a master bedroom can not only bring in unique visual interest, but can help to create a decadent atmosphere of elegance and indulgence.
Great for luxury bedroom ideas, master bedroom ideas with bath are certainly not for everyone, however, if practicalities and space allow, a bath can make your master bedroom feel more unique as well as relaxing.
13 beautiful master bedroom ideas with bath
James Lentaigne, creative director at Drummonds says, 'contemporary boutique hotels have pioneered the trend to bring the bathroom into the bedroom, and in particular, the statement bath. It can be a great look but, of course, if you are going to 'meld' the bedroom/bathroom zones, you would always want to create a separate, private loo area. You also need to make sure that you have adequate ventilation to prevent from baths – or showers – causing damage to bedroom decorations or furnishings.'
From baths that coordinate with your bedroom paint ideas, to ways you can style the space that surrounds your bath, we have curated a collection of ideas to help inspire you to create the ultimate master bedroom with bath design.
1. Place the bath at the foot of the bed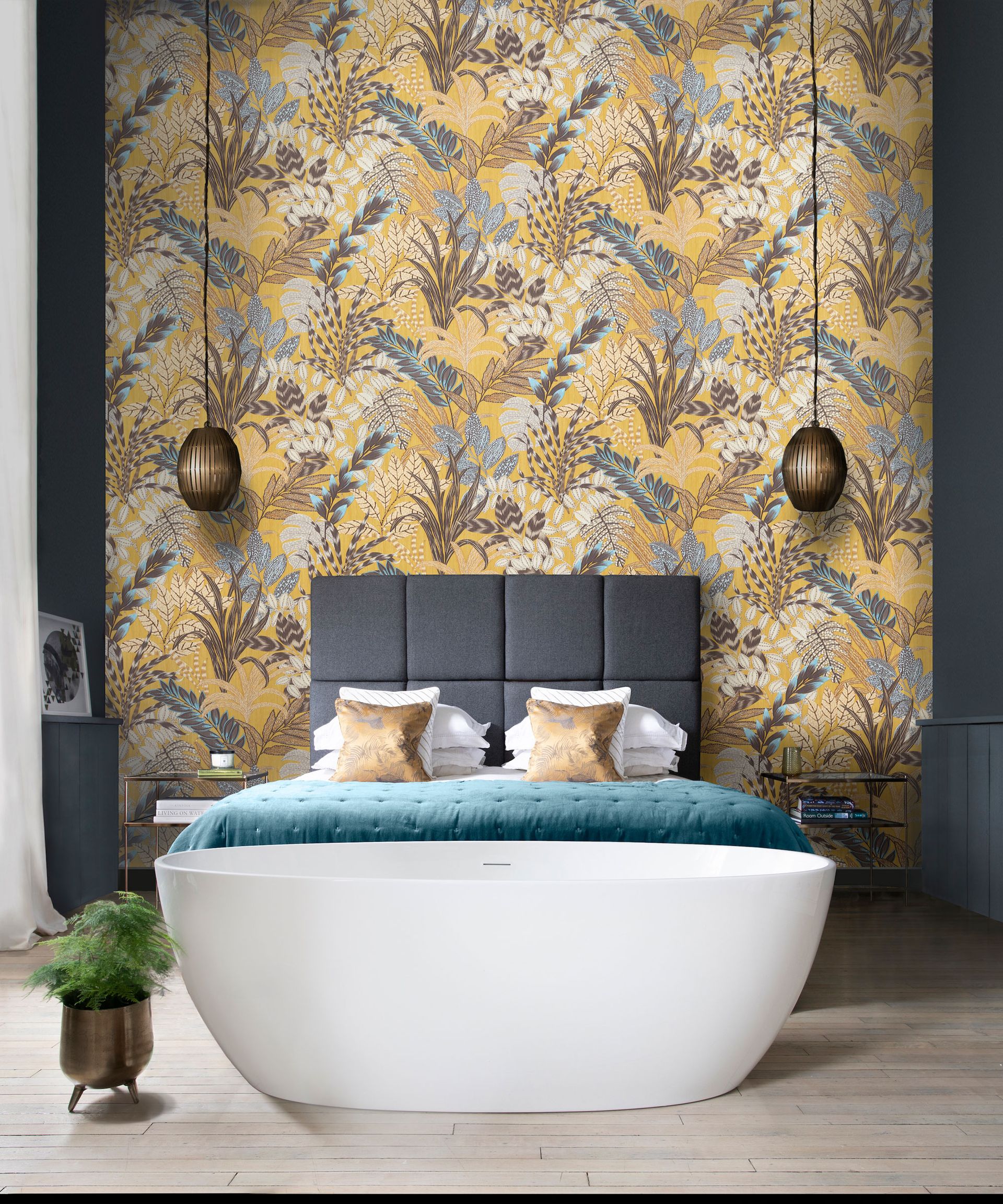 A bath is not something that can be easily slotted into your master bedroom last minute, your room design will need be meticulously planned so that the bath can fit harmoniously into your space.
When planning your bedroom layout ideas, one option to consider for your bath is placing it at the foot of your bed. Traditionally, a bench is often placed at the foot of a bed in a bedroom, so why not change this go-to option and make this the home for a bath.
As shown in this contemporary bedroom, the smooth, sculptural shape of the Stream Plus Freestanding Bath by Waters Baths of Ashbourne fits perfectly at the foot of the bed.
Barrie Cutchie, design director at BC Designs states, 'if you're going to have a bathtub at the end of the bed, it's got to be a feature, it's got to have presence and make a statement.'
With the white finish creating an elegant contrast with the more lively colors and patterns in the rest of the space, the bath becomes the natural, central focal point in the room.
2. Zone the space with a partition wall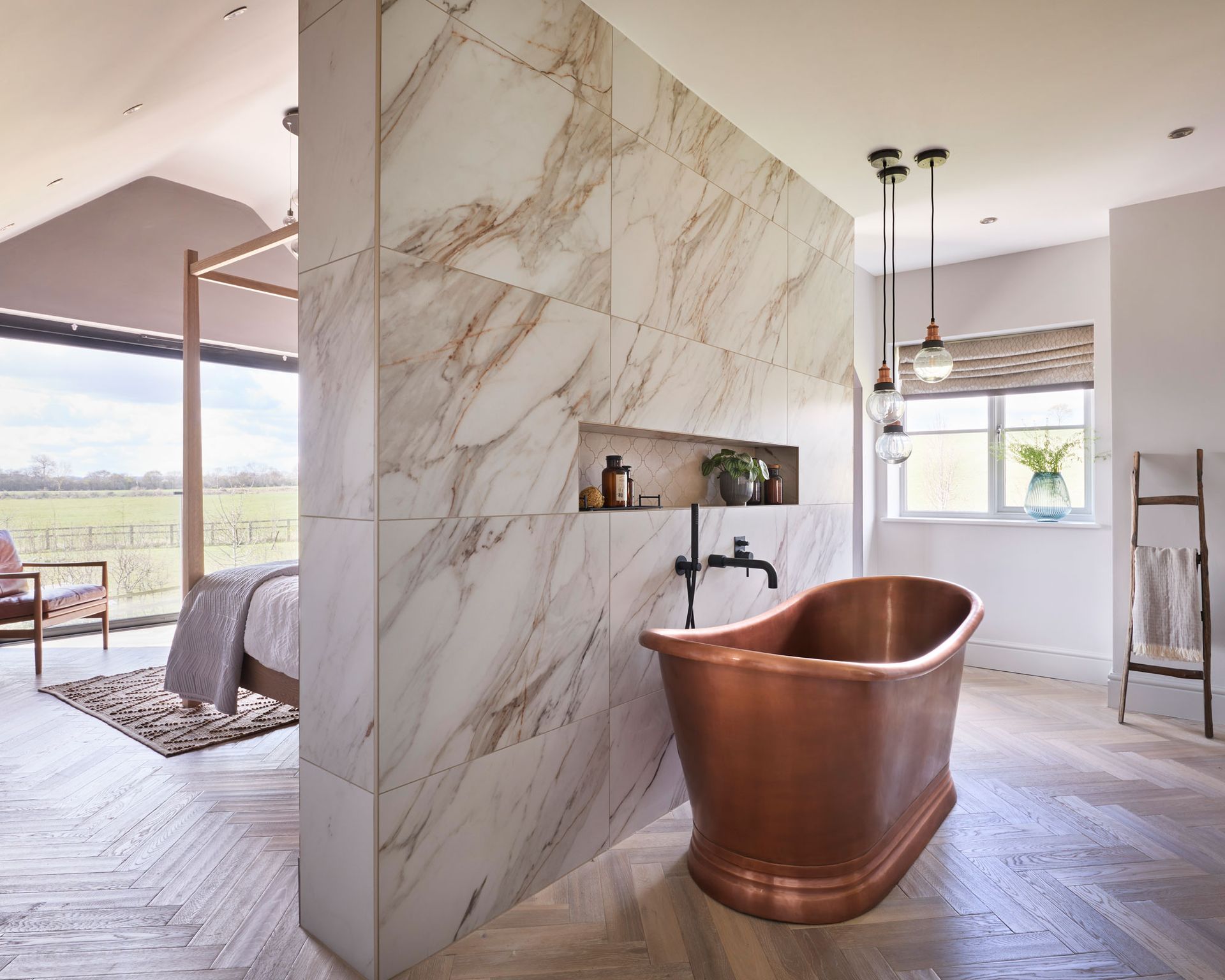 A great way to zone a large, open-plan space is to use a room divider or partition wall, with this technique a great way to create a sense of separation for your master bedroom ideas with bath.
As shown in this beautiful modern bedroom by Ripples, a luxurious, marble partition wall separates the striking copper bath and bathing area from the main, master bedroom area. With the overall feel of the room still remaining open, spacious and minimalist, the wall acts as a stunning design feature; adding beautiful texture and material to the space whilst creating a sense of privacy.
3. Create a pretty focal point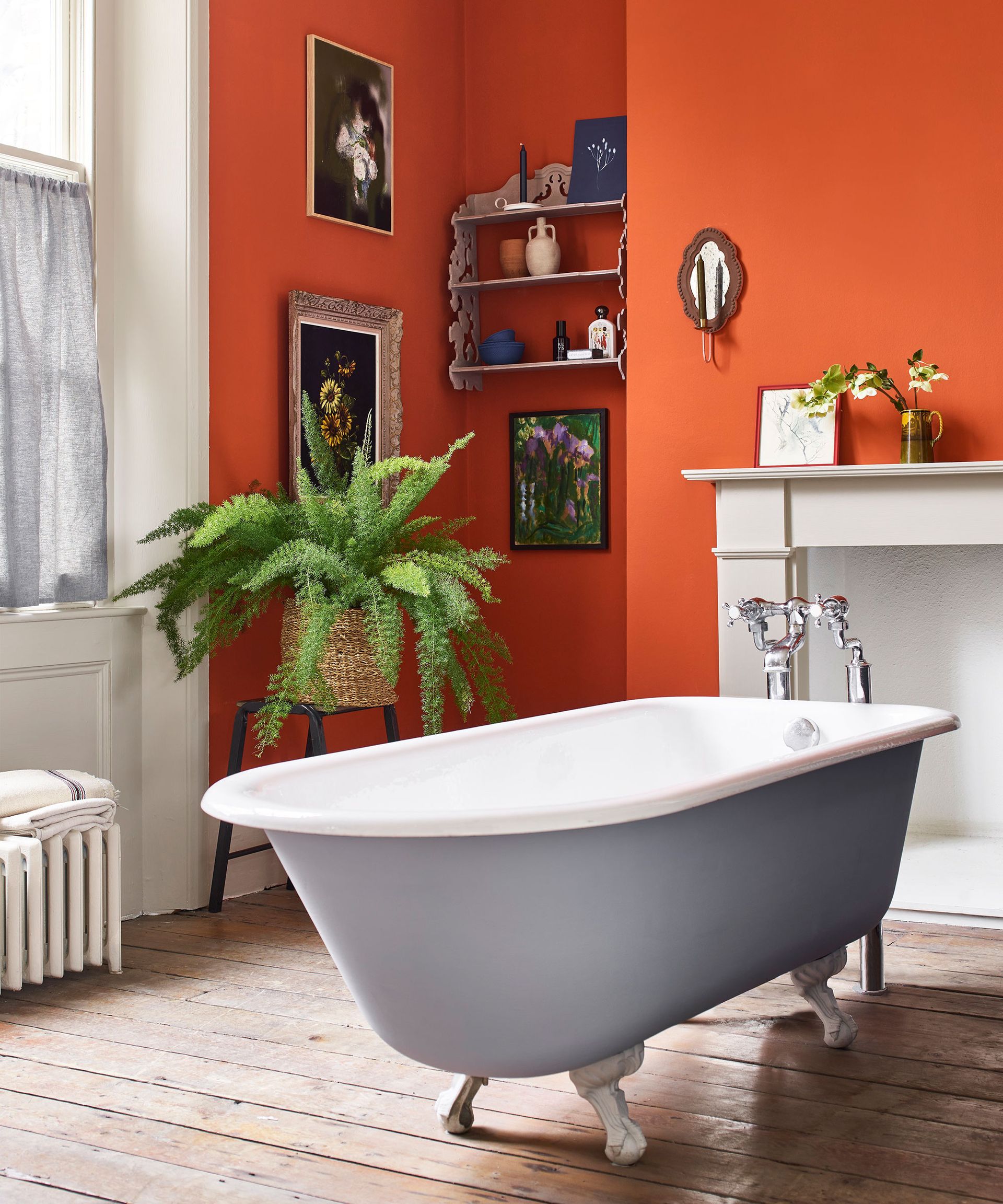 An element that can often be forgotten when planning bath ideas in the home, ensuring you have a relaxing and comforting focal point that you can gaze upon when relaxing will only make having a bath all the more enjoyable.
As shown in this master bedroom, painted a striking shade of Riad Terracotta by Annie Sloan, the cozy corner and alcove wall space has been decorated with an eye-catching collection of framed paintings and a decorated shelf, with the plant on the metal stool adding beautiful greenery and texture.
This design creates a pretty area that not only adds unique character and charm to the room, but the bath placement allows for it to be admired and appreciated when having a long soak. Cleverly thinking about your overall bathing experience and how you can decorate and style you master bedroom to enhance this, will ensure you have a unified, functional and inviting design.
4. Position the bath by the window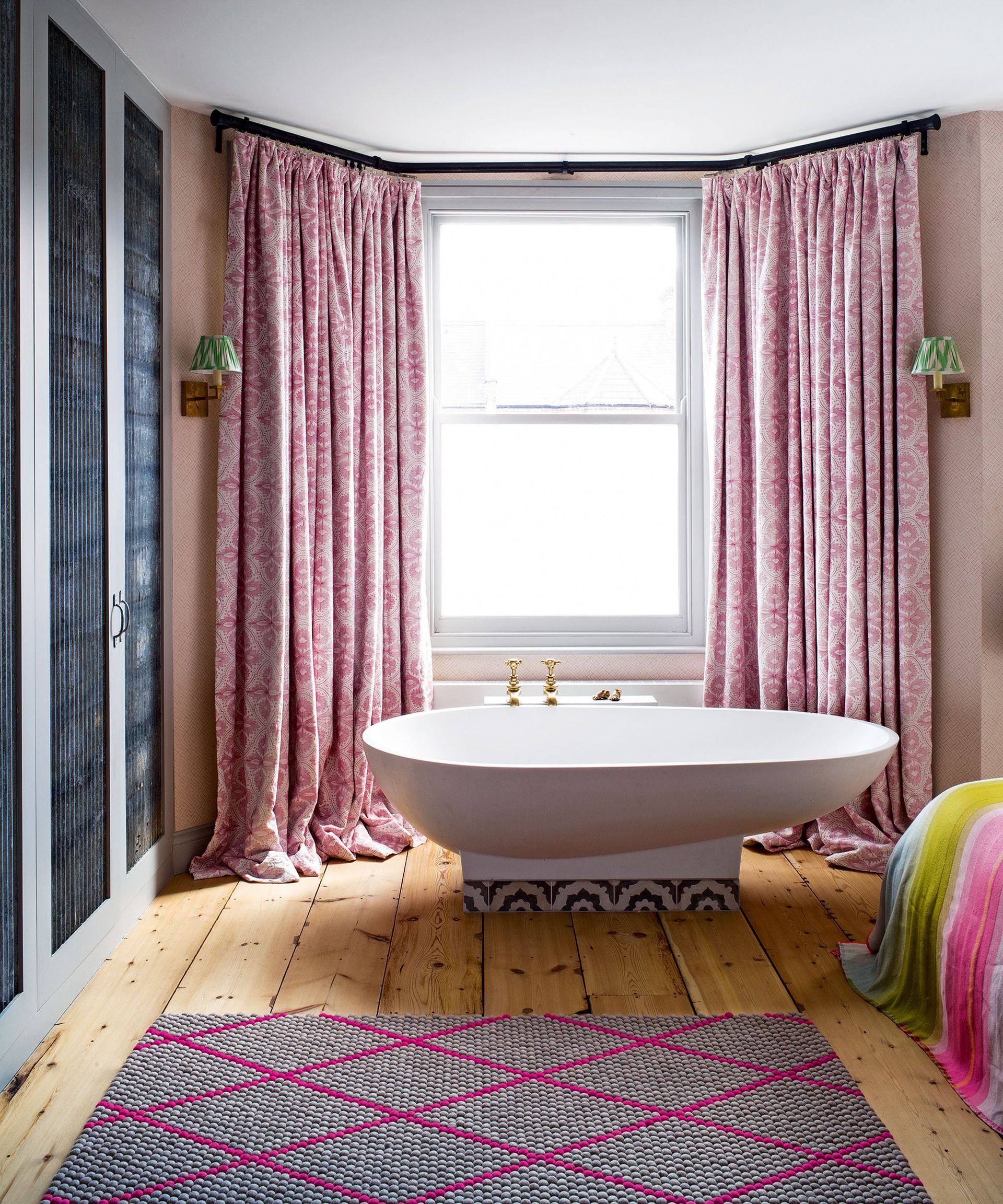 Whether you want to take in the view from your window when you bathe, or create a more inviting, relaxing bath zone flooded with natural light, positioning your bath by the window in your master bedroom can also be good for ventilation purposes.
The unique, asymmetrical freestanding bath in this bedroom, with a raised tiled platform, fits perfectly into the large bay window area. Acting as both a bath and an artistic, sculptural design statement in this master bedroom, this modern bath design creates an elegant contrast with the more traditional bay window features.
5. Add privacy with a curtain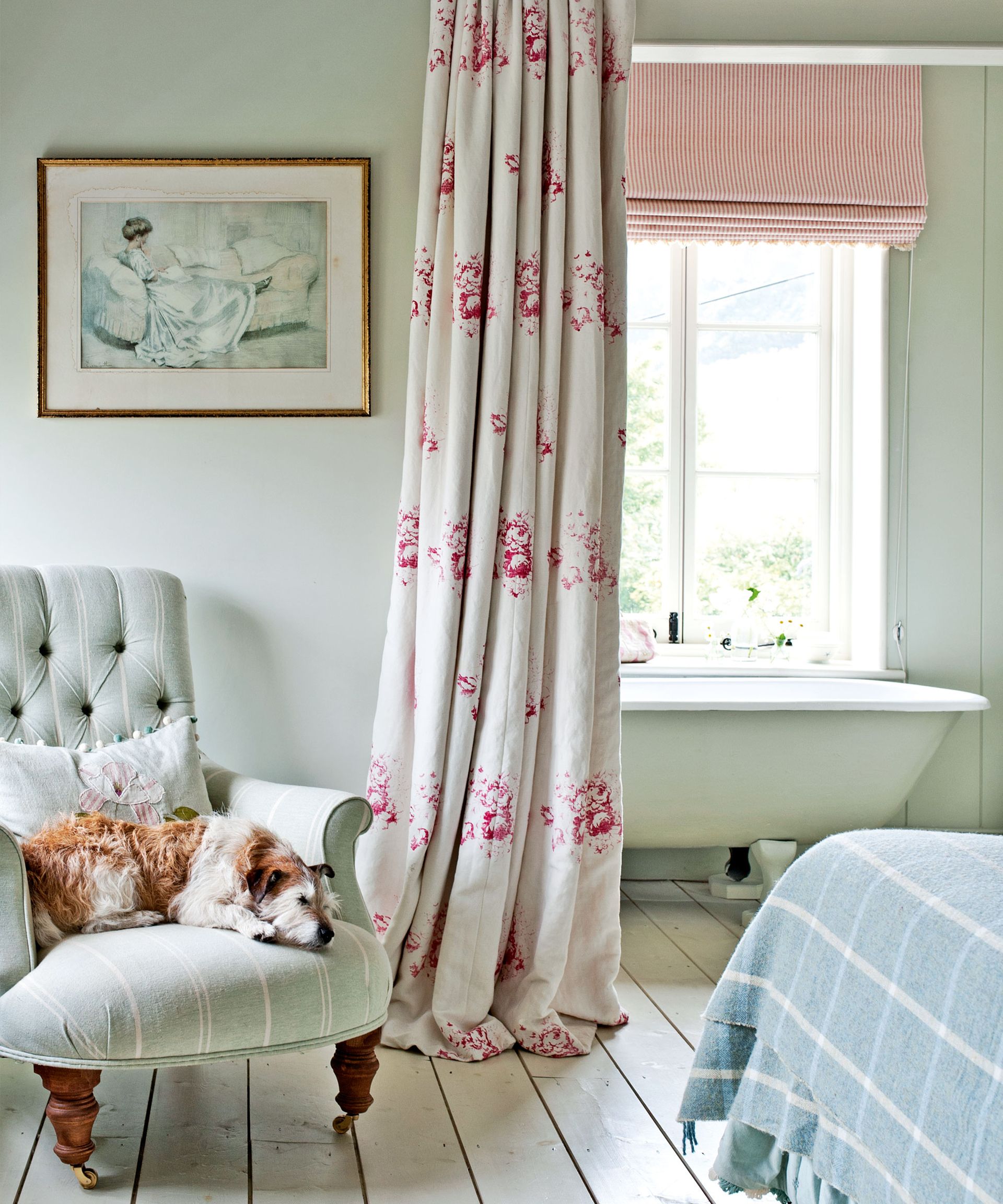 We have discussed how a partition wall can create a degree of separation for your master bedroom with bath ideas, but for a softer, more tactile approach, why not embrace curtain ideas.
Whether you choose a freestanding bath design with a fixture that hangs a shower curtain, or place your bath in an area of the room where you can attach a rail and use a fabric curtain to zone, like in the country bedroom above, a curtain can be a simple and easy way to add privacy to your bathing area.
Great for making your bath feel more like a retreat away from the rest of the home and establishing a room within a room effect, a curtain can also bring in a beautiful element of texture and soften the bath within the space.
6. Create a raised platform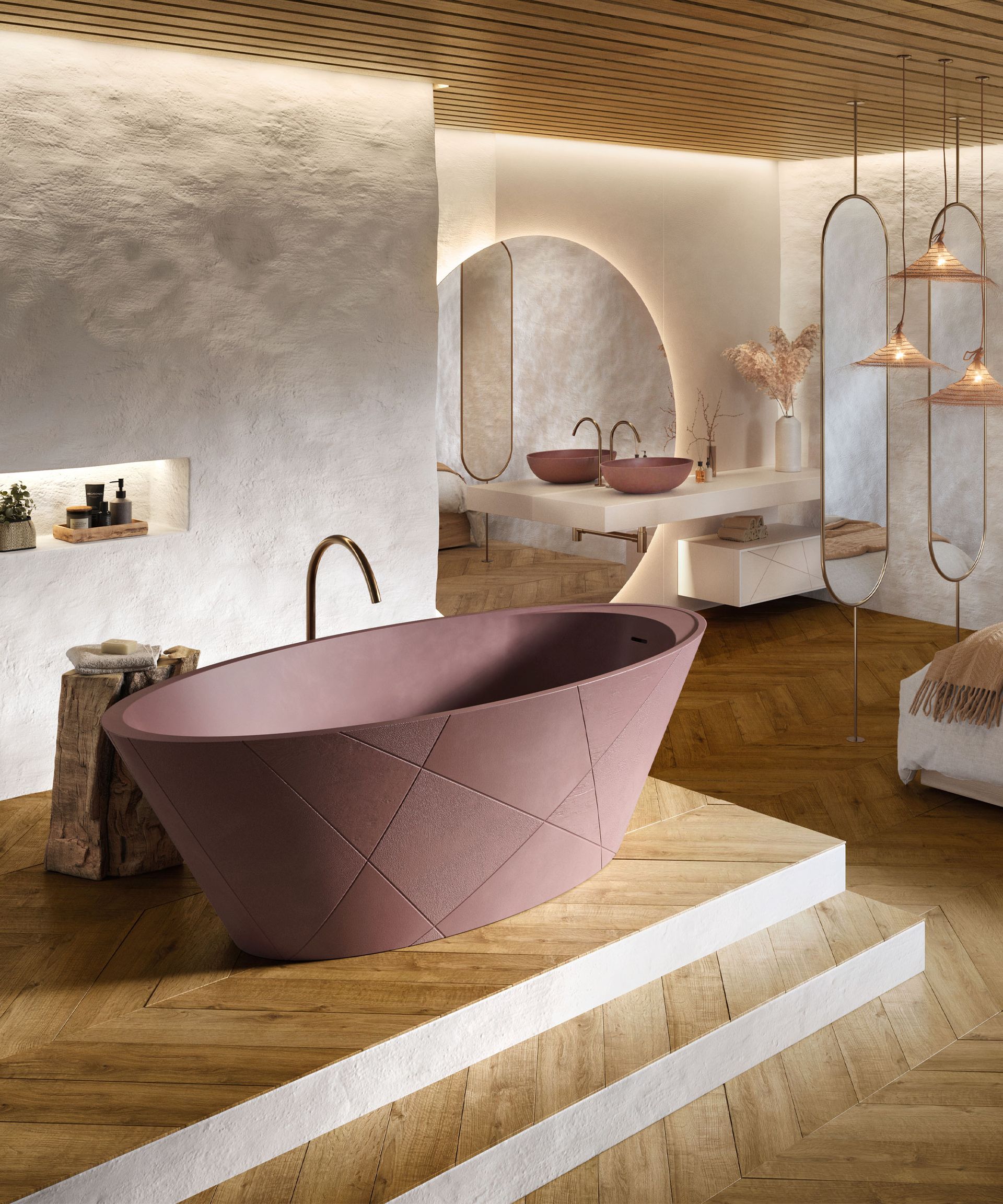 Whether you want your bath to be be the star of the show in your master bedroom, or what to create altering levels for different zones in the room, a raised platform can work in both smaller and larger spaces alike.
In this stand-out master bedroom design, featuring an Opal Quiz freestanding bath by Acquabella, the stunning bath design has the space and platform it deserves. Acting as the main focal point and design feature in the room, the unique structure has been elevated by the tiered wooden steps, emphasizing the dramatic design with height and grandeur - as well as creating a separate bathing area within the space.
A raised platform is great for a statement bathtub and to create a spa bathroom feel in the bedroom, it can also be a good option for a smaller bedroom, lifting the bath off of the main floor space, a clever trick to create an enhanced feeling of space.
7. Match the bath with the room color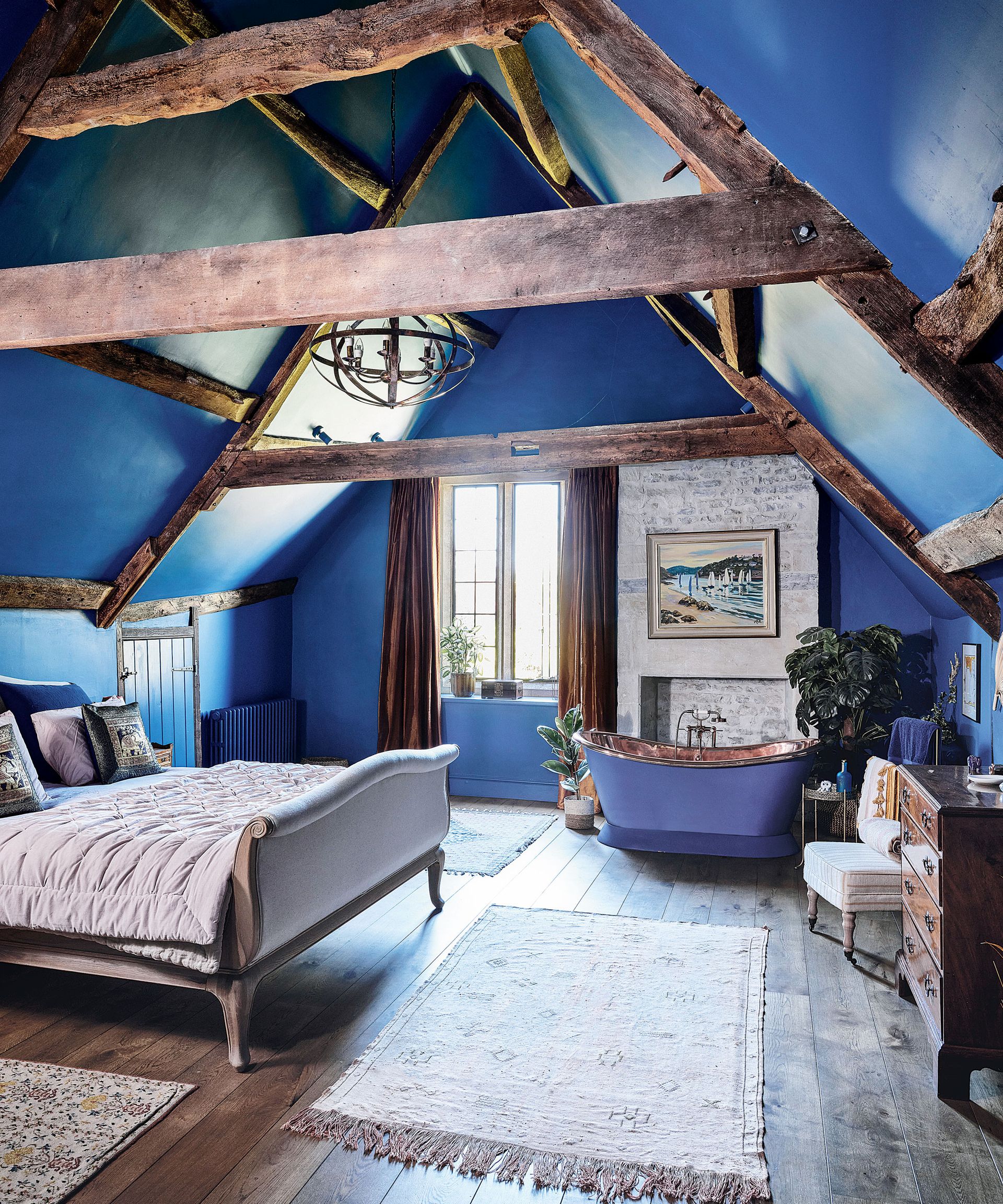 For a master bedroom with bath idea that feels colorful and coordinated, match the color of your bathtub with your bedroom color ideas.
In this beautiful period property, the rustic, exposed wooden beamed ceiling has been enhanced by the vibrant blue paint used throughout; creating an elegant union of contrasting materials, texture and colors – a great look for blue room ideas.
The traditional bathtub, finished in copper and a matte blue paint, enhances the dramatic use of color in the space and creates a unified, monochromatic look.
8. Fully integrate the bath into the bedroom space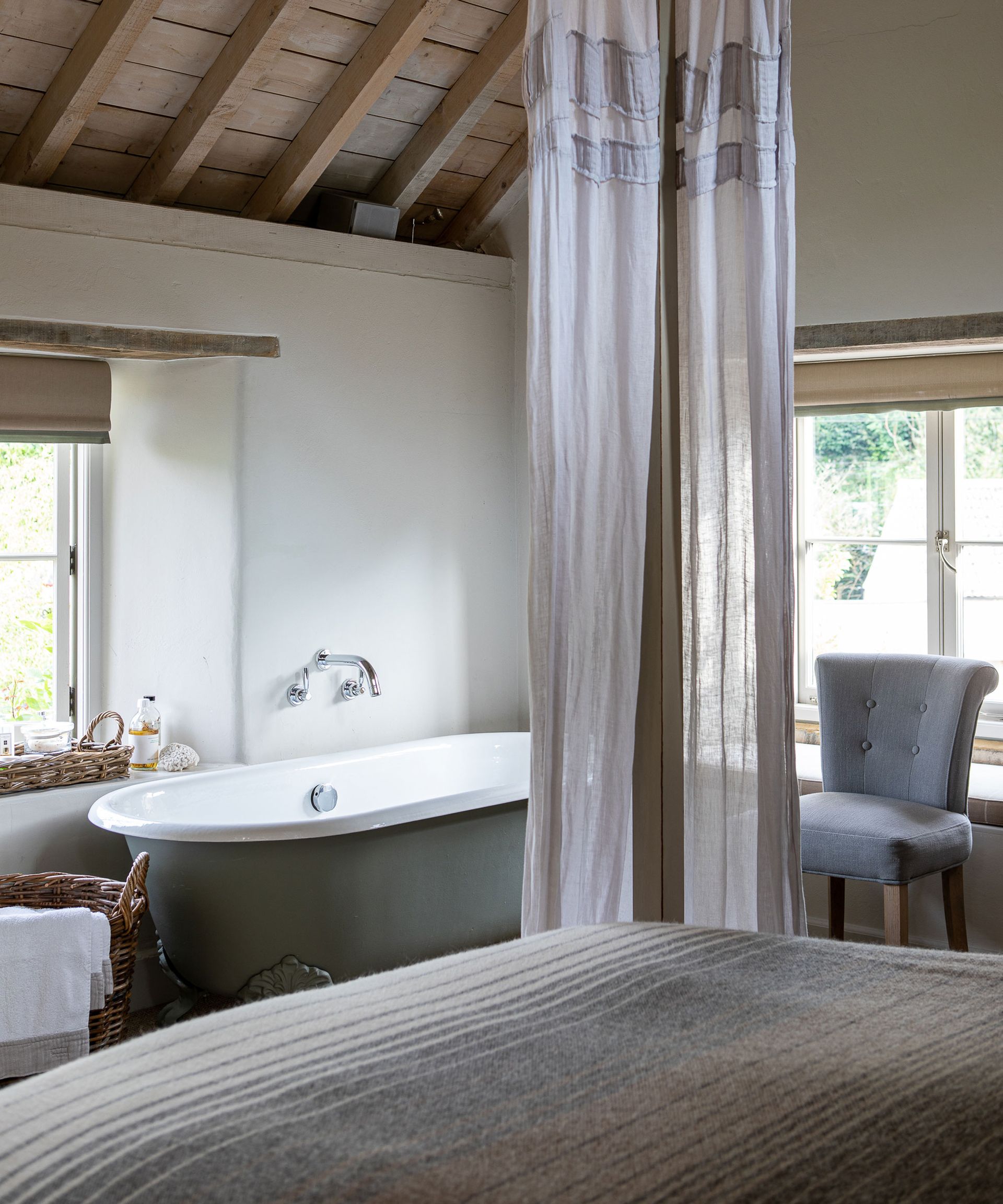 There are many ways you can make your bath feel fully integrated into your master bedroom, from color (like above) to styling and materials.
In this bedroom, positioning the spout and stop taps onto the wall, with the bathtub positioned below, is a subtle and simple way to make the bath feel, both visually and physically, more integrated and connected to the bedroom space.
9. Make a statement with a copper bath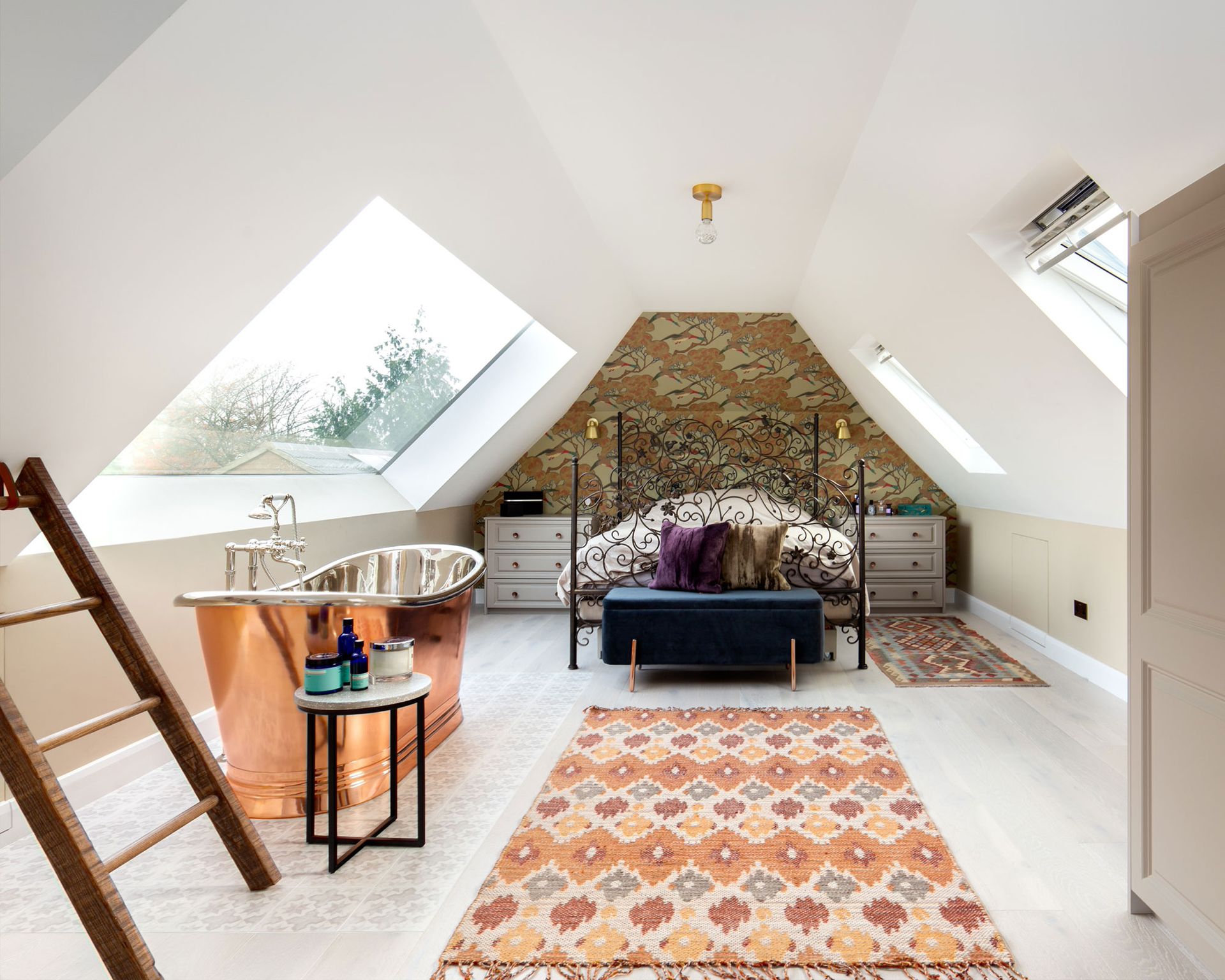 A great material for a bath, copper was traditionally used for bath designs due to its heat retaining qualities, helping the bath water stay warmer for longer.
A typical design for baths in the 18th and 19th Century, today, a copper bathtub can bring a classic feeling of elegance and grandeur into your master bedroom or bathroom space.
This master bedroom is a beautiful fusion of texture, shape and the old and new, with the shining copper bathtub complemented by the muted orange palette on the two patterned rugs and wallpaper.
The copper bath has been further rooted into the bedroom space through the use of the laminate flooring, with a faint tile pattern surrounding the design creating a contrast with the flooring in the rest of the bedroom and cleverly zoning the bathing area.
10. Style the space with mirrors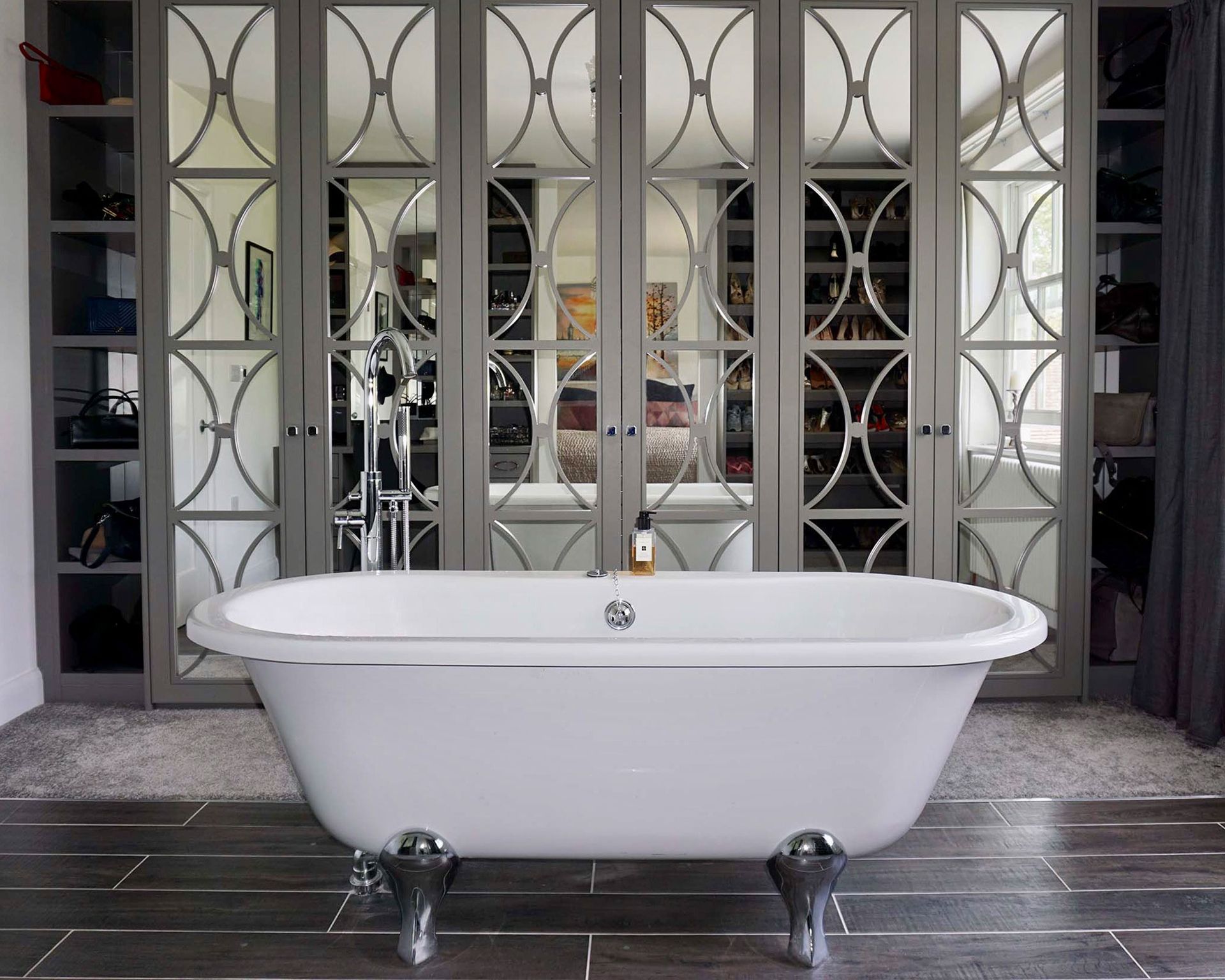 Decorating with mirrors is essential for a bathroom, so why not enhance your master bedroom with bath ideas and use mirrors to style the space that surrounds the bath.
Whether you simply position a floor-standing mirror beside your bath, or create beautiful bespoke designs, like from Neatsmith, shown in the bedroom above, using mirrors can be an effective way to create an enhanced, bedroom-bathroom feel, as well establish a practical vanity area.
11. Create a room within a room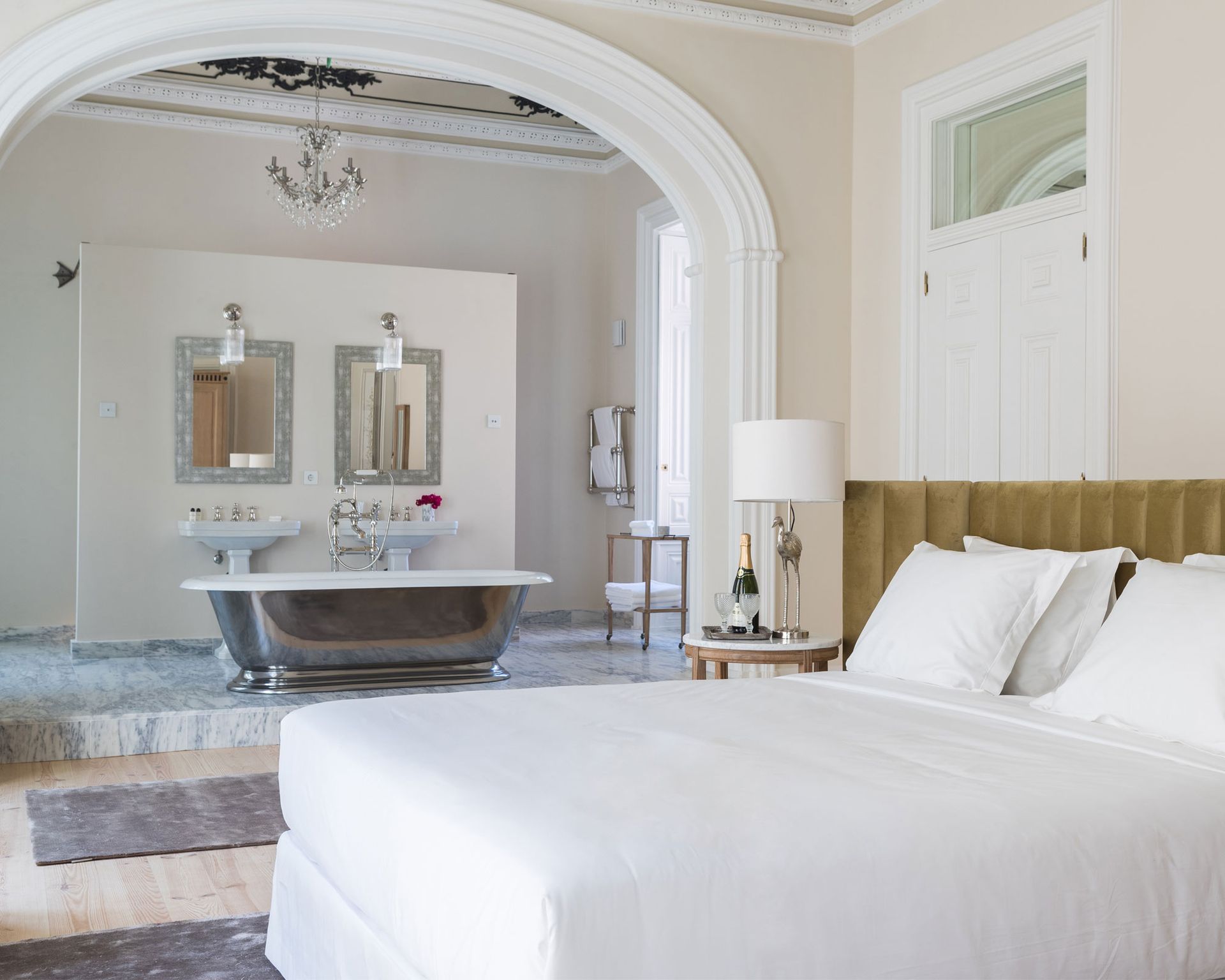 Barrie Cutchie states, 'offering a sense of pure luxury and grandeur, could the traditional ensuite be a thing of the past, replaced by the ultimate open plan living space between bedroom and bathroom?'
As shown in this beautiful master suite with designs from Drummonds, the traditional architectural features in the room are celebrated with the open-plan design, establishing a unique, elegant bedroom space that combines both classic and contemporary styles.
The bathroom area has been elevated by the sleek marble flooring, creating a sense of separation to the main bedroom area. The shining, nickel roll top bath works beautifully in the overall neutral space, adding a touch of glamour and timeless sophistication.
12. Position the bath in a corner of the room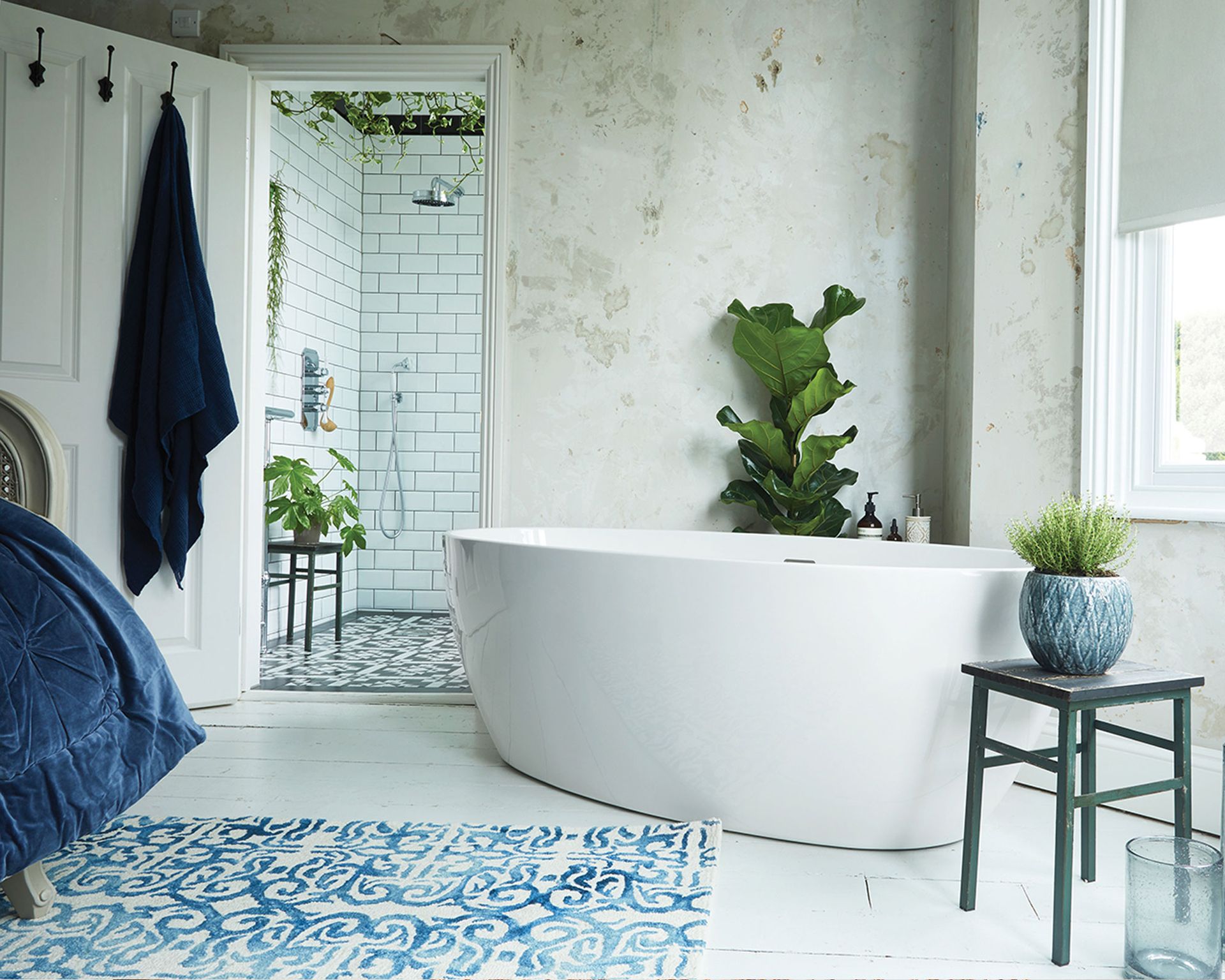 This may sound simple, but if you are unsure of the best place to position the bath in your master bedroom, a corner of the room is a safe bet for both saving space and creating a more balanced flow in the room – ideal for small master bedroom ideas.
As shown in this bedroom, the larger bath fits perfectly into the corner beside the window, leaving enough space between the bed, as well as for passing through to get to the ensuite. The finishing touches such as the plants, toiletries and stool also help the bath feel more united in the bedroom space.
13. Consider your flooring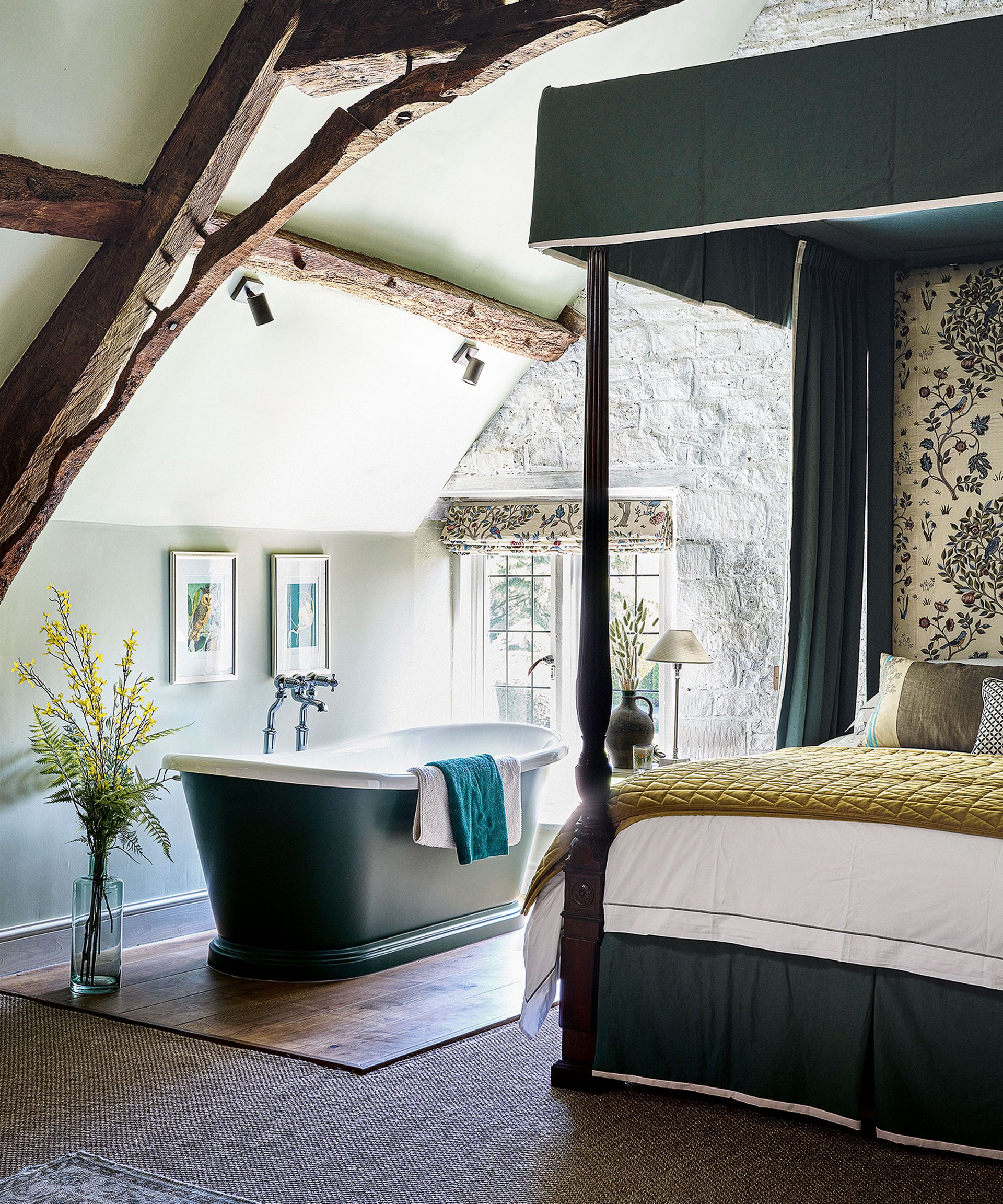 One important thing to consider when planning master bedroom ideas with bath is bedroom flooring ideas. Just like you need practical materials in a bathroom that can be easily wiped clean, you want the area that surrounds your bath in the bedroom to be durable, long-lasting and able to withstand splashes of water.
In this bedroom, which has a carpeted floor, the bath has been placed on a section of wood flooring, elegantly zoning the bathing space as well as creating a more practical floor surface.
From sectioned designs like above, adding beautiful texture and contrast, to using all one material such as laminate or wood, there are many flooring options to choose from to suit your space.
Is a bath in a bedroom a good idea?
A bath in a bedroom is a beautiful statement of luxury and indulgence and can work for many interior designs – especially if you have a large master suite and are looking for ways to innovatively decorate the room.
However, whether its plumbing, space or not wanting to blend the functions of a bathroom with a bedroom, a bath in the bedroom is not a good idea for everyone.
Barrie Cutchie says, 'if you don't have space to build an ensuite, your room probably isn't big enough to hold a bath. A bath in the bedroom is not an option for space limited living, it works best as an indulgent feature to add interest to an already grand room.'
When thinking about incorporating a bath in your master bedroom, there are long list of practical things to consider, such as: ventilation, plumbing, storage and the weight of the bath, so ensure you thoroughly do your research and check your bedroom before you decide on master bedroom ideas with bath.
Sign up to the Homes & Gardens newsletter
Decor Ideas. Project Inspiration. Expert Advice. Delivered to your inbox.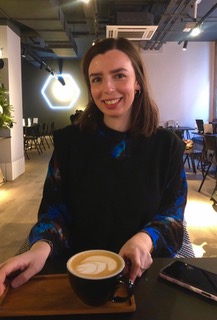 Zara joined Homes & Gardens in February 2022 as a Content Editor. After studying English Literature at University, she worked as an Ecommerce Website Editor, Content Writer and Buying Intern at multiple independent businesses within the luxury retail and lifestyle sectors. Her role at Homes & Gardens unites her love, experience and passion for the world of design and desire to create inspiring written content. She enjoys nothing more than discovering new trends, brands and products, whether that be in fashion, interior design or lifestyle.