Small master bedroom ideas – 13 ways to turn a tiny space into restful retreat
Be inspired to create a soothing yet practical space with these small master bedroom ideas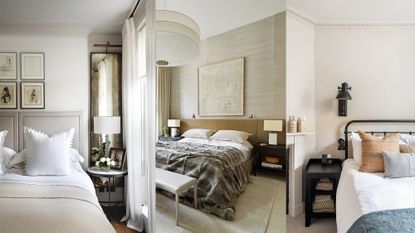 (Image credit: Paul Raeside / David Frazier / Gieves Anderson / Julia Dempster)
Small master bedroom ideas are all about combining comfort, luxury and style with clever space-saving solutions.
As private rooms were we relax and unwind, it's essential that master bedrooms feel tranquil, but they also make perfect spaces to stamp your personal style. When space is at a premium this can be tricky, but with some clever planning there's no reason why you can't create a small space with big personality.
When designing a small bedroom there's plenty to think about, from wall color and layout to lighting and the all important master bed, not forgetting essential storage solutions. All these elements play and important role in creating a functional and comfortable space, and when you have less room to play with, it's crucial that these things are carefully considered from the outset.
To help get you inspired we've rounded up an array of beautiful yet compact master bedroom ideas with some handy tips from the experts on how to make the most of the space.
Small master bedroom ideas – 13 looks that exude luxury
The key to small master bedroom ideas, as with other bedrooms, is making the maximum use of the space available by opting for clever layout and furnishing solutions. Here we've rounded up an array of schemes packed with clever ways to enhance the feeling of space and small bedroom storage ideas, as well as some beautiful ways to add personality and style.
1. Play with scale
When designing a small master bedroom don't be afraid to emphasize the size of some of the elements in the room, as this can be a great way to create focal points, explains interior designer David Frazier.
'In smaller rooms like this we often play with scale and employ fewer items that are over-scaled and the result is that they feel much more important. Over the bed we had a custom over-scaled artwork commissioned from artist Addie Chapin and the Ingo Maurer floatation pendant acts as a central sculptural element. A custom made wall-to-wall headboard also serves to elongate the room.'
David opted for a neutral palette to keep the space feeling open but has layered it with an array of different texture to bring a luxurious feel.
'The neutral bedroom features a warm monochromatic palette of warm grays that have undertones of green and charcoal. The walls have a textured ,natural grass cloth, the custom bed is in a mohair velvet, the lamps are made of parchment leather, the fur blanket is layered to provide a rich contrast to the linen bedding, the drapery is a linen silk blend and the rug is a linear textured silk atop a natural fiber carpet,' adds David Frazier.
2. Choose built-in storage
In small master bedrooms it's important to keep the room feeling clutter free to maximise the sense of space and calm. If you don't have space for a walk-in closet then fitting floor-to-ceiling bespoke joinery is the next best solution. While it will take up floor space, the streamlined effect will make the room feel more spacious than having several pieces of freestanding bedroom furniture.
It's worth remembering that the door design can also have an impact on the look and feel of the space. In this scheme designed by Gunter & Co, the bedroom storage has discreet and streamlined handless doors to create the appearance of wall paneling.
3. Layer different types of lighting
Bedroom lighting is a crucial part of any bedroom design, but is particularly important in small master bedrooms where you need to maximise light and a sense of luxury.
To keep bedrooms feeling as bright as possible interior designer Camilla Hampton has this advice: 'Keep colors light and harmonious and add plenty of different levels of light from bedroom wall lights to table lights, and perhaps fit cornice lighting to make the ceiling feel further away. I also love to use an off white on ceilings to make it harder to see where it is, a bright white ceiling is too stark!'
She also stresses the importance of bedroom curtain ideas, as these to can contribute hugely to the lighting and the ambiance of the room.
'By keeping the curtains looking generous but airy and using a voile as the main fabric helps to create a billowy airy roomy feel,' adds Camilla.
4. Put the bed center stage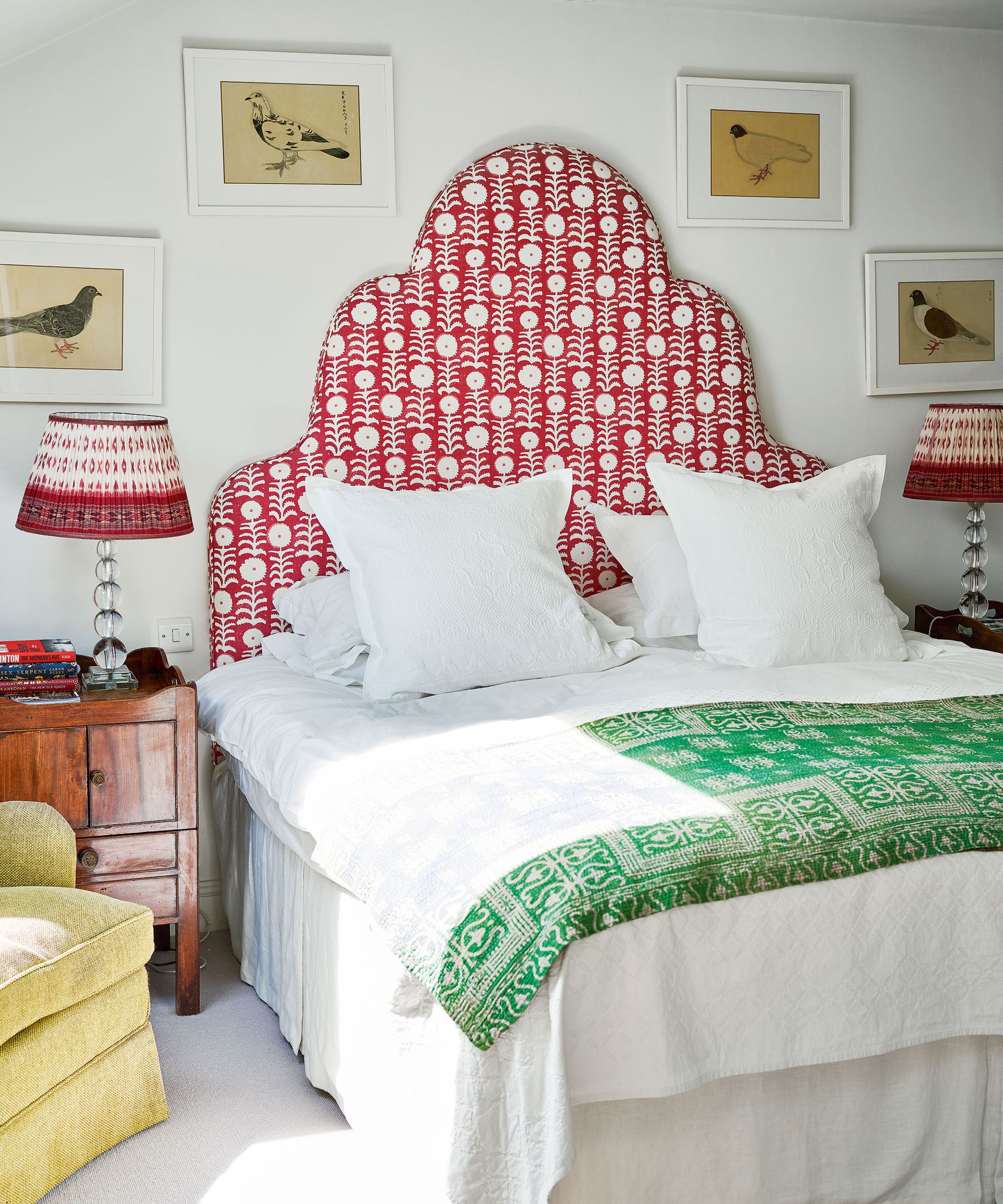 In small master bedrooms it can be tricky to find space to express your personality, especially if you plan to keep the walls and floor paired back. As the main piece of furniture in a bedroom, your bed is a great place to make a statement. Choosing a shapely, upholstered headboard in a bright color is a great way to create a focal point and distract from the small footprint of the room.
'I am a great fan of big beds and not too big a bedroom so the bed is the hero of the room and not the space around it,' explains fabric designer Vanessa Arbuthnott.
5. Make the most of architectural features
This Derbyshire holiday cottage had no bathroom upstairs, so the owners turned a section of the main bedroom into a compact shower room which left the bedroom with an even smaller footprint.
The cottage bedroom boasted beautiful exposed stone walls, so the owners chose to celebrate this as a feature wall. As the rest of the walls have been kept plain the eye is immediately drawn to the masonry which helps to distract from the small size of the room.
To maximise the feeling of space but to keep it feeling cozy, the owner painted the walls in a warm, light grey. 'Little Greene's warm French Grey is a favorite of mine as it has a yellow tone with a lovely warm feel,' says owner Abi Powell.
6. Think carefully about furniture
When planning a small master bedroom it's important to think about multi-functional furniture and to do a thorough plan of the room to ensure the furniture you choose makes the most of the space.
'I recommend ensuring the items are scaled down and every item selected provides at least two functions,' suggests interior designer Julia Dempster.
To provide more surface space Julia wall mounted both the wall lights and television to provide valuable space on the bedside table and antique chest of drawers.
'When selecting the drawers, I measured the space carefully to get the widest set of drawers as storage space was minimal with just one built in wardrobe. Also, the scale of the bed was minimal, by procuring a metal bed frame, the interior floor space was not taken up by a bulky bed frame. The bed being off the ground meant there was space for valuable underbed storage ideas.'
7. Choose a warm neutral wall color
Decorating with neutrals in light tones is a guaranteed to make a space feel light and airy. While light grey bedroom ideas are popular, they can feel cold, especially if the room is north facing. Instead, try choosing neutral shades such as beige or a cappuccino brown or the palest of pinks as the warm undertones will help bring a cozy feel.
In this beige bedroom, the designers Salvesen Graham have brought personality to the space by layering it with a mix of different printed fabrics and patterns, from the drapes to the scalloped rug and bold gingham cushion.
8. Make the most of awkward angles
With their sloping walls and acute angles, attic bedrooms are very difficult to furnish with freestanding drawers and closets. For these often narrow and compact spaces, it is worth commissioning bespoke joinery as a good storage solution, as the joinery can be fitted around the awkward shape of the room.
Placing a storage ottoman at the end of the bed prevents the need for furniture to be placed against the walls, plus provides a handy perch for dressing.
9. Maximize the daylight
With small master bedrooms its important to maximize the light to make it feel bigger. In this attic bedroom the bed has been positioned directly beneath the large skylight to make the most of the light – perfect for reading the papers on a lazy Sunday morning, while the large resting bedroom mirror is strategically positioned by the window to bounce maximum light back into the room.
The soft curves of the furniture and the addition of house plants helps bring a restful feel.
10. Make the most of the wall height
In this small master bedroom, K & H Design took care to make the most of the wall height, fitting full height recessed bedroom shelving to store books and collectibles while also curating a wall art display over the bed.
'The client had moved house quite often and had accumulated treasures they loved over the years so this project was more about curation, rather than starting from scratch,' explains Katie Glaister, founder of K & H Design. 'We seized every bit of space in the master bedroom by opening right up into the eaves. Shelving allows you to bring character with objects – books, art and Knick knacks.'
'We couldn't do recessed lighting so to create enough light and add drama to the space, we sourced these spotlights and installed onto the original beam, keeping them neutral to not distract from the central pendant.'
11. Choose sliding doors
Whether fitted as part of bespoke fitted wardrobes or an entryway to an en-suite, sliding doors can be a great space-saving solution in a bedroom being far more discreet than normal hinged doors which open out into the room and encroach on floor space.
Here the shiplap bedroom wall idea helps create a coastal feel but also serves as a clever visual device which leads the eye upwards making the space feel tell than it is.
12. Add a steel-framed room divider
An ensuite is a sought after addition to a bedroom, if you have a small master bedroom then removing the wall and separating the space with a transparent room divider is a great way to maximize the light throughout the space, as done here in this design by Sims Hildtich.
'This project was an opportunity to be bold with colour, incorporating contemporary elements into her traditional country style. This was expressed in the green floral patterned wallpaper and side tables painted in smoky blue. The steel-framed screen which divides the bedroom from the ensuite lets light flow freely throughout the room, creating a feeling of space,' says Emma Sims Hilditch.
His-and-hers wardrobes fitted into the alcoves make maximum use of the space.
13. Choose floating shelves
If floor space is an a minimum, trade in a freestanding bedside table for a simple floating shelf, this will help keep the space feeling open and makes room for storing shoes plus has the bonus of making the floor easier to clean.
How do you maximize space in a small bedroom?
To maximize space in a bedroom it's essential to factor in clever storage solutions to conceal the clutter and keep the floor space clear.
Having a walk-in wardrobe is a great way to free up space in the bedroom, but often this is not possible, in this case, bespoke fitted storage designed around what you need to store and around the architecture of your space is often the most efficient type of storage solution. Consider fitting cupboards into alcoves and awkward angles to make the space appear more uniform and streamlined, alternatively try a bank of wardrobes of cabinets floor to ceiling to give the illusion of wall paneling.
As well as bespoke joinery it's also worth considering freestanding furniture which is multifunctional.
'Storage underneath a bed is ideal to be able to store extra linens, clothing, luggage - even skis! I really utilize underneath my bed with different storage bins,' explains Rudy Saunders of Dorothy Draper & Company, Inc. New York.
'Nightstands with storage are another great spot to be able to provide additional storage where a piece of furniture already needs to be. We function with a nightstand next to our beds so why not ensure that we can store things in it. Try putting a chest of drawers or desk next to your bed if the sizing works - this is a great way to add in extra storage,' adds Rudy Saunders.
'Wall mounted sconces above the bed are great to keep nightstands clear white providing great additional lighting for reading in bed.'
How do I make my master bedroom look bigger?
There are many ways to make a small room look bigger than it is, from a pale, neutral color palette, to carefully designed lighting schemes and strategically positioned mirrors.
'Lighting is the easiest way to create a sense of space and airiness, using uplighters to raise the height of a room for example or a chandelier to draw the eye to a focal point,' says Martin Waller, founder of Andrew Martin.
As the largest piece of furniture in the room the bed has a big impact on the look and feel of the space. Making a focal point of your bed with a statement headboard is a great way to distract from the small dimensions of a room, alternatively, if you have a narrow room try an elongated headboard.


Sign up to the Homes & Gardens newsletter
Decor Ideas. Project Inspiration. Expert Advice. Delivered to your inbox.
Pippa is Content Editor on Homes & Gardens online contributing to Period Living and Country Homes & Interiors print issues. A graduate of Art History and formerly Style Editor at Period Living, she is passionate about architecture, creating decorating content, interior styling and writing about craft and historic homes. She enjoys searching out beautiful images and the latest trends to share with the Homes & Gardens audience. A keen gardener, when she's not writing you'll find her growing flowers on her village allotment for styling projects.