Bedroom ideas for men – 12 ways to create a cool yet refined space
These bedroom ideas for men will help you create the ultimate retreat, using everything from deep hues and luxe materials to displaying art and curios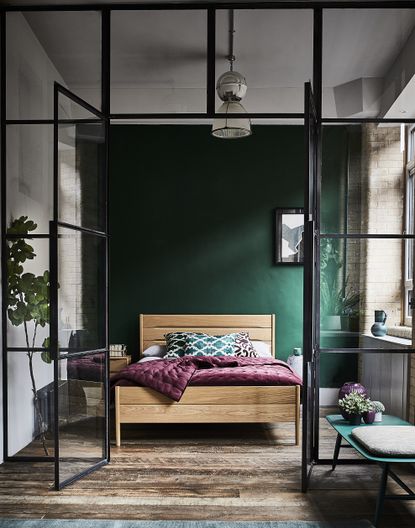 (Image credit: Ercol)
Bedroom ideas for men have come a long way over the last few years and, really, anything goes as long as you love it. However, it can be hard to know where to begin if you truly want to create a room from scratch. We've tapped a host of design experts to share their top tips on creating a guy's bedroom that's at once cool yet warm and inviting.
Staffan and Monique Tollgård, of Tollgård Design Group, say: 'Masculine spaces are often typecast into the stereotype of larger-than-life bachelor pads. While this aesthetic has its own appeal, there is a new generation of men who are interested in great design and beautifully functional interiors. The bedroom is no exception to this.'
Below, we have gathered bedroom ideas that will work for men – but, women, don't let us stop you indulging in them too.
Bedroom ideas for men
Don't know where to start? Wayfair's Resident Style Advisor, Nadia McCowan Hill, says: 'To nail laidback masculine style in a bedroom, secure the essentials first. Invest in high-quality, timeless silhouettes for your bed frame and wardrobe, and the rest will follow.'
With the basics sorted, we're going to concentrate on decor and aesthetics in the bedroom ideas for men below.
1. Pick dark shades for a dramatic scheme
Don't be afraid to choose designs that you love, especially if you love dark bedrooms – just ensure the lighting is good.
Lucy St George, Co-founder of Rockett St George, says: 'Who's to say you can't have a fabulous floral print mural in your bedroom? Or a warming terracotta? Or pineapple bedside lamps? Or rock 'n' roll dark hues? Traditionally, men's bedroom décor options have been very limited to monochrome or classic choices, but at Rockett St George we firmly believe that a room should reflect you and your unique style; not your gender.
'So, if you want to stand out from the rest, go for it! Start with a wall color or wallpaper pattern that you are drawn to and then build on the scheme with accessories and soft furnishings of complementary colors. If you're short on space or want to achieve a minimalist look, I'd recommend investing in wall lights and floating bedside tables which will keep your floor clear and create the illusion of more space.'
2. Create bespoke joinery for a stylish storage solution
Got a burgeoning sneaker collection to stash away? A closet that can't cope with all your suits? You need to think purpose-made bedroom storage ideas.
Louise Wicksteed, Sims Hilditch Design Director, says: 'It is a common misconception to assume that men need less storage space than women in their bedroom.
'Installing bespoke joinery is a good idea to maximize the space available. A walk-in wardrobe with compartments to help keep shoes and ties organized and a rail designed to be tall enough to hang suits works well.'
Got plenty of space? Walk-in closet ideas are a luxurious indulgence that can entirely transform a guy's bedroom.
3. Add drama to a neutral room with moody hues
Grey bedroom ideas make for a great base for men's bedrooms. Nadia suggests: 'Keep a neutral color palette in mind when starting out so you can accessorize accordingly with classic, moody hues such as midnight blue and deep charcoal.'
Elliot James, of Elliot James interiors, agrees, adding: 'Keep the colors of the room muted (but don't fear using dark tones on the walls) and use textures to bring character (i.e. saddle leather, hides, and dark, rich woods).'
4. Lay an oversized rug to add warmth
Accessories and textiles add a homely feeling – and starting from the floor up can ensure your scheme is cohesive.
'Lay down a statement area rug on wooden floors for some extra warmth and a subtle pop of color,' says Nadia McCowan Hill.
5. Utilize artwork to create atmosphere
Art isn't just a way to add color to a room, it can also reflect your tastes and interests.
'Don't be afraid to add in some personality – artwork is a great way to show off your style, with framed movie posters, bold geometric wall art or black and white photography always being a strong go-to choice,' says Nadia McCowan Hill.
Elliot James suggests using work by iconic photographers like David Yarrow or Terry O'Neill for a classic look.
6. Showcase curated treasures and antiques
Decorating with antiques is interior designer Henriette von Stockhausen of design agency VSP Interiors' favorite way of adding character to a room. 'There are so many ways to incorporate antiques,' she says. 'Old screens can become cupboard doors, rugs can become headboards, and urns can become lamps. Creativity is key!'
'Display treasures you've collected while travelling or add some decorative elements which speak to you and your lifestyle,' agrees Nadia.
Elliot James says: 'Use accessories to bring personality and warmth to the room, a clothes butler, vintage suitcases, watch box, iconic lighting pieces and a few nicely stacked books on personal passions always work nicely.'
7. Use metallics to inject a touch of luxe
It's not just feminine rooms that can be elevated with luxury finishes.
'For a luxe touch, choose finishes such as matte black, brass or copper – think industrial type bookshelves and vintage-style lighting,' says Nadia. 'Pair with weathered wooden elements that will develop a homely patina over time for an interesting contrast.'
8. Bring the outside in
Biophilic design, harnessing the calming quality of nature, is particularly effective in the bedroom.
Nadia says: 'Plants make a huge difference in a room. You really can't go wrong with a low-maintenance fiddle leaf fig tree, a yucca or some subtle succulents.
'If your plant parent skills leave less to be desired, opt for clever faux versions. Add a cool concrete planter and – voilà – your space will be infused with new life.'
Green bedroom ideas are also on-trend – the hues adding to the tranquil atmosphere. A rich, deep green is a perfect guy's bedroom idea.
9. Inject a pop of color with furniture and soft furnishings
'A great tip for styling your room is to stick to a good neutral base and add a bold color pop,' says Cox & Cox Product and Creative Director Dani Taylor. 'I love a deep charcoal or khaki, both hot trends at the moment, but timeless colors that won't get old fast.
'Try painting one wall in the bold color, even in a small room it works really well; you can then break up the color with mirrors, occasional furniture like a console or a drawer unit topped with a colorful lamp and photos. If you aren't able to paint the walls then try painting some old furniture such as bedside tables or a chest.
'You can add color with some plain cushions and a bedspread. Finally, a wonderful textured Berber style rug can add the perfect finishing touch, and bedside size rugs are great for a smaller space.'
10. Construct a panelled wall for a gentleman's club aesthetic
Putting panelling in place is an easy way to elevate a bedroom.
Finish the look with a rich, deep, dark hue to really create that gentlemen's club feel. The room above also shows how you can incorporate some other bedroom ideas for men on this list, with the brass lamp adding a little luxe, and vintage art and curios on show.
11. Make a style statement with talking-point lighting
If you're not an art aficionado and don't want to add a feature wall, why not make a feature of your lighting instead?
Large geometric, Art Deco and industrial pendants will make a style statement in their own right.
12. Lay a stand-out carpet to inspire a scheme
A dark carpet is ideal for coping with high-traffic areas such as bedrooms and hallways. If you're struggling to find a wall color that will adapt and grow with your interior scheme, maybe introducing color on the floor is the answer. This way, you can stick to simple, timeless white walls and still ensure that the room is packed full of personality.
Jodie Hatton, Residential Designer at Brintons explains that 'Similarly to how dark walls can transform a small room or a patterned wallpaper can bring interest to otherwise dull space, a patterned carpet is an inspired way to make a feature of a smaller bedroom adding interest and character.
'However, it is important to choose the right patterned carpet depending on the size of the room. Patterns with a wider repeat don't always work in smaller spaces, as you don't get the full effect of the motif. The best options for dark, patterned carpets in smaller rooms are tighter floral repeats and tartans. In larger spaces, up-scaled, blowsy florals or sprawling abstract designs are most impactful.'
How do you style a man's bedroom?
The tactics you use to style a man's bedroom are really no different to those you would use to style any other bedroom. While dark paint colors and dark wood furniture are traditional popular bedroom ideas for men, there really is no limit to what guys' bedrooms can include. Think: art for decorating walls, comfortable headboards for decor and night-time reading, exposed floorboards for a farmhouse feel and pops of color in curtains, bedding and furnishings.
Sign up to the Homes & Gardens newsletter
Decor Ideas. Project Inspiration. Expert Advice. Delivered to your inbox.
Ruth Doherty is an experienced digital writer and editor specializing in interiors, travel and lifestyle. With 20 years of writing for national sites under her belt, she's worked for the likes of Livingetc.com, Standard, Ideal Home, Stylist and Marie Claire as well as Homes & Gardens.