Bedroom ceiling ideas – 12 designs for an inspiring sleep space
Raise the roof for our bedroom ceiling ideas, and make your bedroom ceiling stand out with style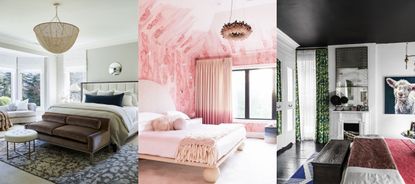 (Image credit: Jessica Bennett of Alice Lane Interiors | Cara Woodhouse Interiors | Lucinda Loya Interiors)
Our bedroom ceiling ideas explore the creative possibilities for this under-appreciated surface area in the home.
The ceiling can often be left behind when planning bedroom ideas, simply painted white or another simple neutral shade for ease. However, thinking carefully about how this area can feel integrated and united with your scheme can make for an impactful and unique design.
One of the last things you see as you go to sleep at night and again as you rise in the morning, getting creative with ceiling ideas in your bedroom can make this often gazed-upon 'fifth wall' an interesting and eye-catching feature in your bedroom space.
Bedroom ceiling ideas
From ceiling paint ideas to ways you can enhance the existing, traditional features in your space, we have curated a collection of inspiring ideas to help with bedroom ceiling ideas for your home.
1. Create a colorful space
Many of us steer away from bold and colorful designs in the bedroom, as working with calming neutrals and restful shades can help to create a relaxing area to relax, sleep and unwind.
However, choosing to embrace a more impactful design for your bedroom color ideas that reflects your style and brings you comfort and joy can work just as well.
This bedroom uses a mixture of restful and vibrant colors to create an elegant, inviting design. The sky blue used throughout helps to establish a sense of calm, and taking this color to the ceiling only intensifies this relaxed feeling – with blue bedroom ideas perfect for creating a soothing space with a more uplifting, contemporary neutral.
With the orange paneled wallpaper design behind the bed establishing an elegant contrast and feature wall, great for above the bed decor ideas, the use of color in this bedroom strikes the perfect balance between calm and characterful.
2. Incorporate statement lighting designs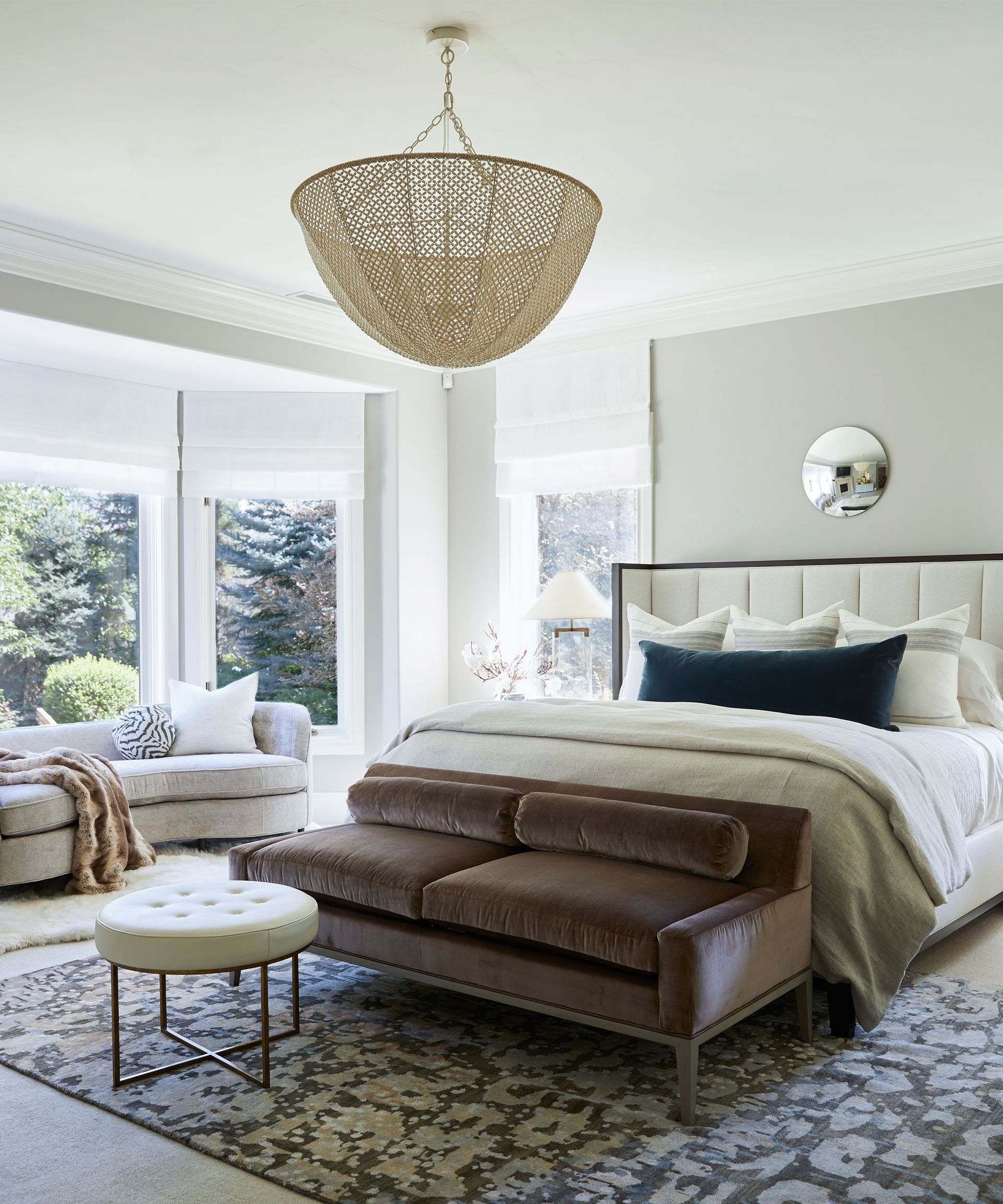 Bedroom ceiling light ideas can be a great way to add texture, color and style to the ceiling space in your bedroom.
From statement shades to intricate chandeliers and glass pendants, you can be both big and bold and simple and subtle with bedroom lighting ideas.
In this bedroom by Jessica Bennett of Alice Lane Interior Design, the central, unique pendant light creates a striking focal point as you enter the space.
The large shade, made from an intricate construction of wooden beads adds beautiful texture and an organic shape to the sophisticated master bedroom - a beautiful pendant design that works wonderfully for Bohemian bedroom ideas.
With the size of the pendant perfectly fitting for the large bedroom space, looking at light sizing when planning your bedroom ceiling ideas can create a balanced and harmonious look.
3. Bring the beauty of the outdoors indoors
Not only highlighting and celebrating building techniques that have been used for centuries, leaving original wooden beams and paneling exposed in your bedroom can establish a beautiful indoor outdoor effect.
As shown through this rustic bedroom, the stunning vaulted ceiling creates a breathtaking space, showcasing the timeless beauty of natural materials and how they can beautifully integrate into the home.
Helping to establish a warming and cozy atmosphere, perfect for a bedroom, the use of wood in this space shows how the organic simplicity of many traditional materials and constructions can still be appreciated and loved in contemporary interior design.
4. Use the ceiling as a canvas for a fun and vibrant design
Whether your designing children's bedrooms and want to create a scheme that stands the test of time as they grow older but is also fun and imaginative, or looking for a way to enhance your guest bedroom, decorating with stripes will always prove timeless.
'Using the ceiling as a platform for creative bedroom paint ideas can make a bedroom feel utterly unique, and can also lead the way for the design in the rest of the room,' says says Homes & Gardens' editor in chief, Lucy Searle.
As shown in this bold twin bedroom, the painted striped design on the ceiling sets the scene for the impactful, red striped theme used throughout, a truly unique look for red room ideas.
5. Add texture with a canopy
A beautiful way to add tactile texture and softness to your bedroom, a ceiling canopy can not only make a stylish, decorative statement for your bed ideas, but it can make your sleep sanctuary feel more relaxing and inviting.
Whether you use one flowing canopy like in the colorful bedroom above, gracefully hanging over the bed to create a cozy cocoon of comfort, or use beautiful flowing drapes across the whole ceiling for an enhanced feeling of texture, adding softness to your ceiling can make for welcoming and tranquil bedroom space.
6. Enhance architectural details
Enhancing architectural details in your bedroom with more contemporary paint ideas and colors can establish a beautiful mix of the old and new.
In this sophisticated bedroom by Lucinda Loya Interiors, the unique ceiling geometry has been enhanced by elegant black painted outlines, adding depth, drama and visual interest to the white walls. With details such as the dark cushions, pendant light and artwork complementing the black painted design, creating a unified look, the clever use of paint on the ceiling beautifully heightens the unique shape of the room, as well as creating an intriguing focal point.
7. Create an impactful mural
Painting a mural, or extending your wall mural ideas to the ceiling can create a truly impressive bedroom ceiling idea.
Justyna Korczynska, senior designer at Crown Paints states, 'if you are looking for a truly spectacular statement in a space, you can create a mural. For a sophisticated mural design, use colors of the same tonal range and create a look of bold shapes'.
In this pretty pink bedroom, a beautiful, abstract painted design adorns the walls and ceiling, elevating the pink scheme to grand new heights. Defined by an elegant and organic water-color style design in a palette of pinks, the mural reaches to the attic style ceiling, but leaves a section unpainted, with this area of untouched white paint helping to make the room feel light and bright.
8. Establish zones of light
'No matter the size of your bedroom, planning your bedroom lighting ideas so you have different zones of light can create a both an atmospheric and practical atmosphere, as well as enhancing your ceiling space with light and texture,' says Jennifer Ebert, Homes & Gardens' digital editor.
Whether you use a mix of functional spotlights and decorative wall lights, or choose a collection of unique pendants, there are a range of options to beautifully light up your bedroom space.
In this master bedroom by Margaret Ash Design, two contrasting pendant lights have been used, helping to zone the space; with one hanging high over the relaxed bed area, and another over the more formal seat space.
We often only consider hanging one statement pendant from the ceiling in our bedroom, but this design highlights how using more than one can be both a stylish and practical choice.
9. Get creative in a child's bedroom
A fun way to create a unique design feature in a kids' room, why not create an innovative decorative display on the ceiling.
As shown in this characterful bedroom, a collection of small figurines have been stuck to the white ceiling; a playful and imaginative touch that celebrates a collection of toys, rather than hiding them away in storage.
Whether you choose an interesting design like this, or use features such as fairy lights or hanging mobiles, a kids room is a great place be creative with bedroom ceiling ideas.
10. Add impact with black
In this modern bedroom, the use of black paint on the floor and ceiling creates a striking look, with the darkness beautifully balanced by the white paint on the walls, great for black and white bedroom ideas.
A black ceiling may seem like a bold choice, and of course is not be for everyone, but decorating with black in the correct way can really help to ground a space, as well as establish a timeless look that feels sleek and sophisticated.
Kelly Collins, interior designer and head of creative at Swyft Home says, 'don't be afraid to venture away from white. When decorating our homes, we've long been schooled in the thought that painting walls black or even blue will make a room feel small, but that's not always the case. Opting for dark, moody colors in your interior design palette actually creates the perception of depth, which helps to disguise the fact that your room is on the small side.'
11. Take your wallpaper to the ceiling
Ceiling wallpaper ideas can add vibrancy, pattern, color and striking visual interest to your ceiling.
With bedroom wallpaper ideas a popular choice for many interior designs, considering the ceiling in your wallpaper scheme can powerfully transform the look of your bedroom.
In this bedroom by Creative Tonic Design, the elegant pink and gray blossom wallpaper on the walls and ceiling creates a fun, floral paradise. With the elegant upholstered bed adding a striking contrast, but elevating the flower theme even further, this bedroom is an elegant example of the maximalist botanical wallpaper trend.
12. Freshen up your woodwork
As we have discussed, wooden ceilings can help to create a cozy and inviting bedroom space, adding beautiful natural texture and a rustic feel to the space.
However, if you want to give the wooden features in your bedroom an update, painting ceiling beams, paneling or exposed woodwork a fresh white can make the room feel more contemporary and bright, whilst still retaining an inviting element of depth and texture.
This country cottage bedroom has very low ceilings, so by painting the wooden ceilings white, the paint helps to open up the room, making it feel more spacious and light, great for small bedroom ideas and country bedroom ideas.
What should I put on the ceiling of my bedroom?
The ceiling in your bedroom should not be ignored, it should be celebrated and feel fully integrated into your design.
Planning bedroom ceiling ideas can make way for fun, creative and beautiful designs, and will only make for a more cohesive space, as after all, the bedroom is where we begin and end our days, so the whole room, from floor to ceiling, should be thoughtfully considered.
Whether you enhance traditional architectural features with paint, add paneling for texture, or create a colorful design from paint and wallpaper, depending on your style and plan for your bedroom space, you can be both impactful and subtle with bedroom ceiling ideas.
Sign up to the Homes & Gardens newsletter
Decor Ideas. Project Inspiration. Expert Advice. Delivered to your inbox.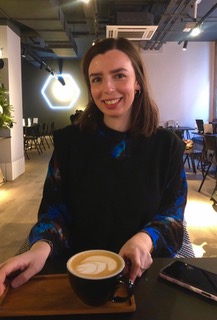 Zara joined Homes & Gardens in February 2022 as a Content Editor. After studying English Literature at University, she worked as an Ecommerce Website Editor, Content Writer and Buying Intern at multiple independent businesses within the luxury retail and lifestyle sectors. Her role at Homes & Gardens unites her love, experience and passion for the world of design and desire to create inspiring written content. She enjoys nothing more than discovering new trends, brands and products, whether that be in fashion, interior design or lifestyle.