Above the bed decor ideas – 17 ways to max out wall space
Our above the bed decor ideas look at inventive ways to add interest and layering to your space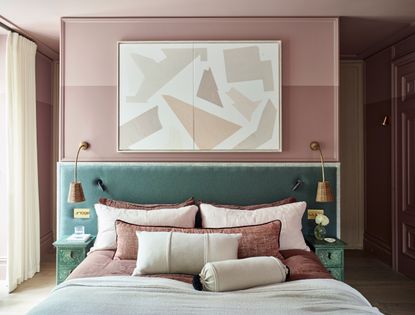 (Image credit: Irene Gunter)
When it comes to above the bed decor ideas, there's a multitude of chic options to suit every taste, from adding a shelf to showcasing plants and art, to hanging an eclectic mix of mirrors or artwork.
The wall above a bed is so often overlooked, but it can be a canvas to elevate your bedroom scheme and create a strong focal point, drawing attention to a beautiful headboard, too.
These over the bed wall decor ideas are just some of our favorites – adding them to your wishlist of bedroom ideas can enrich your space.
Above bed decor ideas
Bedroom wall decor ideas are often centered around a feature wall, such as one with a chimney breast on it. However, using the wall over the bed to create a display can be hugely effective, especially in a space that has little architectural interest or, indeed, space.
'Above the bed decor ideas are traditional ways to bring a focal point to the bedroom, whether it be a statement wall color or wallpaper pattern, or a piece of art,' says Connor Prestwood, interior designer at home decor brand Dowsing & Reynolds.
1. Create architectural interest above the bed
If your bedroom ceiling is very high, your bedroom may feel a little cold and lofty. One way to fix this is to use decor above the bed to visually lower the ceiling. Here, it's achieved masterfully with wall panelling ideas.
'Note the height of the headboard in relation to the wall panelling in this room,' says Homes & Gardens' Editor in Chief Lucy Searle. 'There is a purposeful and neat overlap that connects the bed, in the lower half of the room, with the wall above.'
2. Decorate above the bed with plants
Decorating with plants is a sure way to bring about well-being, so if you have the opportunity, why not grow them so that they cascade from a shelf above the bed. The best bedroom plants tend to be those that purify the air, as well as looking good. Picking ones that need little water will help keep them low maintenance, too.
3. Create focus with fabric
Below, there's a tapestry that creates the most eye-catching bedroom accent wall idea; here, the above the bed wall decor is much more dramatic: fabric walling.
'This type of wall decor is becoming more and more popular amongst interior designers,' says Lucy Searle. 'The colors can often be more vivid than those in wallpaper, there's a texture to fabric walling that makes you want to reach out and stroke it, and of course it creates an incredibly cozy aesthetic.'
4. Be clever with paint above the bed
Bedroom paint ideas needn't be just about color. You can use paint tricks to create both layering and interest, and an enhanced space.
In this bedroom by interior designer Irene Gunter of Gunter & Co, the wall above the bed is split horizontally, with a deeper color nearer the headboard, and a lighter color above. The effect is to create a cozy feeling in the space, while exaggerating the height of the ceiling. The whole area above the bed is also framed with trim, heightening the interest.
5. Decorate above the bed with good-looking storage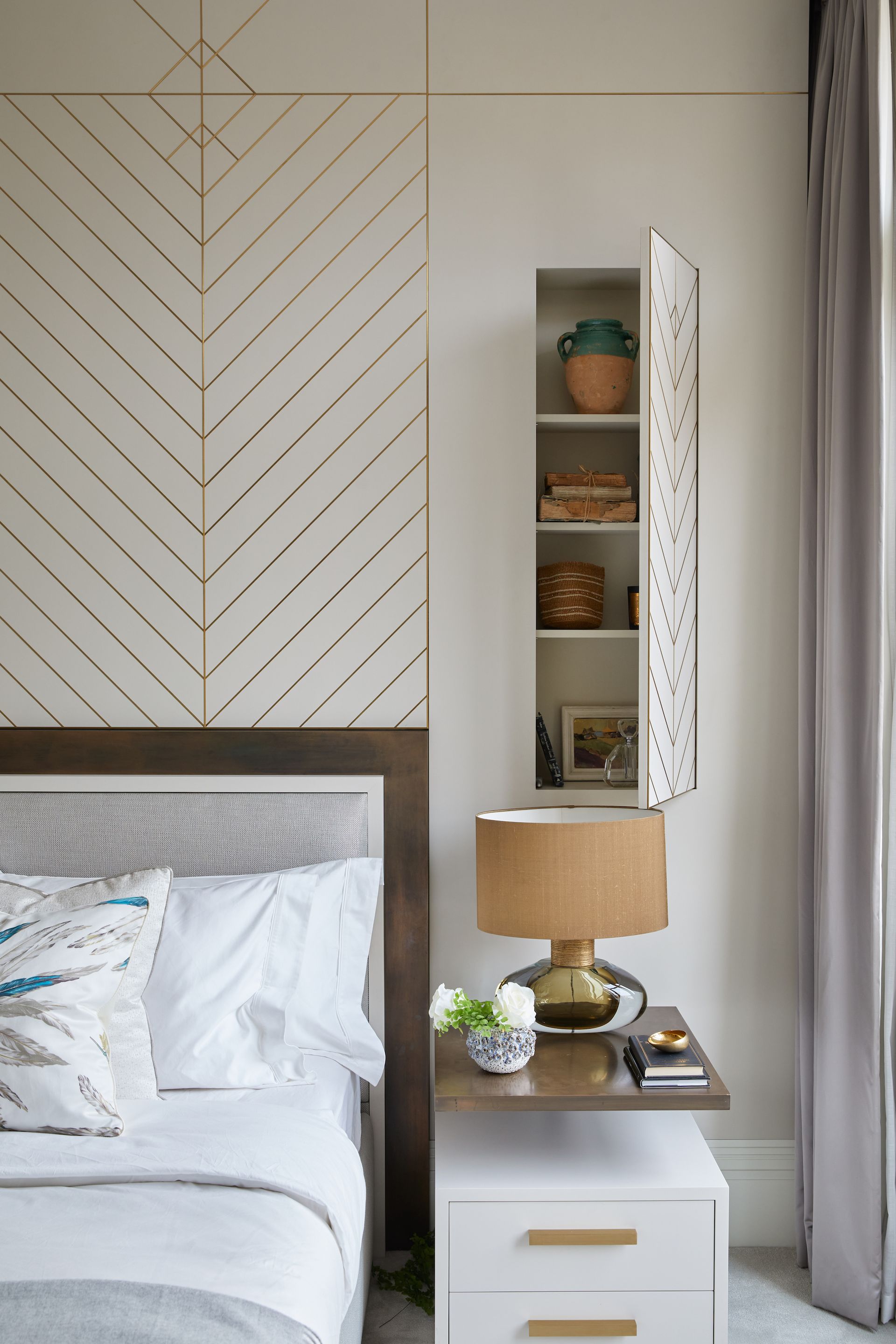 Overbed storage ideas don't traditionally conjure up the vision of a beautiful, calm, curated space. But done cleverly, they can be practical, decorative and disguised.
In this bedroom by ND Studios, storage is recessed and decorated to match the panelling above the bed. The chevron pattern creates a subtly elegant feature wall that relies on little more than a small pot of gold paint and a steady hand.
6. Make a statement with a mural
Wall mural ideas are an easy way to add drama to a space with little effort – and decorating with murals is a trend that's on the rise.
'A marvellous mural has always been popular, but something extra striking and eye-catching is most definitely what we're seeing more of in bedrooms,' says Lucy St George, of Rockett St George. 'Perfect for making a statement on the wall of your bed, bold metallics, florals or a marble effect will always add character to your sleeping space.'
7. Incorporate natural elements with botanical art
You simply can't go wrong with a pretty botanical print. Their popularity dates all the way back to Victorian times and the look is truly timeless, perfect for country vibes and elegant gallery wall ideas.
'Artwork is a go-to for us at Sims Hilditch when planning what will hang above a bed in a bedroom,' says Louise Wicksteed, Sims Hilditch Design Director.
'Be sure to choose something that mirrors your chosen aesthetic. For instance, if your home is in the country and you have opted for lots of natural materials in your interior, you might select an antique print of the local wildlife or scenery.'
8. Bounce light around the room with multiple mirrors
Decorating with mirrors is a great idea for above the bed decor but why stick to one mirror when you can make the wall above the bed look arty – and bright – with multiple bedroom mirror ideas? This is a great idea for small or dark spaces.
Wayfair's Resident Style Advisor, Nadia McCowan Hill, says: 'A popular option is to place an eclectic mix of mirrors above the bed, creating an eye-catching display that bounces light around your room.
'Opt for designs with metallic edges to add a little extra shimmer and place them at different heights along the wall to create a truly stunning visual piece.'
9. Use craft buys to create a unique display
Conjure up a Kit Kemp vibe with intriguing finds displayed above the bed. These bohemian bedroom ideas are enduringly popular, adding color, texture and life to a space.
Nadia McCowan Hill comments: 'Arts and crafts have undergone a huge revival in the past year with crochet and knitwear becoming 2022's must have items.
'An easy way to incorporate this trend into your interiors is by hanging macrame designs above your bed, the natural materials add a grown-up boho vibe to the room and are a super-easy way to stay bang on trend.'
10. Put a shelf above the bed
'Consider taking the time to install a shelf along the wall behind your bed that will not only add to your style but maximize your storage space,' suggests Nadia McCowan Hill. 'Stick to a shelf in a natural hue and then really experiment with color, adding fun decor options, plants and prop up a few pieces of wall art along the space to finish off the look.'
Connor Prestwood agrees that bedroom bookshelf ideas can be practical as well as stylish, adding: 'A big thing at the moment is shelving above the bed. The diversity and freedom to move and swap things around when you fancy a change is really appealing and can save money in the long run.
'Instead of buying a new large piece of art or completely re-wallpapering a wall, you can simply refresh the ornaments, books and art and restyle your shelf to fit in with your current mood.'
11. Use printed wallpaper to inject pattern and color
If you're lucky enough to have a recess or arch above your bed, fill the space with an on-trend bedroom wallpaper idea. If you don't, you can always create a panelled wall and fill a square with a beautiful pattern.
Tropical, exotic birds, bold florals, and country botanicals are all in fashion, as are curvaceous graphics.
12. Hang a tapestry to up the cozy factor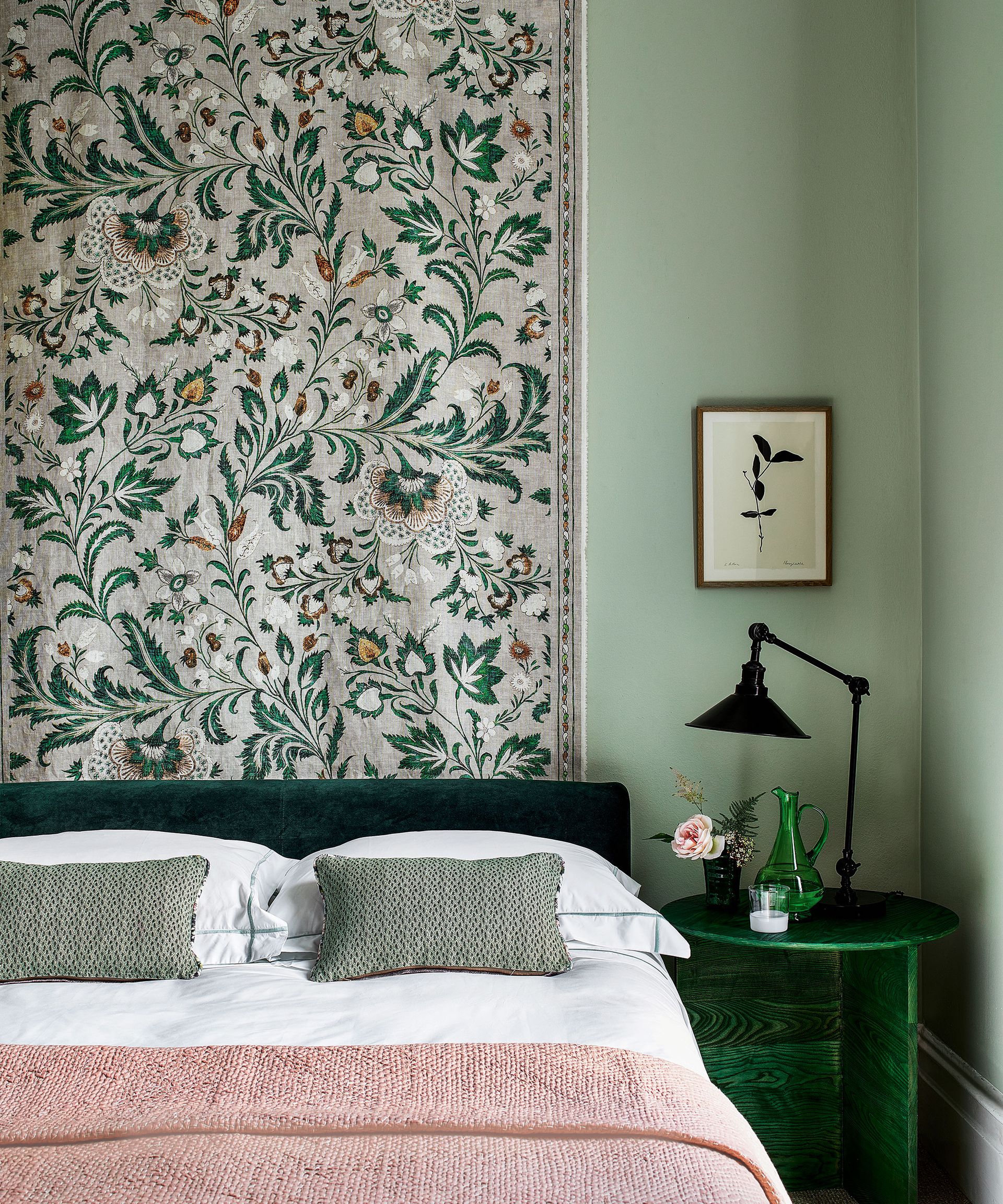 Biophilic room decor is known to be calming and restful, making it perfect for the bedroom – however, it's not always practical to hang or display plants above a bed, so choosing fabrics or artwork with a botanical motif is a great alternative to run of the mill headboards.
A pretty length of fabric, a light rug or a tapestry in a traditional design are wonderful above bed decor ideas that can replace a headboard and make a room feel incredibly cocooning.
13. Turn to tribal art for an elegant global influence
Tribal influences are popping up in bedrooms everywhere, and tribal art above the bed is a stylish way to introduce it.
Sam Hood, Chief Creative Officer at Amara.com, says: 'Decorating with tribal prints is perfect for creating a unique space and adding visual interest to a neutral décor.
'For a curated but relaxed tribal feel, use a combination of different patterns (as Kitesgrove has done with the cushions above) and colors to push your interior design limits to the max. If this trend is too vivacious for your home style, add a mix of textures such as rattan, to liven up your home ambience.'
14. Add plates or hats to pretty up the space
A lovely trend that's been gaining pace is to display pretty hats or hang plates at different heights above your bed – or over a bedside table, as above.
Interior designer Susie Atkinson says: 'In a more feminine room, I think it would be nice to put a collection of ceramics above the bed. For a masculine room, framed flags are very effective.'
Pair with stripes, a pop of color in the soft furnishings, and freshly picked flowers for a chic and contemporary country aesthetic.
15. Put upholstered panels above the bed for a hotel feel
'If you are a fan of hotel-style bedrooms and luxurious spaces – aren't we all? – fixing upholstered panels to the wall behind and above the bed is a decor idea that oozes elegance,' says H&G's Editor in Chief Lucy Searle.
'In a low-ceilinged room, running panels like this right up to the ceiling can make it seem taller, and a taller run of panels will look more balanced in a tall room – or you can keep the panelled area long and low to exaggerate the both room types' width.'
16. Utilize statement wall lights and pendants
If you're not into art, prints, wall hangings or bold wallpaper, a refined and chic way to add above bed decor is to make a feature of your bedroom wall lighting ideas.
Whether it's an Art Deco-inspired sconce or a vintage fluted glass pendant or an industrial-style piece, wall lights can be practical as well as pretty.
Connor Prestwood, of Dowsing & Reynolds, says: 'We're seeing statement beds with big, cushioned, curved headboards that cocoon you and make you feel safe while you sleep. This, paired with a couple of decorative side lights for your night time reading and relaxation rituals, is the perfect combination.'
And if you really want to make a statement with your above bed decor, choose a statement pendant, like the fantastic piece by Jonathan Adler above.
17. Choose a high-octane headboard
From bold floral or botanical printed fabric à la Kit Kemp to cocooning, fluted pieces, statement headboard ideas are an ultra-chic way to style the space above the bed.
Elliot James, of Elliot James interiors, says: 'Headboards are having a moment, the bigger the better. We love headboards that run the full width of the room behind the bed and the use of a contrasting wallpaper or paint above helps the headboard to really stand out.
'Lighting around or inbuilt into headboards is also really trending at the moment, and our personal favourite is a backlit headboard that provides a striking and somewhat dramatic effect.
'Full height headboards are also extremely popular, and using panelled stitching helps to give the bed grandeur and presence.'
And Martin Waller, of Andrew Martin, says statement headboards are essentially a form of artwork, adding: 'With the rise of the boutique hotel and its trending look in residential design, the headboard has become a brilliant focal point in bedroom decor.
'Look to the Firmdale Hotels for inspiration on using brave color and pattern and have fun coordinating your headboard with a wallpaper or throw. Don't be afraid to choose a more outlandish style as this only adds more character. See it as art above your bed.'
How do I decorate above my bed?
There are many ways to decorate above a bed. A favorite way is to hang a piece of art that you love – long, landscape-shaped pictures are ideal, or you can create this shape witha gallery wall. You can also decorate above a bed with mirrors, framed fabrics, tapestries and panels of fabrics. Or, you can choose more architectural over the bed ideas – from wainscoting to shelving. If you are looking for a simple above the bed decor idea, use a different color paint or wallpaper to that of the other three walls.
Should you decorate above a bed?
You should decorate above a bed if you have a low-profile or no headboard. A large sculptural headboard will mean that you do not to decorate over the bed, but if the wall is empty, hanging something with color, pattern and texture can really embellish the decor in a bedroom.
Sign up to the Homes & Gardens newsletter
Decor Ideas. Project Inspiration. Expert Advice. Delivered to your inbox.
Ruth Doherty is an experienced digital writer and editor specializing in interiors, travel and lifestyle. With 20 years of writing for national sites under her belt, she's worked for the likes of Livingetc.com, Standard, Ideal Home, Stylist and Marie Claire as well as Homes & Gardens.