How to install fabric walling – the unique alternative to wallpaper
Discover how to install fabric walling to create a tailored finish. This is all you need to know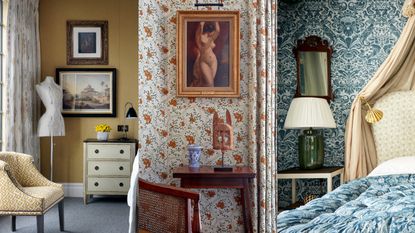 (Image credit: Kit Kemp Design Studio: Firmdale Hotels | Kate Guinness Design | Ensemblier)
Contemplating how to install fabric walling? Long before the invention of printing presses and wallpaper, fabric was traditionally used to line walls.
It served both a decorative and practical function, acting as a form of insulation and often as the starting point when visualizing the overall interior design of a space. These remain two of the main reasons that people choose to dress walls with fabric today.
We spoke with interior designers and fabric experts to find out what's involved and how to bring this traditional method to a modern-day home.
How to install fabric walling
In recent years, people have been opting for a layered look as a way of adding personality to a space – a stark contrast to the multiple shades of gray that filled our homes for over a decade.
For a splash of color or a touch of pattern, you may be considering wallpaper ideas, but adding fabric to your walls is worth considering as an alternative, and this is how to install fabric walling.
What are the benefits of fabric on the walls?
Insulation is one benefit of installing fabric walling, but the look doesn't have to be heavy. Gillian Newberry, director of Bennison Fabrics, uses her linen on all the walls in her home.
'Fabric insulates,' she says. 'In summer it keeps the heat out, and in winter the warmth in. There is also a certain depth and texture which you don't get with paper that I love.'
Other advantages of installing fabric walling are that it covers most structural imperfections in the surface of a wall, improves the acoustics, and you can apply it over all types of surfaces including wallpaper, wood paneling and brick.
'We are all about texture, so it feels only natural to cover the vast majority of a space with something tactile,' says Kit Kemp, founder and creative director of Firmdale Hotels & Kit Kemp Design Studio.
'We love the warmth and cocoon-like feeling it evokes as it wraps around a room.'
Use fabric walling to add depth to a room design
As more become braver about layering color, pattern, artworks and furnishings many decorators are being asked about installing fabric walling. 'The multi-layer look is so popular at the moment and is a style we have always embraced as we love the feeling that an interior has gradually developed over time and shows the personality of the client,' believes Kate Guinness.
Fabric designer Bernie de Le Cuona underlines its versatility. 'Fabric walling has its roots in tradition, but this craft is very much alive today for both historic and contemporary interiors: fabrics beautify walls.'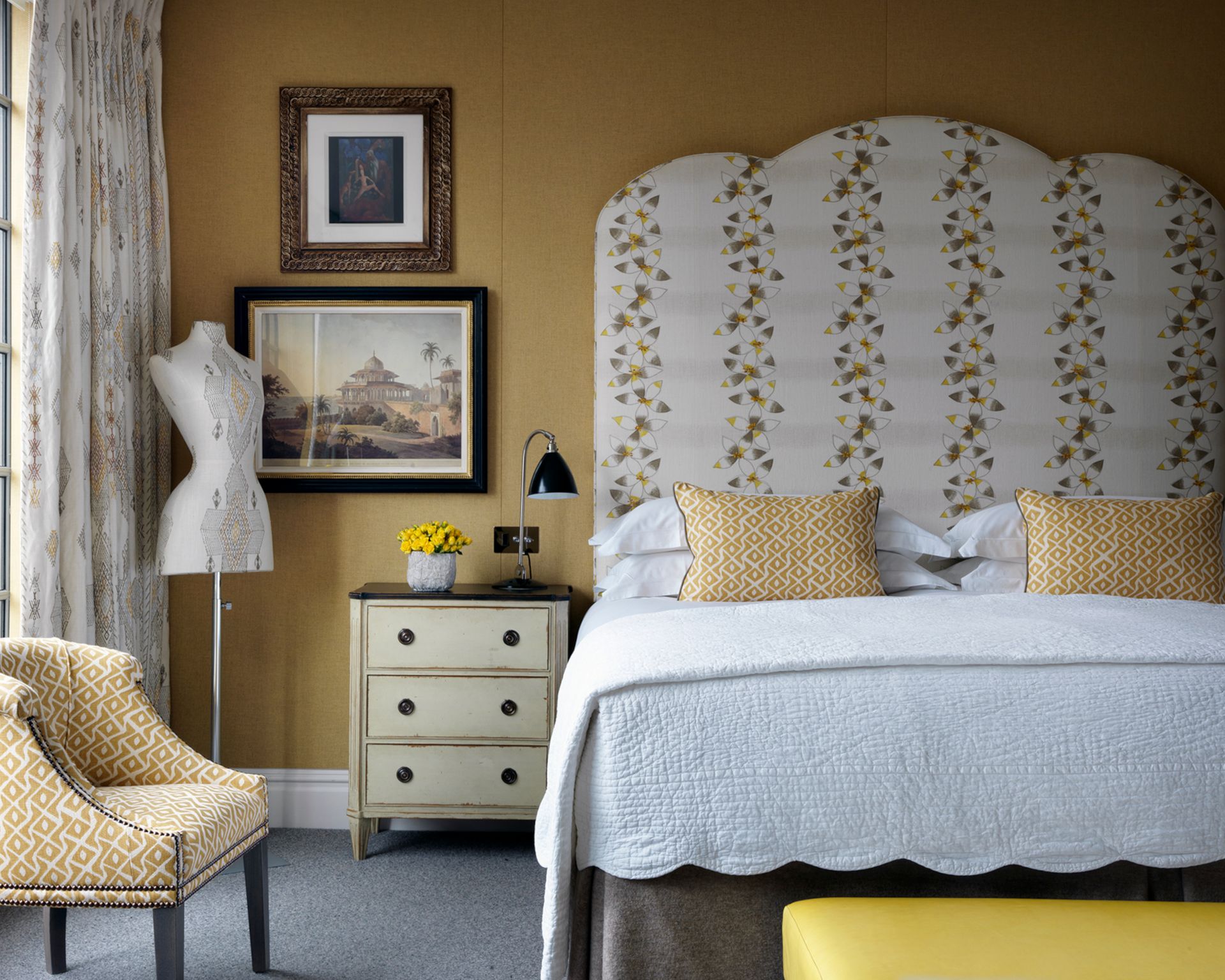 How to choose a fabric walling design
When it comes to selecting a fabric, think about what sort of atmosphere you want to conjure. 'A plain fabric can make the room feel peaceful and intimate while a decorative pattern puts the focus on the room by creating interest and impact,' says Nicolo Favoretto Rubelli, CEO of Rubelli.
'Remember that walling creates a different light to the room, especially if it has a reflective quality to it.'
How is fabric applied to the walls?
'The traditional method starts by building a frame around the perimeter of the walls including the skirtings, cornice, windows, doors, and behind any electrical fittings,' explains Hepzabeth Evans, founder of The Textile Wall Company.
'The walls are then covered with a padding which creates a soft-to-touch feel, keeps the walls from looking visually flat and improves the acoustics. The chosen fabric is cut and sewn together to create a one uniform piece; it's here that fabrics with patterns or stripes are carefully matched and stitched to create visual impact. This is then stretched across the padded walls and stapled to the edges of the frame. It's finished with decorative braid or double piping.'
Those looking for a modern approach will tend to opt for the clean-edge system –that is without the need for additional braid or piping. 'Instead, the fabric is stretched across the padding walls and fixed into the open system which when closed holds the fabric in place,' says Hepzabeth.
This same technique can be used to create a decorative panel, for instance behind a bed.
Reduce noise with fabric walling
Beyond the confines of contract decorating (restaurants, in particular, benefit from improved acoustics with fabric walls), the treatment helps to dull noise in large rooms such as dining rooms and, unlike wallpaper, can be stretched over acoustic foam in a cinema room.
'All bedroom walls should be fabric walled,' believes interior designer and founder of Ensemblier London Tara Craig. 'It is indulgent, but it dampens the sound and makes a room feel cozy,' she adds.
Consider your budget
A less expensive approach to cover a wall with fabric is to paperback – Kit Kemp particularly recommends this option for areas of high traffic as it lowers the risk of pulls and tears. But there are caveats, including the potential for variable stretching which makes accurate matching or aligning of patterns at the edges problematic. Bear in mind that it's also possible to re-cover an upholstered room.
'Our team can carefully dismantle the previous wall upholstery maintaining the original frame where possible,' says Hepzabeth. Using someone with experience to do this means the previous preparation work can most likely be re-used.
Can you hang items against fabric walling?
When hanging artwork or mirrors on fabric walls, you can choose to build in an art hanging rail within the beading edge of the wall panel. 'This allows you flexibility to hang art without piercing the fabric,' explains Charu Gandhi of Elicyon.
'The rail itself can be very discreet and the art hung from it with acrylic wires so it isn't visible.'
Kate Guinness also recommends a picture lighting system from Hogarth Lighting which allows you to change the height of the light and the wire is covered. 'Be certain where you're putting a picture and/or light up because once a hole is made something will always have to hang in that position to cover it,' she adds.
Sign up to the Homes & Gardens newsletter
Decor Ideas. Project Inspiration. Expert Advice. Delivered to your inbox.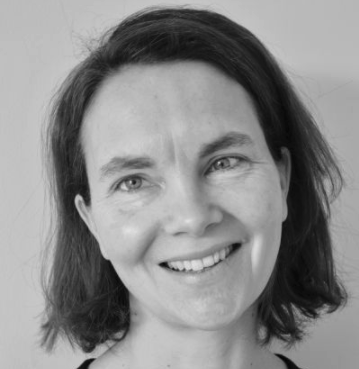 Arabella is a freelance journalist writing for national newspapers, magazines and websites including Homes & Gardens, Country Life, The Telegraph and The Times. For many years she has specialized in writing about property and interiors, but she began her career in the early 2000s working on the newly launched Country Life website, covering anything from competitions to find the nation's prettiest vicarage to the plight of rural post offices.