Overbed storage ideas – ways to boost bedroom stash space
Discover overbed storage ideas that are high on style as well as useful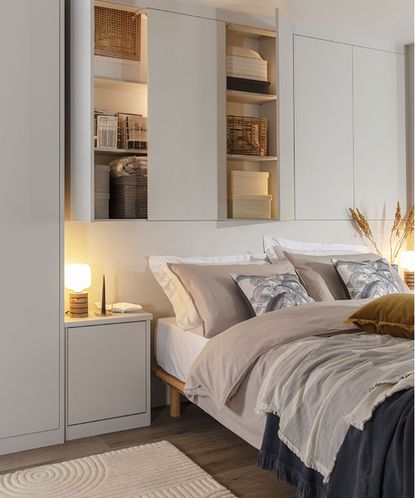 (Image credit: Sharps )
Overbed storage ideas are often undiscovered opportunities for neatening a cluttered bedroom. What's more, the best can be super-chic or pleasingly clever tactics to make more of the room without taking up additional – and precious – floor space.
And like all great bedroom storage ideas, those for over the bed will ensure the room feels like a calm, uncluttered place to retreat to at the end of every day with an aesthetic you love.
We've put together a collection of our favorite overbed storage ideas here, along with the experts' advice on creating them.
Overbed storage ideas
The area over the bed is perfect for small bedroom storage ideas, but don't neglect its promise in larger rooms. Whatever a room's proportions, it means personal items can be kept safe in your room – and allows for display, too.
1. Create secret storage with a decorative design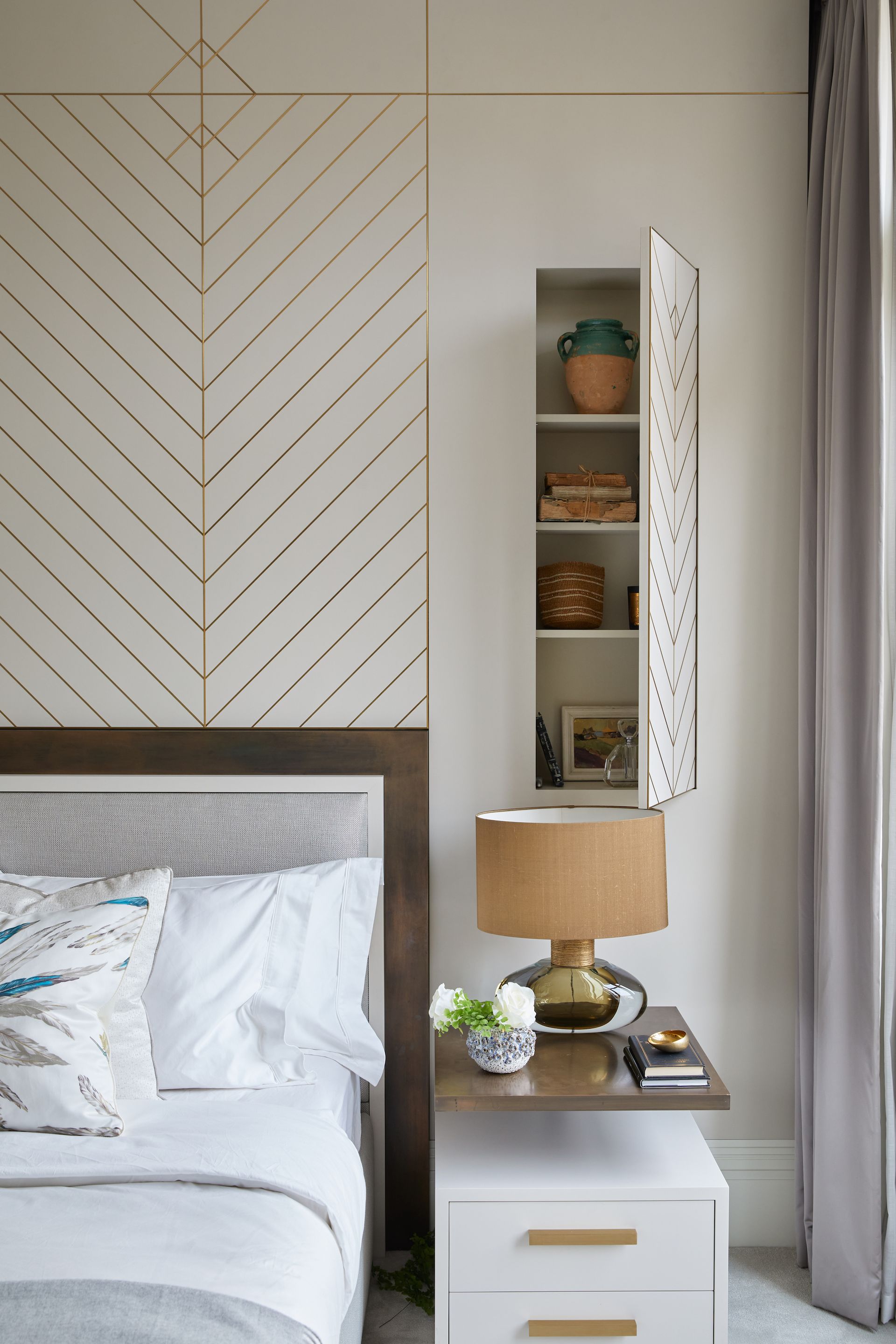 'The bedroom is a retreat and sanctuary from the world, but it's also a deeply personal space,' says Natascha Dartnall, managing director, ND Studios. 'Storage is key in bedrooms so that you can maintain tidiness while still having all your necessities and creature comforts on hand.
'What we love about this bedroom is the bespoke alcove; smart enough to be used as a display but the presence of the door is reassuring for anyone who wants discreet storage.'
2. Add texture and charm with a rattan shelf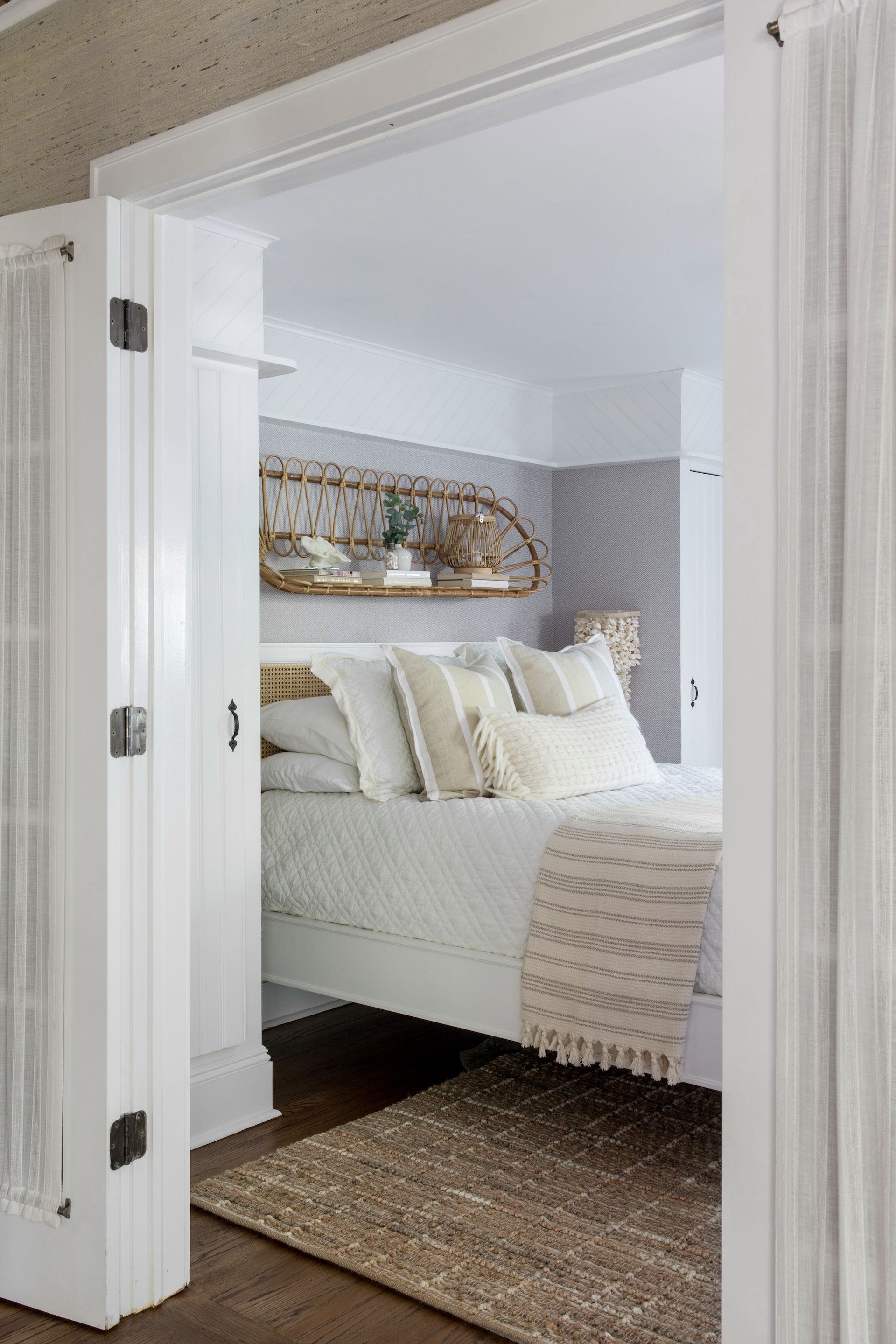 Create a beautiful feature with overbed storage ideas. 'As an alternative to artwork, this overbed storage added dimension, texture, and character to the area,' says Trish Lynn, founder and principal designer at Colette Interiors. 'Styled, it became a beautiful accent layer to the room eliminating the need for any other artwork.'
3. Locate shelving at bed height for ease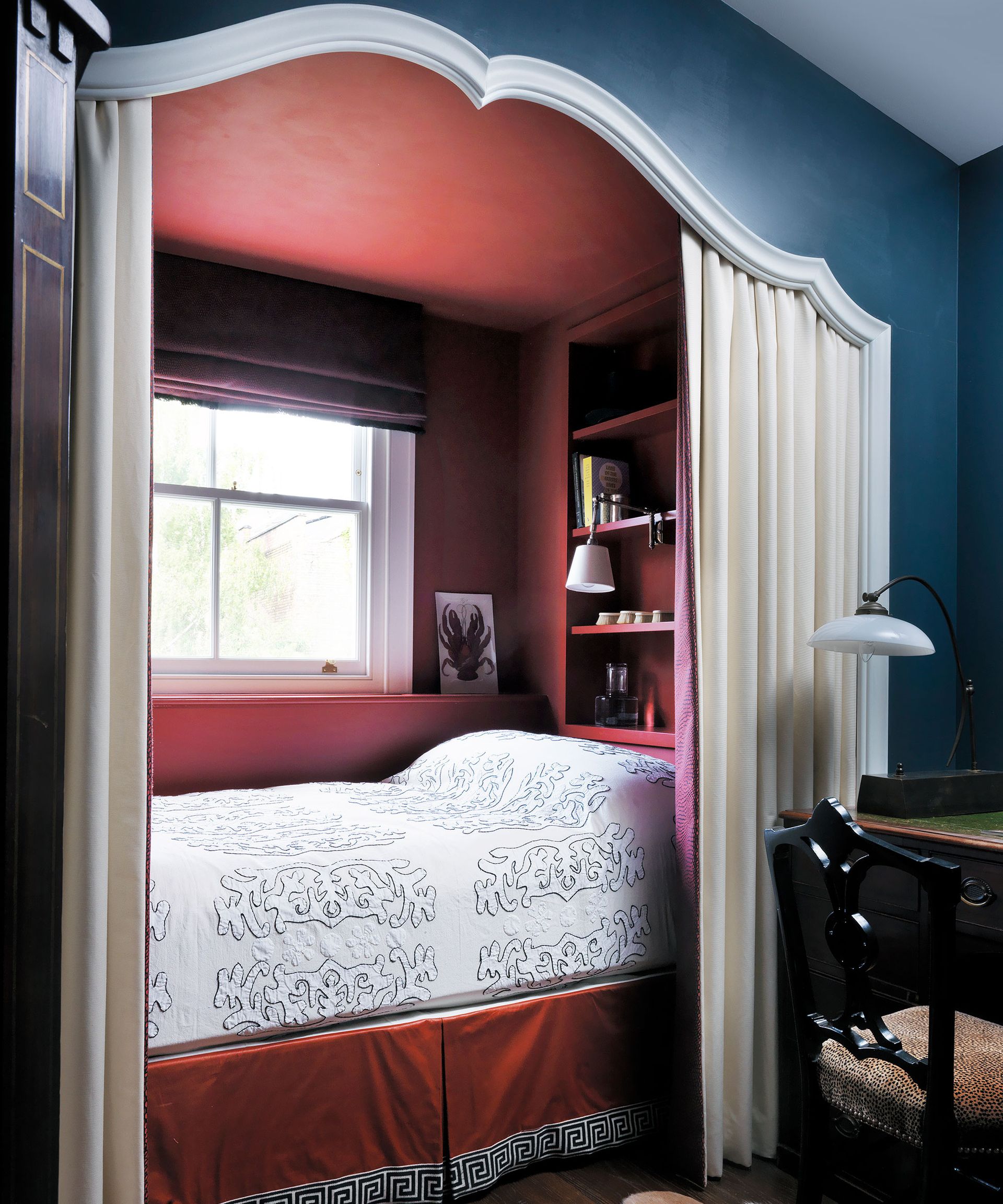 Not keen on a standard nightstand? 'Why not combine overbed storage ideas with a nook bed?' suggests Jennifer Ebert, digital editor, Homes & Gardens. 'This type of arrangement is particularly perfect for small bedrooms or guest rooms where there is little space for a bedside table, but still the need for storage.'
4. Use an alcove to the side for extra storage
How to cater for bedroom shelving ideas and make overbed storage ideas blend in? 'One of our best tips when it comes to alcoves is to use exactly the same paint or paper inside to give a sense of continuity and neatness. It works especially well with fabric wall coverings like this one,' says Natascha Dartnall.
5. Consider every surface
Your overbed storage ideas don't have to be sizeable to be practical. 'For a layered look in the bedroom, make use of every surface and architectural feature,' says Meaghan Hunter, art director and stylist at Neptune.
'Pictures and smaller objets displayed along the ledge of paneling not only gives your keepsakes a prime position but also lends a personal and considered feel to your room.'
6. Make a design statement with all white
While overbed storage ideas can be used along with clever clothing storage and shoe storage for an uncluttered feel, go an extra step with a design like this one that feels cocooning and calm.
'We are noticing a need to create spaces that convey well-being and transcend notions of simple functionality or aesthetics. The interiors are intended to be cocoons and therefore, there is a strong return to natural materials and work on light so that it is soft, warm and controlled,' say interior designers Raphaël Le Berre and Thomas Vevaud from Le Berre Vevaud.
7. Go bespoke with an alcove shelf
Designing a bedroom from scratch? 'If you're about to remodel then factor in a built-in shelf like this charming farmhouse bedroom design. It will look like it's meant to be there which is always a bonus and if it's deep enough you'll get a fabulous bonus storage space,' says Andrea Childs, editor of Country Homes & Interiors.
8. Hang a shelf above focal wallpaper
You might want to major on beautiful decorative accessories plus provide room to store. 'This design is more of a display shelf than one you can easily reach from bed, but nonetheless useful to have and we love the positioning of this leather strap design above the wallpaper,' says Jennifer Ebert, digital editor, Homes & Gardens.
9. Opt for tall cabinetry
In a bedroom with good ceiling height, custom cabinets over the bed could be a brilliant storage solution.
'As the focal point of most bedrooms is the bed itself, special attention should be given to the area around it, but this doesn't need to be a juggling act between style and storage,' says Rachal Hutcheson of Sharps. 'With our overhead solutions, you can have both.
'Cupboards above the bed provide great storage and also act as a statement headboard, whilst full-length wardrobes at each side offer plenty of rail space.'
10. Use the top edge of a built-in headboard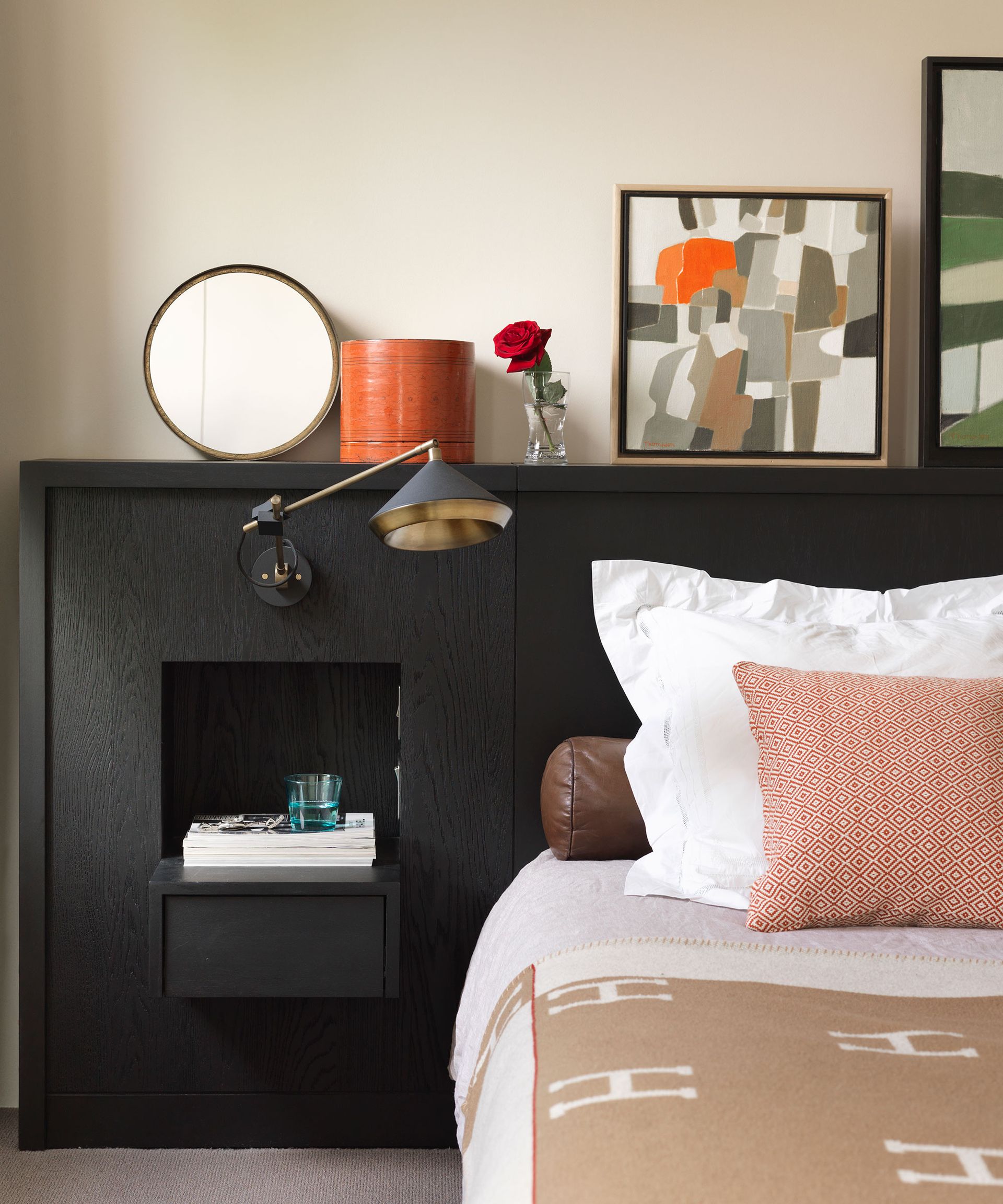 Think about an all-in-one design. 'We're seeing a rise in the use of extended headboards – they provide a contemporary element whilst encompassing night tables both sides, and some are quite deep which gives you an instant shelf along the top edge,' says Lucy Searle, global editor in chief, Homes & Gardens. 'Use this space for vases of flowers, artwork and books.'
What is over the bed storage called?
Over the bed storage is sometimes called overbed wardrobes, where wardrobes are fitted either side of the bed with cabinets linking them above the head of the bed. 'You might associate this with old-fashioned designs, but the latest takes are chic and don't feature the awkward boxy cupboards of old,' says Lucy Searle, global editor in chief of Homes & Gardens.
'But over the bed storage can also be created with nooks and niches, concealed cabinets, as part of a headboard, or with smart shelving, so there's a world of choice,' she adds.
How do I add storage to a small bedroom?
To add storage to a small bedroom, team overbed storage ideas like cabinets and shelves with end-of-bed options like storage trunks. Work underbed storage ideas, too, and swap a nightstand for a chest of drawers to optimize stash space. Building in wardrobes can make the most of even an awkwardly shaped room, and the back of the door can provide extra storage space for your items.
Sign up to the Homes & Gardens newsletter
Decor Ideas. Project Inspiration. Expert Advice. Delivered to your inbox.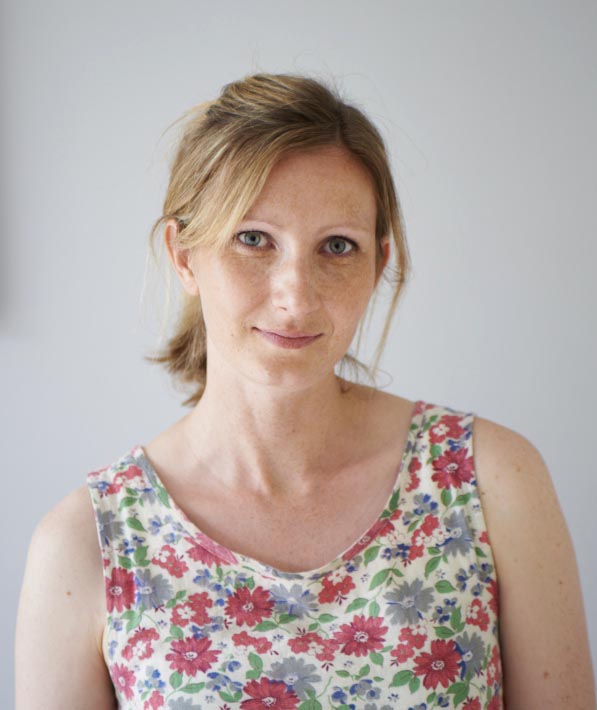 Sophie has been an interior stylist and journalist for over 20 years and has worked for many of the main interior magazines during that time, both in-house and as a freelancer. On the side, as well as being the News Editor for indie magazine, 91, she trained to be a florist in 2019 and launched The Prettiest Posy where she curates beautiful flowers for modern weddings and events. For H&G, she writes features about interior design – and is known for having an eye for a beautiful room.