5 ways to turn a small guest bedroom into a beautiful, creative and inspiring space for visitors
These small guest bedroom ideas are guaranteed to delight visitors and homeowners alike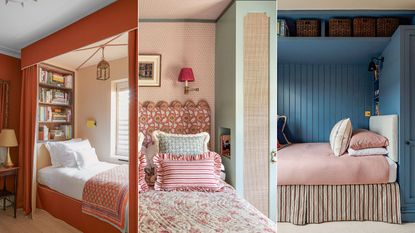 (Image credit: Boz Gagovski Photography/Veere Grenney Associates / Astrid Templier/Oakley Moore / Rooz Ahmadian/Henry Prideaux)
The key to successful small guest bedroom ideas is to make the most of every available inch of space with a good layout: your small bedroom layout ideas have to be spot on to make the space as efficient as possible.
Whether you have a second bedroom ready-prepared for surprise drop-ins, or a multifunctional space that doubles as a guest room, having a warm and welcoming space to host friends and family is a wonderful addition if you love to entertain.
Sometimes guest bedroom ideas can be an afterthought, especially if you are doing a complete home redesign, but it's worth spending time on getting it right, say Staffan and Monique Tollgård, founders of Tollgård Design.
If you're in need of inspiration and advice on decorating a guest bedroom then you're in the right place as we've rounded up an array of elegant guest bedroom ideas and tips from the experts.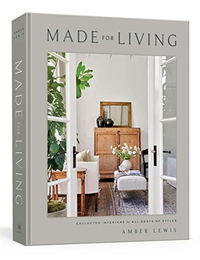 Made for Living: Collected Interiors for All Sorts of Styles, Amber Lewis | From $24.58 at Amazon
This national best-seller is a success for a reason: within the pages, interior designer Amber Lewis trains your eye on everything from perfecting trends to choosing clever color combinations
1. Carve a niche
Consideration should always be given to creating a bedside surface. However small your guest room may be, you will want to be able to place a book, glass of water, or phone by the bed.
Here, niches have been recessed within the adjacent wardrobes. They needn't be huge: about the depth of a paperback will do.
'I wanted this room to be a classic cocoon with a contemporary approach, which we achieved by using bright, modern colors and unusual fabrics alongside joinery,' says Kate Aslangul, founder of Oakley Moore. 'Space was tight, so I designed closets with built-in niches on either side of the bed. I love working on small spaces; they take lots of thought then they're so rewarding.'
2. Use a curtain for privacy and separation
Others have copied this solution for a cozy single bed in a guest room but this is a signature design by Veere Grenney Associates. Cashmere walls and smart box pelmets with curtains (something of a nod to David Hicks) create a tented bed below bookshelves.
The idea is perfectly suited to a room that is used for work by day and occasionally hosts an overnight guest, or a dressing room that doubles as a bedroom. Color plays an important role in these mini schemes.
'I encourage people to be brave with color,' explains Veere, referring to the burnt orange used here. 'It's an incredibly chic shade with a great association with creativity – we have been drawn to it in our studio many, many times.'
3. Go bold in a small guest bedroom
Interior designer David Hicks warned against using pattern on pattern unless the ability comes naturally but today others are adopting a more relaxed approach.
'I love mixing patterns – I call it happy clashing,' says interior designer Sophie Ashby.
It's well accepted that guest bedrooms can cope with strong pattern, as they are used for a short time, but if you are tentative about embracing pattern on pattern full-on, this toned-down version by Colefax and Fowler may be a good place to start. It features just one of the company's designs, Greenacre, over the wallpaper, eiderdown, valance and chair. The headboard and woodwork are in plain white to provide some necessary breathing space.
4. Bunk up
If you're planning a room that might host multiple guests or a family, look up – and think about building a bunk to make the most of your space. The key to this guest room, designed by Pringle & Pringle for a treehouse project, lies in its flexibility, explains co-founder Sophie Pringle.
'Initially, the clients had two double guest rooms, but as we got to know them we realized they would sometimes need more versatile accommodation. This space works as a double room for adults, a children's room, or both, depending on who is staying.' The ladder to the bunk mirrors the design of the clothes storage shelving, which is built in around the bed to further maximize the space.
5. Install a neat nook
A built-in cabin-style bed is both cozy and clever. 'This space-saving design can include room for storage baskets and books in the space above and at the end, a trundle bed or drawers on castors underneath, and integrated lighting for reading,' says interior designer Henry Prideaux.
In a small room like this with fitted joinery along one wall, there is often an allowance for a narrow wardrobe so you can maximize every available inch.
Sign up to the Homes & Gardens newsletter
Decor Ideas. Project Inspiration. Expert Advice. Delivered to your inbox.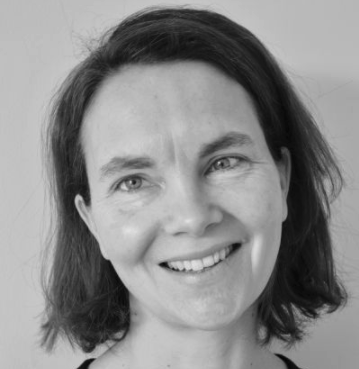 Arabella is a freelance journalist writing for national newspapers, magazines and websites including Homes & Gardens, Country Life, The Telegraph and The Times. For many years she has specialized in writing about property and interiors, but she began her career in the early 2000s working on the newly launched Country Life website, covering anything from competitions to find the nation's prettiest vicarage to the plight of rural post offices.