Dining room trends 2023 – 7 key ways to update your dining space
Designers and experts reveal the top dining room trends in 2023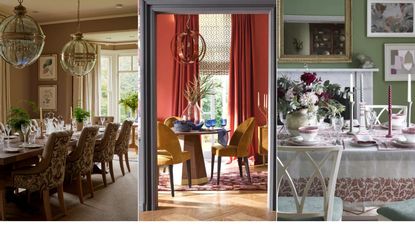 (Image credit: Sims Hilditch / John Lewis / Birdie Fortescue)
Over the last few years, dining room trends have changed dramatically. For the past 20 years they have been out of fashion, with the popularity of open- and broken-plan layouts meaning they were often knocked through and incorporated into other rooms.
But, as a result of the pandemic, there's an increased need for privacy in different spaces in the house, and dining rooms have, according to real estate experts and interior designers, become one of the most sought-after property features in 2023
The once formal dining room that really was only used for dining is now doubling as a home office for home workers or school work. What's more, there is a general increase in the number of people entertaining at home as we try to reclaim the lost social opportunities of the last few years.
When it comes to interior design trends, we are not talking about fleeting fads, but design features that will stand the test of time so that you can realize your dining room ideas in the knowledge that your interiors will still look great beyond this year.
Interior designers have revealed what has been influencing dining room trends recently; these are the key considerations that you need to know about.
Dining room trends
While aesthetics play a part, one of the most influential dining room trends we are seeing increased functionality and multi-purposing. Here, we look at the latest ways dining rooms are being designed.
1. Make the most of multifunctionality
In the post-pandemic world, there is an increased emphasis on working from home or hybrid working. Because of this, we are placing more demands on our homes to provide both living and working space without having to convert a whole room to accommodate our home office ideas. The dining room has become the space commonly turned into a workspace.
'Most of all think about layout and make sure there are accessible plug sockets if your table needs to double up as a computer table!' says Nicole Salvesen, co-founder of interior design studio Salvesen Graham.
2. Seating that's comfortable enough for WFH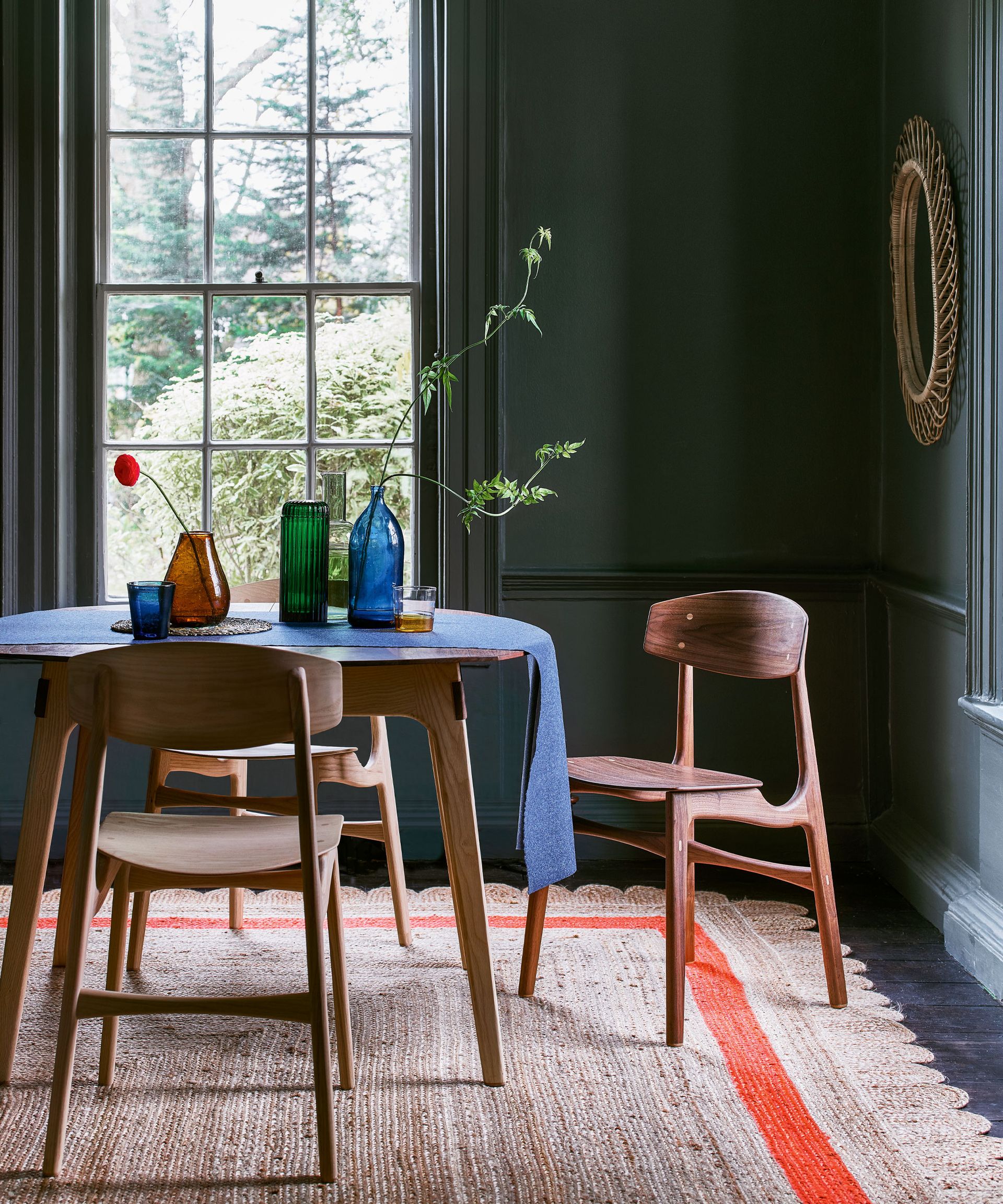 One way to facilitate this increased time you are spending working from home is to consider stylish but ergonomic furniture, say experts. 'While the conversation was previously centered around the fact that workers were often sat in unsuitable chairs throughout the workday, people are becoming increasingly aware of how poor posture can come about from any sort of unsupportive seating.' says Lucinda Newbound, ergonomics specialist at Back in Action.
'Poor quality seating can lead to back pain, bad posture, sore neck, shoulders, and more. Small changes to seating throughout our home can have huge benefits and could even start to undo the damage already done by too much static sitting and slouching at the dinner table.
'Incorporating small lifestyle changes to your dining room set–up, can instantly improve posture and promote active sitting.'
3. Oversized lighting
Obviously task lighting is a must if you'll be using your dining room to work from. That aside, over-sized lighting over the dining table is a big trend now. The dining room is a space that should feel cozy and welcoming but also needs to be practical. A key way to achieve this is through dining room lighting ideas.
'Make sure you have a variety of lighting for different uses – a combination of wall lights, overhead, and lamp light gives a really good balance.' suggests Nicole Salvesen, co-founder of interior design studio Salvesen Graham.
In order to pair these features with functionality, consider having dining room lights on dimmer switches to allow for subdued mood lighting for after a dinner party, but brighter lighting for eating and using the dining room as a workspace.
Sims Hilditch's design director Louise Wicksteed goes further: 'An oversized light fixture is a great way to create a statement in a dining room while keeping the design timeless.' she says. 'An opulent chandelier or a pair of globe lanterns look great suspended over a dining room table, drawing the eye and filling the space.'
4. Feature walls that feature nature
You may be used to the idea of living room feature wall ideas, but they have become something of a hot trend for dining rooms, too. Scenes of nature, depicted by wall mural ideas like the one above, are particularly popular, with awareness perhaps heightened by Brigette Romanek's design of Gwyneth Paltrow's dining room, which featured a woodland scene.
5. Casual tablescaping
'Tablescaping is one of those buzzwords that has gained wider recognition as the world started opening up and people started to socialize at home again,' says Lucy Searle, Editor in Chief, Homes & Gardens.
While setting and decorating a dining table used to be exclusively for formal dinner parties, having beautiful dining table decor is becoming the norm for more relaxed gatherings, too. But there is a particular look that's really on trend: the accidental tablescape.
'There aren't really any set rules for tablescaping,' explains designer Penny Morrison, 'but if you match the unexpected you'll find it much more fun.
'More is more! I always advise using lots of accessories and layering table linens. Colored wicker table mats add texture, while a large glass vase with fresh flowers makes a superb centerpiece. A table without flowers is just not alive. Try tall vases with branches for a structured look, or fill lots of little vases with colorful mixes.
'I tend to avoid white plats and gravitate more towards hand–painted ceramic tableware, which instantly adds an appealing artisanal feel.'
7. Freshen up traditional pieces
Traditional dining room ideas have remained on trend due to their timeless appeal. However, the rise in consciousness of global warming and buying well once has led designers to lead the way in furnishing dining rooms with antiques.
This needn't mean every dining room is populated with dark wood; you can breathe new life into your dining room with painted furniture ideas – especially as bright and bold dining tables are on trend.
Painting wood furniture is a DIY job you can do to give an existing space a whole new look quickly.
'Freshen up a more traditional space with lacquer pieces as they are a great balance to more traditional brown furniture that often ends up in a dining room or some fun lampshades and accessories,' suggests Nicole.
7. The broken-plan kitchen diner
If you have an eye on kitchen trends, you will know that despite open-plan living becoming less popular as more of us are seeking privacy within our homes, kitchen diners maintaining their social appeal. However, there is a strong trend towards creating broken-plan living room, kitchen and dining rooms, often separated by doors that open or slide back, or glazed panelling, as above.
'I do not believe that the dining room is a redundant space, but the kitchen is becoming a dual–functional space for cooking as well as eating meaning open plan living has to be second nature,' explains Tom Howley, director at his eponymous kitchen company.
'There is a time and a place for formal dining, but the modern kitchen has to be able to accommodate an impromptu pasta with friends or an unforeseen stir fry with the family.
'Not only this, but the kitchen is also a homework base, a relaxed office space and a home bar. A wide island counter or baker's table will provide a generous and welcoming gathering place, especially when lined with textural barstools.'
If you are lucky enough to have the space, you may have both an open-plan kitchen/diner and a separate dining room that can double up.
Are formal dining rooms going out of style?
Formal dining rooms are not going out of style. While there was a period of time when formal dining rooms were falling out of favor with many households instead using kitchen islands, merged kitchen diners, or some other layout variation, the pandemic, and the subsequent need for separate and multifunctional spaces means that the formal dining room has seen a resurgence.
Sign up to the Homes & Gardens newsletter
Decor Ideas. Project Inspiration. Expert Advice. Delivered to your inbox.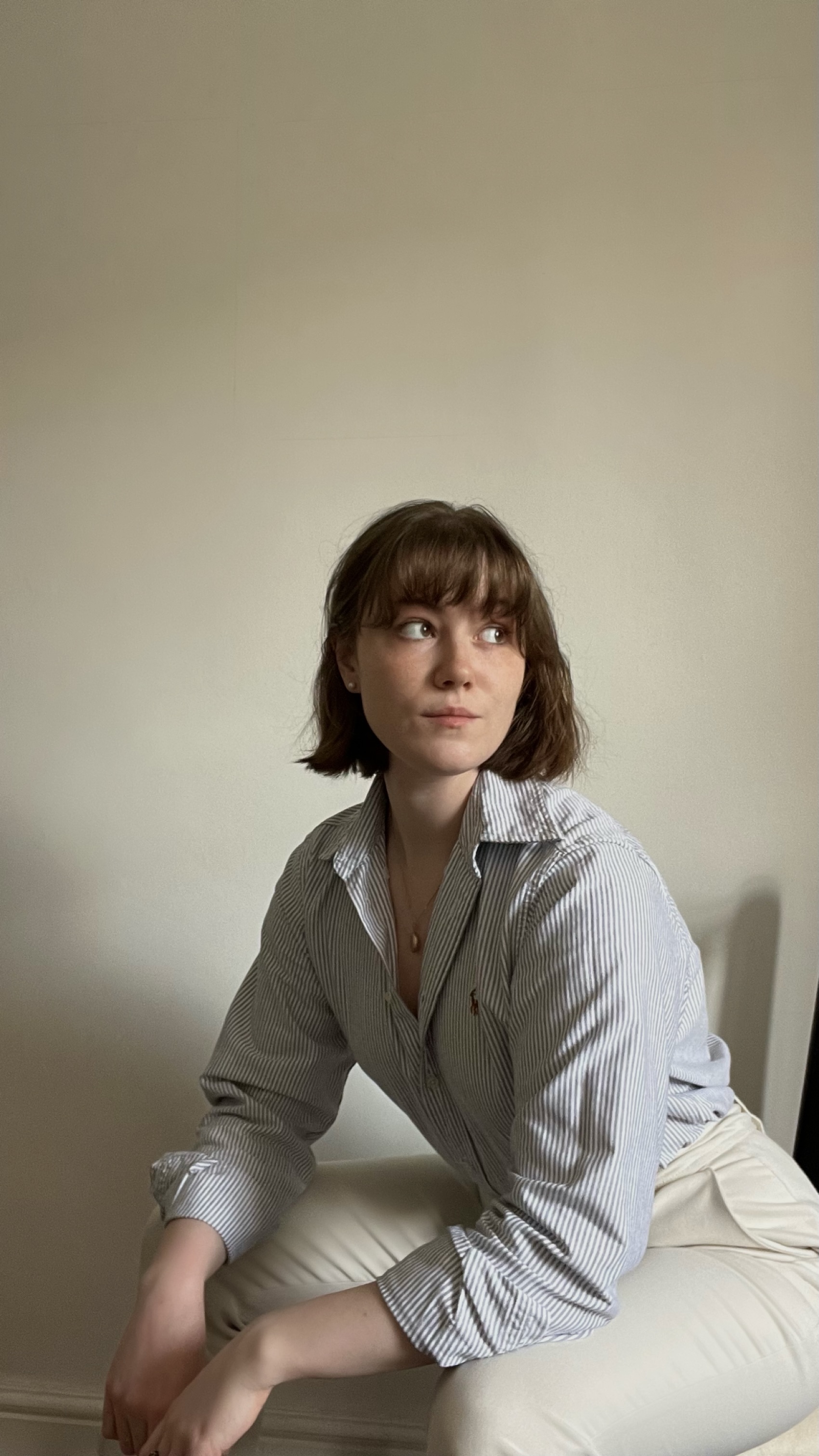 Chiana has been at Homes & Gardens for a year, having started her journey in interior journalism as part of the graduate program. She spends most of her time producing content for the Solved section of the website, helping readers get the most out of their homes through clever decluttering, cleaning, and tidying tips – many of which she tests and reviews herself in her home in Lancaster to ensure they will consistently deliver for her readers and dabbles in the latest design trends. She also has a first-class degree in Literature from Lancaster University.