How to plan a small garden – make the most of a tiny outdoor space
Learn how to plan a small garden and make the most out of your tiny outdoor oasis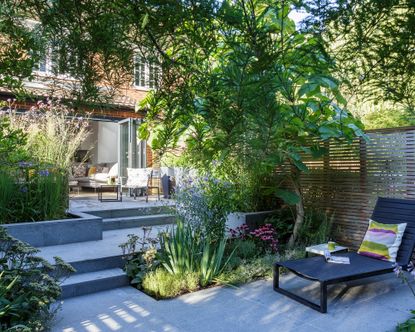 (Image credit: Future)
If you are wondering how to plan a small garden, these expert tips and ideas are bound to inspire you. With clever planning and thoughtful planting, even the most compact courtyard can create an incredible impact that is just as striking as a larger lawn or terrace.
What constitutes a small garden is debatable to homeowners, yet chances are most of us have a more compact plot than we would like. However, there are countless small garden ideas and solutions to maximize limited outdoor space. And lest we forget – a small garden requires much less time and tools to maintain.
To create the small and idyllic garden of your dreams, first think about how you want to enhance the outdoor space you have to suit your style of living without making it cramped or cluttered. Bold statements, vertical planting – particularly useful in courtyard gardens – beautiful boundaries and optical illusions are all key elements to incorporate into your small garden layout to make it perfect for your needs.
How to plan a small garden
1. Be inspired to find your style
To plan a small garden, in-depth research is required at the offset to construct an attractive and practical space that looks beautiful all year round.
Borrow inspiration by visiting as many open gardens and public grounds as you can, to get a feel of what you like. Yearly shows, such as the Chelsea Flower Show or the RHS Hampton Court Palace Flower Show, are full of small show gardens designed perfectly by landscape gardeners to get the most out of compact spaces, so you'll be spoilt for choice with options.
Be it a cottage hideaway, urban balcony garden or family haven, once you've decided on your preferred garden style, making a mood board is a worthwhile idea to experiment with plant varieties, exterior paint colors and outdoor furniture options too.
2. Survey and measure your plot
Whether you are starting with a blank canvas or inheriting a mature enclosure that requires a makeover, start to plan a small garden layout with a wish list and any note problems you may need to overcome. For instance, would you like secluded seating as well as a dining area? Could you fit in a pergola to break up a lawn and patio? Do you need to rectify poor drainage, or find long garden ideas to make your space look less narrow?
Then, measure and survey your garden to assess its possibilities. Look to where the sun lands during the day, and take into account how areas might adapt throughout the seasons and years to come. Envisage how your planting plan might mature or expire over time.
3. Pick out your small garden layout ideas
Depending on the size of your small garden, a distinctive layout will set the foundations. Most successful gardens fall into three basic designs – circular, diagonal or rectangular. These can then be customized with planting and variations of these themes to personalize your space.
Formal designs tend to have straight edges and symmetry, whereas informal gardens are looser in style with curvaceous and sweeping edges.
4. Put your plan to paper
It's much less expensive to make mistakes on paper first, so make a scaled sketch of the garden as it is, and then add on your ideas as separate cutouts that you can layer up and move around. Or, search for an online garden planner that will allow you to input measurements and visualize your dream space with digital precision.
5. Create beautiful boundaries
Unfortunately, small gardens are often enclosed by walls and fences and generally overlooked, so ensuring hard landscaping and boundaries are planned right can be as important as greenery. Look to ways of overcoming this conundrum, including implementing one of these small garden decking ideas to provide a seamless finish.
If the view beyond the garden is attractive, make a feature of the boundary itself. Low-level fencing will reveal the outlook and create the impression your garden carries on and on. Traditional picket style or contemporary slatted fencing, rather than close boards, will let light stream through. And why not paint the natural wood a bold color to enhance the sense of space and make foliage pop out against it?
Arches, pergolas and trellises are useful for adding height and privacy from the outside world.
6. Prepare a planting plan
Hard landscaping and boundaries provide a garden structure, but it's the planting choices that offer character, shape and softness. Movement between foliage and boundaries will help your garden flow and bring the plants into the space rather than restricting them around the edges, which can enclose the space.
Research height, spread and soil preference before you buy. Stick to a single color palette for a coherent scheme. Choose one or two complementary shades and pick out petal colors with painted garden furniture or outdoor cushions and rugs.
How do you design a small garden?
With today's busy lives, the garden is an extension of our homes no matter how tiny and so needs to be flexible. To create space for relaxing, entertaining and alfresco dining, choose outdoor furniture that is mobile and can serve more than one purpose – especially useful when planning roof garden ideas, where space is at a premium.
Ian Ellis, outdoor furniture buyer at John Lewis, explains: 'If you are looking to make the most of your small space, buy foldable furniture for eating so you can easily put it away or cover it when not in use.
'The alternative is to choose something compact that can be used for casual dining and lounging – for example, small lounge chairs and a coffee table.'
Look at creating a focal point or destination place; this can be a tree, water feature or seating that will give you a different perspective of the space once you are there.
How do you make a small garden look nice?
Optical illusions will add interest and maximize the space you have. They cleverly trick the eye to make a small garden look bigger or more densely planted. Decorative mirrors will reflect light and create an illusion of more space. Beds filled with tall plant varieties will add height, and flowering climbers on trellis fencing and exterior walls will draw the eye upwards or outwards.
Enhance the ambience of your tiny retreat when you plan a small garden by adding beautiful outdoor lighting ideas, like the string lighting draped from the wooden pergola above. Garden lighting is an attractive and practical solution for changing the outdoor atmosphere.
Will Law, partner and home design stylist at John Lewis, advises: 'Small gardens are a great place to layer lots of outdoor lighting, as you won't need hundreds of metres of lights to make the space feel magical. Be inspired by outdoor string lighting ideas, such as hanging festoon lights overhead or wrapping trees in outdoor fairy lights, and have tea lights on any available surface to give a cosy glow.'
What are the best plants for a small garden?
Less is more when planning a small garden, so don't be tempted to cram too much in. Instead, focus on a few larger pieces, such as a pair of space-saving trees potted in large planters, or grow a tall living wall on an obtrusive exterior wall to install height and lush colour.
'Just because your garden is small, doesn't mean everything in it has to be too,' explains Lynsey Abbott, outdoor living buyer at Dobbies Garden Centres. 'One very large pot will add more impact than lots of small ones because it will stop the space feeling cluttered.
'A bigger pot will also house more plants, so you can mix and match with flowers and herbs that complement each other and your overall colour scheme.' Pots can even accommodate a small vegetable garden with crops like tomatoes and herbs.
Thriving bedding choices when you look to plan a small garden scheme include those that are hardworking and offer striking color and shape. Award-winning designer and BBC Gardeners' World presenter Mark Lane says: 'Mix it up with shrubs such as vitex, hydrangea or cornus and you will have the perfect getaway. Small flowering plants such as bidens, tagetes, coreopsis, or crocosmia will add a splash of color.
'Narrow trees, such as taxus baccata fastigiata robusta or the ornamental cherry amanogawa, are some of the best trees for a small garden. They will also draw the eye upwards to the sky, making your garden feel bigger. '
Sign up to the Homes & Gardens newsletter
Decor Ideas. Project Inspiration. Expert Advice. Delivered to your inbox.
Rachel is senior content editor, and writes and commissions gardening content for homesandgardens.com, Homes & Gardens magazine, and its sister titles Period Living Magazine and Country Homes & Interiors. She has written for lifestyle magazines for many years, with a particular focus on gardening, historic houses and arts and crafts, but started out her journalism career in BBC radio, where she enjoyed reporting on and writing programme scripts for all manner of stories. Rachel then moved into regional lifestyle magazines, where the topics she wrote about, and people she interviewed, were as varied and eclectic as they were on radio. Always harboring a passion for homes and gardens, she jumped at the opportunity to work on The English Home and The English Garden magazines for a number of years, before joining the Period Living team, then the wider Homes & Gardens team, specializing in gardens.