How to plant a hanging basket – to add color and interest for months
Discover how planting in a hanging basket can create a beautiful garden feature that will endure until the end of summer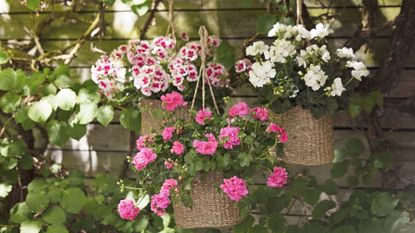 (Image credit: Pelargonium for Europe)
It's important to know the right way to approach planting in a hanging basket if you want to get the best out of it, and to extend the growing season as far as possible.
Hanging baskets are the most wonderful garden ideas, as you get so much benefit from minimal effort. Within just weeks of planting you will be rewarded with a mass of tumbling foliage and flowers.
Not only do these integral container gardening ideas introduce color and interest at eye level, they also brighten up plain walls, fences, and porches.
Add hanging baskets to your pergola ideas, and include them in your front garden ideas to boost your home's curb appeal.
'Hanging baskets add a splash of color into the summer garden,' says Mick Lavelle, senior horticulture lecturer at Writtle University College.
'Early spring is the ideal time to plant them up and grow them on under cover. However, they will likely need protection from cold nights and frost until late spring, meaning a greenhouse or conservatory is needed.
'If you don't have one of these, just wait a few weeks until the frosts have passed.'
However, don't feel that hanging baskets are only for summer, as there are some beautiful winter hanging basket ideas to make a feature when there is little life elsewhere in the garden.
Planting in a hanging basket – a step by step
As long as you follow these simple steps, it's easy to learn how to plant a hanging basket. It should take no more than an hour to do, and you'll soon wonder why you ever bought ready-planted ones.
1. Choose your plants
With so many wonderful choices, it can be difficult to decide on the best blooms, but it's important to consider your choices carefully to avoid making any common hanging basket mistakes.
'Visit your local garden center for inspiration,' advises Period Living's gardening expert Leigh Clapp. 'Start with a centerpiece plant and don't be afraid to take a few pots off the shelves to try out possible planting combinations.
'It's similar to arranging flowers in a vase, except that nature is unpredictable and there may be some surprises in growth patterns.'
When planting containers and hanging baskets, many experts follow the rule of 'thriller, filler, spiller', as Isabel Palmer, founder of The Balcony Gardener, explains: 'Select a strong statement variety to act as a focal point, and then complement it with filler plants – mixing upright choices with compact ones in the middle. Then add in spiller plants that will trail over the sides.'
Good thriller plants for hanging baskets include pelargoniums, begonias, osteospermums, angelonia, argyranthemums, nicotiana and heliotropes.
For your filler plants, include some foliage such as purple-leaved heuchera, compact carex, silver-leaved artemisia or purple sage, which will be a perfect foil for colorful blooms. Good filler flowers are erigeron and nemesia.
Ideal spiller plants for hanging baskets are lobelia, bacopa, ivy, fuschias, verbena, convolvulus and nasturtiums.
To make a simple, elegant statement, don't be afraid to fill the basket with just one variety. This works particularly well in contemporary planting schemes.
You should also think about what effect you want to create with your garden color schemes. 'Consider restricting your choice to one or two shades of complementary hues, such as pink and purple,' adds Palmer.
Alternatively, consider growing your own mini kitchen garden in a hanging basket, as they make fantastic vegetable garden container ideas.
'The traditional coir-lined planter holds enough compost to grow lots of edibles, which can cascade over the sides looking beautiful,' says Alex Mitchell, author of Crops in Tight Spots.
Good crops to grow in hanging baskets include herbs, salad leaves, strawberries and tomatoes.
2. Use a suitable basket
The most popular type of hanging basket is a metal cage, although there are other options such as solid metal bowls, ceramic pots and willow baskets. There are plenty of yard-friendly hanging baskets to browse at Amazon.
Planting your own hanging basket is a good opportunity to get creative by upcycling a vintage enamel bowl, colander, birdcage or large tin. Simply drill holes – where not already present – in the bottom for drainage, and in the sides to fix your chains.
'It's worth attaching high hanging baskets to extendable cords so you can pull them down easily to water, feed and harvest the plants. Or you can buy a telescopic watering attachments for your hose,' says Mitchell. You can also source a telescopic watering attachment from Amazon.
3. Line your basket
'Your hanging basket will need to be lined to hold the soil, and while you can buy a ready-made liner, I think moss is much more attractive,' says Lavelle.
'Either buy bags of moss, or use any that you rake up from the lawn – you will need enough to cover the inside of the basket with a layer about half an inch thick.'
However, if you know approach planting in a hanging basket the right way, then once the plants are established, you won't really notice the liner. So one made from natural fibers, such as coir, will still work well.
Ensure you choose the right size or liner to fit your basket.
4. Create a water channel
Once the basket is lined, you need to form a water reservoir in its base, to ensure enough moisture stays in the soil for the plants to thrive.
'An impermeable material, such as a circle of polythene, or an old plant saucer – around half the basket's diameter – will stop water running straight out of the bottom during watering,' says Lavelle.'
It's also a good idea to also include your own watering channel by adding a small flowerpot in the center of the basket, and filling it with gravel or shingle.
'Its rim should be just below that of the basket,' adds Lavelle. 'This will make watering easier and help stop it splashing over the sides.'
5. Add the compost
Use good multipurpose compost, ideally peat-free if available, which is more sustainable. You need to fill the basket around three quarters full.
'It's worth adding a handful of water-retaining crystals to the compost to keep it moist for as long as possible,' says Mitchell.
Water-retaining crystals (like these Miracle-Gro ones from Amazon) or granules have the ability to increase up to 400 times their size when wet. This means they retain the water and slowly release it as the plants need it.
You should also mix in slow-release fertilizer granules to ensure any planting in a hanging basket has all the nutrients it needs throughout the growing season. Otherwise, you will need to feed the plants regularly.
6. Arrange your plants
When you're ready to add your plants, water them in advance so that the soil will stay together when you remove them from the pots.
To perfect the plants' positions, it's a good idea to practice by grouping the pots together until you are happy with the layout.
'Start with one, roughly central plant to create a full appearance. Use something with a compact and bushy growth habit,' says Lavelle. You can then add some filler plants around this.
'Next, position trailing plants around this to cover the sides of the basket. Finally, carefully fill in around the root-balls with more compost.'
7. Water and maintain
Give your hanging baskets a thorough initial watering, and then check daily to see if the soil is dry. If it feels moist, there is no need to water.
'The important thing with hanging baskets is to keep the compost moist enough but not waterlogged,' says Mitchell.
Regularly deadhead any spent flowers to keep your plants blooming right to the end of summer.
How to plant hanging baskets with holes
Unless you plan to include lots of voluminous trailing plants in your hanging basket, you may want to cut a few holes evenly around the sides of your liner, to allow some of the plants to grow outwards.
Use a sharp knife, and consider adding two tiers of holes in larger baskets.
When you add your compost, initially only fill it up to be level with the bottom of the holes. Then, carefully insert the plants through the openings. It's a good idea to wrap delicate plants in a paper cone to protect them while pushing them through.
Next, pack in the compost around them, firming it in to keep the plants securely in place.
Fill in the basket with compost to three quarters full, then plant your top layer as above.
How to make hanging baskets look full
It's important to plant hanging baskets generously to ensure they look full, spacing them more closely than traditional planting schemes.
There will be a lot of root competition in your hanging basket, and some plants may die during the summer, so it's a good idea to have a few extras to fill the gaps.
Keep them well watered and feed either with a slow-release fertilizer when planting, or weekly with water-soluable feed. This will ensure your plants reach their growth potential, making the hanging basket appear as full as possible.
How many plants should I put in a hanging basket?
How many plants you should put in a hanging basket will depend partly on how vigorous your chosen varieties are, so do check their ultimate size.
However, as the plants have a relatively short time to shine, you should feel free to pack them in more closely than you would when planting in the ground.
'As a rule of thumb, odd numbers are more aesthetically pleasing, so use three plants for a container of 12in, five for 16in; seven for 20in and so on,' says Palmer. However, this could be more or less depending on the plants' individual growth potential.
What do you put in the bottom of hanging baskets?
To retain water you should add either a plant saucer or circle of polythene – for example, cut out from the compost bag – in the bottom of hanging baskets.
However, this should only cover around half the basket's diameter, otherwise the soil will become waterlogged.
When should you plant hanging baskets?
To get the best out of your summer hanging baskets, start them off under cover as early in the spring as possible, to give the plants plenty of time to establish.
If you aren't able to keep them under cover, then plant them in mid to late spring, waiting until the frosts have passed.
However, winter hanging baskets should be planted early in the fall.
Sign up to the Homes & Gardens newsletter
Decor Ideas. Project Inspiration. Expert Advice. Delivered to your inbox.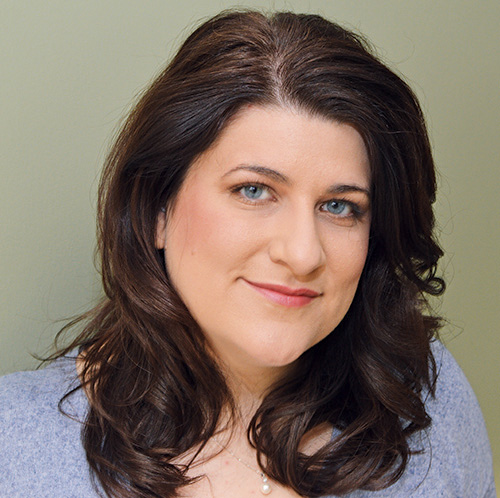 As editor of Period Living, Britain's best-selling period homes magazine, Melanie loves the charm of older properties. I live in a rural village just outside the Cotswolds in England, so am lucky to be surrounded by beautiful homes and countryside, where I enjoy exploring. Having worked in the industry for almost two decades, Melanie is interested in all aspects of homes and gardens. Her previous roles include working on Real Homes and Homebuilding & Renovating, and she has also contributed to Gardening Etc. She has an English degree and has also studied interior design. Melanie frequently writes for Homes & Gardens about property restoration and gardening.