When to plant herbs – for a plentiful, fresh supply
Find out when to plant herbs outdoors and indoors, including tips on how to grow them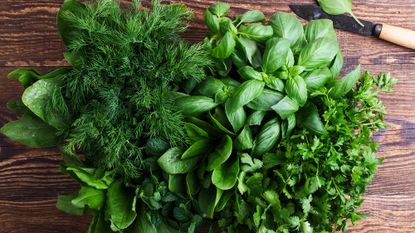 (Image credit: Istetiana / Getty Images)
When to plant herbs is important to know if you're planning to create a herb garden. Herbs have a multitude of culinary uses but are also used for their fragrance and for medicinal purposes, too.
Herbs can be grown in beds, borders or containers on a patio, plus many can be grown indoors in a greenhouse or on a windowsill, too, so it's well worth giving them a go. Herbs are a staple ingredient in many recipes, so it's handy to have a constant supply placed near the kitchen for picking, be they indoors or outdoors. What's more, herbs can also be grown as ornamental plants and are great for bringing fragrance, structure and flowers to garden borders.
With a huge variety available to grow, there are herbs that can be harvested all your round. If you're looking for herb garden ideas then this handy guide for when to plant herbs will help you work out when to buy seed or young plants so that you don't miss out on growing your favorite types.
When to plant herbs
When to plant herbs will depend on whether they are annual, biennial or perennial, as well as whether you plan to grow them indoors or outdoors. It will also depend on your climate and the weather conditions in your area.
Annual and biennial herbs such as basil, dill, coriander and parsley can be planted from seed every year between March and August. These herbs are often used in large quantities, are short lived, and best picked young, so to ensure a fresh and plentiful supply make successive sowings from early spring until early fall at three to four-week intervals.
To give them a head-start these herbs can be sown in pots in a greenhouse in late winter and planted out in spring once the soil has warmed up.
If planting from seed, perennial herbs such as rosemary, sage and thyme are best sown undercover with warmth in spring and grown on in pots before being hardened off and planted out. Some perennial herbs such as mint are often best grown from small plants or propagated by division – in this case the best time to plant them is in spring.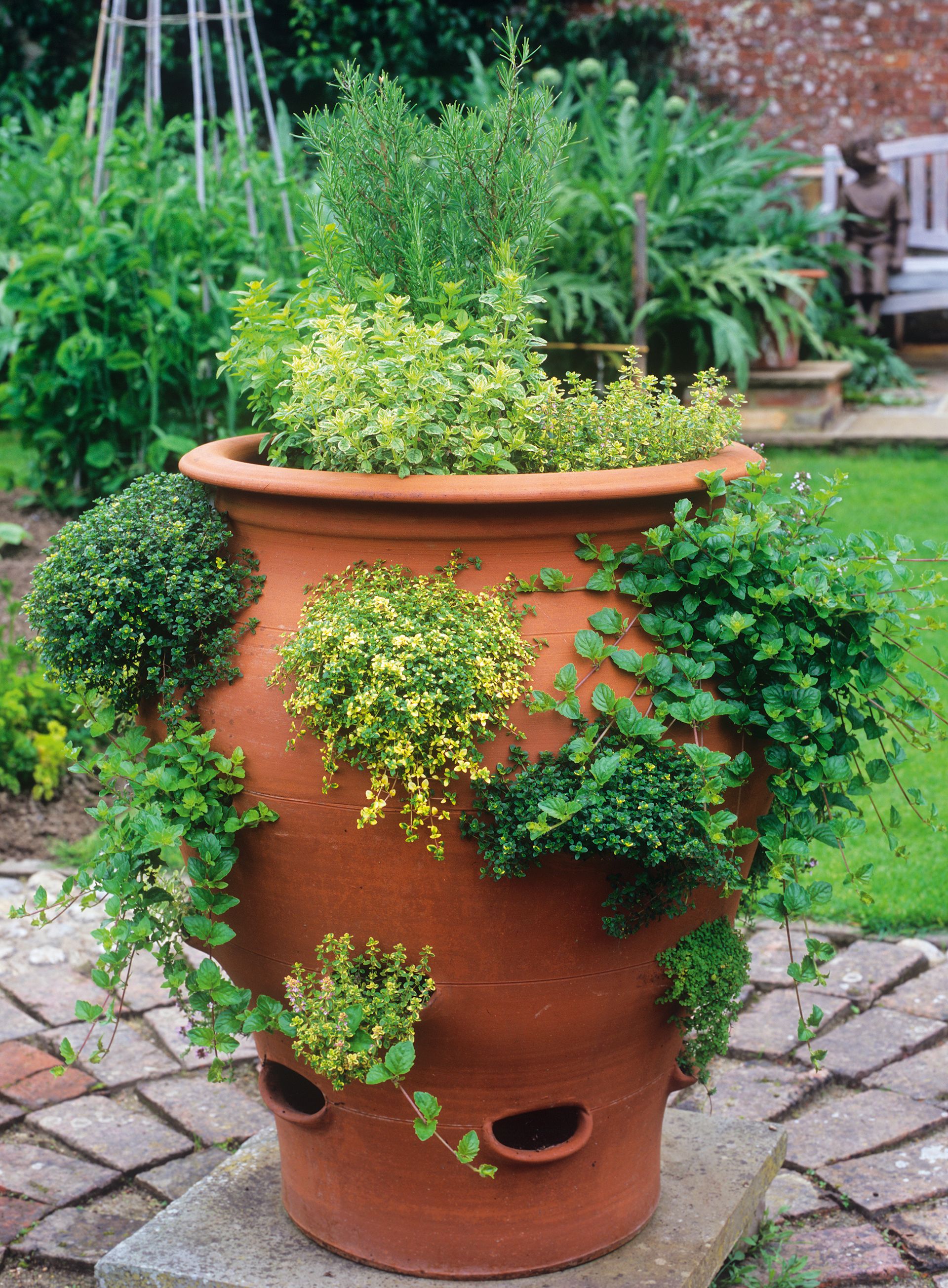 Mediterranean perennial herbs such as rosemary, sage lavender and thyme take well when planted from cuttings. You can either take softwood cuttings in spring, or semi-ripe cuttings in late summer or fall. These can then be overwintered indoors on a sunny windowsill or in a greenhouse and planted outdoors the following spring once the risk of frost has passed.
These herbs grow best in full sun and prefer dry, poor stoney soils. They are best planted in gravel gardens, by paths and or between paving slabs. These herbs also work well together in herb planter ideas as they require similar growing conditions, plus Mediterranean aromatic herbs are brilliant for planting in containers on a patio placed near seating areas where their scent can be enjoyed.
When to plant herbs outside
When to plant herbs outside depends on the types of herb you are growing, but generally herbs are best planted outside in spring in a sunny spot with fertile, free-draining soil.
Annual and biennial herbs can be planted outdoors from March to August. To give them a head start they can be planted as early as January under cover and planted out in spring. However, there are some herbs such as dill and parsley that do not like being transplanted so are best sown directly outside if possible.
By sowing in seed trays 'you have more control over the environment, soil conditions and thinning seedlings as they sprout,' says Sandra Nanka, herb expert and owner of Mudbrick Herb Cottage. 'This can result in a faster germination and also allow you to start seeds earlier in the season.'
Perennial herbs raised from seed or cuttings are best planted out once the risk of frost has passed in late spring early summer.
When to plant herbs indoors
Many herbs can be grown indoors in pots to give a fresh supply for all year round including thyme, parsley, mint, chives and French tarragon provided they have the right conditions and are placed in a sunny spot such as a greenhouse or sunny south-facing windowsill.
If you are planning on growing herbs indoors in a heated greenhouse then the seeds can be planted at any time of year. Sow in pots or trays onto the surface of moist peat-free seed compost, cover with a thin layer of compost and water. They should be placed in a propagator or covered with a polythene bag. For growing on windowsills or in an unheated greenhouse sow seeds in spring.
In winter, when sunlight decreases and temperatures drop, the growth rate of indoor herbs will slow, plus if placed on windowsills they may be exposed to fluctuating temperatures which can effect their growth. 'During the winter in northern climates, windowsills may be 15 to 30 degrees colder than the room's temperature, which could slow growth and cause plants to struggle,' says Shannon Caringi of Trillium Living.
If you are planning to grow your herbs outside then many can be started off indoors in pots or trays from January for transplanting outdoors in spring.
Popular herbs and when to grow them
Basil – indispensable in Italian dishes and great for Thai curries, Basil is a half-hardy annual that thrives in sun and warmth and is best sown from seed indoors and grown in pots. If growing indoors basil can be sown out of season, alternatively, sow from February to June. Sow seed onto pots of moist seed compost and place in a propagator set to 59-77°F (15-25°C) or cover with a polythene bag and place on a sunny windowsill. Germination takes 2-3 weeks. Once seedlings have been potted and grown on they can be placed outside in early summer.
'Care must be taken to choose the best place for the plant: it needs sun and warmth, but root rot will set in if it's too damp. The ideal environment for basil is on a patio or window sill without direct sunlight,' says Lindsey Hyland, gardening expert and founder of Urban Organic Yield. In cold damp conditions basil plants can be prone to dampening off.
Basil can be planted directly in warmer climates and in cooler climates once the risk of frost has passed. Basil is best picked young so it's recommended to make successive sowings.
Coriander – this fast-growing annual herb is best planted outdoors from April until July. Alternatively it can be grown undercover as early as January ready for planting out when the soil warms in April for an early crop, this will also help protect the young plants from slug damage. Sow into a prepared seed bed in rows 0.5 inches (1cm) deep and set 12 inches (30cm) apart. A sowing in late summer can keep growing through fall and into winter with protection. For best results be sure to research how to grow cilantro.
Dill – An annual herb with delicate feathery foliage which is great in fish recipes. Dill does not like being transplanted as it has a tap root, so is best sown outside where it is to grow from March – July. Sow in drills 0.5 inches (1cm) deep and 6 inches (15cm) apart.
Mint – Mint is a hugely versatile herb ideal for use in savoury and sweet dishes as well as in drinks, from cold cocktails to hot infusions. Mint is a hardy perennial which is best planted as small plants rather than from seed. Plant from March – May in well-drained soil and in full sun or partial shade.
The important thing to remember when thinking about how to grow mint is that it is a vigorous grower with spreading rhizomatous roots, meaning it can easily take over. To keep it under control it is best grown in a pot on a patio or in a container sunken into a border.
Parsley - A popular herb for use in sauces, salads and fish dishes, parsley is a hardy biennial herb which is best treated as an annual and sown between April and July. Sow directly into free draining soil in drills 0.5 inches (1cm) deep and 6 inches (15cm) apart. Germination can be slow, taking up to six weeks. To ensure a continual supply make a sowing in late spring and another in late summer.
'If there is a spell of warm days and cold nights, which often happens this month, it is a good time to sow parsley as the 'high and low' temperatures break the seeds' dormancy; always use fresh parsley seed (this rule is the same for parsnips) as they don't germinate well from old seed,' say gardening experts at Hartley Botanic.
Alternatively parsley can be sown under cover from as early as February. Sow onto moist seed compost and place in a propagator at 65-70°F (18-21°C), or cover with a polythene bag and place on a sunny windowsill.
Rosemary – Commonly used in cooking, particularly with lamb, this Mediterranean evergreen, perennial herb also makes a great decorative and scented edging for a path. It is drought tolerant and does not like waterlogged roots. It is best grown from small plants planted in spring from March – May, however, it can be grown from seed.
Sow undercover from February – June or from September – October. Sow in a seed tray or pot filled with moist seed compost – do not cover and keep at 70°F. Germination can be erratic taking anywhere between 1-2 weeks to 3 months. Transplant outdoors when the risk of frost has passed. Familiarize yourself with how to grow rosemary before you start.
Thyme – A brilliant flavoring for stews, soups and roasts, thyme is a Mediterranean perennial herb that thrives in sun and can tolerate dry soils. It can be sown from seed from February – April. Sow in trays or pots filled with seed compost but do not cover. Place in a propagator or at 56-60°F (13-16°C) or cover with a clear polythene bag. Pot on seedlings and grow on in cooler conditions. Before transplanting outdoors harden off plants for 7-10 days.
If you are wondering how to grow thyme then it's worth knowing thyme also takes well from cuttings - if planting from cuttings this is best done between May and July.
Young plants are best for culinary purposes, so while they are perennial, it is best to replace plants every couple of years.
Can you grow herbs all year round?
There are herbs that can be grown and harvested all year round. When you plant them will depend on whether you are growing them indoors or outdoors, what type of herb they are and on your climate. In northern, temperate climates annual herbs are best sown in spring and summer for harvesting in summer and into fall.
In warmer climates 'most herbs can be directly sown into garden beds all year round providing the soil temperature is around 70°F (21°C) which is required for germination to occur,' says Sandra Nanka at Mudbrick Herb Cottage.
'Early spring, however, is the best and most consistent time of the year for planting herbs. This is when soil temperatures are ideal and the milder weather conditions means seedlings won't get a battering by extreme heat or cold.'
Hardy evergreen perennial herbs such as rosemary and thyme can be harvested all your round. Perennials like mint can be picked up until mid fall but the shoots die back over winter, emerging again in spring, however, if grow in a pot mint can be brought indoors and overwintered to provide a small crop out of season.
Mediterranean herbs like sage, rosemary and thyme take well from cuttings in summer. These can be brought into a greenhouse over winter to keep a small supply for fresh picking, they can then be planted into their final position after the frosts have passed in late spring.
Provided the conditions are suitable some herbs can be planted and grown indoors for culinary use throughout the year.
Sign up to the Homes & Gardens newsletter
Decor Ideas. Project Inspiration. Expert Advice. Delivered to your inbox.
Pippa is Content Editor on Homes & Gardens online contributing to Period Living and Country Homes & Interiors print issues. A graduate of Art History and formerly Style Editor at Period Living, she is passionate about architecture, creating decorating content, interior styling and writing about craft and historic homes. She enjoys searching out beautiful images and the latest trends to share with the Homes & Gardens audience. A keen gardener, when she's not writing you'll find her growing flowers on her village allotment for styling projects.