Best clematis to grow – 10 prettiest, easiest choices for your garden
The best clematis to grow include a wide range of flower shapes, sizes and colors of these popular and showy climbers to suit any garden setting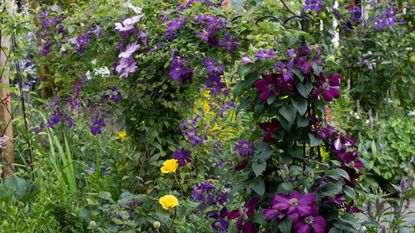 (Image credit: Leigh Clapp)
The best clematis to grow offer myriad flower shapes to choose from. Whether adorning fences and walls, scrambling up pergolas or winding through herbaceous borders, the blooms range from tiny bells to large dinner plates, and in a wide spectrum of colors from deep blues and purples to the palest ephemeral pink.
Once you have mastered how to grow clematis you can choose different varieties that will bloom through much of the year.
These 'queens' of flowering climbers range from vigorous, and tall growing varieties, to more compact types, ideal for containers, and can transform any garden space with their bewitching blooms.
It's also important to know how to prune clematis of different groups to keep them looking their best and flowering year after year.
Best clematis to grow
Clematis pair beautifully with roses, the complementary blooms intertwined, or reaching through trees and shrubs.
'They need the micro-climate from other plants, such as a rose, which will give a burst of flowering at the same time,' explains Raymond Evison, world-renowned clematis grower and breeder, and founder and chairman of The Guernsey Clematis Nursery.
The best clematis to grow are particularly valuable for small gardens, as they take up little ground space. You can also grow clematis in pots if you're short on space in your flower beds. By covering surfaces, they also provide shelter for insects and sometimes birds and many are plants for pollinators.
Grown mostly for their flowers, some clematis can be in flower 10 months of the year, while others bloom once, with winter and spring flowering, early summer, and late summer and fall flowering groups.
Try some of these clematis to grow recommended by the experts.
1. Clematis armandi 'apple blossom'
'Clematis armandi 'apple blossom' is a wonderful free flowering evergreen climber, which we have had in our collection for many years,' explains Peter Skeggs-Gooch, director of Thorncroft Clematis.
'The blooms come out in March, April and May and start as a beautiful pink, but open to an almost pure white star-like flower. When grown in a sunny situation, the flowers will provide a gorgeous fragrance, too,' he adds, if you're looking for how to plant a fragrant garden.
'This strong climber can grow to 20 feet, and has a large, glossy laurel-like leaf, which provides excellent privacy if you're overlooked by neighbors,' Peter adds.
Plant in a sunny spot for the best fragrance, and this clematis is in Group 1, so tidy after flowering. It is hardy to temperatures reaching 5–14°F (-15 to -10°C).
2. Clematis Nubia
Clematis grow well in pots for container gardening ideas, and there are varieties, such as the Boulevard Series, that are especially bred to be more compact in their habit, longer flowering and easier to prune.
'Clematis Nubia has deep red flowers that are produced from early summer until late summer and early fall,' explains Raymond Evison.
'It grows to 3/4 ft (90/120cm) and is ideal for growing in a pot or container or in small garden due to its compact growing habit. It is totally winter hardy and can be grown in any location, but is very much suited to a sunny aspect due to its strong flower color,' he says.
'Select the strong, dark colours such as the reds, dark blues, purples and whites for sunny positions, and pale pinks, pale blues and mauve flowered options for shady places in the patio garden,' Raymond adds.
In Group 3, it needs hard pruning at the end of winter/ early spring. 'The pruning it needs is very simple and what I call it "the pony tail cut". Just reduce all stems down to 6in. (15cm ) above soil level,' says Raymond.
3. Clematis urophylla 'winter beauty'
It is always welcome to have winter plants in flower all the way through the Christmas period, 'and this is what Clematis urophylla 'Winter Beauty' does,' explains Chris Cocks of specialist suppliers Taylors Clematis.
'She flowers from December to March and produces hundreds of nodding, campanula shaped blooms, which are about an inch or so big, but you do get lots and lots of them,' Chris adds.
It also has the added bonus of being evergreen, and with its good sized foliage it is very useful as a garden screening idea to provide privacy around a terrace or seating area.
'Evergreen clematis are best planted in a sunny spot, which is sheltered from strong winds,' adds Chris.
4. Clematis White Arabella 'Zo14089'
'Clematis White Arabella is one of my new favorites because it is very prolific in flower, but also compact in its growth habit, so it's ideal in many situations in the garden,' says Peter Skeggs-Gooch.
'You could use this in a container for a feature plant, in the garden to adorn the base of a tall growing rose, or on an obelisk in a border to offer some height and interest for a vertical garden idea. It is a truly versatile plant,' he adds.
Flowering starts about mid-May, depending on the climate where it's grown, with a double and semi-double flower and will gradually move to flowers of single form, which continue to come out sporadically right through to fall.
This recommended clematis to grow enjoys any aspect and will grow to about 5 feet. It is very hardy, withstanding winter temperatures as low as -4 to 5°F (-20 to -15°C).
In Group 3, it needs hard pruning as above.

5. Clematis Vicki
For a richly colored clematis to grow, 'Clematis Vicki has deep pink/ rose colored flowers, which have a darker central bar to each sepal and the blooms are produced freely over a long period,' recommends Raymond Evison.
This variety of clematis flowers from early summer through to early fall.
'It grows to 4/5ft (120/150 cm) and is suitable to grow in a pot or container, but is superb when grown with other flowering shrubs and walled trained roses,' Raymond adds.
Clematis Vicki is totally winter hardy, 'and can be grown in any location except south facing, where its flowers will fade prematurely,' says Raymond.
It is in Group 3 for pruning.
6. Clematis Super Nova
Clematis Super Nova is a relatively new variety and part of the well known viticella species of clematis.
'Viticella are among the toughest and most robust clematis that exist. They will happily grow in spots where other clematis will turn up their toes, and will put up with the worst that the weather can throw at them and still reward you with a blanket of flowers reaching around 10 feet plus,' explains Chris Cocks.
This is an ideal clematis to grow over archways and arbours, or up trellis.
'Flowering later on in the year, from July to September, it is something to look forward to late summer,' adds Chris.
Clematis Super Nova will grow in any aspect, and can also be grown in a good sized pot.
7. Clematis I Am Lady Q ('Zoiamladyq')
Clematis I Am Lady Q is a wonderful plant that flowers very freely from June to September
'If you've ever had difficulty growing clematis in a certain area of the garden, then try a plant from the viticella group; they will thrive without too much care and attention so long as they are planted carefully,' advises Peter Skeggs-Gooch from Thorncroft Clematis.
'This is true for I Am Lady Q, which makes about 6 to 8 feet of growth each year. The flowers are dainty and nodding blooms of white, which have beautiful highlights of mid-pink to purple along the margins,' Peter adds.
'The petals are separate so the blooms look very delicate but actually the whole plant is very robust and easy to grow. The viticella make excellent companions because they grow among other plants in the wild, so cultivated forms do really well scrambling up into your roses and shrubs as flower bed ideas,' Peter adds.
This clematis enjoys any aspect, is very hardy – withstanding winter temperatures as low as -4 to 5°F (-20 to -15°C) – is easy to grow and is in Group 3 for pruning.
8. Clematis Diana's Delight
Another clematis to grow from the Boulevard Series, Clematis Diana's Delight 'has mid blue flowers, which have contrasting creamy yellow anthers, ' explains Raymond Evison.
It flowers from early summer until late summer and early fall.
'This clematis grows to 3/4 ft ( 90/120cm ), can be grown in a container, as a combination planting with other plants, or with other free standing shrubs. It looks amazing with grey foliage plants, which show of its flower color,' says Raymond.
It is totally winter hardy and can be grown in any location.
9. Clematis Corinne
Clematis Corinne is a compact, deciduous climber.
'It has white flowers that have a pink central bar to each sepal (petal),' explains Raymond.
'The flowers are produced from early summer until early fall and it's a very free flowering and strong growing plant,' he adds.
It grows to 4/5 ft (120/150 cm) and, as with the others suggested by Raymond, can be grown in a pot or container, is ideal for growing through wall trained shrubs and roses, 'and looks delightful with blue-flowered ceanothus, or growing at the base of a pergola with roses,' adds Raymond
Totally winter hardy, Clematis Corinne is best grown in semi-shade along with shrubs for shade, 'where its flowers will not fade prematurely,' says Raymond.
10. Clematis Olympia
Clematis Olympia is a short, compact variety reaching heights of about 3-4 feet. 'It is perfect for a small obelisk in the beds and borders, but just as good in a pot on the patio, too,' explains Chris Cocks of Taylors Clematis.
These new style 'boulevard collection' all flower for around 6 months of the year. 'They have the ability to flower from the leaf axels, thus giving them lots and lots of flowers from top to bottom,' adds Chris.
Keep deadheading this variety of clematis to grow as they do benefit from it and it helps to keep them going.
'Clematis Olympia has the added benefit of being able to be planted in any aspect at all, so it's a win, win situation with this one,' says Chris.
Which is the easiest clematis to grow?
Among the easiest clematis to grow are the Viticella varieties.
'Viticella varieties are easy to start with, have a great color range, tolerate different locations and enjoy a long flowering period,' explains gardening writer Leigh Clapp.
'Consider the space you want them to cover to help with your selection and then choose the colors you like. Some could be too vigorous and become a nuisance in a small space,' she adds.
Which is the hardiest clematis?
There are many hardy varieties of clematis.
Two of the hardiest types of clematis are those with delicate, nodding flowers – alpina and macropetala.
Because they originate from cold mountain regions, they can withstand very cold temperatures. They are very tough and will thrive if planted in well-drained soil.
However, like all clematis, they are thirsty plants so need to be well watered in warm and dry periods.
Another hardy variety is Clematis montana, which is reliable and vigorous.
Sign up to the Homes & Gardens newsletter
Decor Ideas. Project Inspiration. Expert Advice. Delivered to your inbox.
Rachel is senior content editor, and writes and commissions gardening content for homesandgardens.com, Homes & Gardens magazine, and its sister titles Period Living Magazine and Country Homes & Interiors. She has written for lifestyle magazines for many years, with a particular focus on gardening, historic houses and arts and crafts, but started out her journalism career in BBC radio, where she enjoyed reporting on and writing programme scripts for all manner of stories. Rachel then moved into regional lifestyle magazines, where the topics she wrote about, and people she interviewed, were as varied and eclectic as they were on radio. Always harboring a passion for homes and gardens, she jumped at the opportunity to work on The English Home and The English Garden magazines for a number of years, before joining the Period Living team, then the wider Homes & Gardens team, specializing in gardens.