Pergola roof ideas – 10 looks for every style of garden
Be inspired by these pergola roof ideas to create a shaded, welcoming space that's perfect for entertaining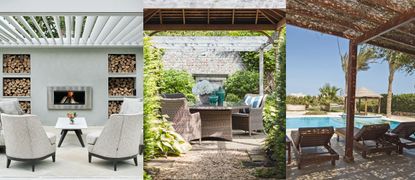 (Image credit: Future / Davide Lovatti/Oka/Getty Images)
Pergola roof ideas have the power to transform the way in which you use your backyard. Offering protection from the sun during heatwaves and the rain during downpours, they enable you to enjoy your backyard in all weathers, making it a workable extension of your home.
There are many benefits to incorporating pergola ideas into your garden. Not only do they provide garden privacy ideas, but they also offer the perfect spot for hosting garden parties or relaxing in beside the pool.
'To keep your outdoor space in use, even on drizzly days, you should consider creating a sheltered seating area. Pergolas effortlessly extend your living space and offer protection from the elements, so you can cozy up and enjoy the fresh air without succumbing to weather,' says Patrick Bridge, chief operations officer at Harbour Lifestyle. 'For a romantic, bohemian vibe, add lanterns, twinkly lights, and blankets – elevating your evening plans without actually leaving your home!'
Pergola roof ideas
When considering pergola roof ideas there are two key factors to consider. The first is that it must be durable. A pergola roof will be exposed to the extremes of the weather and as such needs to be able to withstand the temperature fluctuations. Furthermore, once installed, it will be a challenge to replace, therefore you'll need a long lasting product. Secondly, your pergola roof ideas need to be attractive. They need to suit both the pergola beneath and your garden as a whole, so choose materials that complement the rest of your scheme.
1. Add a solid roof for a classic and reliable pergola roof
The main reason to add a solid roof to a pergola is the garden shade that it brings. Add a table and chairs and your previously exposed pergola can become the perfect spot for al fresco dining, protected from the heat of the sun. Equally, if you add patio furniture ideas, you can create a private space where in which you can relax with a good book and a cocktail.
As well as these lifestyle benefits, pergola roof ideas also offer a practical element. 'Depending on what materials your pergola is made of, you will periodically have to do some upkeep. This may include re-staining a wood pergola or maintaining paint. With a roof, these tasks do not need to be done quite as often, which means you save both time and money,' explains New-York garden designer Thomas Brown.
'Outdoor furniture is also very prone to wear and tear from the elements and typically needs to be replaced far more often than indoor furniture. Outdoor flooring types can also be impacted by the weather. Wood decking ideas, for example, needs to be regularly stained to maintain its aesthetic. With a pergola roof, your outdoor furniture and flooring are mostly protected from those elements and will last much longer as a result. This will save you money in the long run, making your pergola roof a good investment.'
2. Channel cottage aesthetics with a thatched pergola roof
When researching pergola ideas for shade, take inspiration from traditional craftsmanship by opting for a classic thatched pergola roof. This timeless cabana design would blend seamlessly into cottage garden ideas but would equally make an elegant addition to tropical garden ideas.
Featuring a Cape Reed thatched roof, this beautiful pergola from Malvern Garden Buildings has the benefit of offering protection from the weather while its open sides allow for panoramic views.
3. Add natural shade with a living pergola roof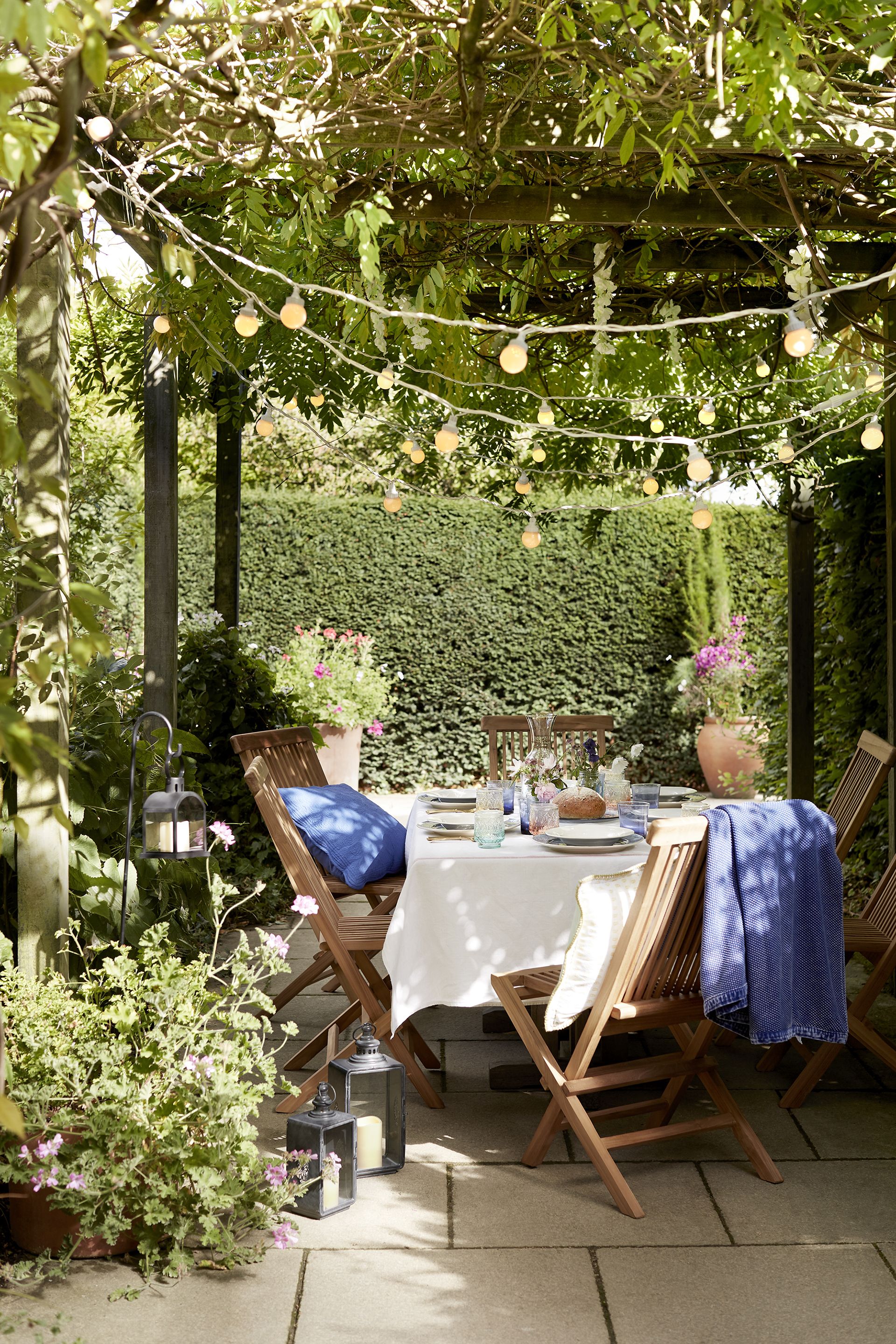 Relaxing with a glass of wine under a cascade of beautiful blooms is one of the most idyllic ways to spend a summer afternoon and a pergola is the easiest way to achieve this dream.
Typically, most pergola roofs are characterized by an open frame and thick beams installed at regular intervals. 'If you're after a rustic feel, you can incorporate crawling vines and other plants to fill in the spaces and act as a sunlight shield. However, wood requires maintenance or it will rot or break easily,' advises Giovanni Scippo, director at 3D Lines Architectural Visualisation.
By growing climbing plants or fast-growing flowering vines up the supports and training them over the pergola roof will not only provide shelter but will also create a pretty finishing touch. If you're after a year-round living pergola roof be sure to pick one of the best evergreen climbers.
Adding a living roof to your pergola is a particularly great fit for country garden ideas as its naturalistic appearance will help your pergola to fit into the scheme. Pair a living pergola roof with other vertical garden ideas to maximize the planting space in your plot.
4. Add a louvered roof for total control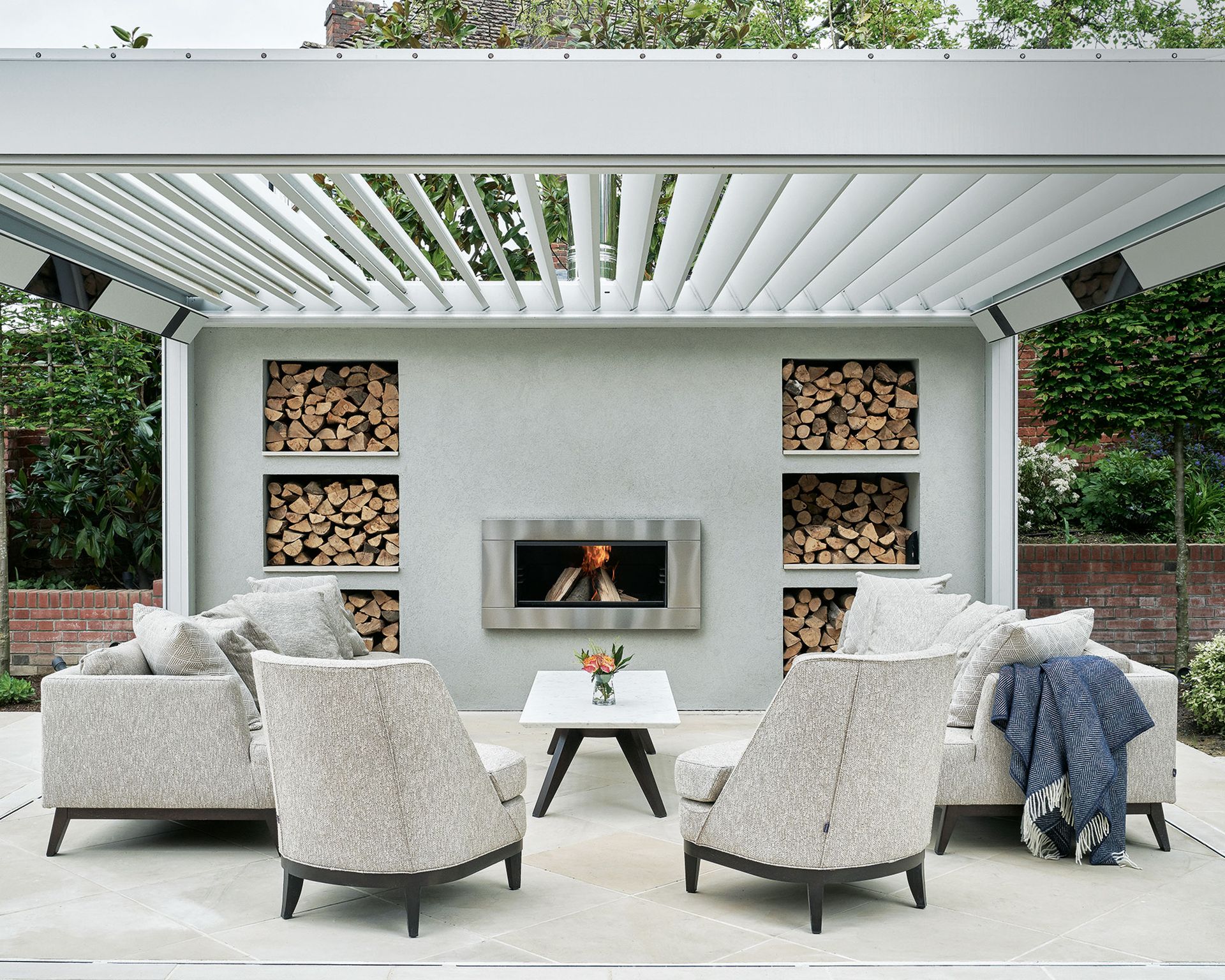 One of the more elegant pergola roof ideas, a louvred roofing system brings sophistication and practicality in equal measure. 'A highly durable option for pergola roofs, louvred blinds work on a motorized system that allows you to easily control when and how it opens and closes,' explains Giovanni Scippo.
While louvred pergola roof ideas may look out of place on a more rustic pergola design, when paired with a modern, monochromatic pergola, they offer a sleek finish that gives you total control over the light and shade.
5. Rattan for a beach feel
If you're looking for pergola roof ideas to add to your pool landscaping ideas, then be inspired by resort living and fit a reeded roof to your pergola. A characterful choice of roofing material, reed roofs are typically sold in rolls which can then be unfurled and attached to the pergola. When used as pergola roof ideas, reeds offer dapple shade and create a laid-back look that is perfect for lounging poolside.
While not as hardwearing as solid wood, they can be expected to last for a few years before needing replacing, but since it is a cost-effective option that is easy to install, this is not as prohibitive as it might be with other pergola roof ideas.
6. Extend pergola roof sides to turn a pergola into a mini-room
Adding a roof to your pergola creates a private, peaceful sanctuary in your garden that is ideal for outdoor living. Take the look to the next level by continuing your solid roof to cover two perpendicular walls. This will create a room-like feel which, when paired with patio furniture and outdoor lighting ideas, is useable at all times of the day. Add a few blankets and cushions and its the perfect space for an after-dinner drink with friends.
'To truly embrace an al fresco lifestyle, treat your outdoor space in the same way you would your interior. Think about your concept, furniture and accessories to create a space that feels like a room,' says Scarlett Blakey, creative partner of Ophelia Blake Interior Design. 'Add some height to your landscape and create a feature by building a pergola, which can be used as a spacious outdoor dining area. Use this as an opportunity to change your floor finishes to tile, and dress it up with festoon lighting.'
7. Consider an aluminum pergola roof in zones with changeable weather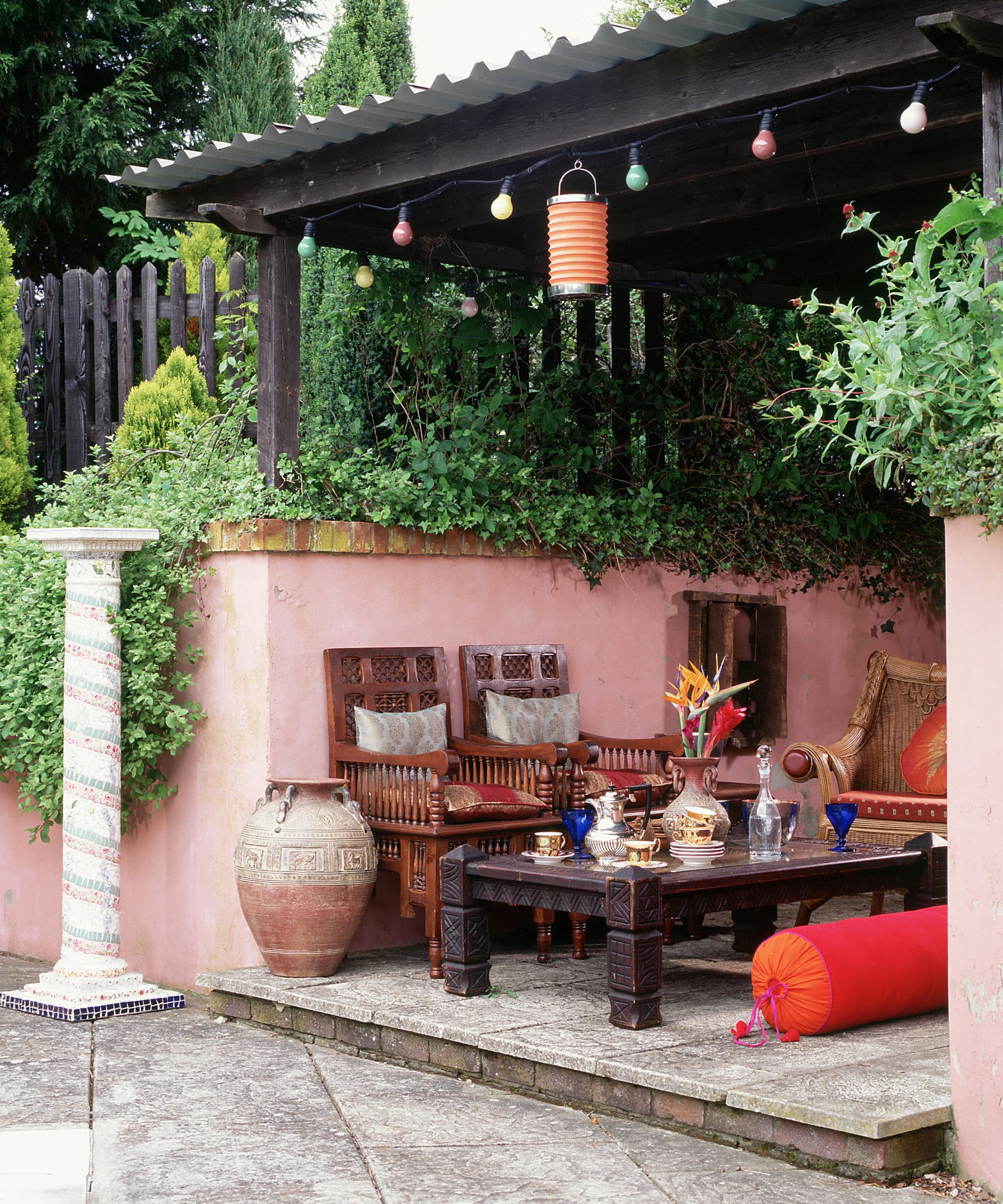 When you live in a part of the world that is subject to changeable weathers, this needs to be factor into your garden design. If you always need to consider contingency plans for garden parties or family barbecues, then you would benefit from adding a corrugated roof to your pergola.
Adding these types of pergola roof ideas can make the space feel industrial, so be sure to balance the design with paint and decor. Here, dark struts and roof help it to be disguised into the planting and garden scheme, while bright pink walls draw the eye and brighten the space. Paired with characterful, antique furniture it strikes the perfect balance between indoor and outdoor living.
8. Choose bamboo for poolside pergola roof ideas
Pergolas are the perfect partner to pool ideas, so when choosing pergola roof ideas, let the space inspire you to create a slice of paradise in your own backyard.
When set against the gently rippling water, natural materials, such as bamboo, really come into their own and as such they are a great choice. Here, bamboo adds a warmth to the space, bringing a hint of rustic charm, and, because it's so water-resistant, it makes for a durable choice, too.
9. Create a temporary pergola with roof for impromptu garden parties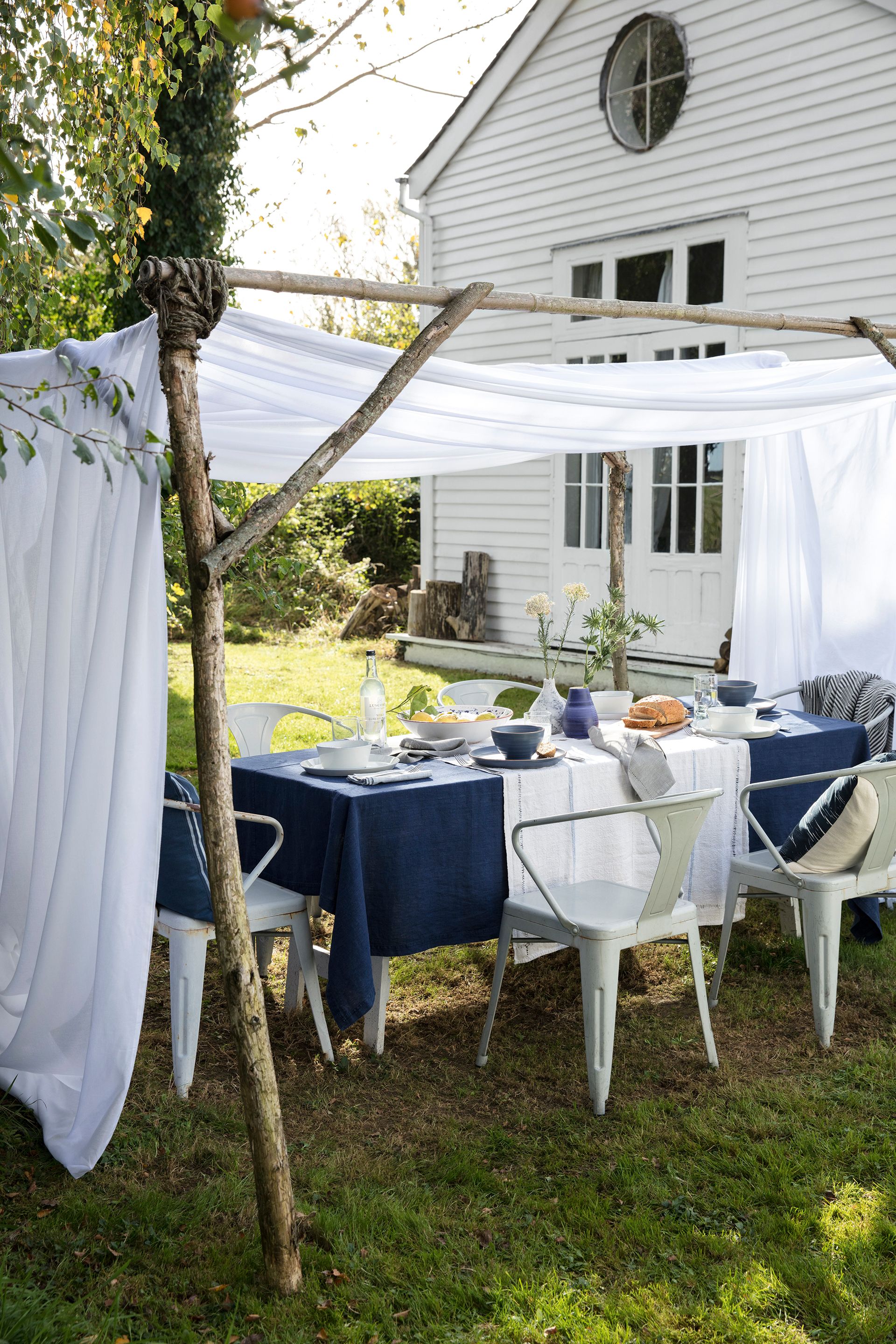 Of course, it's worth remembering that pergola roof ideas are not just limited to permanent structures. If you're feeling creative, why not construct your own rustic wooden pergola draped with voile to create a whimsical setting for coastal garden party ideas? Complete the look by drawing on outdoor dining ideas, adding tableware in a nautical colorway, with deep navy and crisp white tableware and linens.
10. Opt for a black roof to absorb light and heat
Pergola roof ideas don't have to be solid constructions. If you live in an area that has reliably good weather through the summer months, then you can embrace the sunshine and opt for an open pergola.
White stone flooring keeps this patio area cool underfoot, while the black roof absorbs the heat, making it slightly cooler when relaxing on the sofas below. Opting for a black roof also creates a modern contrast to the white pillars, curating a sophisticated outdoor living space.
What is the best roof to put on a pergola?
A wooden roof is the best roof to put on a pergola in most cases. Durable once treated, it offers a plethora of different affordable and aesthetically pleasing pergola roof ideas. Whether you opt for solid wood, shingles or reeds, you can opt for the roof sets the right tone for your space.
There are also other materials that are suitable: from the modern wooden louvred roof through to versatile metal designs, each material bringing with it a unique set of benefits and drawbacks.
'A combination of materials often works best because one quality can compensate for what is lacking in another material. For example, wood provides shade but doesn't protect you from insects or the sun,' says Ann Doughan, CEO of Patioland. 'On the other hand, aluminum is more aesthetically pleasing but doesn't offer much shade. By combining these elements, a pergola can be shaded from sun and insects and provide some insulation quality for events during cooler seasons of the year.'
Can you put a roof over a pergola?
Yes, you can put a roof on a pergola. Adding a roof to your pergola transforms it into a highly usable space no matter the weather. It also provides valuable protection against the heat of the day.
'The benefits of having a pergola with a roof include being protected by the
weather and the provision of consistent shade throughout the space below it. This
would also allow you to include other features like an outdoor TV to a
space. However, in some cases you will require permits for a structure with
a permanent roof where other cases you may not need to with a roofless
pergola,' explains Mike Pletz, owner of Ever After Landscaping.
Sign up to the Homes & Gardens newsletter
Decor Ideas. Project Inspiration. Expert Advice. Delivered to your inbox.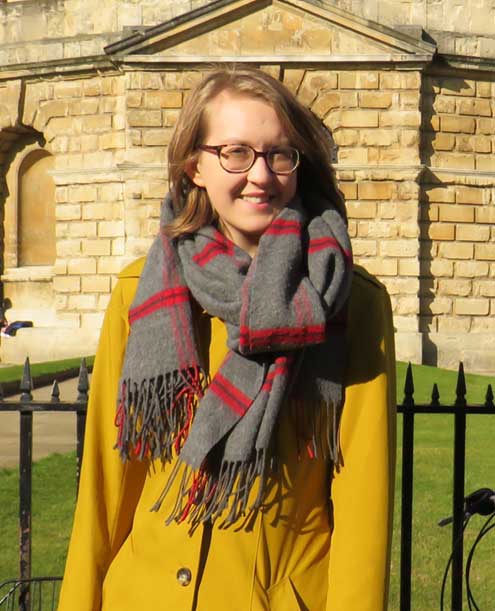 Content Editor and Sub-editor
Having graduated with a first class degree in English Literature, Holly started her career as a features writer and sub-editor at Period Living magazine, Homes & Gardens' sister title. Working on Period Living brought with it insight into the complexities of owning and caring for period homes, from interior decorating through to choosing the right windows and the challenges of extending. This has led to a passion for traditional interiors, particularly the country-look. Writing for the Homes & Gardens website as a content editor, alongside regular features for Period Living and Country Homes & Interiors magazines, has enabled her to broaden her writing to incorporate her interests in gardening, wildlife and nature.