How to prune camellias – and the best time of the year to do so
Learn how to prune camellias to keep them healthy and maximize their flower power – it's easy when you know how say our gardening experts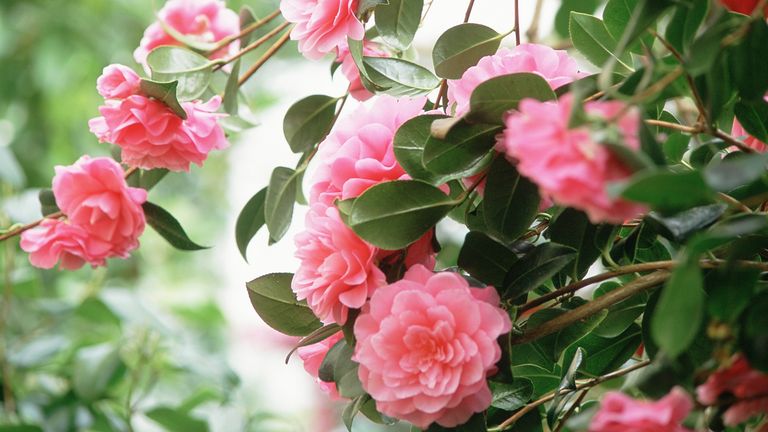 (Image credit: Michelle Garrett)
If you're giving space to any plant in your garden, you need to care for it correctly. Camellias are no different in that respect from any other back yard ideas. If you're growing camellias you need to know how to care for and, specifically, how to prune camellias.
Camellias are glossy leaved, evergreen shrubs prized for their single, semi-double or double flowers in hues ranging from purest white, through pale pink to the deepest red. The popular spring-flowering garden plants are native to East Asia and belong to the tea family, Theaceae. Indeed, it's the leaves and buds of Camellia sinensis that give us our daily brew.
We're not talking about tea here, but the ornamental camellia varieties that are often chosen to provide spring color in our gardens, back yards and flower bed ideas.
Camellias are a great choice if you're thinking about plants for containers, and they can also be planted directly in the garden. Their native growing conditions are in part-shady woodland, so avoid hot, sunny sites and give them protection from wind, frost and morning sun that can damage the flower buds after a frost.
Camellias also need acid soil or ericaceous compost – they'd have this in their natural growing conditions. They will not survive in an alkaline soil, the leaves will turn yellow and eventually the plant will fail. So if you're planting a new camellia in your garden or in a pot, you will need to factor in adding ericaceous compost or leaf mould around the plant.
In this clip from Gardeners' World TV gardener Monty Don plants a camellia and says it's important to keep it well watered in summer when the buds are forming, and to add a generous mulch of bracken, pine bark, or bracken in winter.
How to prune camellias to keep them tidy
You shouldn't need to prune a young camellia plant until it's around 4 years old, other than keeping broken or diseased branches in check. It's best to wait until it is well established with the right growing conditions before you decide whether or not it needs to be pruned.
When pruning any plant, ensure that the blade you're using is sharp and clean. It's a good idea to sterilize your secateurs if they have been previously used to cut back a diseased plant.
Jen Stark, master gardener and founder of Happy DIY Home says 'Camellias can benefit from you pruning them every few years to stimulate healthy growth and thin out the more twiggy branches. You should prune them in the late spring months (May or June) to allow sunlight to get to the shrub's interior.'
This late-spring prune to tidy the plant and reinvigorate it will be after the camellia has finished flowering. If you can, check the pruning instructions for your specific variety of camellia before going in with the blade. If you don't know the variety, take a good look at its natural growth habit and prune accordingly.
How much do you need to prune?
How much you cut off the branches depends on the desired effect.
To encourage more growth and produce a taller, bushier shrub, trim 1 inch (2.5cm) off the ends of the branches.
To keep the camellia roughly at its existing height and spread, cut up to 3 inches (10cm) off the length of the branches
To reshape a very overgrown camellia you will need to prune it in two stages and sacrifice its flowers for the following season. Start with a drastic prune in late winter or early spring, reducing it by a third to a half of its former size - or more in extreme cases. As new shoots start to appear in the growing season you will prune again to thin out the bushy new growth from the centre of the plant to encourage fewer, but stronger new stems.
How to prune camellias to prevent disease
According to The American Camellia Society, when pruning camellias it's important to prune limbs 'flush to the feeder branches without leaving nubs. These leftover branches could eventually provide host for disease to enter your camellias.'
To help prevent disease and pests, you need to know how to prune camellias to open up the centre of the plant.
'Thin out some of the branches in the interior of the plant to improve airflow and sunlight penetration,' adds Jen Stark. 'Look at the inner branches and remove weak or small ones, making sure they're not the main branches in the plant.'
Pol Bishop of Fantastic Gardenersalso advises clearing all the stems from the lower 15-25cm (depending on the plant's size) of the main trunk to prevent any small stems from touching the ground and infecting the plant with diseases. He adds that a fully grown camellia plant will tolerate drastic pruning without any long-term effects
As for pruning technique, Tammy Sons, owner of Tennessee Wholesale Nursery says it's best to cut to a leaf that is pointing in the direction that you want the branch to grow, keeping in mind the overall shape and look of the plant. She says: 'You can also choose to remove branches completely that are not growing in the right direction. It's best to prune a camellia over time – each year cutting back until you reach a shape and size you are happy with.'
Above all, bear in mind that camellias are strong plants. They usually bounce back well, even after a severe pruning – you just might reduce the number of blooms the following season, that's all.
I'm the homes editor of Period Living magazine and an experienced writer on interiors and gardens. I've also moved house quite a few times – totting up 10 homes in 12 years during a particularly nomadic time in my life. I like to think that makes me quite the homes expert, or at least very experienced and with a clear idea of what I like and don't like in a home.
I love visiting and writing about old houses for Homes & Gardens' sister magazine Period Living and working with photographers to capture all kinds of historic properties. It's inspiring to talk to people about their traditional homes and to hear the stories behind their furnishing and decorating choices. And by the time I've finished an interview with a homeowner I've always got a handful of new ideas to try in my own house, as well as plenty of good stories for the magazine. It's the perfect work-life balance.