English garden ideas – 13 design tips to get a classic or more informal look
These inspirational English garden ideas will help you achieve your dream outdoor space filled with traditional or relaxed charm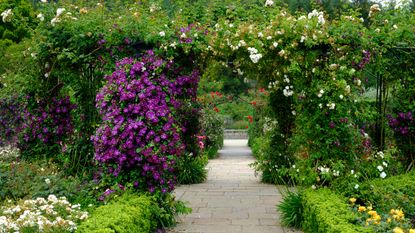 (Image credit: Getty Images)
Sign up to the Homes & Gardens newsletter
Decor Ideas. Project Inspiration. Expert Advice. Delivered to your inbox.
Thank you for signing up to Homes & Gardens. You will receive a verification email shortly.
There was a problem. Please refresh the page and try again.
English garden ideas have evolved from the classic combination of smartly clipped hedges, romantic meandering paths and lushly planted drifts of flowers that's known around the world, to embrace a more informal style, too.
The traditional English garden, perhaps with a whimsical folly or captivating piece of sculpture dotted here and there to catch the eye, creates a look that's much admired and copied. But there is also a new style developing that embraces a looser and more natural style of planting.
These most romantic of garden ideas don't have to be on a large scale either, as they can just as easily be incorporated into a small space.
English garden ideas
Traditional English garden ideas contrast soft and riotous planting in flower bed ideas with formal clipped hedges and decorative topiary; there's usually a stretch of lush lawn and a pretty water feature, too.
There is also a more contemporary new English garden style as gardeners look to sustainable garden ideas.
'The aesthetic of the English garden is changing to a softer and looser look, not just in response to climate change, but creating an oasis for wildlife and a nectar rich space for biodiversity. There has been a definite move to a more naturalistic, informal style that is eminently adaptable to anything,' explains garden designer Dan Pearson who has created a guide to naturalistic garden design for Create Academy.
1. Plant for extremes in weather
​​'Our planting palettes have had to adapt to increases in weather extremes – very cold and dry springs, hot Junes and lots of rain in the late summer. We now see plants which we previously wouldn't have considered for English gardens ideas being a regular feature. Our selection of plants include olive to bay trees, agapanthus to astrantias, all of which are suitable for the ever changing climate,' says award-winning garden designer and co-founder of Soto Gardens, Will Williams.
'As the instances of weather extremes increase, especially within cities, planting palettes have had to adapt. The rising summer heat lends itself to more drought tolerant planting in some areas,' explains Will.
'Use better all rounders, such as euphorbias, which, as long as we give them good drainage, can survive wet winters and adapt to dry conditions. Plants adapt quickly to climate change, so we will start to see more of those that can cope with the conditions,' says Dan Pearson.
2. Focus on diversity in planting
'Diversity in planting encourages wildlife. Traditional English garden ideas of lawn, box hedging and roses don't create a great deal of diversity in a garden, whereas many gardens now, by introducing a broad range of plants, attract a wide range of wildlife,' explains David Ward, garden and nursery director at the internationally renowned Beth Chatto's Garden and Nursery .
Wildlife garden ideas are becoming more of a priority for many gardeners one of the best ways to attract many birds, bees and butterflies into your garden is by including a healthy mix of wildlife friendly plants.
3. Paint pictures with English garden plants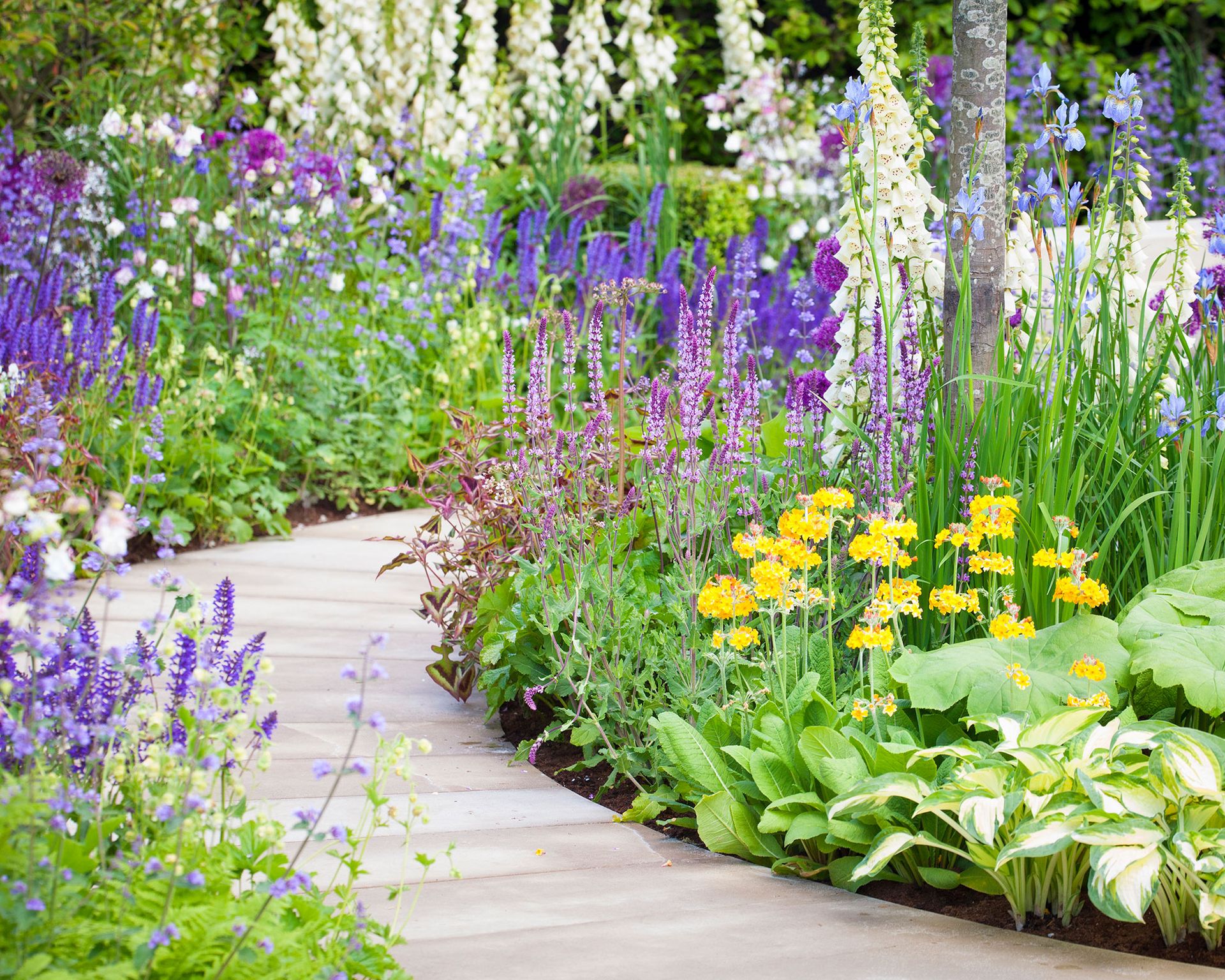 When it comes to essentials like choosing the right plants, look to legendary English garden style icons William Robertson, who wrote the definitive guide The English Flower Garden, and Gertrude Jekyll, who was instrumental in naturalistic planting designs with swathes of perennials known as 'drifts' that look like watercolor paintings.
Cottage garden ideas such as pretty perennials are the key players in English garden planting. A perennial is any plant that dies down at the end of summer and springs back up again the following year. They are generally easy to look after as long as you cut back any faded stems to keep them coming.
Deft use of color in the way an artist builds it in a painting is another key theme. To create a painterly effect choose washes of color with repeat flowering plants like lavender, echinacea, hardy geraniums, foxgloves, hollyhocks and daisies, as well as old-fashioned varieties of peonies and roses.
Plant successionally so that as one variety comes to an end another one takes its place to keep borders looking full.
Think seasonally by adding bulbs for spring and fall color, and ornamental grasses for a mix of golds in fall, as well as keeping the evergreen 'bones' going for year round color and structure.
4. Get the flower borders right
Robinson and Jekyll were key in helping to define the planting aesthetic for borders that still forms the blueprint for English garden design today. They led the movement away from the structured planting favored by Victorians and instead combined perennials in deep borders to create naturalistic looking long-lasting displays.
More recently there's been a fashion among English garden designers to add tall architectural plants and ornamental grasses to the mix.
Repetition of plants in groups of three creates rhythm and a sense of balance. In a large border, different plants are used while in smaller borders, one or two long-lasting, structural plants work well.
Layering of cottage garden plants is a key feature of English gardens. Trees or tall shrubs are used as the upper layer, while mid-height and low-growing shrubs mix with perennials and ornamental grasses to form the main planting. At the front paths are softened with edging plants like Alchemilla mollis that spill over.
5. Introduce a meandering path
Sinuous garden path ideas that wind past borders, with low foliage billowing over to soften the edges add an enchanting touch to English gardens, especially if you can't quite see where the path leads to. Gravel paths are traditional English garden ideas, the perfect accompaniment to soft waves of planting.
In English garden design, paths and walkways are the means of progression from one distinct area to the next, helping to define different spaces. There is a naturalistic feel to the materials used, such as gravel, reclaimed stone or brick. Sometimes the path is simply mown grass.
Bold geometrical paved paths are also occasionally used, ideally using local stone to fit in with the local landscape, as well as providing a more sustainable option than imported materials.
6. Add an architectural feature or folly
Appealing garden structures and yard art ideas are a hallmark of English garden ideas and help to reinforce the geometrical aspects of the space. They don't have to be grand. Even if your garden is on the smaller side, you can still add a focal point with a gazebo, pavilion or pergola idea.
To succeed as a design feature aim to integrate the structure into the rest of the garden so it looks cohesive. Garden shade ideas such as these have a practical use too as a place for relaxing, entertaining or offering a retreat from the sun, as well as providing a framework for flowering climbers such as roses, clematis and vines to scramble over to create that wild romping look that's key to this design aesthetic.
If space is tight a simple arbor will add charm and a vital design element that completes the overall look of your English garden. Whether festooned with climbers or left bare, they provide a simple architectural detail that works well. If there really isn't enough room for any of these options, an English-inspired whimsical dovecote will work just as well as a real conversation piece.
7. Welcome a water feature
Cool and classic garden pond ideas are an essential design element in English garden ideas. If space allows opt for a traditional pond edged in reclaimed flagstones for a weathered-in 'been there for years' look. Otherwise, a water feature idea, such as a small fountain, water tank or ceramic bowl also works well.
The trickle of water adds sensory pleasure to your garden, introducing a reflective quality to the space. As well as the tranquil associations you get from the sound of trickling water, it will add a sense of movement as light and reflections dance on the surface of the water.
If you're aiming for a romantic space, choose a water feature that adds to this effect. A vintage water tank looks great and is good for attracting wildlife, too. Go for something sourced from an architectural salvage yard in materials like verdigris or ironwork for an authentic looking addition to your garden.
8. Choose clipped hedges and topiary
Formal clipped green hedges and whimsical topiary offer a visual means of defining boundaries and delineating different areas of the garden that's also easy on the eye. It also makes the perfect backdrop for flowers.
Living sculptures – as topiary is also known – date back to Tudor times when knot gardens created with clipped plants became popular. Then geometric parterre gardens featuring low clipped greenery featured widely as English garden ideas. Later the influential Arts & Crafts movement picked up the theme again by using topiary to create a sense of enclosure in 'garden rooms'.
Box was traditionally the most versatile species for snipping into topiary to create the English look. 'English gardens used to be underpinned by box, but due to box blight we are not using it now, which has contributed to the change in their aesthetic. Instead, I might use euonymus or yew. There is always going to be something to plug the gap, and that is the beauty of an informal garden style as you can readily fill a space with an alternative,' explains Dan Pearson.
Privet and Japanese holly also work well. For fairly simple, rounded forms try holly, bay, myrtle, laurel and pittosporum. For low mounds try naturally small plants, such as Euonymus fortunei and hebe. For a less structured look that's still smart, flank paths with low lavender hedges.
9. Pick a tasteful garden ornament
Simple ornaments such as antique urns, stone bird baths or sundials will fit comfortably into the design aesthetic of English garden ideas. Arched Gothic 'windows' (outdoor mirrors) also add an interesting element and use reflections to create the illusion of space where there is none.
Fluted or scalloped containers in iron or stone with an aged patina will also work well to add an Edwardian vibe, and look authentic grouped together around steps, doorways and water features to create a potted display.
Avoid new off the shelf statuary and garden figures which can seem out of place in English gardens if they're new and too perfect looking.
10. Grow rambling roses and other climbers
No list of English garden ideas is complete without rampant climbers, especially climbing roses, scrambling over arbors, pergola ideas and trellises. Interweave your planting with other climbers, like clematis and honeysuckle, to create a soft romantic look.
Choose a variety of roses, like 'Madame Alfred Carrière', a favorite of renowned English author and garden designer Vita Sackville-West who featured it in her famous garden at Sissinghurst and planted many other climbers to cover the walls there too.
Keep the color coming by extending the season and adding Virginia creeper into your planting mix for a stunning fall show.
11. Linger on the lawn
Choose the right garden bench and it will add a lovely detail that sounds all the right notes if you want to recreate classic English garden ideas. After all, you will need somewhere to linger to get close up to all your gorgeous planting.
Choose a timber style for a traditional touch. Wrought ironwork is also a good fit for English garden style. Site your bench on some lush cushiony lawn. Yours might not be a rolling one that stretches as far as the eye can see but all you need is a patch of green to get the right feel.
The key to keeping your lawn looking good is regular maintenance. As summer rolls on learn how to fertilize a lawn and how to aerate a lawn. You should see an improvement within a week and your lawn will soon be worthy of an English garden.
12. Leave the lawn to grow
There is also a new look to lawns in an English Garden. 'There is a move away from pristine lawns. The 'no mow May' movement is brilliant as it gets everyone to look at what we require of lawns. If you don't mow them, you start to see a peppering of daisies and clover, which provide for a host of wildlife,' says Dan Pearson.
'Once gardeners have keyed into the idea of gardens as environments to increase biodiversity then they become more forgiving and allow some areas of lawn to grow into a wildflower meadow,' adds Dan.
13. Use the right materials
Whether it's old stone walls, reclaimed bricks or wooden trellises and fencing, the materials that you choose for your English garden should look like they have been there for years.
Use materials that complement the house too, preferably ones that are local and reclaimed. Aim for a weathered look to add character. Locally sourced stone, brick and gravel are favorites, as well as timber and metal that will rust to add an interesting patina.
This helps the garden to fit with the house and landscape around it so the whole English garden ideas look is pulled together for a natural fit.
What do you put in an English garden?
Include pretty flower borders with nostalgic old fashioned varieties, some clipped evergreens such as yew hedging for a formal touch, and as many romantic rambling roses and other climbers as you can fit in, and you will have covered all the main planting design points for English garden ideas.
Also look to include plants and flowers that can cope with weather extremes, so look to include drought tolerant plants and best performers.
Obviously it depends on the season and your preferred color scheme, as well as right plant for the right place but choose from the following list and you will easily create the English garden look you're after.
Choose a mix of these flowers and plants to create an English garden look in your borders:
Hollyhocks
Delphiniums
Peonies
Roses
Hydrangeas,
Foxgloves 'Munstead White'
Lavender 'Hidcote' or 'Munstead'
Echinacea Purpurea (coneflower)
Astrantia 'Shaggy' and 'Gill Richardson'
Nigella damascena 'Miss Jekyll' (Love-in-a-Mist)
Bergenia cordifolia 'Purpurea'
Campanula lactiflora 'Prichard's Variety'
Phlox paniculata 'Blue Paradise'
Aquilegia 'Munstead White'
Oriental poppies interplanted with Gypsophila paniculata
Eryngium oliverianum
Euphorbia
Oenothera
Choose a mix of these leafy and evergreen plants to add the right foliage detail:
Hosta Sieboldiana
Heuchera hispida
Alchemilla mollis (lady's mantle)
Lychnis coronaria (also has magenta flowers)
Rosemary
Ornamental grasses such as Stipa tenuissima
Clipped evergreens such as yew, Ilex Crenata, euonymus
Add climbers to complete the look:
Roses ('Gertrude Jekyll', 'Madame Alfred Carrière' and 'Iceberg')
Honeysuckle (Lonicera periclymenum 'Graham Thomas')
Star jasmine (Trachelospermum jasminoides)
Clematis ('Jackmanii' and 'Montana')
How do I make my yard look like an English garden?
Choose old fashioned plants and adopt a relaxed approach to how you plant them. Think loose brush strokes of color.
Love your lawn and treat it kindly to green it up, or allow it to grow into a meadow in places
Forget straight paths. Instead let your paths wind and meander in an informal way.
Be sure to add one or two clipped evergreens. This can translate simply as a lollipop bay tree in a pot or keeping on top of an evergreen hedge by making sure it's smartly pruned.
Choose ornaments carefully and stick with those that look like they would be at home in the garden of an English country house.
Add freestanding structures like pergolas and arbors but think carefully when it comes to choosing materials and design to make sure they fit the look.
Add a water feature – it really is the perfect finishing touch!
How do you lay out an English garden?
An English garden lay out is typically relaxed, whimsical and meandering. A lawn will have an organic shape, overlapped by overflowing borders of flowers, paths will snake through the garden, perhaps past a curvaceous pond or water feature in a reclaimed iron container. Planting focusses on traditional blooms that will spill over containers, picket fences, pergolas and trellises.
Sign up to the Homes & Gardens newsletter
Decor Ideas. Project Inspiration. Expert Advice. Delivered to your inbox.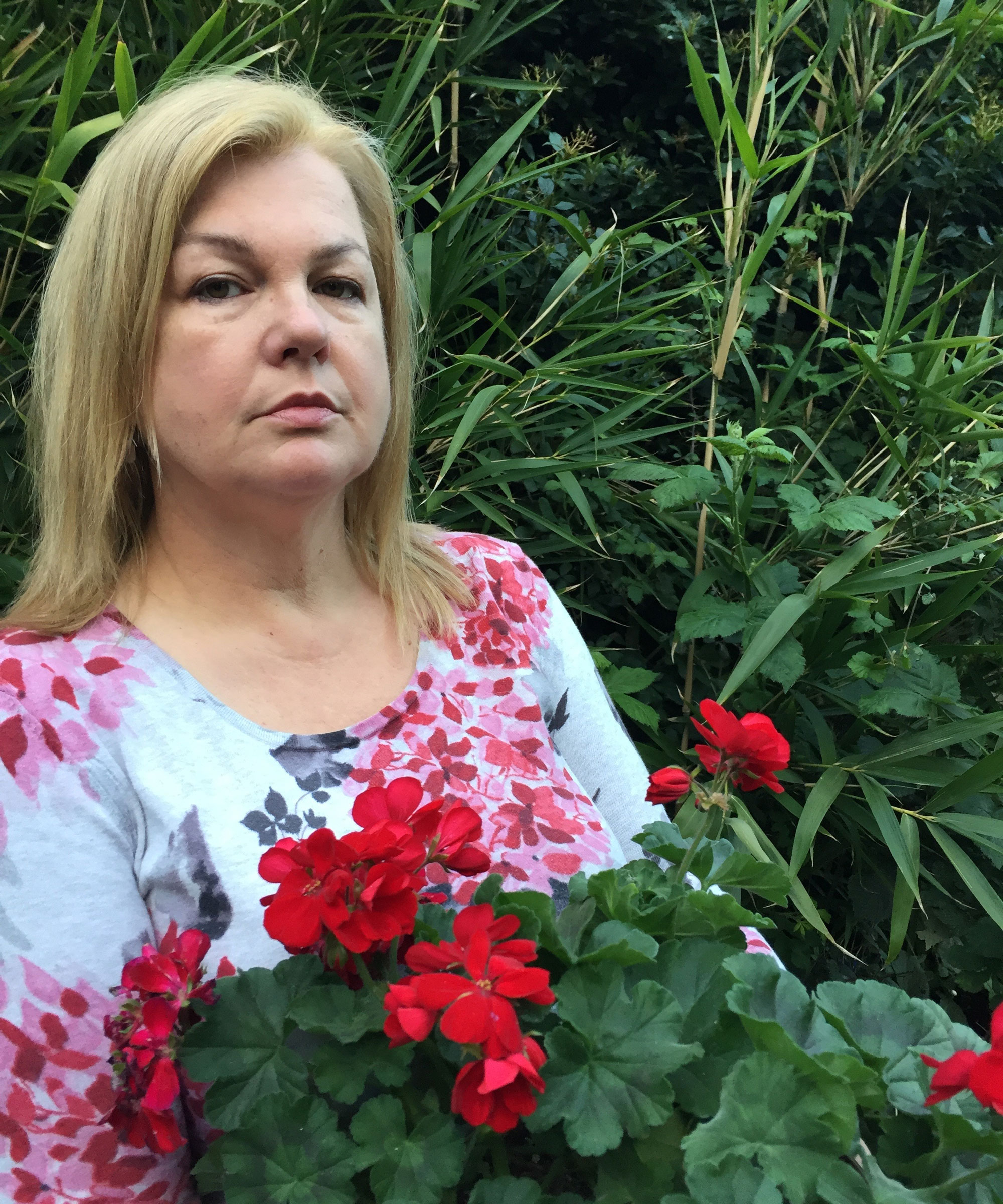 Lifestyle journalist Sarah Wilson has been writing about gardens since 2015. As well as homesandgardens.com she's written for Gardeningetc.com, Livingetc.com, Easy Gardens and Modern Gardens magazines. Her first job on glossy magazines was at Elle, during which time a visit to the legendary La Colombe d'Or in St-Paul-de-Vence led to an interest in all things gardening. Later as lifestyle editor at Country Homes & Interiors magazine the real pull was the run of captivating country gardens that were featured.
With contributions from