How to grow foxgloves
Find out how to grow foxgloves – the ultimate cottage garden flower that will bring height and color to your borders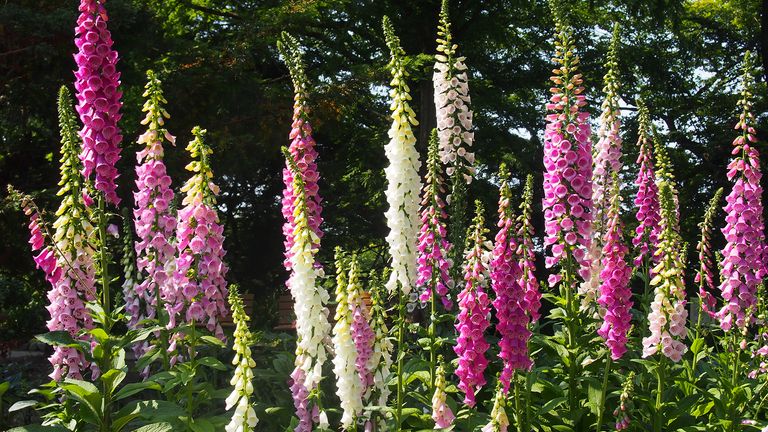 (Image credit: Getty Images)
Are you wondering how to grow foxgloves? A common sight in hedgerows and woodlands, foxgloves (Digitalis) offer beautiful spires of color with their long stems covered in bell-shaped flowers.
They are a stalwart of the cottage garden and are great for bringing color and height to your flower bed ideas. Foxgloves make fabulous cut flowers, plus, are a favorite flower of bees, providing a valuable source of nectar.
The most common are Digitalis Purpurea with their pinky purple flowers, but there are all sorts of varieties you can grow from seed, from the white Digitalis purpurea 'Alba' to the soft peachy pink of 'Sutton's Apricot'.
However, be very careful, foxgloves are poisonous if consumed, so do not plant in reach of pets or children. It is a good idea to wear gloves and wash your hands after handling, too.
Where is the best place to plant foxgloves?
Foxgloves are native to woodland areas and this is worth bearing in mind when thinking of where to plant them. While they can be grown in full sun they grow best in light shade in rich, moist soil.
Foxgloves work particularly well in mixed cottage-style borders. In his Gardeners' World programme, gardening expert Monty Don explains how, 'they are a perfect plant for this style of gardening, because they have a looseness, they appear all over the countryside and are not exotic or fancy.'
'I think of cottage gardening as having a softness of color… but there are not hard and fast rules, do what feels right, do what feels spontaneous, make it up as you go along,' he continues.
How to grow foxgloves
When growing foxgloves you need to first plan ahead as they are biennial plants which means they will not flower in the first year, but in the following year. In the summer of the first year they put on leaf and root growth, they then remain dormant over winter, before bolting in early spring and flowering in early summer. If you want flowers to appear every year, you will need to plant foxgloves in two consecutive years.
The great thing about foxgloves, as with many biennial flowers, such as honesty, campions and sweet rocket, is that they flower early in the summer, from late May and June through to July, filling the gap between the spring bulbs and the summer annuals.
In his excellent book The Complete Gardener, Monty Don says, 'the great advantage of biennials over annuals is that they are hardy enough to withstand a cold winter and quickly produce flowers in spring without having to wait for the plant to grow first.'
How to grow foxgloves from seed
Foxgloves are easy to grow from seed, plus growing from seed is cheaper and there is often a greater variety to choose from. Foxgloves are best sown in May to June; this gives them a good growing period throughout the summer and a chance to develop into healthy specimens for planting out in autumn.
They can be grown in seed trays, either under cover in a greenhouse from February to April, or outside from May to June. Alternatively they can be sown directly into a bed with soil raked to a fine tilth from May to June.
If sowing in trays, sprinkle seed over moist compost but do not cover as they need light to germinate. Leave in a sunny but sheltered position and keep well watered. Germination should occur within 14 - 21 days. You can place a sheet of glass over the seed tray to maintain humidity.
When the seedlings begin to get crowded they can be 'pricked out' and individually planted into 8cm pots. If sown in beds, thin the seedlings out to 30cm apart.
In early autumn they can be planted out into the the position where they are to flower. Foxgloves often look effective planted in clumps, similarly to how they would grow in the wild.
Caring for foxgloves
Foxgloves require very little maintenance. Deadheading during flowering will encourage fresh blooms and removing the central flower spike in particular will encourage stronger side or 'prince' shoots.
Do foxgloves come back every year?
Most foxgloves are biennials or short lived perennials meaning they will flower for a couple of years but then die back. However there are some perennial varieties that will come back every year such as Digitalis Grandiflora.
Foxgloves readily set seed meaning you can easily grow a bed full of them after a couple of years. In fact, they are so easy to grow this way that Monty Don describes them as 'a welcome weed'.
Do foxgloves spread?
Yes, foxgloves readily set seed. If you don't want them spreading then the simple way to prevent this is to deadhead the flowers before they set seed, if you want more, then simply leave them to do their thing. Alternatively, you can collect the seeds for sowing in trays.
If seedlings do pop up you can also easily transplant them to other areas of the garden. 'We collect seedlings and move them to select spots around the garden, ideally with light shade like the Orchard Beds, although, like all biennials this must be done in the autumn or late winter at the latest,' reveals Monty Don in his book The Complete Gardener.
See: Front yard flower bed ideas – beautiful and low-maintenance ways to add florals to your garden
Do foxgloves like sun or shade?
Foxgloves are native to woodland areas and this is worth bearing in mind when thinking of where to plant them. While they can be grown in full sun, they grow best in partial shade.
Lover of all things vintage, floral and country, Pippa has been working in interiors media for 10 years. A graduate of Art History, and Style Editor for Period Living magazine, she is a nostalgic soul who is passionate about historic architecture and traditional craftsmanship. When she's writing about homes and gardens you'll find her pottering on her Gloucestershire allotment, Pippa's Plot, where she grows flowers for styling her own home and interiors shoots.