Planting foxgloves – when, where and how to grow foxgloves
Find out about planting foxgloves, beautiful cottage garden favorites that will bring height and color to your borders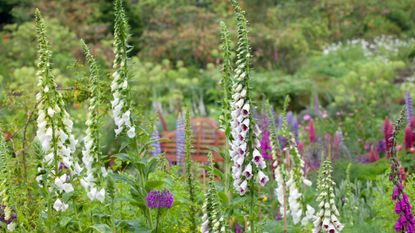 (Image credit: Leigh Clapp)
Planting foxgloves is easy to do – and once done, you can enjoy their eye-catching and colorful bell-shaped flowers on long spires filling garden beds and borders from late spring.
Foxgloves are a stalwart of the cottage garden style but will add color and height to any style of back yard and mixed border.
Their late spring or early summer appearance is appreciated for the naturalistic impact they add to any scene.
Some varieties will happily self-seed, forming self-perpetuating colonies of flowers, and are a favorite flower of bees, providing a valuable source of nectar, so add them to your flowerbed ideas to benefit both your garden and wildlife.
Planting foxgloves – which varieties to grow?
Foxgloves make a fabulous addition to flower beds, make excellent woodland plants, and are lovely as cut flowers to enjoy in indoor displays, too.
When you are considering how to grow foxgloves, the most common varieties are Digitalis Purpurea, or common foxglove, with their pink, purple white or apricot flowers.
However, with 24 species of foxgloves, and around 40 cultivars, there are more varieties to try than you may realize, with different colors, shapes and sizes to choose from.
'There is a foxglove for almost any part of your garden, from the woodland shade to the hot sunny border,' explain Mary and Terry Baker, who hold the British national collection of digitalis at their Botanic Nursery and Gardens (opens in new tab).
'Over the years, breeding has brought in some new varieties that flower for a longer period with stronger colors,' explains Rosy Hardy of Hardy's Cottage Garden Plants (opens in new tab).
Some foxgloves are biennials, whereas others are perennials, so check which variety you are planting.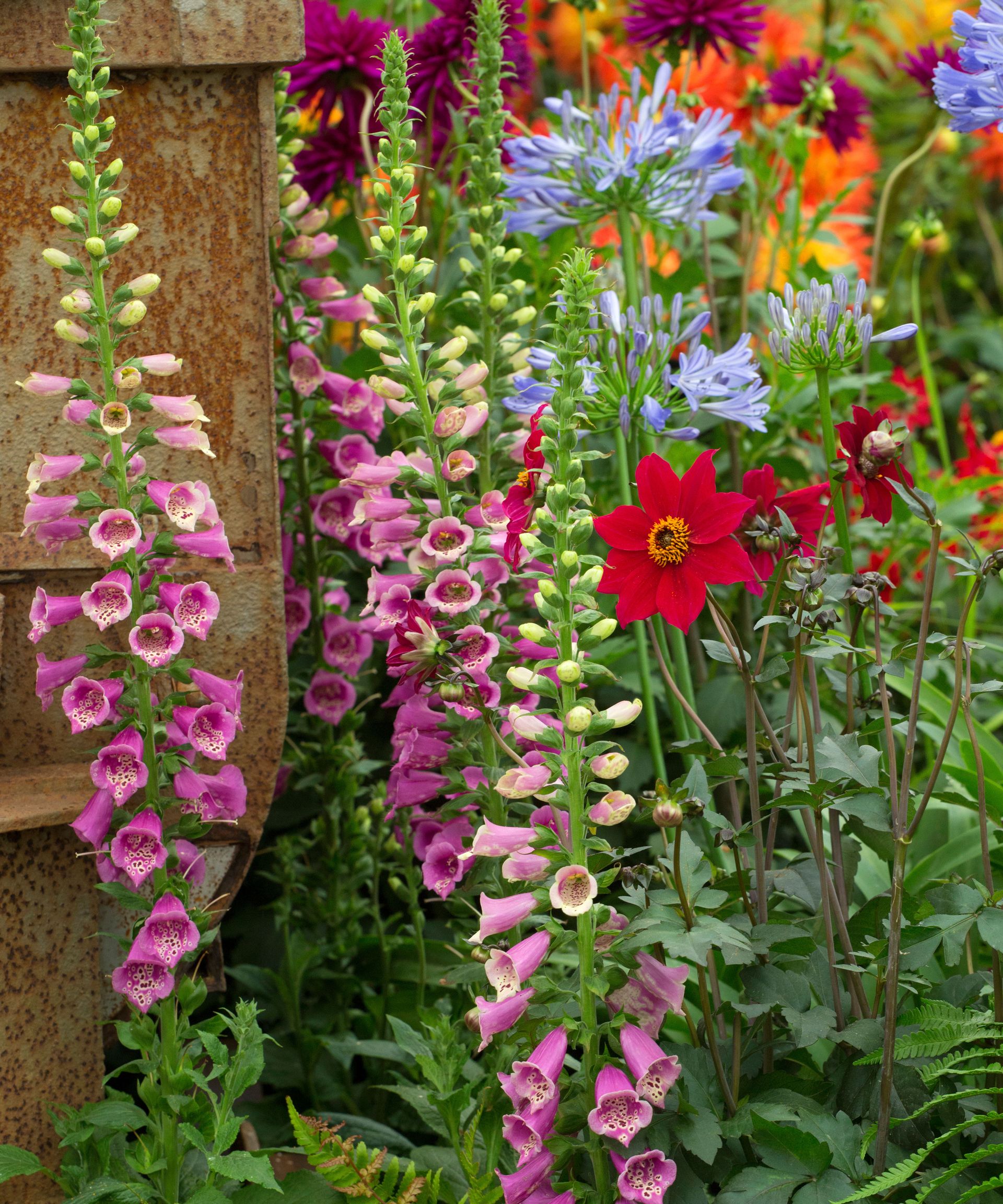 Is it easy to grow foxgloves?
Foxgloves are easy to grow, either from seed, seedlings or plug plants, and the common foxglove self seeds freely. The tubular blooms of the common foxglove also provide a valuable source of nectar, so consider gracing borders with drifts of these flowers as one of your wildlife garden ideas.
These lovely flowers make a pleasing foil for old-fashioned roses, are at home with spring flowering shrubs in borders or woodland clearings, and are attractive combined with summer bulbs, irises, hesperis and aquilegia.
'Digitalis work well with alliums and geums to give a wonderful early summer display. The perennial forms are great for later in the season, some in shadier places mixing well with grasses and heleniums,' says Rosy Hardy.
However, do take caution when growing foxgloves: they are poisonous if consumed, so do not plant in reach of pets or children. It is also a good idea to wear gloves and wash your hands after handling them, too.
Where do foxgloves grow best?
Most foxgloves grow best and thrive in dappled shade under large trees and shrubs. They are therefore a good choice for underplanting some of the best trees for shade.
However, there are some species that require full sun to do well, so you can find varieties to suit the chosen location in your back yard.
'Foxgloves give that height required early in the season in a cottage garden style or mixed border,' explains Rosy Hardy.
Their statuesque flower spikes grow from 30cm up to 2m or more.
'Try growing foxgloves in a group for best impact. The seed needs light to germinate, so choosing the correct variety for the area is important,' says Mary Baker.
Foxgloves like good air circulation and not being overcrowded, and will grow in any well-drained, moist soil, rich in organic matter, although acidic soil with a pH under 6.0 is ideal. Avoid very dry or very wet soils.
How do you plant foxgloves?
You need to plan ahead when growing foxgloves as the biennial varieties won't flower until the second year. To get common foxgloves to self-seed around the garden, plant them two years in a row.
In the summer of the first year, biennial varieties of foxgloves will put on leaf and root growth, they then remain dormant over winter, before bolting in early spring and flowering in early summer.
The great thing about foxgloves, as with many biennial flowers, such as honesty, campions and sweet rocket, is that they flower early in the summer, from late May and June through to July, filling the gap between the spring bulbs and the summer annuals.
When deciding how to grow foxgloves, there are a number of options open to you. You may choose to buy plug plants, garden ready plants or grow from seed.
If you get plug plants, pot them on into individual pots, keep in a cool, frost-free spot, let them acclimatize and double in size before planting into the garden.
Garden-ready plants, on the other hand, are a little larger and can be planted into pots to grow a little more or be planted straight into their garden position.
Dig in some well-rotted compost before planting and then mulch over the surface. Space young plants 30-35cm apart so they can spread out their rosette of leaves.
Water newly planted foxgloves for the first few months to help them spread their roots. Once established in their rich soil, they should only require watering in dry summer spells.
How do you grow foxgloves from seed?
Foxgloves are easy to grow from seed, plus growing from seed is cheaper and there is often a greater variety to choose from.
You can scatter seeds directly in your garden, but as they are so tiny you may get better success sowing them indoors on good quality seed compost.
They can be grown in seed trays, either under cover in a greenhouse, in a propagator or under a transparent polythene bag on a sunny windowsill from February to April.
If sowing them indoors on trays, use a good quality, moist seed compost, but do not cover as they need light to germinate.
Leave them in a sunny but sheltered position and keep well watered. Germination should occur within 14 - 21 days.
When the seedlings begin to get crowded they can be 'pricked out' and individually planted into 3 inch (8cm) pots to grow on.
Sow directly outdoors into a bed with soil raked to a fine tilth in early summer – this gives them a good growing period throughout the summer and a chance to develop into healthy specimens for planting out in fall.
If sown in beds, thin the seedlings out to 30cm apart
In early fall they can be planted out into the the position where they are to flower.
Water for the first few months after planting.
Can you grow foxgloves in containers?
Most foxgloves can be grown in large containers as part of your container gardening ideas and there are also dwarf varieties available.
'When growing foxgloves in containers, use a quality compost and feed the plant regularly, either with a slow release fertilizer or liquid feed. Do not let the plant get pot bound and do not overwater them. Cutting back the spent flower stems encourages even more flower stems to grow,' says Mary Baker.
A mature foxglove can reach up to 5 metres in height, so you will need a large container.
'If you are planting foxgloves with other plants, make sure not to overcrowd the plants, as this could cause diseases, such as leaf spot,' advises Adam Alexander, horticulturalist at RHS Wisley (opens in new tab)
'Foxgloves love humus-rich soil so add some of the most decomposed compost from your compost bin to the potting compost. Position your container in an area of the garden that is in full sun or part shade,' Adam adds.
How do you keep foxgloves blooming?
You only need to give foxgloves a little care to keep them blooming.
Foxgloves require very little maintenance. Deadheading during flowering will encourage fresh blooms, conserve the energy of the plant and improve longevity. Removing the central flower spike in particular will encourage stronger side or 'prince' shoots. Leave some of the flower heads though to set seed and create the next generation of blooms.
'With the exception of one or two of the rare species, foxgloves are hardy, so don't mollycoddle them,' says Mary Baker.
Harvest some of the seed of your favourite biennial to increase your stock. To do this, cut the stem with the seed capsules, place in a large paper bag and once dry the seed will fall out and will be ready to pack and store.
Do foxgloves come back every year?
There are some foxgloves that come back every year.
Some foxgloves are hardy biennials, such as foxgloves Digitalis purpurea and D. purpurea f. albiflora. This means they produce foliage and root growth in the first year, then flower and set seed in the second year before dying back. As they self-seed so freely, they can be thought of as short-lived perennials.
The species foxgloves are perennials, such as Digitalis Grandiflora, which flower a little later in summer, and will come back every year, lasting for three to five years.
'Foxgloves are misunderstood as most gardeners think they are biennials. The species come true from seed, while the biennials cross-pollinate. Because of their ability to set seed easily, breeders can create wonderful hybrids that flower in their first year and continue to do so for a couple more years. Many set seed, but seldom recreate the parent they came from,' explains Mary Baker.
Do foxgloves spread?
Many foxgloves do spread as they readily set seed, meaning you can easily grow a bed full of them after a couple of years. In fact, they are so easy to grow this way that gardening guru Monty Don describes them as 'a welcome weed'.
If you don't want foxgloves to spread then the simple way to prevent this is to deadhead the flowers before they set seed. If you want more flowers, then simply leave them to do their thing. Alternatively, you can collect the seeds for sowing in trays.
If seedlings do pop up you can also easily transplant them to other areas of the garden. 'We collect seedlings and move them to select spots around the garden, ideally with light shade, although, like all biennials, this must be done in the fall or late winter at the latest,' reveals Monty Don in his book The Complete Gardener: A Practical, Imaginative Guide to Every Aspect of Gardening (opens in new tab).
Do foxgloves like sun or shade?
Foxgloves are native to woodland areas so many prefer partial shade.
However, there are some varieties that can be grown in full sun, so do your research to find the best variety to suit the location where you want to grow foxgloves.
'You can use foxgloves in many different styles of gardening. For a natural woodland style planting in an area with dappled shade, I would combine them with Campanula rotundifolia, common harebell and ferns such as Polystichum, Japanese tassel fern,' says Adam Alexander.
'For a sunnier spot of the garden, I would recommend a spring cottage style planting. Foxgloves combined with peonies, roses and salvia will give you a show of flowers from late spring to fall,' Adam explains.
Do foxgloves need to be staked?
Taller foxgloves may need to be staked to protect them from strong winds. Where possible when growing foxgloves, place them in the sheltered position where they won't be as much at the mercy of the elements.