Monty Don's plant support ideas and tips will ensure showy blooms – and you can even make your own
The TV gardening guru's simple plant support ideas will keep garden showstoppers high and mighty throughout the flowering season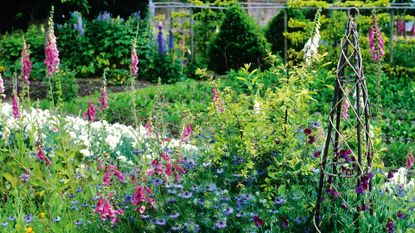 (Image credit: Leigh Clapp)
As the weather warms up and our favorite flowering plants start to send up their first green shoots, it's time to think about plant supports and make sure you're ready for those showy blooms and floral magic. The trick is to get ahead of the game. Act now to put plant supports in place before things start to really get growing and before your prized plants get dragged down by the weight of their flowers.
See: Monty Don reveals his top birdhouse ideas and expert tips
Writing on his website, Monty Don says that checking and putting in plant supports Is one of his priorities in February. 'This is not a glamorous job but an important one,' writes Don.
''Go round your garden checking all supports, wires, ties and structures that will be carrying climbing plants this year. Any that are damaged or a bit ropey should be repaired or replaced now before they need to be used and before new growth begins that might be damaged by such repair work or even your heavy footwork in a border.'
It's not just climbing plants that benefit from sturdy plant supports. In a video for BBC's Gardener's World, Don admits that he became fed up with buying more and more plant supports for his own garden, Longmeadow in Herefordshire.
Adding that he isn't a fan of bamboo canes and twine to support flowering plants in borders. Instead he came up with the idea for his own homemade plant supports, made from steel rods. And even though he uses them all over his garden, there's a good reason why you've probably never spotted them. 'You put them in and they disappear into the foliage very quickly,' he explains.
All you need to make them, are 6mm steel rods, which Don says are readily available from steel stockholders. 'It sounds a bit obscure,' says Don, 'but if you look them up you'll be surprised at how many there are.'
Steel rods are used in the building trade for reinforcing concrete. To use them as plant supports for your garden you'll need a 6mm diameter steel rod, measuring at least 2.5m long. Each one makes one plant support, so buy as many lengths as you think you'll need – they are not expensive.
Once you've got your steel rods, you can make your own plant supports in three easy steps, as Monty Don explains in his video .
How to make plant supports like Monty Don's
1. Bend the steel rod round a tree or other large handy object to shape it into a curved hoop with two straight legs. The thin 6mm rods are easy to bend by hand.
2. Next position your hoop shape between two solid planks of wood – short pieces of scaffolding boards are ideal for this. Leave the long straight legs visible.
3. Finally, bend up the straight ends of the rod to make the legs of the plant support.
How to support garden plants with Monty's steel rod plant support
Simply push the legs of the plant support into the ground, in front of the plant you wish to support. Make sure you position it where it will support the stems of your prize blooms.
'They last forever, are easy to store, they won't break, you put them in and they disappear into the foliage very quickly,' says Monty Don. 'You can raise them up a bit as the plant grows, you can make them to any size or shape you want, they're completely customizable and using them is the easiest thing in the world.'
How to support perennials with Monty's plant support tip
Monty Don's steel rod plant supports are ideal for use with taller herbaceous perennials with full, heavy flowers. These are the ones we look forward to each year, the frothy peonies, the large oriental poppies. They also work well with shrub roses.
And the steel rod plant supports are perfect to prop up the wafting, waving stems of perennials like salvia x sylvestris and Verbena bonariensis, and biennial plants like Campanula medium (Canterbury bells). These are all perfect candidates for Monty Don's homemade plant supports.
More plant support ideas from Monty Don
If you watch Gardeners' World or follow Monty Don on Instagram, you're sure to have noticed another of his clever DIY plant support ideas. When he's pruning or copicing the trees around Longmeadow, he saves the longer pruned branches to use later in the season to support his taller climbers - everything from sweet peas, to clematis and runner beans.
It's a classic tripod or wigwam support, binding three or more long branches together at the top with garden twine and then simply pushing them into the soil wherever they're needed. They're sustainable, natural, and work equally well in a flower garden or vegetable garden. If you don't have many trees or a ready supply of pruned branches, you can buy ready cut runner bean poles, made from branches, from most garden centers. Simply bind them together with garden twine to get the full Monty effect.
For more of Monty's tips, follow him on Twitter @TheMontyDon
Sign up to the Homes & Gardens newsletter
Decor Ideas. Project Inspiration. Expert Advice. Delivered to your inbox.
Karen is the houses editor for homesandgardens.com and homes editor for the brand's sister titles, Period Living and Country Homes & Interiors, and an experienced writer on interiors and gardens. She loves visiting historic houses for Period Living and writing about rural properties for Country Homes & Interiors, and working with photographers to capture all shapes and sizes of properties. Karen began her career as a sub editor at Hi-Fi News and Record Review magazine. Her move to women's magazines came soon after, in the shape of Living magazine, which covered cookery, fashion, beauty, homes and gardening. From Living Karen moved to Ideal Home magazine, where as deputy chief sub, then chief sub, she started to really take an interest in properties, architecture, interior design and gardening.